Seiko7A38 at February 15, 2018 at 12:52 PM

Mystery solved - the re-listing (same item # as was in the link) appeared about an hour ago - but now as a 5-day auction listing, with an opening bid price of £185. Presumably, after creating it, the seller suspended the re-listing so it would finish at a more sensible time, rather than the middle of the night.




http://www.ebay.co.uk/itm/282849146409
I actively discourage the use of profanity on this forum - and generally try to refrain myself, but F
me gently ! The number of times this UK eBay seller 334colin bnggers around with, ends his listings early and re-lists them again is becoming a real pain in the arse to keep up with !
Because I've got better things to do, I'd failed to report that he'd ended that 5-day auction listing for his well-worn 7A38-7070 on a cheap leather strap, the following day, because of an alleged error.
http://www.ebay.co.uk/itm/282849146409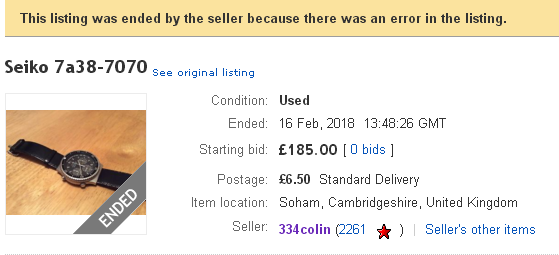 He'd then re-listed it again, as a Buy-it-Now for £195, with the option to make an offer. That re-listing ended yesterday evening.
http://www.ebay.co.uk/itm/282850626568

WatchCount.com's Look-up tool reveals it finally sold for a best offer of £170: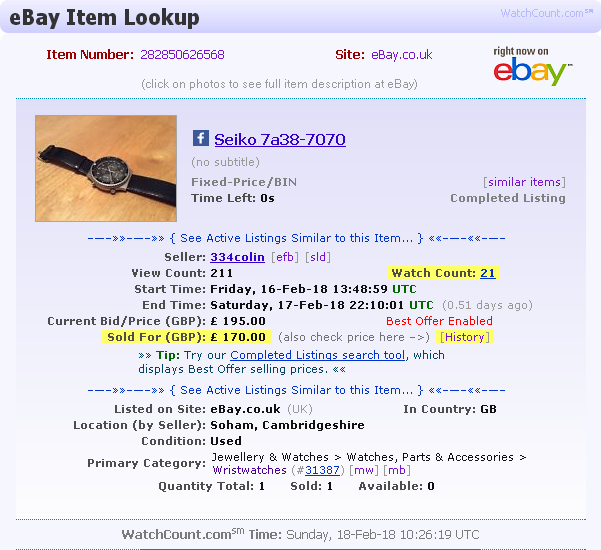 As confirmed by the eBay Offer / Purchase History: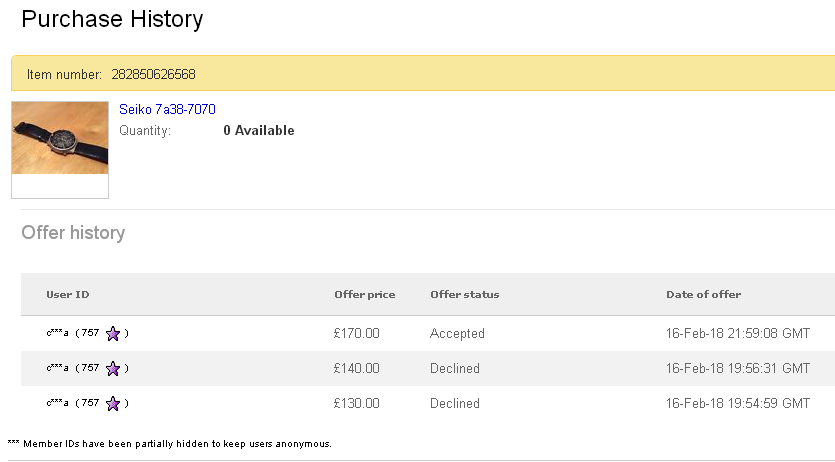 Out of curiosity, I googled 'Ending your eBay listing early'. Apparently, there are 4 acceptable reasons for doing so: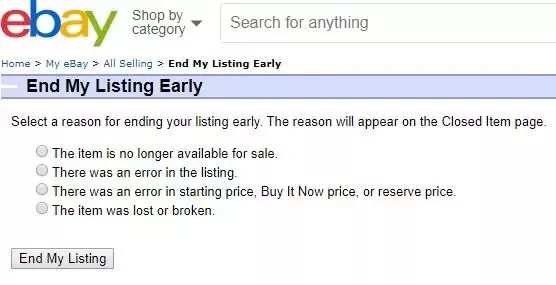 I've seen plenty of examples of the first two (which usually mean a 'back door' sale has taken place) and a few of the last. But I don't think I've ever actually seen an item ended because of an error in the pricing, which UK eBay seller colin334 clearly has problems with. Remembering he originally had this up for £235.