I suppose I should start this thread with an apology - for the fact that I still haven't yet written up a single 7A38-xxxx model specific topic on any of the other far more common 'basic' 7A38-728x models viz: the 7A38-7280, 7A38-7289 and 7A38-728A variants (let alone the 7A38-7285 ZFM model). A couple of recent appearances on eBay, of this somewhat rarer 7A38-727B prompted a session of keyboard bashing.
I'll follow that first paragraph by openly stating that I am not a fan of the so-called 'beautiful' game of English Football (Soccer) and especially not of the ludicrously overpaid primadonnas that play it and the morons that follow it so slavishly. 

However, I was already aware of Seiko's association with the European Football Championship in the 1980's, from their various period adverts, which featured a couple of 7A38 models.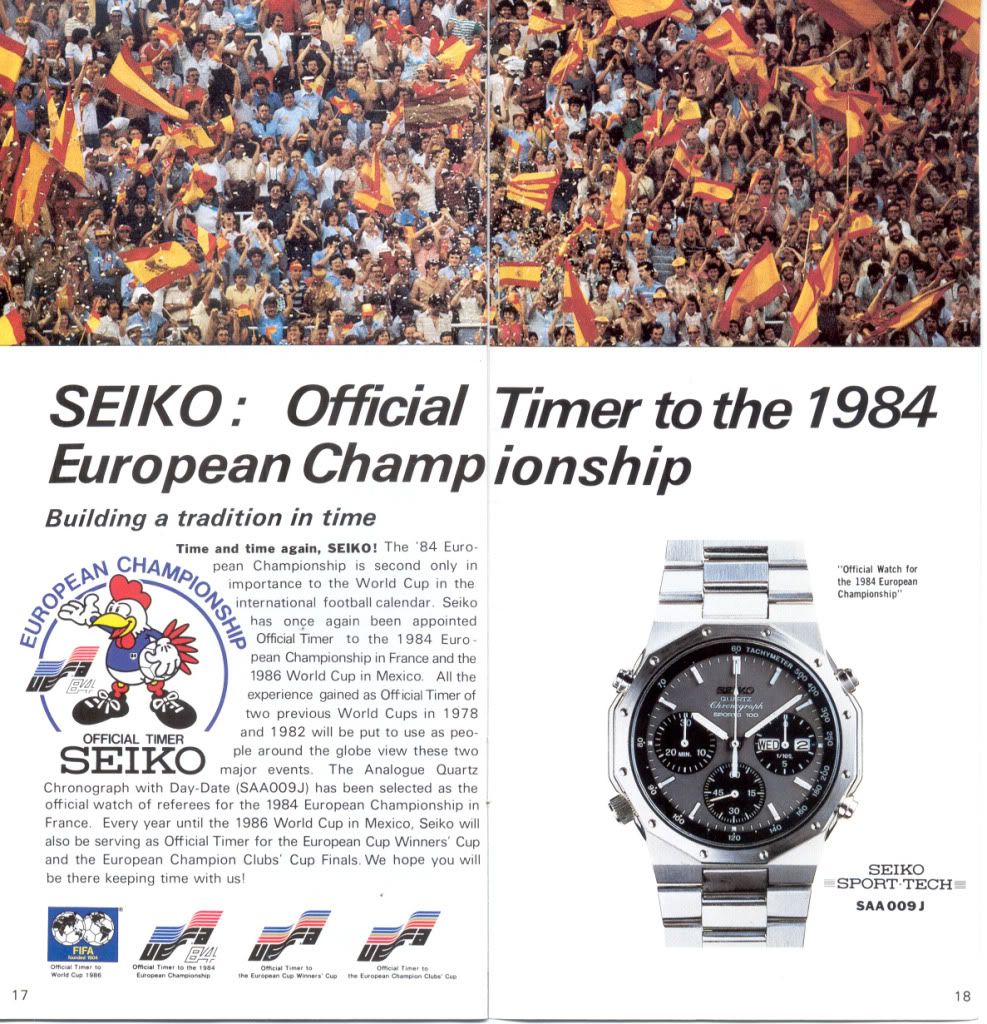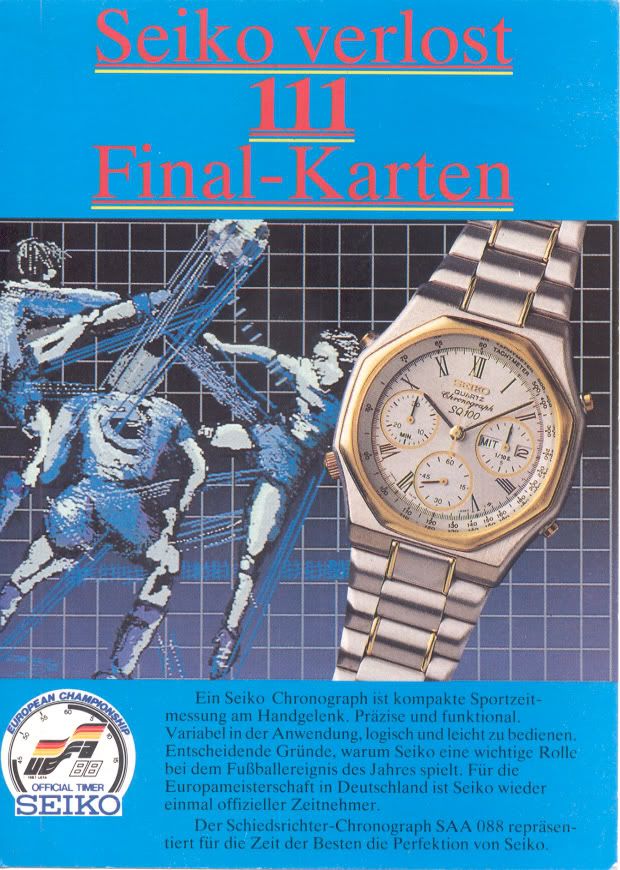 There's more information about those two Seiko adverts in this other thread.
Strange then, although Seiko appeared to be promoting the two-tone 7A38-6080 SAA088J in 1988, that they should appear to have chosen to produce another commerative version based instead on the two-tone 7A38-7280 SAA120J. 
You may have noticed that I've titled this thread as: 7A38-728B SAA136J. As yet, I haven't seen any firm evidence connecting this particular 7A38-728B to that SAA sales code. That said, there is only one 7A38-728B documented on Seiko's database: SAA136J. I stumbled across it many years ago, when I was interrogating their database to build my Excel spreadsheet version. I can remember looking at it and trying to figure out the difference between this and the 'normal' two-tone 7A38-7280 SAA120J. Here's the relevant rows from my Excel spreadsheet.

Now, I'd long held my suspicions that the black / gold Tachymeter ring shown in the parts list was an error. (It's Seiko p/n 84311025 - same as you'll find in the black chrome 7A38-7180). Frankly it just wouldn't match the dial and there's absolutely no reason for Seiko to have used it. Plus I've never seen anything like that in nearly 10 years of looking (other than the odd Franken). Of course, the only other difference between the two models' bills of materials are their case-backs, Seiko p/n's 7A387280 versus this 7A38728B.
So I think I've figured it out (at last).