Seiko7A38 at April 3, 2018 at 5:26 PM

This well-worn 7A38-6000, evidently in need of some TLC, was listed earlier this evening by a UK eBay seller, as a 7-day auction with an opening bid price of £99, but a reserve price set. Sounds familiar ?  Well, as soon as I saw the seller's first photo (the rest are of shall we politely say of 'somewhat variable quality'), I instantly got that feeling of Déjà Vu. It's not too long ago since it last put in an albeit very brief appearance. Just scroll back up the page to my posts of February 18th this year.




http://www.ebay.co.uk/itm/292509931095
The above 7-day auction for a well-worn 7A38-6000, by UK seller 4596mark ended yesterday evening, with bidding at £204 after 15 bids, but still with the reserve price not met. Given the apparent less-than-lovely condition of the watch (in his poor quality photos), I think it's safe to assume that the would-be seller's expectations are a tad unrealistic. 
http://www.ebay.co.uk/itm/292509931095


He re-listed it almost as soon as that listing ended - just 10 or so seconds later:
http://www.ebay.co.uk/itm/292518833354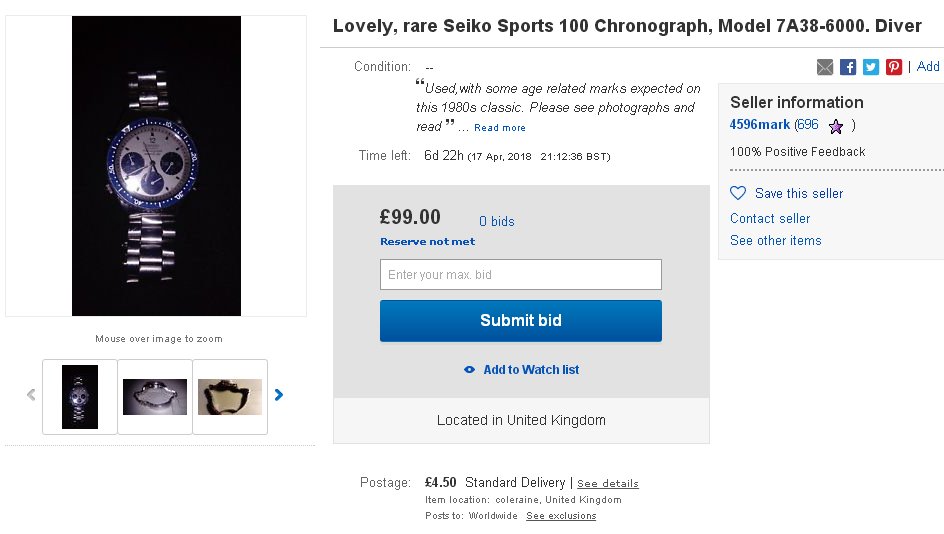 There have been no revisions made to the listing whatsoever, that I can see, and the description ends with the same ironic statement:
The watch also has a reasonable reserve as advised by someone with knowledge of these watches, as I would rather keep it than give it away.

So one assumes his 'reasonable' reserve price remains the same as before. 
For anybody who might be considering bidding on it, this time around, I strongly recommend they read my comments on the previous page, concerning the now damaged sweep second hand. I did message the seller last week, making a tongue-in-cheek enquiry about it. Here's the dubious reply I received from him: