This JDM 7A38-6040 in average worn condition was listed on Yahoo Japan earlier today as a 3-day auction, with an opening bid price of 1000 Yen. Bidding is currently @ 11,500 Yen.

http://page.auctions.yahoo.co.jp/jp/auction/v558348467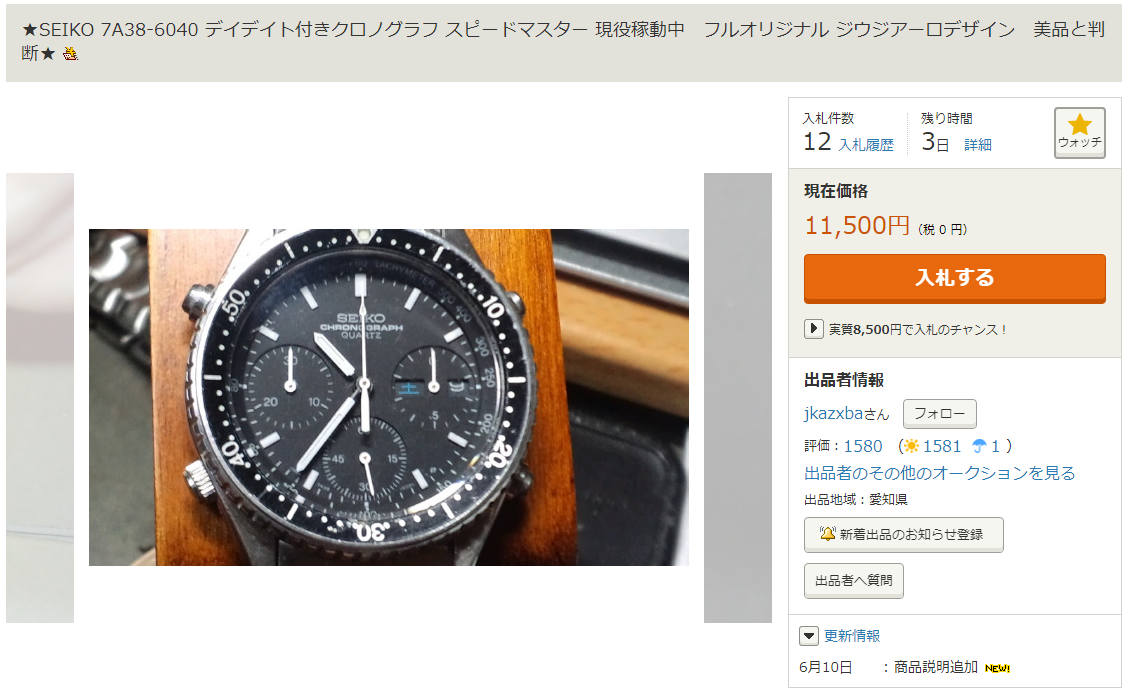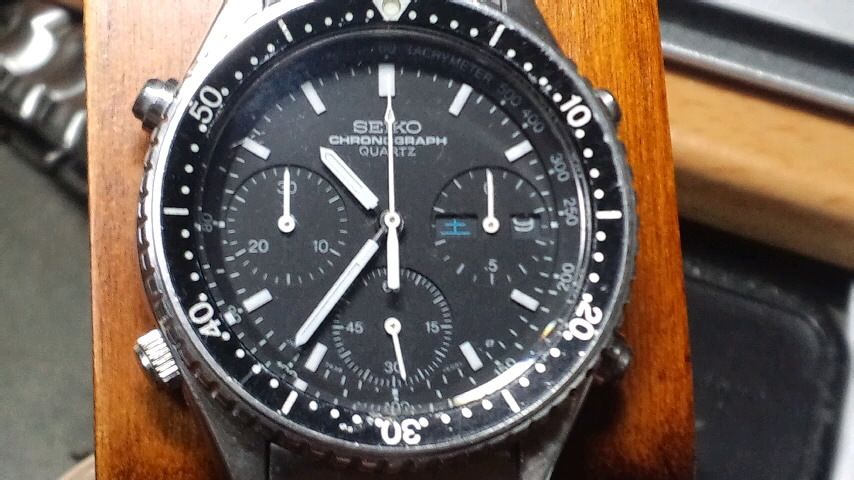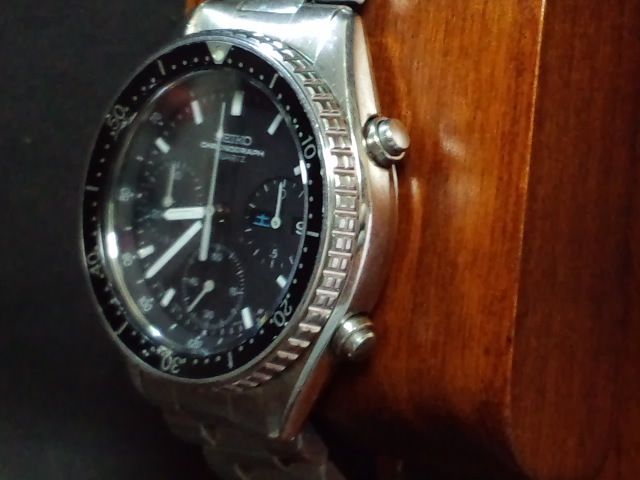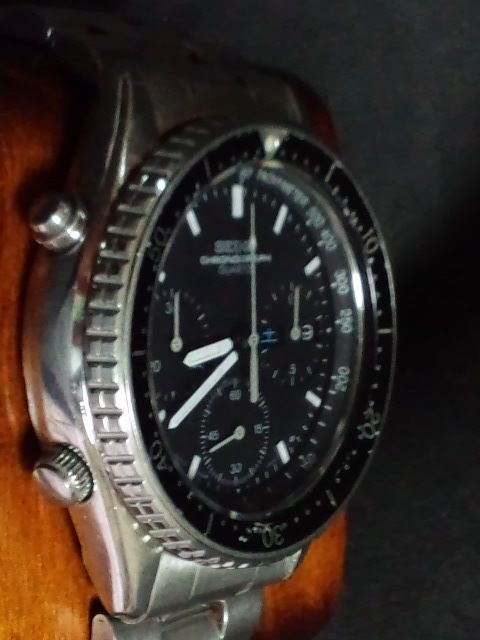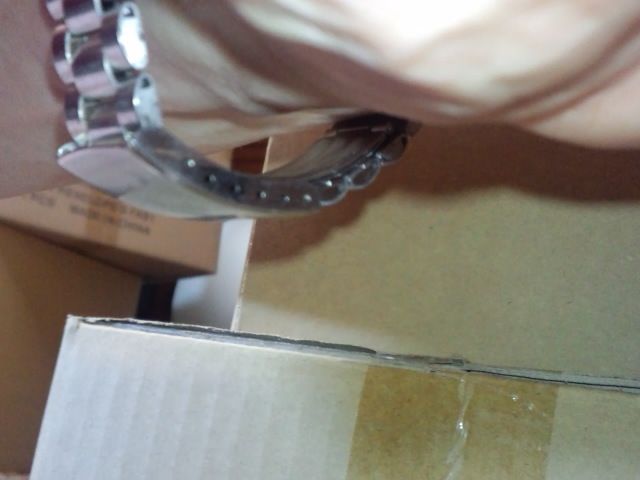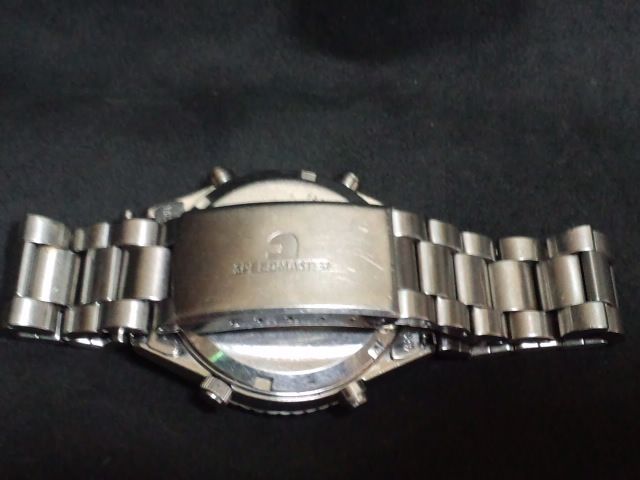 Google translates the extremely lengthy Japanese description as follows:
Thank you for viewing
Explanation It is not a long sentence, but we will judge that all of our sentences were comprehended at the time of bidding.
At the beginning of the world in the early 80's we will exhibit the Giugiaro Design Speedmaster equipped with the 7A38 high-end model with the day-date display on the quartz chronograph 7A28.
Bracelet etc all original at that time.
● I pulled out the battery without pulling out the battery for many years but if you used to use it for organizing, thank you. Watch shop watch shop to test all the motion It is confirmed. (It is operation with that battery now).
● Explanation Manual notation of chrono hand movement Each return needle 0 The ABC button used for counting as the counter function and fast forward is also working when correcting the misalignment.
● Because it is medieval times, there are scratches accompanying use and maintenance, but it seems that it is a little seen in the black part of the back cover and bezel ring, so even though the watchmaker says it is a beauty item, I think that there is a reasonable level.
The beauty goods referred to in this exhibition are not a translation of beautiful goods like a new article because it is enough to say that it is a beauty item if considering the elapsed time and the product use environment.
Each needle etc. state, especially dullness and dirt can not be seen.
● The windshield is a level that the wound is virtually invisible in nature by visual inspection (the level which it can finally see by enlarging with kizumi etc.)
- The circumference of the arm is amateur measurement, but it is about 17.5 centimeters around our arm. (I will give reference comparison images)
Current thumb is entering with a margin As a belt it seems that there is room for even 18 cm around the arm.
● It is not an export specification, it is an original belt of domestic specifications, so there is a helmet mark of SPEEDMASTER and a giugiaro's clasp in the clasp.
In addition, the calendar will be selected in Japanese / English display.
★ Please note that the image wooden stand is not an exhibit ★
● Because it was long-term storage, I think that I can have confidence enough privately to take into consideration the condition of the old watch over 30 years ago, but I can not guarantee that the initial performance can be maintained, so antique and vintage Thank you bid by those who can understand and understand second hand goods.
★ ★ ★ Immobility belt from around this past spring It is personal not to say that it seems high boiling is around 40,000 yen even if it is outside goods and junk treatment, but after checking the watch store today We checked the usage for about a month.
Although it is present, it is anticipated that it is not inferior to the current sales watch which was within 4 seconds of monthly difference without calendar operation problem, so please use it as a reference value.
★ basically Yu Pack etc etc, us. Bringing in. Bringing in .. we plan on payment on delivery, but, prepayment etc .. hope person etc., hour designation etc .. including correspondence. On our circumstances. If you wish it is possible to correspond Please consult us.
★ ★ If you wish, nationwide even with letter pack is also possible, so if you have hope please contact us in dealings Navi etc after a successful bid.
It is possible to correspond if there is no problem on our convenience.
Although it is a translation that you will make the first contact in dealings Navi after a successful bid, in that case including your date and time designation etc. If you can specify clearly, we will be saved for packing reference.
Also, as soon as the system changes Yahoo! from earlier in the spring, please accept button operation promptly after receipt of the product.
★ It is not a pet breeding or smoking environment, but since it is a thing that has passed over to human beings once it is understood that it can be understood within a common sense range.
☆ We are keeping in mind the smooth dealings after the bidding successfully, the first contact can be gotten within 48 hours after a successful bid, after 48 hours (excluding weekends and holidays) to complete the payment procedure Possible) only possible person. Edge. Exist ... thank you.
★★★★★★★★★★★★★★★★★★★★★★★★★★★★★★★★★★★★★
★★★★★★★★★★★★★★★★★★★★★★★★★★★★★★★★★★★★★
★ Because it is an individual exhibition, I hope in a no claim no return, but in the case of judgment that it is different from the notation too much please contact before evaluation
★ ★ In addition, for the prevention of mischief, "bid cancellation" and "cancellation after bidding" are not performed at all except for the below, so "very bad" on the system will be handled automatically without permission.
▲ Indeed I am sorry, please pardon thing that there are things that "people who are new" and "bad" many evaluations are deleted by this judgment. (Please be aware that new people are basically deleted even if they are bid)
★ ★ ★ We will judge that all of our sentences were comprehensible at the time of bidding.
Although I try for packing on the character of the product, please forgive that there are cases when using recyclable materials because of that. 
(Added at 13:27 on June 10, 2018)
Thank you for registering multiple watches in a short time. Since there was a different question, I will add it all together.
Monthly difference measurement is not my machine tester check at the Seiko watch shop but my personal measurement after that.
Initially it was planned to sell in the middle of May, but as I wrote the explanation also the bid price is even a junk treatment It seems that it is expensive No matter how much I treated it as an antique vintage treatment with no claim so I became interested in the calendar We used the time together and used it every day for 32 days and checked the minutes and minutes of the calendar.
Meanwhile Chrono is not used.
Clock dealer says, "Since the quarter clock of independent self-sustaining operation different from the radio clock is the current 100,000 yen class, the monthly gap of around 5 seconds is Zara", so let me judge it as good in the current operation It was.
Also, it seems that this caliber was designed close to the highest peak of those days, so it is said that the minute adjustment mechanism is solidly constructed as a structure (mostly metal parts seems to be) so when battery exchange cleaning or OH It was easy to drive it.