Seiko7A38 at April 19, 2017 at 8:11 AM

It's not as if it really needed yet another example to prove the point. The gold-tone 7A38-7000 SAA008J is nowhere near as popular with collectors as it's stainless sibling - especially when stupidly over-priced and suffering from worn or corroded plating. 

Well, here's one anyway. Listed yesterday evening by another deluded German eBay seller.




http://www.ebay.co.uk/itm/172631857332
No great surprise that German eBay listing for yet another over-priced gold-tone 7A38-7000 ended with it unsold. 
http://www.ebay.co.uk/itm/172631857332

The seller re-listed it for another 10 days at the same ridiculous 'pie-in-the-sky' Buy-it-Now price of 333 Euros ....
http://www.ebay.co.uk/itm/172651160266
But then ended the listing early, yesterday morning, because the item was allegedly lost or broken. 
Seems it was the latter, because they re-listed again yesterday evening, as low-start auction, adding the word defekt into the title:
http://www.ebay.co.uk/itm/172658606642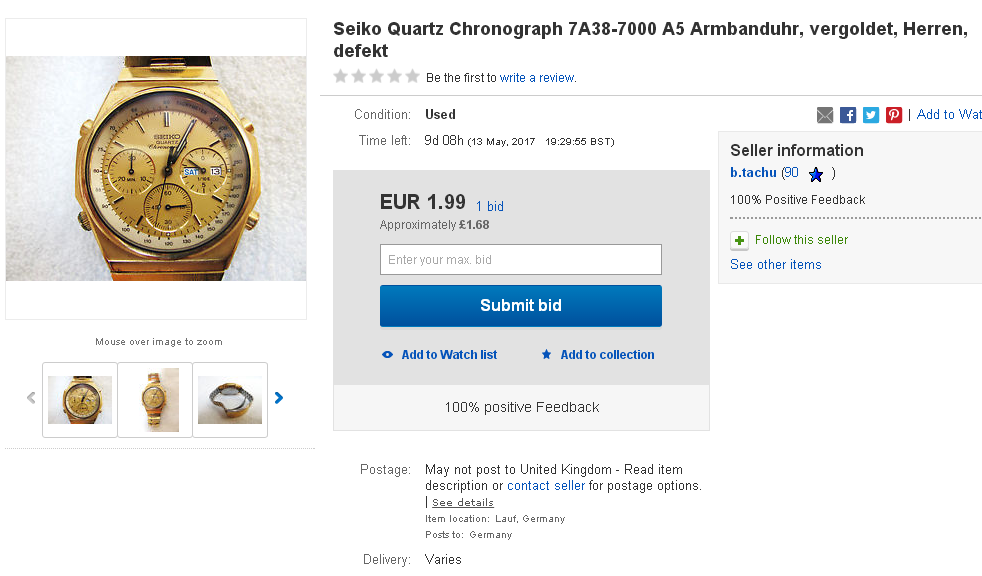 The revised description now reads:
Seiko Quartz Chronograph 7A38-7000 A5
Seiko Quartz Uhrwerk 7A38A, 15 Jewels
aus den frühen 1980er Jahren
Äußere Teile Komplett in Gold gehalten, inneres Armband silberfarben. (Edelstahl)
Verschraubter Boden.
Der Zeitmesser ist defekt, ich wollte die Batterie erneuern, dabei entdeckte die Uhrmacherin, dass die Uhrwerkelektronik porös sei (was auch immer das heisst). Sie könne das nicht reparieren. Vielleicht können Sie trotzdem etwas damit anfangen, selbst reparieren, die Vergoldung lösen o.ä.
Uhr wurde gebraucht, daher normale Gebrauchsspuren, z.B. Goldene Beschichtung an den Rändern der Schließe leicht abgewetzt, kleinste Kratzer am Armband
Breite des Uhrengehäuses: 3,9 cm
Armbandlänge innen gemessen 19 cm
"water resistent" laut Angabe unter dem Gehäuse bis 30 meter
kann: Uhrzeit, Stoppuhr (umfangreiche Stoppeigenschaften), Datum und Wochentag anzeigen, Tachymeter.
- Alle 3 Drücker sind leichtgängig.
- Die Krone ebenfalls leichtgängig und exakt.
- Das gebürstete Gehäuse ist in prima Zustand,
Seht euch die Originalbilder an. Sie zeigen den tatsächlichen Zustand der Uhr ganz gut.
Insgesamt eine defekte aber gut erhaltene Seikouhr
Englische Gebrauchsanweisung ist vorhanden.
The relevant part of which Google translates as:
The timer is defective, I wanted to renew the battery, while the watchmaker discovered that the watch electronics was porous (whatever that means). She could not fix it. Maybe you can start doing something yourself ....