Seiko7A38 at August 26, 2017 at 6:12 PM

This two-tone 7A38-6090 was listed earlier today by a German eBay seller - I'm not sure where he gets the T235 from. It looks to be in pretty decent cosmetic condition, with little evidence of the usual wear to the gold plating visible in his (only) two photos, but the bracelet is suffering from a twisted first joining link on one side. That said, an opening bid price of 150 Euros is somewhat optimistic.




http://www.ebay.co.uk/itm/162646676076
Just tying up a couple of 'loose ends' from last year. 
I must admit, I'd lost track of the numerous re-listings by the German eBay seller and that two-tone 7A38-6090 had dropped off my watching page.
 A quick search on ended listings on eBay Germany revealed it had last been re-listed twice in December last year, with the opening bid price reduced to 130 Euros: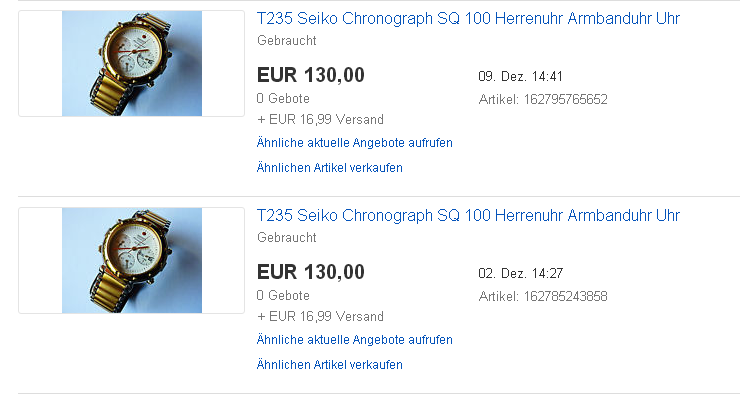 The most recent re-listing ended on 16th December - still with no bids placed.

However, according to
his post on UhrForum.de
, the next day (17th December), which included the seller's primary image, it appears to have been purchased by German collector Carlo (Ketap) - presumably off eBay. Carlo subsequently posted a photo of it in a group shot in
another thread
a few days later.
Looks like that twisted bracelet link straightened out quite nicely.