How did I start my first post at the top of this page ? 
This gunmetal / gold two-tone 7A38-6090, sales code SAA134J, the rarest of the 7A38-6090 variants ....
It looks like I may need to retract that statement, because another one was listed yesterday evening, by a French eBay seller as a 7-day auction, with an opening bid price of 1 Euro.
http://www.ebay.co.uk/itm/254241347551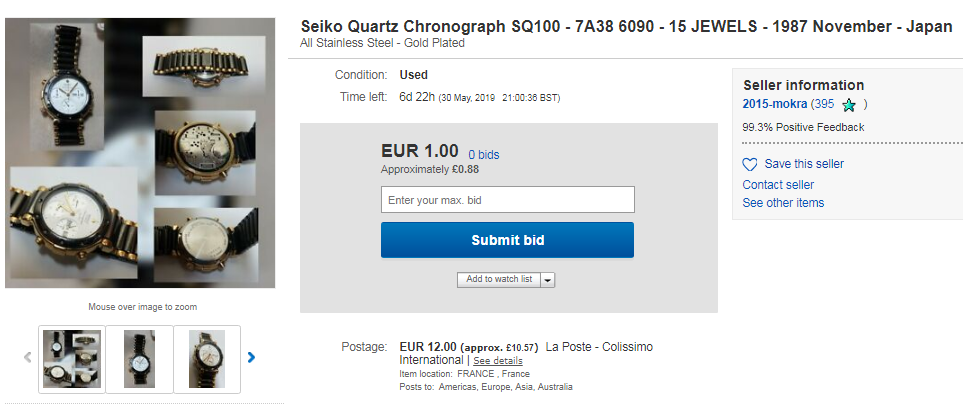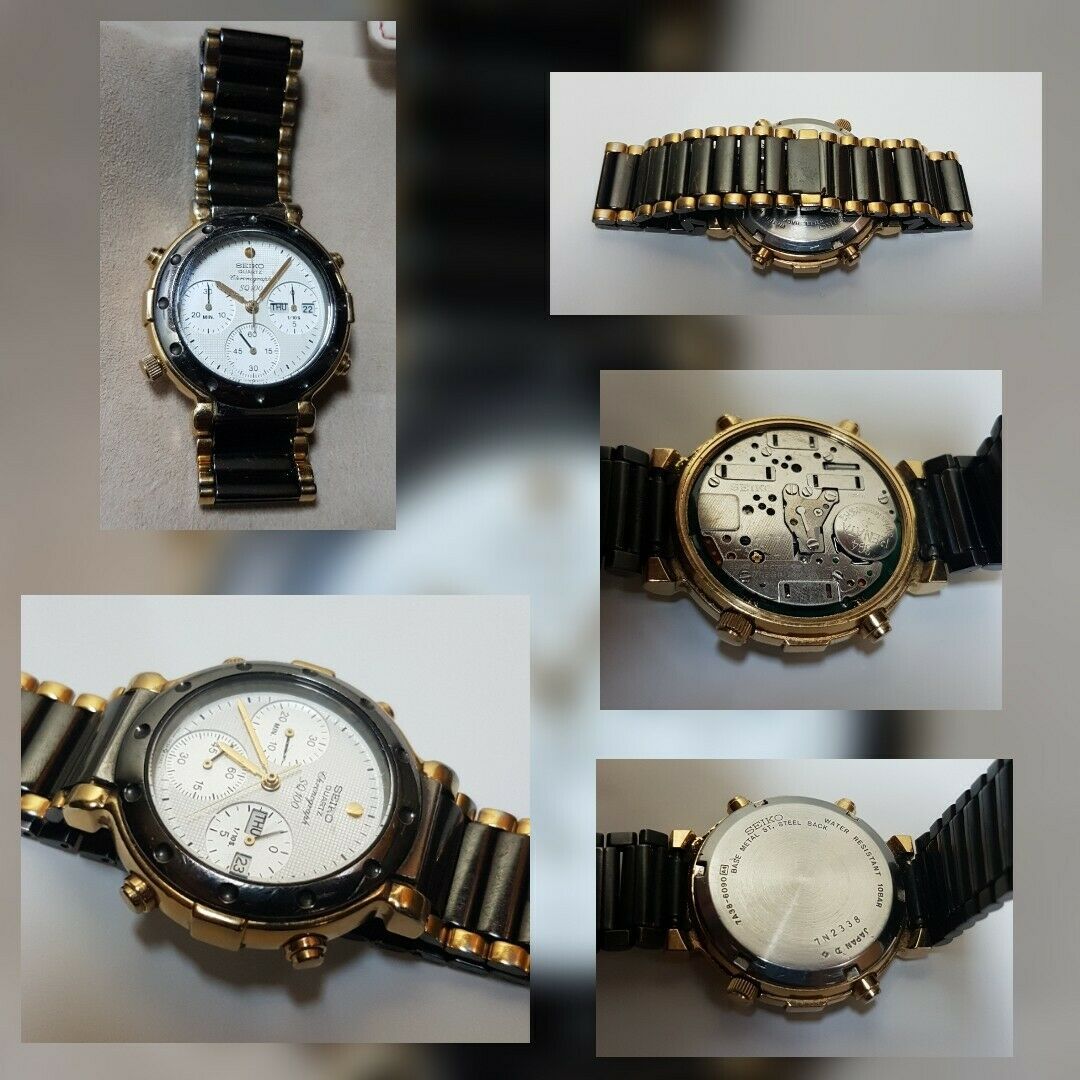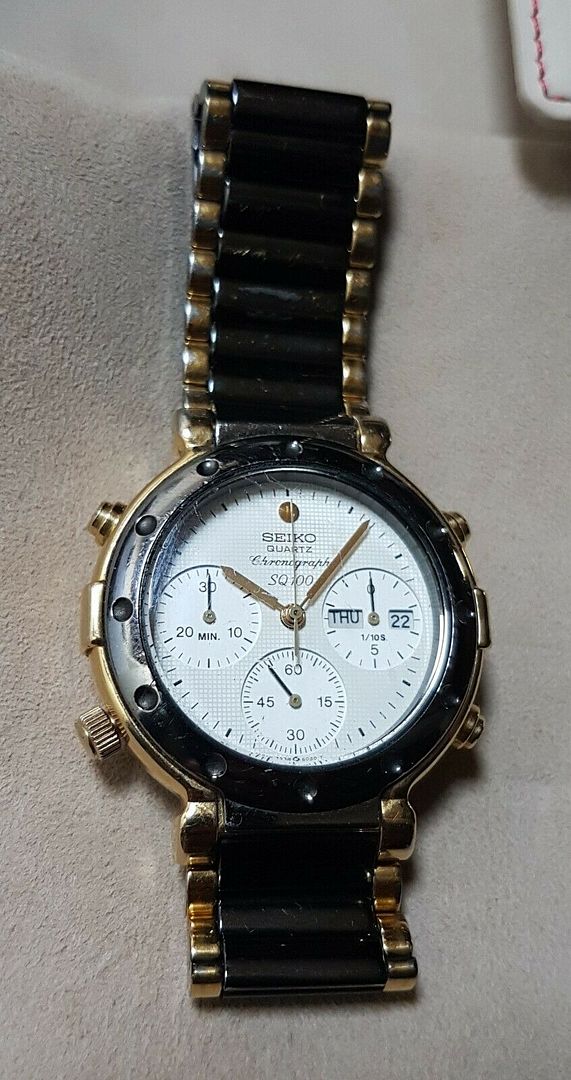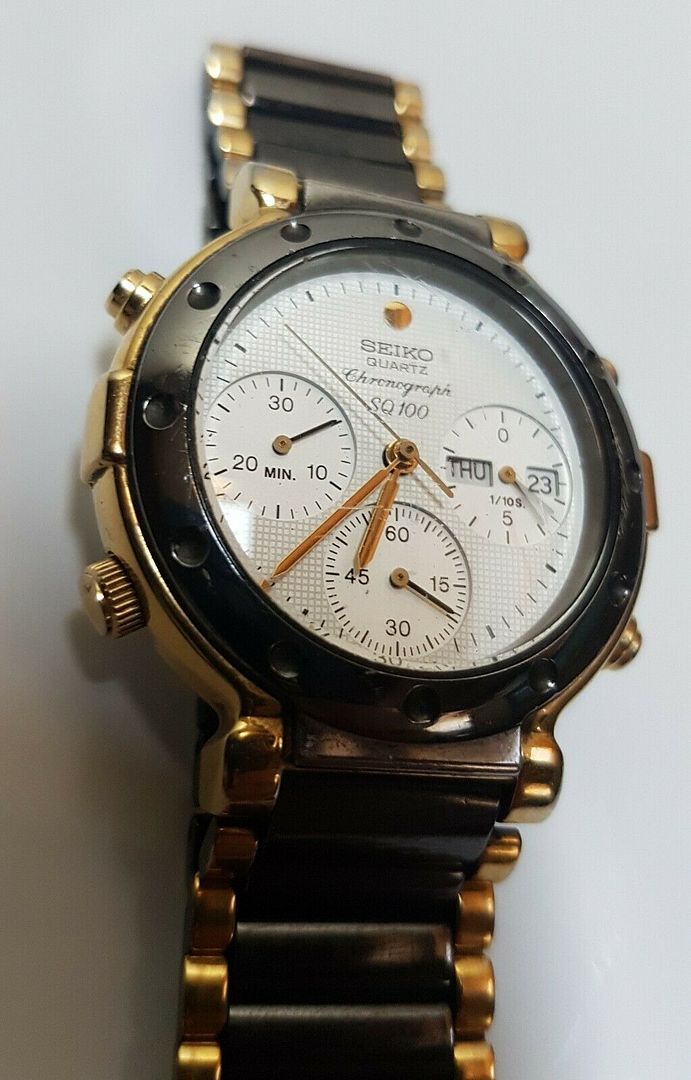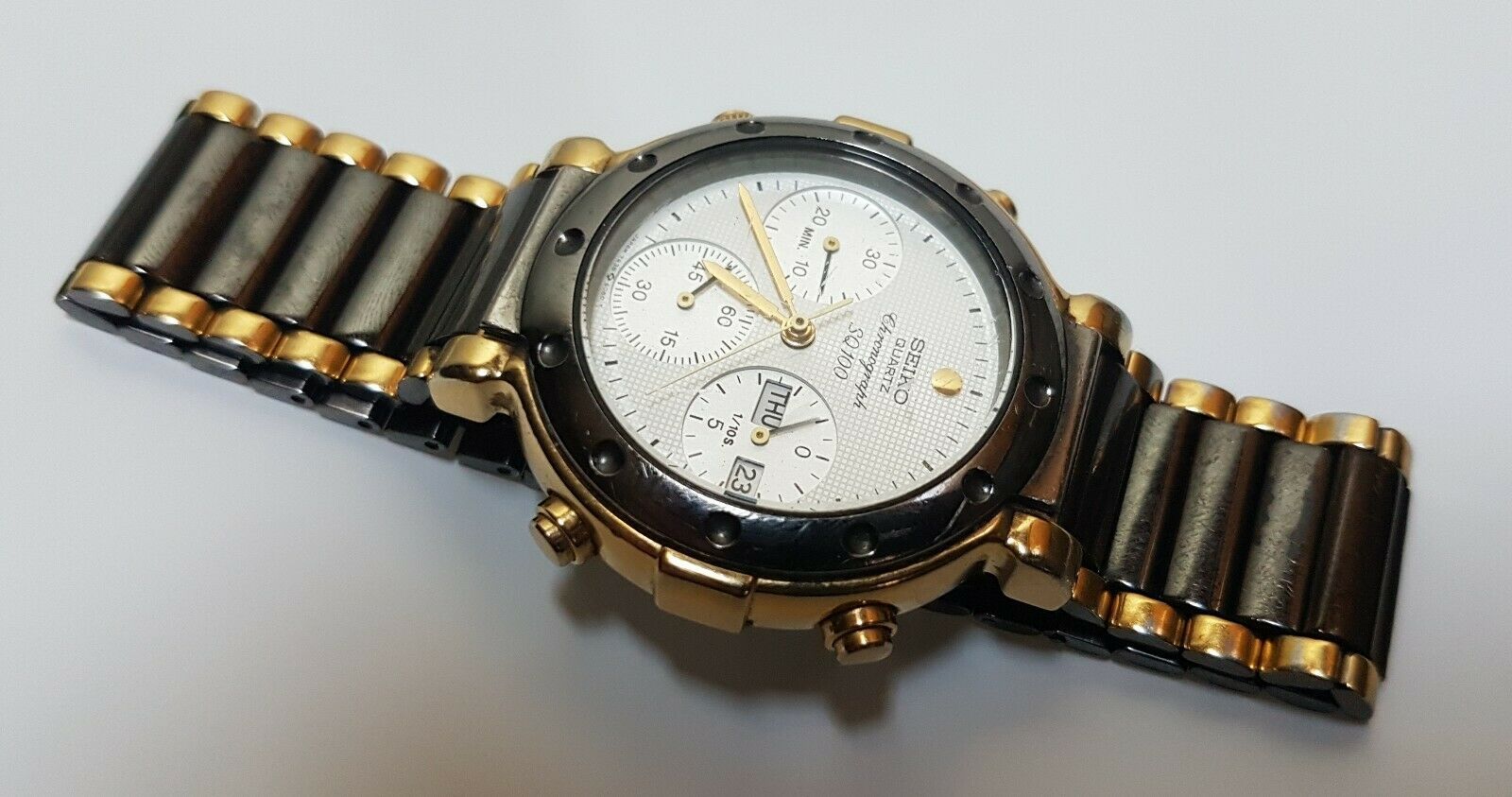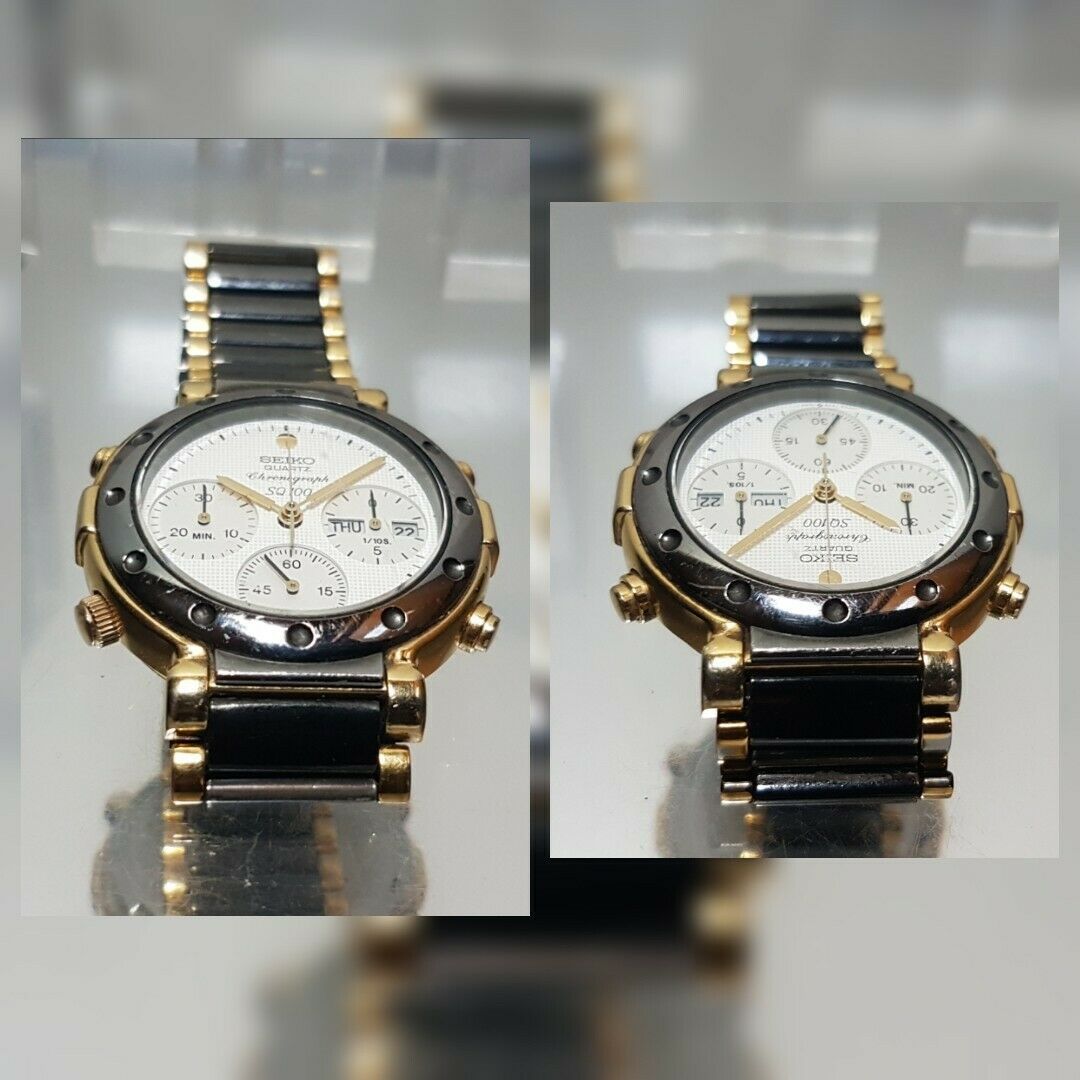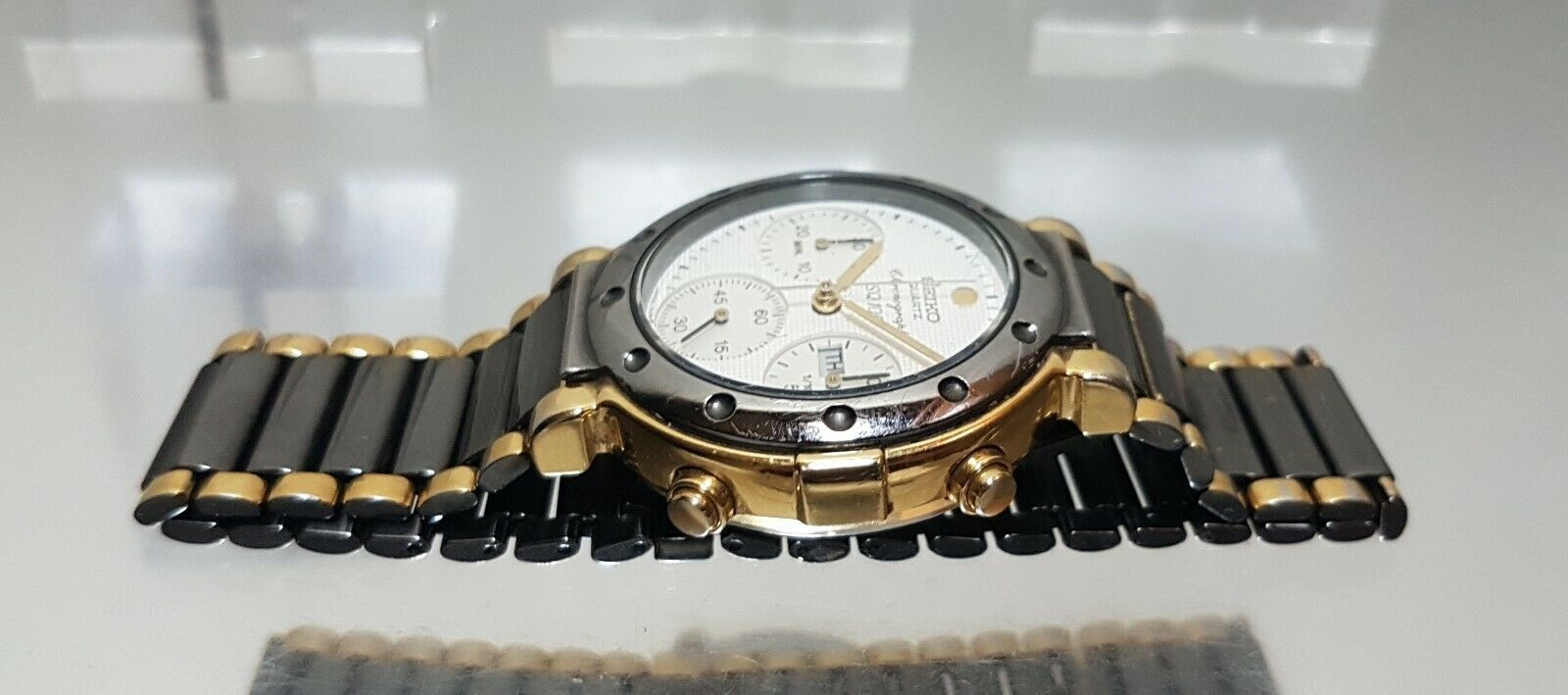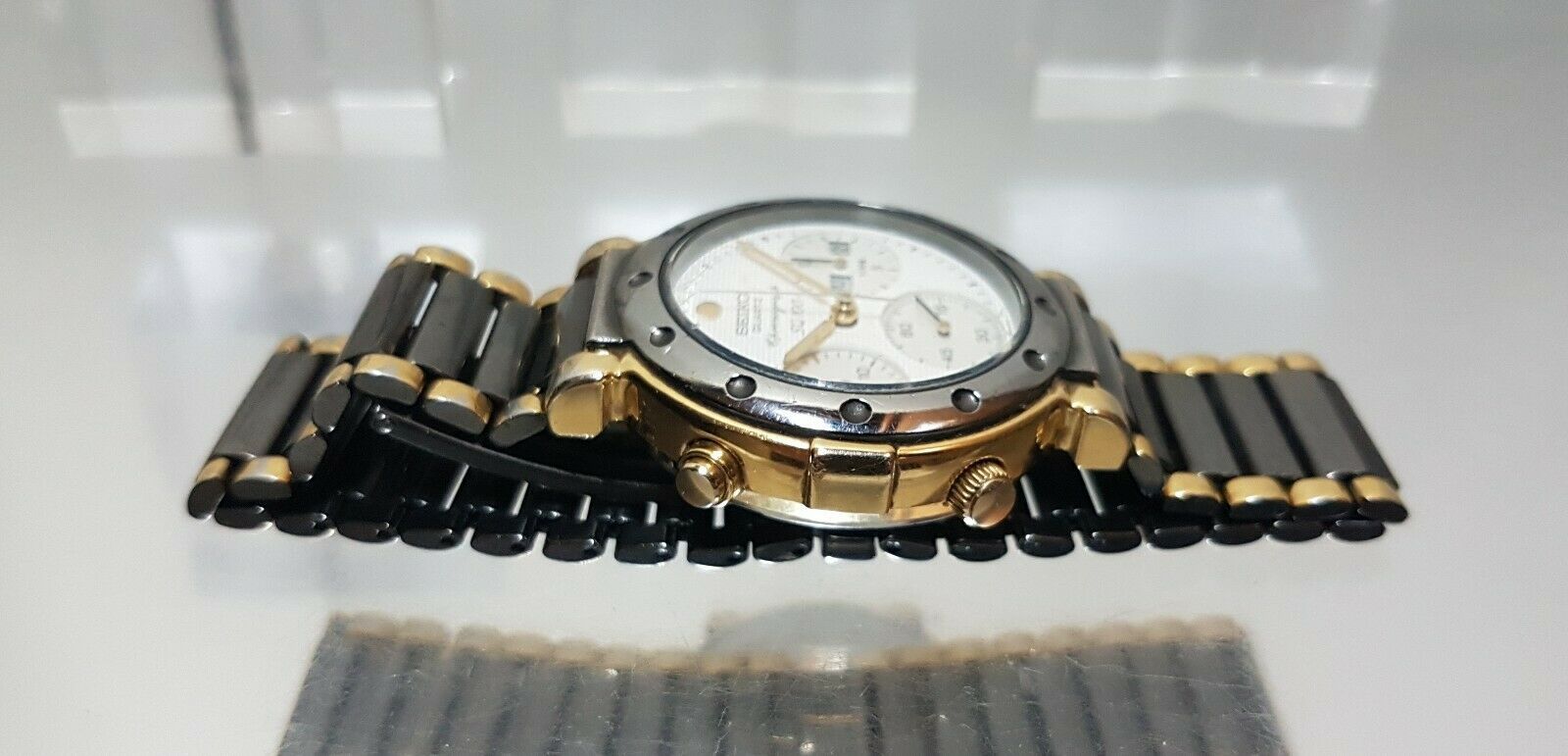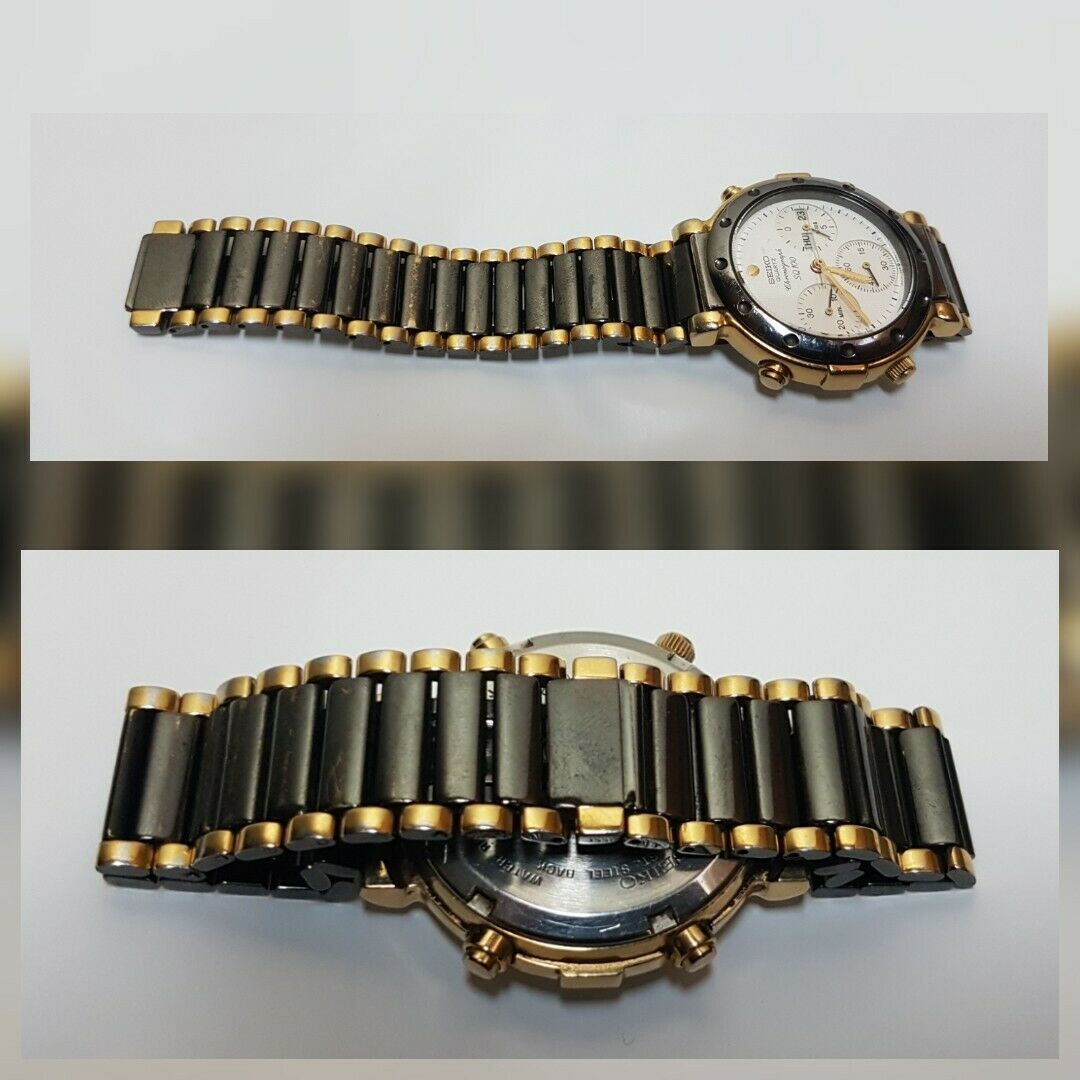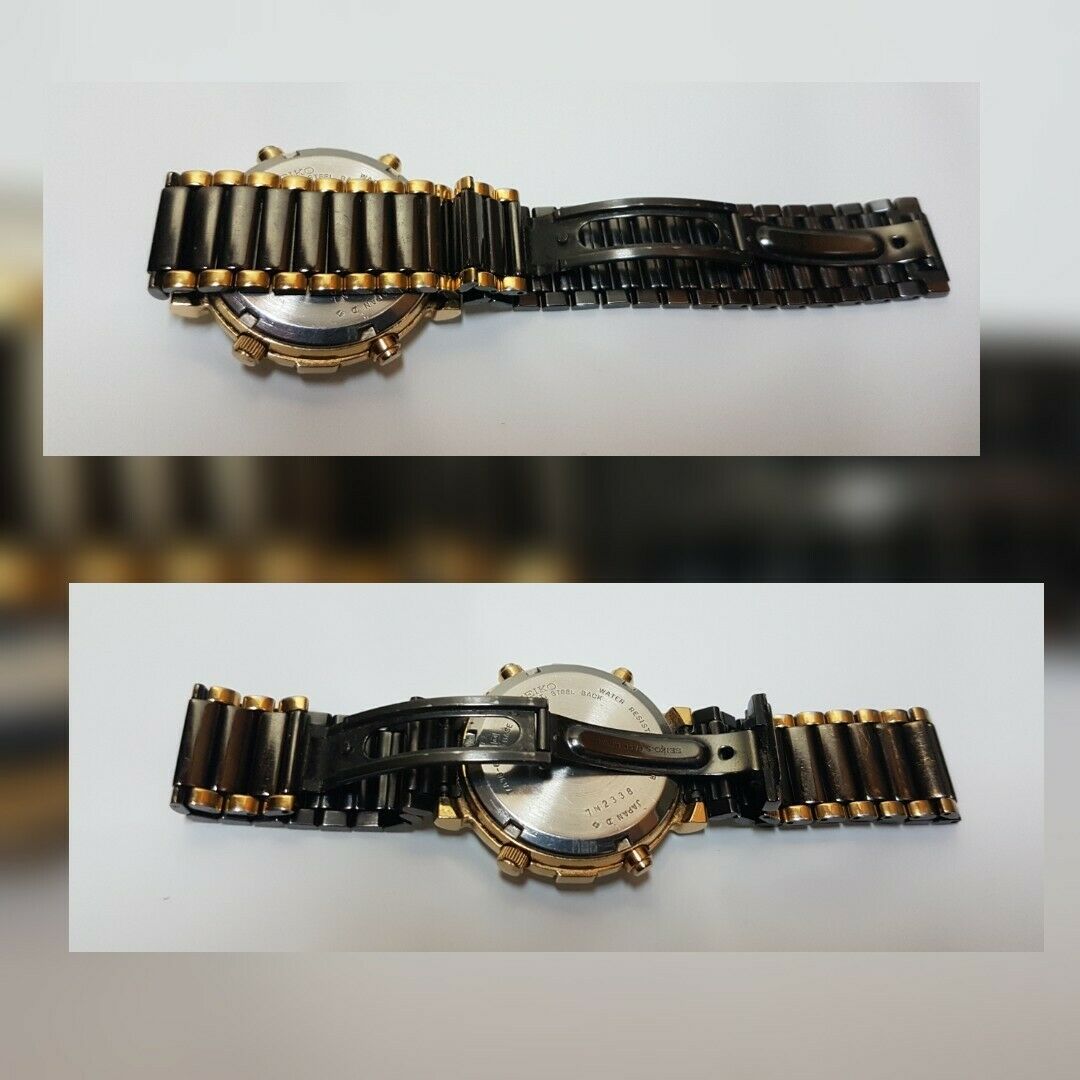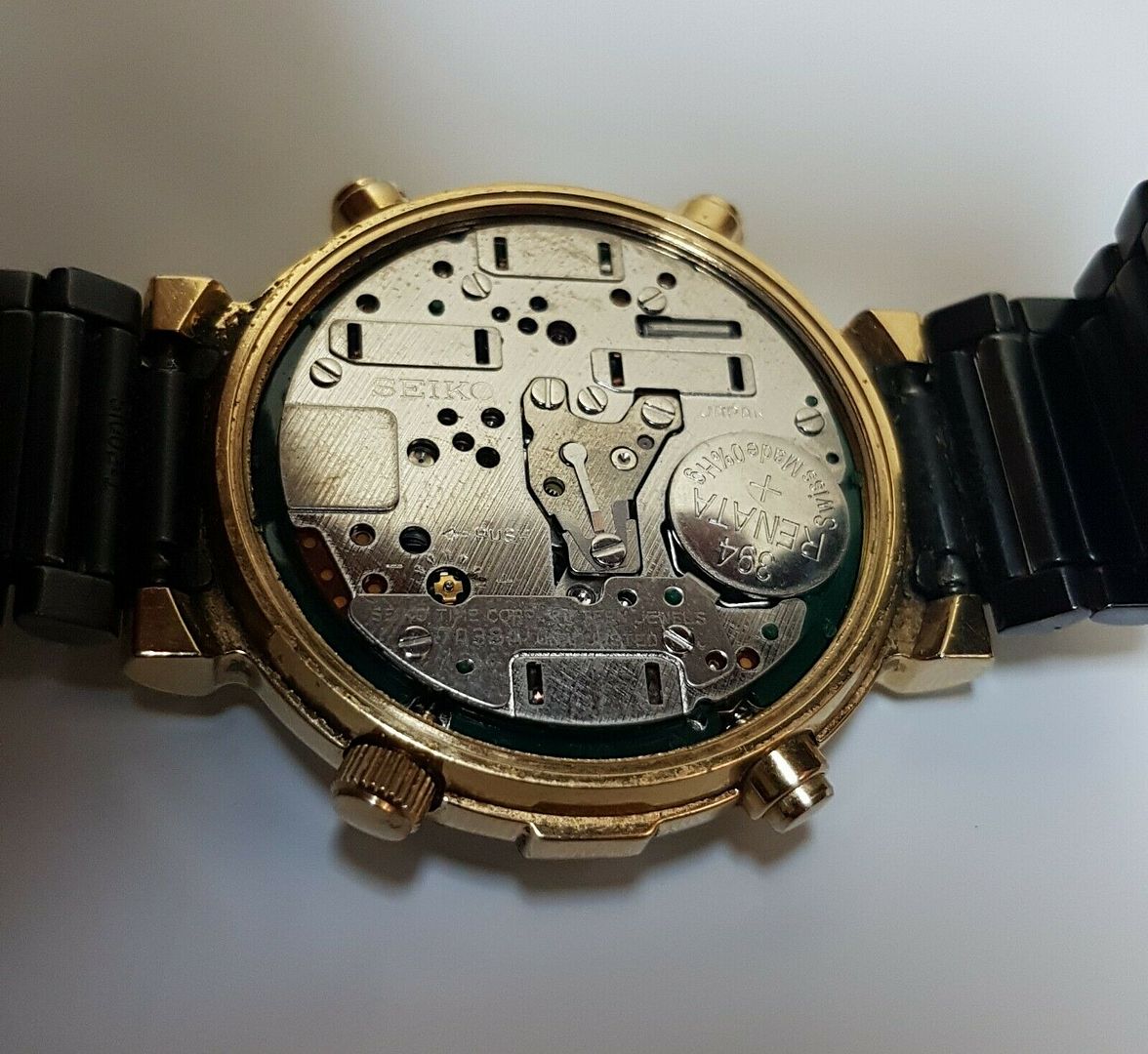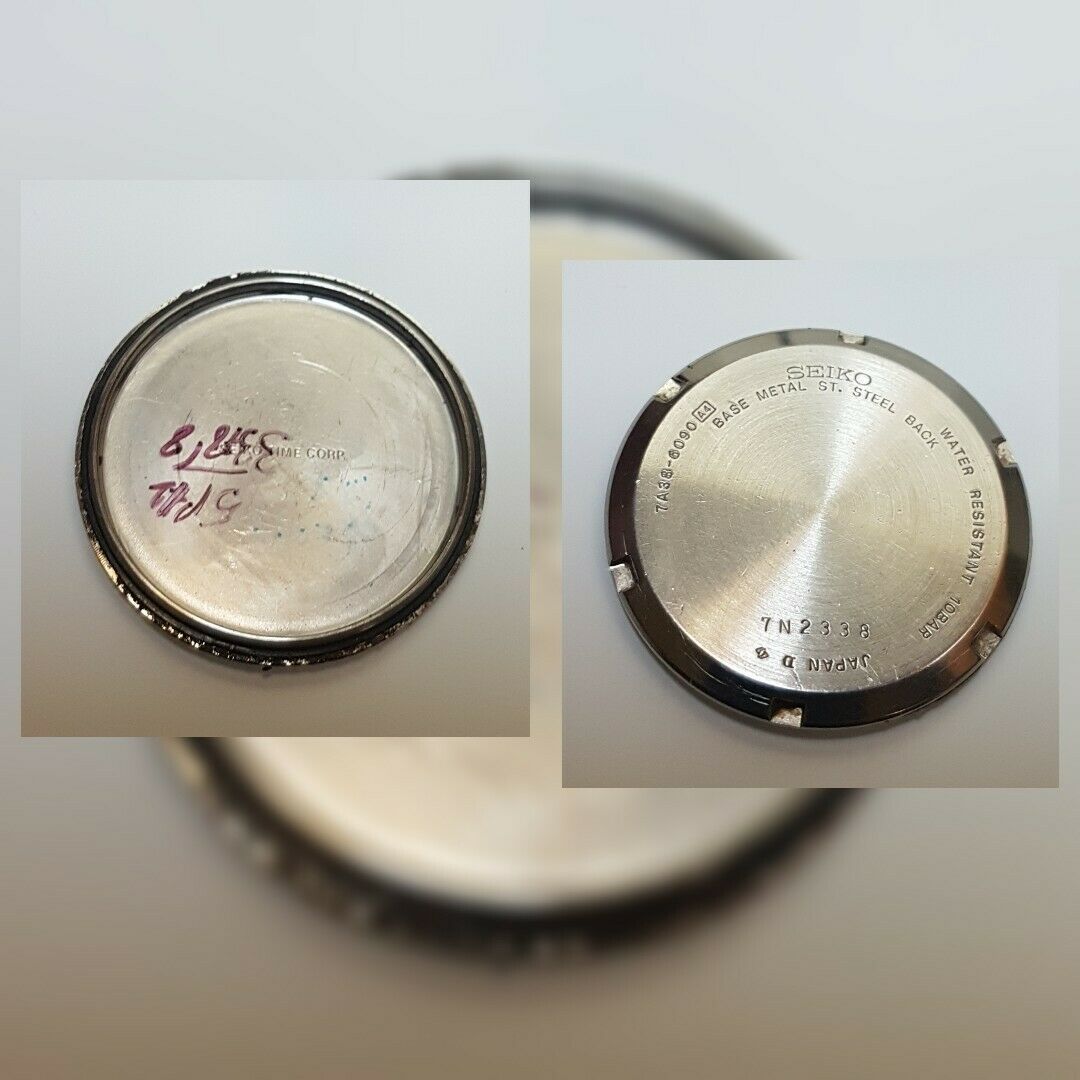 Vintage quartz watch.
On the dial is written: SEIKO QUARTZ CHRONOGRAPH SQ100
JAPAN 7A38 6080
On the bottom is engraved: 7A38 - 6090 A4 SEIKO
BASE METAL ST.STEEL BACK WATER RESISTANT 10 BAR
7N2338 JAPAN D
On the movement is engraved: Seiko time corp 15 jewels UNADJUSTED
7A38 SEIKO Japan.
Watch in working condition.
New battery changed recently.
Chronograph start ok.
Pause ok.
Raz ok.
Functional chronograph.
Date / time change ok.
State dial/ hands: very good condition.
Impurities are visible.
Note that the button at 4 o'clock resetting is slightly depressed.
It does, however, ensure its function.
Used object having already been worn with imperfections of use as marks on the glass and the case that are present but not handicapping.
Dimensions: Case: 36.5 mm Horned horns: 42 mm Between horns: 14 mm
Length of the bracelet without case : 16 cm
Size that can fit small and medium wrists.
Before bidding and to avoid any misunderstandings, please refer to the photos that serve as a description.
Sending neat international colissimo with tracking number against signature and insurance.
The transporter's name: The Colissimo International Post.
The cost of the shipping will be updated depending of your country.
NO RETURN BACK ACCEPT .
Payments accepted:
Paypal, transfer, check.
The sale will be canceled if the payment is not made within 24 hours after the end of the auction and without valid reason on your part.
Profiles less than 5 reviews contact me directly before bidding otherwise the sale will be canceled.
If the conditions of the sale do not suit you, I suggest you do not participate.
Feel free to ask a question before bidding.
(I've not bothered copying and pasting the French version which follows).