Here's another 7A28-7120 RAF Gen. 1 that was listed yesterday evening by a UK eBay seller, with a comparatively low Buy-it-Now price of 'only' £575 (or Best Offer).
http://www.ebay.co.uk/itm/142503871417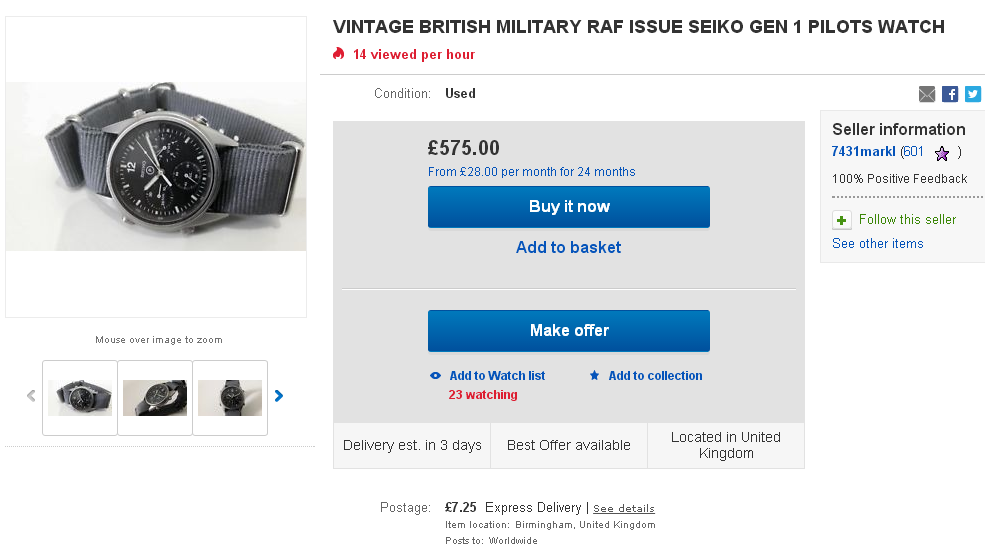 Seiko Gen 1 RAF watch
Issued in 1988
Fully working, keeps excellent time, chrono starts stops and resets
The legendary 15 jewel 7A28 movement is very clean and fully functioning
In good overall condition with wear commensurate with age and use
Main second hand and 30 minute sub hand a fraction off centre when reset, this is common with these watches and can be adjusted
The rehaut is also slightly off centre
Damage to caseback - see photo. This does not affect it as the caseback opens and screws down without a problem
Posted RMSD in UK, Royal Mail tracked and signed for elsewhere - cover is limited to £250 and is at the buyers risk. If you want full cover by courier please contact me before bidding.
Perhaps it's my naturally suspicious nature, but I'm wondering if this watch is in part connected to the 1988 'Project' watch briefly offered by UK seller 24699510 on 20th August, with a Buy-it-Now price of £300 (see my post on the previous page) - before its details were overwritten with those of another 1989 watch. Note this seller states: Damage to caseback - see photo. If you check the photos, you'll see the damage is corrosion to the inside of the case-back and case threads. The seller 24699510 had written:
The case back has corrosion on two sides, on one side it extends onto the thread which is partially damaged & the damage extends onto the case-back edge/back.
The mid-case has some corrosion on part of the thread but could be cleaned up although would probably not pass a pressure test w/o some serious work.
.... which far better describes the water damage to the inside of the watch case, visible in this seller's photos.
Oh, Yes - and both watch cases have a distinctive ding to the bezel area, just above 12 o'clock.