Another 7A28-7120 RAF Gen. 1, listed by a UK eBay seller, popped up in my saved search notifications early this morning. Not sure why it's only just appeared on my radar, because it was supposedly a 10-day auction - but now one with only 7½ days left to run. Looks like the seller completely edited it just before Midnight last night.
Nobody else can have seen it before either, because the first bid was only placed @ 6:30am this morning. Hence the reason bidding is still at only £5.50 (up from the £0.01 opening bid) after 2½ days. 
http://www.ebay.co.uk/itm/273347000505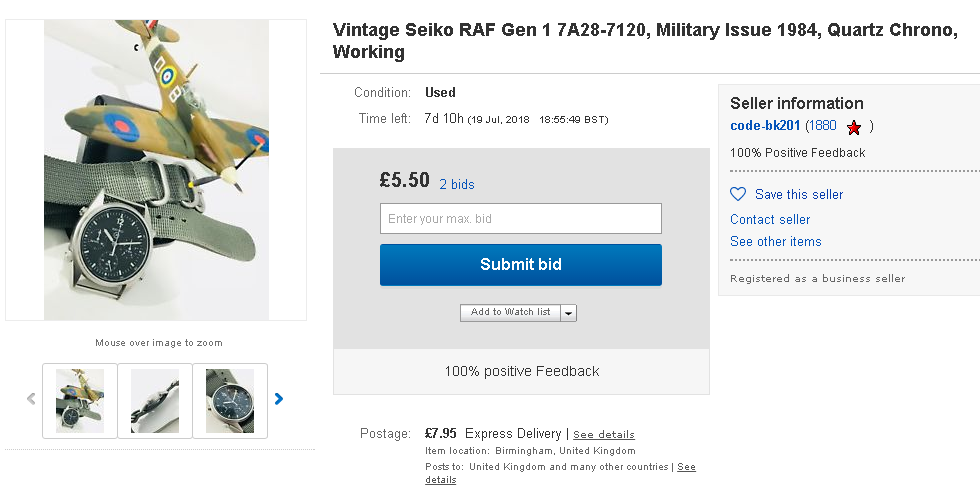 Vintage Seiko RAF Gen 1 7A28-7120, Military Issue 1984, Quartz Chrono, Working
For sale is this Seiko RAF Gen 1 chronograph on a new canvas strap. This is a very early watch dating from 1984, and these were issued to the RAF from October 84, so this is incredibly rare and in such good condition too. It is quite common to find the later ones, but 1984 versions are very rare. Very sad to let this one go, but needs must.
Seiko stamped a "circle P" on the dial, indicating that Promethium – a mildly radioactive man-made element – was used to illuminate portions of the dial and hands. On the caseback are stamped the NATO stock numbers, as well as the watch's individual issue number and year of issue. The broadarrow symbol indicates that the watch was property of the Crown and did not belong to an individual soldier or sailor.
Like all Seiko 7A28 models, the Gen 1 has a well-designed, functional chronograph with the stopwatch indicators arranged efficiently around the dial. The 3:00 o'clock register measures 1/10thsof a second, while the large center hand ticks incremental seconds. The 9:00 o'clock register records chronograph minutes up to 30. Time is displayed with standard center hour and minute hands and a continuous seconds hand in the bottom register.
Overall in excellent condition for an actual watch used in the RAF, a few light marks but nothing that can easily be seen with the naked eye. The most isible marks are the rubbing on the caseback (very common, as these come with fixed lugs and nato straps) - it has spent the last few years with a caseback sticker to prevent further rubbing. I've worn it on occasion, but not very frequently and it has been incredibly well looked after in my purview. The original mineral crystal has a scratch near the 3pm, but as it was original I didnt have the heart to get an aftermarket crystal on it for £20. I prefer the originality rather than polished looks.
Battery and seals replaced approximately 2 years ago, and the watch is usually kept with the crown pulled out to preserve battery, and the hands at 10:10 position as shown in the photos.
Starting the auction at 1p, with no reserve. Best wishes.