Probably not that easy to gauge from the wrist shot above, but compared to most 7Axx's this watch is tiny - only 36.0mm in diameter.
The chunky solid link 18mm bracelet seems quite at odds with it - especially when you're used to flimsy Seiko folded link bracelets.
The good news is that these YSL branded watches being sold by Hong Kong eBay seller Neverstrong are definately not fakes.
I must admit I had my reservations, especially when I saw some of the other looky-likey iffy branded watches they were selling.
No - these are genuine NOS previously unsold stock, presumably dating from the very late 1980's or more likely early 1990's.
Besides, not even the cleverest Chinese replica watch manufacturers could fake some of what you're about to see. 
For one thing, cheap replica fashion watches from the Far East will often have the same serial number stamped on them.
This one is s/n 609112 - three numbers up from 609115 (the same watch which Neverstrong have used in all their listings):
Earlier in the thread, Paul (PHK) in Las Vegas and I had discussed the case-back engraving. As you can see from my flash-lit photo it's very nicely done and quite the 'pukka' thing. Here I'd removed the protective sticker and given the case-back a wipe with a soft cloth with a dab of lighter fluid on it, to remove most of the sticky residue. That's a reflection of the Ronsonol tin you can see between the words STAINLESS and STEEL. Unfortunately, in the same area of the caseback perimeter you can see some 'additional engraving' added by some ham-fisted oaf - slipped tool marks that run almost the whole way between two notches. There are two other matching graunches. Fortunately none of them extend beyond the case-back onto the watch case and the area with the engraving is pristine.
So as they'd obviously expended a considerable (wasted) physical effort unscrewing the case-back, I expected it to be on tight.
But No - it unscrewed quite easily with one quick twist of a sticky ball. 
I was half hoping to find C.G.H. (Compagnie Générale Horlogère - Yema's Seiko parent company) stamped inside the case-back ....
But it was completely blank - so I didn't bother taking a photo. We already knew the movement would be printed Shimauchi Ltd. V905.
(This particular movement doesn't have '710' moulded into the green plastic insulator spacer - it would be under CG-M. Not unusual.)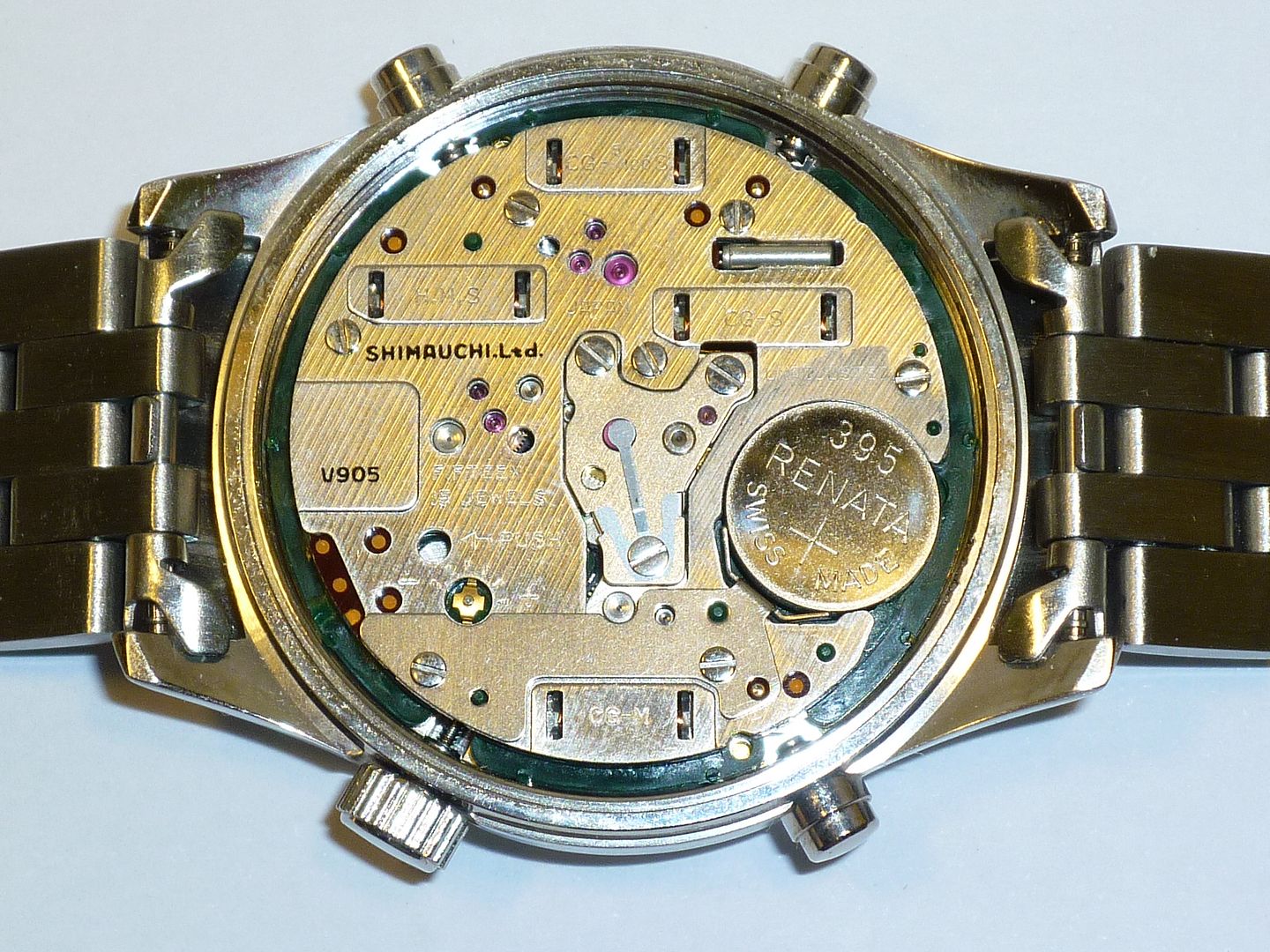 What I didn't expect to find was some nasty staining on the back-plate - evidence of an old battery leaking - presumably the original that had been left in there 20-odd years. This probably explains why in the photos we've seen of two examples, the lume is slightly degraded; the seller mentions the (98% NEW for dial & hands only) condition of the hands in their description. On mine they're fine.
Note also that the seller had fitted an undersized # 395 battery instead of the correct # 394.
Here's a close-up shot of the battery well. The gold-plated negative terminal has obviously been scraped clean of sulphate deposits.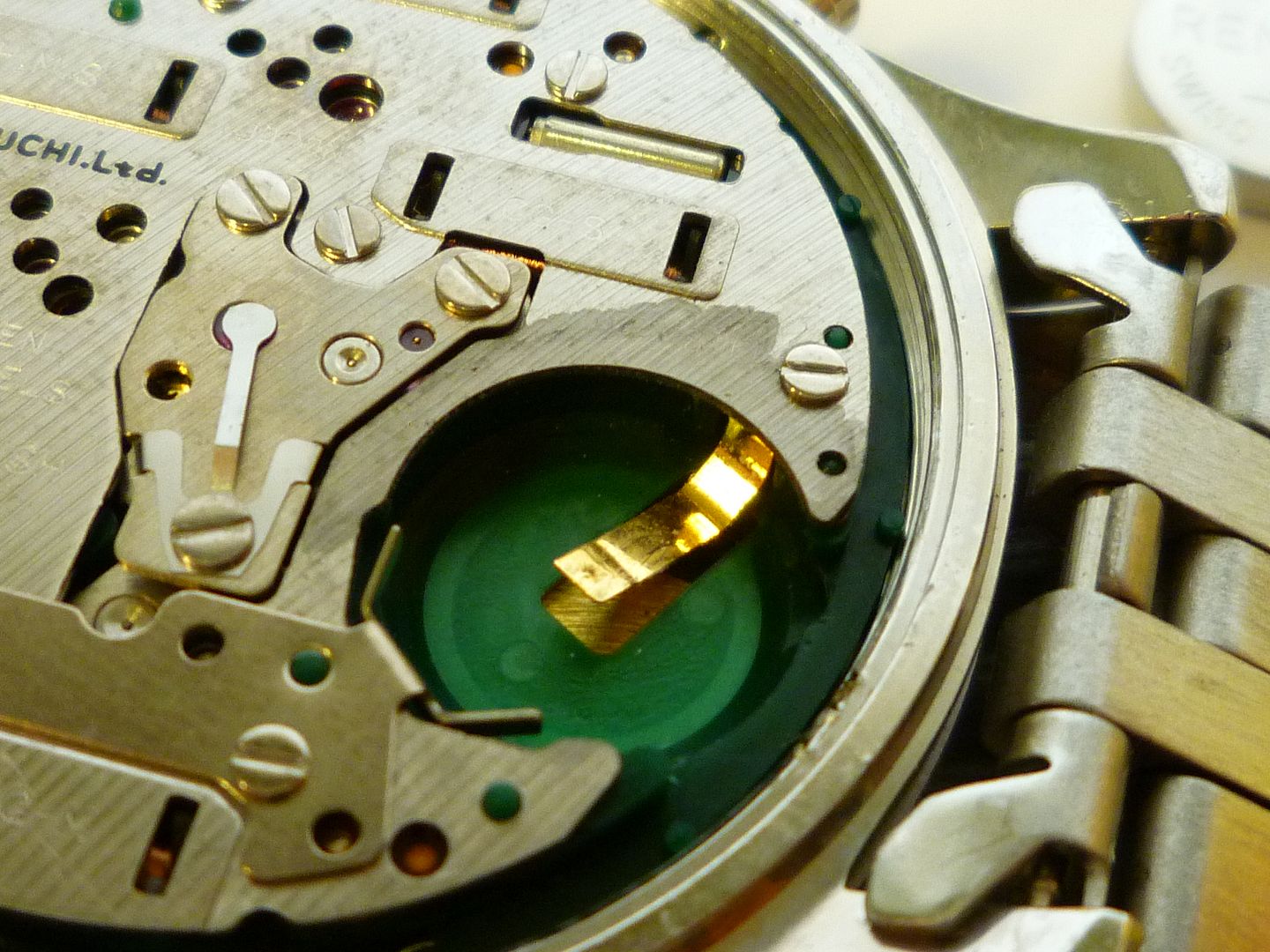 At the weekend I plan to remove the back-plate, clean that stained area and check that there's nothing nasty lurking underneath.
Other than my Q&D wrist shot, this morning, I haven't taken any shots of the complete watch. There's plenty in the thread already.
But I did take a couple more specific shots this morning. Here's the somewhat incongruous, pointless 5.5mm Ø screw-down crown: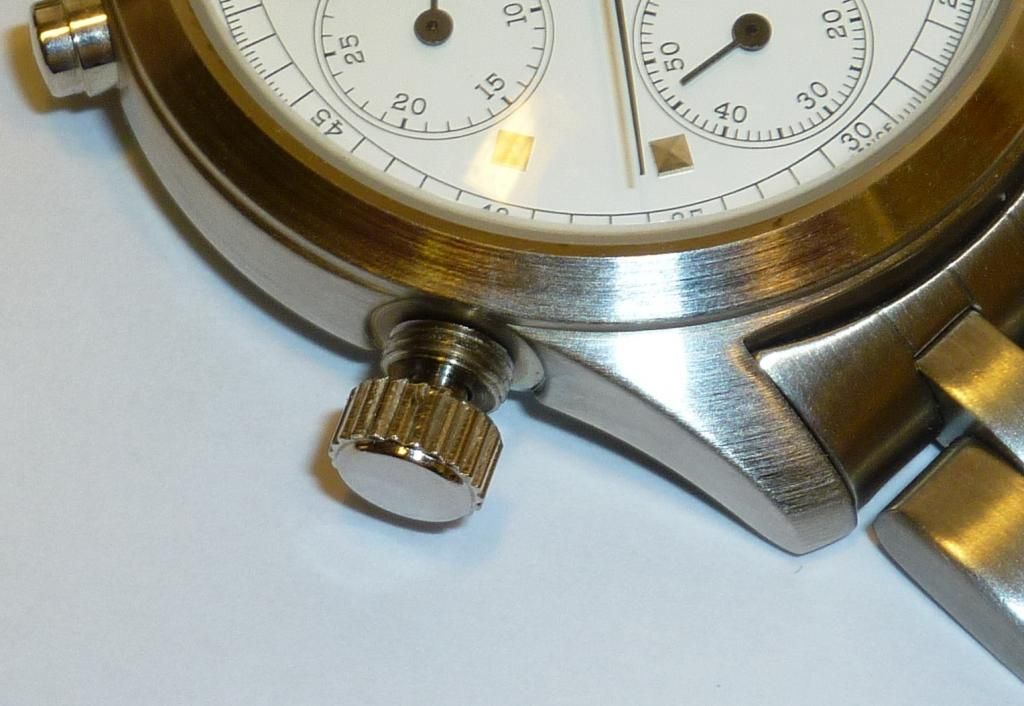 I instantly recognised those short sub-dial hands - they're another Seiko / C.G.H. parts bin component. They're also used on some of the Cartier Ferrari Formula chrono's like this one of mine. Except on that watch they're painted dark grey instead of black jappaned. 
As I've already written, IMO, the chunky solid link bracelet is also at odds with this little watch.
As supplied, it's also very long and would probably fit an 8½" wrist. I took out 3 adjustment links to reduce it down to fit my 7½" wrist.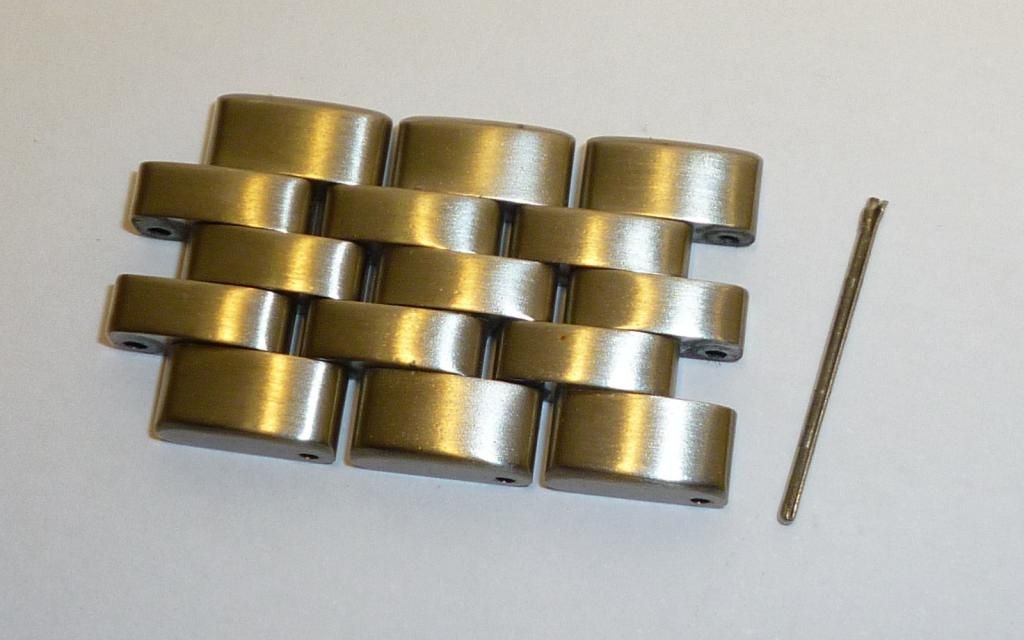 What surprised me was that the adjustment links were held in by weedy 0.8mm diameter split pins (rather than say 0.9mm or 1.0mm).
Couple of other observations:
Goes without saying this bracelet (however solid it may look) is held on by the usual pressed end pieces and 1.5mm Ø spring bars.
Probably not so apparent from Neverstrong's photos, but the crystal is quite pronouncedly domed. If you look again at the Russian watch forum seller's photos you can see he included a side-on view. This crystal produces some distortion as you turn the watch towards the horizontal, so I'd suspect it is flat-bottomed rather than double-domed.
So, apart from the faults with the example I was supplied with, you can probably gather I was less than enamoured with this little watch.
Which in the circumstances I bought it, makes it even more of a disappointment.