One hazard of being an opinionated SOB is that I'll occasionally write something on here and it'll come back and bite me in the A$$.
You know - being overly critical of a watch on eBay, calling it a tired 'beater' and then a forum member pipes up: 'I just bought that !' 
There is, of course, the odd forum member who seems to thrive on these kind of 'bottom of the 7Axx barrel' watches. No names. 
Me ? I've had enough of them in my time, so nowadays I tend to avoid them like the plague. I will however make exceptions sometimes - particularly when it comes to rarer non-Seiko branded 7A38's - especially Orient J39's. A few I've bought have been a bit rough-ish. 
But I probably could have done without this one, which I bought myself as something of a consolation prize last September.
Rewind back to last August.
I'd just bought the Tickdong Racer J39908-70, quickly followed by the 3 NOS Racer J39's which Julio helped me procure and two NOS dressy Yema N8's in the space of less than two weeks. I wasn't skint, just a little bit wary that I'd blown that month's watch budget. Then another Racer J39 came up on Milanuncios.com. I sort of fancied it, because it was another J39 case model / dial variant I hadn't seen before (I had seen the same case used on Orient J38's). However the seller was asking 100 Euros and it didn't look to be in such good condition. To cut a long story, and hopefully prevent repetition, here's a partial copy and paste of what I wrote in the Racer J39 thread:
Meanwhile, knowing my weakness for obscure non-Seiko branded 7A38's, Lawrence hadn't given up in his efforts to bankrupt me. 
Late last Sunday evening, he PM'd me a link to yet another Racer J39 which had appeared on milanuncios.com earlier in the day.
In fact, I'd already seen it myself; I found it while checking on the status of the three NOS Racer J39's that I was planning to buy.

RELOJ DE CABALLERO RACER
Reloj de caballero Racer Chronograph Quarz, con 3 esferas. Armis de acero, correa de piel. Buen estado. Funciona correctamente.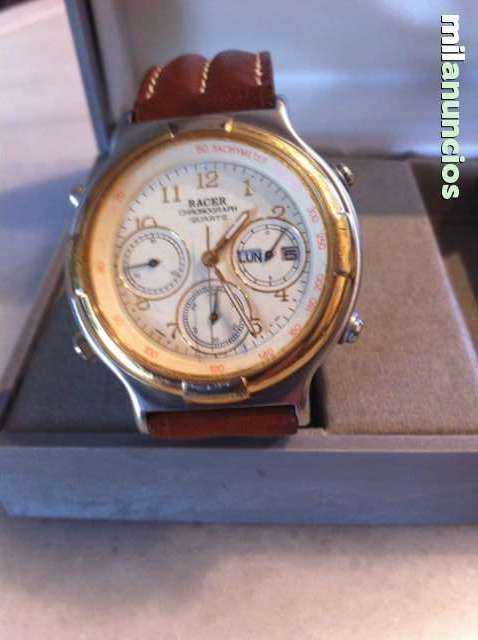 (Seller's photo rotated through 90 degrees).
I will admit that I was tempted initially. It would be another different Racer J39 variant in 'my instant collection'. Perhaps if I hadn't just bought the other 3, NOS with tags for 100 Euros each (or less) I might have gone for it. It also occured to me that I was 'pushing my luck' with Julio's patience and good will, even though this seller is supposedly located in Barcelona. So I've just favourited it for now.
However, I was curious to learn more about it. So I've messaged the seller (twice), asking her what the case-back model number is.
No reply so far. 
I sent a couple more messages. The seller never did reply to any of them. 
After a couple of weeks, I relented and asked Julio to try contacting the seller vith a view to purchasing it on my behalf.
He replied on 10th September:
Hi Paul, unfortunately the watch has been sold. I've emailed the lady yesterday and texted her today because she was not replying.
Annoyingly, the advert was tantalisingly left up on Milanuncious.com for a couple more weeks, before she finally got round to pulling it.
In the meantime, what appeared to be almost exactly the same watch, but the Orient branded version - a J39002-70, turned up on eBay UK in a junk job lot of watches, a matter of days later, in the second week of September.
http://www.ebay.co.uk/itm/261282567319

HI HERE YOU HAVE A COLLECTION OF 5 WATCHES PLUS ONE STRAP VERY OLD BELONGED TO MY LATE FATHER IN LAW ANY QUESTIONS PLEASE ASK
1. CITIZEN WITH NUMBERS ON BACK ..3220-949382SMO..3100181...32-5881 NO STRAP WITH THIS ONE JUST TWO SMALL STONES TO TOP
2. CITIZEN..Q-100123..63-6118 NO STRAP
3. SEIKO..430075 ..6106-5530
4. QUATRZ FERRARI
5. ORIENT ..J39002-70...CS 
6. RADO STRAP ONLY
ANY QUESTIONS PLEASE ASK
Initially, most of the seller's photos were just crops of the primary image, which included her painted toenails at the foot of the shot.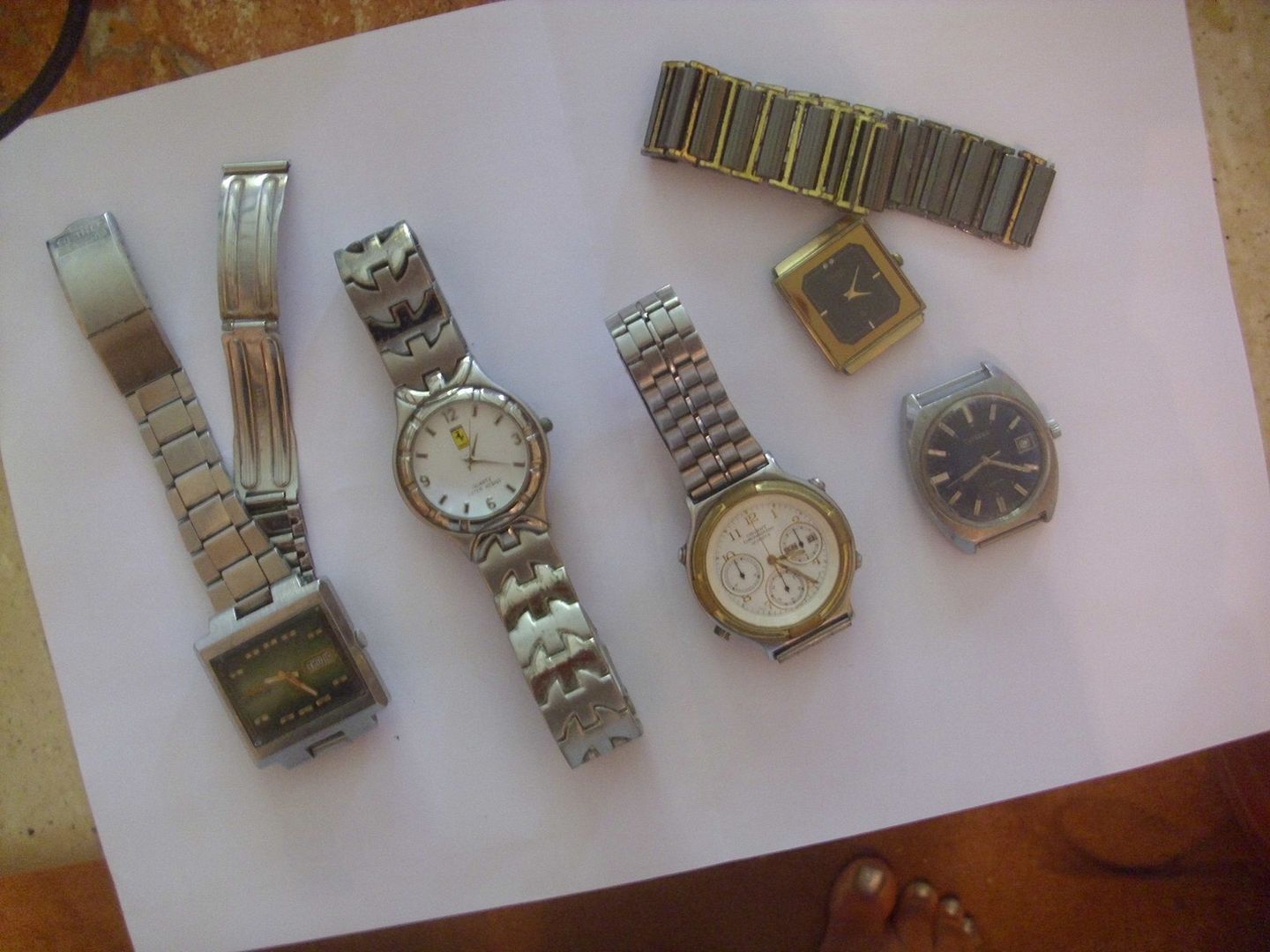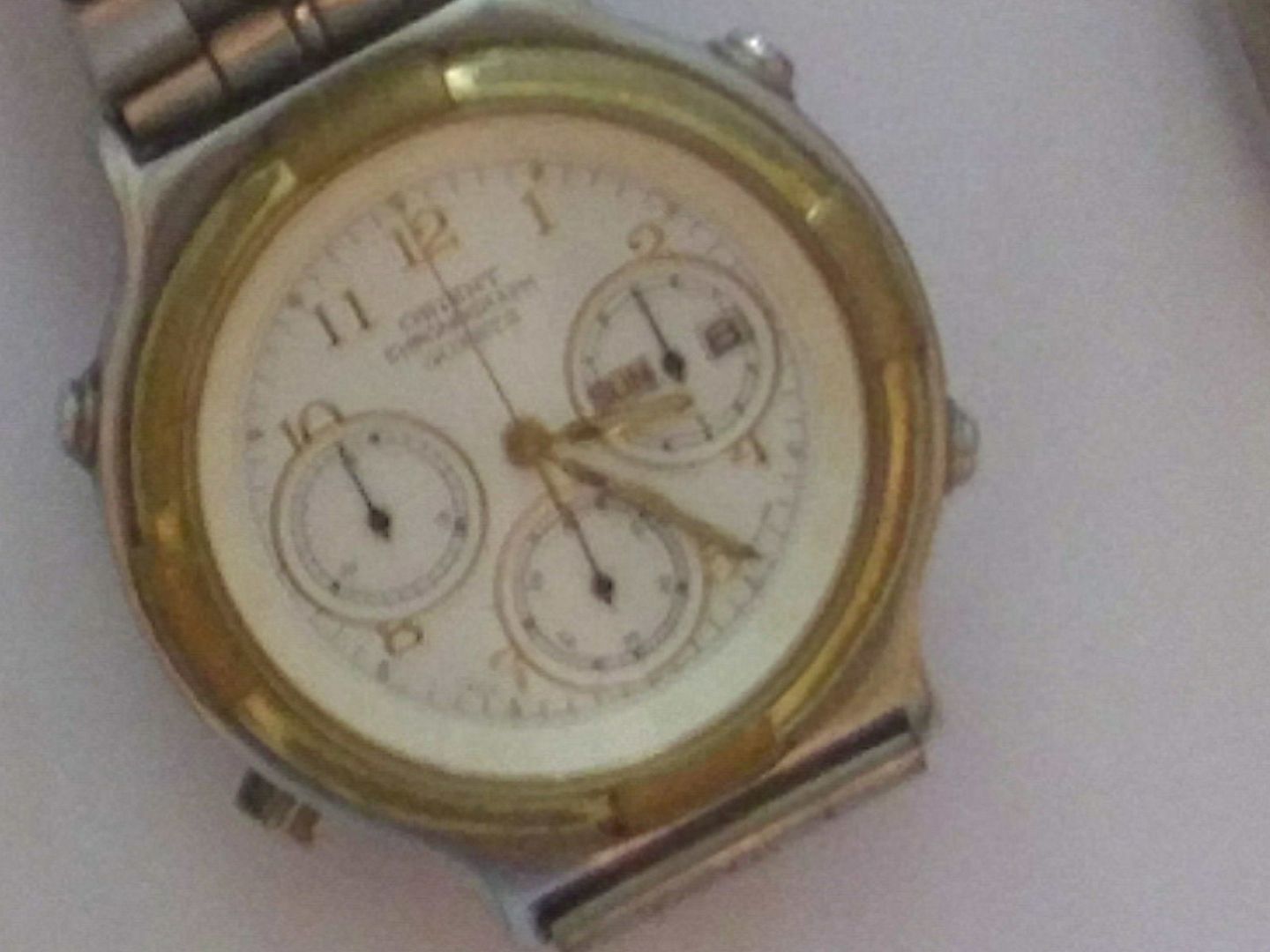 Eventually I did manage to persuade her to take a separate photo of the J39002-70. It still looked pretty uninspiring (understatement):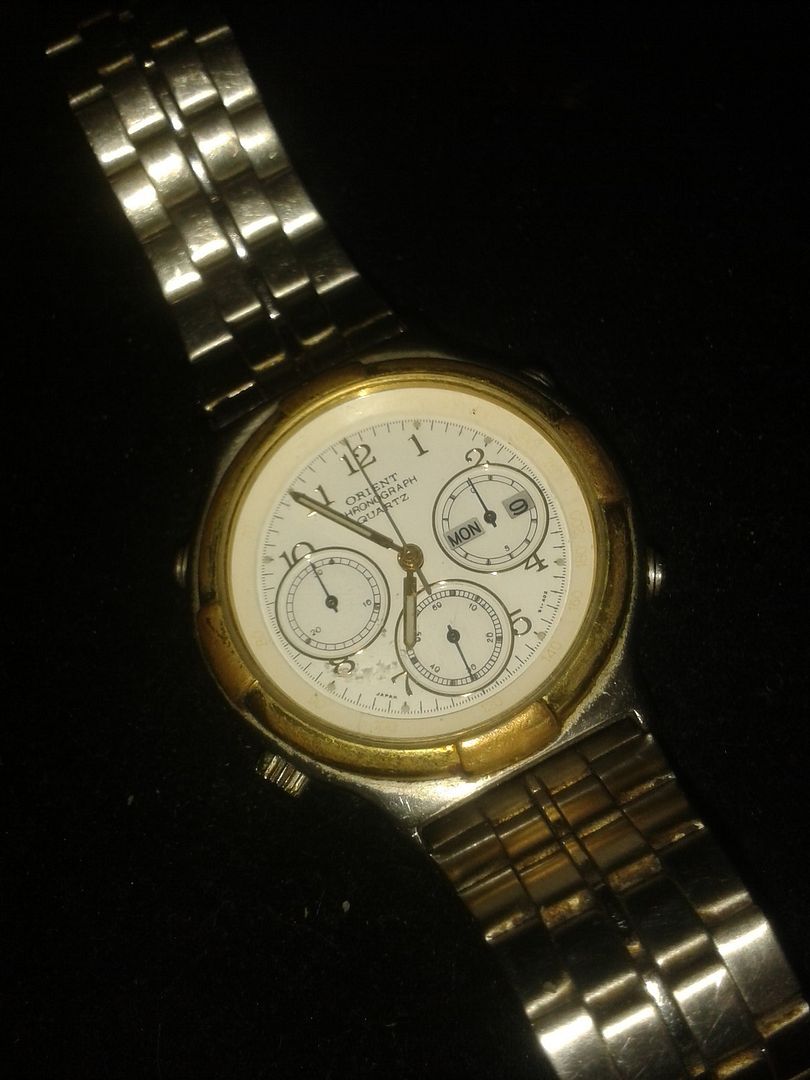 I also tried to persuade her to split the J39002-70 out of the job lot and sell that to me separately, but she wasn't having any of it. Most of the remainder of the lot was indeed junk - the 'Ferrari Quartz' watch and RADO bracelet being obvious fakes. The only other thing worth having was the Seiko 6106-5530 '5' Actus which had attracted the attention of another collector who bid against me for that. 
I really don't know why I bothered bidding to win it. Like I say, getting this Orient J39002-70 (and the rest of the crap that came with it) was probably a psychological 'consolation prize' for having recently missed out on that equivalent Racer J39 on Milanuncios.com. 
Because it didn't have a single redeemable feature.
It was absolutely filthy. The bracelet was clearly non-original - a 20mm 'generic' that had been filed down to fit the 19mm lug width. Well, partly filed down - because whoever had fitted it had also 'relieved' the lug areas of the watch to make it fit ! The pushers had obviously been attacked with pliers at some point; the crown was not original and the case tube had been reamed to suit. The gold plating was completely worn off the pushers and bezel and the case-back had deep scratches inflicted by clumsy use of a removal tool.
The crystal looked quite good, but was clearly a replacement, which like the original had been glued in. Quite tidily done, but I suspect whoever did it left the plastic Tachymeter ring in the case, because the original red lettering of the Tachy scale was almost completely bleached. The dial and movement had obviously been subjected to both moisture ingress and acid attack from a leaking old battery.
After some titivating, cleaning rusted switch levers and replacing the odd coil, I finally managed to get the movement running again properly and reassembled it into the butchered watch case. I probably should have left it there. Indeed I did for about 6 months ....
There's an old adage that applies in such situations: Don't throw good money after bad.
Apparently some people beg to differ: http://qz.com/87562/theres-actually-reason-to-throw-good-money-after-bad
I carried on searching eBay for Orient J39's (and indeed regularly still do) - and particularly another much better J39002-70.
But I kept coming across Orient J38's - the 7A48 equivalent, oddly enough using the same watch case. Indeed I wrote elsewhere:
Now I've 'uncovered' the existence of these Orient J38's (7A48's), I keep stumbling across them when I'm searching for J39's (7A38's).

In the end I relented and bought one. It had been re-listed many times since March 2013 and eventually the price came down to $55.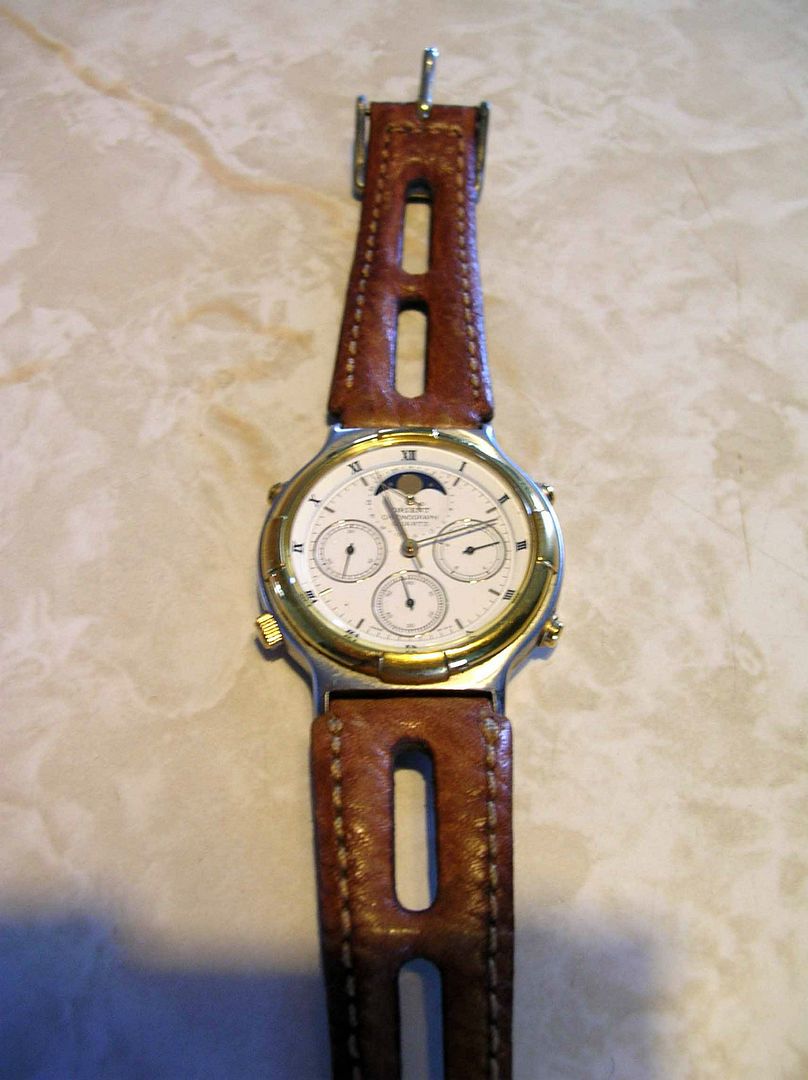 It was in quite nice original condition and apart from a recalcitrant 1/10 second chrono' stepper motor all worked fine.
Thing was, although I'd bought it mainly to rob for it of its watch case, it really was too nice a watch to break up for parts. 
But I had bought it for another reason - to rob it of (most of) its hands to help 'put right' my ex-Tickdong Racer J39908-70.