Following up from Chris' statement in his post:
I am considering using a spare strap I have from a 7A28-7079, which uses the same pin and tube fitting.
Allow me to refer readers back to this thread Different Methods of Bracelet / Strap Attachment, where I wrote:
However there is another sub-genre of 7Axx which uses a different method of bracelet attachment, which I call 'Pin and Tube'.
This group includes the: 7A38-6020, 7A38-6109, 7A38-704x family and related JDM 7A38-7110, the 7A38-705x's and 7A38-714x's.
Off the top of my head, it's also used on the 7A28-7070; 7A28-7110 (which use the same lower case design as the 7A38-705x) and the slightly quirky-looking 7A48-701x.
Looks like I failed to include the 7A28-7079 - but I did list the equivalent 7A28-7070. 
 I followed that general statement later with:
Note: these are the parts* for this particular case model - different lengths and diameters are used on other 7A's besides these p/n's.
*Pin and tube part numbers. So it does not necessarily follow that every 7Axx 'pin and tube' watch case / bracelet are interchangeable.
Chris's combination of using the bracelet from a 7A28-7079 on his 7A38-704A may indeed work. I'll be interesting to see his photos.
One enterprising, less-than-scrupulous UK eBay seller fitted a p/n Z1148 off a 7A38-7050 to a 7A38-6020 last year. See this thread.
Incidentally, this is where you sometimes have to be a bit careful in taking data from Seiko Oceania's database as written.
Because I didn't know the part number for the bracelet used on the 7A28-7079, I looked it up.
It shows as: 4GF6ZY LEATHER BAND/STRAP in the parts list - which is clearly incorrect ! 
 The 7A28-7070 shows p/n Z1045S. 
However, I suspect most owners of 7A38-704x's with broken Z1147 bracelets probably won't be in the same fortunate position as Chris, owning another alternative Seiko 7Axxx 'pin and tube' bracelet that they can fit.
So we need to look at other possible alternatives. Hence my tongue in cheek suggestion above of the ZIIIRO Celeste bracelet.
For those not familiar with the 'pin and tube' method of bracelet attachment, here's a few close-up photos of my 7A38-704C beater.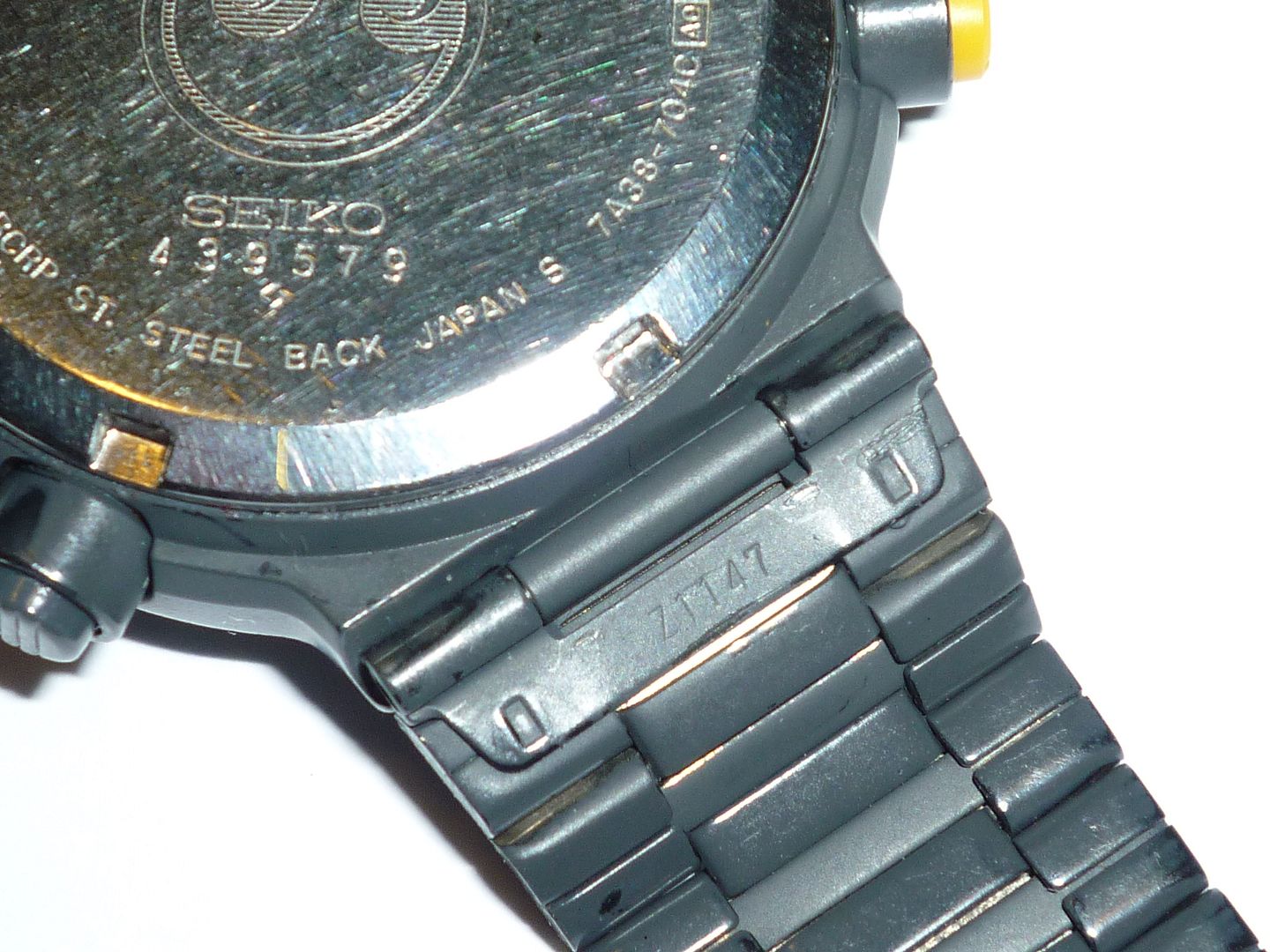 The overall width across the watch case to bracelet 'hinge' is almost exactly 21.0mm.
The central tube which is part of the watch case is exactly 10mm wide, approx. 2.5mm Ø O.D. and 1.2mm Ø bore.
The radiused recesses either side of it have diameters of approx 2.7mm (maybe 3mm absolute max.) - not that easy to measure.
The folded tubes that form the Z1147 bracelet's attachment points are approx. 5.5mm long and 2.6mm Ø O.D. with a bore of 1.5mm Ø.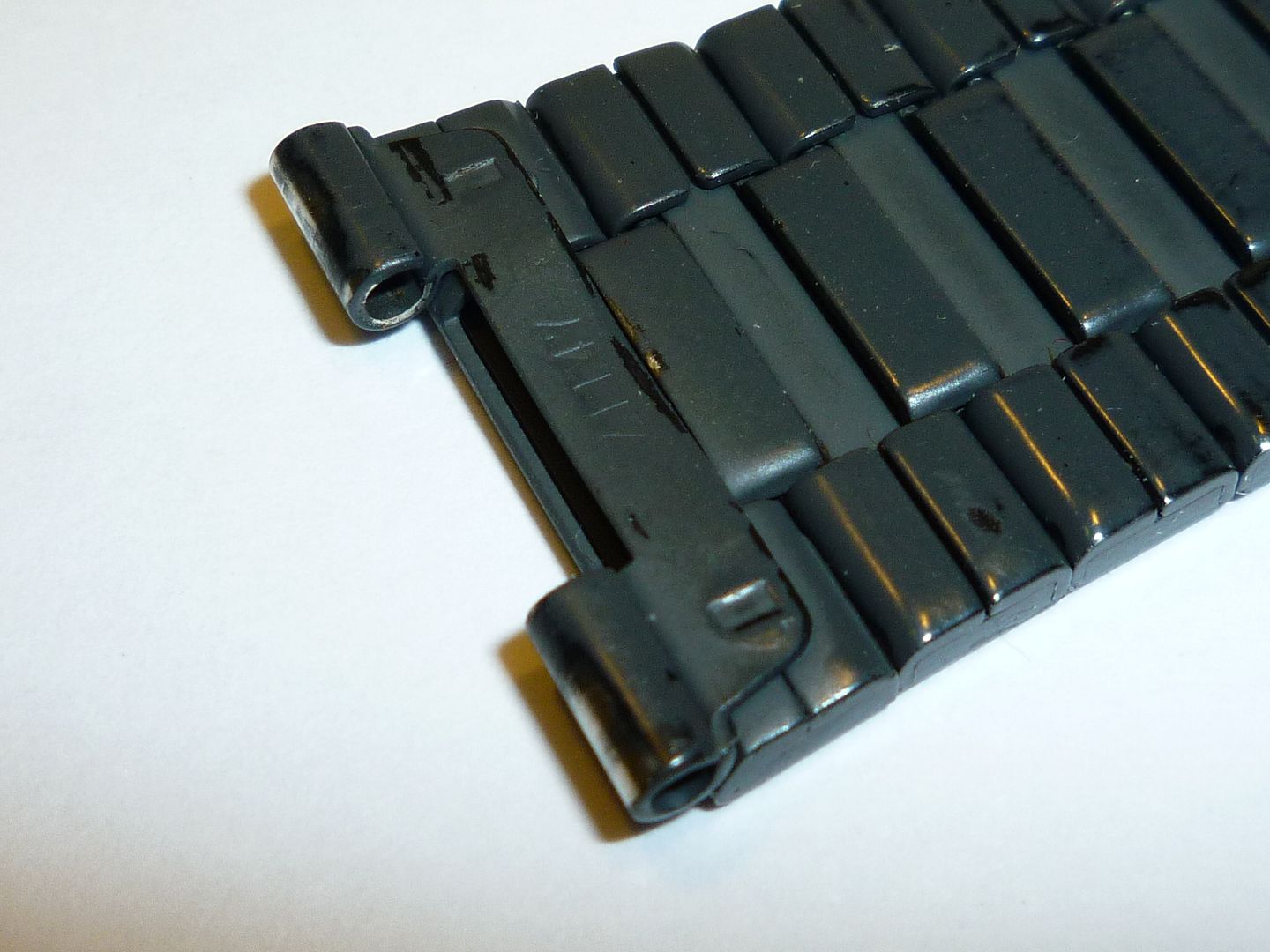 This is the pin Seiko p/n 81601169, whose shank measures 1.15mm Ø, with its serrated split collar / tube / pipe, Seiko p/n 81180189.