The package containing my newest incoming Yema Spationaute III and my very first copy of that manual arrived in this morning's post.
So after I'd examined the watch and played with it a bit, satisfying myself that everying was working as it should (of more anon) ....
Even though I think I ought to know by now how to operate one of these chronographs (blindfolded) ....
I thought I ought to sit down and read the instruction manual - and see what else I could learn from it. 
My copy of the manual is very tidy, but the pages are quite badly yellowed. Rather than try to photograph the pages, or flatten it out to put it on my scanner bed, in an effort to keep it half decent, I'm going to type out any relevant passages (there aren't many).
The manual is in 6 Languages: French, English, Italian, Spanish, Portuguese and German. On Page 1 it says:
Congratulations ! You are now the proud owner of a YEMA analogue watch series N7, N8, N9. To obtain the maximum performance from your YEMA watch, we would ask you to read this instruction carefully and keep it in a safe place for future reference.
The English language instructions begin on Page 18. The first clues to the existence of another caliber comes on page 19 under
CHARACTERISTICS
2) Calender (for watches with this function): day / date or only date.
4) Counter: 3 different types of counting scales are available.
'Only Date' could refer to a 7A34 (or possibly even a 7A74) or a 7A48 - but there in no mention of a Moonphase feature.
On page 22 there's SETTING THE CALENDAR and HOW TO SET THE CALENDAR.
Nothing remarkable in there, other than these rather more specific instructions (compared to Seiko's own - see this thread):
NOTE : To go from Midday to Midnight, avoid turning the hands anticlockwise.
NOTE : Do not change the date between 9 P.M. and 12 Midnight. and Do not change the day between Midnight and 4 A.M.
That's about it. There is no further mention of N7, N8 or N9 anywhere else in the English language section. Virtually all the annotated diagrams depict the classic 7Axx crown / pusher arrangent and / or the 7A38 sub-dial day / date layout - with some sub-dials omitted from certain illustrations (as in the photo of pages 26 and 27 posted above) although the manual could obviously be used for a 7A28.
These manuals were printed in 1989 - C.G.H.'s first year of proper Yema N8 production (as opposed to prototype builds):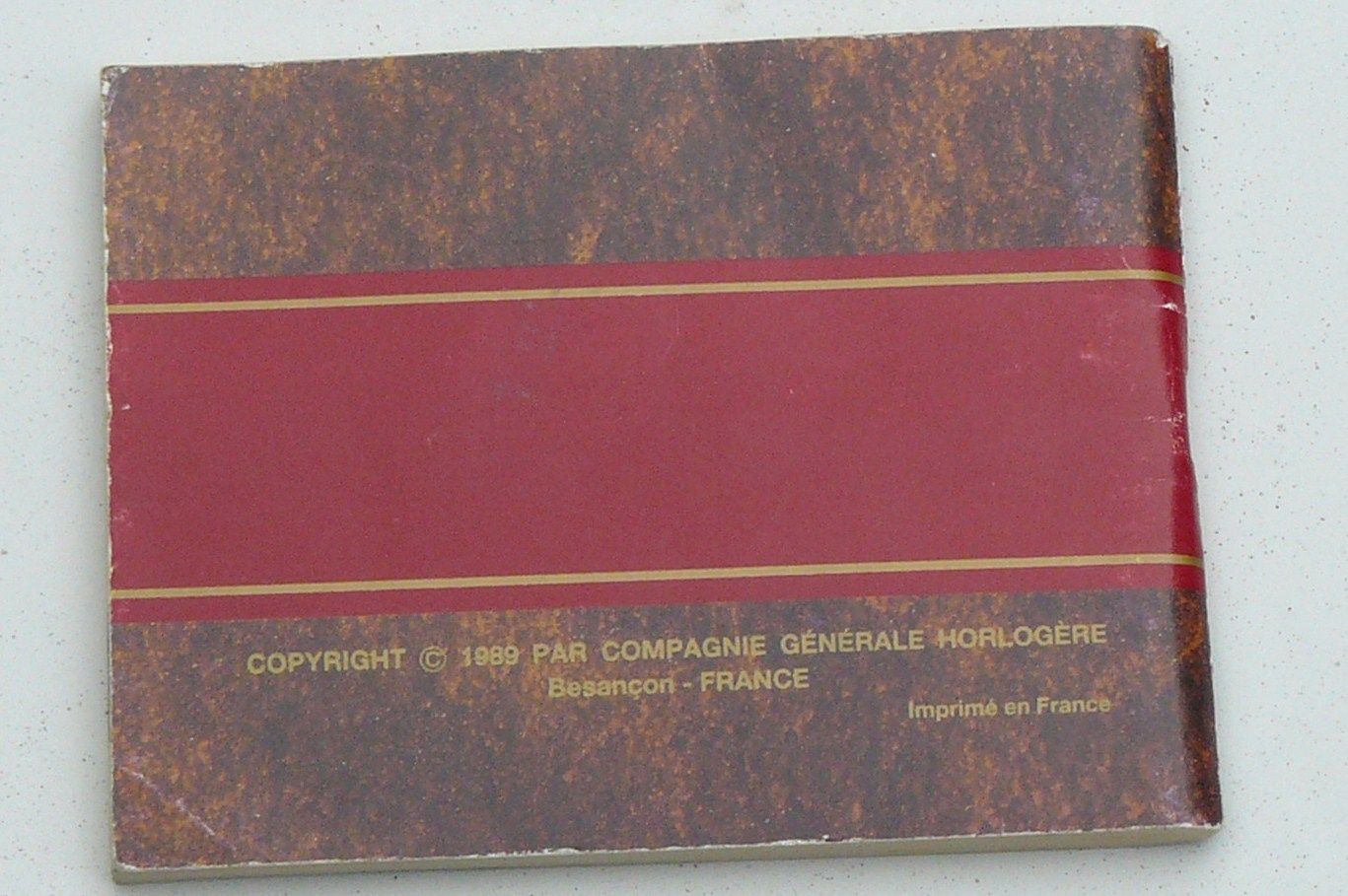 Perhaps at that time it was C.G.H.'s intention to produce a 7A48 Moonphase version, but it never materialized. Who knows ?