I knew this thread would come back to haunt me.
Whereas I still don't have any Yema N8's with seized pushers, I now find myself in a postion where I'd like to be able to swap over the pusher assemblies - where one (in a better watch case) is dinged and I potentially have better condition parts in a spare 'gash' case.
The problem being getting them out of their respective cases.
 So I've started looking at proprietory press-in pusher removal tools.
I'm not even going to bother posting a link to the Bergeon tool, because it's typically prohibitively expensive. 
Horotec offer a couple of options, in the form of their MSA 03.656 (removes and replaces) and MSA 03.654 (removal only) tools.
Cousins sell quite a few Horotec tools, but don't list these. Both Esslingers and OFrei in the States do. Esslingers being the cheaper:
http://www.esslinger.com/buttonremovingtool-frictiontubes.aspx - Horotec MSA 03.654 - $95
http://www.esslinger.com/toolforfittingandremovingbuttons.aspx - Horotec MSA 03.656 - $143.95
The only UK source I've found, so far, is an eBay seller swisswatchtool who wants £99.95 + £5.95 postage for the MSA 03.654. 
http://www.ebay.co.uk/itm/HOROTEC-03-654-PRESS-FOR-REMOVING-PRESS-IN-PUSHERS-AND-CROWN-TUBES-/320761168768
I'll admit I was leaning towards one of these (not at his price), but now I've studied his listing photos I'm not so sure anymore.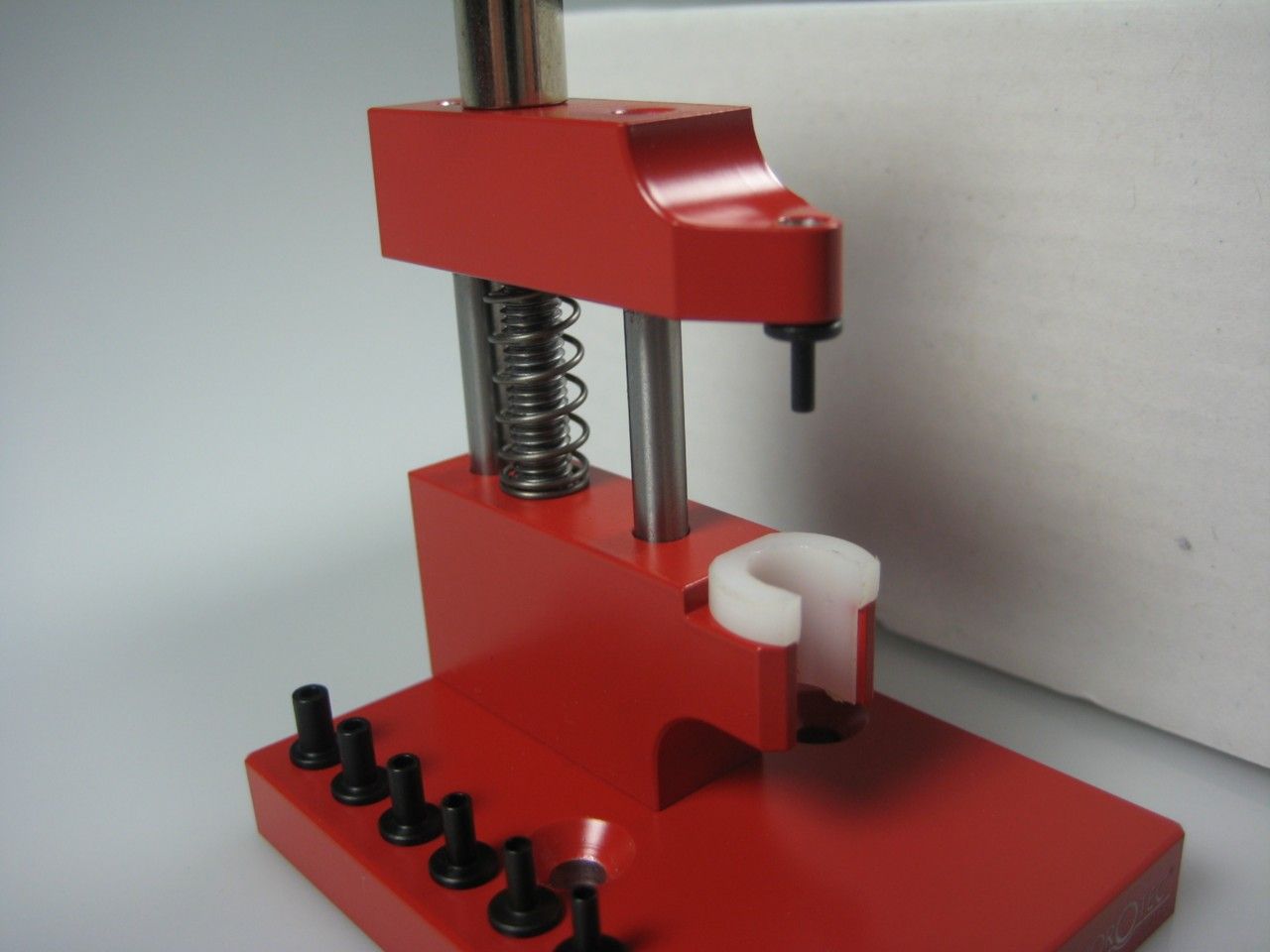 Apart from the fact that none of the diameters of the press bits (stakes) included with it, exactly matches the Yema's - apart from the smallest, which would suffice, I'm not impressed by their nylon 'support'. Whereas it's obviously designed to prevent damage to the outside of the watch case, its 'generous' opening could possibly also result in bent case lugs - particularly on something like a 38mm Spationaute III where the pusher is close to them. If I was to buy one of these, I'd want to have my own re-designed nylon insert made.
So now instead I'm thinking about making up a simple tool myself - by modifying a miniature G clamp.