New Old Stock, that is - not Napalm. 
N.O.S. is a term much abused by eBay sellers to promote their listings.
But when you actually manage to get hold of genuine N.O.S. - be it a complete watch, spare parts like bezels or dials, there's a certain satisfaction - as in the case of the parts I sourced recently for my 7A38-6070 restoration project. N.O.S. 7Axx movement parts or complete movements are always nice to have, particularly handy to support a collection as large as my own.
Last year I bought a couple of allegedly N.O.S. 7A38A movements from a New Zealand-based eBay seller thomasbangalter303.
He's still currently listing various 7Txx (and other) N.O.S. Seiko movements: http://www.ebay.co.uk/sch/thomasbangalter303
This is the composite photo he used in all his (possibly half a dozen) listings for 7A38A movements: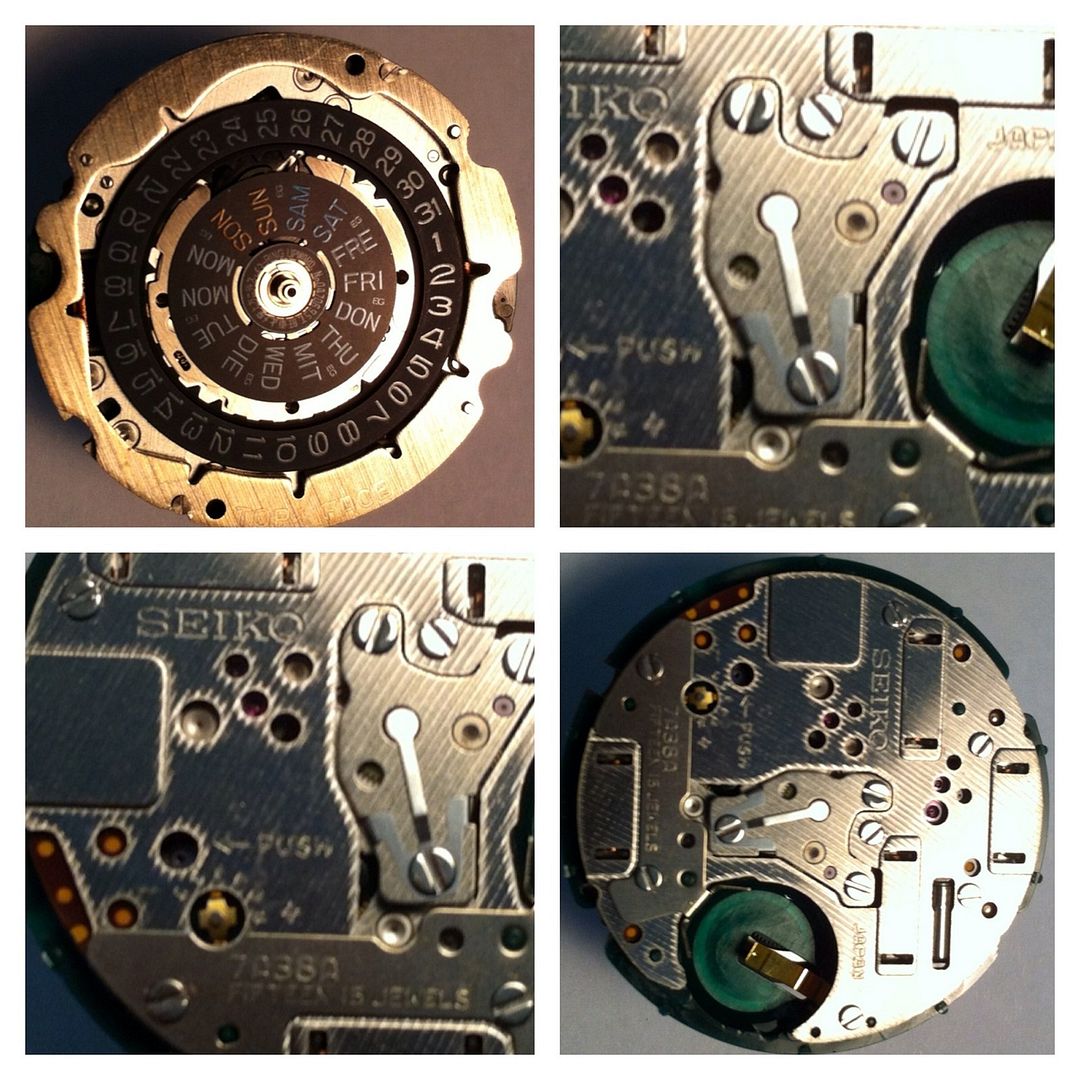 From memory the first one I bought in August 2013 cost $99 as a Buy-it-Now. Not too bad. I needed a couple of spare movements with black day / date wheels for project watches. It looked O.K. when it arrived, so I bought a second one from him (off eBay). When that arrived, it was missing the dial / movement spacer (and the two tiny dial feet screws). I complained and he promptly supplied them. 
Unusually both came with a crown fitted and the stem cut to length - one of which I recognised as the dark grey / black chrome crown off a 7A38-704x. The other crown was possibly off a JDM 7A38-6050, but the movement didn't have a Kanji day wheel. In January this year, I bought another off him - this time with silvery / white day / date wheels - it came supplied without crown and stem. Each of these movements came in a little zip-lock polythene bag, inside a cheap plastic trinket box with a fresh Dymo label stating 7A38 (not 7A38A).
They clearly weren't genuine N.O.S. 7A38A movements - as would have been supplied by Seiko (in period) as spare parts. They were clean enough and looked new - and as it turned out, worked O.K.. But it dawned on me later that Thomas Bangalter had probably got hold of these movements by breaking up N.O.S. watches. I asked him the question by email, twice (naturally enquiring what had become of the rest of the watch parts), but he declined to reply.