Subtitled: How not to release / remove a crown stem from a 7A38. 
I bought a gold-tone 7A38-7190 on a whim and a something of fuzzy photo gamble last week. I didn't expect to win the auction, quite honestly. My maximum snipe bid was actually £29.67. 
http://www.ebay.co.uk/itm/261595582188
The seller's description simply read:
Man Seiko quartz chronograph wrist watch in good condition for age it has one button cap missing other than that works fine any questions please message model number is 7a38-7190.
It arrived this morning. As I'd guessed from the seller's photos (have a look for yourself), the plating was in surprisingly good condition, apart from some tarnishing around the pushers .... and of course the crown was missing.
But the stem had been broken off short - too short to get a pair of needle-nose pliers on it, even with the movement out of the case.
So I did a quick strip down, in situ in watch the case: removing the backplate, PCB and green plastic '710' insulator spacer ....
Incidentally, the area of which corresponding to the stem was covered in gloop. A drop of 3-in-one oil to help free it up perhaps ? 
Thereby allowing myself better access to the stem / setting and release lever linkage. This is what I found:
Not only was the stem bent out of alignment with the crown tube, but the botcher who'd had a go at it even managed to ding the tube !
With the release / setting lever now pulled out to the second 'click' postion ....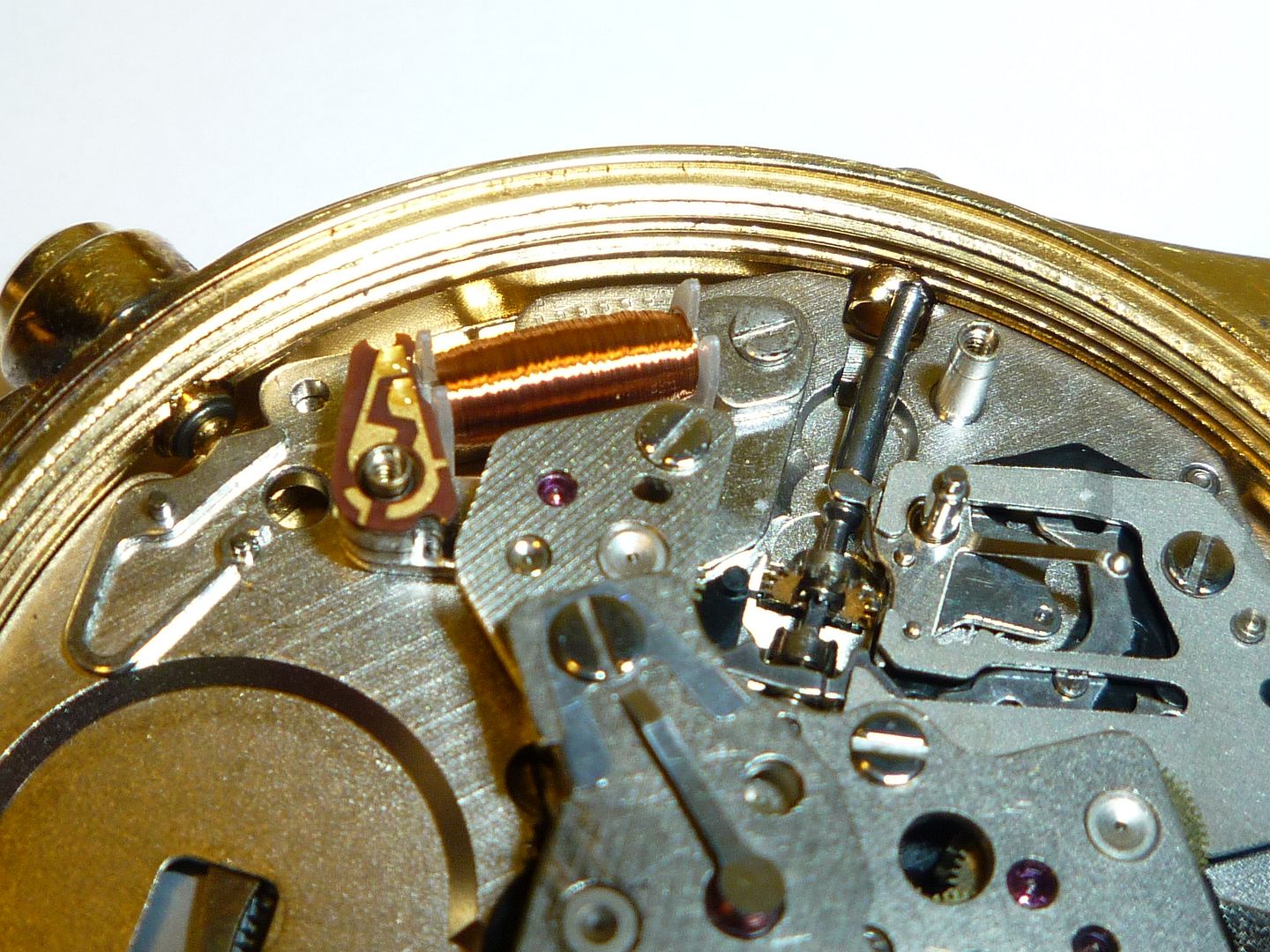 ..... It becomes apparent how the crown tube acquired those dings. 
Whoever had a go at it obviously had the movement out of the case (check the misaligned Tachymeter ring in the seller's photos).
Anyway, I got the old stem out with a little bit of fiddling and temporarily replaced it with gash one from my bits box:
The botched badly bent stem at bottom right.