Apart from appearances in the WRUW thread and prior to belatedly starting this 7A38-xxxx model specific thread, there have been a couple of previous occasions where 7A38-701A's featured in threads on this forum - though not exactly for the best of reasons. 
Here's where I wrote about one 'suspect example', with dodgy lume and an even dodgier 'respray job' in the eBay section:
http://www.seiko7a38.com/apps/forums/topics/show/7588308 Bad examples of re-finishing seen on eBay - Caveat Emptor

Originally posted by myself on December 4, 2012 at 5:11 PM:
Maybe this isn't the correct thread to post this in. Perhaps it properly belongs in the 'Craziest' or 'Opportunist' prices thread, but ....
Is it my eyes, or has someone tried (failing badly) to recreate the original silver anodized finish of this 7A38-701A by air-brushing it ?
http://www.ebay.co.uk/itm//281033896951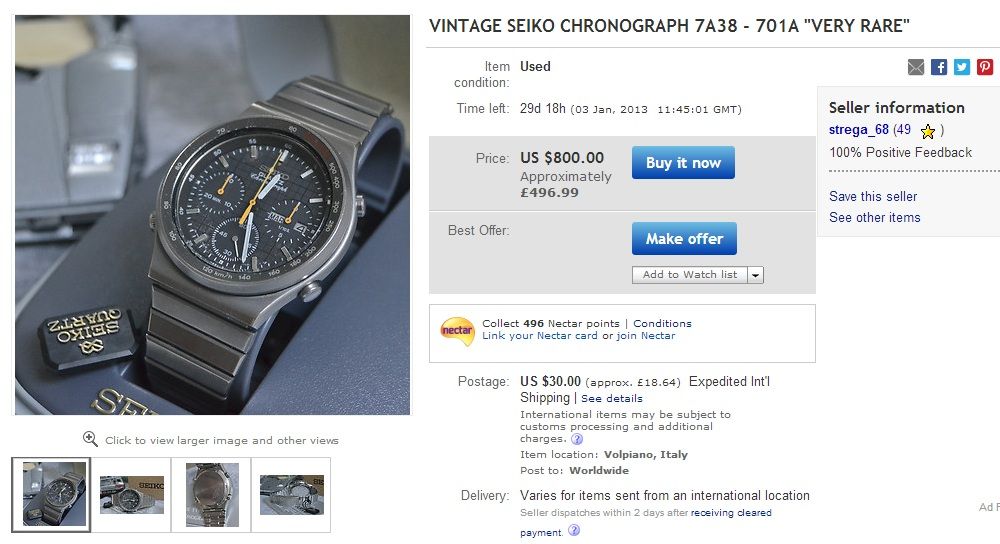 Whether it's just poor photography (which would be unusual for this Italian eBay seller), or an unfortunate trick of the light, but ....
It just looks too dark overall to me. 

 The watch has clearly also suffered from moisture ingress or battery leakage in the past.
You only need to look at the state of the dial batons. One best avoided - even at a fraction of the would-be seller's asking price.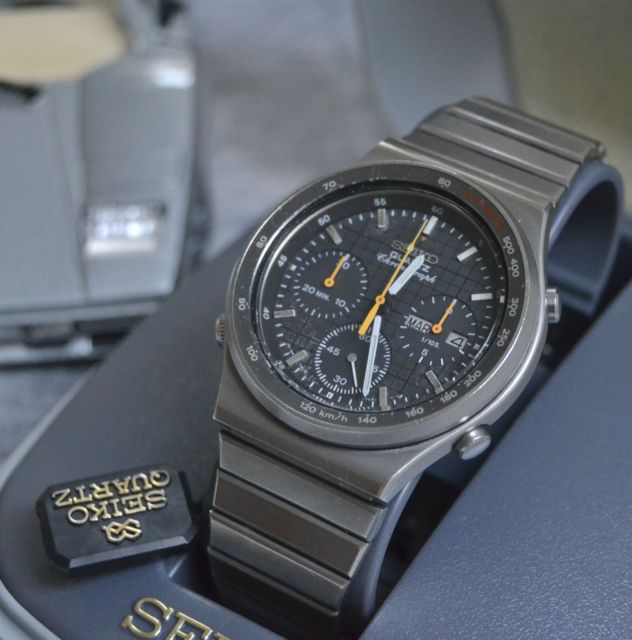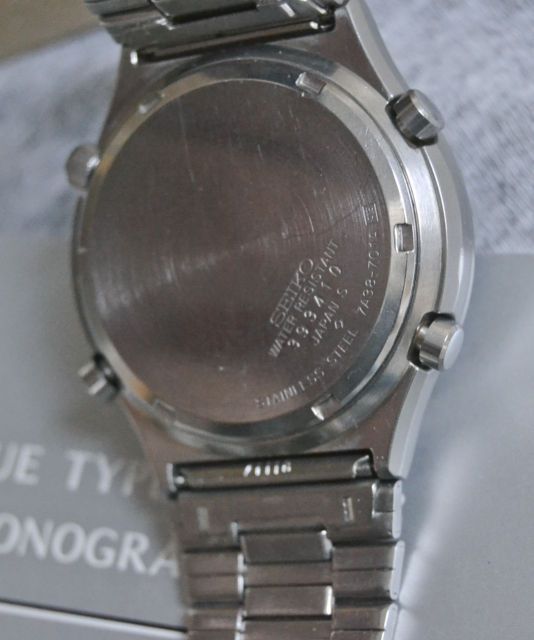 No. I don't think I'm wrong about this one.
Definitely an example of 

In the above photo, you can see evidence of both masking and over-spray on the case-back and edges of the bracelet links.

-------------------------------------------------------------------------------------------------------------------------------------------------------------------------
Followed up nearly five months later (on page 2 of that thread) with ....
Originally posted by myself on May 1, 2013 at 7:54 PM:
It seems that everything sells eventually - if not quite for the seller's original inflated asking price. 
I was going through my eBay watching page earlier this evening, clearing out a few ended  items, to make more room (once again)....
and I came across Strega_68's most recent listing for this suspect-looking 7A38-701A - which had ended a couple of weeks ago.
Then I realized that it hadn't been actually been re-listed since. Which is when I noticed the US $800.00 Best offer accepted:
http://www.ebay.co.uk/itm/281087766945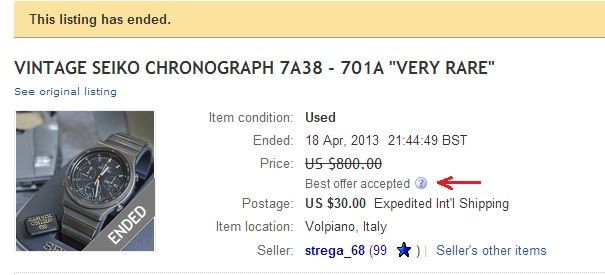 So I checked using Goofbid's eBay Seller History tool: http://www.goofbid.com/ebay_seller_history_tool.html
If that is to believed, it eventually sold against an offer of $514. 
-------------------------------------------------------------------------------------------------------------------------------------------------------------------------

Another very rough 'head only' example, with battered bezel and typically faded (to yellow) chrono' hands was cited in this thread:
http://www.seiko7a38.com/apps/forums/topics/show/8934813 3 W's - a Warning about Warming and Warpage
Originally posted by myself on May 4, 2013 at 11:07 AM:
We never did get to see a photo of the OP's old dial ring, quote: chapter ring is knackered it's not round anymore but square!!
Keeping in mind what I wrote about the slight difference in colour (black versus dark grey) of the 7A38-7010 and -701A's dial rings ....
I think I may now have some idea what happened to the dial ring of the original RLT poster's 7A28-7120, and how it may have looked.
I was browsing the Italian Orologi & Passioni forum last night, catching up, reading a few recent 7A38 threads I'd missed.
Found this one, posted a week ago: http://orologi.forumfree.it/?t=65757861 - about a rather tired looking 7A38-701A.
Ringrazio chi mi darà informazioni su questo Seiko 7A38, in quanto in rete non ho trovato niente circa la seconda parte della ref. 701A.
Mi piacerebbe sapere se ha un certo interesse collezionistico, il significato della sigla [A3] dopo la referenza riportata sul fondello, se è facile o meno reperire un bracciale acciaio adatto, originale e coevo e magari un inserto ghiera in miglior stato.
Grazie a tutti x l'aiuto
P.S. l'orologio funziona perfettamente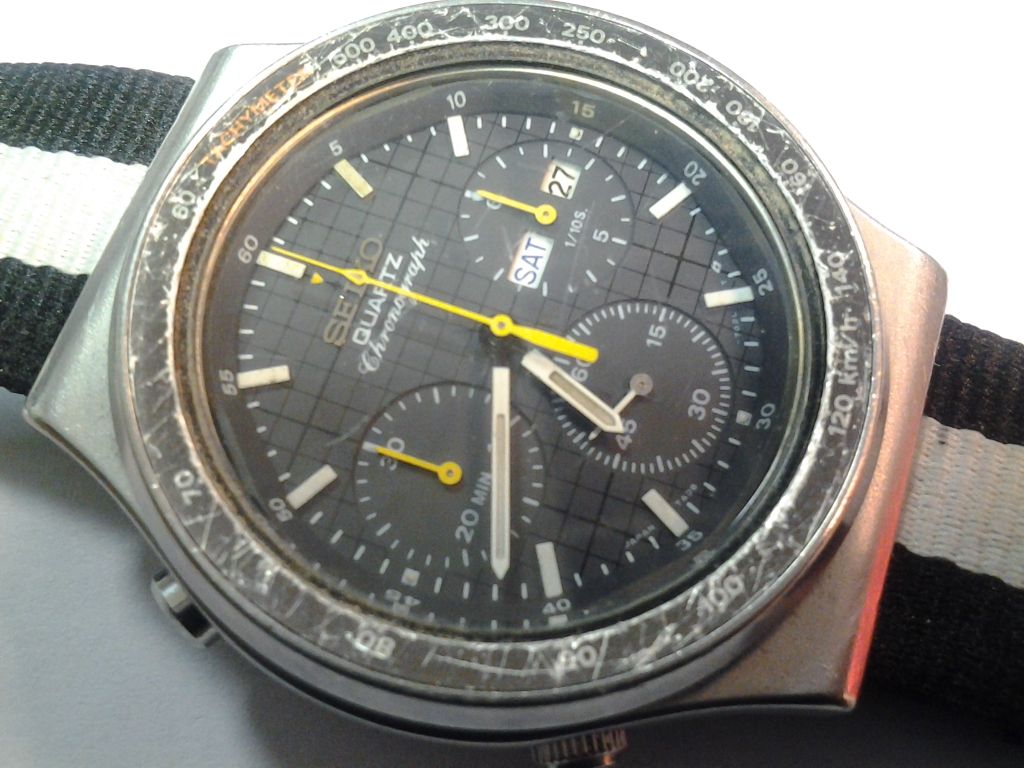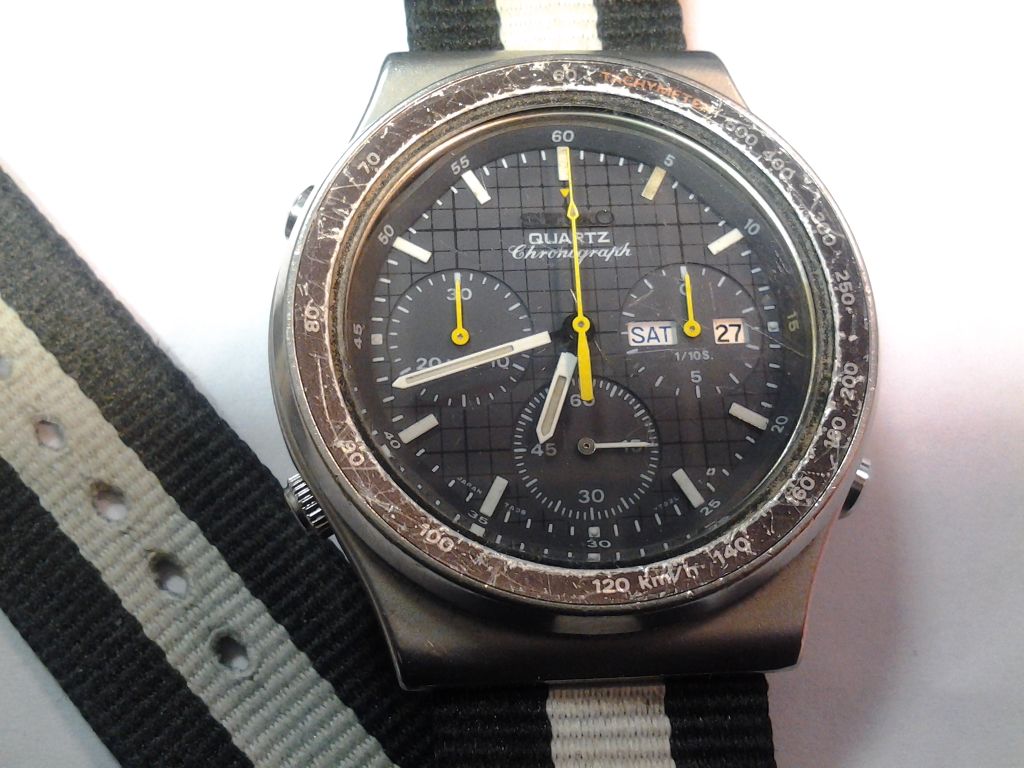 Look carefully at the minute ring !
It's no longer circular, but in places between the batons (which will have restricted its shrinkage), it has developed flat 'square' edges.
In his reply, '6309 7040' (a.k.a. Manuel) wrote: Peccato per il rehaut deformato. Translates as: Too bad about the warped inner ring. 
Plastic, particularly old brittle thin plastic can warp of its own accord, but especially when subjected to heat. You have been warned. 
-------------------------------------------------------------------------------------------------------------------------------------------------------------------------
Best I can remember, most recently I posted about the re-appearance of another tatty example in this thread in the eBay section:
http://www.seiko7a38.com/apps/forums/topics/show/7867528 Coals to Newcastle / Deja Vu / Profiteering re-seller Total_Time22
Originally posted by myself on February 5, 2014 at 10:07 AM:
Looks like Total_Time22 is still at it. 
Even though there's no photo of the case-back, showing the serial number, in this new listing for a dog-eared 7A38-701A he created overnight, as soon as I saw it, I recognised the watch straight away - despite the fact it's now fitted with a different (incorrect) bracelet.
http://www.ebay.co.uk/itm/331122856095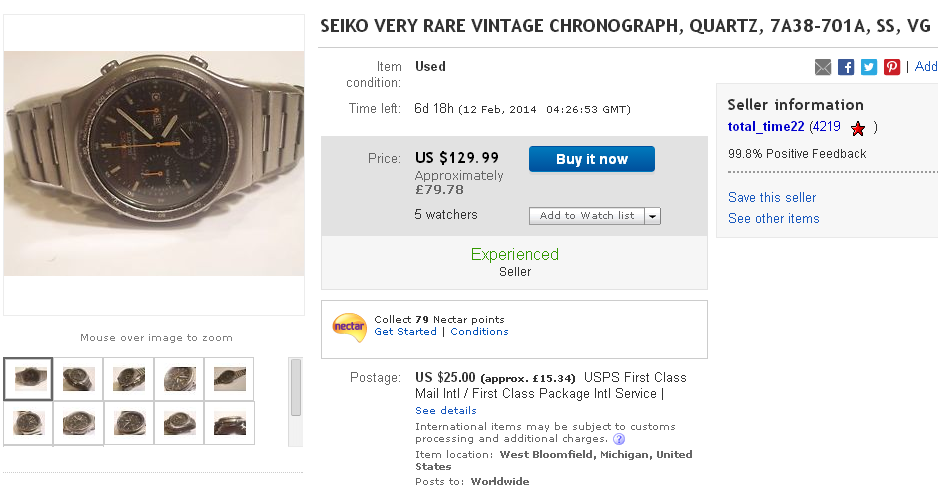 The ORIGINAL SEIKO VINTAGE STAINLESS STEEL BRACELET (from another model of the same era) appears to be a somewhat knackered (despite his description of it as being in VERY GOOD CONDITION WITHOUT ANY DENTS OR STRETCH) Seiko p/n Z1093C off a 7A48-7000 - but I haven't bothered to look that closely.
He is of course still preying on José 'Watchcooking' Sotto's eBay auctions  -
José's listing for this same 7A38-701A (on a different incorrect replacement bracelet) ended on 26th January:
http://www.ebay.co.uk/itm/370985940394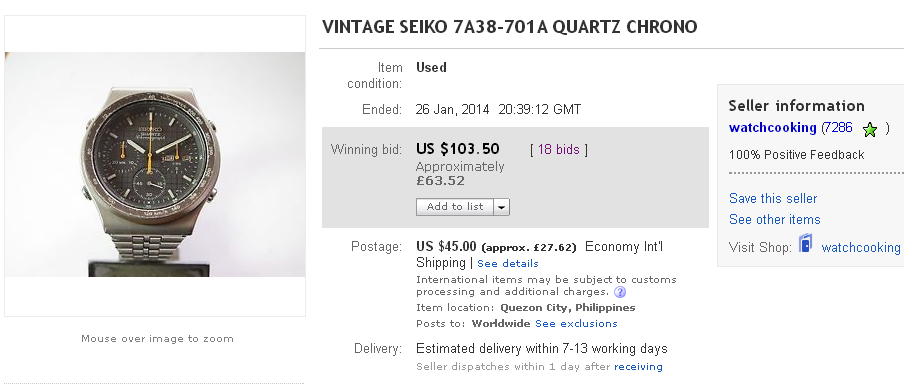 If you look at the bidding on that previous auction, you'll see that the winning bidder shows as d***y (220) in encrypted form: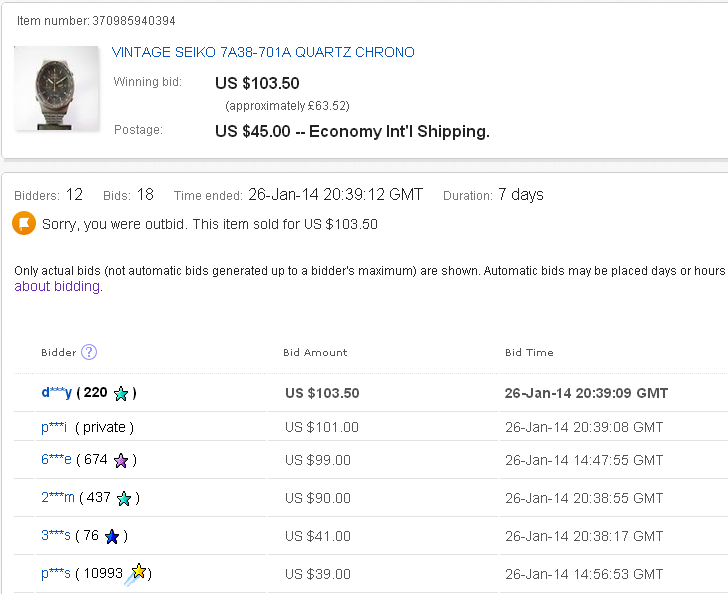 Total_time22 changed his 'modus operandi' last year (see my post above, dated May 16th) in that, like many eBay re-sellers, he now sometimes uses a different eBay ID for buying watches for resale. So how can I be so sure that this is the very same 7A38-701A ?
No serial number to compare (not in his photos); different bracelet now fitted and a different winning eBay ID to Total_time22.
Apart from the (pretty obvious) matching multiple graunches on the bezel inlay ....
You only need look (albeit very closely) at the boss of the chronograph 30 minute counting hand in both seller's photos: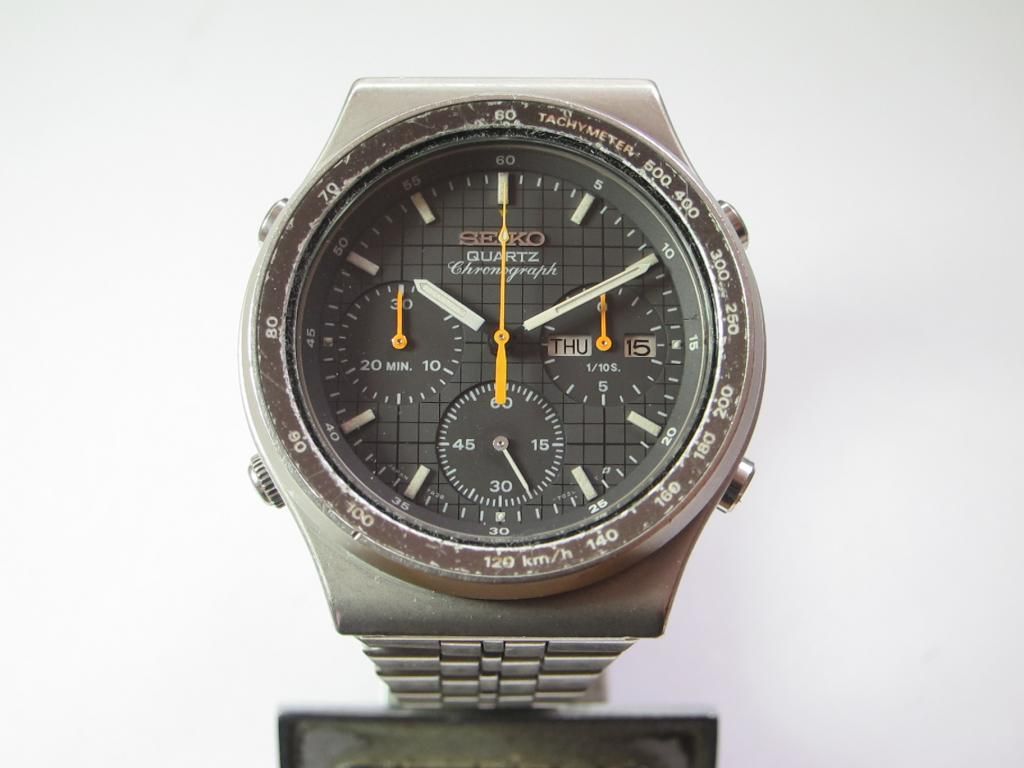 The other thing you've got to ask yourself is: why does Total_time22 actually bother ? 
He's got it up as a Buy-it-Now for $129.99 - but he paid $103.50 himself + $45 shipping.