This 7A38-701A in average worn condition, with typically faded chronograph hands, (now pale yellow instead of their original orange) and wabi'd bezel inlay, was listed yesterday morning by a Spanish eBay seller, with an over-optimistic Buy-it-Now price of 420 Euros.
http://www.ebay.co.uk/itm/253761849947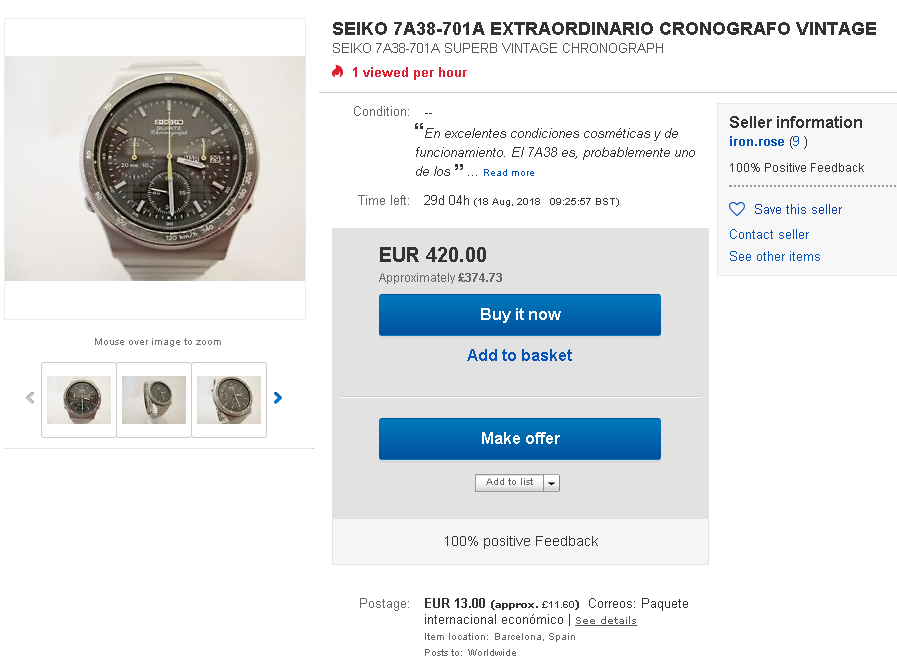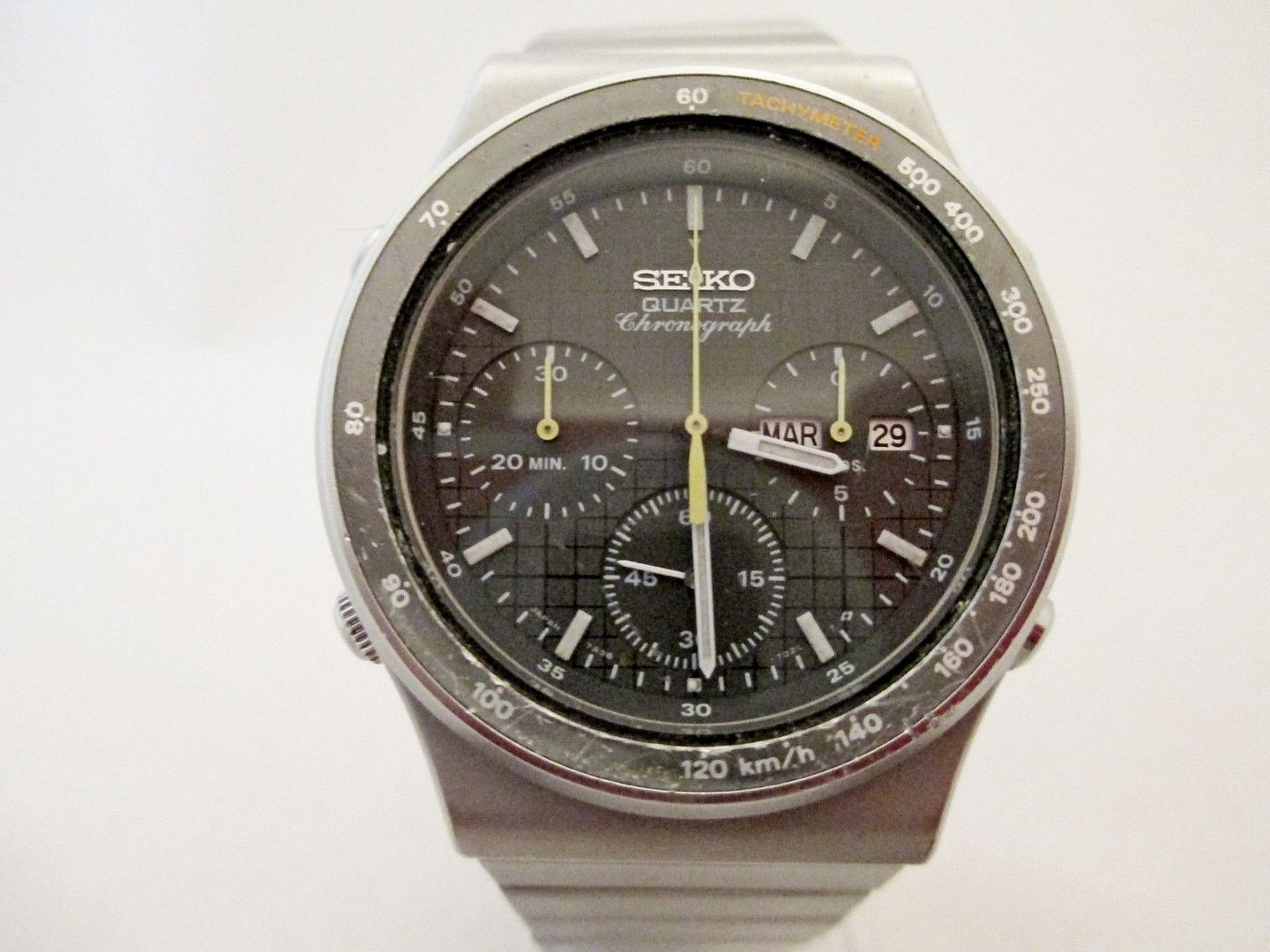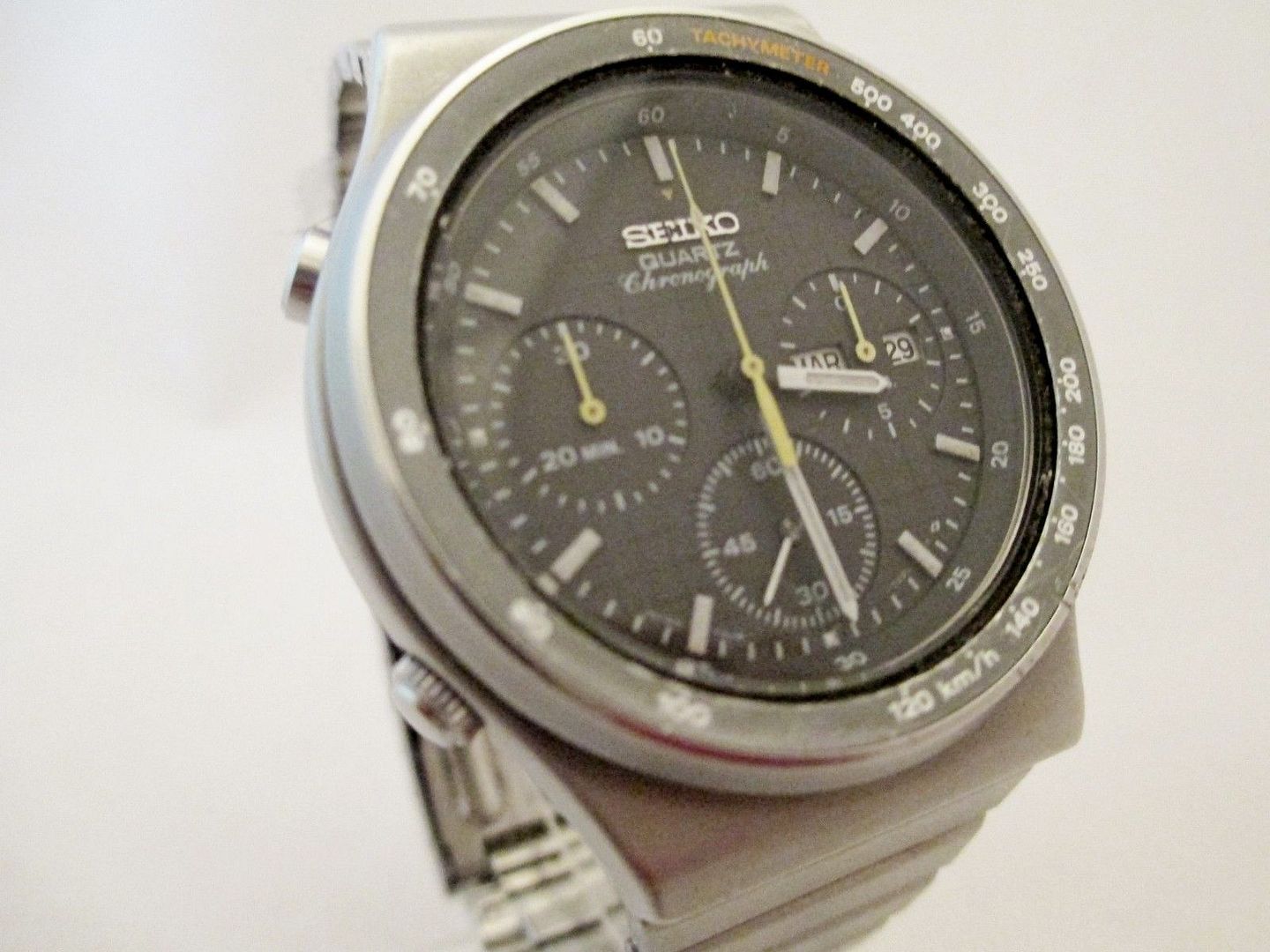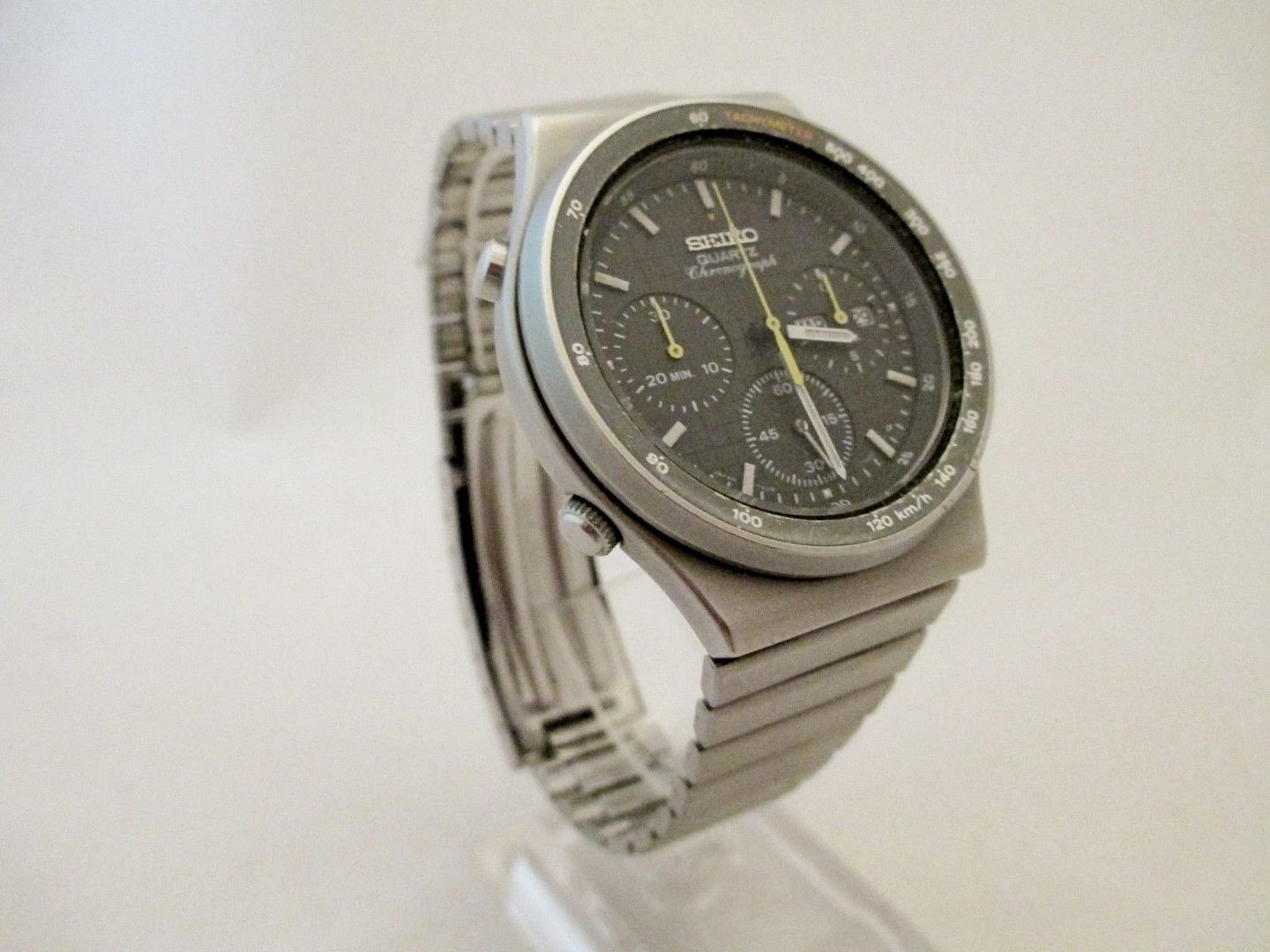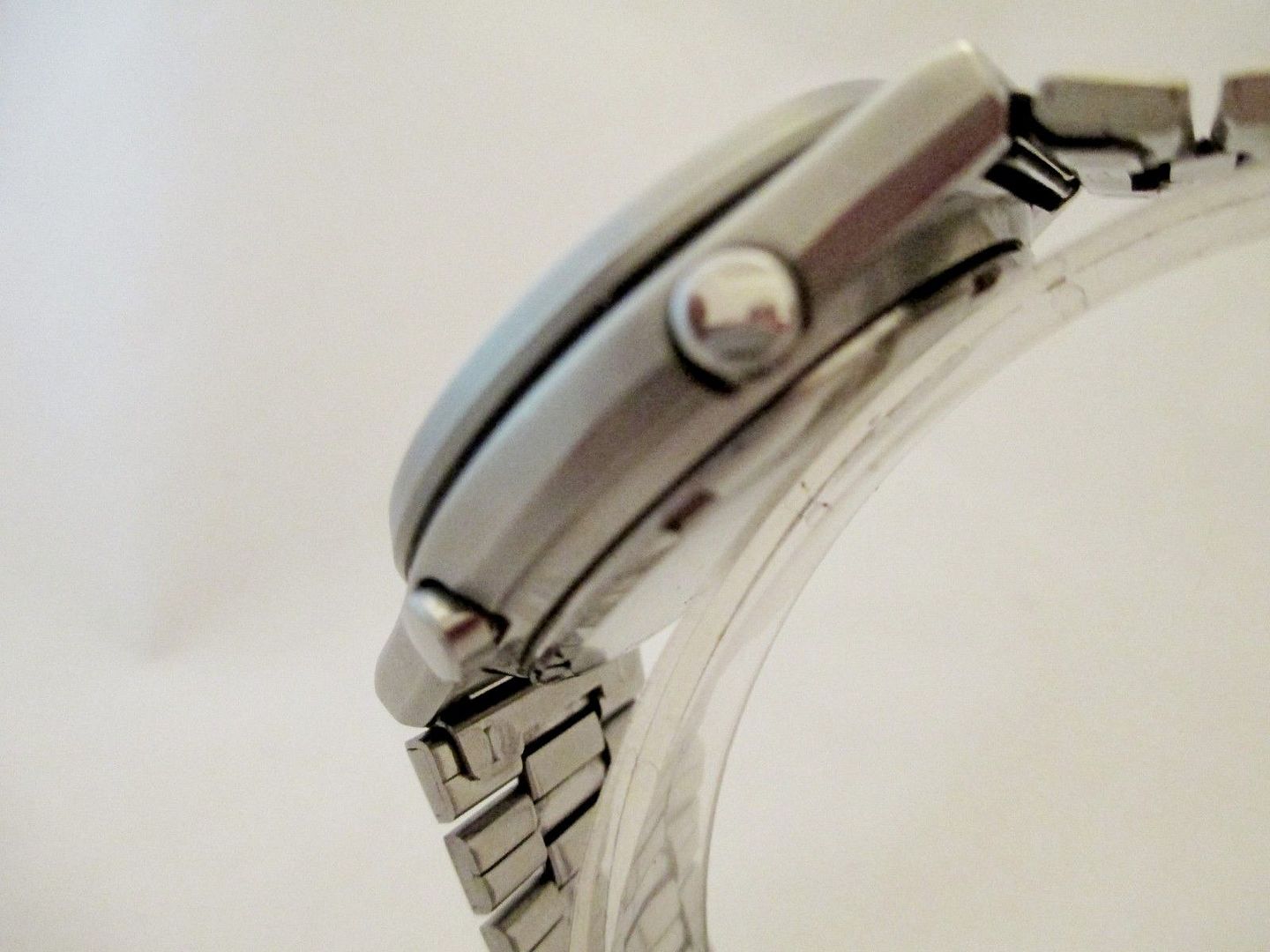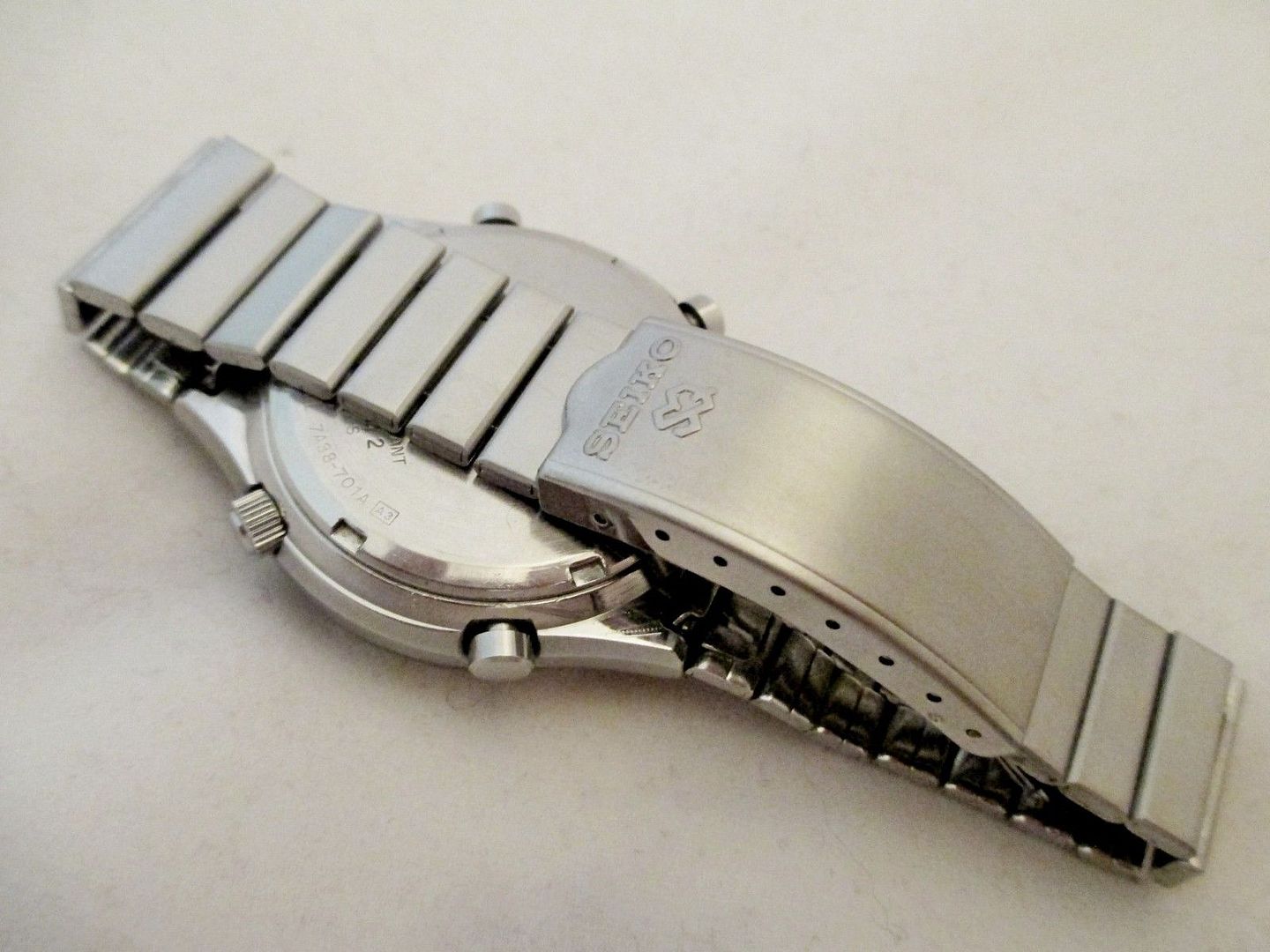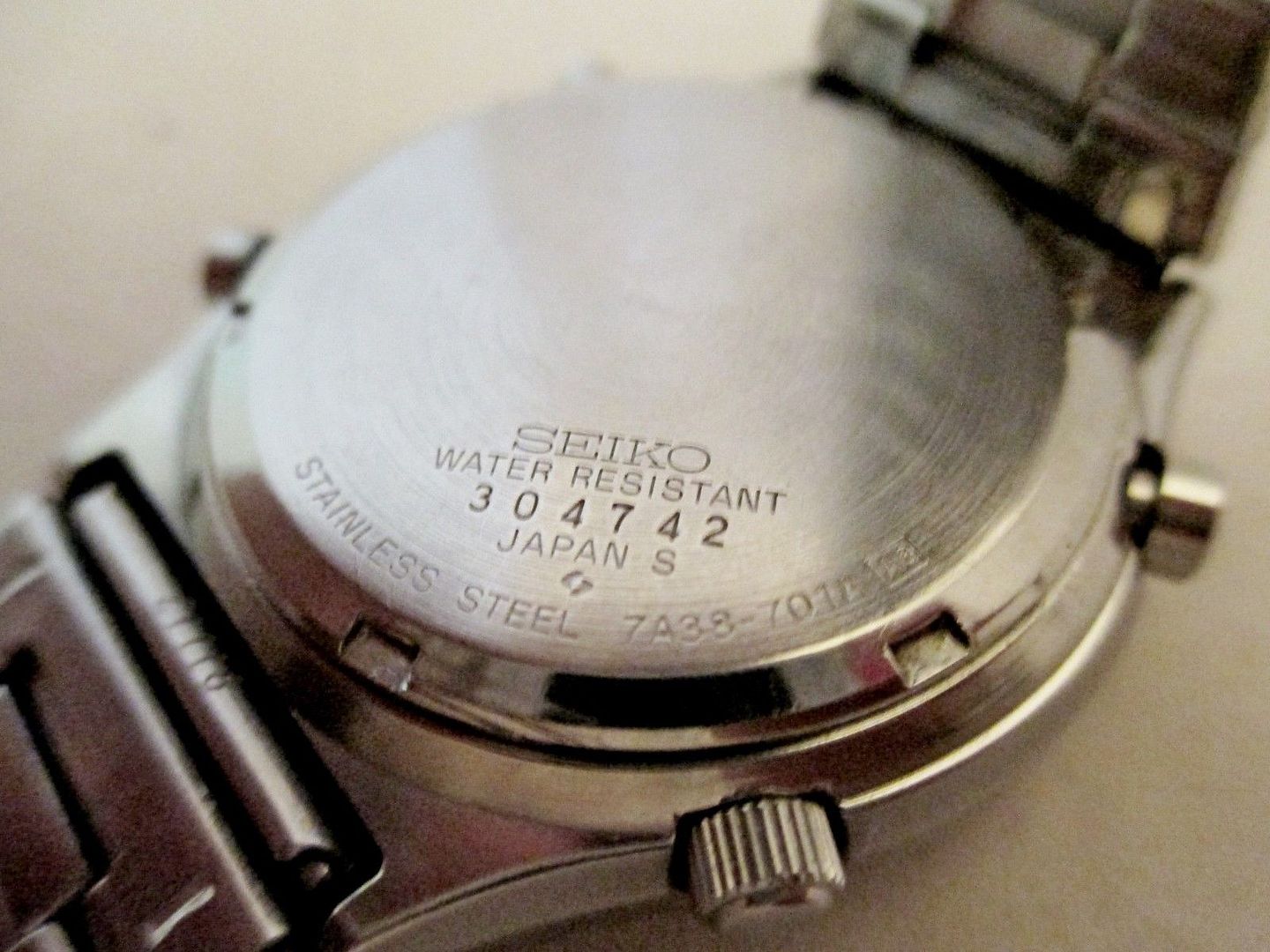 SEIKO 7A38-701A EXTRAORDINARIO CRONOGRAFO VINTAGE
SEIKO 7A38-701A SUPERB VINTAGE CHRONOGRAPH
174
COMENTARIO GENERAL:
En excelentes condiciones cosméticas y de funcionamiento. El 7A38 es, probablemente uno de los cronos más buscados de Seiko siendo de los primeros cronos analógicos de Seiko y, probablemente, el mejor crono jamás hecho por esta firma.
Información detallada más abajo. Las fotos son parte de la descripción
GENERAL COMMENT:
In excellent cosmetic and working conditions. The 7A38 is probably one of the most seeked Seiko chronographs as they are one of the first analog Seiko chronograph and, probably, the finest one ever made by this brand.
See detailed information below. Photos are part of the description.
DESCRIPCIÓN EN ESPAÑOL
MARCA: Seiko.
MODELO: 7A38-701A
SERIALES: 304742 7A38-701A en tapa trasera. Japan 7A38-702L T en esfera.
INSCRIPCIONES: Water Resistant Stainless Steel en tapa trasera..
PAIS: Japón.
DAMA O CABALLERO: Caballero.
AÑO: 1983 por serial.
MECANISMO: Cuarzo. FUNCIONANDO. Dia y fecha cambian con la corona y con las manecillas. Todas las funciones crono están Ok.
ESTANQUEIDAD: Water resistant. No comprobado.
DIA/FECHA: Fecha y dia en inglés y español.
CAJA/BISEL: Acero inoxidable. En excelentes condiciones casi sin señales de uso. El bisel está algo difuminado y con muchos raspones pequeños.
MEDIDAS CAJA (ancho/alto/prof. en mm): 39x43x11 (sin contar la corona ni las asas).
ESFERA: Cuadricula negra sobre fondo gris oscuro. Numerales y manecillas en blanco o amarillo. En perfectas condiciones.
CRISTAL: Mineral. En excelentes condiciones con un par de raspones solo visibles desde un ángulo.
CORREA: Acero inoxidable. Legítima Seiko Quartz y original de este modelo. En excelentes condiciones casi sin señales de uso.
PESO TOTAL CON CORREA: 81 grs.
POR FAVOR LEER CON ATENCIÓN:
Sólo se aceptan pagos por PAYPAL y los mismos deben ser realizados dentro de los tres dias posteriores a la venta.
No se realizan devoluciones.
En caso de ser un objeto usado con varias décadas de existencia no puedo garantizar la duración de su funcionamiento, más allá del momento de ser enviado. Por las mismas razones, este artículo puede tener reparaciones y tener recambios originales o no.
Sólo se enviará el artículo una vez recibido el pago.
Los envíos se realizan EXCLUSIVAMENTE por Correos de España como carta certificada nacional o Paquete Azul o carta certificada internacional o paquete económico internacional. En todos los casos existe una TARIFA PLANA, tanto para los envíos nacionales como internacionales, diferente según sea un caso u otro.
Los gastos de aduana o importación serán pagados por el comprador.
Se enviará el artículo protegido en una caja apropiada.
NO COMPRES SI NO ESTÁS DE ACUERDO CON ESTAS CONDICIONES!!!
ENGLISH DESCRIPTION
BRAND: Seiko.
MODEL: 7A38-701A
LEGENDS: Water Resistant Stainless Steel in case back.
COUNTRY: Japan.
LADIES OR GENTS: Gents.
YEAR: 1983 by serial.
MOVEMENT: Quartz. WORKING. Day and date change with crown and with hands. All chronograph functions working as they should.
WATERTIGHTNESS: Water resistant. Not tested.
DAY/DATE: Date and day in Spanish and English.
CASE/BEZEL: Stainless steel. In excellent conditions with few signs of use. Bezel is lightly discolored and has many tiny scratches.
CASE SIZE (width/height/deep. in mm): 39x43x11 (with no lugs or crown).
DIAL: Black grid over dark grey background. Numerals and hands in white or yellow. In pristine conditions.
CRYSTAL: Mineral. In excellent conditions with a pair of scratches only seen looking the watch at an angle.
BRACELET: Stainless steel. Genuine bracelet of this Seiko model. In excellent conditions with almost no signs of use.
TOTAL WEIGHT WITH BRACELET: 81 grs.
PLEASE READ CAREFULLY:
Only Paypal payments are accepted.. The payment must be made within three days after the item is bought.
No returns or refunds are accepted.
In case of being a used item many decades old, its working condition cannot be guaranteed beyond the moment of been shipped to the buyer. For the same reason this kind of items may have been repaired and may have used genuine or not aftermarket replacements.
The item will only be shipped once the payment is cleared.
Shipment is EXCLUSIVELY made through Spanish Postal System (Correos de España) as domestic registered letter or package or international signed letter or package and with a FLAT RATE for all Spanish territory or another FLAT RATE for all other countries.
Custom charges will be paid by the buyer.
The item will be properly packaged and protected within a box.
DON'T BUY IF YOU DON'T AGREE WITH THESE TERMS!!!