Seiko7A38 at July 20, 2018 at 12:25 AM

This 7A38-701A in average worn condition, with typically faded chronograph hands, (now pale yellow instead of their original orange) and wabi'd bezel inlay, was listed yesterday morning by a Spanish eBay seller, with an over-optimistic Buy-it-Now price of 420 Euros.




http://www.ebay.co.uk/itm/253761849947
The Spanish eBay seller had re-listed that 7A38-701A, four more times since July, gradually reducing the Buy-it-Now price, most recently down to 280 Euros. I hadn't been watching it closely, so I'd missed spotting that it had sold late on Friday night. But even then, it didn't sell for the much reduced Buy-it-Now price.
http://www.ebay.co.uk/itm/253996889081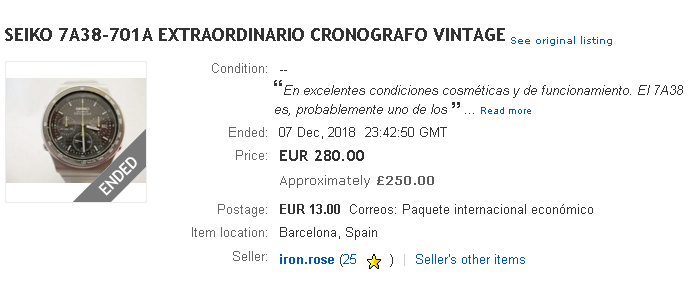 WatchCount.com's Look-up tool reveals it sold for a best offer of 247 Euros.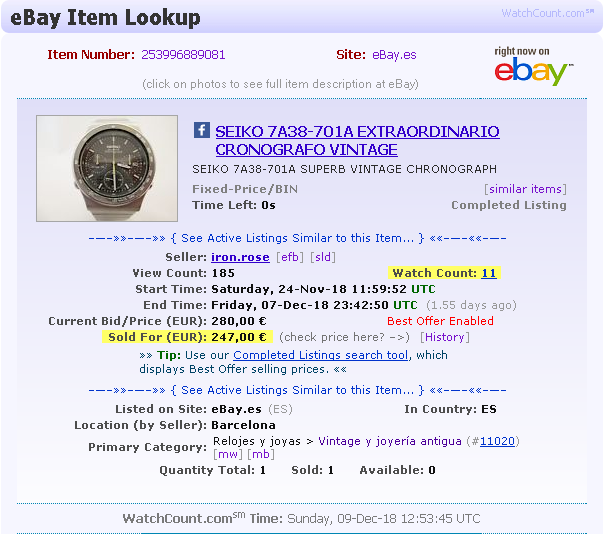 The eBay Purchase History shows there were a couple of other offers made: