I bought my 7A38-701B SAA005J after a heads up from Paul when it popped up on one of his weird searches that I don't know how to do yet.
Ever since I saw these I was hooked, I also found and bought its younger brother here the 7a28 – 710a earlier this year from Japan and it's still one of my favourites.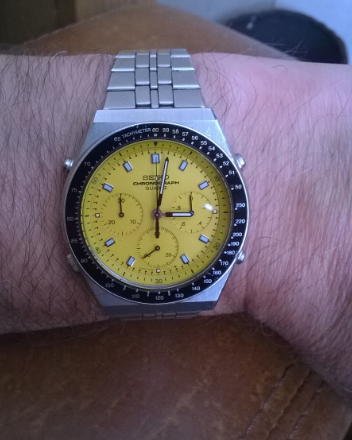 Anyway the quest was on for one of my grail watches, the mythical, the one and only, legendary 7A38-701B SAA005J Vulcan.
The chap whom I purchased this from was called Tibor and he lives in Hungary (check out Pauls Vulcan thread its on there), he was a very helpful chap and he even opened up a PayPal account so that I could pay him. I was on tenterhooks at first because it didn't show up on the GLS tracking site for 2 days however she arrived and at this point I was still unsure if this watch actually worked.
So I unwrapped the packaging and it looked ok, not great but ok. I pressed the pushers to find that one of them was sticking and that the 9 o'clock minute counter had nothing there at all, no resistance when you nudged the hand.
Mmm, I fully intended to service this watch anyway but naively thought that everything would be A1, so the strip down began.
 After a little more research on here I discovered that this problem was most likely to be a demagnetised rotor and so I swapped it and it worked (even though the replaced rotor was still very magnetic!), the tell tale resistance was back when I lightly nudged the hand with my toothpick. I also found that one of the switch levers was in a very crumpled state so I swapped that too.
A strange thing I found on rebuild was that the tip of the 5/100s second counting wheel was not poking through the watch face enough and try as a might, I could not get the hand back on, very strange as I did not notice anything on strip down. So back we go again, took the bridge off and found that this wheel most likely belonged on a 7a28 as it was slightly shorter than one in a 38 when compared (how whoever was tinkering with this watch before me got the hand back on will remain a mystery). So I looked in my parts drawer and found one, fitted it, and bingo. It poked through the face as it should and the hand went on first time.
With a nice clean and re-oiled movement I put a new battery in and tested her. Perfect, everything functioning as it should so I left her running to work those oils in.
The next job was to turn to the case, it was ok but had one or two scuffs on it and I wanted it better. I lightly sanded the bezel where the dings were to take out the worst of them.
I originally thought about aluminium bead blasting the case & bracelet as the results from what I have seen look great and bang on for the finish of the watch, but realising that I could not get the bezel insert out without damaging it asked Paul for advise on this and he talked me out of this method as it was originally a painted or anodised finish, so I went to look for the right colour.
Closest I could get was this 
Mmm not good enough so this is on hold for now
So here she is on a Feiko bracelet from weewatch in the USA. My original strap is just too stretched on my 7 1/2" wrists
Apologies for picture quality and thumbprints on the strap it dosen't do it justice. Happy I've got one though 
Regards Phil