So what made me see red yesterday ? (Before work intervened; I got side-tracked and had to leave finishing this till later). 
Yesterday morning I'd added a post to the 7A38-6000 model specific thread - about a new listing by an Australian eBay seller.
In his description, he'd more or less copied and pasted verbatim my Buyers Guide and Specification from that thread.
The irony was that he'd also written: Extremely rare model. Google it and see if you can find one.
Of course, that's how he'd found the thread himself - by googling it. Talk about shooting yourself in the foot. 
Just to be sure that our thread was still top of the results returned, around lunchtime, I googled 7A38-6000 - as you do.
I then made the 'mistake' of scrolling down the page. Most of the subsequent results are dead photo links (from my old Flickr and previous PhotoBucket accounts), but towards the bottom of the page I found this - an Instagram 're-direct' and clicked on the link:
http://www.oninstagram.com/7a38 
I immediately recognised the second image on the top row:
It's a pretty lousy reproduction of an image of my 7A38-6000 - one of the first photos I ever took of it - as received, still fitted with the Citizen ND Limits rubber dive strap, which I took back in November 2010 and had later re-posted in the 7A38-6000 model thread: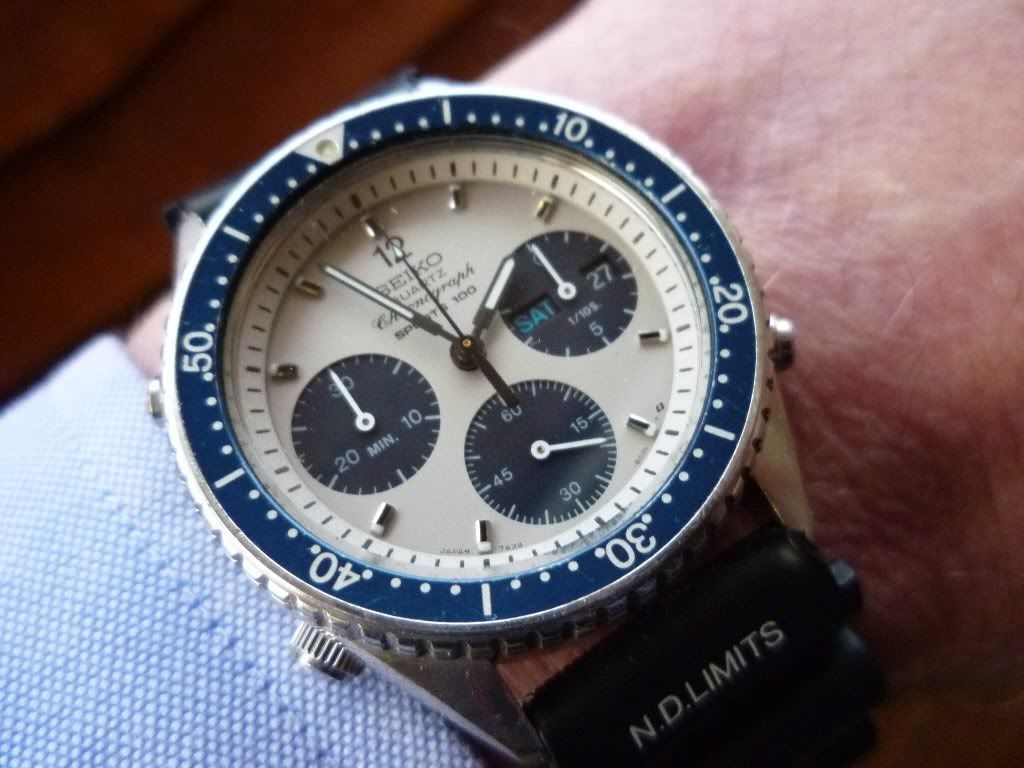 I've taken far better photos since. What really p!ssed me off was that it had been credited to @analoglust - whoever he might be. 
I recognised the Instagram poster vintagewatchdubai as a member of this forum (under another name). I PM'd him asking him to remove it - my PM was assertively worded, but civil. His prompt response(s) were rather less than polite: 
Paul who the f**k do you think you are talking to me like that.
Pic's I put up on Instagram I either credit the source or refer to them in the tag. 
But listen to me you are deeply mistaken if you think I tolerate some troll like you telling me they don't have time for indulgent crap. 
The photo stays where it is.
FYI - I reposted the source from another source who I assumed owned the pic legimately.
You should informing them not me. 
But like I said I would love and I mean love if you said that to me face in the tone you mentioned below. 
I assure you it would very much be a different conversation.
As can be deduced from the above tirade, this is another instance of mindless re-posting (or whatever they call it on Instagram) ....
But without bothering to properly check (or read) the previously correctly credited image posted by analoglust back in March 2011 - which already has 176 Likes (and 5 moronic comments), that I'd failed to spot before - and could care less about, quite frankly.
http://www.oninstagram.com/photo/a-not-so-common-7a38-6000-chronograph-sports-100-panda ....
Yesterday I threatened this member (who has contributed little of value to the forum) with a ban if he did not comply with my request.
His final PM response was:
Paul please delete and ban me as if this is your attiude I sincerely don't want any part of this forum. 
You can inform the Instagram account yourself (analoglust) about the copyright infringement ....
Like I said, I got side-tracked by work yesterday (soon after reading that) ....
This morning the offending Instagram re-post has still not been removed. He's has had ample time to comply with my request.
His 46 Likes on Instagram are obviously worth more to him than membership of this forum.
So now I'm going to comply with his request.