Originally posted in the Close Calls and Double Takes thread on November 5, 2016 at 3:45 PM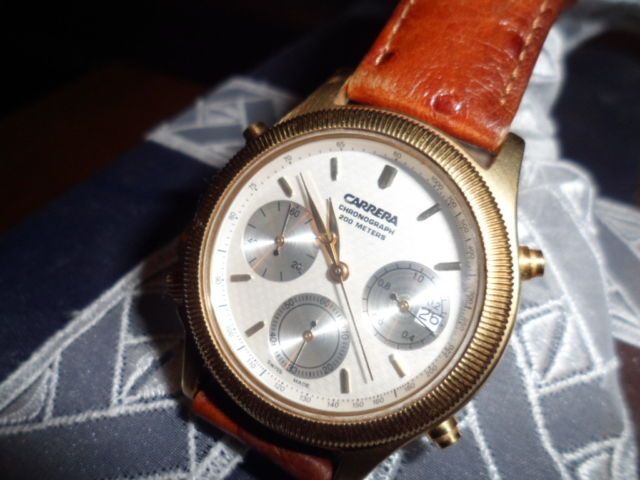 That was a great post by erstwhile contributor Lawrence. I'd forgotten to mention that I did have a bid on that one, but it was less than 50 Euros and I didn't win. Knowing what I do now, I wish I'd gone much higher. Lawrence was only partially correct in his observation, however. It isn't actually the same caliber that we'd discussed previously (with a date added at 3 o'clock) - as seen in the ZentRa and Gucci chrono's on page 1 of this thread. Those have 6 jewels, only one stepper motor but two batteries !
In fact, it's something rather more akin to the 7Axx - in that it also has 15 Jewels and 3 stepper motors. Of more anon ....
Originally posted in the Close Calls and Double Takes thread on November 5, 2016 at 3:56 PM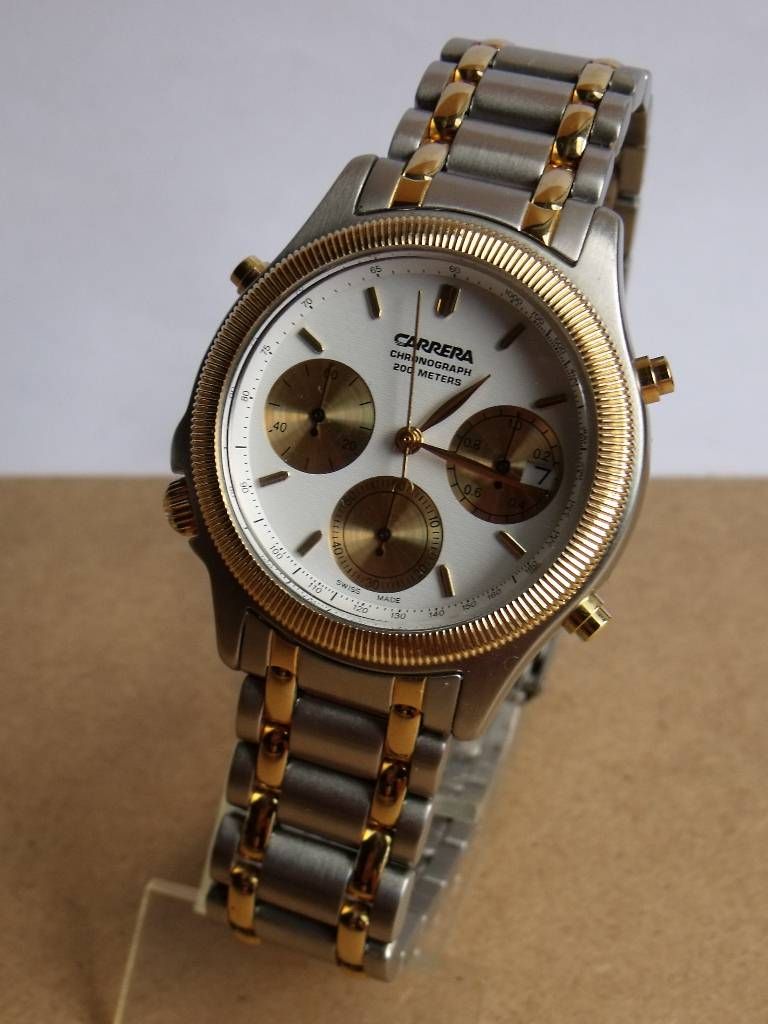 Hindsight is a wonderful thing - or in our colonial cousins' parlance - 20/20 vision. 
Now, three years later I am really kicking myself for passing on that NOS two-tone Carrera. If only I had taken the gamble. 

It transpires it didn't contain a Ronda (nor ETA) movement - as far as I can tell, but another make I've never heard of. 
Something to note from that German eBay seller's description is the Carrera model case-back reference # - 515.12
Originally posted in the Close Calls and Double Takes thread on November 5, 2016 at 4:46 PM

Strangely, I wasn't actually searching on Carrera at the time (but something vaguely related) when I stumbled across an all-stainless version, listed by a US eBay seller, last week. It came up as one of those eBay 'suggestions'. Remembering this thread and instantly recognizing it, I resolved not to let it slip through my fingers this time, as this seller had not only written a lengthy and very enthusiastic description, but had also included a photo of the movement.
 This one incidentally is a Carrera model reference # 515.11.
http://www.ebay.co.uk/itm/172380872009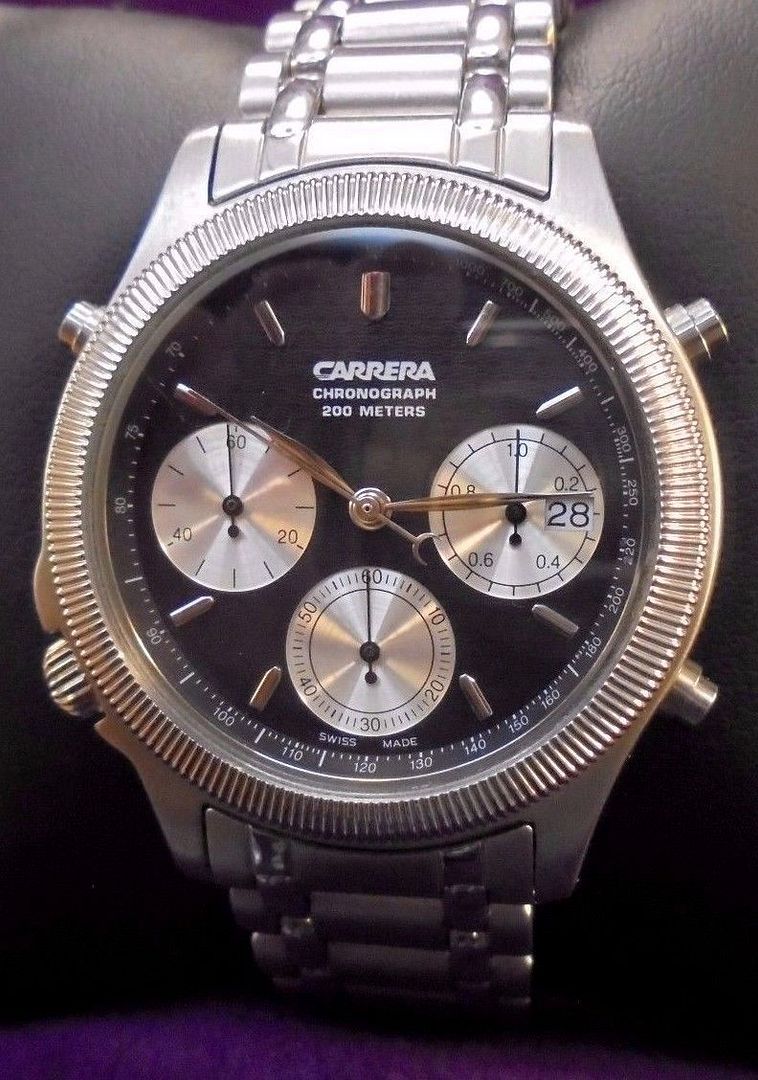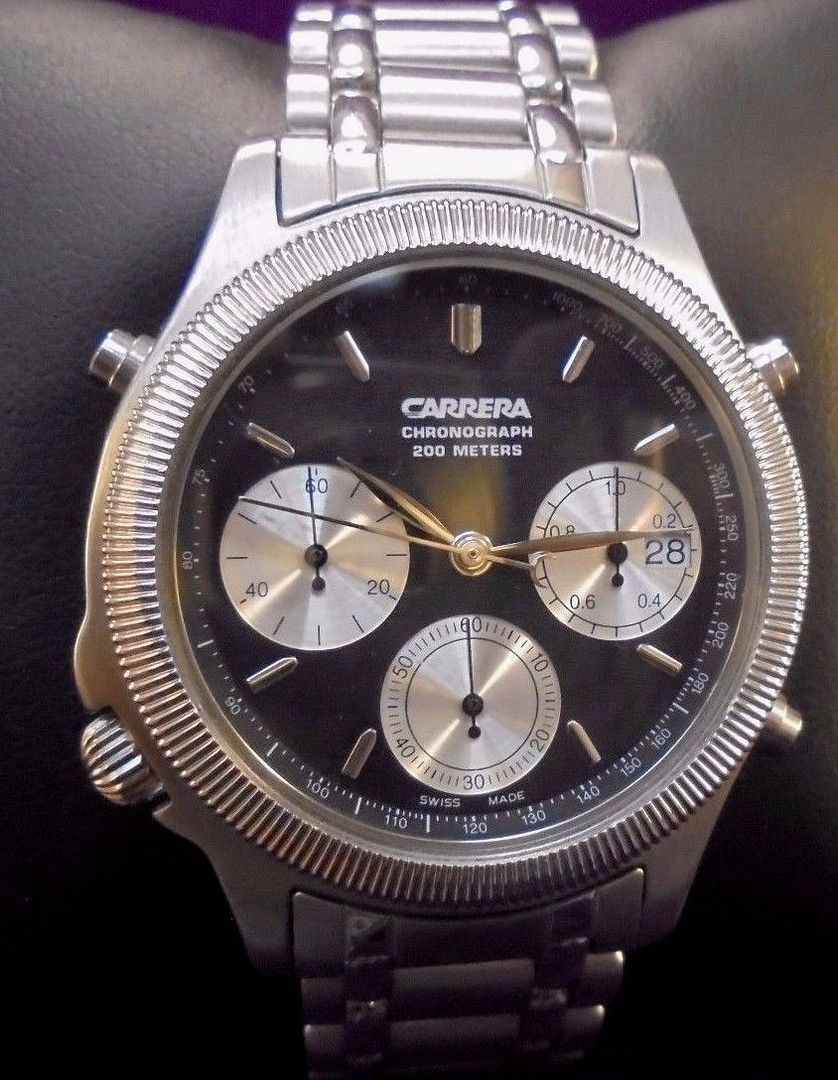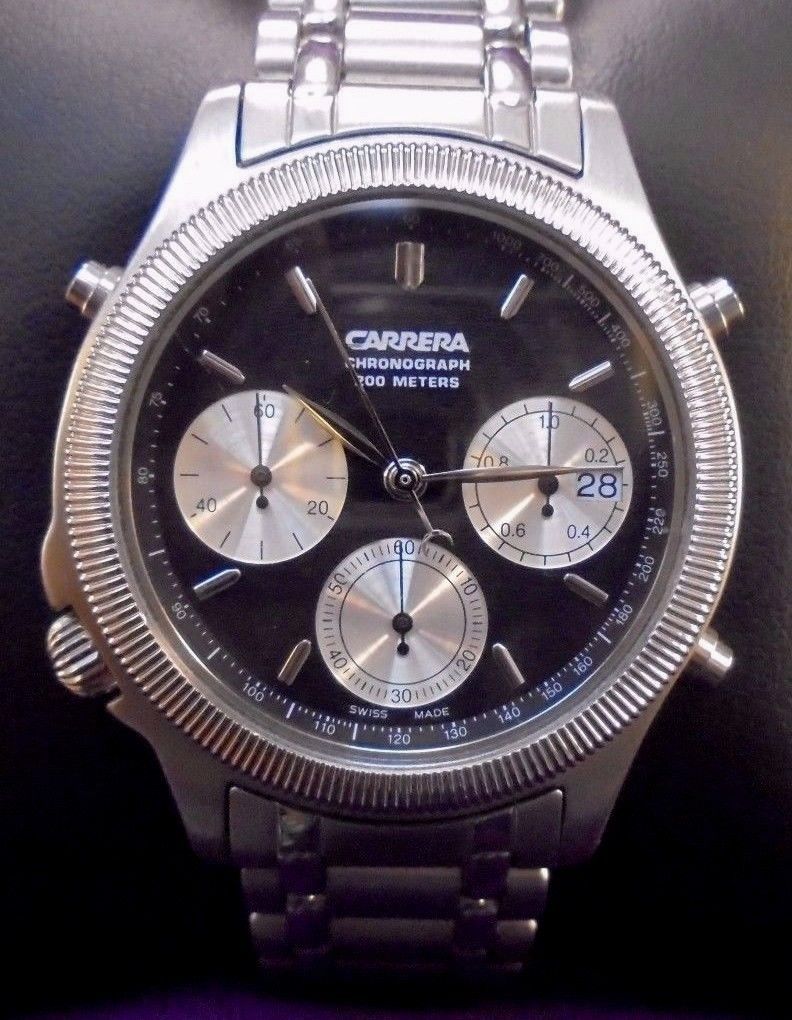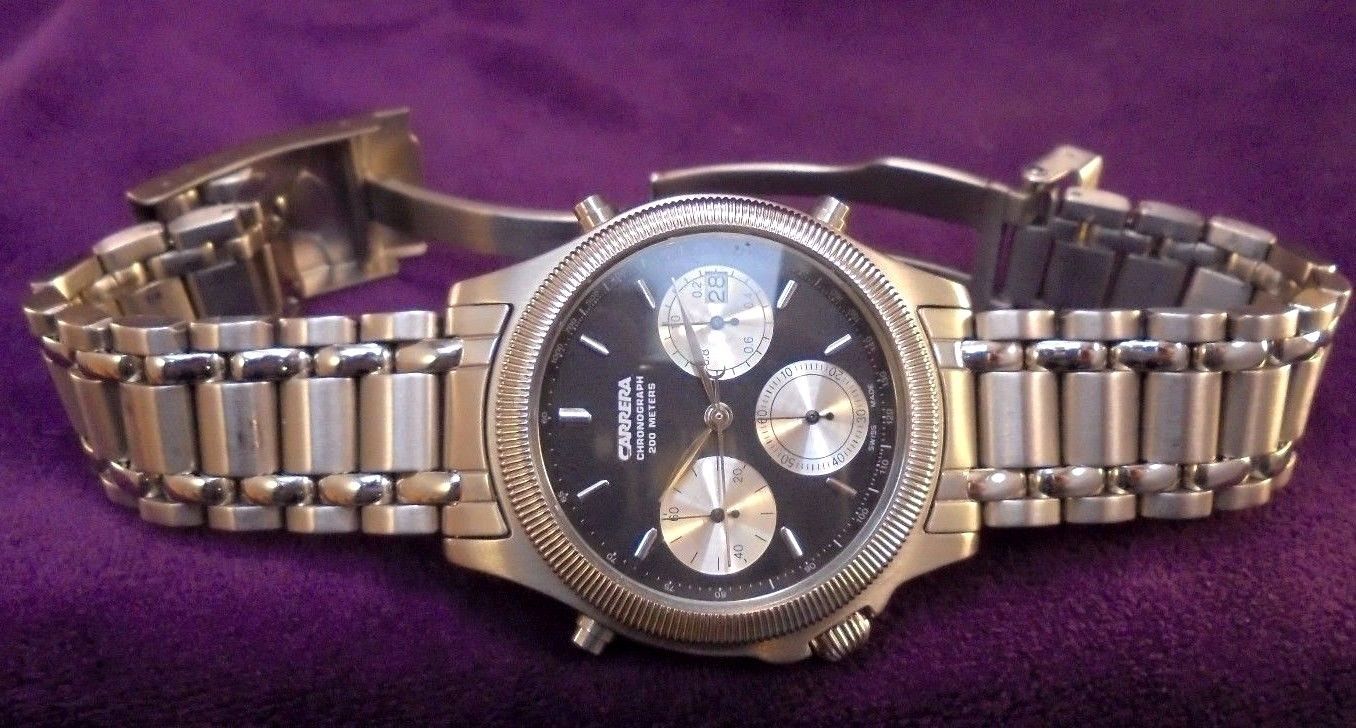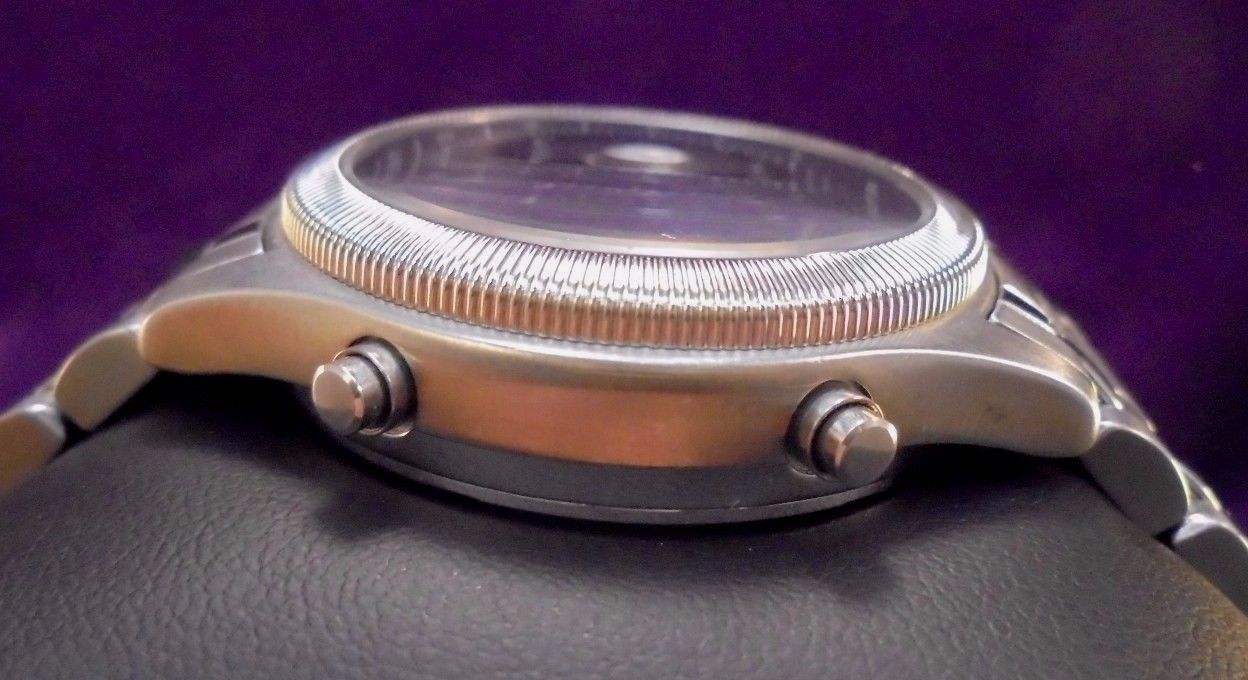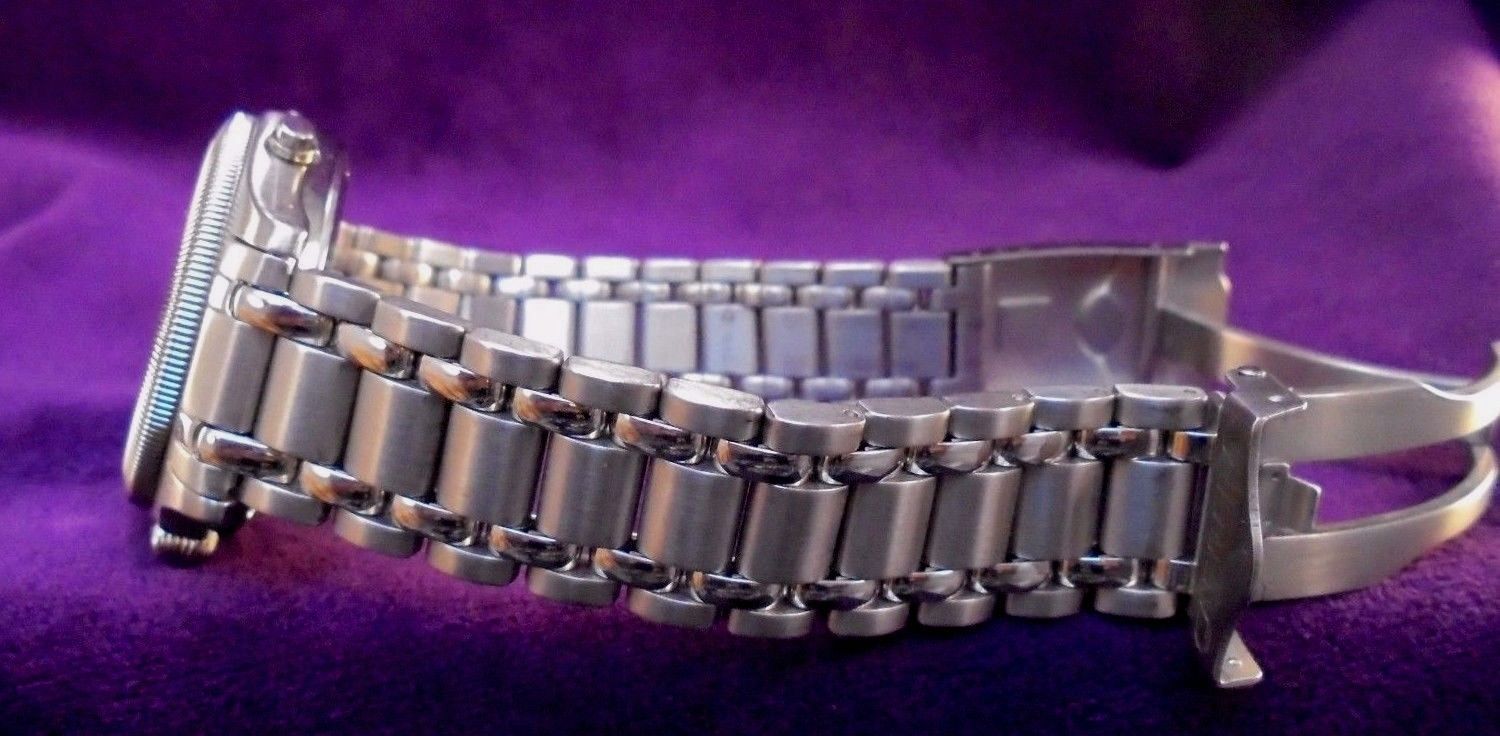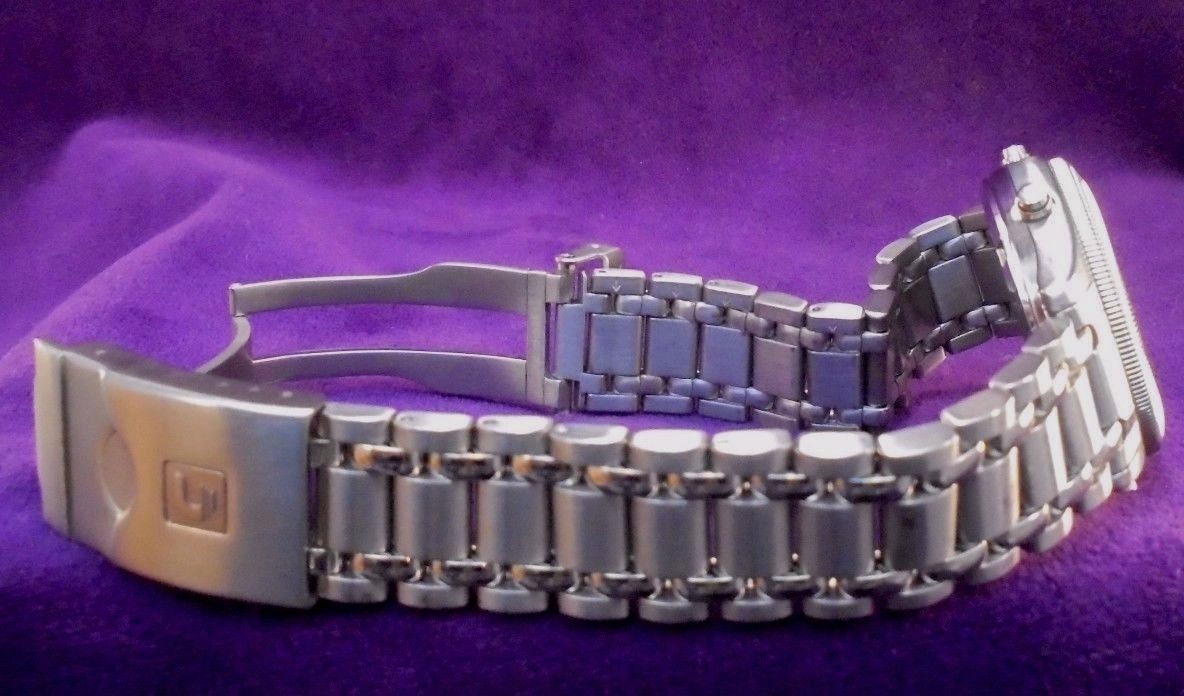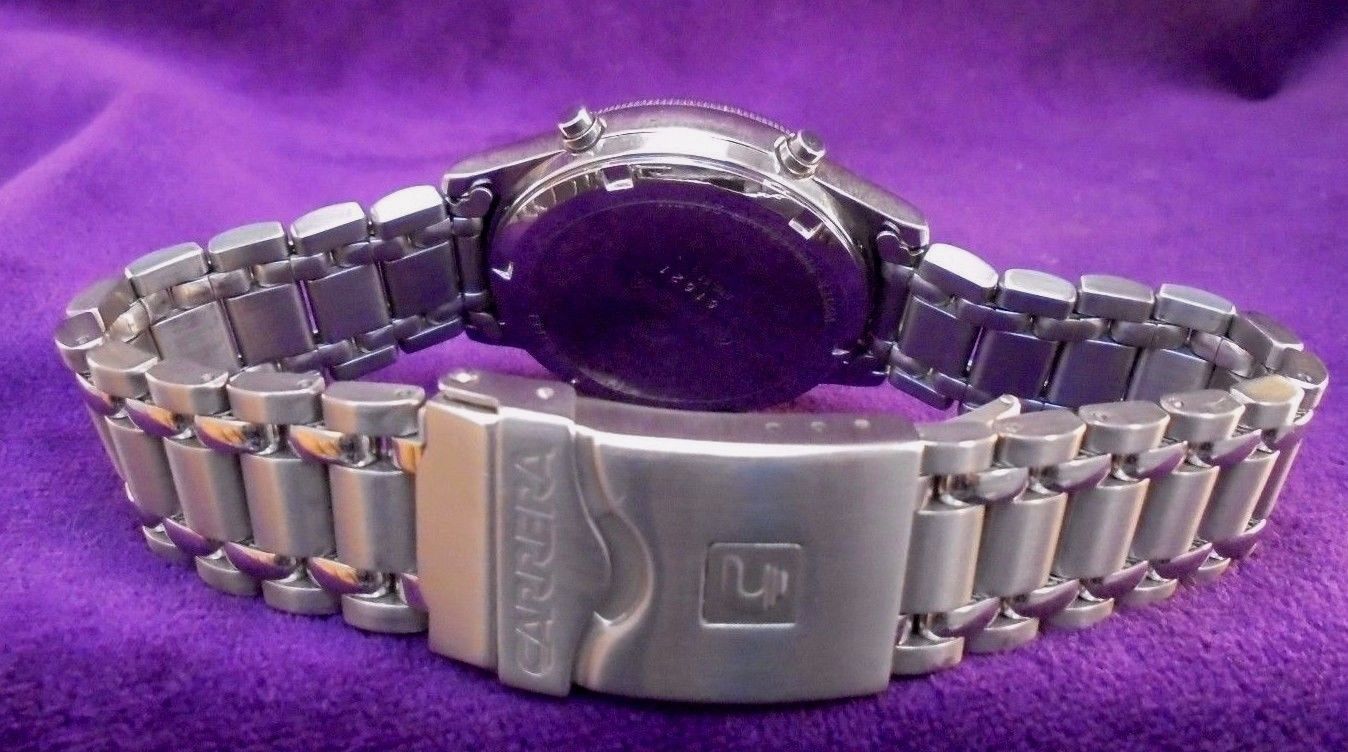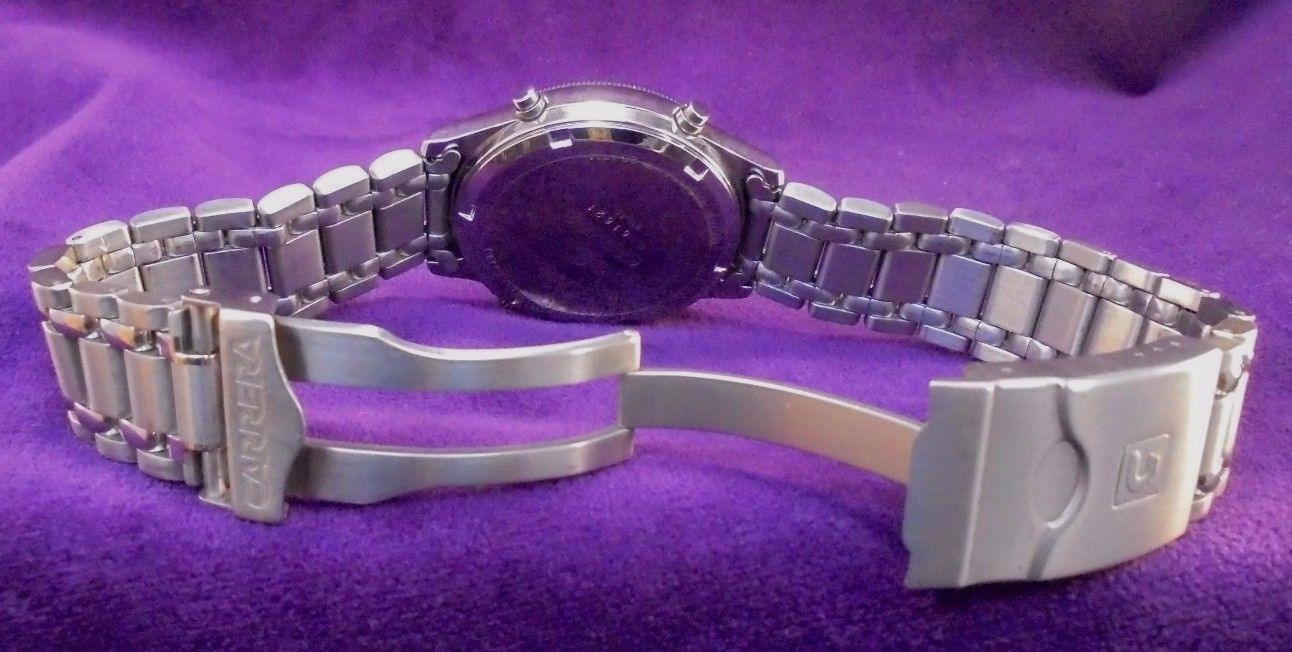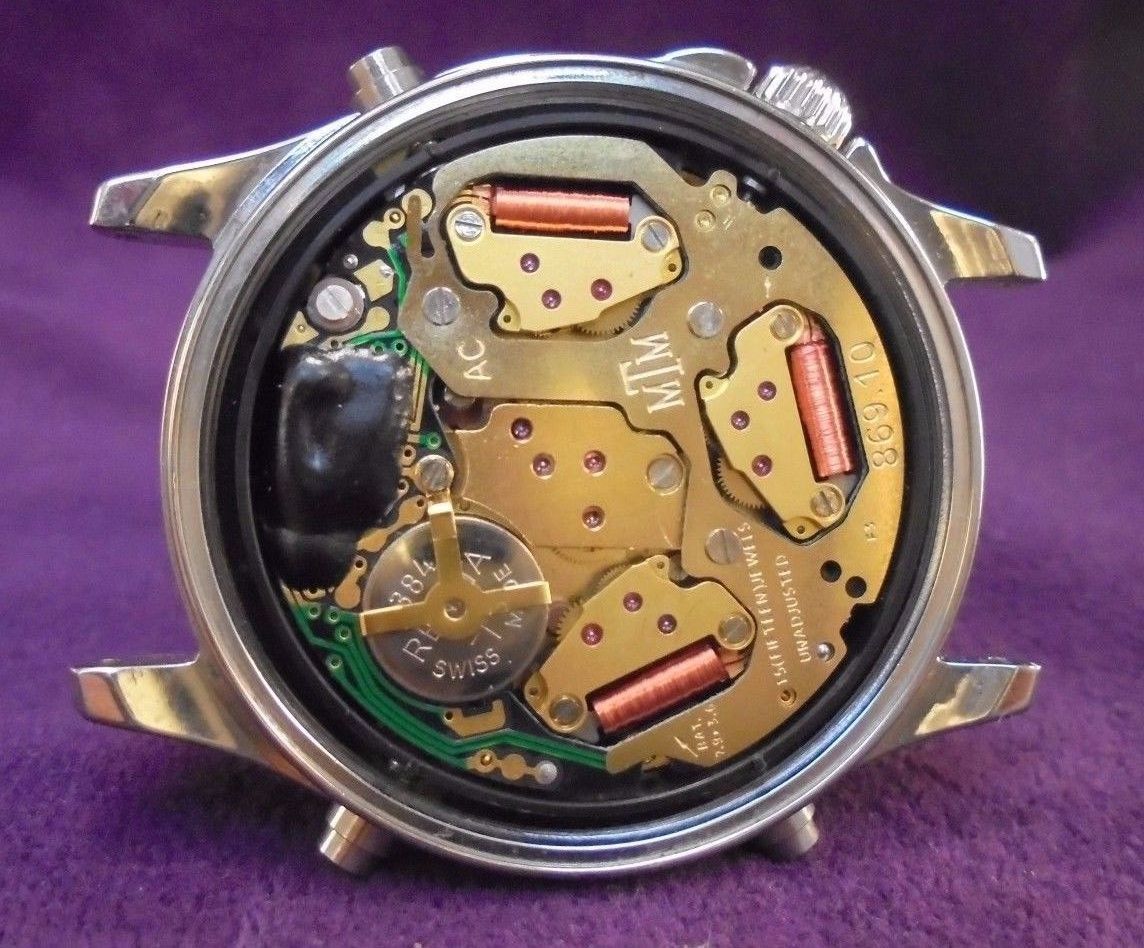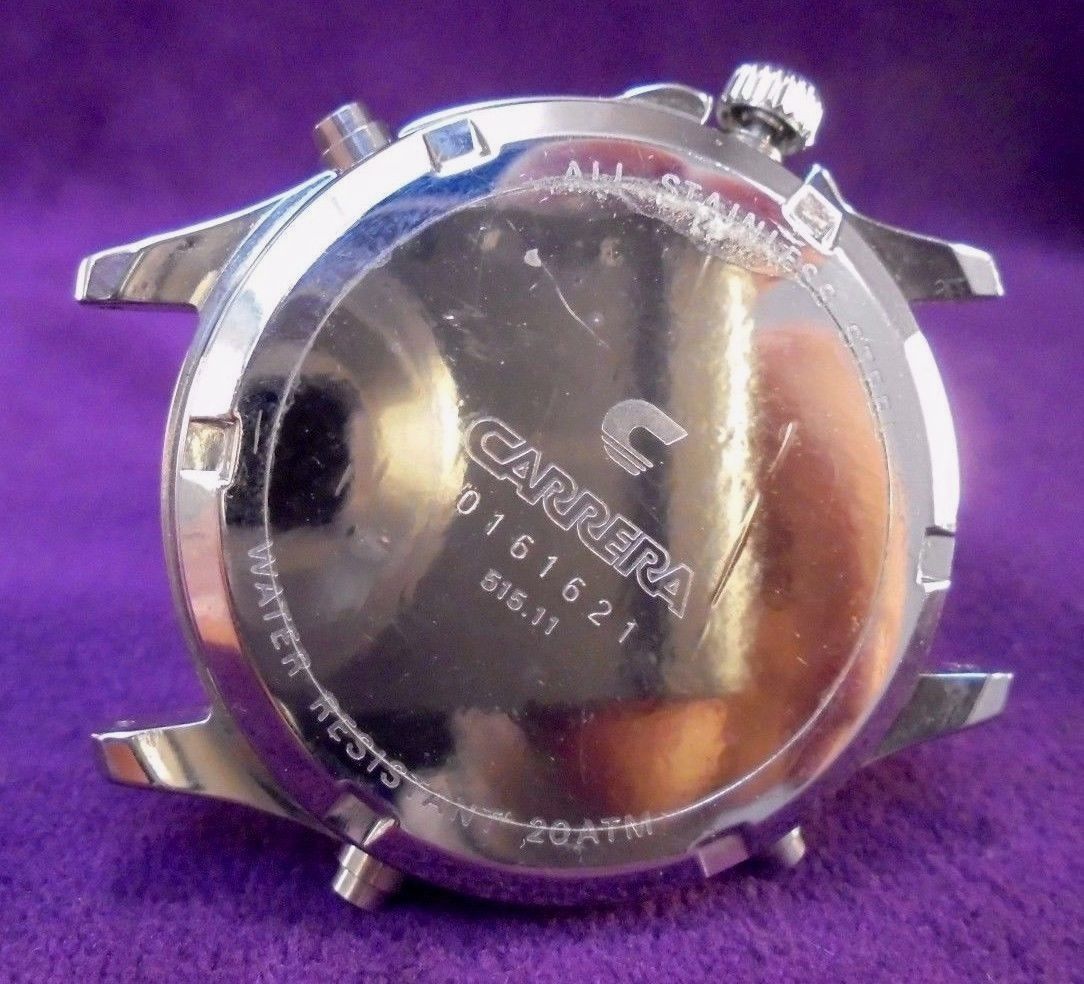 THIS IS A WORKING, PRE-OWNED VINTAGE CARRERA SWISS QUARTZ 3 REGISTER CHRONOGRAPH WATCH, GUARANTEED AUTHENTIC. PERHAPS THE MOST FINELY BUILT SWISS QUARTZ CHRONOGRAPH I'VE EVER HANDLED. I COULD NOT FIND ANOTHER EXAMPLE - I'M NOT EVEN SURE THIS WATCH WAS EVER (WORN) OR OFFERED FOR SALE- IT COULD BE A PROTOTYPE. 
CASE, CASE BACK AND BRACELET CLEANED AND UV SANITIZED. MOVEMENT INSPECTED, CLEANED AND TIMED. BRAND NEW PREMIUM BATTERY INSTALLED. LUBRICATED. 
EXCELLENT WORKING , AND COSMETIC CONDITION - NEAR MINT CONDITION GRADE! 
################################################################3
CIRCA LATE 1980S -1990S CARRERA SWISS CHRONOGRAPH ~20 ATM (200 METER) WATER RESISTANT STAINLESS STEEL MENS WATCH. THE WATCH IS POWERED BY ITS ORIGINAL, TOP GRADE MTM SWISS CALIBER 869.10 ~ 15 JEWEL 3 REGISTER (and 3 function pusher) QUARTZ CHRONOGRAPH (1/10 SECONDS, 60 SECONDS AND 60 MINUTES) WITH QUICK SET DATE COMPLICATION .
WATCH TIME AND DATE IS SET BY USE OF CROWN/STEM LOCATED AT 8 HOUR POSITION. CHRONOGRAPH START AND STOP FUNCTION PUSHER LOCATED AT 2 HOUR POSITION. CHRONOGRAPH RESET (ALL CHRONOGRAPH REGISTERS HANDS GO TO "0" POSITION) FUNCTION PUSHER LOCATED AT 4 HOUR POSITION. CHRONOGRAPH HANDS ADJUSTMENT FUNCTION PUSHER LOCATED AT 10 HOUR POSITION. THE MOVEMENT WAS CLEANED, TIMED AND LUBRICATED. BRAND NEW SWISS PREMIUM BATTERY INSTALLED.
SPOTLESS ORIGINAL 29MM FLAT BLACK -WITH BRIGHT SILVER REGISTERS "REVERSE PANDA" STYLED CHRONOGRAPH DIAL. "CARRERA CHRONOGRAPH 200 METERS " PRINTED UNDER 12 HOUR POSITION. 1/10 SECOND, 60 SECOND AND 60 MINUTE CHRONOGRAPH SUB-DIALS LOCATED AT 3, 6 AND 9 HOUR POSITIONS RESPECTIVELY. APPLIED RAISED WHITE GOLD HASH STYLED HOUR MARKERS. CONTRAST PRINTED BEVELED TACHYMETER REGISTER LOCATED ON DIALS EDGE. POLISHED WHITE GOLD HOUR, MINUTE , AND (TIME) SWEEPING SECONDS HAND. DATE WINDOW LOCATED AT 3 HOUR POSITION ON DIALS EDGE.
NEAR MINT CONDITION 37.5 MM WIDE X 43.5MM LONG, BRUSHED SOLID STAINLESS STEEL 200 METER WATER RESISTANT CASE . CASE IS 12MM THICK (WITH BEZEL AND CASE BACK). LITTLE TO NO EAR ON CASE. NO WEAR ON SLOTTED POLISHED BEZEL. LITTLE TO NO WEAR ON SCREW DOWN DIVER CROWN AND 3 CHRONOGRAPH FUNCTION PUSHERS. SCREW DOWN STAINLESS STEEL CASE BACK -LITTLE TO NO WEAR ON CASE BACK - STILL HAS FACTORY PROTECTIVE CLEAR PLASTIC INTACT. RUBBER O-RING SEAL INSPECTED AND LUBRICATED . CASE BACK THREADS, AND CROWN TUBE THREADS, AND FUNCTION PUSHERS LUBRICATED WITH SILICON GREASE. I NOTICED 1 SMALL SCRATCH AT 10 HOUR POSITION ON MINERAL CRYSTAL. NO CHIPS OR CRACK.
ORIGINAL TOP GRADE SOLID LINK STAINLESS STEEL DEPLOYMENT BRACELET ADJUSTS TO ACCEPTS WRISTS UP TO 9" ( OR 220MM). MILLED (NOT LAYERED) SOLID STAINLESS STEEL BRACELET LINKS ARE ALTERNATING POLISHED AND BRUSHED. IT MEASURES 18MM WIDE FOR ENTIRE LENGTH- AVERAGES 3.5MM THICK. LITTLE TO NO WEAR ON SURFACES OF BRACELET - IT COULD PASS FOR NEW. SPOTLESS CLEAN.SIGNED TRI-FOLD DEPLOYMENT CLOSURE WITH SIGNED FOLD OVER SAFETY.
COMMENTS: CLASSIC CHRONOGRAPH DIVER - NEW LONG LIFE SWISS BATTERY. SERVICED AND CLEANED - RUNNING STRONG, ALL FUNCTIONS TESTED - KEEPS EXCELLENT TIME, READY TO WEAR!
Sorry, but I'm not responsible for additional charges or costs (such as customs, import duties, VAT, or any other taxes) incurred by your local Government. Customs policies vary from country to country, you MUST contact your local Customs Agency with any questions or liabilities.
International Bidders I understand the high cost of import fee and will work with you on the value of the item declared. WINNING BIDDERS PLEASE CONTACT ME AFTER PAYMENT WITH REQUESTS. I WILL COMBINE SHIPPING TO SAVE YOU MONEY!! I CAN OFTEN SHIP 3 TO 5 WATCHES FOR THE SAME PRICE AS ONE! 
IN THE RARE CASE THAT THE WATCH OR WATCHES ARE NOT WORKING PROPERLY when received: Please contact me first, and DO NOT GO TO YOUR LOCAL WATCHMAKER. If you give me a chance - and send me back the watch - I'll fix it, and ship it back to you for free (or I'll FULLY REFUND full cost of watch including SHIPPING AND RETURN SHIPPING). If you decide not to send back the watch and fix it on your own, (even though a Paypal dispute) the fixing costs will eventually be your responsibility not-withstanding all your efforts. I'm always ready to accept returns and fully refund my customers. So please, if trouble occurs, let me know the details first. Ebay Policy recommends this course of action and I enjoy open communication with my customers. Thanks for looking - Brian. 
Check out my other items!
I won the auction, which ended in the early hours of Wednesday morning, for a not unreasonable price of $102.50. 
http://www.ebay.co.uk/itm/172380872009

It turns out that the seller had previously listed it at the beginning of October with a Buy-it-Now price of $500 !! 
http://www.ebay.co.uk/itm/182198249498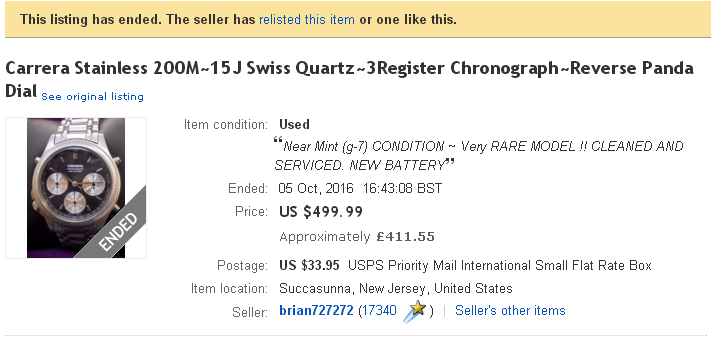 Indeed, it appears he'd first listed it (again as a Buy-it-Now for $500) as far back as July: http://www.ebay.co.uk/itm/172257807422