Here's another 7A38-7070 fitted with a cheap leather strap (in place of the original bracelet). Not quite as clean as the last one - this is probably better described as 'crud encrusted' rather than 'very good to excellent'.
It was listed at lunchtime today by a US eBay seller, as a 10-day auction with an opening bid price of $45. Might I add a typical parochially minded US eBay seller, who won't ship outside CONUS; they're actually blocking bids from outside USA. Short-sighted in more ways than one, particularly if they can't see the ingrained filth around the bezel and pushers.

http://www.ebay.co.uk/itm/382569171094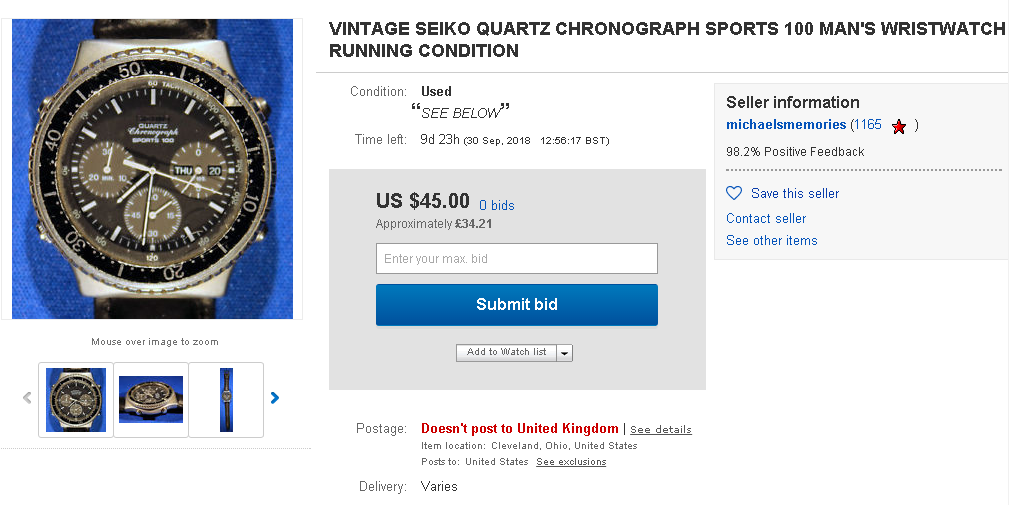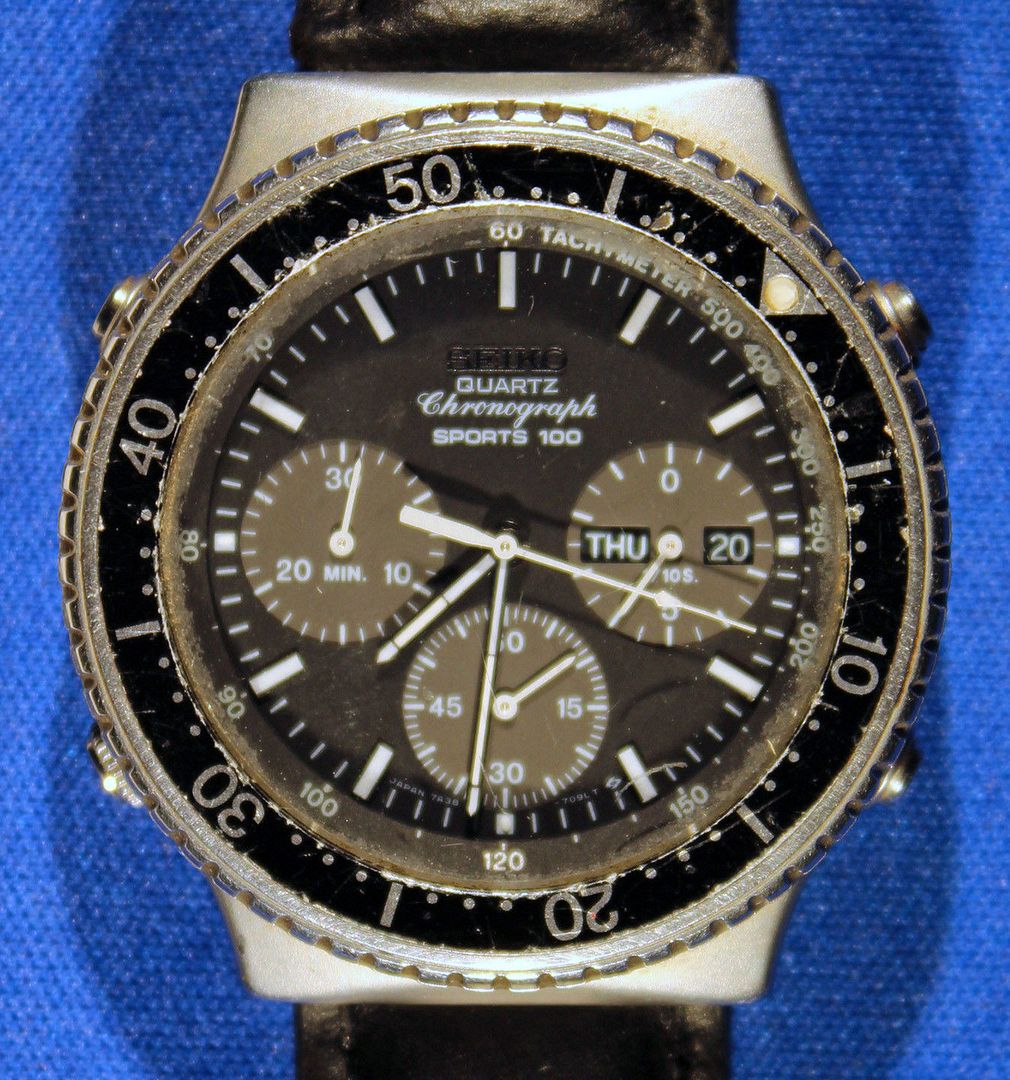 VINTAGE SEIKO QUARTZ CHRONOGRAPH SPORTS 100 MAN'S WRISTWATCH RUNNING CONDITION
Here is a very handsome Seiko Chronograph man's wristwatch being sold for a local estate.
This is a Quartz Sports 100 model and it's in running condition.
The stainless steel case measures about 40 mm in diameter by about 42 mm long from lug tip to lug tip. To my eye the case looks great. I did not see any issues. The case is hallmarked on the back as follows: "Seiko 432967, Water Resist, St. Steel, Japan, 7A38-7070 AO."
The crystal is glass (I think) and it looks very good with a few light scratches.
The dial is a handsome / dramatic black color. It looks very clean. I did not see any issues.
White colored hash marks and hands to denote the time. There is a large sweep second hand.
There are 3 separate inset dials and 4 pushers on the side of the case. I see one of these dials working but I cannot figure out how the other pushers and dials work. They might not be working - I don't know.
Hallmarked on the dial is "Seiko, Quartz, Chronograph, Sports 100."
It comes with a handsome "Genuine Leather" band.
It has a new battery and it is running but please see above as I cannot figure out how the pushers operate.
The estate has priced it to sell.
Overall, I would say that it looks to be in very good to excellent condition considering it's age.
TERMS AND CONDITIONS:
BY BIDDING YOU AGREE TO ABIDE BY THESE TERMS AND CONDITIONS.
SHIPPING CHARGES INCLUDE POSTAGE, INSURANCE, DELIVERY OR SIGNATURE CONFIRMATION AND ALL PACKING AND SHIPPING EXPENSES.
POSTAGE IS DETERMINED BY FINISHED PACKAGE WEIGHT. INSURANCE AND DELIVERY CONFIRMATION ARE REQUIRED BY PAYPAL. ALL ITEMS SHIP USPS PRIORITY UNLESS OTHERWIDE NOTED. I DO NOT MAKE ADDITIONAL PROFIT WITH SHIPPING CHARGES. IF YOU FEEL THAT THE SHIPPING CHARGES ARE TOO EXPENSIVE THEN PLEASE DO NOT BID.
RETURNS: YOU MAY RETURN AN ITEM WHICH IS NOT AS ADVERTISED. I WILL MAKE A 100% REFUND. I WILL NOT AGREE TO A PARTIAL REFUND AND ALLOW YOU TO KEEP THE ITEM. I WILL NOT REFUND MORE THAT THE ORIGINAL PAYMENT.
PAYMENT: UPON RECEIVING YOUR EBAY INVOICE, I EXPECT PAYMENT WITH 3 DAYS.
YOUR ITEM WILL SHIP THE DAY FOLLOWING PAYMENT RECEIPT.
THANK YOU.