I bought another rare variant of Racer J39 a couple of weeks ago, for the princely sum of 39 Euros. It arrived on Thursday this week and yesterday I gave it a strip down and clean and general fettling. I've already written an introductory post about it in the Racer J39 thread (bottom of page 5) yesterday. My comments included:
The crystal is quite badly scratched, but the dial and hands underneath appear to be pristine and everything works, although the crown is very stiff to turn. As soon as I've finished this post, I'm going to strip and clean it.
I'd forgotten to add that although all three pushers worked (and to my amazement operated all the chrono' functions correctly), there was very little travel or feel to them. Here's a few photos I took along the way.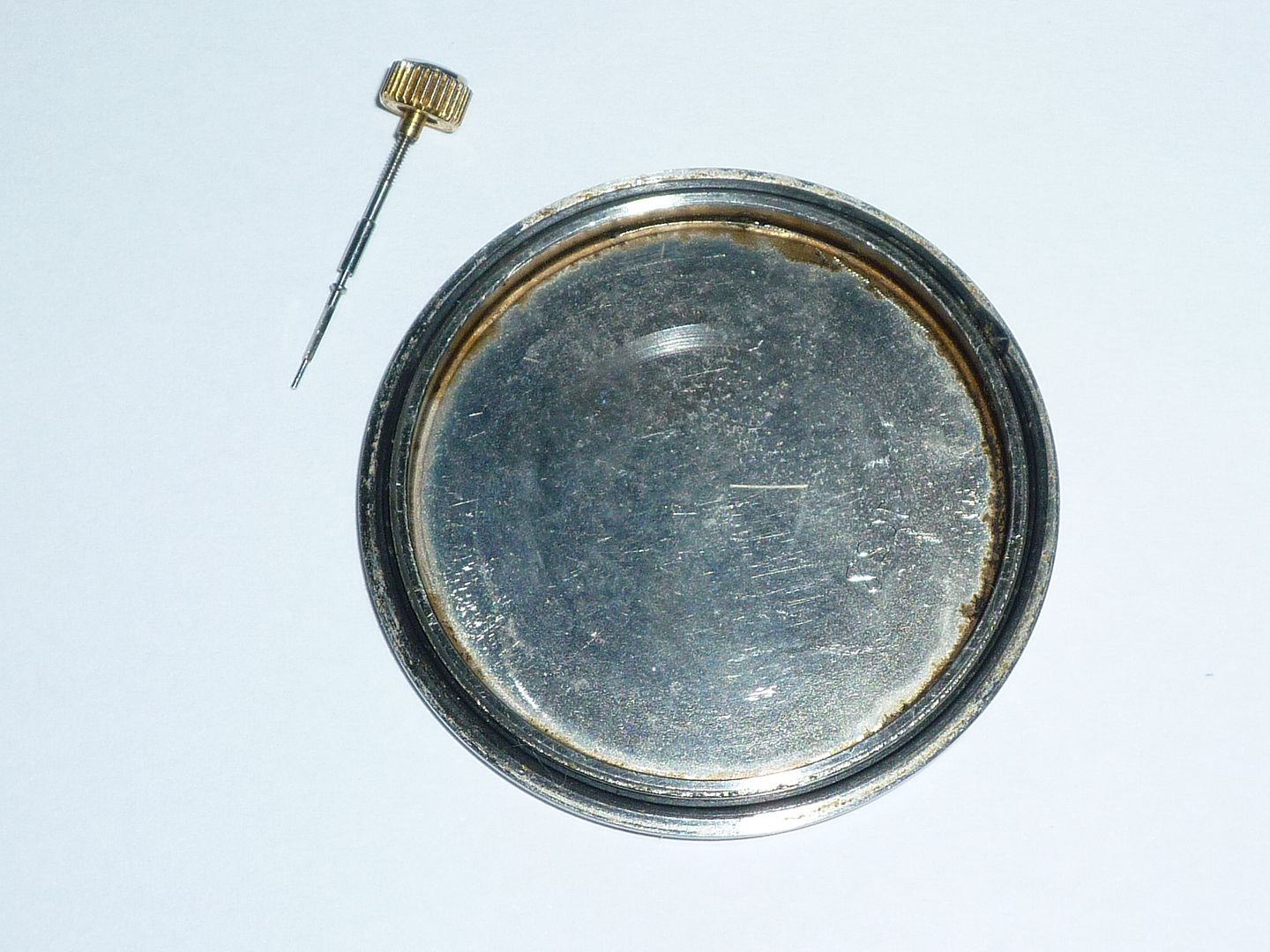 Judging by the staining around the perimeter of the inside of the caseback, the watch has suffered from a severe battery leak at some point. Yet oddly there was no more evidence of it, other than that. The movement's anti-magnetic backplate was relatively clean and the inside of the watch case was comparatively spotless.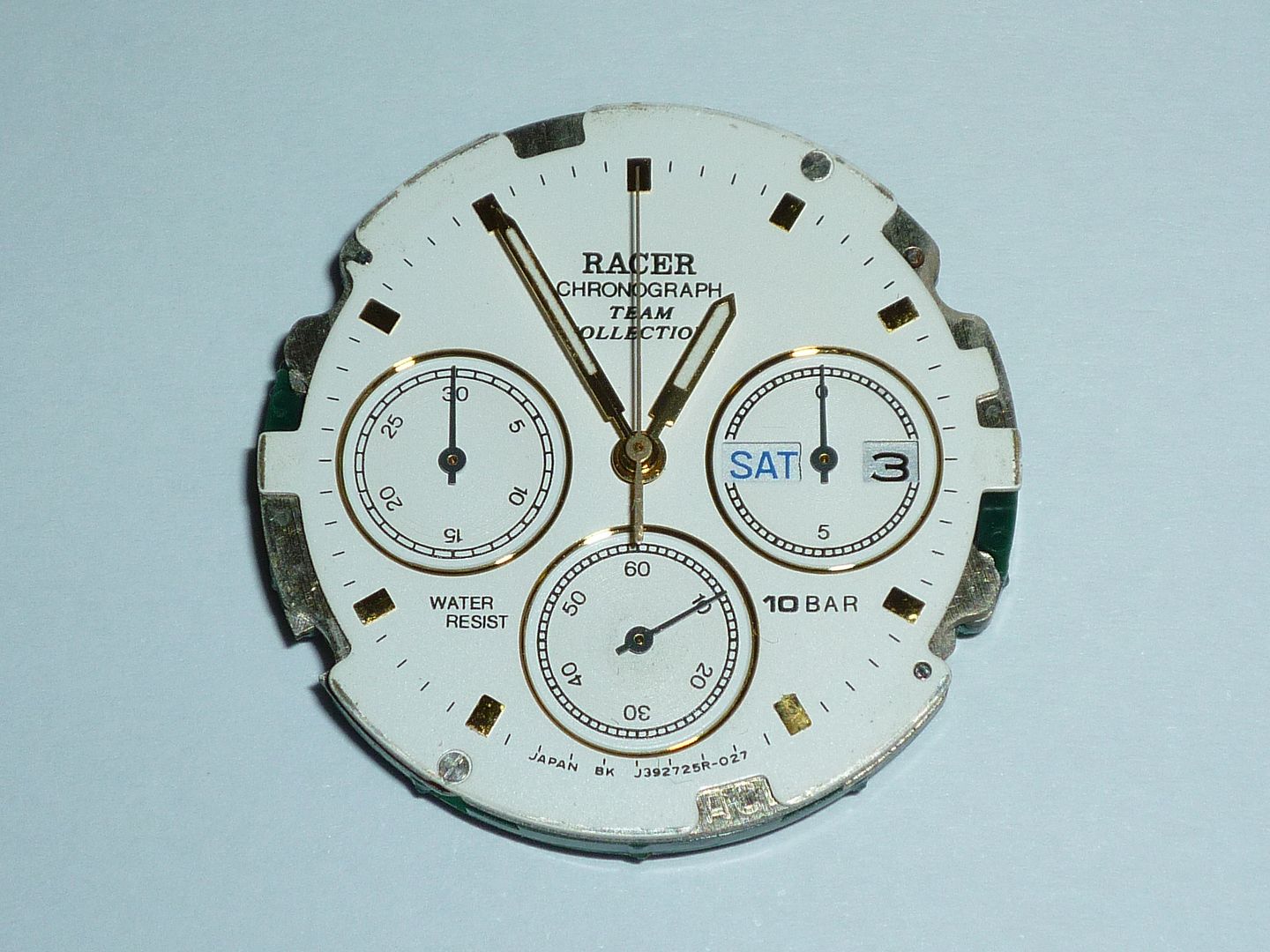 The dial and hands weren't quite as pristine as I'd first imagined. There's a little tarnishing on a couple of the gold-plated hour batons and some grubbiness in the centre of the seconds sub-dial and around the perimeter of the dial. Note the dial part number: J392725R-027 which ties in nicely with the J39725-70 case-back.
Although it may look OK in my first photo, here's part of the reason for the very stiff crown rotation - a badly bent post. So bad in fact that it had worn a groove in the case tube !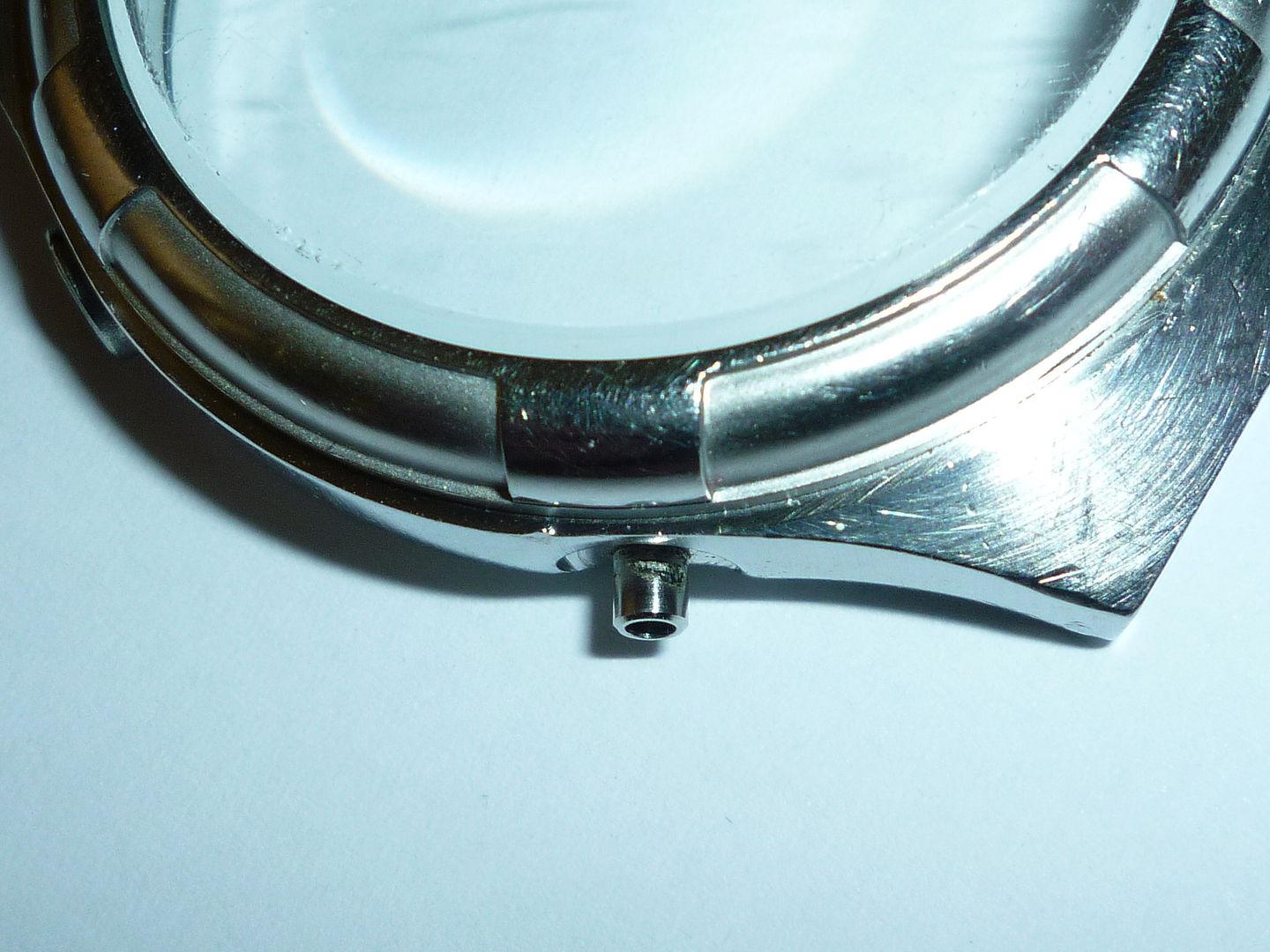 The crown must have taken a heavy knock at some point, because the tube was also slightly out of alignment. I rectified it by inserting a 1.3mm ∅ steel pin and very gingerly giving it a gentle tweak.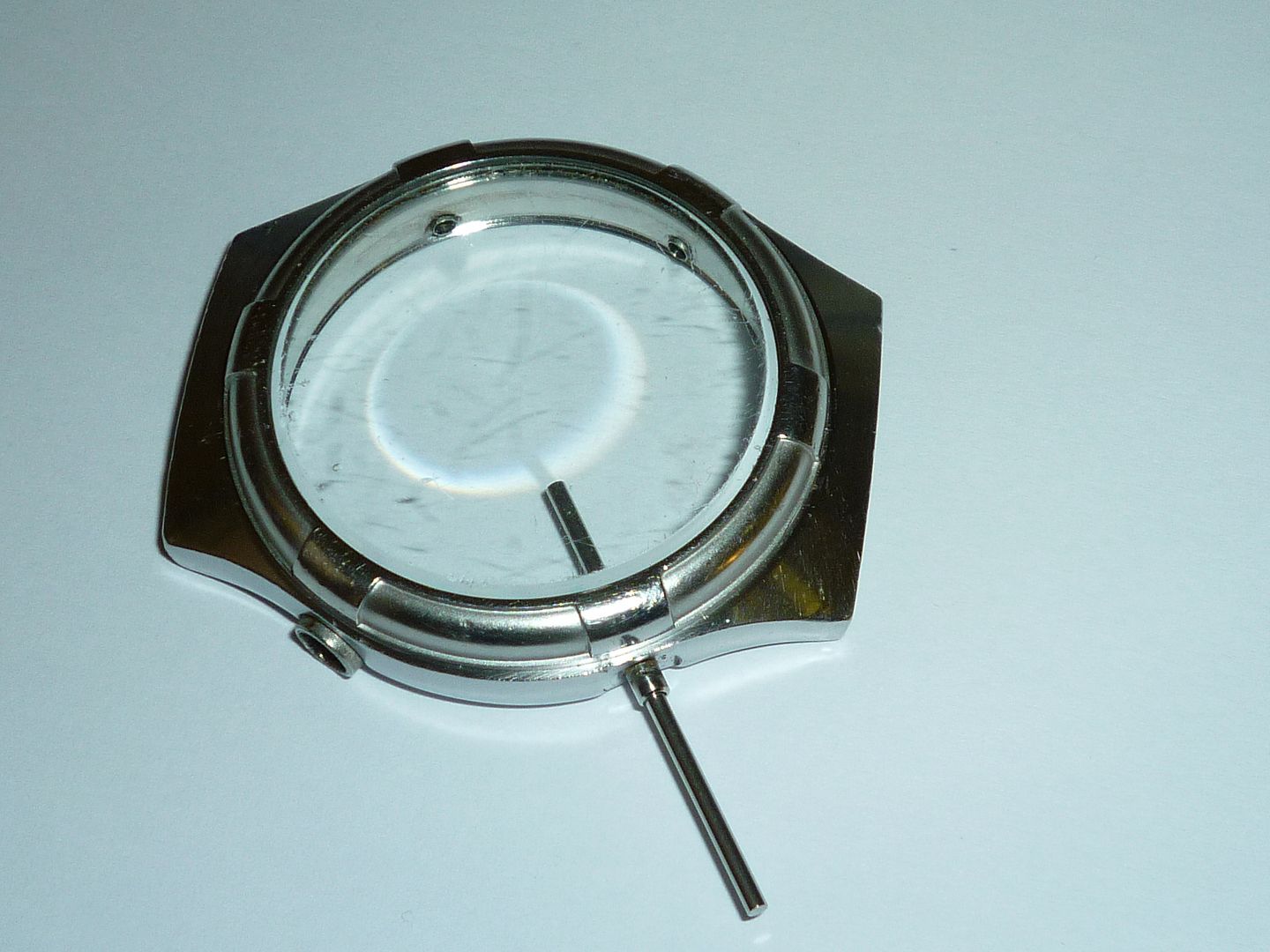 The pusher cups were full of rust !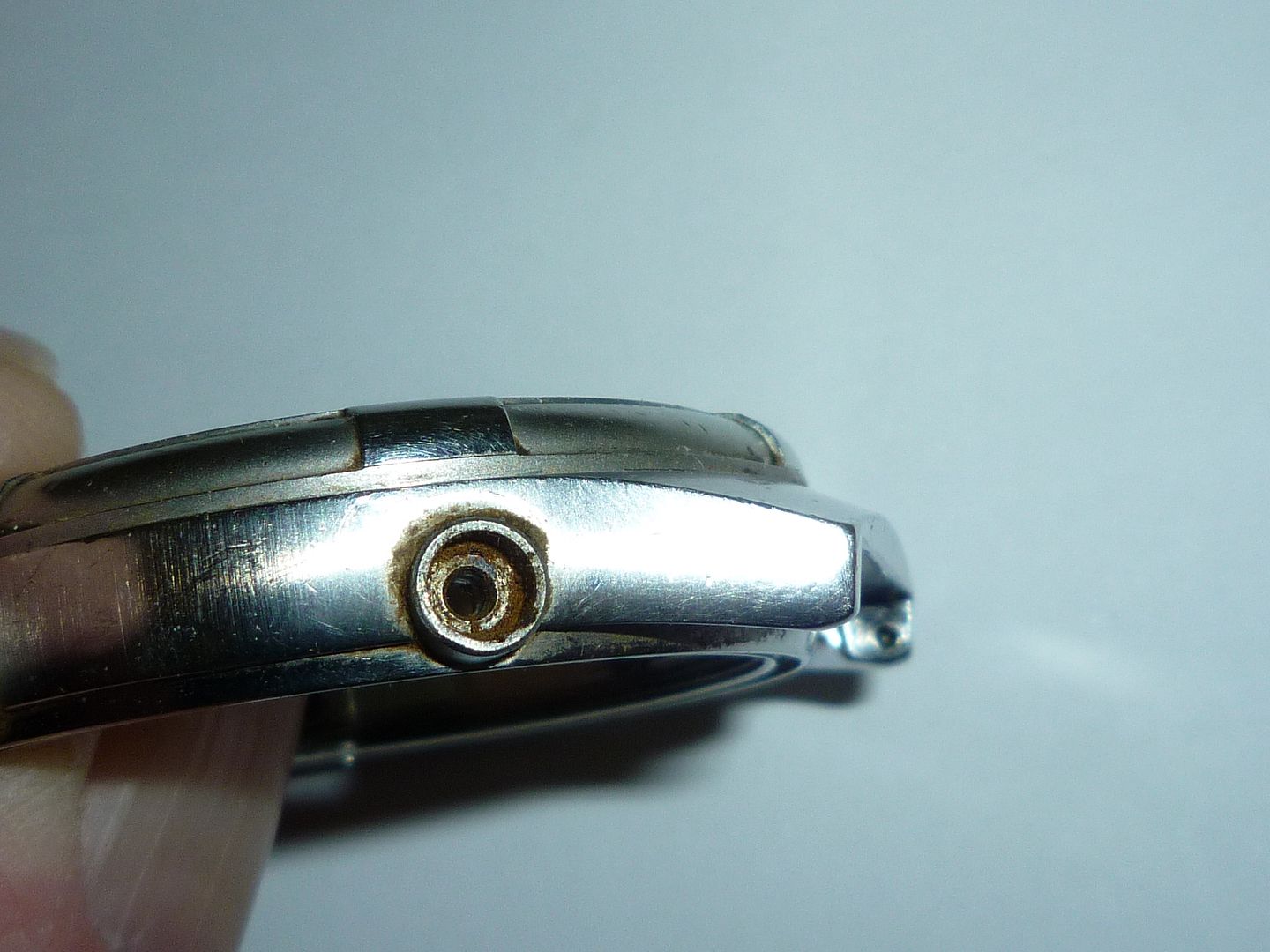 Someone had made a half-hearted effort at cleaning the 10 o'clock pusher and oiled it ! 
Having cleaned out the pusher cups I turned my attention to the pusher button assemblies. I really don't know why I bothered wasting half an hour stripping and cleaning them. 
 I had to cut off the rock hard remnants of the O-ring seals with a scalpel. All were badly corroded; one had a flat on it, where it had been gripped by pliers, two had bent shafts and the third had very little left of the circlip retainer.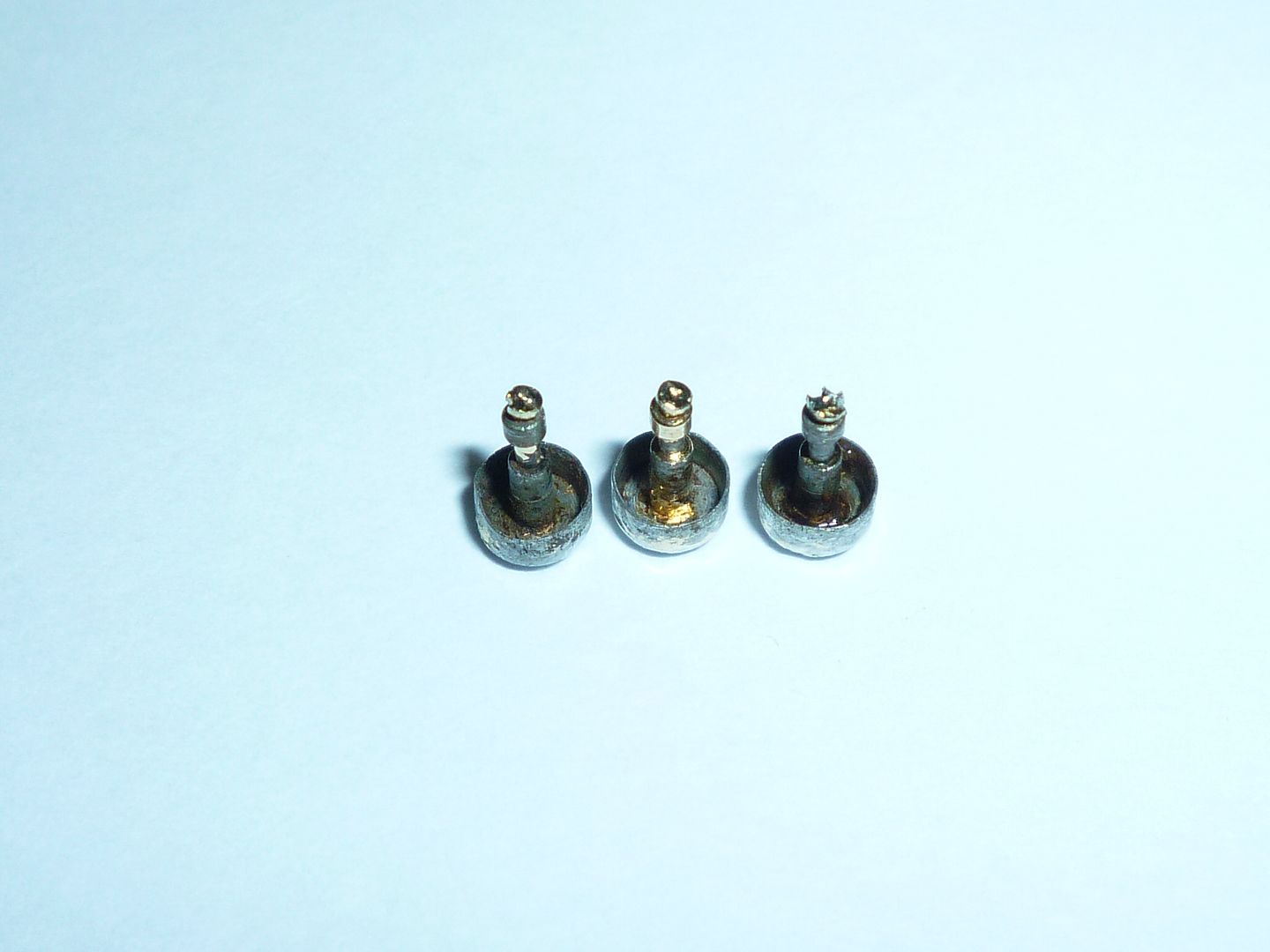 After I'd taken that photo, I promptly chucked them in the rubbish bin and delved into my secondhand spares box. I picked out 3 from this pack. Other than having lost gold their plating (quite common with Orient J39 pushers) they just needed new O-ring seals fitting.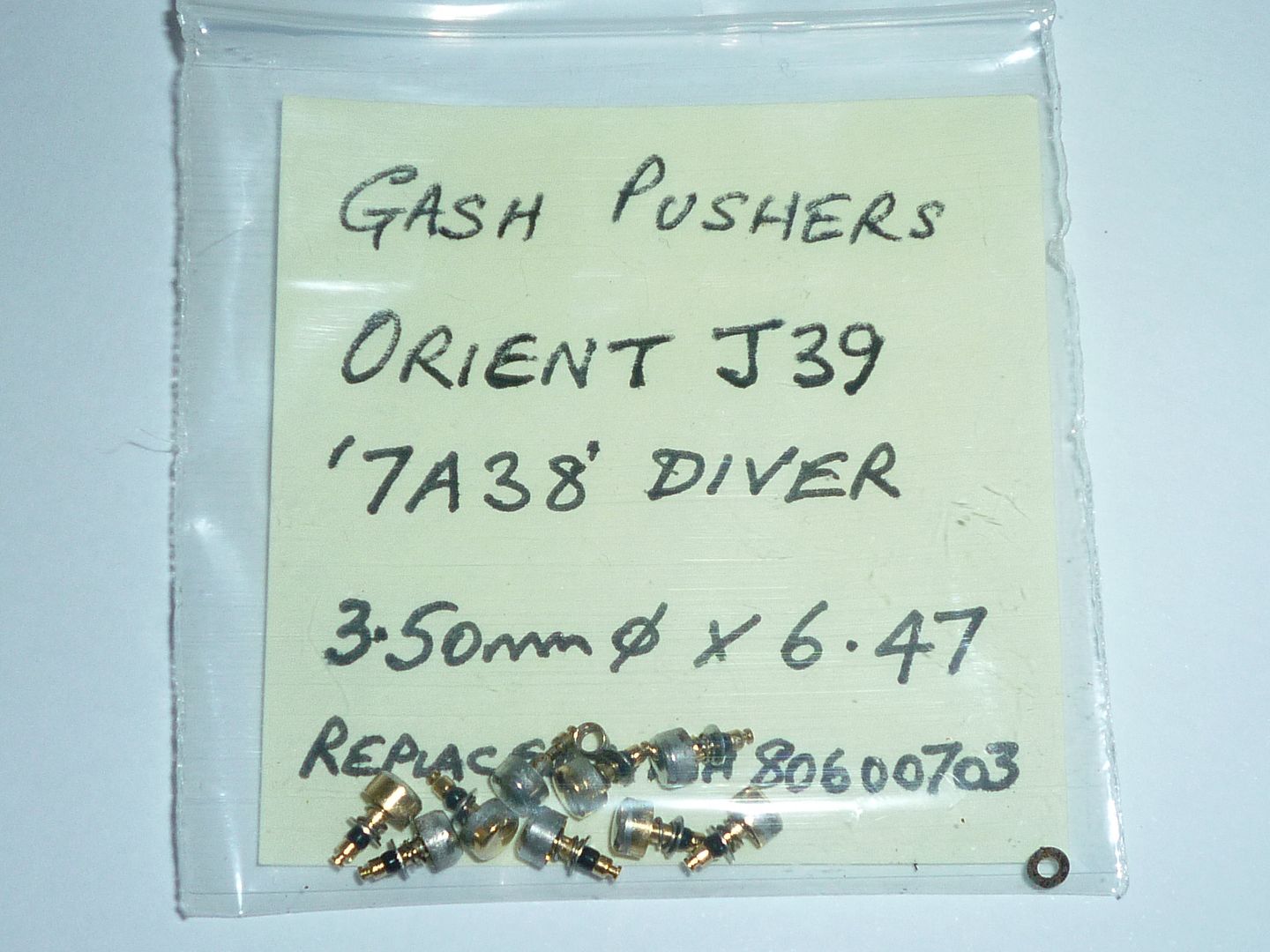 Here's the movement back in the case, now fitted with a replacement secondhand Orient crown / stem and pushers from that packet.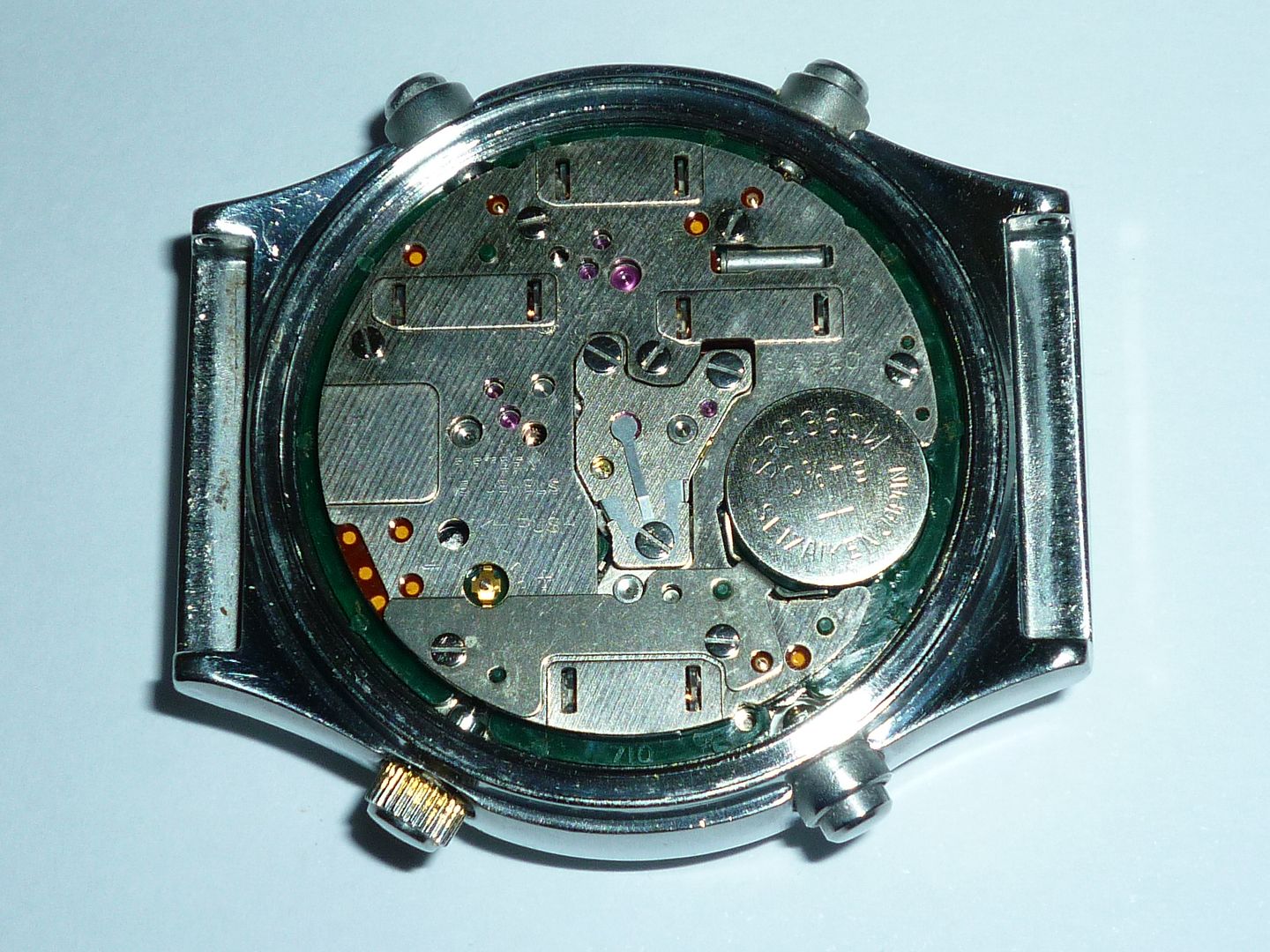 At which point my camera battery ran out again ! 
 As you can see, in my fifth photo, the original crystal was quite badly scratched and needed replacing. Something that frustrates the hell out of me is that I've never actually managed to find stock of, or a perfect replacement for the Orient p/n 16-4578c crystal. 
It's used in several of these Orient / Racer J39 / Puma Y19 models which share the same lower watch case and also the J39 BreitBling variants. It's mineral glass (with a very light green-ish tint), measures 31.0mm ∅ by approx 2.50mm thick and has a sizeable, but proportionate 45° polished bevel edge. On the Orient J39 Divers, the bevel is needed to clear the underside of the bezel insert, but on the other models it's purely decorative. In fact I had found something suitable for use on the Orient J39 Divers a long time ago, in the form of Seiko crystal p/n 310W76HN01. I wrote about it in a thread on RLT as far back as August 2010. But the problem with using that one is that only the very uppermost part of the bevel is polished. The greater part is just ground. When I'd later encountered this same Orient crystal in other non-Diver models, including Puma Y19's and my Orient branded J39725-70 my solution had been to used Cousins' cheap generic - p/n F250CMH310. It doesn't have anywhere near the same sort of polished bevel edge (if any). Then I discovered Sternkreuz p/n XY310.353. Dimensionally, it is perfect - with a polished bevel edge. Only problem is that it's (solid) plastic, rather than mineral glass. 
So yesterday, I delved into my spare crystals drawer, to find that I already had a Cousins 'cheapy' p/n F250CMH310 and 3 x Sternkreuz p/n XY310.353 in stock ! 
So you can guess which I plumped for. I'd forgotten why I'd stopped using them. 
The first one I fitted had a small scratch on the inside. It really is quite soft plastic (say compared to the Seiko hesalite crystals used in the 7A38-6050 / -6060 / -6070 and the Yema Spationaute III) and very easy to mark, if you're not extremely careful. So I pressed it out again and picked another one. Just to make sure it was unmarked I squirted a dob of glass cleaner onto a piece of kitchen towel and gave it a wipe. Mistake ! 
 It immediately attracted loads of lint and fibres. Several attempts later using various cloths I had it almost clear and pressed it into the case. Held it up to the light and noticed a smear on the inside. Gently wiped it with a soft cloth and all of a sudden it was covered lint and tiny fibres again. 
 The bloody thing was obviously electrostatically charged and attracting all and any dust particles in the vicinity. No way would a blower puffer shift them ! I tried using Rodico and although that picked up the dust particles it left greasy marks on the crystal, so it began all over again. After about an hour faffing around I gave up in disgust and cracked a bottle of wine. 

Not that would fix anything ....