Some of you may have recently encountered a problem when trying to send a PM (private message) to another forum member. Once again, this is down to the failure of our Webs host to carry out basic preventative maintenance on our site (and presumambly all their other websites) - which I strongly suspect is due to their unwillingness to cough up the costs of renewing Captcha licences.
I started noticing the problem around the middle of last month (March). Instead of seeing the usual Captcha challenge when attempting to send a PM, in the box you'd see this V1 SHUTDOWN message, per the (testing) example below: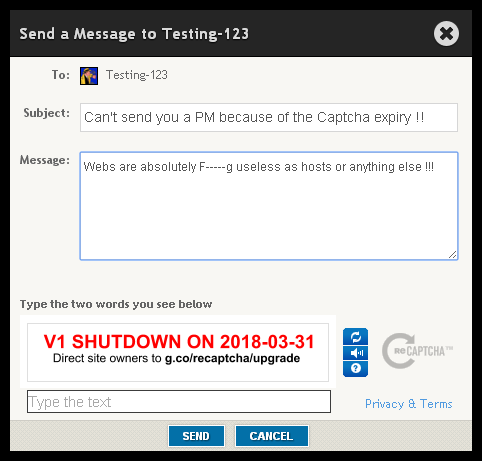 In fact, much to my amazement, Webs had actually acknowleged this problem a couple of weeks ago in a Community Topic:
http://support.webs.com/hc/en-us/community/posts/360002760271-Captcha-intermittently-shows-V1-SHUTDOWN-ON-2018-03-31-error-DG-21322
Indeed it's true that up until 31st March, you could refresh the Captcha and reload a new challenge, because I did it myself a couple of times and successfully sent PM's (before that date). Now we're in April, that V1 SHUTDOWN error message is permanently displayed and you cannot refresh the Captcha.
So I am rightfully extremely p!ssed at Webs (I've been sure to let them know my feelings)
 because they ever so conveniently attempted to close this call as 'COMPLETE' on the 30th March - as you can see from some of the subsequent comments in that Community Topic. Incidentally, this impending Captcha V1 expiration has been common knowledge in the greater IT community since November LAST YEAR !!
http://developers.google.com/recaptcha/docs/faq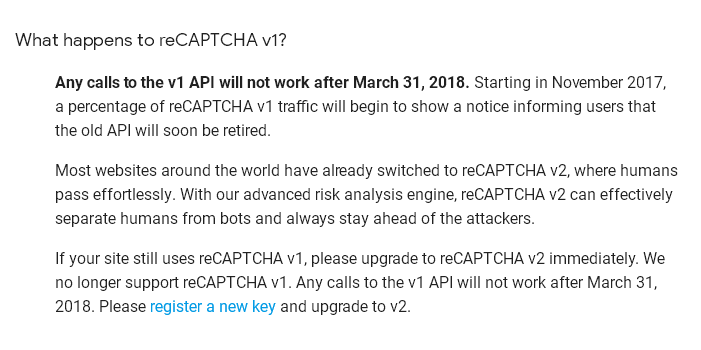 However, at least with the PM problem thankfully, there exists a workaround.