The following day, I wasted some time, during a quiet spell at work, fruitlessly googling without success, trying to find the auction where Tim had bought the 7Axx's. When I got home, I sent Tim a lengthy email, asking a few questions. He dutifully replied, kindly including a link to the auction. Turns out I had indeed been wasting my time. I'd searched what I'd thought might be all the likely (and unlikely) candidates, including Sothebys, Bonhams, Lawsons, First State auctions, etc..
Transpires that the 180 lots of Seiko watches were included in part of a much larger 4-day sale (which ran from 16th to 20th April) run by Noble Numismatics - an auction house specializing in selling collectable coins, banknotes and medals, rather than watches and jewellery. 
Here's a link to Sale # 117 on 19th April which included the Seiko watches
The watches auctioned were the collection of Dr. V.J.A. (John) Flynn of Canberra, who passed away in May 2016. I googled him and discovered he was something of a wealthy eclectic collector (notably of Rover cars) and coins, among other things. There was also a rather disturbing ABC news article alleging some of his other less savoury activities.

 But enough on that score. 

It's probably worth scrolling through the 7 pages of this auction sale to view some of the other lots, which included several Seiko Bullheads and Pogues. But if you're only interested in the 7Axx's, as I was, they were lot numbers 3347 and 3353.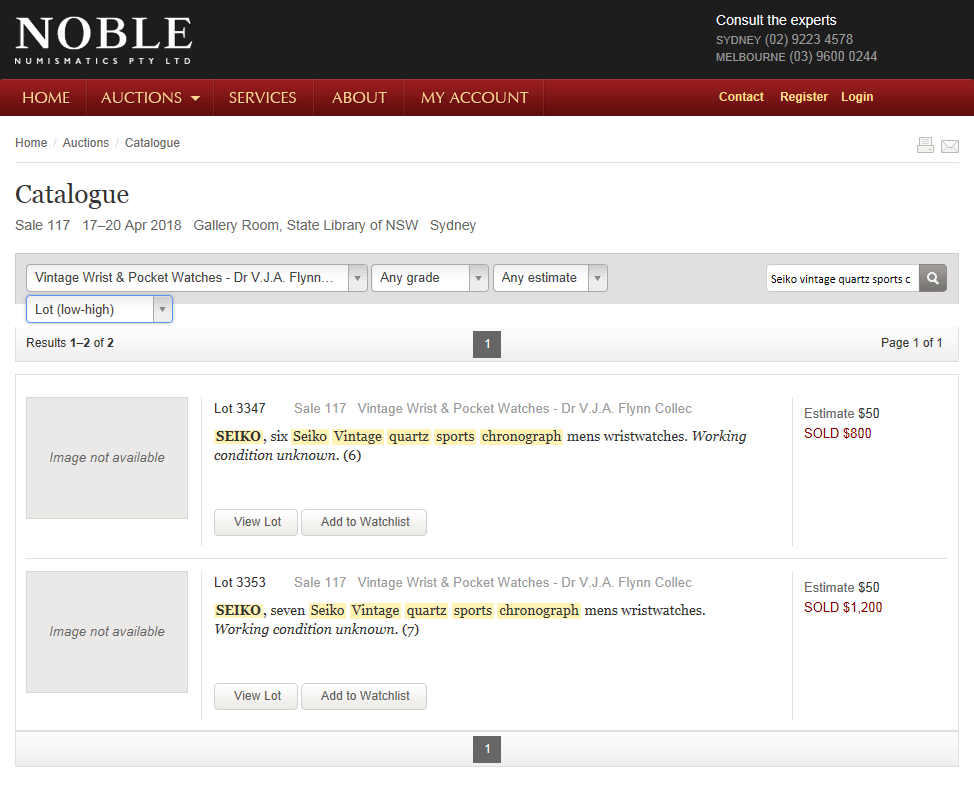 Despite the lack of photos and poor descriptions (note the $50 Au estimates), Tim didn't quite pick up a couple of absolute bargains. There were two dealers present in the room competing, who pushed him hard. Thankfully, he still won the lot of 6 7A28's for $800 Au and the lot of 7 7A38's for $1200 Au - very reasonable prices.
Obviously there are auction house commission and other fees to be added to the hammer prices. These total an additional 19.25%, as shown below.

By my reckoning, that makes a final total (for these two lots) of $2385 Au, which equates to $1815 US and amusingly, at today's exchange rate to almost exactly £1300 GBP - for 13 Seiko 7Axx's - So Tim paid £100 Quid apiece for them.
Considering they included the 7A38-701B 'Vulcan', he did very well indeed.