Here's a classic case of unashamed greed by a profiteering German eBay re-seller m.a.k.2979, who's come up on my radar a couple of times recently. This morning, he listed a well-worn gold-tone 7A38-7270, with a risible 'pie-in-the-sky' Buy-it-Now price of 249 Euros, without the option to make an offer.
http://www.ebay.co.uk/itm/283884536351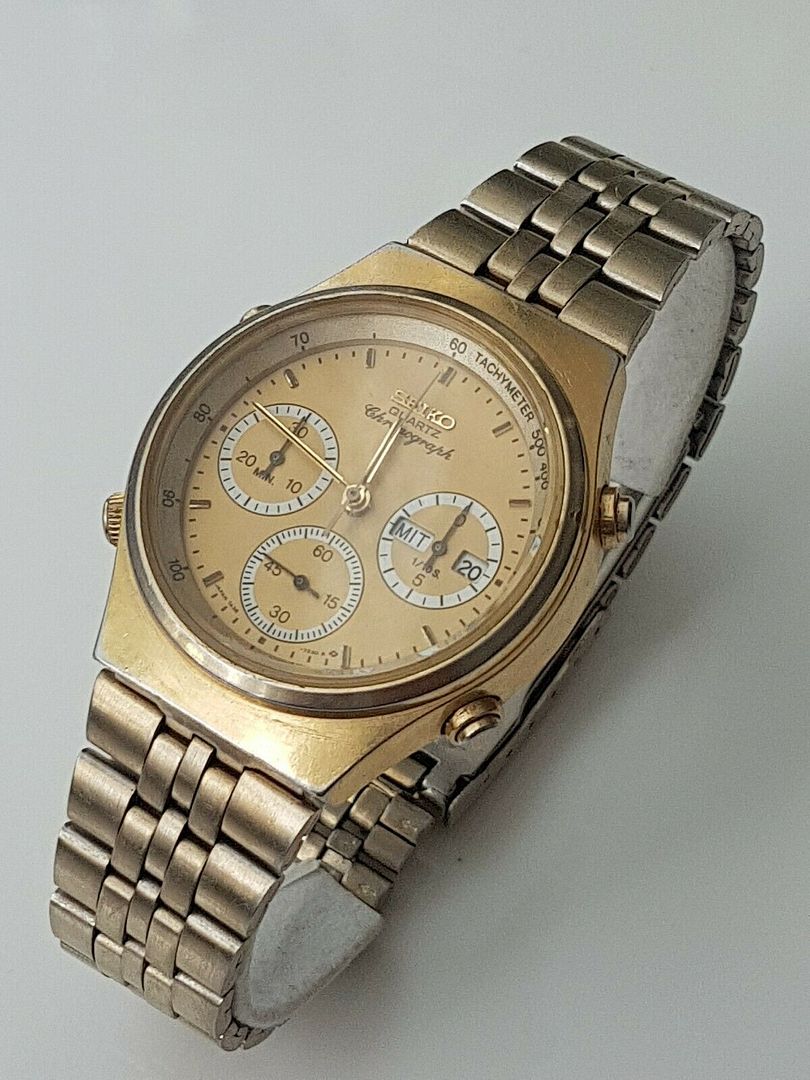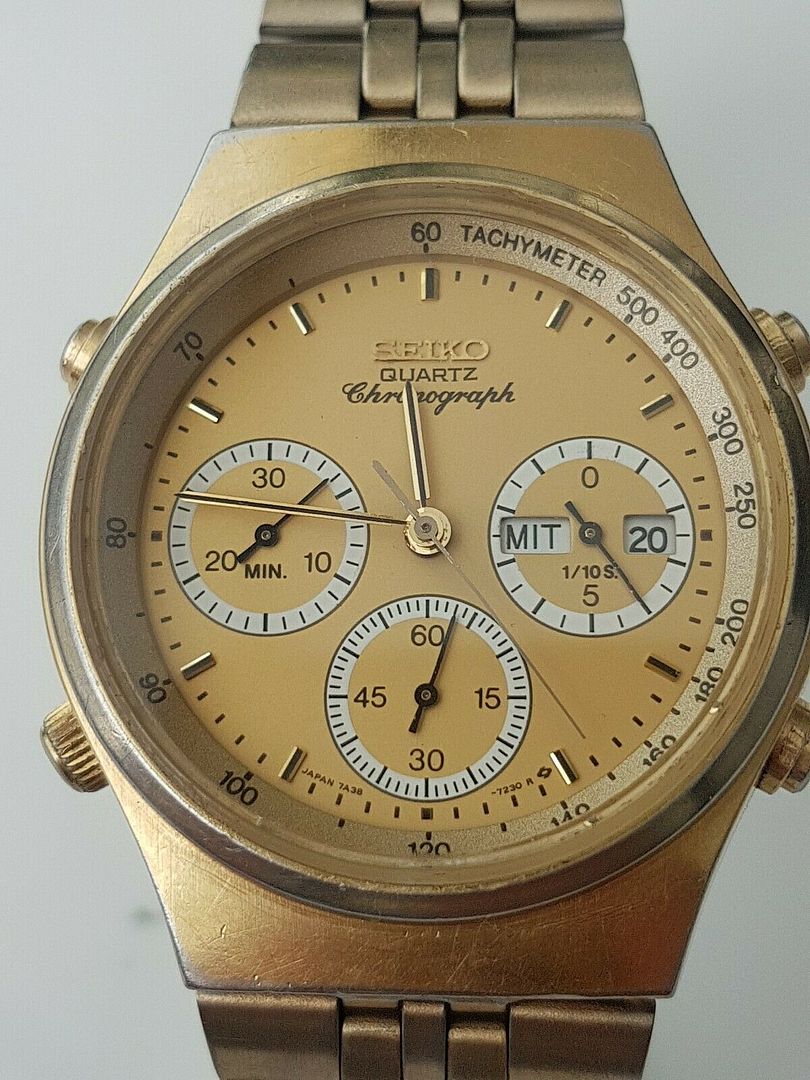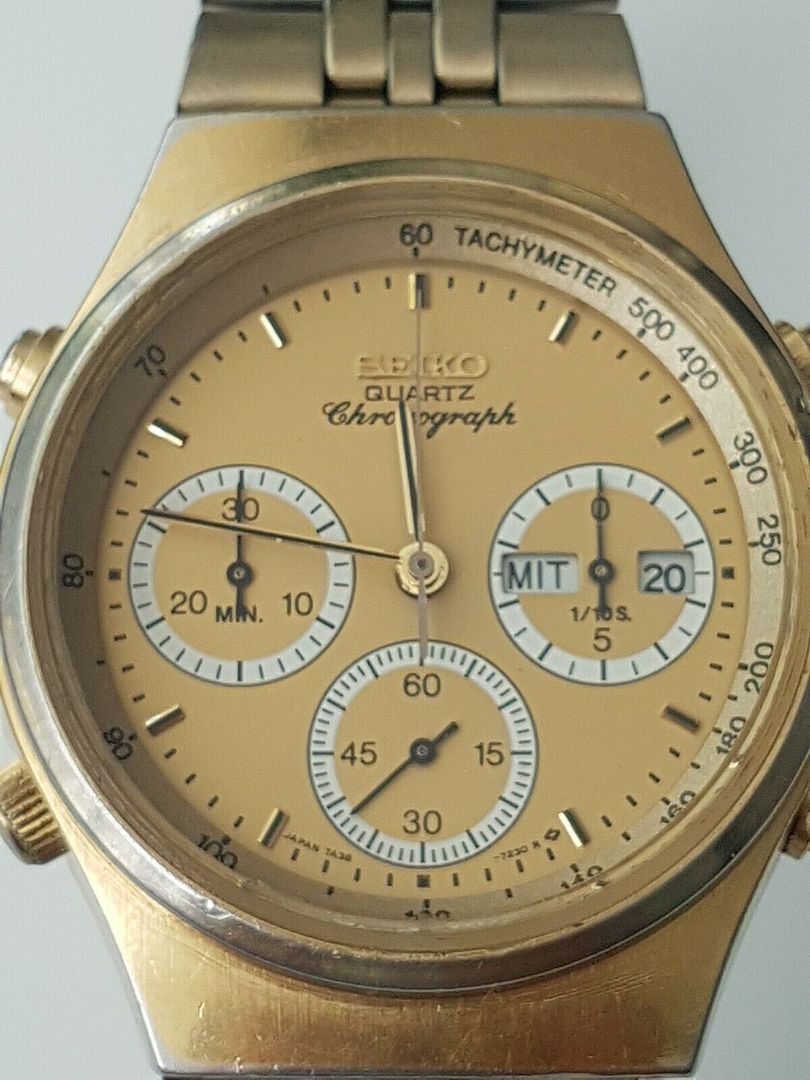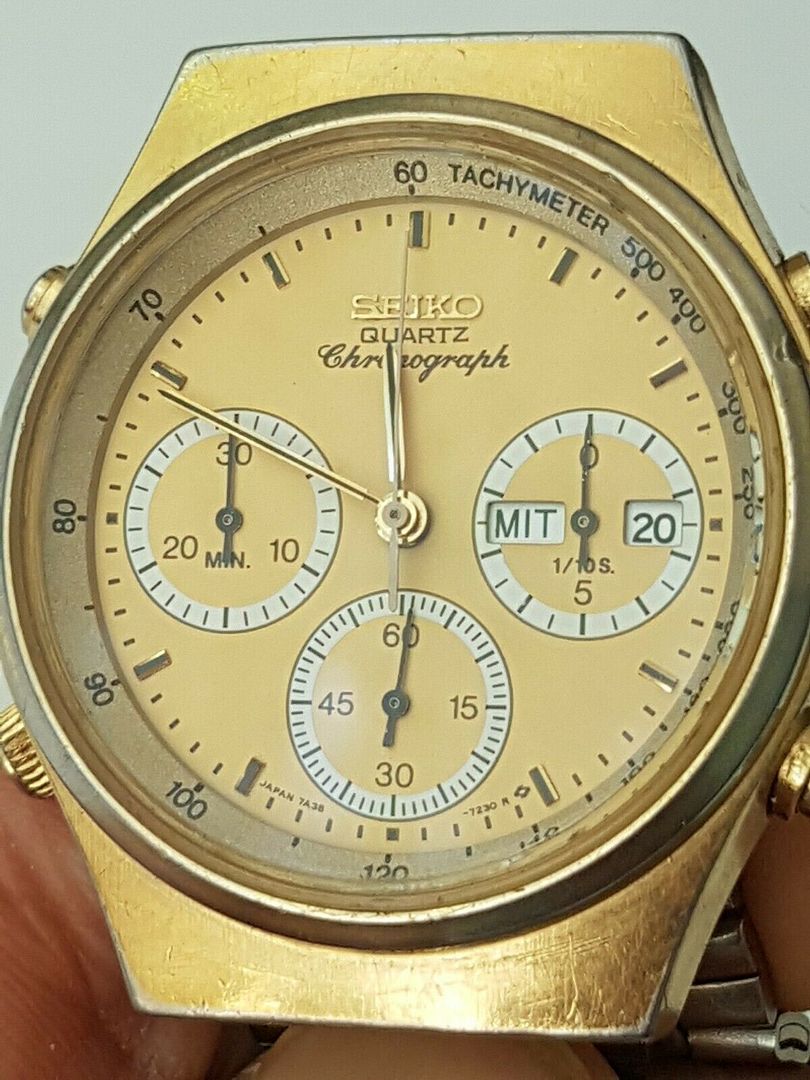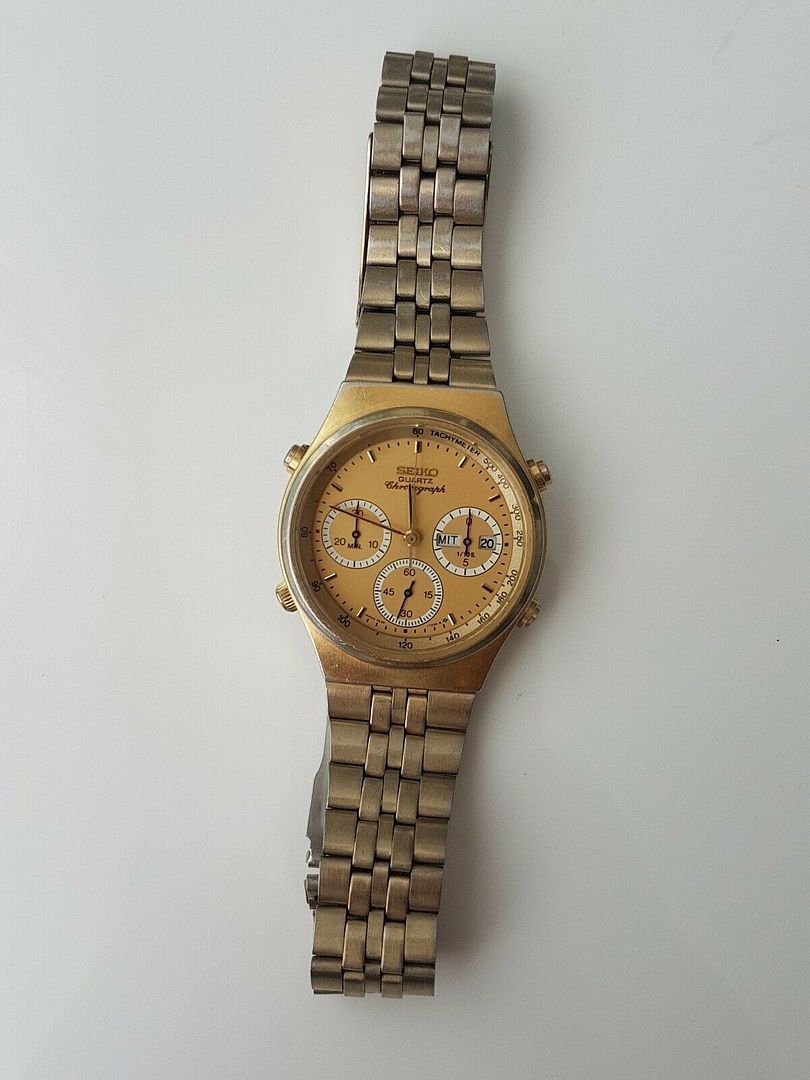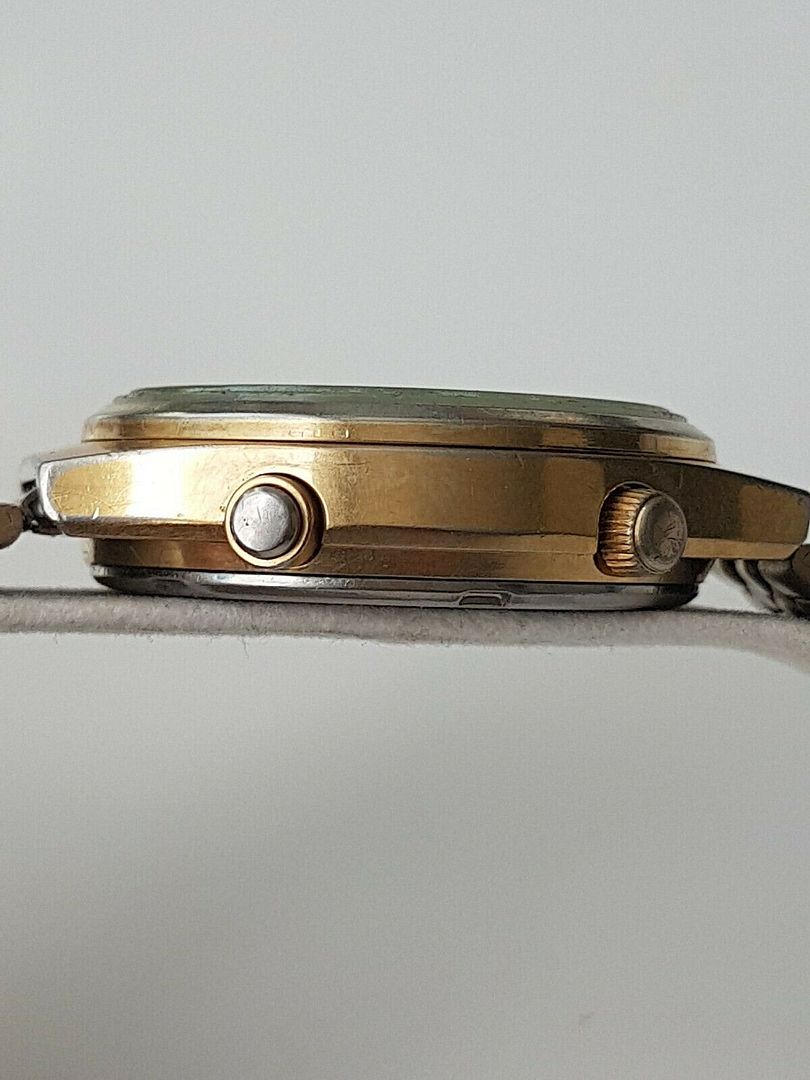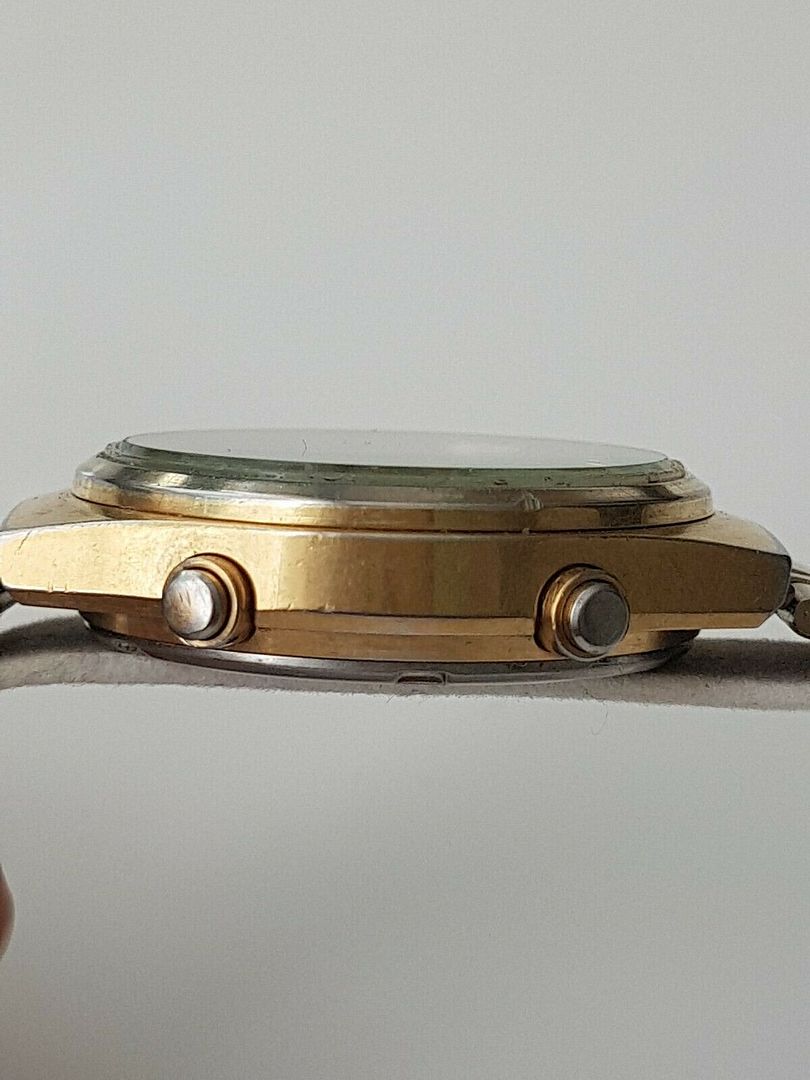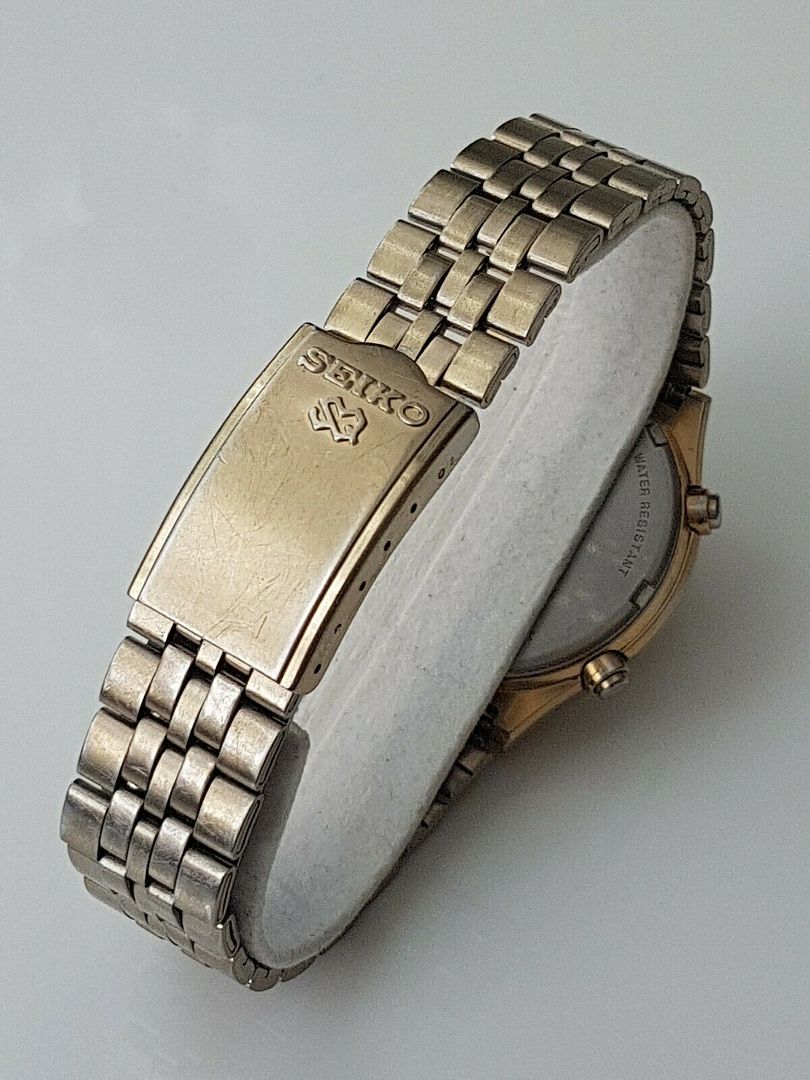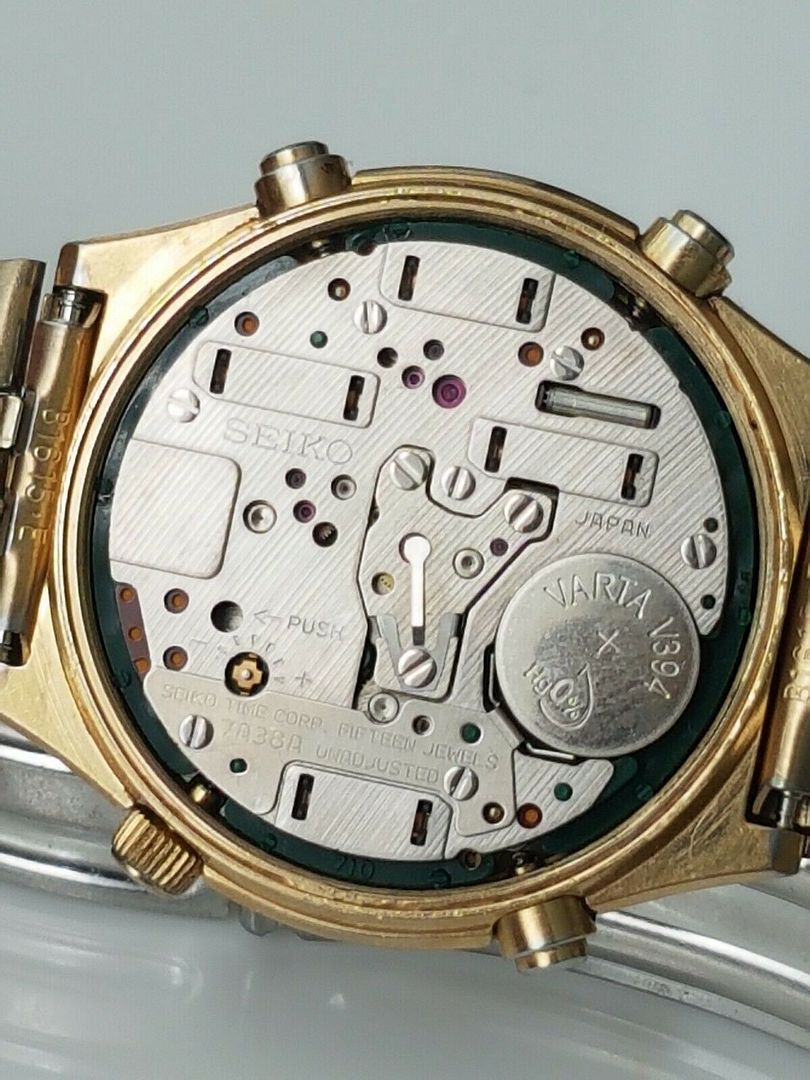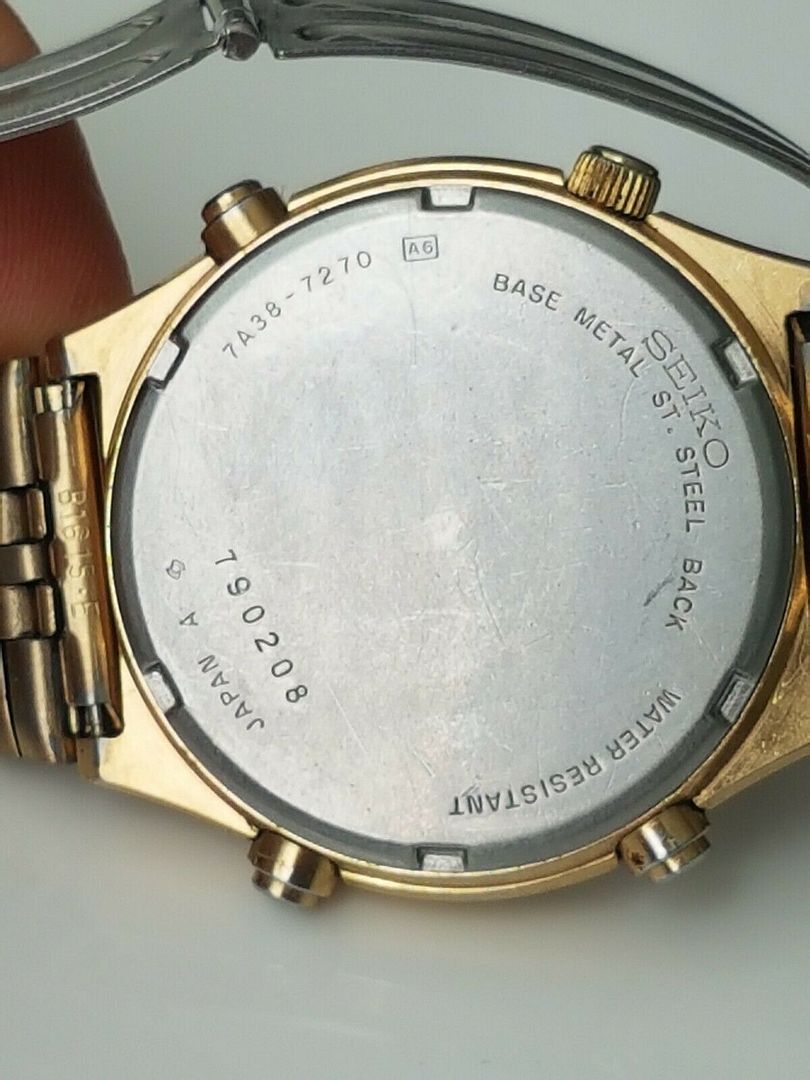 Aus gepflegtem Sammlerbestand Rarität. 
###Vor dem einpacken werden meine Uhren nochmals mit Sterillium® desinfiziert.### 
Eine seltene Seiko 7A38-7270 Vintage Quartz Chronograph Speedmaster aus Japan Made 1987. 
Die Uhr ist 33 Jahre alt, laut Seriennummer ist es gebaut worden im September 1987. 
Hochwertige Ganggenaue Quartz Uhrwerk mit Werkteilen aus Metall.
Die Seiko's mit Kaliber 7Axx waren die ersten analogen Quarzchronographen (alle Quarzchronographen waren bis dahin digital). 
Die Uhr läuft einwandfrei und hält die Zeit.
Alle Zeiger arbeiten wie sie sollen, siehe Bilder Chronograph funktioniert auch.
Chronograph Reset nullt auch vollständig.
Selbsttest funktioniert auch wo alle Zeiger sich einmal komplett drehen, rechter unterer Drücker gedrückt halten. 
Gebraucht mit altersbedingten Gebrauchsspuren, Tragespuren. Goldabrieb am Gehäuse und am Armband starkes Goldabrieb.
Das Glas ist in schönen Zustand.
Das goldene Ziffernblatt sieht noch herrlich aus. 
Die Drucker wurden ausgebaut gereinigt und haben guten Druckpunkt. 
Mit Originalen Modelgenauen Seiko Edelstahlarmband lang. 
Band und Gehäuse wurden gereinigt und desinfiziert. 
Qualitäts Markenbatterie und Boden Dichtung wurden erneuert 05/2020. 
Wegen des hohen Alters ist die Wasserdichtigkeit NICHT mehr gewährleistet. 
Weitere Zustand siehe bitte Bilder.
Bilder sind Bestandteil dieses Angebots. 
Markennamen sind Eigentum der Rechteinhaber,
dient lediglich zur Beschreibung der angebotenen Artikels ! 
Versand nur innerhalb Deutschland und EU mit Sendungsnummer zur Nachverfolgung !
Weltweiter Versand bitte vorher erfragen. 
!!! Versand nach Großbritannien !!!
Für den Versand in die EU-Ausnahmegebiete Alderney, Guernsey, Herm,
Jersey, Jethou und Sark gelten gesonderte Versandbedingungen und kostet 30€ der Versand.
Nach dem Kauf nicht sofort zahlen, erst mich kontaktieren. 
Beim Versand außerhalb der EU entstehen möglicherweise Einfuhrabgaben diese trägt der Käufer, bitte informieren Sie sich vorher. 
Bitte beachten !! 
Das neue Gewährleistungsrecht seit Anfang 2002 zwingt mich dazu, folgende Angaben zu machen. Als Privatperson schließe ich sämtliche Garantie und Gewährleistung aus. Der von mir angebotenen Artikel ist so gut wie es geht, beschrieben. Der Artikel wird "so wie er abgebildet ist" von privat verkauft, dies bedeutet: mit der Abgabe eines Gebotes erklärt sich der Bieter ausdrücklich damit einverstanden, auf Gewährleistung, Garantie, Rückgaberecht und Umtausch zu verzichten.Sie verpflichten sich zur Abnahme des Artikels, erkennen dies als Vertrag an und haben diese Ausschreibung vollständig und aufmerksam durchgelesen.Für Transportschäden und Verlust der Ware beim Versand haftet der Käufer. Bitte, bieten sie nicht, wenn Sie mit dem oben genannten nicht einverstanden sind. Fragen zu einem Artikel beantworte ich gern. 
---------------------English Translation----------------------- 
From well-kept collectors rarity. 
### Before packing, my watches are disinfected again with Sterillium®. ### 
A rare Seiko 7A38-7270 Vintage Quartz Chronograph Speedmaster made in Japan in 1987 in an original Seiko collector's watch box. 
The watch is 33 years old, according to the serial number it was built in September 1987. 
The watch glass was renewed by my watchmaker and is scratch-free. 
High quality accurate quartz movement with metal parts.
The Seiko's with caliber 7Axx were the first analog quartz chronographs (all quartz chronographs were digital until then). 
The clock runs perfectly and keeps the time.
All hands work as they should, see pictures Chronograph also works.
Chronograph reset also zeros completely.
Self-test also works where all hands turn completely once, hold down the right lower button. 
Used with age-related signs of wear, signs of wear. Gold abrasion on the case and bracelet strong gold abrasion.
The glass is in nice condition.
The golden dial still looks wonderful. 
The Pusher's have been removed and cleaned and have a good pressure point. 
With original model-exact Seiko stainless steel bracelet long. 
The strap and housing have been cleaned and disinfected. 
Quality branded battery and floor seal were renewed 05/2020. 
Because of the age, waterproofness is no longer guaranteed. 
Further condition please see pictures.
Pictures are part of this offer. 
Brand names are the property of the copyright holders, only serves to describe the offered article! 
Shipping only within Germany and EU with tracking number for tracking!
Please ask for worldwide shipping in advance. 
!! Shipping to the UK !
For shipping to the EU exception areas Alderney, Guernsey, Herm,
Jersey, Jethou and Sark have separate shipping terms and cost € 30 shipping.
Don't pay immediately after purchase, contact me first. 
Shipping outside the EU may incur import taxes, which the buyer bears, please inform yourself beforehand. 
Please note !! 
The new warranty right since the beginning of 2002 forces me to provide the following information. As a private individual, I exclude all warranty and warranty. The article I offer is as good as it is described. The article is sold "as it is" by private, this means: with the submission of a bid, the bidder expressly agrees to waive warranty, guarantee, return and exchange. You agree to the acceptance of the article, recognize this as a contract and have read this tender completely and carefully. For transport damage and loss of goods during shipping, the buyer is liable. Please, do not bid, if you disagree with the above. I like to answer questions about an article.
The same well-worn gold tone 7A38-7270, case-back s/n 790208, was previously listed by another German eBay seller, in the first week of May, as a 7-day auction with an opening bid price of 24.90 Euros (which coincidentally, is a tenth of the current would-be profiteering re-seller's asking price):
http://www.ebay.co.uk/itm/143594683826
Seiko Herren Uhr 7A38-7270 Herrenuhr Chronograph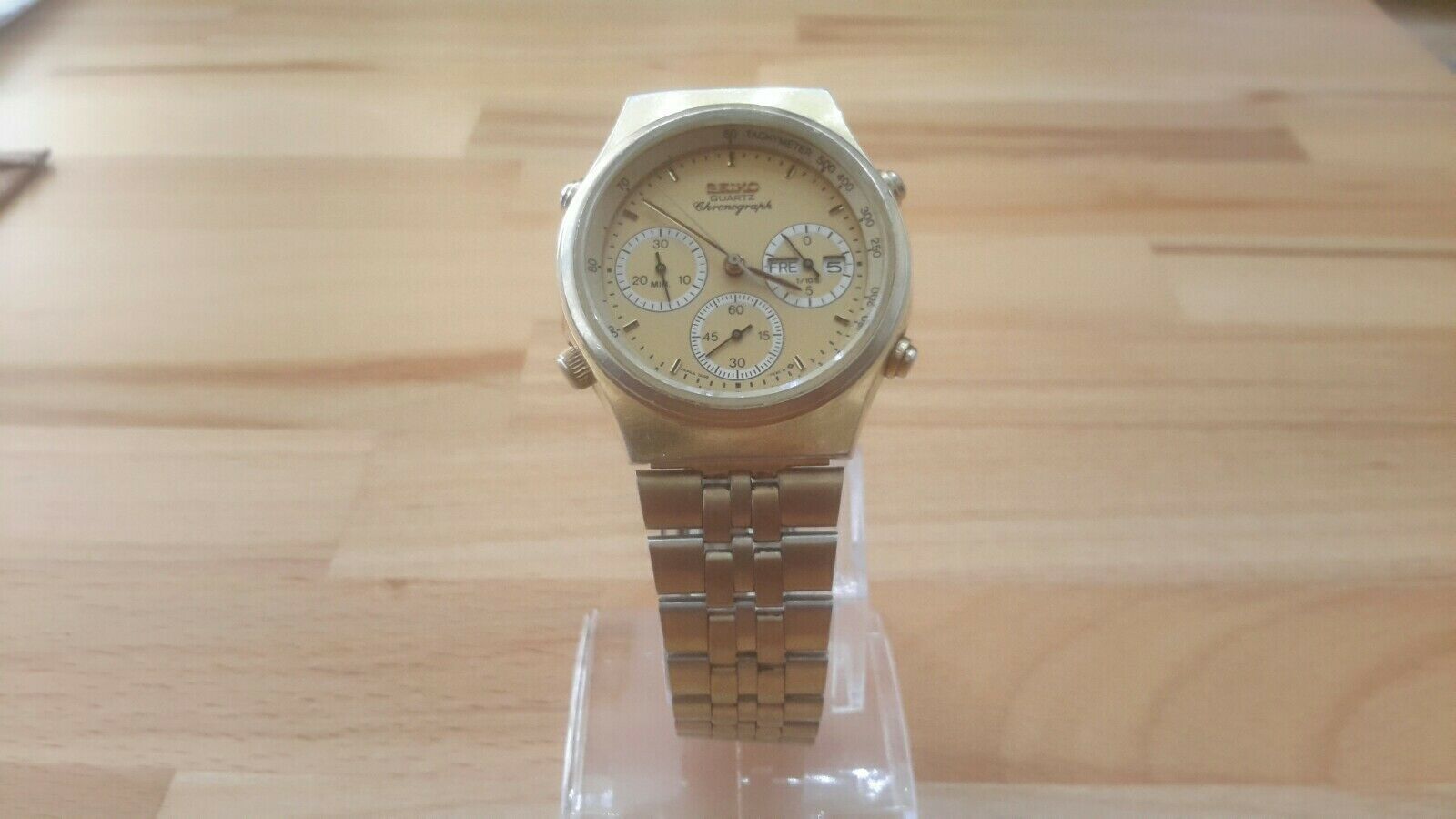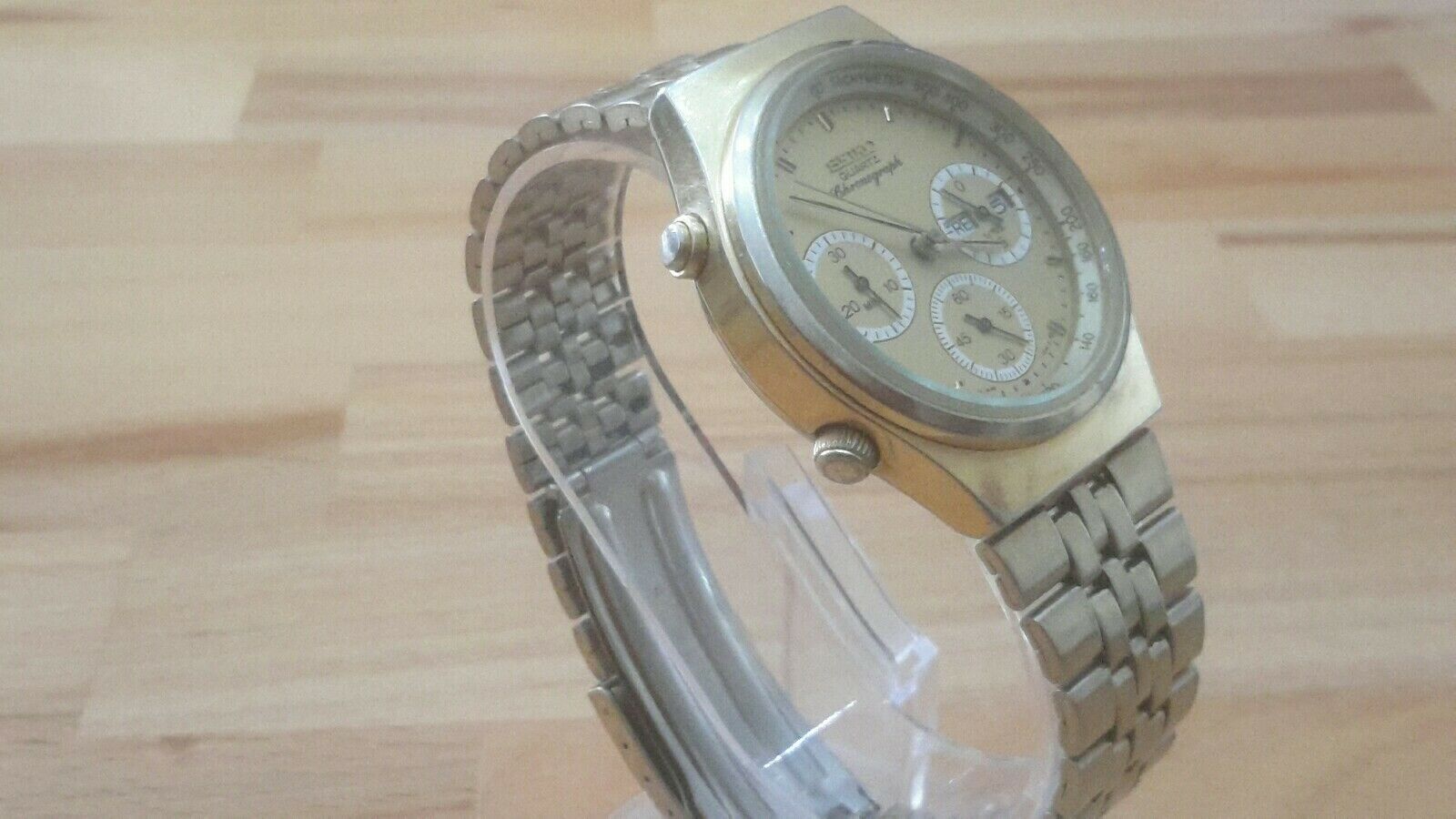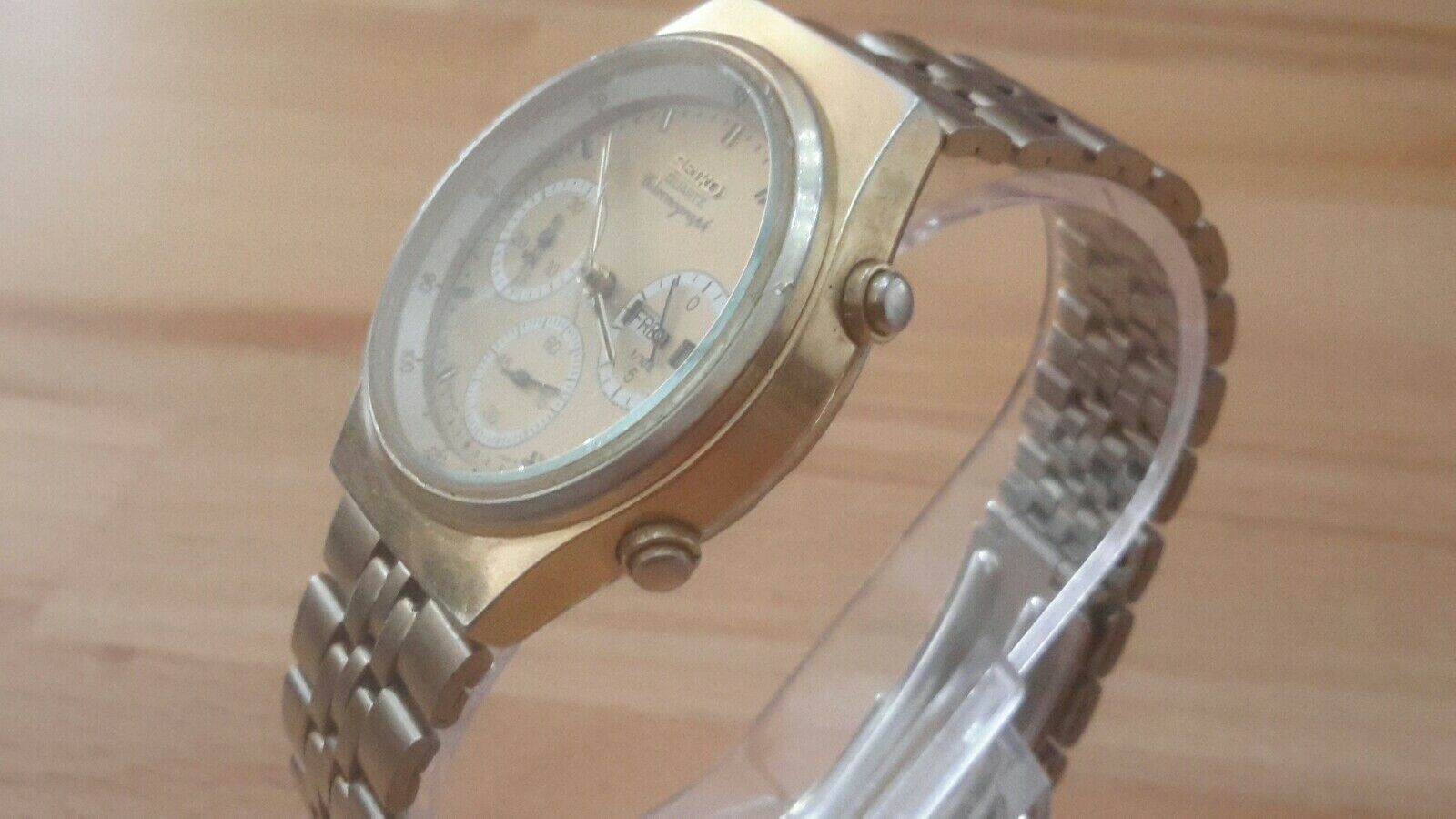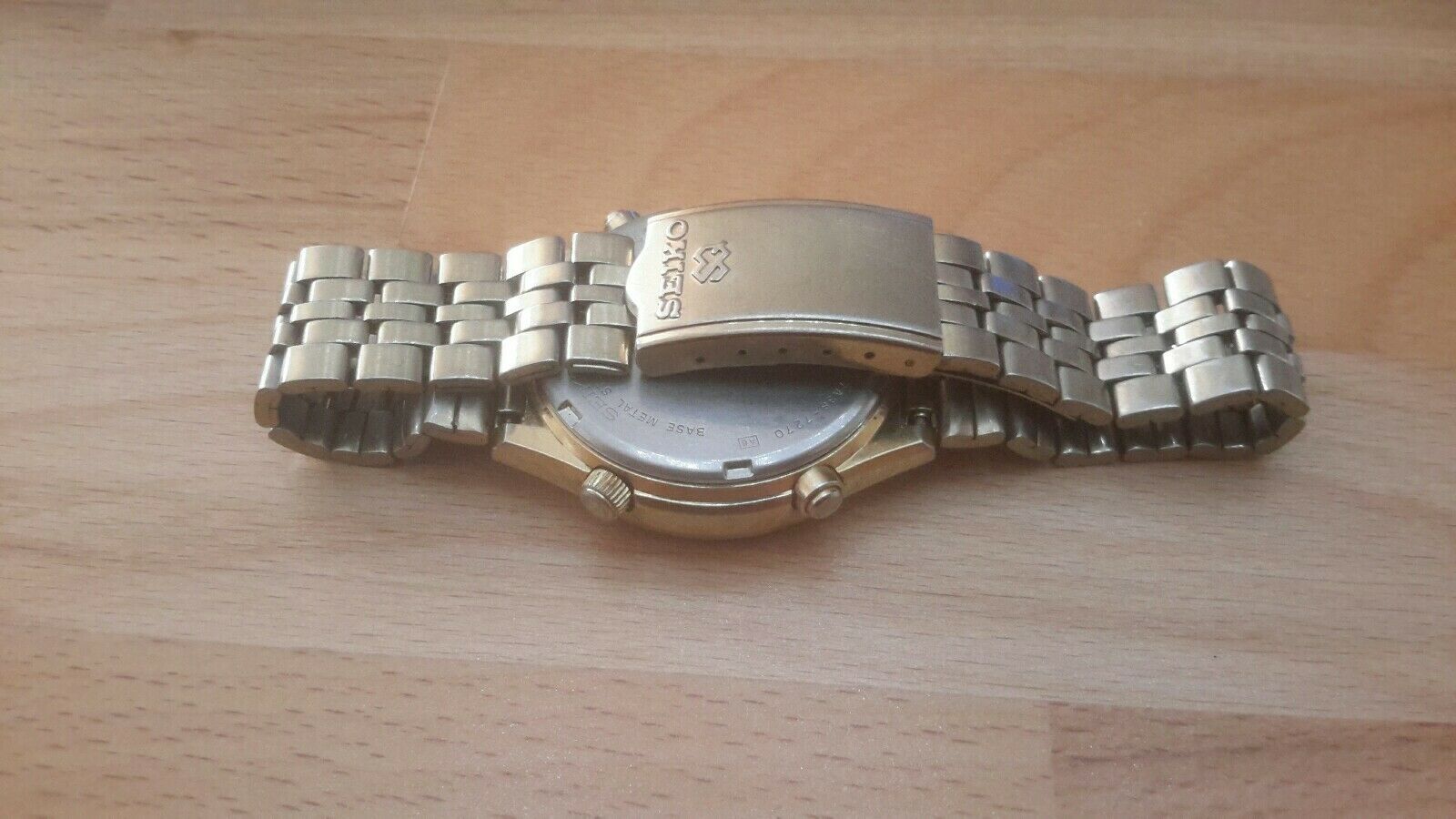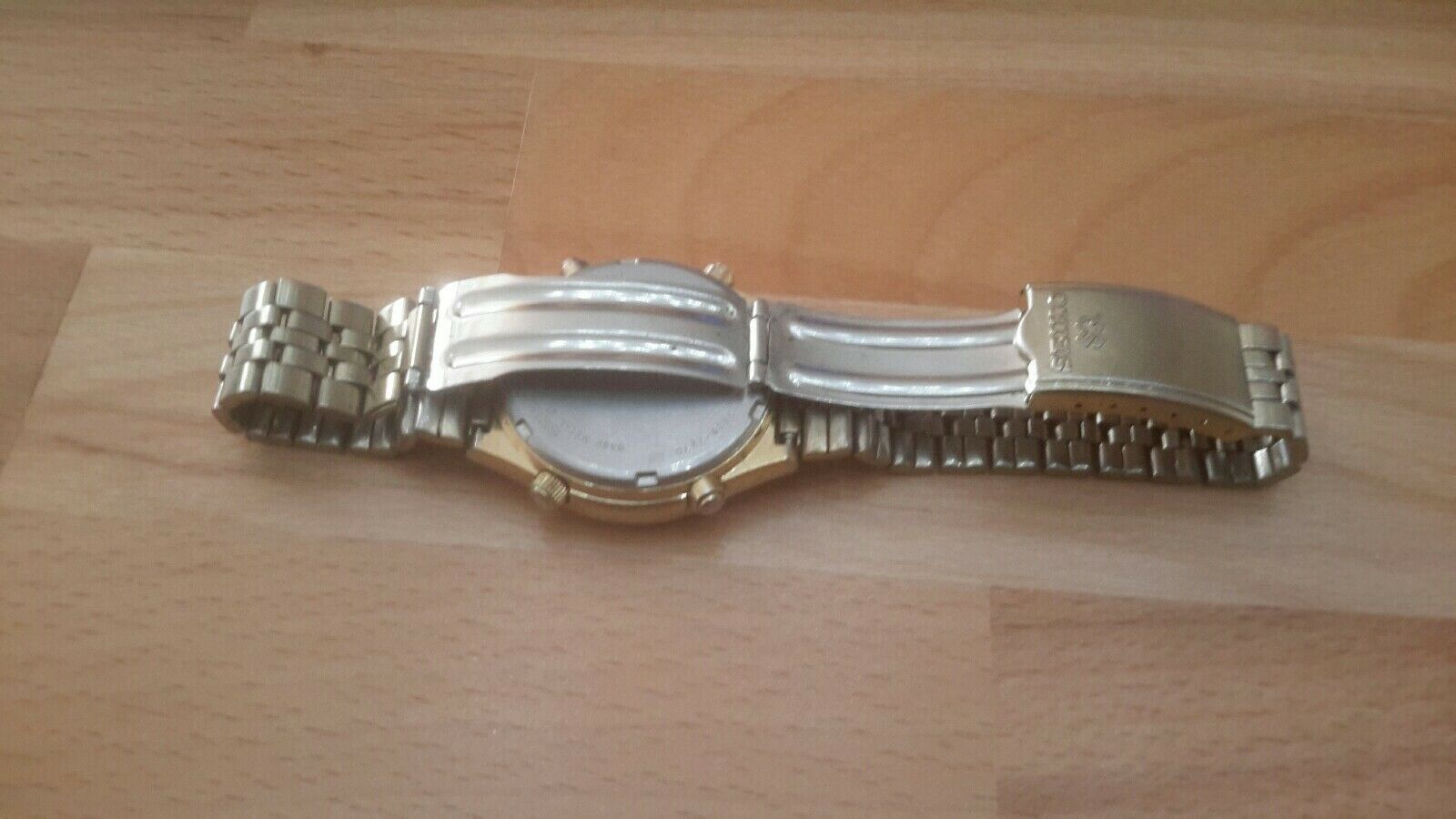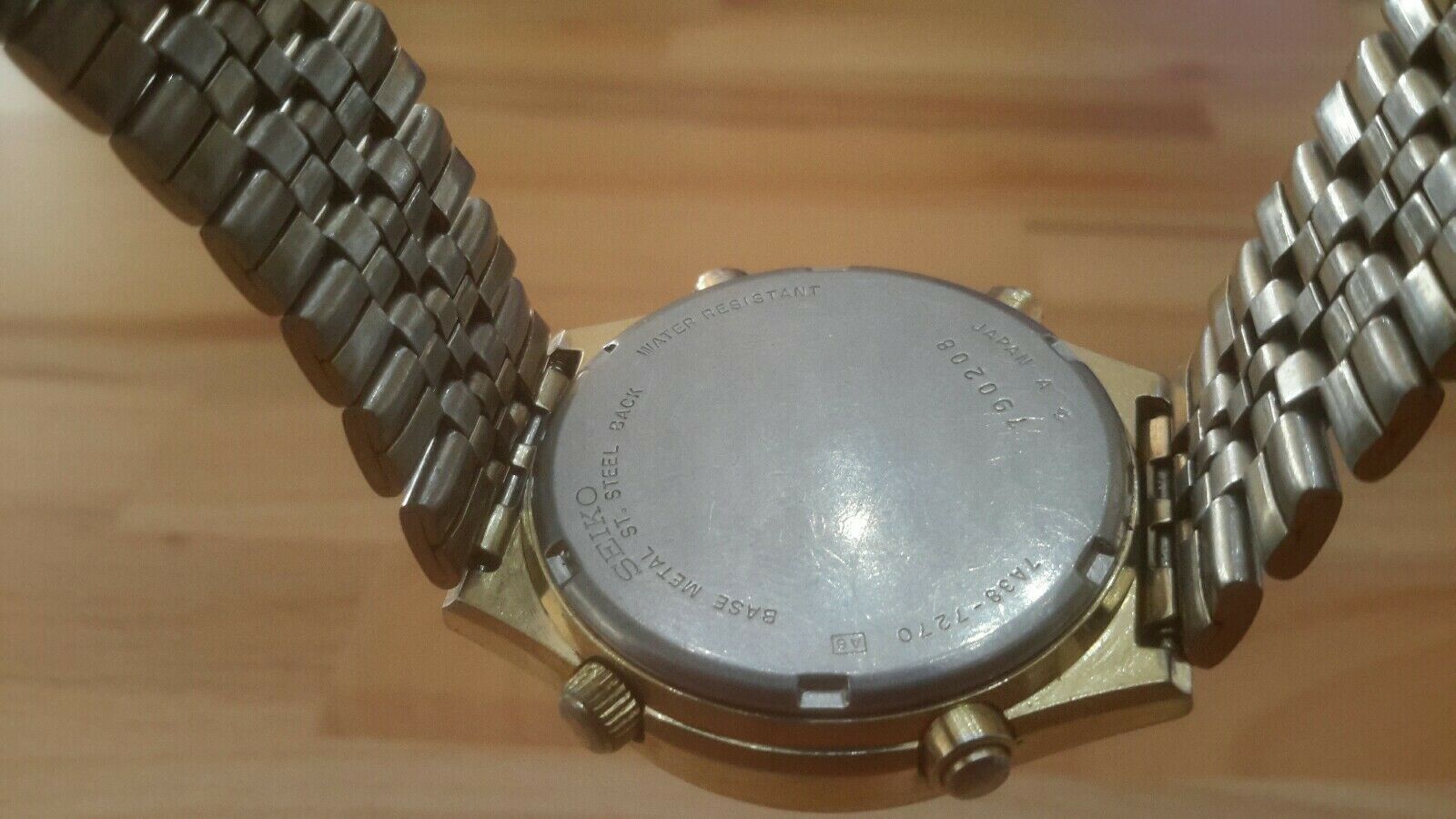 Seiko Herren Uhr 7A38-7270 Herrenuhr Chronograph. Zustand: Gebraucht, sehen Sie Fotos. Uhr läuft, wie genau nicht geprüft, leider Chronograph funktioniert nicht. Ich verkaufe als Defekt. Versand mit DHL Paket bis 2 kg. 
Mehrere Artikel ein Versand.Das ist ein Privatverkauf, jegliche Gewährleistung schlisse ich aus,keine Garantie oder Rückgabe.
It sold for 35.90 Euros after 7 bids. The winning bidder was of course m.a.k.2979.
http://www.ebay.co.uk/itm/143594683826