The moral of the story here, which isn't lost on me, is NEVER to buy someone else's Franken 7A38 - no matter how attractive you may find the concept.

The watch that would become the basis for that Franken, a well worn 7A38-725A, case-back serial # 780954, then still fitted with its original p/n G1285E bracelet, first appeared on eBay in early January 2018. It was listed by a German eBay seller (the Italian Christmas wrapping paper, used as a background is a red herring). I didn't keep any details of the listing and haven't been able to track any down at this late stage, but I did save the photos, of which I've only bothered uploading 6 of the 12.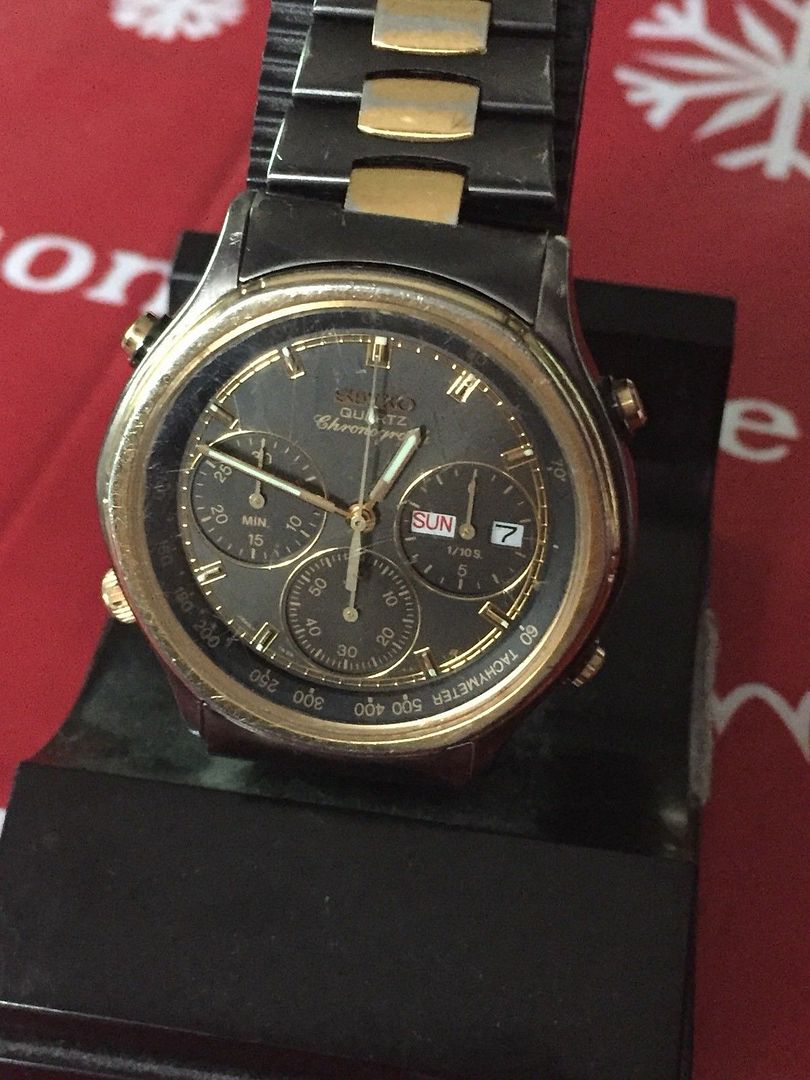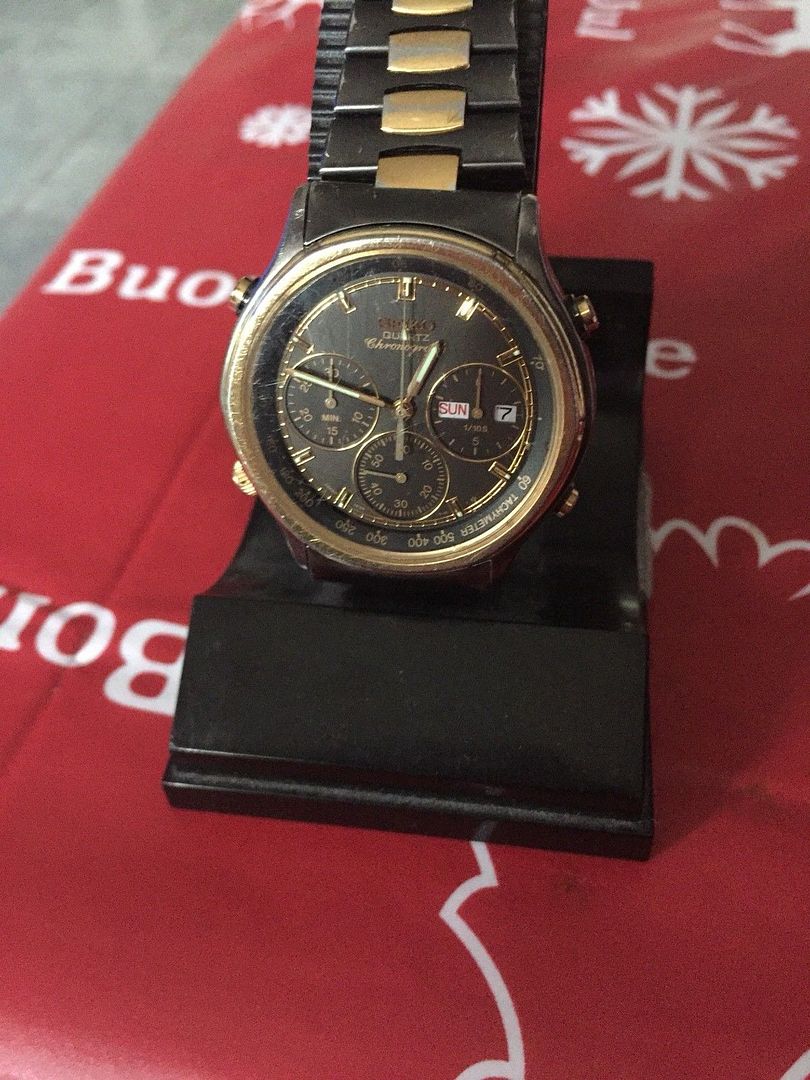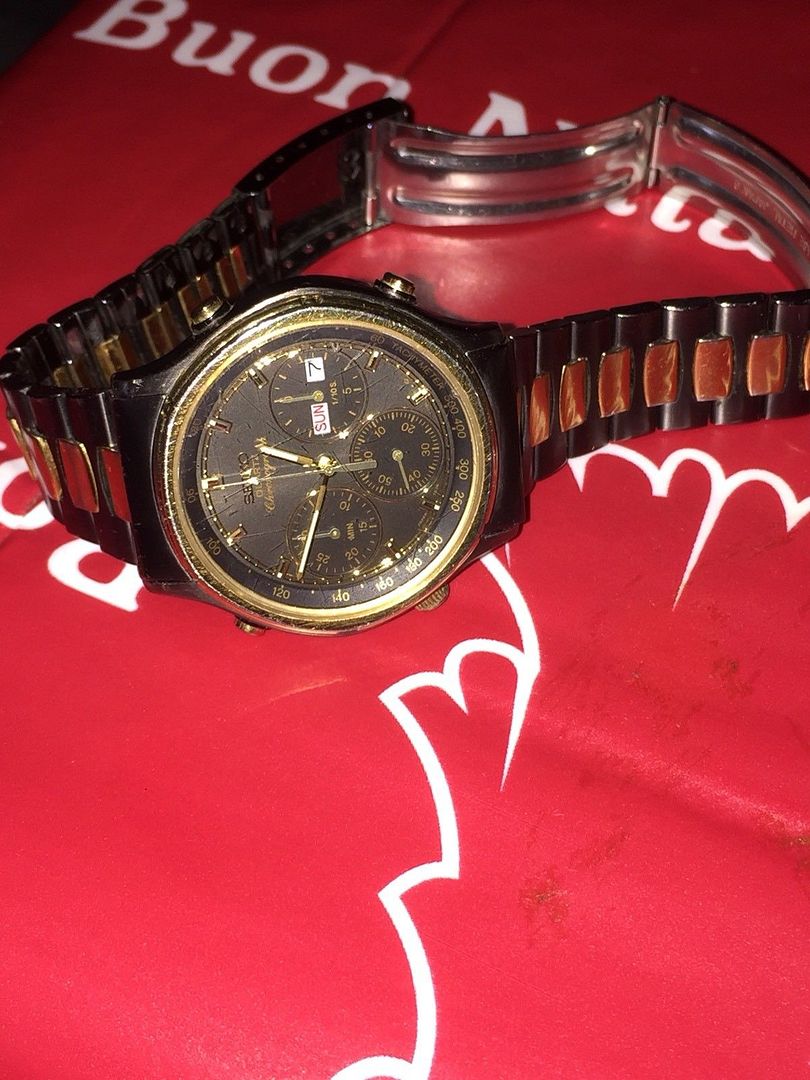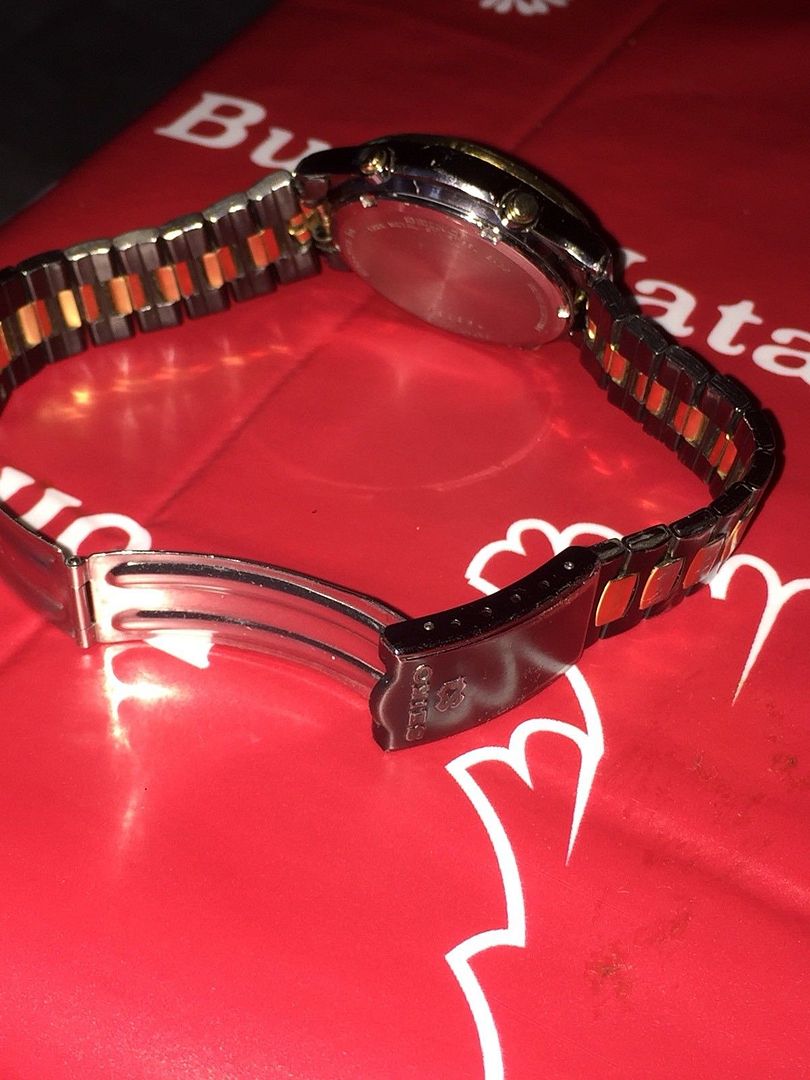 Note the small scratch on the top L.H. lug and the badly mis-aligned Tachymeter ring - possibly a portent of things to come. Obviously, I've got absolutely no idea what price it may have sold for, but I do know who bought it (and knowing his favoured modus operandi, it was likely by making a lowball 'back door' offer).

It subsequently resurfaced in a for sale post as 'The General' on UhrForum.de in July 2018. Now bereft of it's original p/n G1285E bracelet, fitted with one of those naff 'vintage look' pseudo leather two-stitch straps that the seller Ketap ('Carlo') seems so fond of. But why dark green

?

The other obvious change is that he'd skimmed the top surface of the bezel, exposing the stainless beneath. His text below included: die Lünette oben ist aber auf Stahl frisch geschliffen worden. Google translates that as: the bezel above but has been freshly ground on steel.
His asking price was a typically over-optimistic 165 Euros and not surprisingly, it remained unsold. The FS post has since been annotated as 'Erledigt', which Google translates as 'Done', so was presumably automatically withdrawn some time later.
http://uhrforum.de/seiko-chronograph-7a38-725a-the-general-top-zustand.360685
[Erledigt] Seiko Chronograph 7A38-725A "the general" top Zustand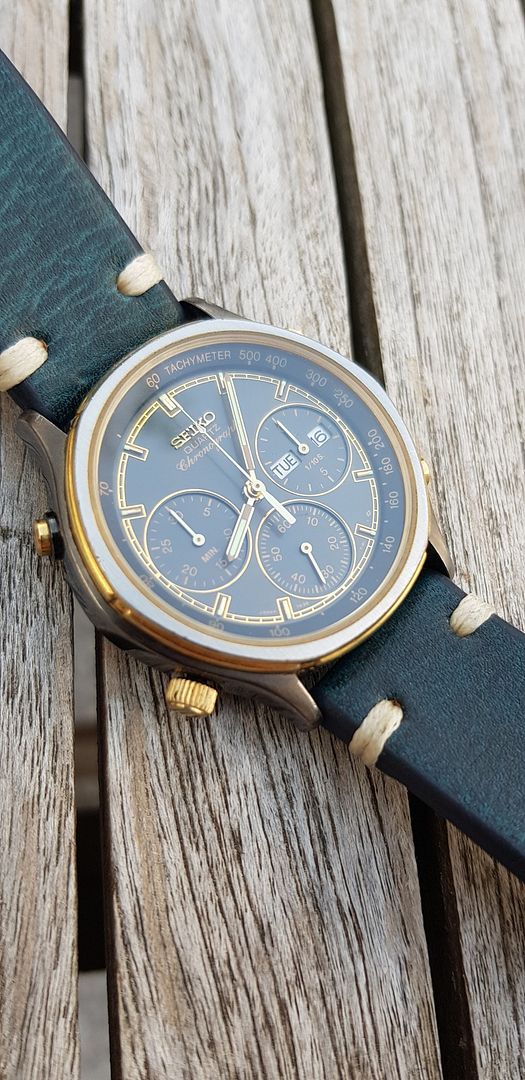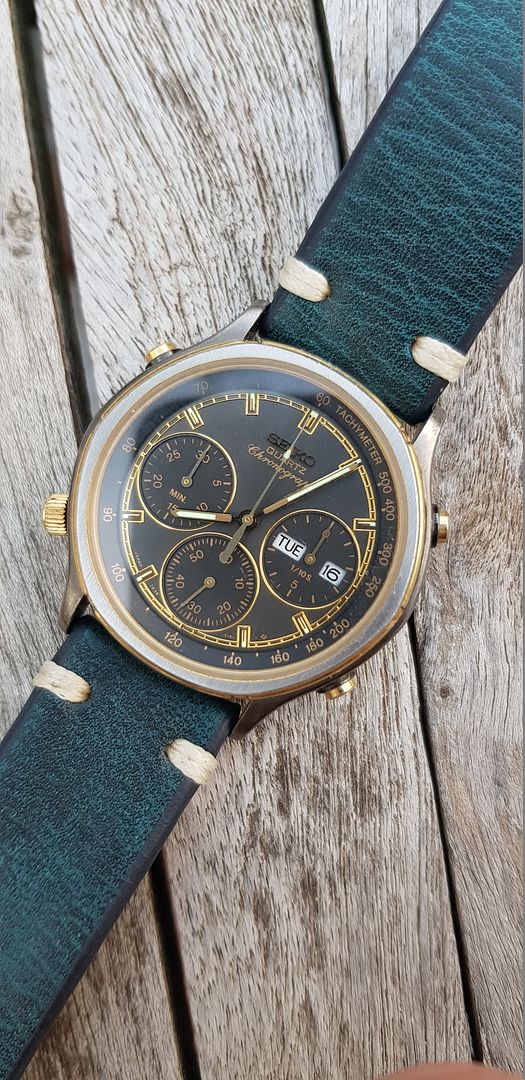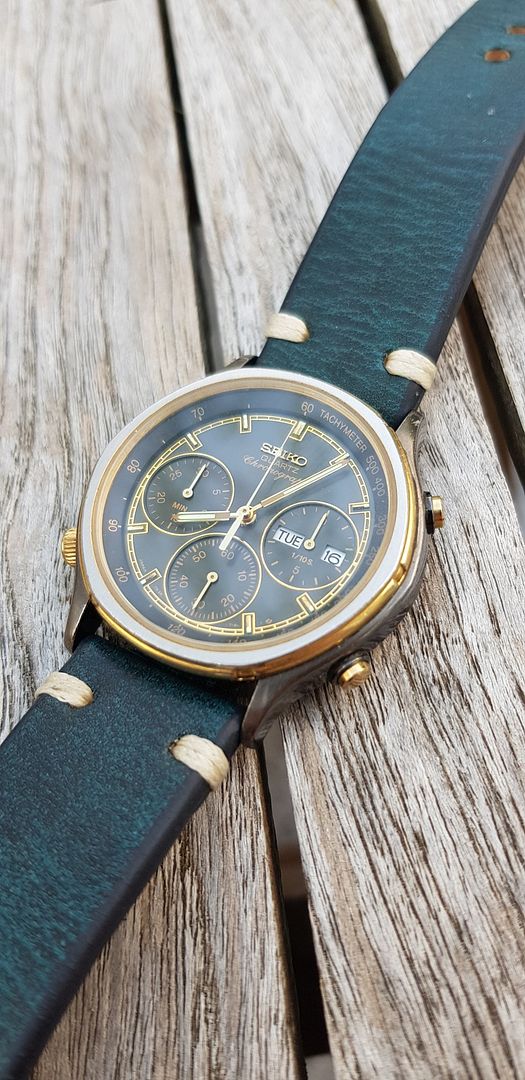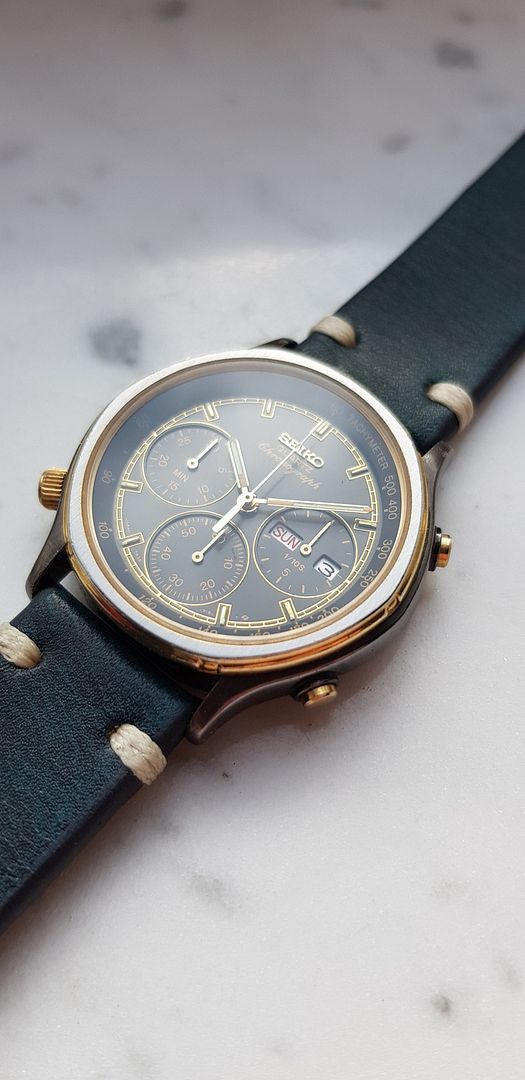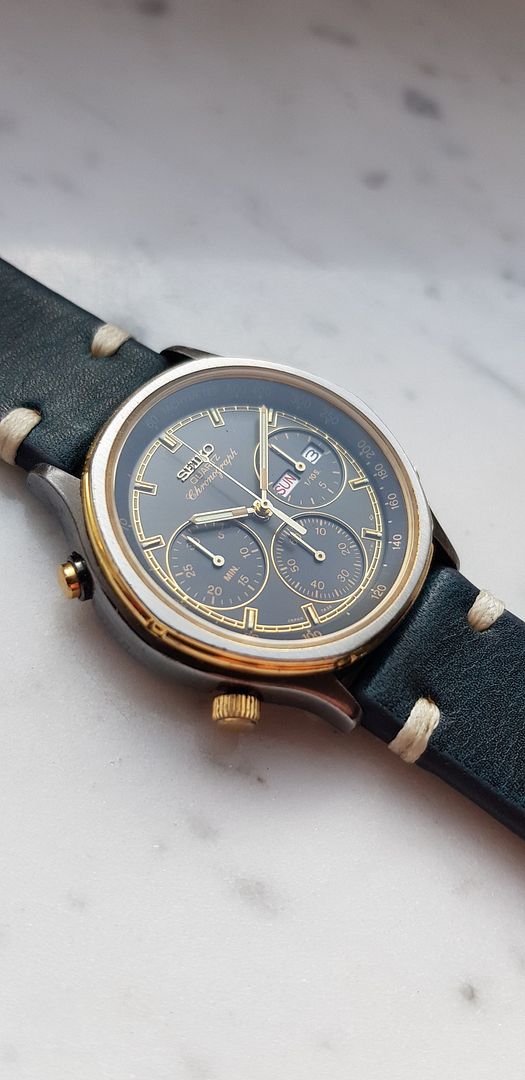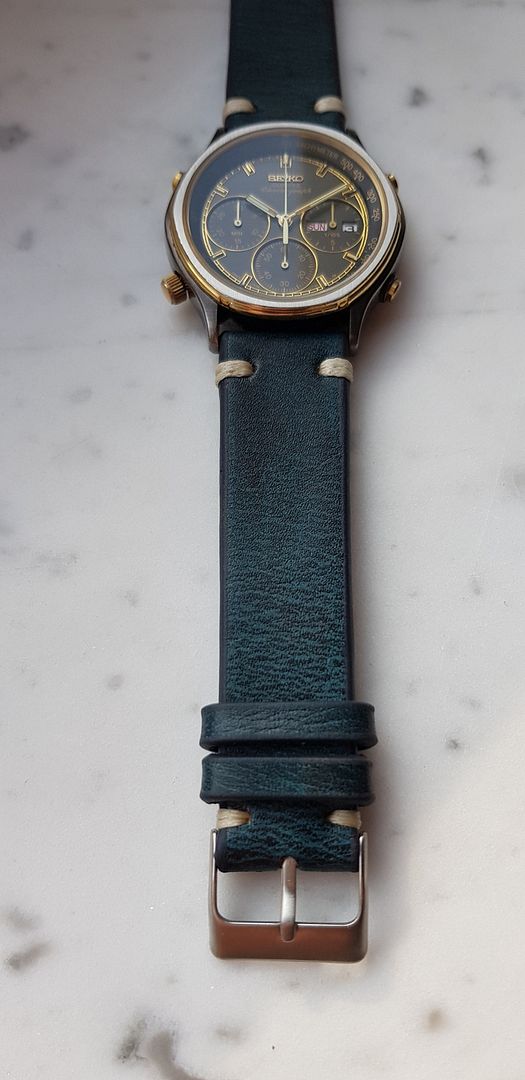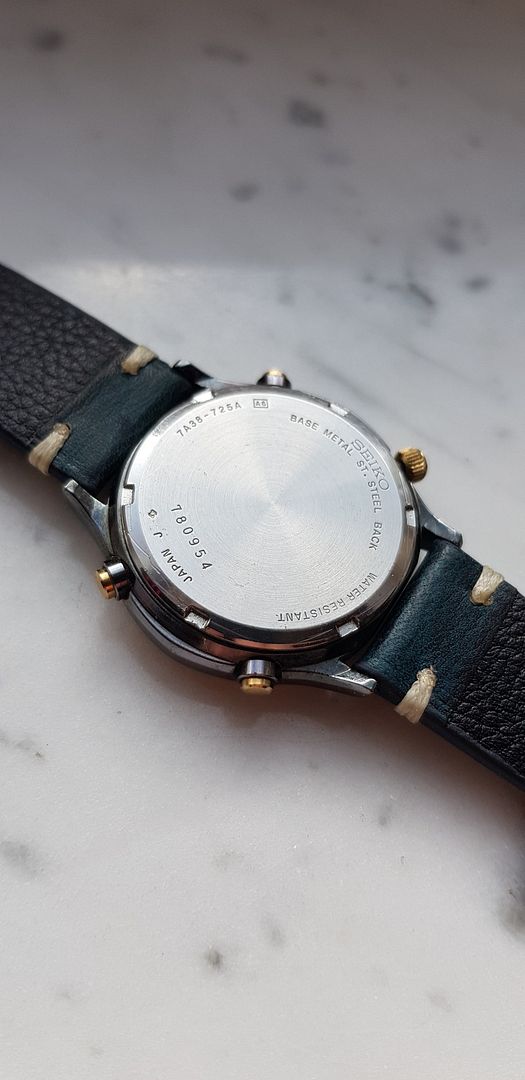 Photos of the frankened 7A38-725A, fitted with a metallic black Ferrari Formula dial and a contrasting white Tachymeter dial ring, subsequently appeared in a typically mega-long thread on UhrForum.de in February of this year. Its title translates as: Support group of Japan Quartz Crazy

http://uhrforum.de/threads/209503/page-338#post-4516878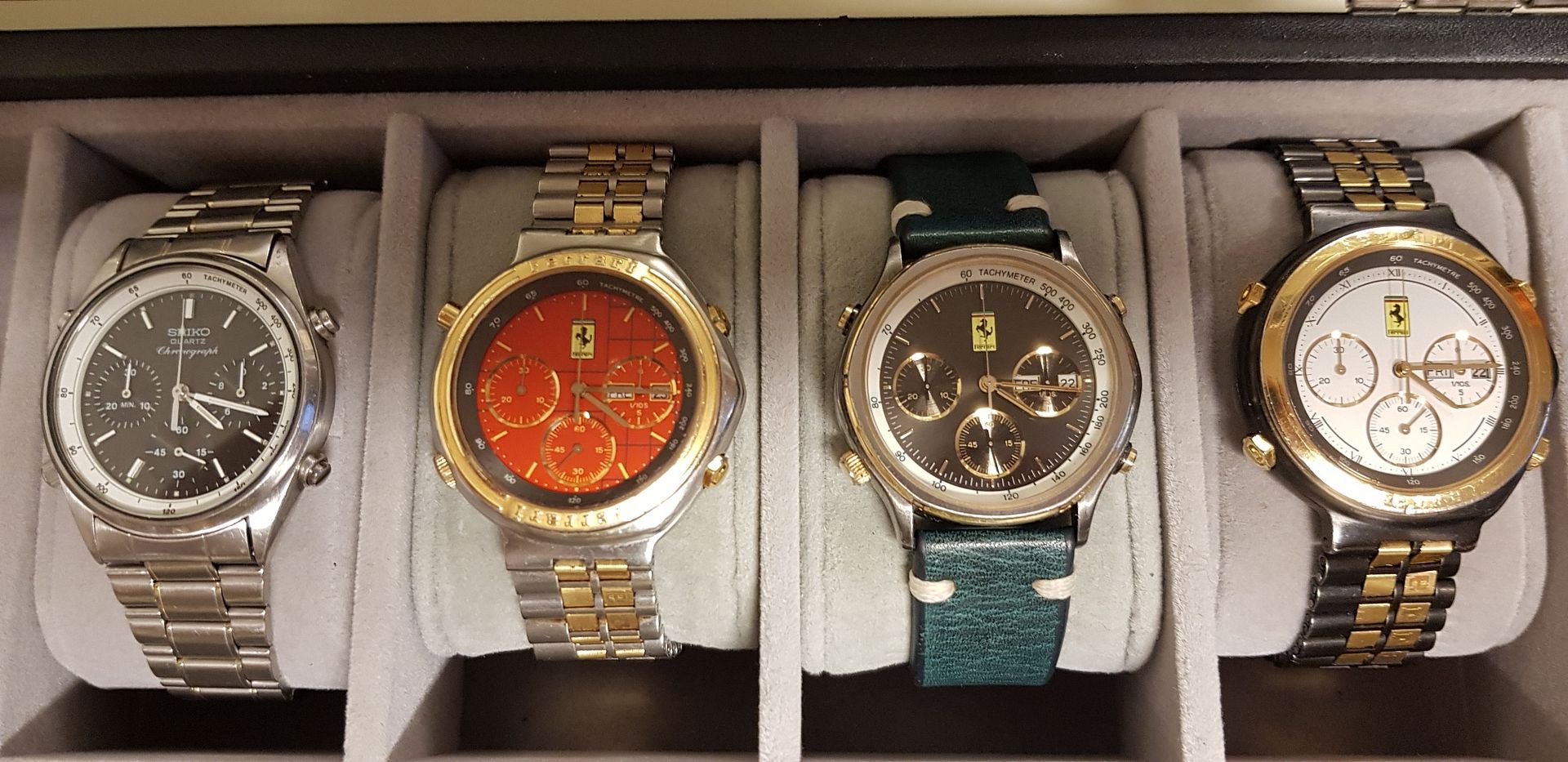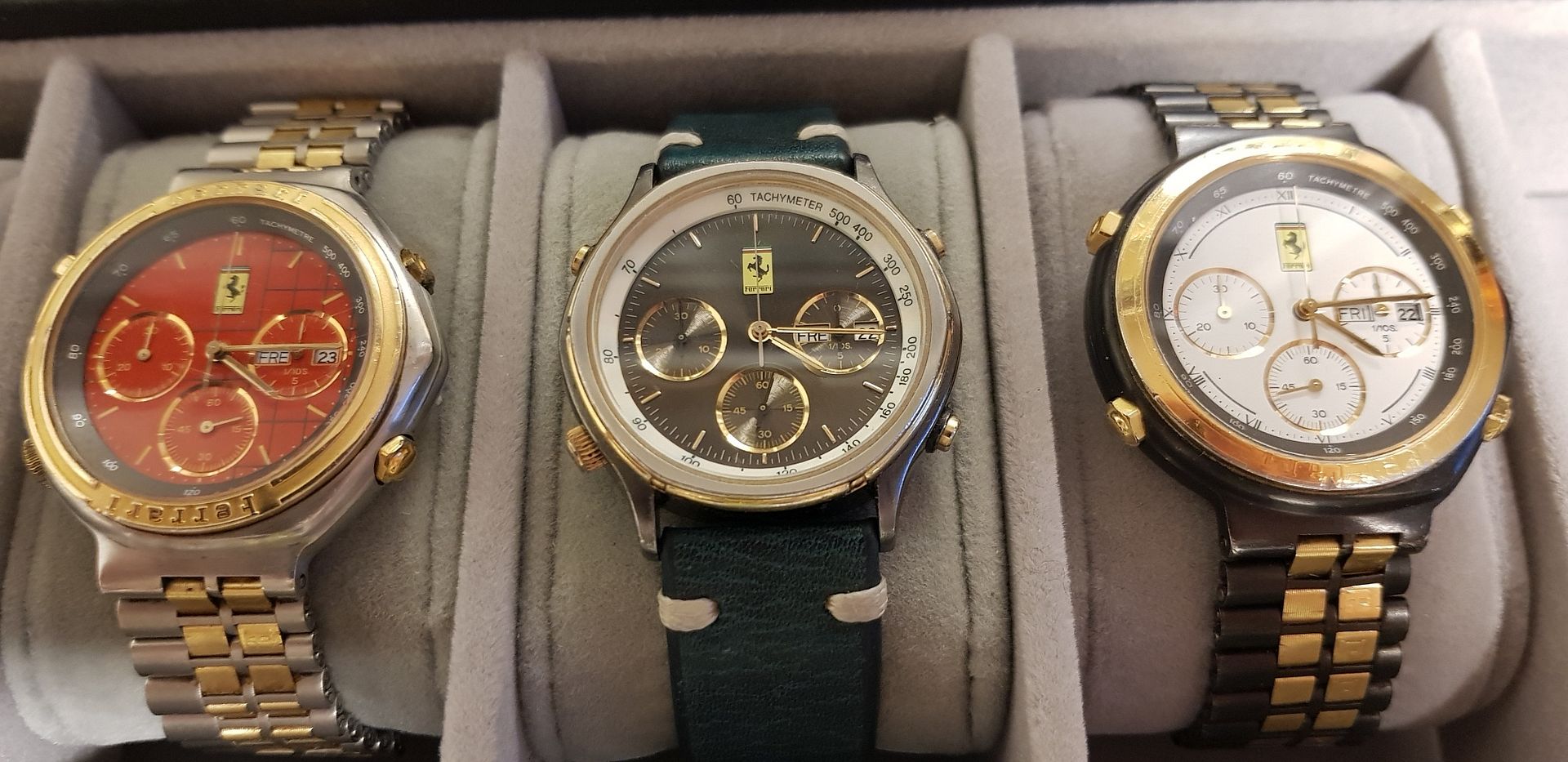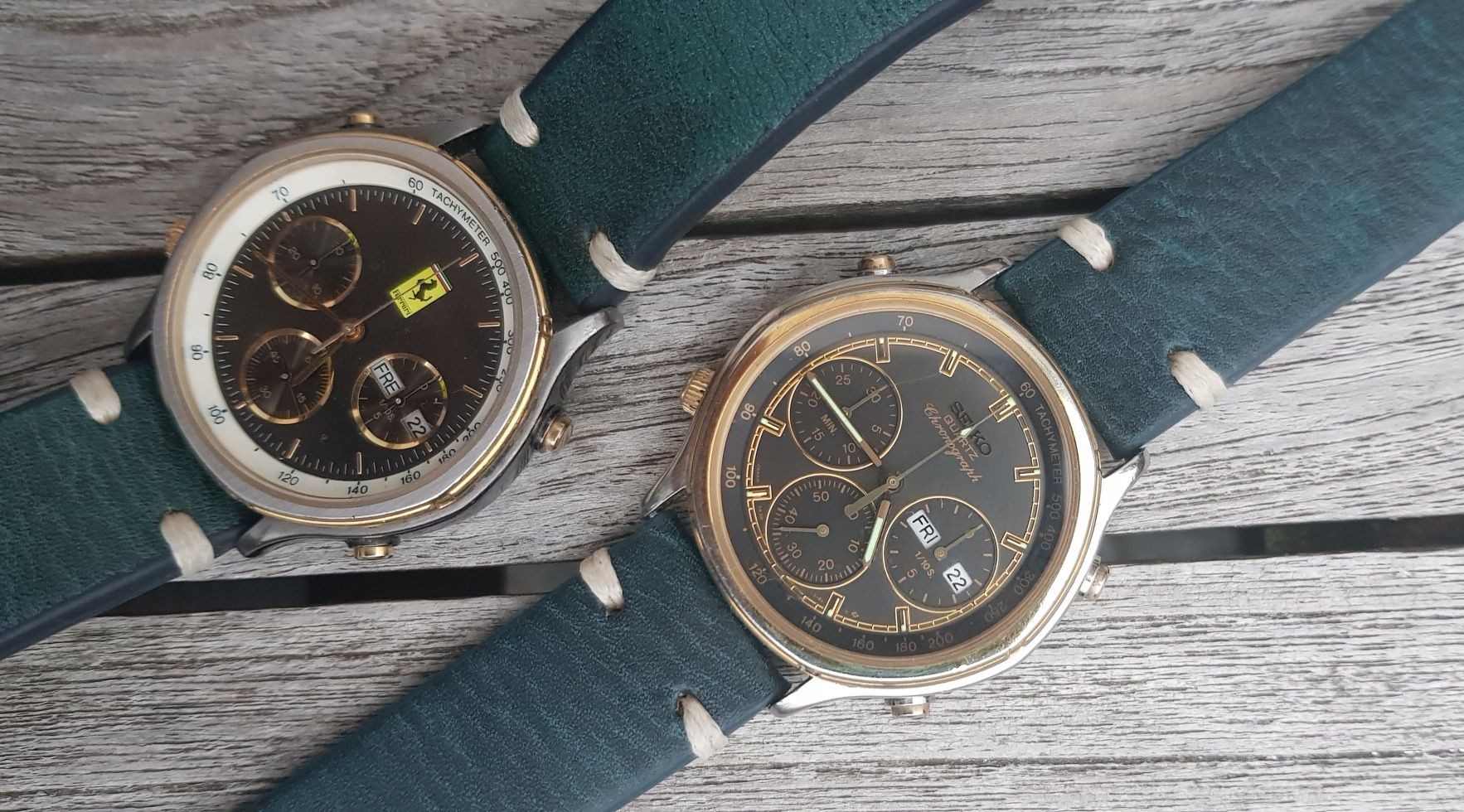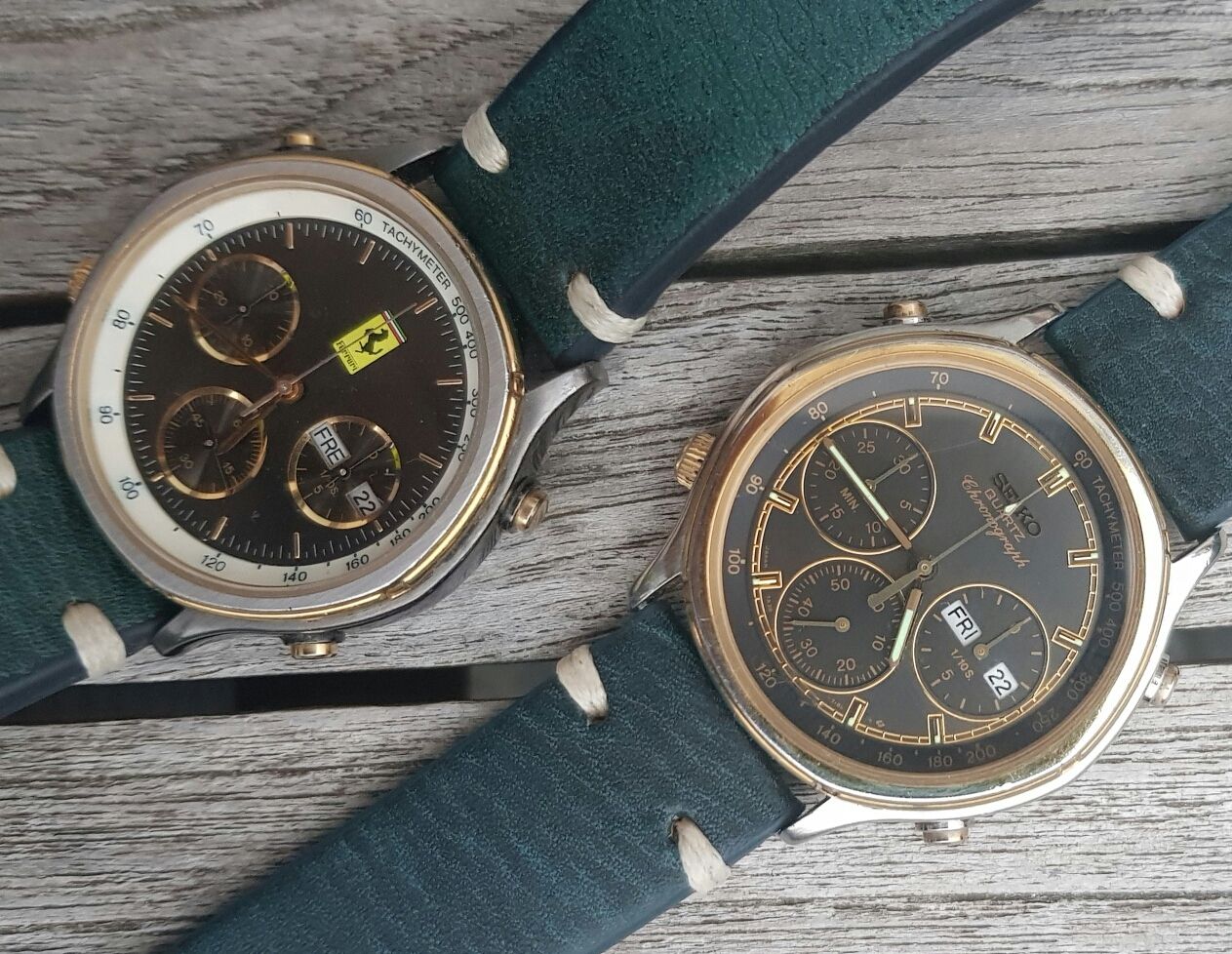 As can be seen in those photos, the Tachymeter ring is out of alignment, to some degree or other. This is to be expected when fitting a Cartier Ferrari dial, because the Seiko dial ring's locating pips, moulded on the underside, not only don't align with the Cartier dial cut-outs, but they prevent the dial / movement from seating properly in a 7A38 case. The answer is to carefully cut / file them off flush. But then, with nothing to locate it, the Tachymeter ring is free to slip round, as he discovered.
Ketap had written in his next post in that thread (his German translated by Google):
I still work on the inner tachyring, first mentally, then mechanically to fix it.
He followed that 2 days later with this photo and the word: Tachyspielereien.
As revealed by this zoomed close-up shot, which he posted later in that thread ....
The '60' mark on the Tachymeter ring still wasn't

perfectly aligned with '12'.
I suspect it wasn't any coincidence, but the same day he first posted photos of the Ferrari Franken 7A38-725A, 22nd February, Ketap ('Carlo') also posted the other by-product / leftover half of the equation for sale on UhrForum.de. It's the dial and Tachymeter ring from the 7A38-725A in a stainless two-tone 7A38-726A case. He'd also fitted a naff dark green pseudo leather 2-stitch strap (as seen in the previous side-by-side photos) and was asking a typically over-optimistic 188 Euros. 
http://uhrforum.de/threads/seiko-chronograph-7a38-726a-mod-quartz.385562/
[Verkauf] Seiko Chronograph 7A38-726A Mod. Quartz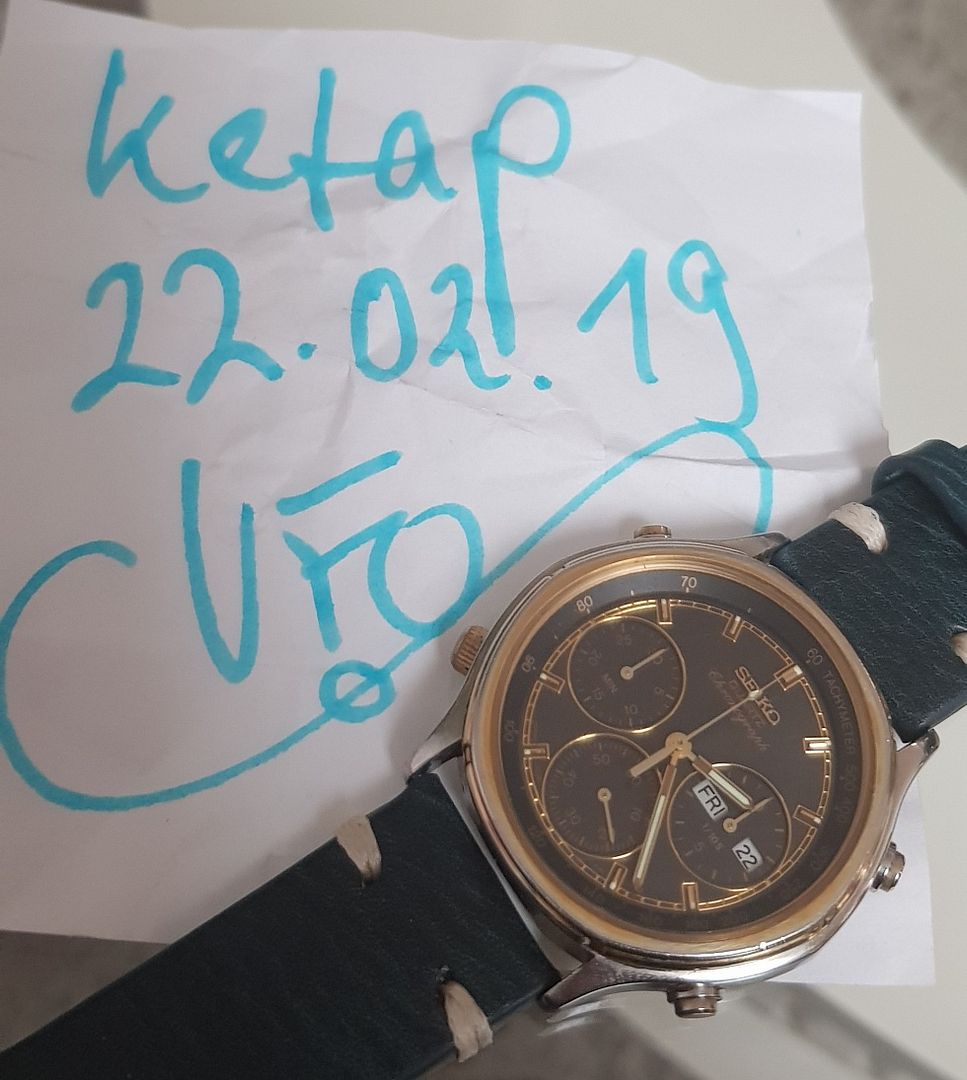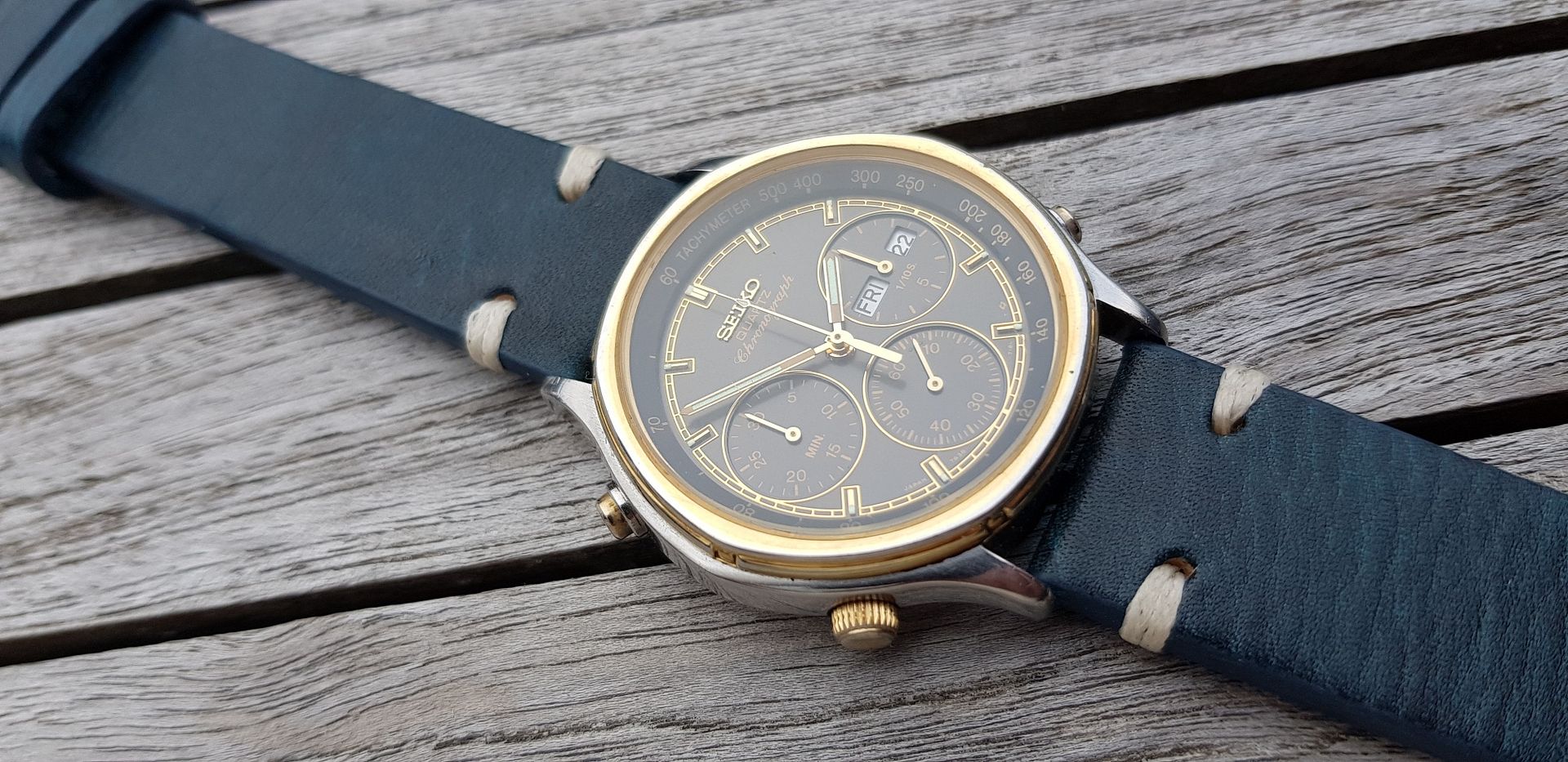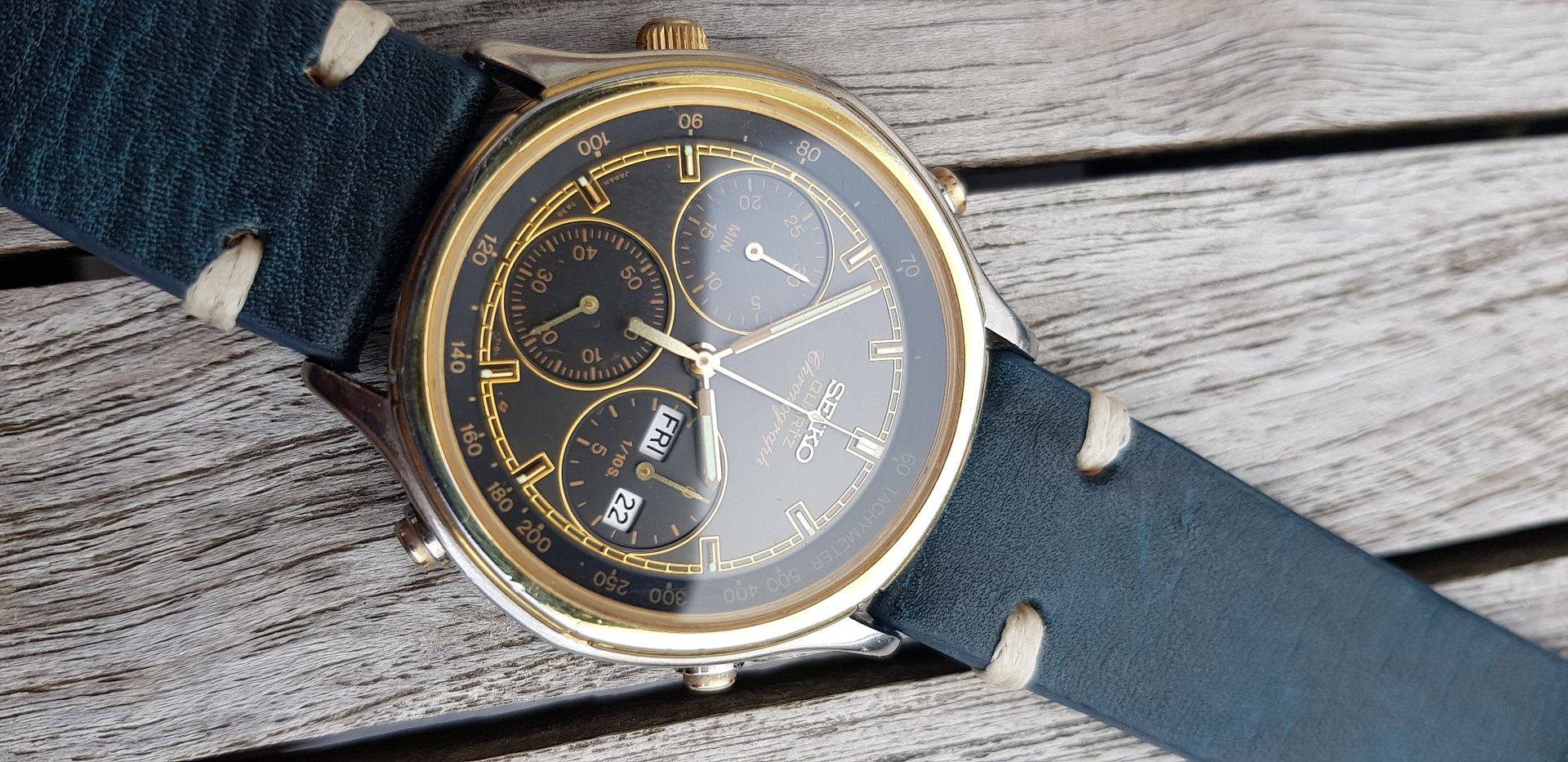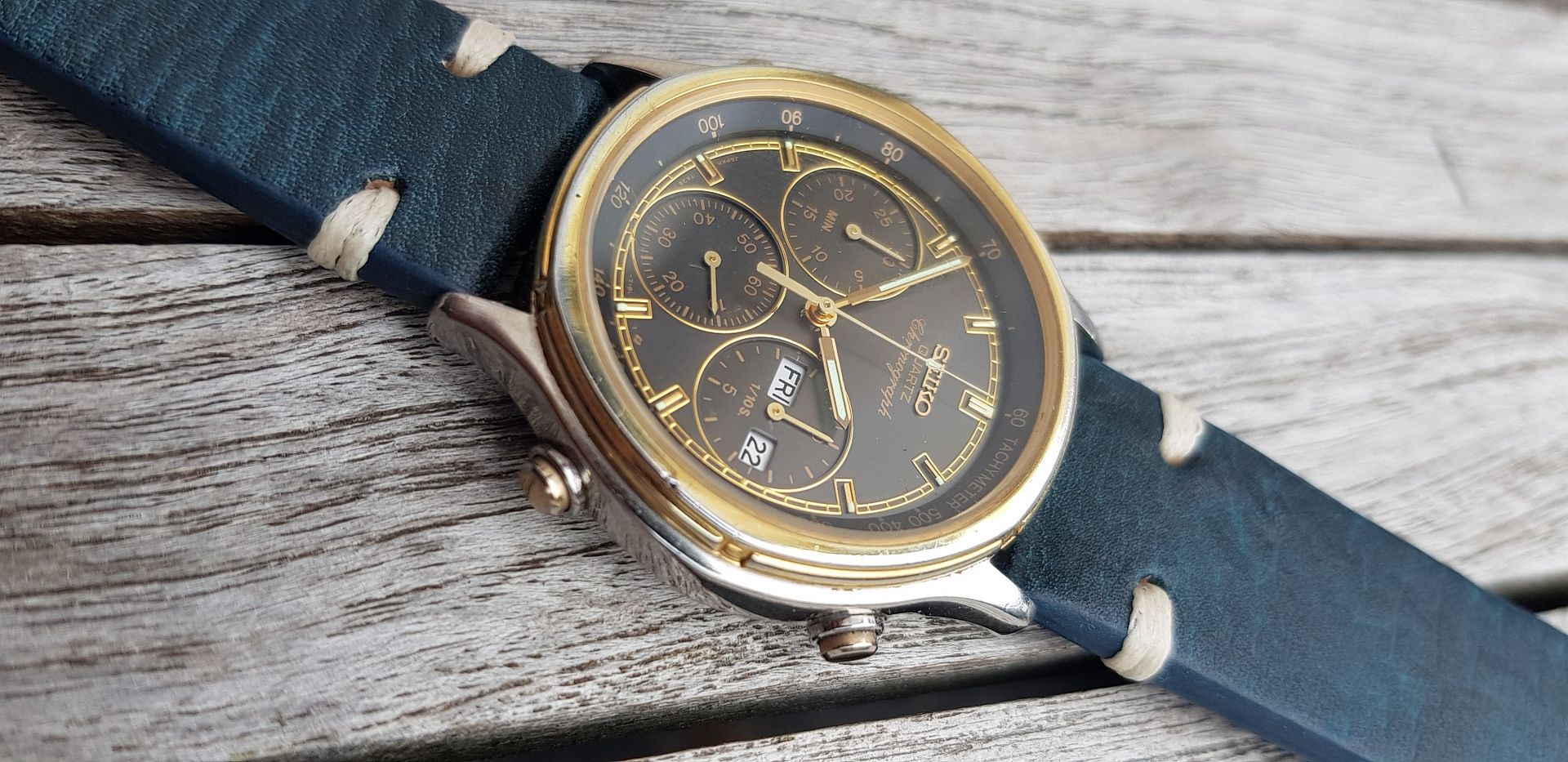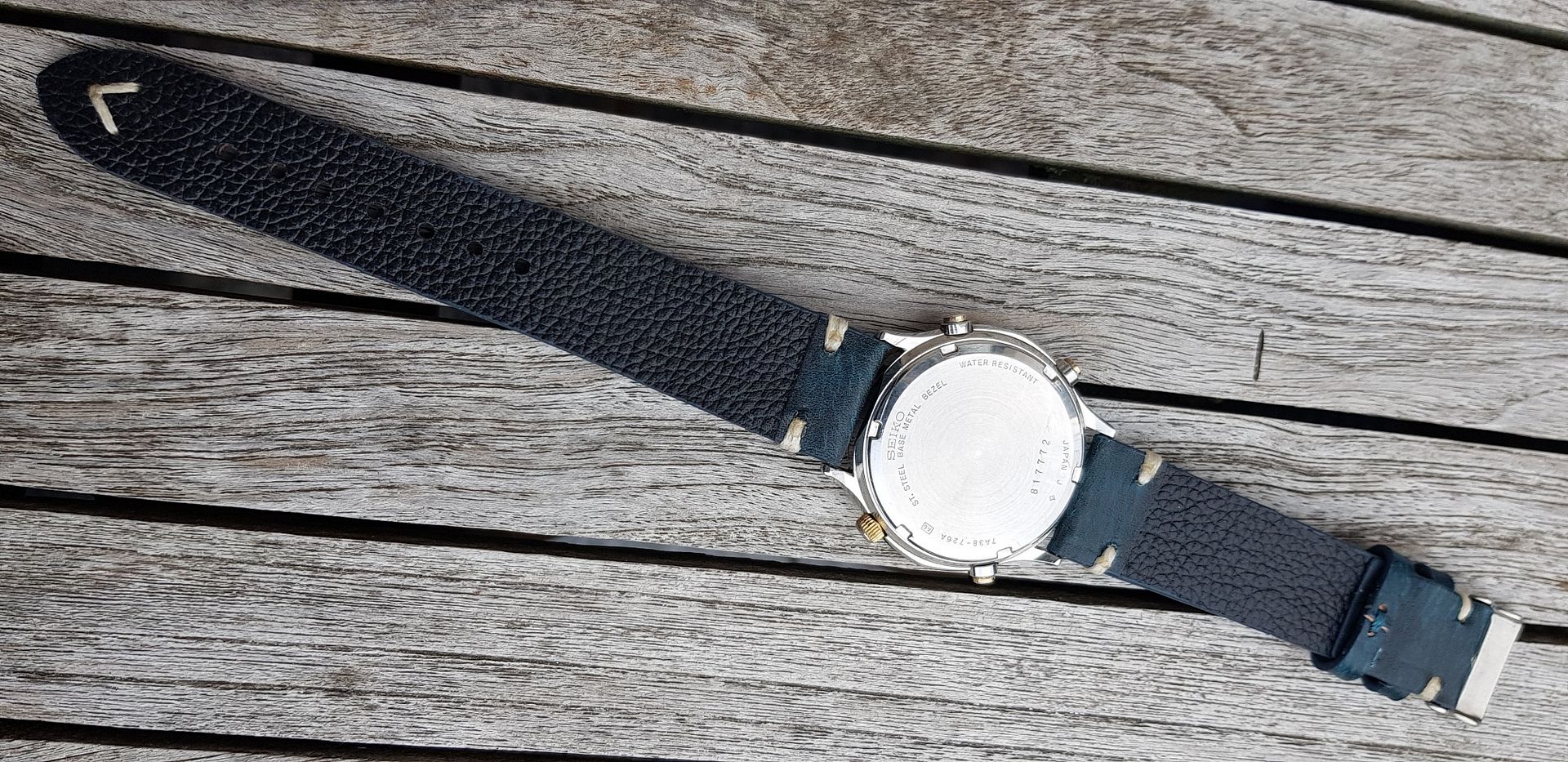 I don't read German, but using Google Translate, Ketap's sometimes rather strange phrasing never seems to translate particularly well. By his 4th post, it appears he was offering another loose Cartier Ferrari Formula dial for an additiional 60 Euros, to anyone who might fancy a bit of D-I-Y modding. If I remember, a similar one had sold on eBay Germany towards the end of last year for 25 Euros.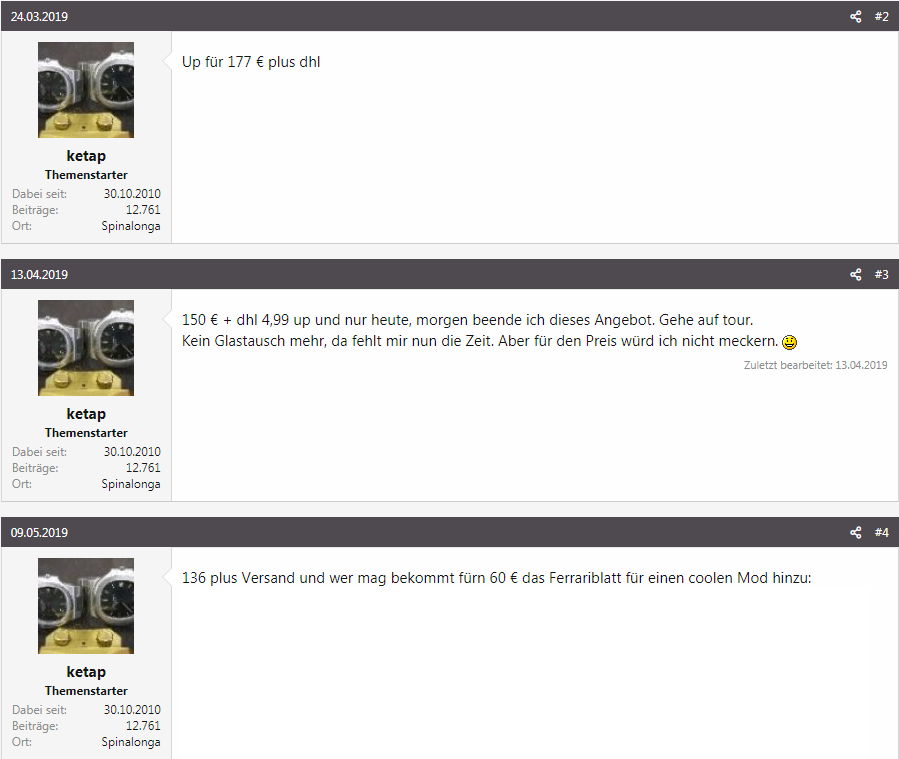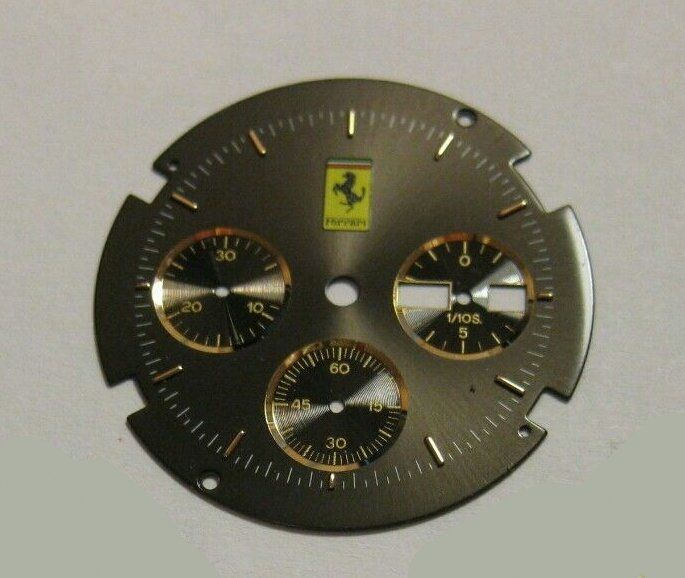 Presumably the Franken 7A38-725A/-726A combo' must have sold some time after 26th May, when he last gave the thread  a bump.
 By then he'd reduced his price from 188 Euros down to 136 Euros.