No doubt some of you will recall the last PhotoBucket debacle, back in late June 2017, when they did so much thoughtless damage to this (and thousands of other) forums with their P500 money-grabbing exercise. At a stroke, without warning, they replaced all and any photos, uploaded by free PB account holders, which had been linked to any forum thread / blog, with this odious ransomeware placeholder.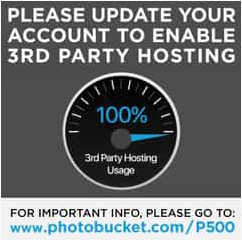 Their completely mis-guided idea was that this would coerce their 10's of thousands of free account holders into paying them $499.99 / year for the privilege of remotely hosting their own images. 
 Instead free account holders left in their droves - many deleting their accounts, along with their entire uploaded content. 
Needless to say, as many of our regular posters had been using free PB accounts for hosting their photos here, it made a bloody mess of a good number of threads - particularly the WRUW thread. Determined to put matters right, I spent a couple of weeks trying to fix the problem. In a nutshell, I re-hosted their photos in my own (paid subscription) PB account and edited the image links in their original posts to the new URL's. It was a LOT of unneccessary work ! 
In May 2018, after much criticism, PhotoBucket's grossly incompetent management eventually realized their grave 'marketing' error and reinstated the literally millions of images they'd blocked, offering a range of much cheaper paid plans. There are umpteen online articles - here's just one:
http://www.theverge.com/2019/6/24/18701132/photobucket-photo-storage-pricing

However, for any PB users who didn't want to pay for the 'upgrade', and chose to stay as a free member they watermarked their images as 'proudly hosted on ....'
http://blog.photobucket.com/articles/watermarking-how-photobucket-is-keeping-free-free
http://support.photobucket.com/hc/en-us/articles/360008606333-Proudly-Hosted-on-Photobucket-watermark

I don't know about 'proudly', words like foolishly, regrettably and unfortunately spring to mind. 
I'm not sure exactly when it happened, but at some point their initial 'proudly hosted on ....' watermark morphed into 'host.store.share.'

There were probably hundreds of such watermarked images on the forum. I guess it had got to a point where I couldn't be bothered to try and fix them any more, even though there are a good many online tech articles giving instructions on how to.