Things have moved on somewhat since I started this thread nearly 6 years ago. What were then considered 'crazy' prices have unfortunately since become the norm. It's not unusual to see some of the more desirable collectable models, for example the 7A28-7000 'Ripley Aliens', listed on eBay with Buy-it-Now asking prices of $1500 - $2000. New old stock 7Axx's, particularly genuine NOS with box and tags have always commanded a premium, but $1729.89 for a relatively common 7A28-7049 ? 
http://www.ebay.co.uk/itm/173037650663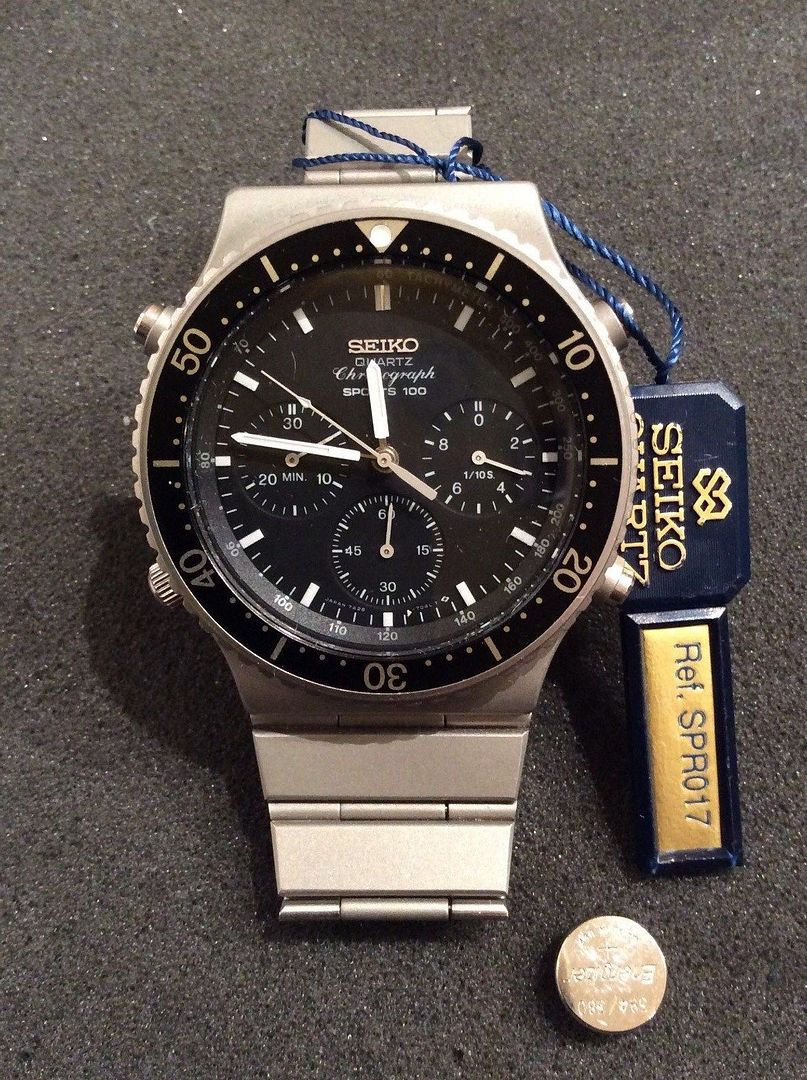 THIS IS A 1000% BRAND NEW OLD STOCK SEIKO SPORTS 100 CHRONOGRAPH.
IT HAS THE LEGENDARY CALIBER 7A28 QUARTZ MOVEMENT WHICH HAS BEEN KNOWN TO LITERALLY RUN WITHOUT PROBLEMS OR NEEDING SERVICE FOR 30 to 35 YEARS.
THE ERA OF THIS WATCH IS ABOUT 1983 TO 1984.
IT HAS BEEN LOVINGLY OWNED BY A SINGLE COLLECTOR WHO BOUGHT IT NEW AT AN AUTHORIZED SEIKO SHOP IN THE USA. THE BATTERY HAS BEEN MOSTLY KEPT OUT OF THE WATCH IN CASE OF BATTERY CORROSION EXCEPT WHEN IT WAS INSTALLED EVERY SIX MONTHS TO RUN THE MOVEMENT AND CHRONOGRAPH FUNCTIONS FOR 72 HOURS TO KEEP THE MOVEMENT LUBRICATED AND EXERCISED.
IT KEEPS ACCURATE TIME MEETING SEIKO SPECS AND ALL CHRONOGRAPH FUNCTIONS OPERATE PERFECTLY AS THEY SHOULD. IN OTHER WORDS THE MOVEMENT IS IN PERFECT CONDITION AS IT CAME FROM THE FACTORY.
THE NEW MODEL SEIKO CHRONOGRAPHS HAVE DISPOSABLE MOVEMENTS WITH MOSTLY PLASTIC GEARS AND FEW JEWELS WHEREAS THIS SEIKO LEGENDARY 7A28 MOVEMENT HAS METAL GEARS AND 15 JEWELS DESIGNED TO LAST DECADES, PERHAPS 50 YEARS.
So rather than a modular, disposable plastic movement, the 7a series had a proper, quasi-decorated 15 jewel metal movement that could be regulated, disassembled and repaired. It even has a very traditional finger damper spring on the centre seconds pinion. Seiko really threw investment, thinking and effort into this one. This explains why, despite often impressive abuse, so many survive.
YOU PROBABLY WON'T FIND ANOTHER BRAND NEW MODEL OF THIS ILK ANYWHERE ELSE IN THE WORLD.
• Movement: Seiko Caliber 7A28
• Case: Brushed stainless steel
• Back: Engraved screw-in back
• Crystal: Hardlex Mineral
• Band: steel bracelet
• Water Resistant: 100 meters
• Warranty: 2 Years ORIGINAL FROM SEIKO
* Crown: PUSH IN
**Returns accepted only if the item is not exactly as described above which is 100 % NEW**
PS - I know it's a very popular model and I'm sure it will sell - just be interesting to see how much it actually goes for.