This issue never was resolved. It's another shortcoming of Webs pretty basic forum software. 
Yes, I myself can partially parse quotes (to a certain extent) and edit almost anything, but then I have an Admin level user ID. 
But one thing I still haven't figured out how to do (even interrogating the HTML code), is how to remove an unnecessary quote. 
Let me first define 'unnecessary'.
Compared to the likes of other forums: SCWF, TZ-UK, WUS, etc., where the practice of using 'quote and reply' is commonplace ....
Our little forum is quite slow moving. I quite like it that way, although I'd be happier if there were more contributors (another story).
So, in normal circumstances there is absolutely NO NEED to quote the previous post when adding a new reply to an existing thread.
It adds nothing to the thread; just simply repeats the text (in a reduced font size) and more annoyingly duplicates any and all photos included in it, that other readers then have to scroll though. A complete and utter waste of bandwidth.
It's a common 'newbie' mistake - frequently when making their very first post.
I'm not singling him out, but using newest forum member Dylan as an an example. 
Yesterday evening, he posted this (using the Quote & Reply button from my previous post) on page 20 of the RAF Gen. 1 thread.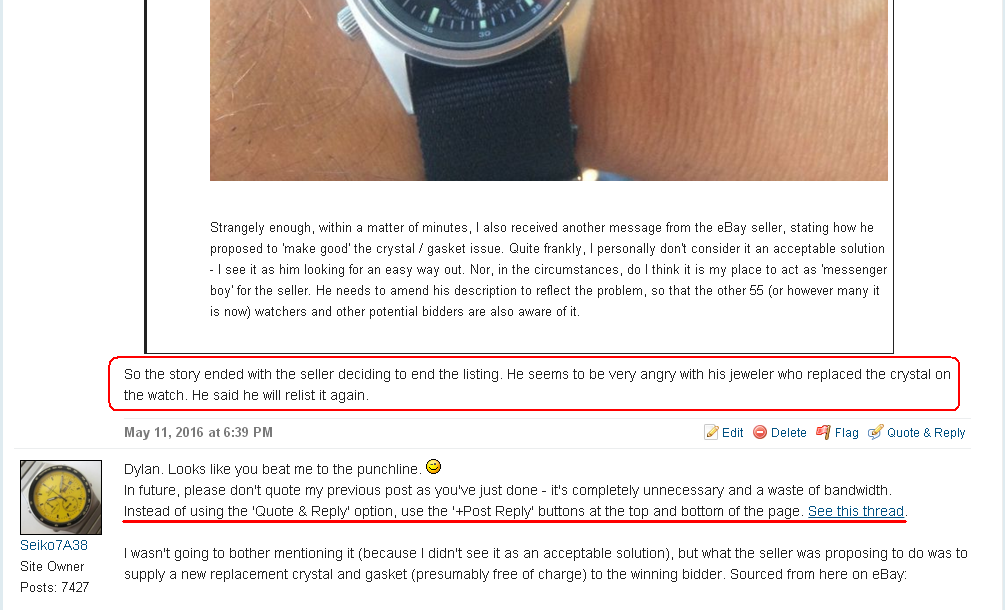 Dylan's actual post was the 30 or so words that I've outlined in red. My reply underlined in red includes the link to this thread.
Here's how I would have preferred him to have composed his post, using the 'Quick Reply' window at the bottom of the page.
Alternatively, if you intend composing a longer reply, particularly if embedding photos, click on the +Post Reply button at the top of the page, which opens a larger window. It's what I use myself, most of the time.

Thanks Guys !