Not so much of a 'heads up', because this heavily modified 7A38 is being sold openly as a modified watch. But I couldn't think of anywhere else to post something about it. Last November, forum member Renaud (g.creed) emailed me a link to an Instagram page, belonging to a Japanese watch collector, who uses the slightly unusual handle Animalworship and seems to specialize in modding watches (not just Seikos, either). Whereas I'm not a big fan of Social Media (or the morons that frequent it and slavishly 'follow'), I have to admit there is quite a bit of interesting stuff on his pages: http://www.instagram.com/animalworship - It's worth a look.
I'll also admit, I did right-click and save a couple of his photos, of a heavily modded 7A38 Franken, using the taupe 703L dial out of a 7A38-7020 / -7029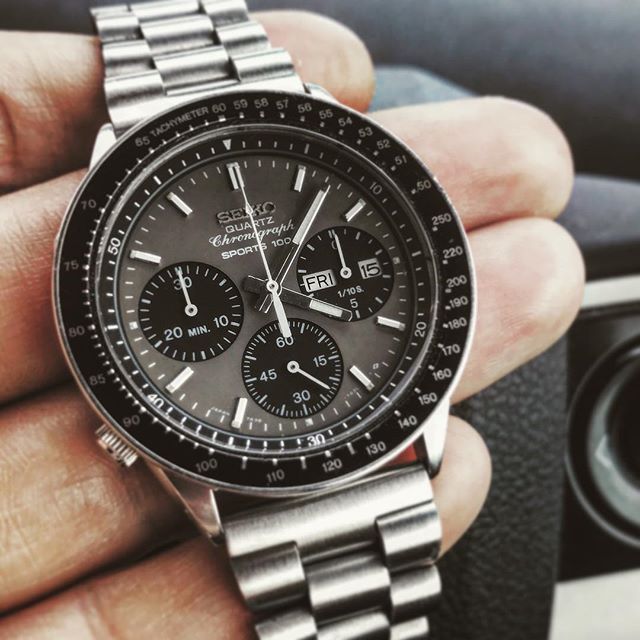 A week or so later, I emailed Renaud back, telling him that 'Animalworship' had listed one of his modded 7Axx's on Yahoo Japan. Here's the link I included at the time: http://page.auctions.yahoo.co.jp/jp/auction/n240072228
It's obviously now long since disappeared, but I remember it wasn't actually a 7A38 Franken, but a modded 7A28 (usual keyword spamming). I didn't save the photos from the YJ listing. I think I may have found evidence of it in his feedback:
【希少】セイコー スピードマスター 7A28-7039 seiko mod カスタム 逆パンダ パンダダイヤル クロノグラフ 7A38 クォーツ 逆輸入
Anyway, yesterday, this same person 'Animalworship' on Instagram, who uses the ID Daisuke971057 on Yahoo Japan, listed the 703L dialed Franken as a 5-day auction with an opening bid price of 128,000 Yen or the option of a 'prompt decision' Buy-it-Now price of 150,000 Yen. That's some serious money for somebody else's cobbled together bitza, no matter how unique it might be. 

http://page.auctions.yahoo.co.jp/jp/auction/o270737674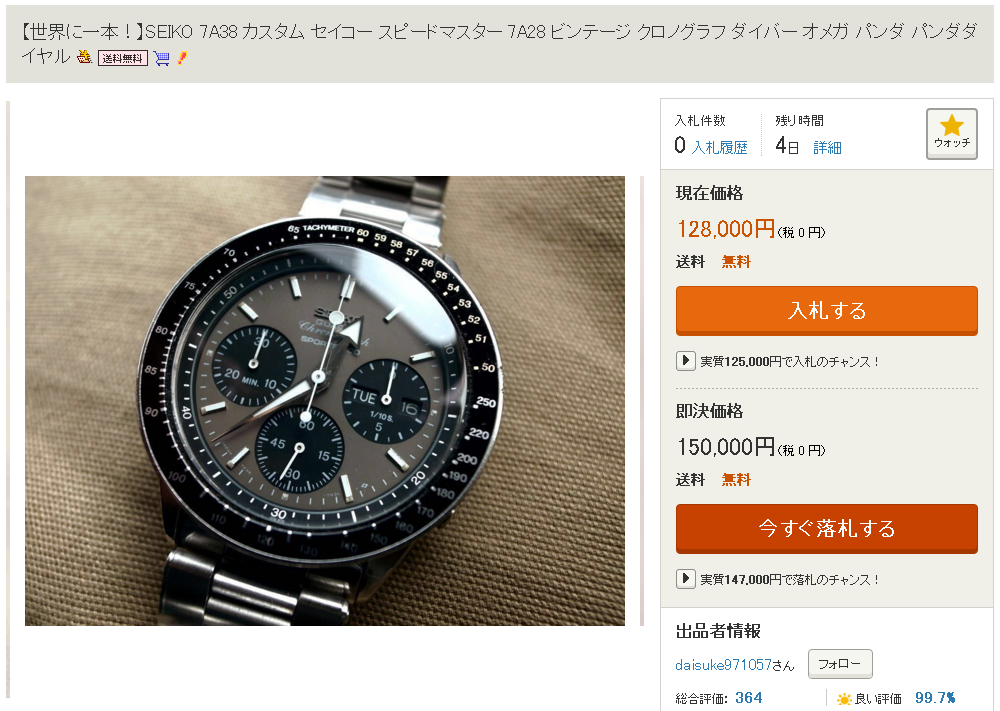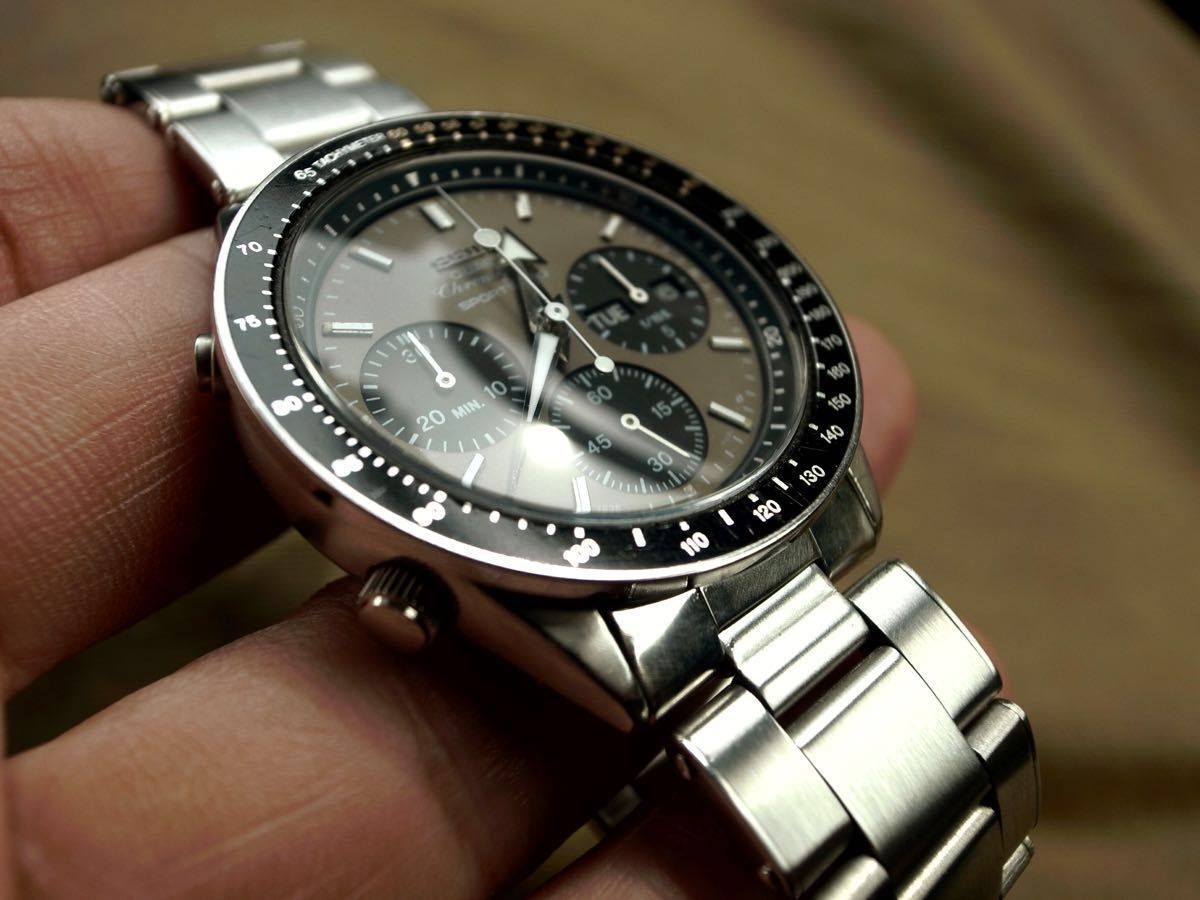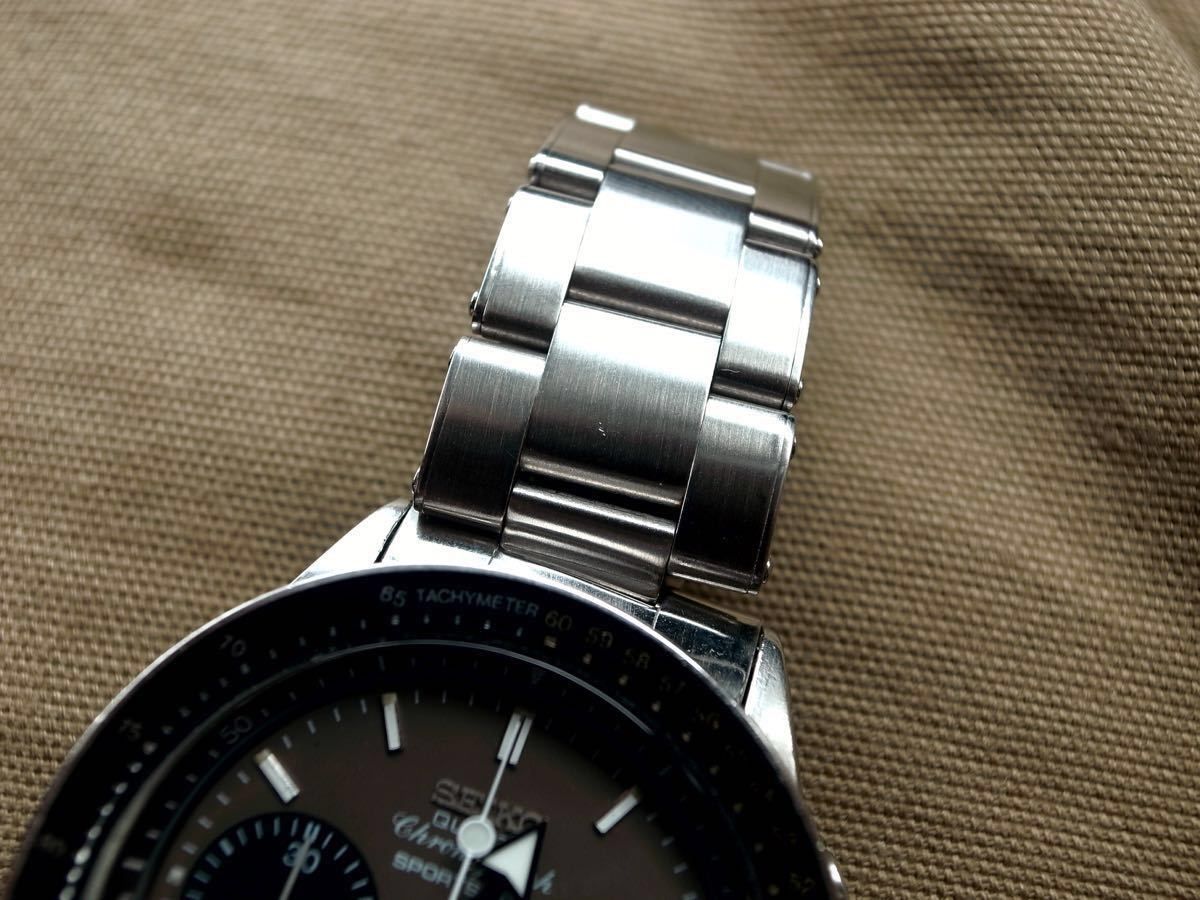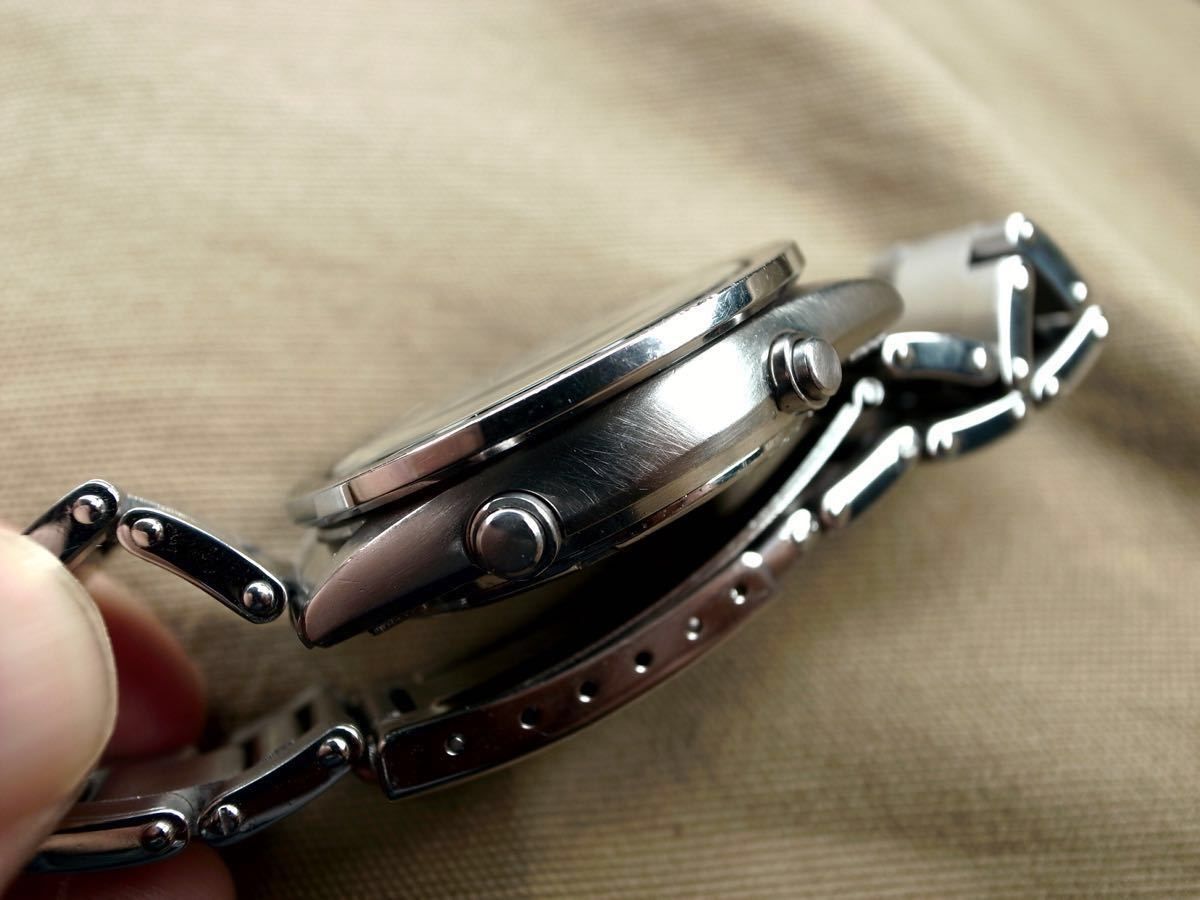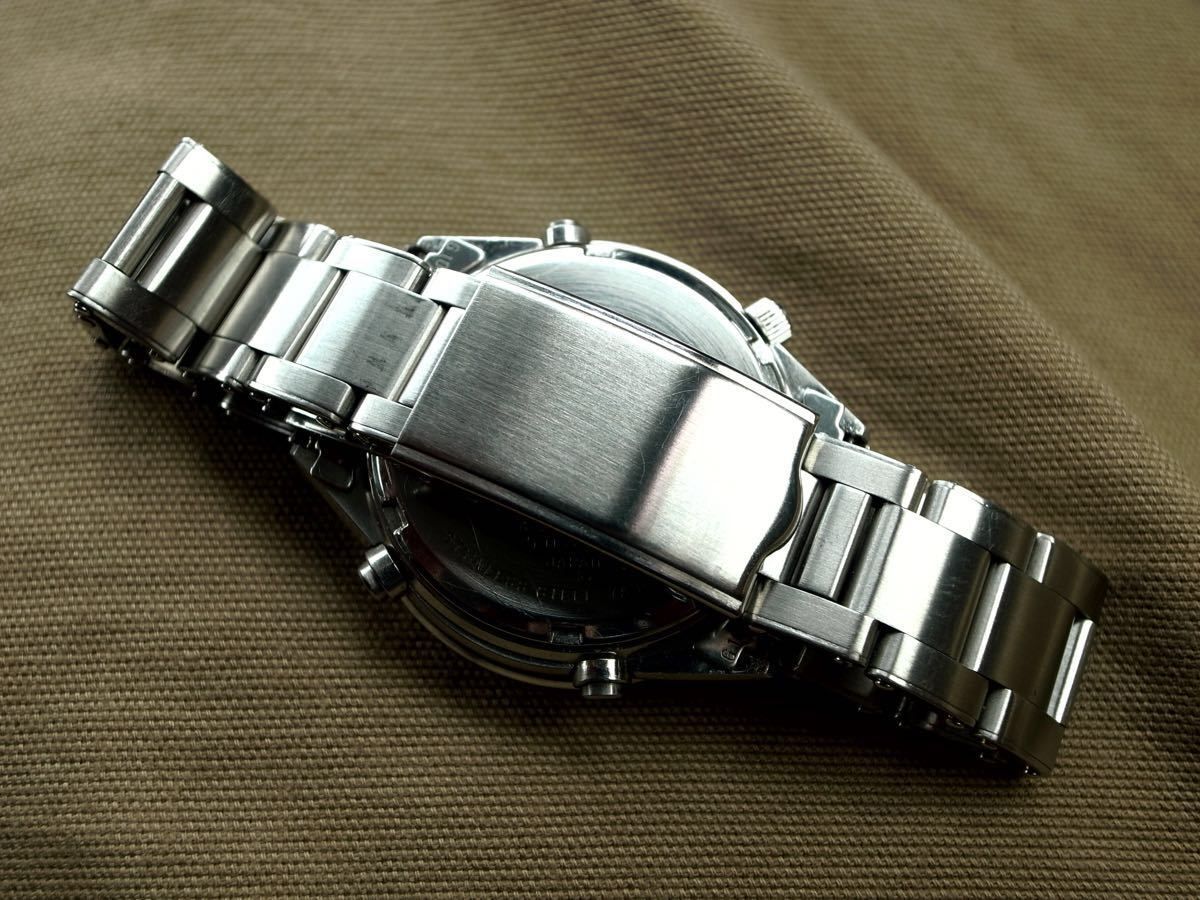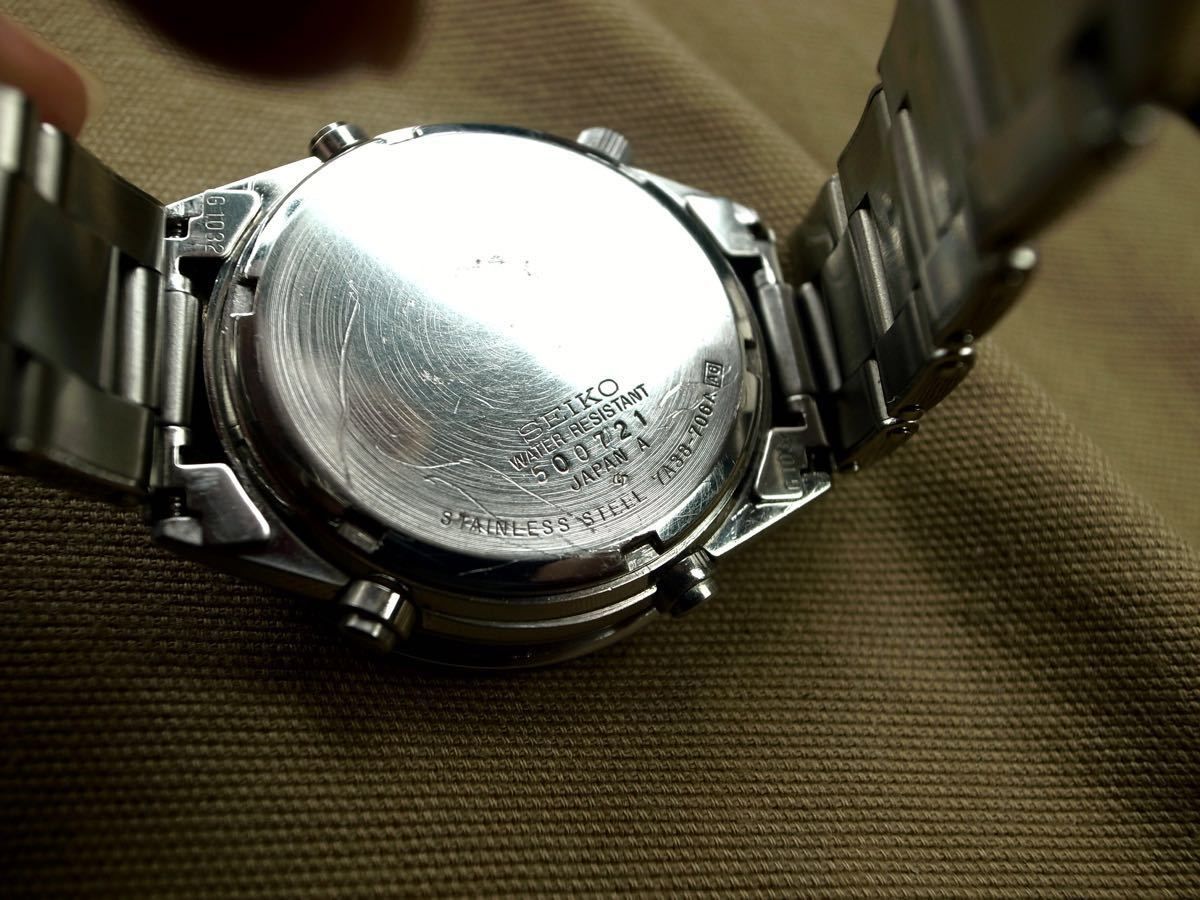 Google translates the Japanese description as follows:
Thank you for looking.
Seiko Vintage Speed ​​Master 7 A 38 It is a custom exhibit.
Seiko's 7A movement famous even becoming the world's first military recruitment as the 80's analog quartz.
This exhibition's 7A38 custom is custom made by changing the case unique to the 1980's to a regular lug case based on the gray panda 7A38-7020 dial plate which was manufactured for export.
I use the case of 7A38-706 for the case and the back cover.
Bezel and bezel ring are original of 7A 28-703. The needle is changed to an arrow needle, the center chrono sweep hand is changed to white lollipop.
The normal 7A38-7020 gray panda's calendar is white but I changed it to black calendar.
The display will be in English and Arabic.
Although the bracelet is not a original but a general-purpose item, it has been changed to rivet brace of 20 mm width.
Current situation About 18 cm around the wrist, there is room in the coma.
It is possible to extend about 5 mm in the clasp part, about 2 cm can be reduced, this rivet breath can be removed with screws screws.
Bracelet, back lid, case has small scratches Please confirm the photograph.
Because mineral glass uses a new article, almost no scratches are.
The operation of the chronograph is also good, the battery has been replaced with a new one about two months ago.
The windshield changed the original flat lens to new mineral glass of R.
I feel somewhat blunt at the 4 o'clock position pusher, but I think that it will not hurt to reset the chronograph. Case diameter about 38 mm (excluding crown) Case thickness: about 10 mm
Lug width: 20 mm
There is almost no time deviation.
I think that it is the level of normal quartz.
It becomes one full custom product to the world using 4 rare 7 A series.
It is taking parts for custom parts and it costs about 100,000 or more.
Although it is a digression, the other day I got likes about more than 1000 overseas watch lovers on Instagram.
Since it becomes a custom item, please refrain from the tender of those who wish genuine products, those who wish the completed product such as guarantee etc.
Thank you consider only those who can understand as a custom item.
There are no original parts left over.
It is an exhibition of only this watch.
Please consider waterproof as almost no.
Seiko genuine grease was applied and tightened as it was not noticeable deterioration of packing etc.
I am sorry that the picture is difficult to see, but I think if you have any questions or would like to ask a question.
Since it is a cheap start, I would appreciate your favor with N claim, N return, N cancellation.
Notes
Is secondhand goods. Attaching use impression, small scratch. Since it is a vintage custom item, please refrain from the bid of those who are looking for new as well as the more nervous one.
I need your help by no claim & no return & no cancellation.
Other
Bidders with many bad evaluations may cancel the bidding. Please note that I will delete the highest bidder without contact within 24 hours after it makes a successful bid.