We all owe a debt of gratitude to Hung Pham ('Time2Fly' on SCWF). 
Not only for his numerous well-grounded posts on the old Network54 SCWF, as one of the earliest Seiko 7A collectors to 'go public',
but for sharing his photos with us, in the gallery he built up. Unfortunately, Cox.net recently discontinued their photo hosting service.
The first photos I saw of a 7A38-6010 were in one of Hung's albums. Although I wasn't into 'Divers', I right-clicked and saved them.
One of many watches that passed through his hands en route to other collectors.
Not a perfect example, by any means, and fitted with a non-original Neoprene 'Dive' band - but nicely photographed as as always: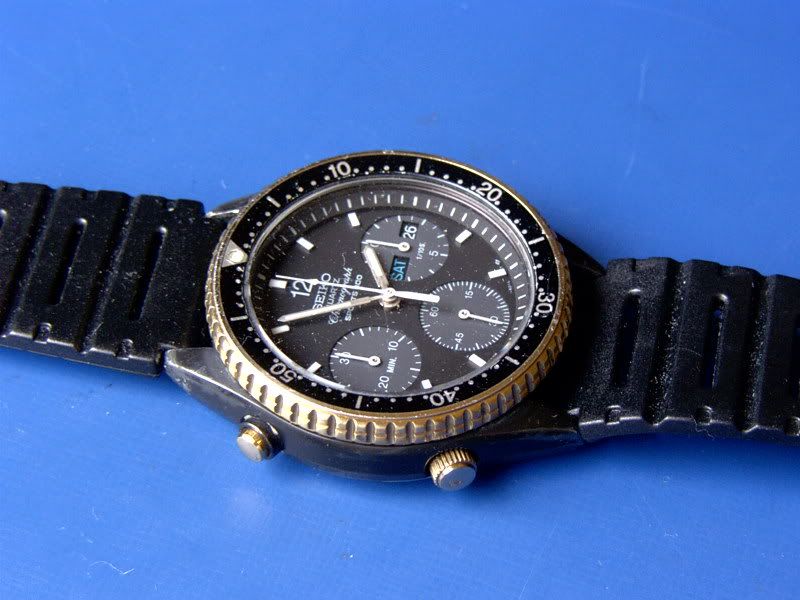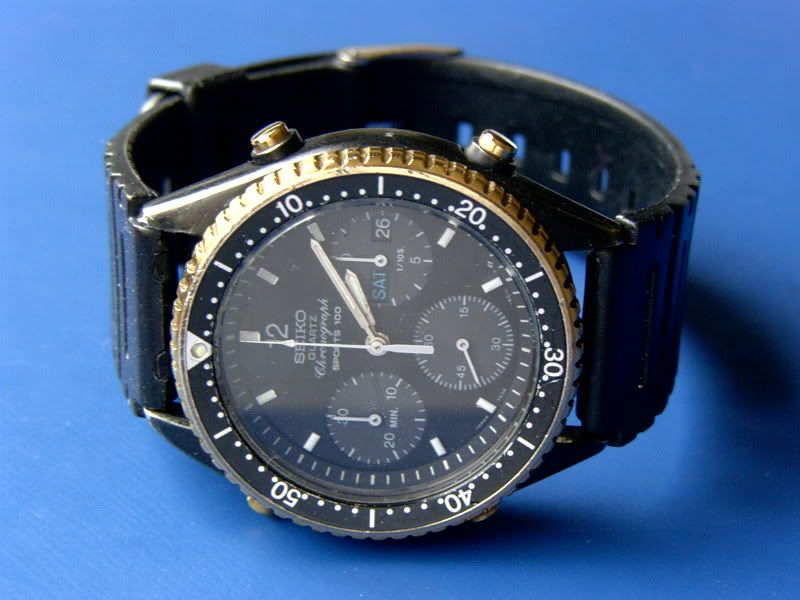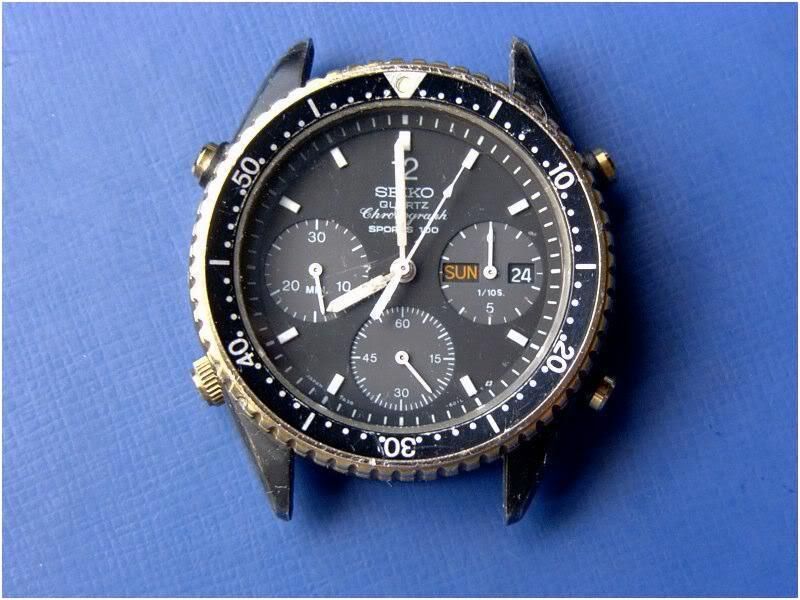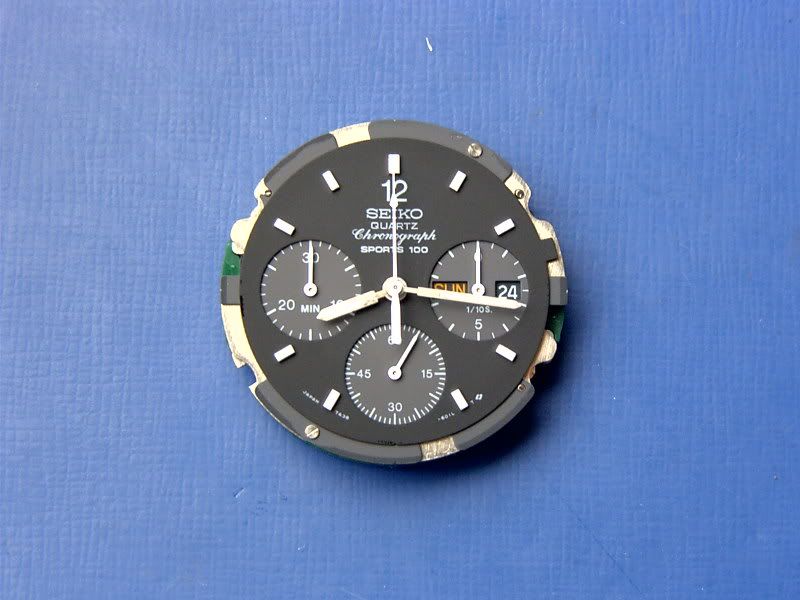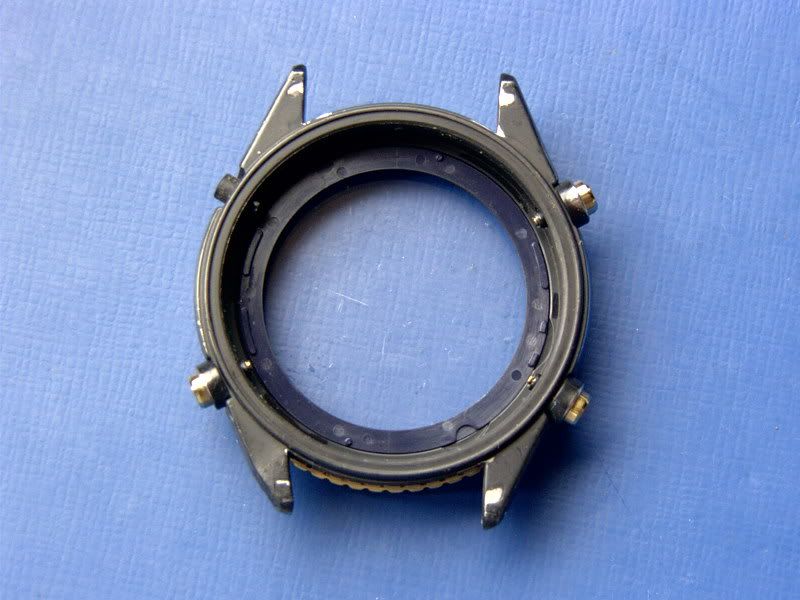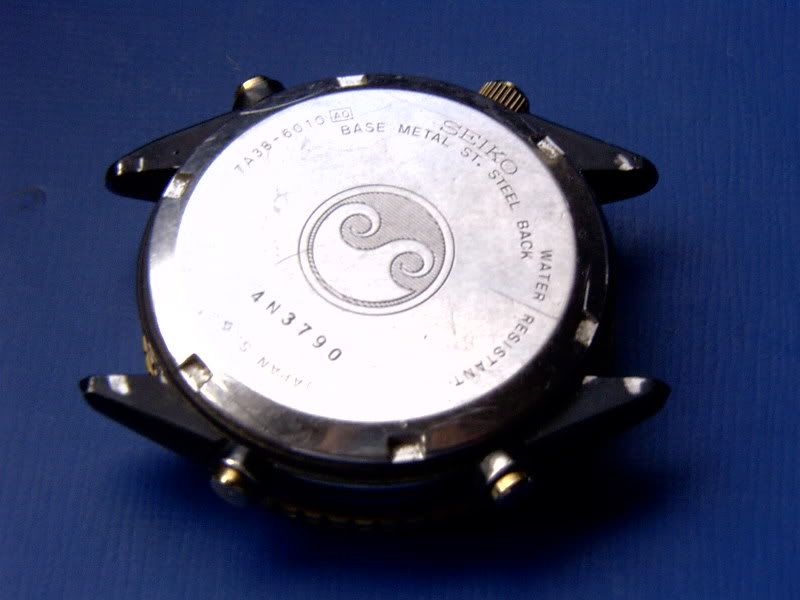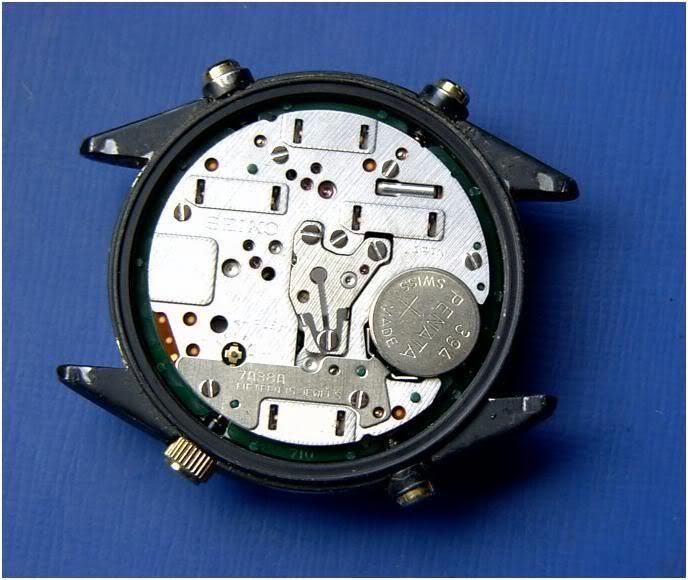 I started right-clicking and saving photos from eBay auction listings (in earnest) early in 2009. This is the first 7A38-6010 I saw.
It was in April 2009. I can't remember how much it sold for back then - I wasn't keeping track. But I think I know who bought it.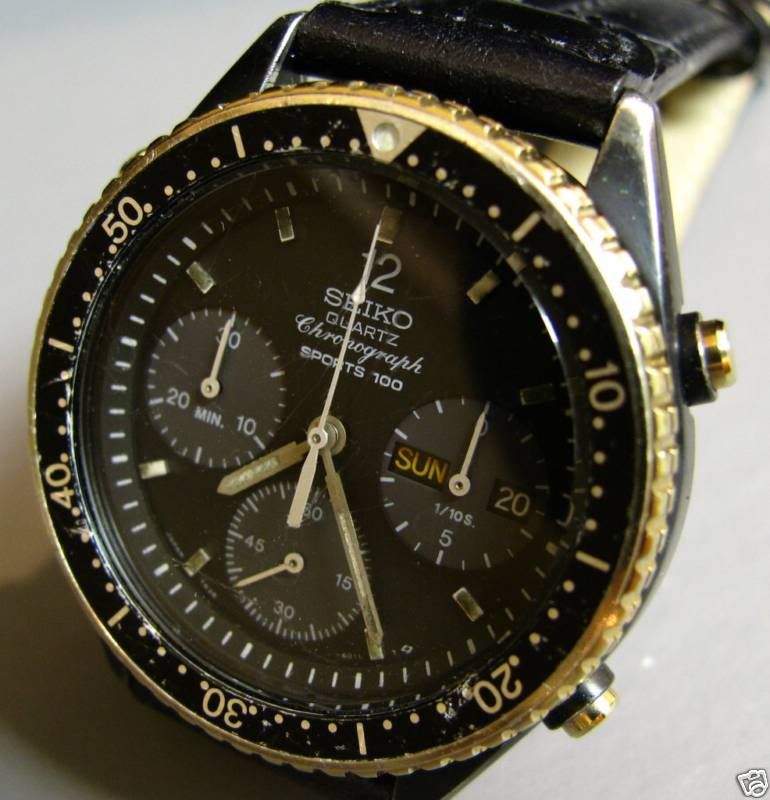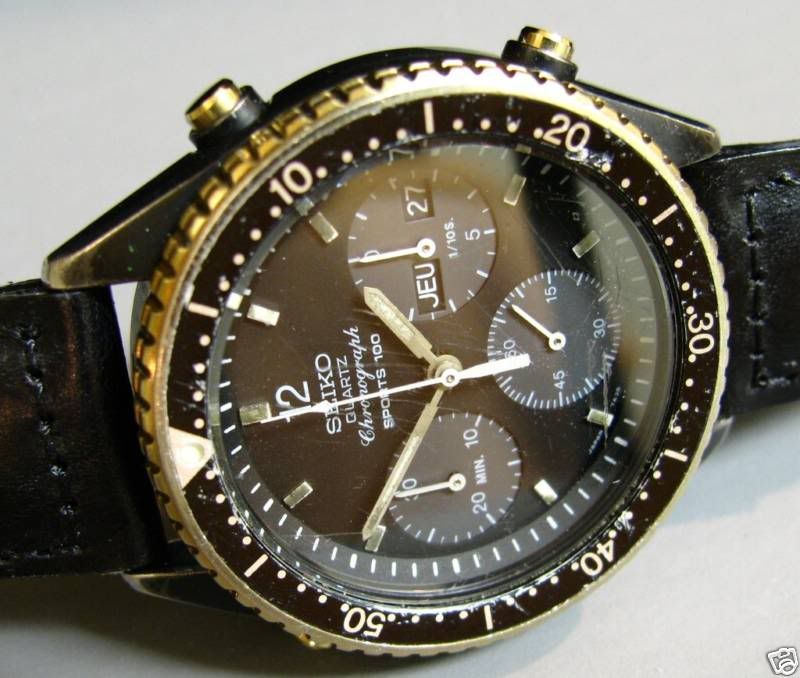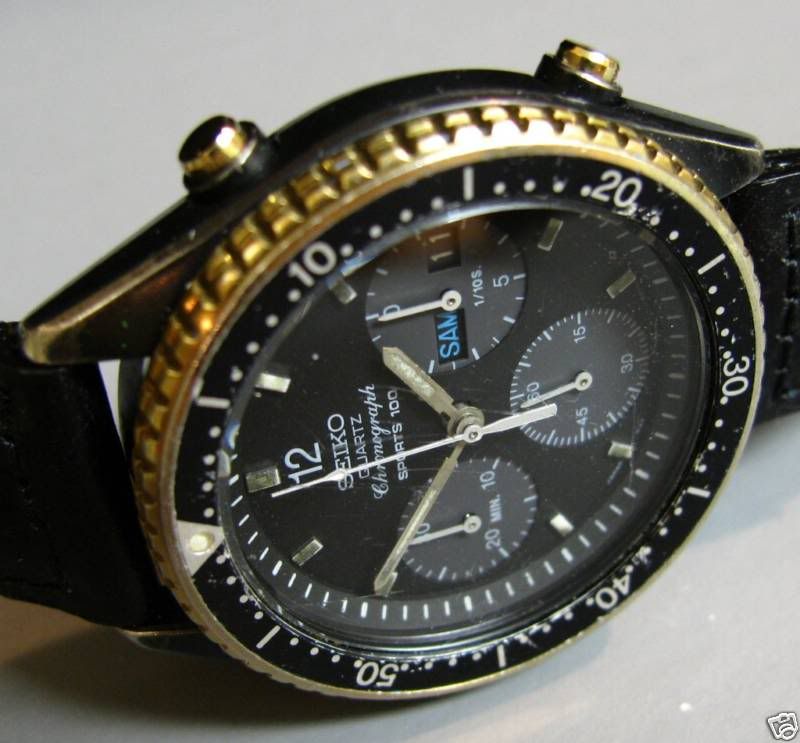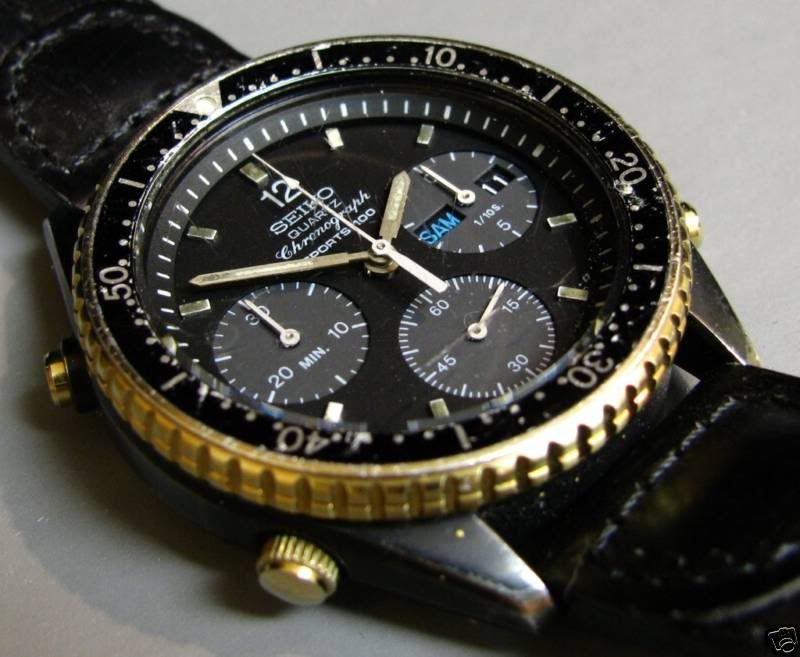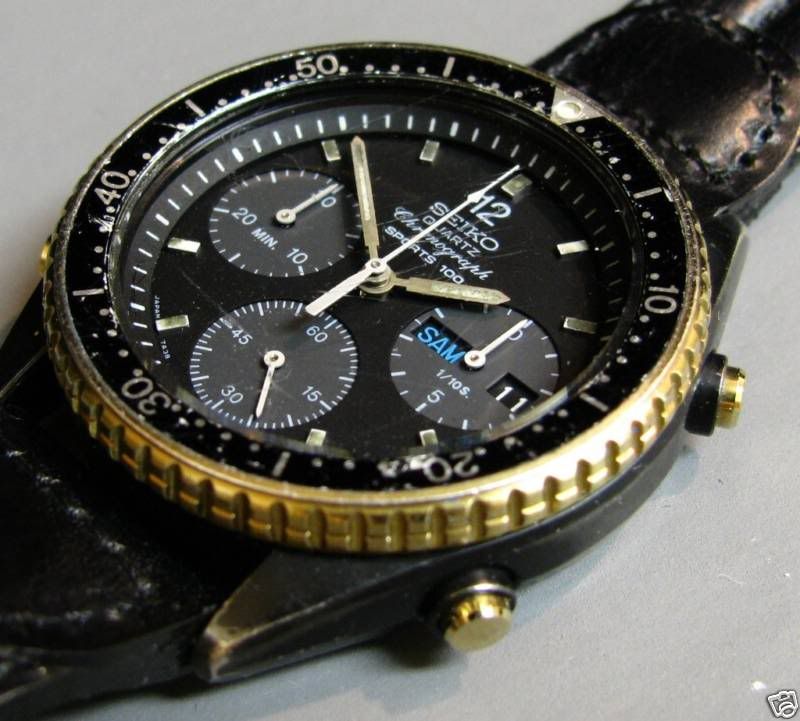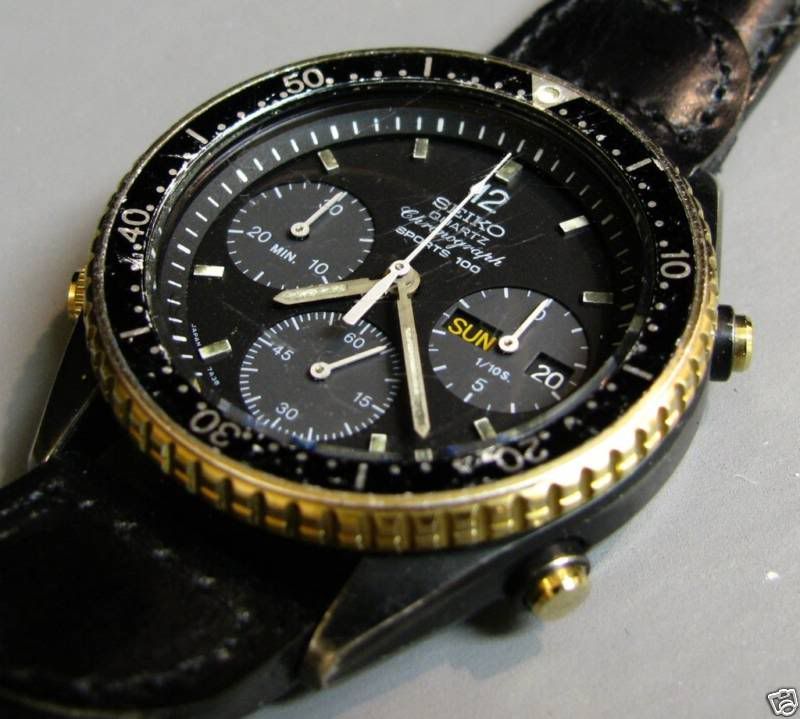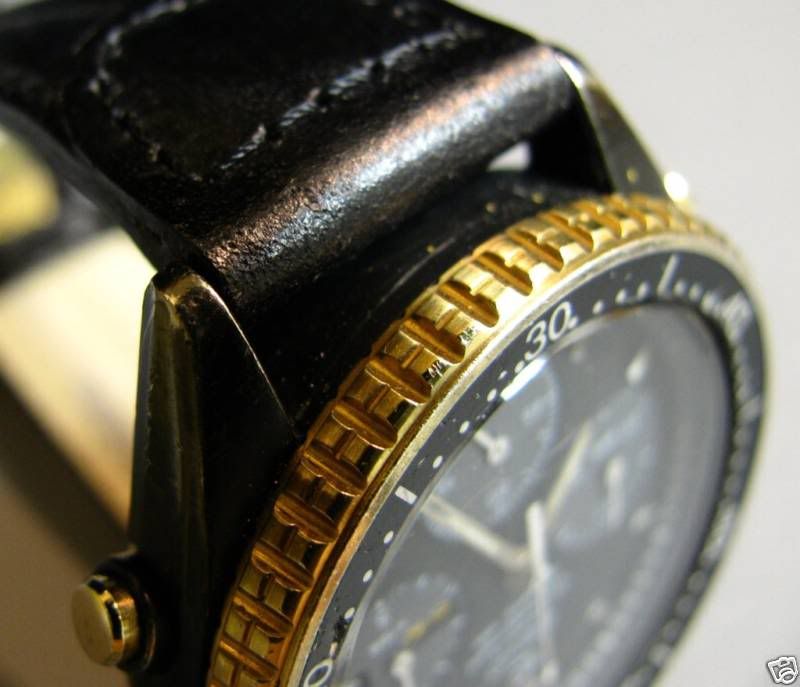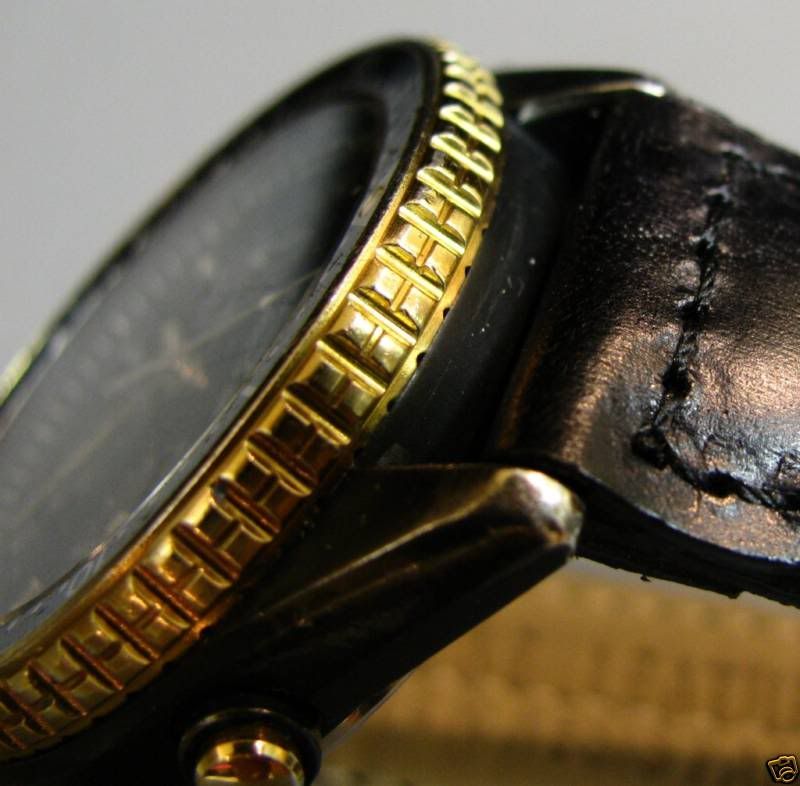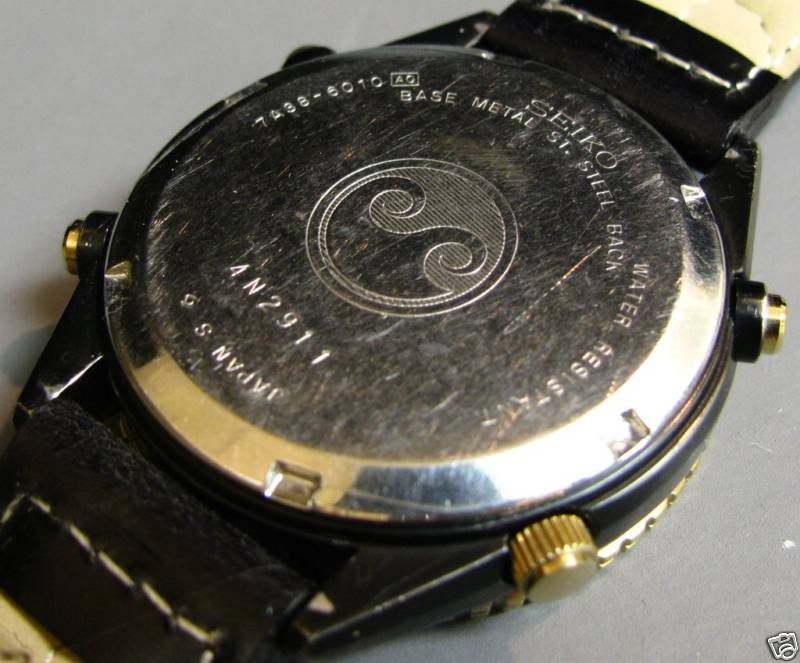 Not a bad set of eBay listing photos for nearly three years ago, eh ? If only eBay sellers today were quite so candid. 
They show virtually every aspect aspect of the watch - 'warts and all', apart from a shot of the movement back-plate.
Note the discoloured decomposing lume; marked bezel insert; scratched crystal and wear to the black chrome coating ....
and of course, the watch has lost its original black chromed bracelet (p/n G1157F) - replaced with a black leather strap.
If the watch looks familiar - and it should, if you've spent any time on the old SCWF, or ever googled (images) on 7A38-6010,
it was bought by Mike Thompson, who posts as 'Mikey T'. Mike probably deserves some kind of special award for the mileage
he's got out of the watch - in the sheer number of posts in WRUW and 7A38 threads on SCWF (old and new), WUS and PMWF.
This was one of the first appearances on PMWF, still on the same leather strap.
Note the date showing on the screen - April 20th 2009 - which can't have been much more than a week after the eBay auction: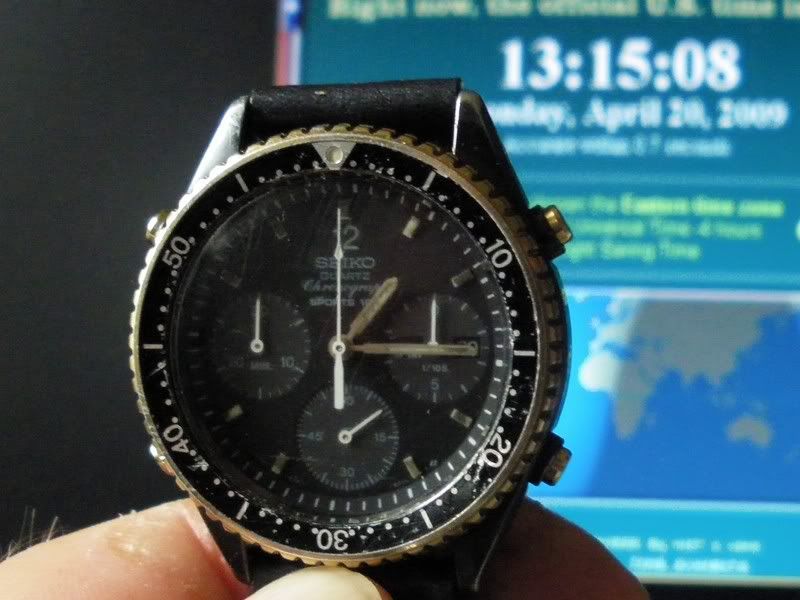 Just to confirm the identity of the owner, this is a montage of the same 7A38-6010  posted on the old Network54 SCWF by Thian:
Note the same day / date shown - Sunday 20th. 
Here's a couple of his early photos of his 7A38-6010 which Mike posted on WUS - now fitted on a 'knobbly' rubber strap: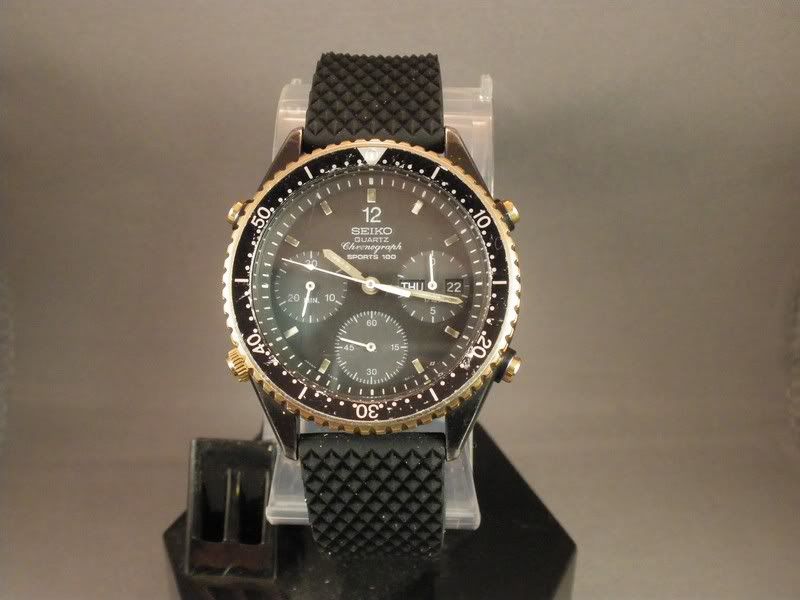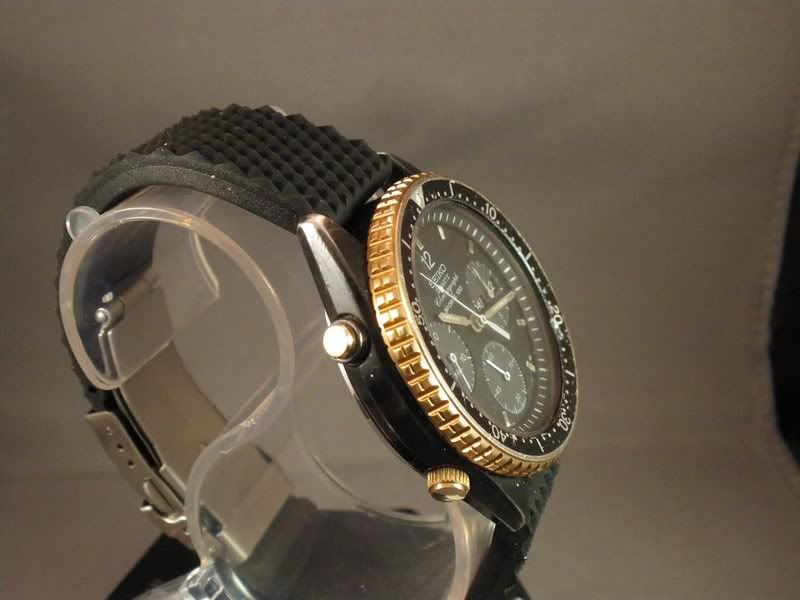 .... and close-ups of the watch head, cropped from the same images, which Mike later posted on SCWF: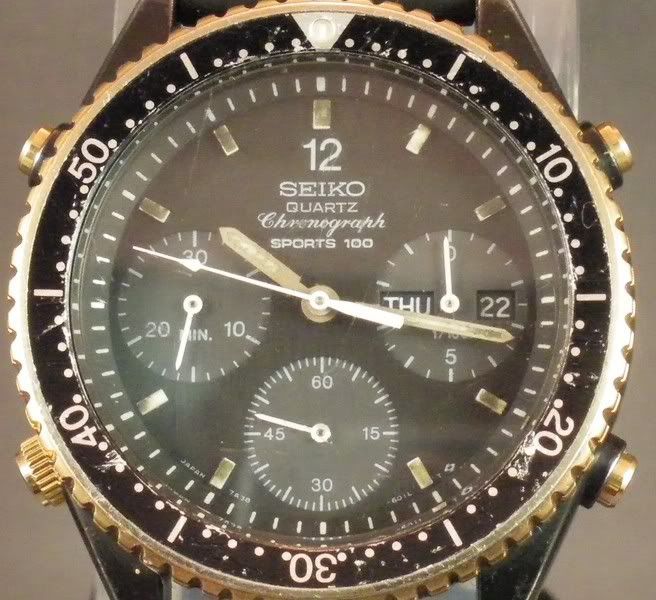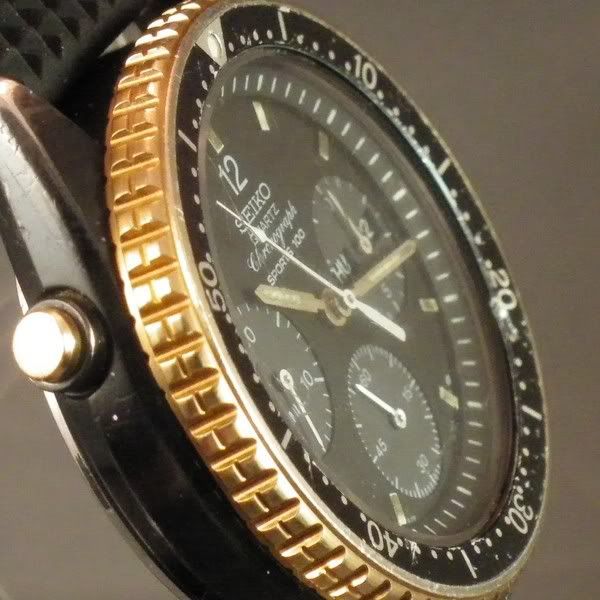 Later, Mike swapped that 'Knobbly' rubber strap for a 'Tyre Tread Pattern' one: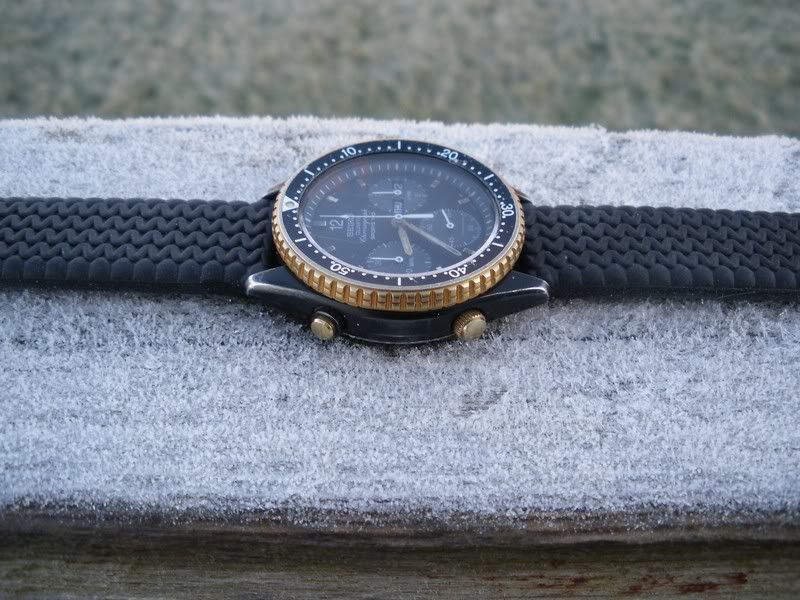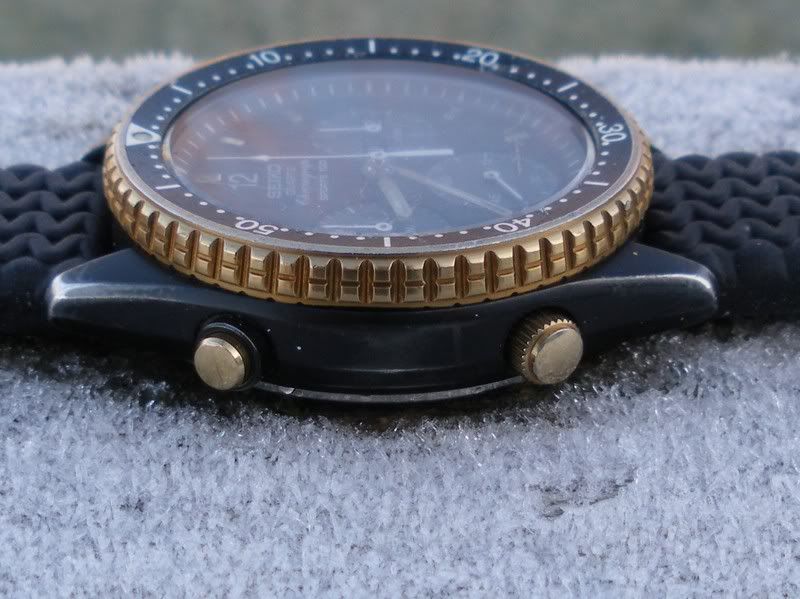 Here's the 7A38-6010 sandwiched between  Mike's other two 7A38s - both the same gold-tone 7A38-7280 white-faced model: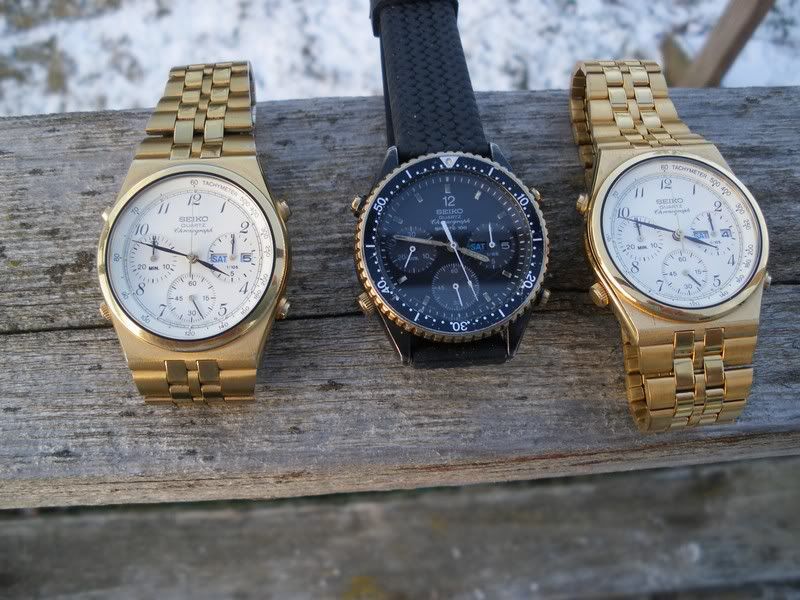 .... and a close-up of the 7A38-6010 cropped from the first of those images: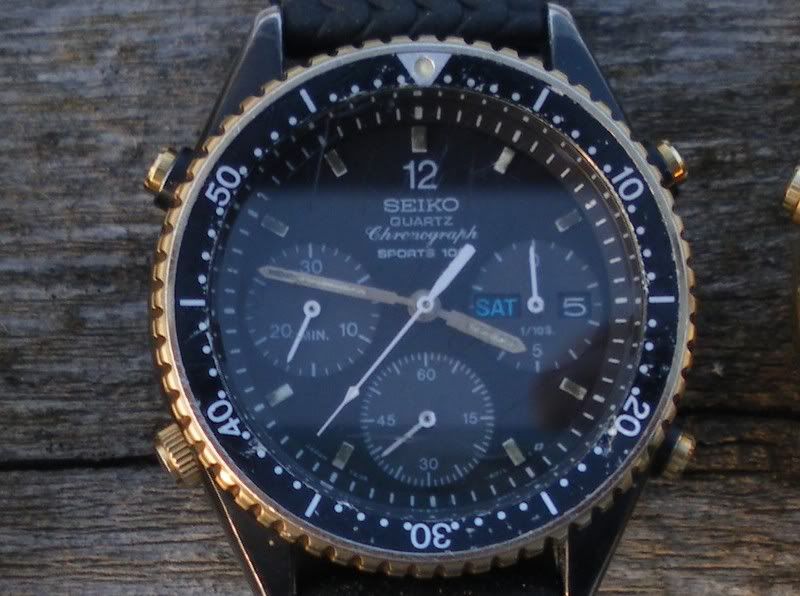 .... and of course the obligatory wrist shots. Did I hear somebody call 'Re-Post !' ? 
 Well, if they didn't, they probably should have.
That second wrist shot of Mike's demonstrates what I meant when I described the 'sister' stainless version 7A38-6000 as 'Dinky'.
The 7A38-6010 uses the same 37mm diameter watch case (Black Chrome coated), and 18mm lug width (strap / bracelet) fitting.
From the size of his forearms / wrist, Mike is obviously a 'chunky' guy - so perhaps I should be a bit careful what I write about him. 
But bear that in mind, if you decide you'd like one of these 'smaller' sized 7A38 Divers - they can look a little 'lost' on a larger wrist.
After re-cycling the above photos a good few times, in many a WRUW thread over the first couple of years of his ownership ....
in 2011, Mike finally decided to spend some money on improving the looks of his obviously much-loved 7A38-6010 'beater'.
He sent it away to Jay at MCWW, for (I quote) fitting of a new crystal, 'vintage' lume, and freeing up of a seriously frozen bezel.
It reappeared on SCWF in July 2011, fitted with a Hemp? and Leather strap, to which my first reaction was 'Looks a bit Ropey'.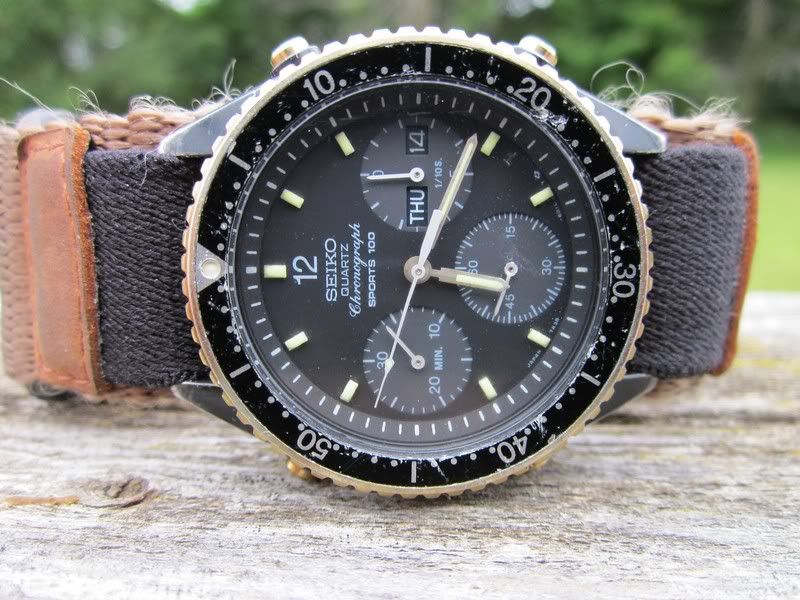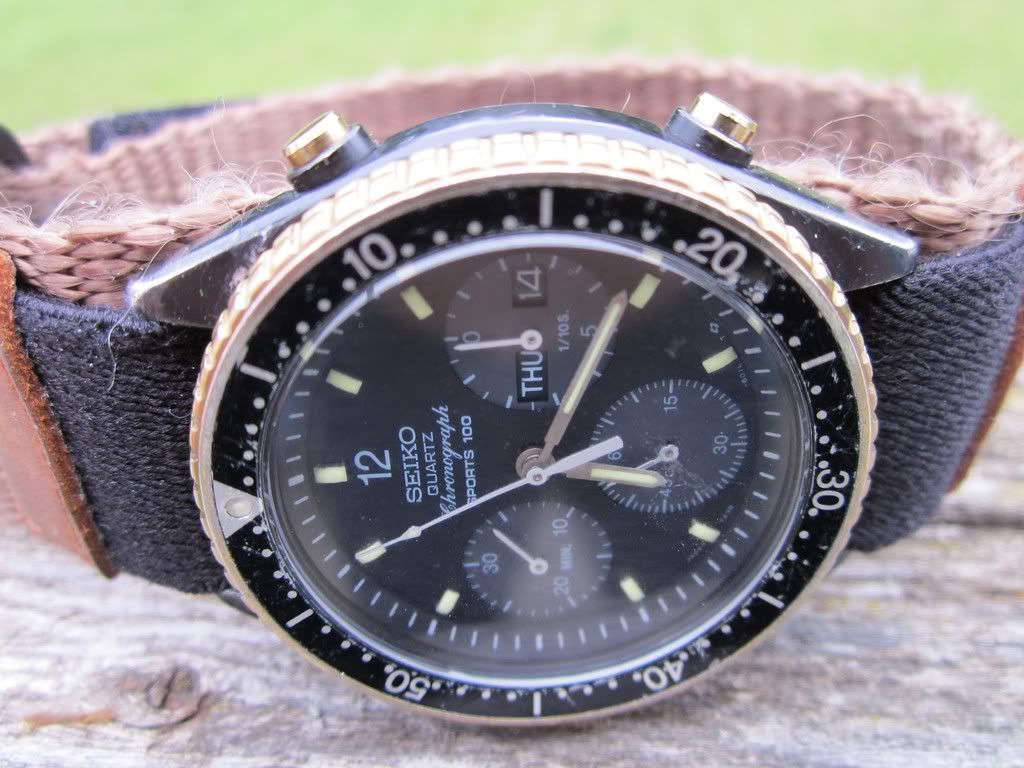 Excuse the 6309 in the next photo - one of the pitfalls of blagging someone else's photos, who doesn't share quite the same tastes.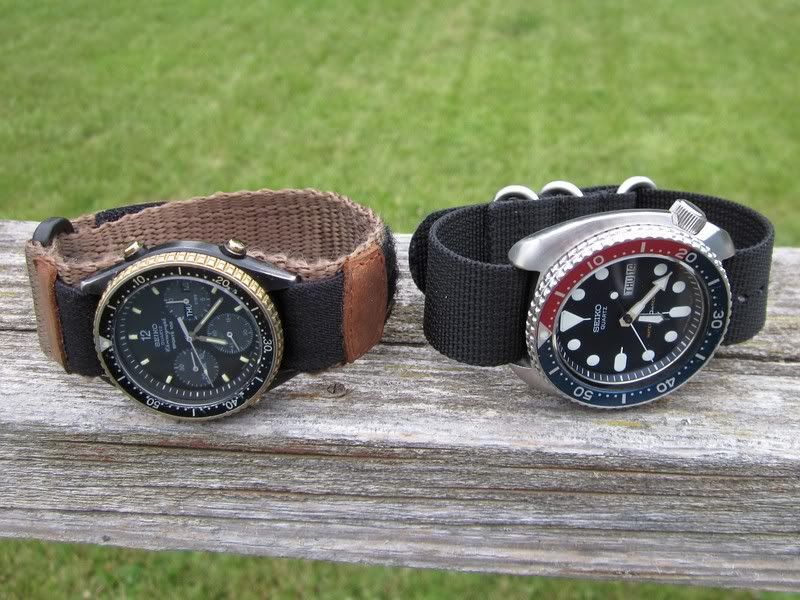 .... and of course the obligatory wrist shots: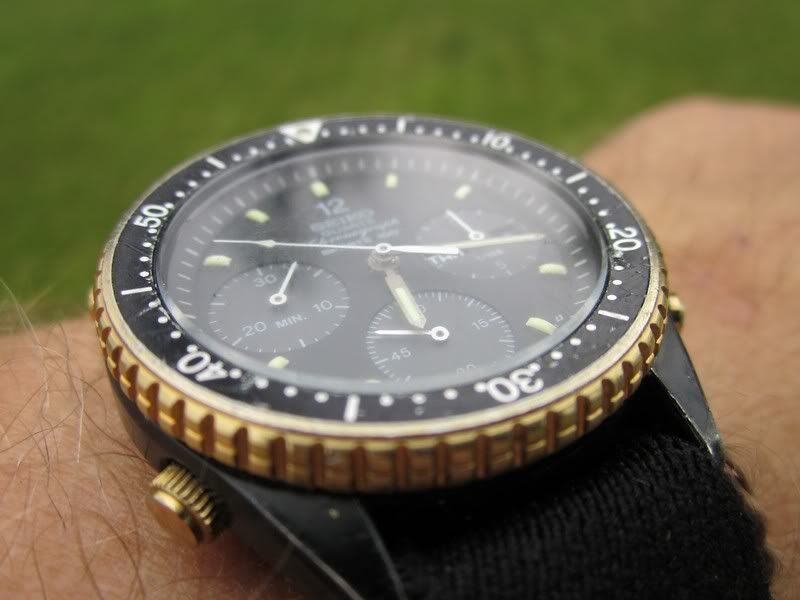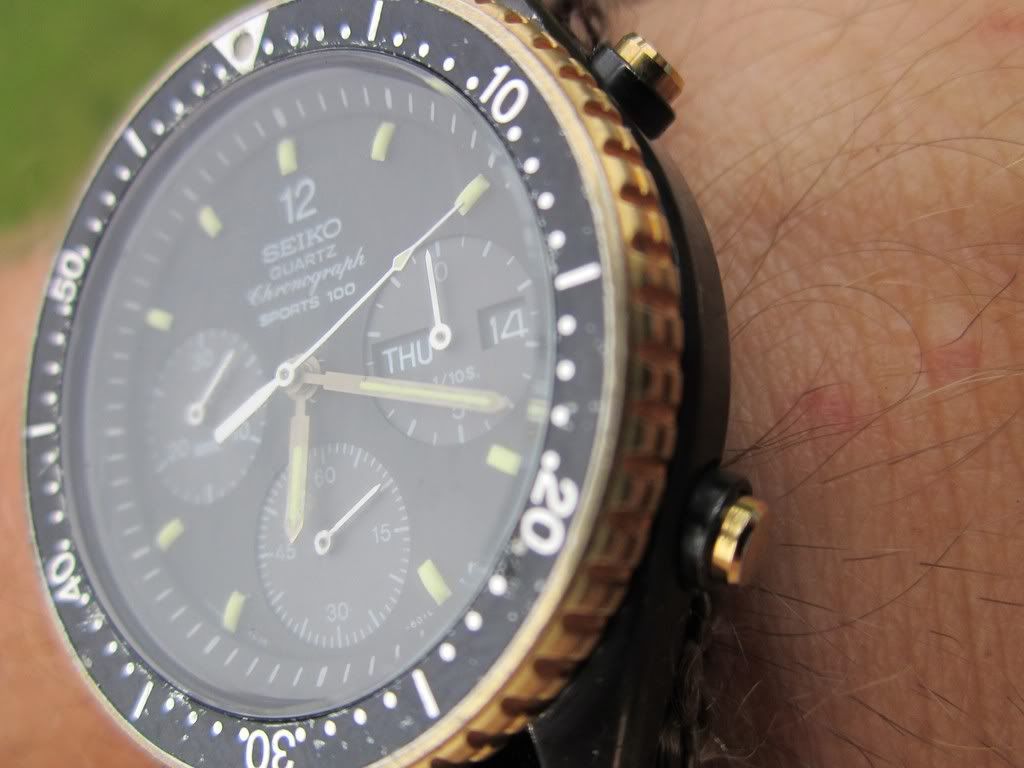 Whereas Mike's watch looks a lot better for its re-lume, apart from the strap, I'm not so sure about the replacement crystal either.
It appears to sit proud of the bezel, which either means it's not pushed home properly, or more likely - thicker than the original.
As the crystals in my own 7A38-6000 and 7A38-6010 are pretty good, with only minor marks, I haven't needed to replace them.
The original Seiko crystal p/n 285W26GN00 is NLA. Note to self - measure thickness and investigate substitute replacements. 
Mike later changed that 'rustic' strap for a gold coloured nylon NATO - I reckon he'd do better going back to black, personally. 
Although I've described both Lew Brown's 7A38-6000 and Mike Thompson's 7A38-6010 here as "much / well-loved 'beaters'" ....
please don't think I'm being overly critical of their watches. Indeed, Mike has described his own watch on SCWF fairly recently as:
"I have a 7A38-6010 which has significant wabi ...." and "my 7A38-6010 which has evidence of considerable use." and variously as:
"7A38 beater" and again in 2010 as "Two 7280s flanking a beater 6010". So it's clear he's obviously not under any illusions about it.
'Beater' it may be, but there have been a lot worse, in terms of wear to that vulnerable black chrome coating, offered on eBay ....