Seiko7A38 at June 24, 2018 at 3:55 AM

This 7A38-6010 in average worn condition, was listed late yesterday evening by a US eBay seller, with a laughably optimistic 'pie-in-the-sky' Buy-it-Now price of $350 - and currently no option to make an offer. It's being offered through eBay's dysfunctional GSP programme, which potentially adds another $125 to the price - for anyone daft enough to contemplate paying it. According to the seller's description it has an abnormally short bracelet - counting the number of links confirms that.




http://www.ebay.co.uk/itm/253707313147
The US eBay seller of that 7A38-6010, with the abnormally short bracelet, ended their original listing early, at the end of June. Presumably the error was in the highly over-optimistic pricing.
http://www.ebay.co.uk/itm/253707313147

They unsuccessfully re-listed it August, with the Buy-it-Now price reduced to $275 (item # 263872216830) and again earlier this month. It finally sold yesterday evening, but not for the reduced $275 Buy-it-Now price.
http://www.ebay.co.uk/itm/263929011047


WatchCount.com's Look-up tool reveals it finally sold for an offer of $200.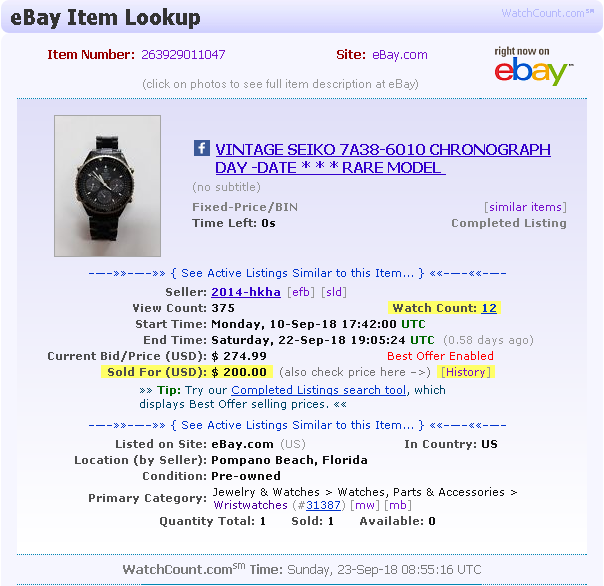 As confirmed by the eBay Purchase History: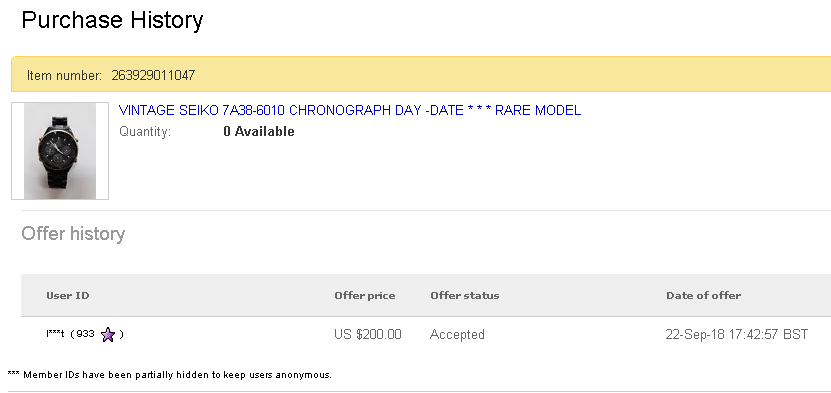 Presumably the buyer has girly sized wrists or a good supply of adjustment links.