This example, with a small poor quality photo, but still showing obvious signs of wear, was listed on eBay in Italy in September 2011:
http://www.ebay.co.uk/itm/220854743200

SEIKO CRONO 100 SPORT ANNI 70
BELLISSIMO CRONO SEIKO 100 SPORT TUTTO IN ACCIAIO PERFETTAMENTE FUNZIONANTE. 
E' STATO UNO DEI PRECURSORI DEL TRATTAMENTO "PVD" (ACCIAIO CON SABBIATURA NERA)
ORA MOLTO IN VOGA. PRESENTA NORMALI SEGNI DI USURA SU CASSA E BRACCIALE. 
UN BEL PEZZO DA COLLEZIONE IN ASTA A PARTIRE DA UN EURO!
Much to my annoyance, someone must have made the seller an offer; my bids were cancelled and the auction was ended early. 
Another came up on eBay about a month later, in October 2011, listed by a Hungarian seller. It may even have been the same watch:
http://www.ebay.co.uk/itm/150677536446
Seiko vintage chronograph sports 100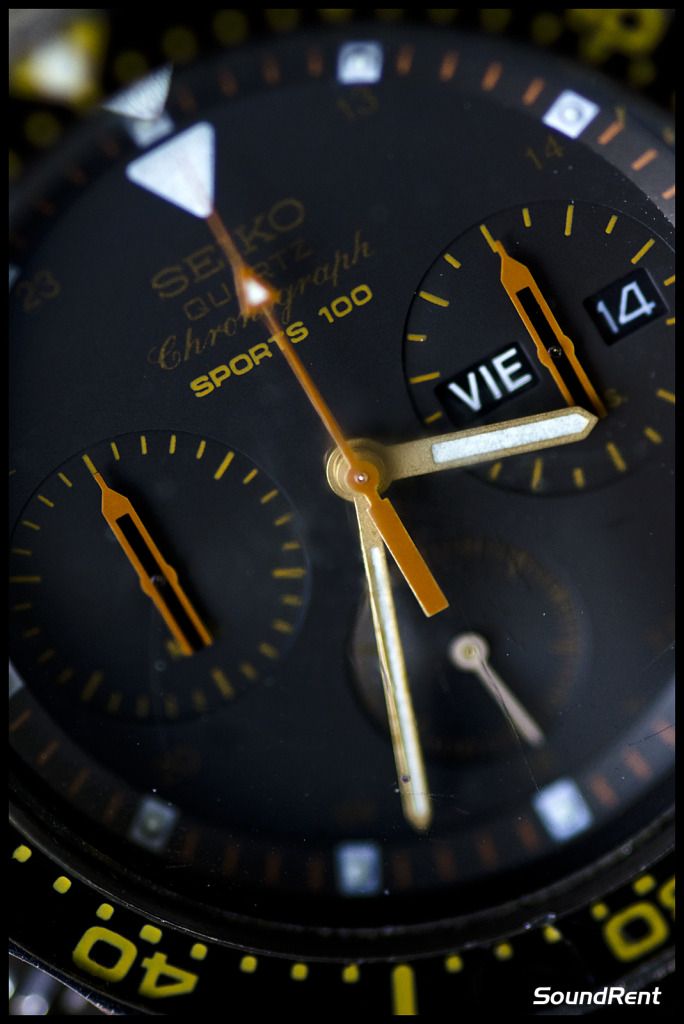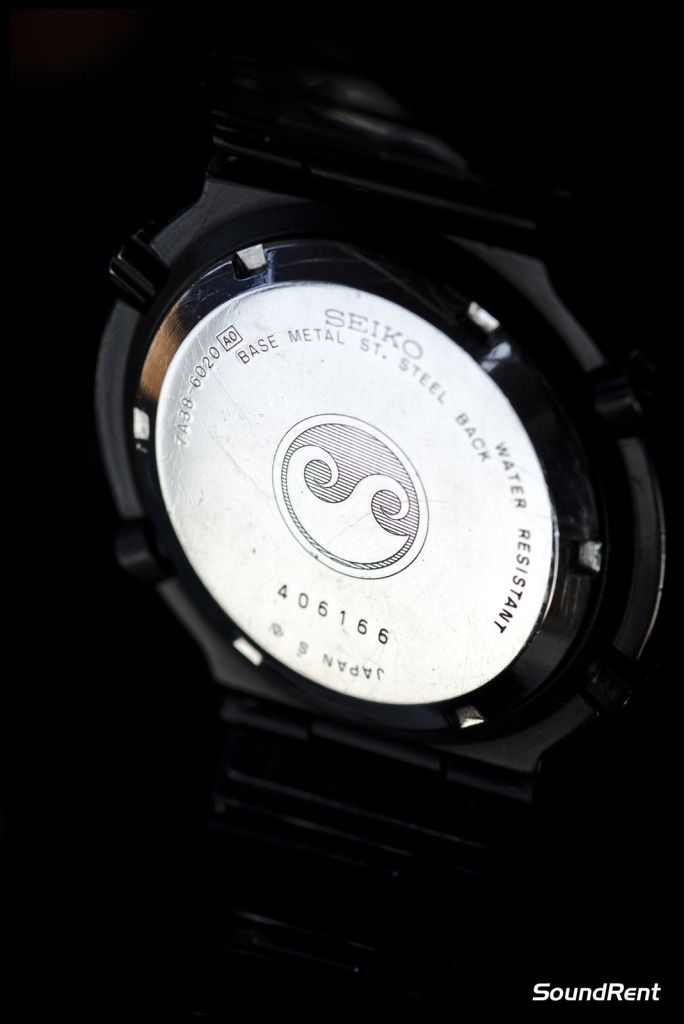 Features:
Rare Seiko sports 100 watchmade approx. 1980 years.
The watch has 7A38 well known seiko movement with 15 jewels
Watch is working perfectly as should.
About the state there is a signs of a litlle more use.
The glass have in the middle some scratches; the rotating bezel is working.
On the case and bracelet have also signs of use.
The housing has PVD coated
Diameter of the watch is approx. 43mm.
The watch has interesting military looking.
It was probably due to my frustration about having the previous example 'snaffled' by a back-door buyer, which prompted me to do the same and make the seller an offer to end the listing early. That was despite his description stating it had 'signs of use' and a scratched crystal. The dark photos should have served as a warning - that they hid rather more wear than they showed. It certainly wasn't pretty.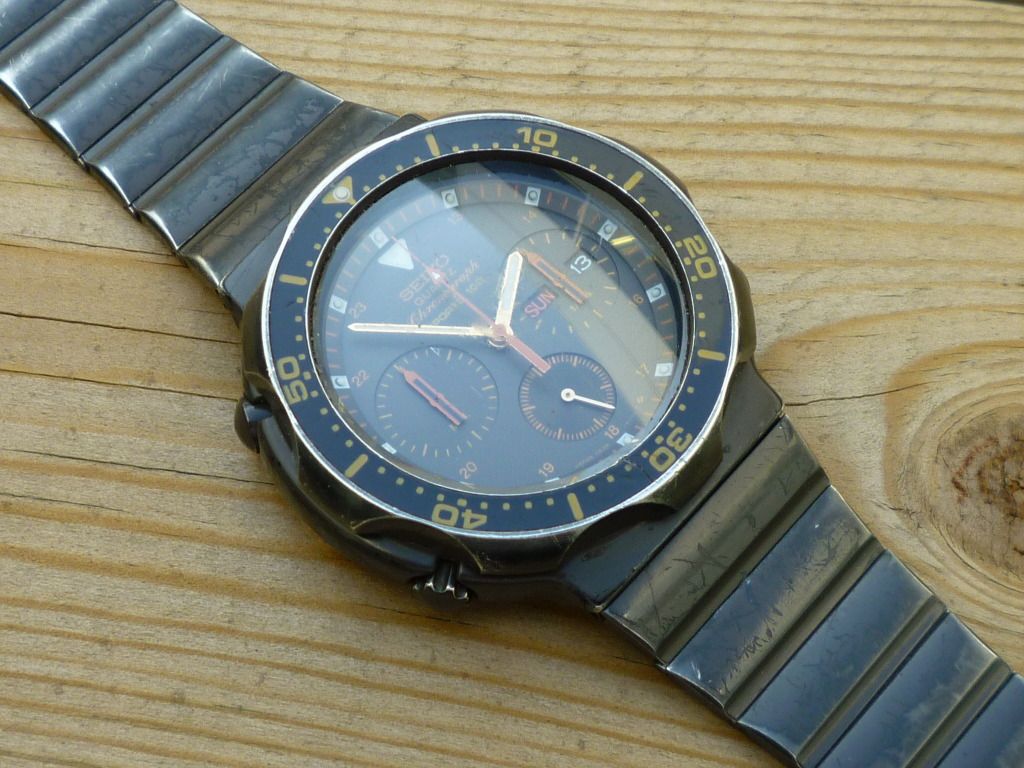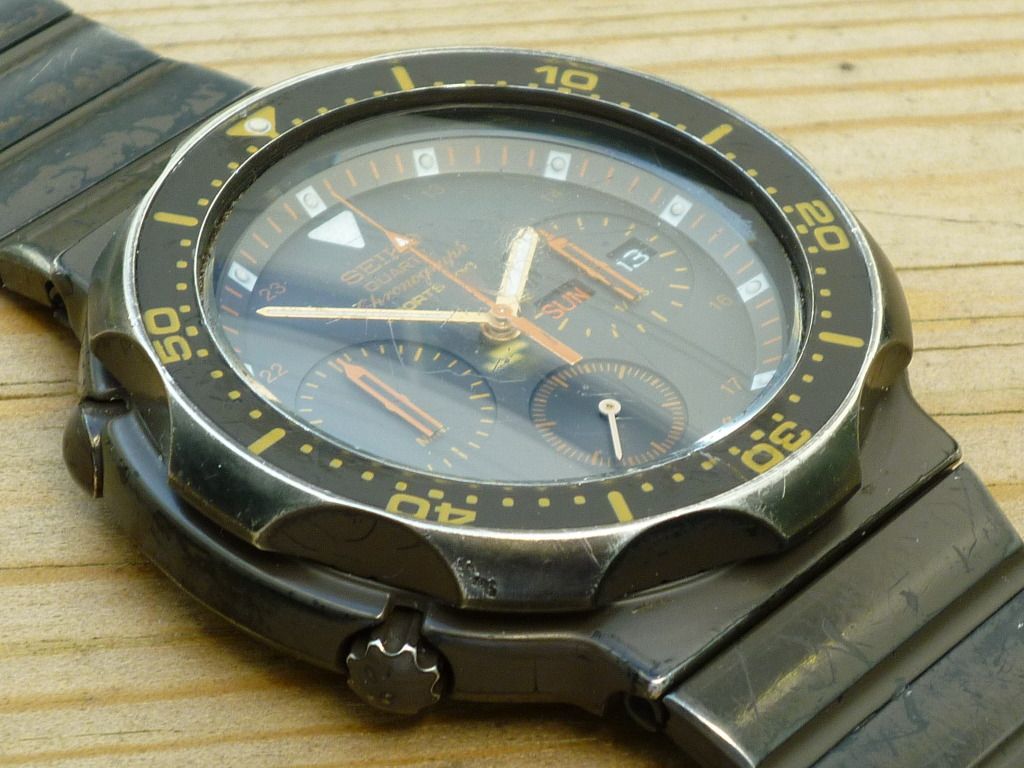 It cleaned up well, but was clearly in a well-wabi'd state and the bezel lettering had suffered the usual fading from orange to yellow.
A month later, in November 2011, I started a thread on RLT http://www.thewatchforum.co.uk/index.php?showtopic=70348 entitled: 
The Biggest, Baddest (And Brownest?) 7A38 Of Them All …The allegedly 'black chrome' plated 7A38-6020
Although eminently wearable as a 'beater' (before making my offer, I'd made sure it had sufficient bracelet adjustment links to fit me), my plans at the time had been to restore it - by re-spraying the original coating, using an airbrush. I successfully managed to achieve the correct shade of 'mucky' dark chocolate brown, by mixing Humbrol Pullman Umber Brown (RC415) with Matt Black enamel paint.
In the meantime, Manuel who regularly posts as '6309 7040' on the Italian Orologio & Passioni watch forum, had been negotiating the purchase of a NOS 7A38-6020 which had been languishing in a shop window for many years. He finally succeeded in December 2011.
Manuel's first photo was posted on page 8 of the 'Censimento 7Axx' thread on O&P: http://orologi.forumfree.it/?t=57560918&st=105
He captioned it: A me piace. Raro 7A38, in stile military. The second is on page 9: http://orologi.forumfree.it/?t=57560918&st=120
I'll try to refrain from commenting on Manuel's choice of photo props - but this watch has absolutely no military connection.

Although the coating of his watch is pristine and unworn, its bezel and dial printing suffered from fading due to exposure to sunlight.
Before I forget, here are two other coated 7A38-6020's, both owned by US collectors, photographed in their collection display cases.
The first was posted by 'Gordon H' on the old Network54 SCWF, back in April 2009 (see top right, slightly out of focus):
The other pristine-looking example (3rd from right) belongs to Mike Mounce. He posted this photo on SCWF in January 2012:
-------------------------------------------------------------------------------------------------------------------------------------------------------------------------
Slightly
 but obviously bearing a very close family relationship, I ought to mention the 7A38-6020's (non-chrono') little brother.
- The Seiko 8123-6280 model SMW335J - two examples of which both appeared online around the same time in November 2011:
The image below came from a FS advert on SCWF Trading Post. The original thread was (among many) lost during a server upgrade.
The photo was captioned: A strange diver with a worn chocolate-brown finish, maybe a Giugiaro diver – $120
This NOS with tags example was listed by an Italian eBay seller with a Buy-it-Now price of $700. It sold in December 2011 for $500.
http://www.ebay.co.uk/itm/160686869095
VINTAGE SEIKO 8123-6280 SPORTS 100 "PRE ARNIE" RARE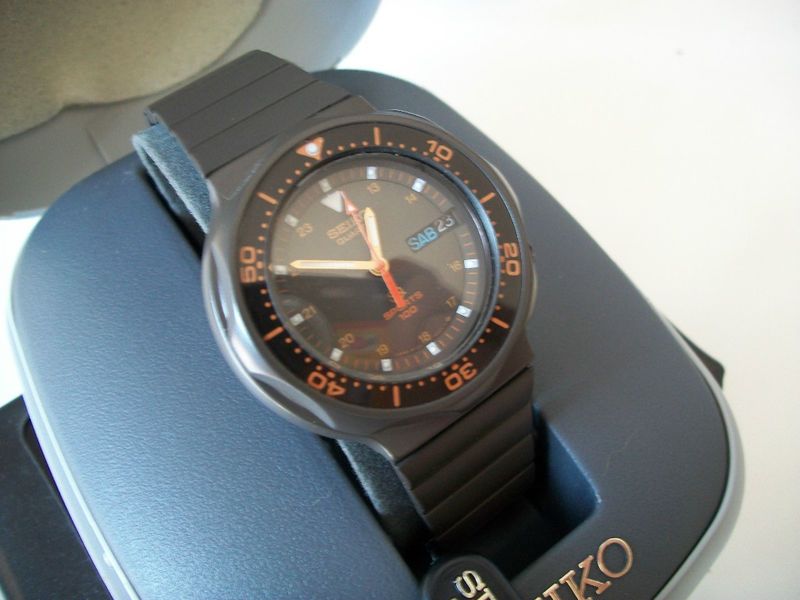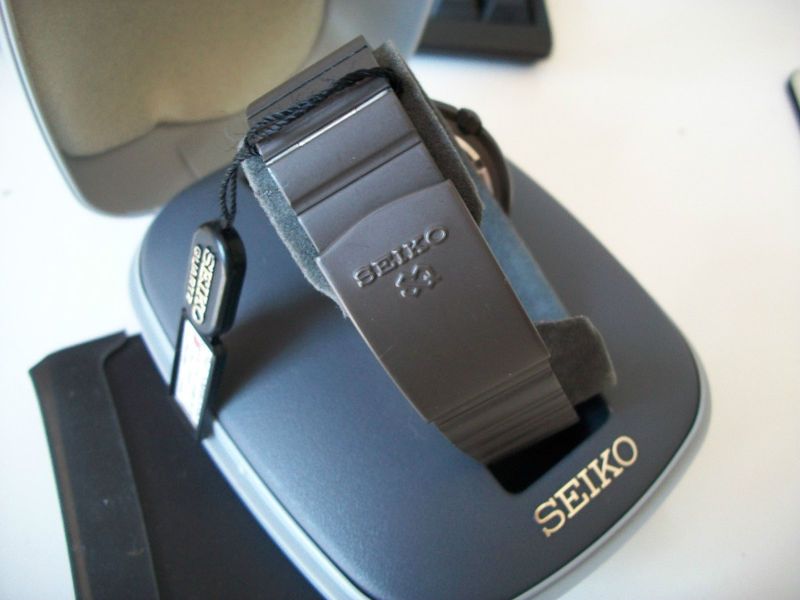 In February 2013, another Italian eBay seller 'angeli_65' was offering this 8123, with faded bezel and dial - again a $700 asking price.
http://www.ebay.co.uk/itm/271145660407
VINTAGE SEIKO SPORT 100 CALIBER 8123 "V.V. RARE"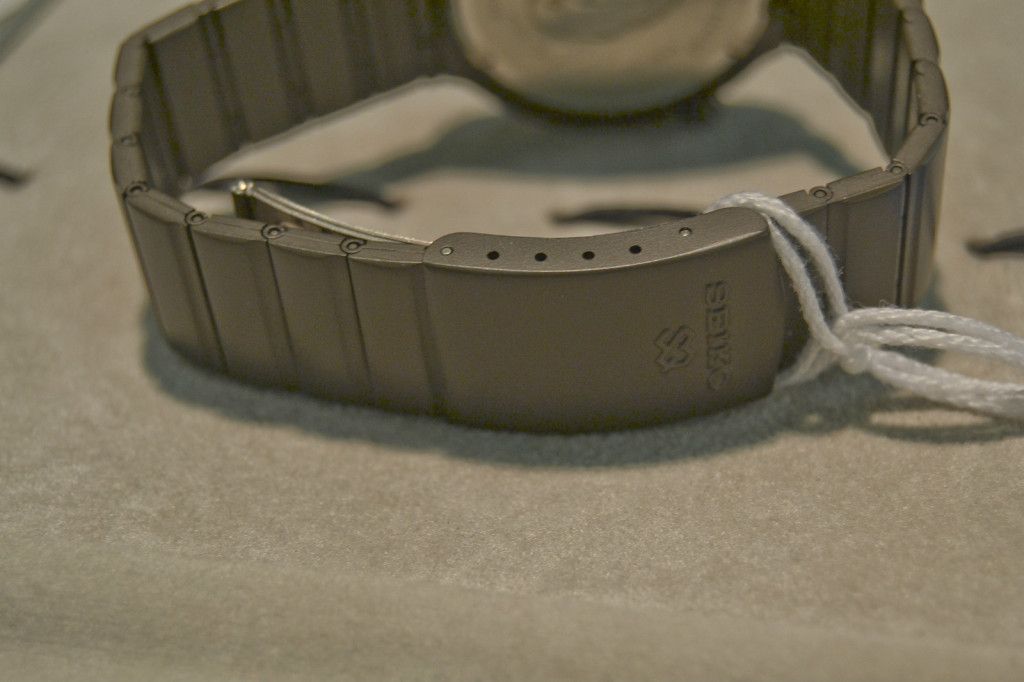 Apart from their obvious visual similarities to their 7A38-6020 'big brother', the other reason I thought it might be worth mentioning the 8123-6280 is its bracelet - p/n Z1208H. The bracelet p/n for the coated 7A38-6020 is Z1207H. Their pin and tube fitting appear to be the same, so it may be possible to fit the Z1208H bracelet to a 7A38-6020, although the width at the shoulder may be slightly smaller.
Indeed, in July 2012, a UK eBay seller 'lesterplant' misleadingly offered a Z1208H bracelet as a 'genuine' 7A38-6020 bracelet:
http://www.ebay.co.uk/itm/180939666866
Seiko 7a38 6020 vintage bracelet strap complete with clasp **Rare**
Here is a very rare genuine vintage Seiko 7a38 6020 stainless steel PVD coated bracelet complete with Seiko clasp. It is coffee brown in colour. It is used and does have marks and wear from sitting in draw for the past 15 years so please don't expect brand new. The stamped ref# is Z1208. Extremely rare. 
The seller subsequently amended his listing description to read:
Here is a very rare genuine vintage stainless steel PVD coated bracelet complete with Seiko clasp.
Apparently it is for a Seiko 8123 6280 - from Google it looked like one for a Seiko 7a38 6020 (looks darn like it )....
-------------------------------------------------------------------------------------------------------------------------------------------------------------------------
Getting back to the original subject ....
A nice-looking example with minimal rubbing wear to the vulnerable brown coating was listed on eBay (again in Italy) in February 2012:
http://www.ebay.co.uk/itm/260965687344

SEIKO SPORTS 100 7A38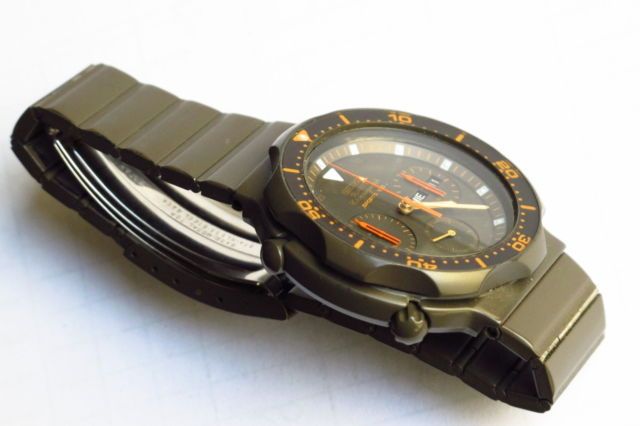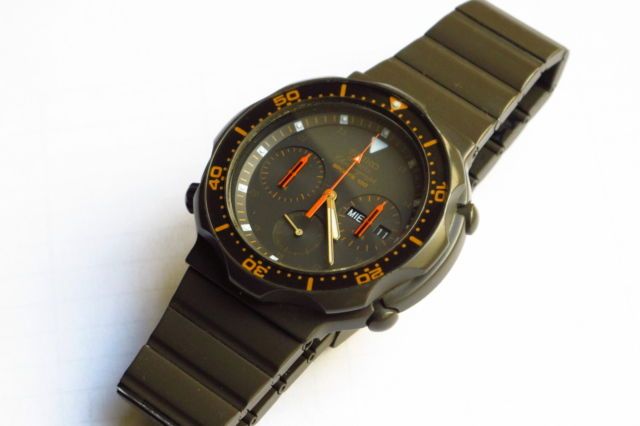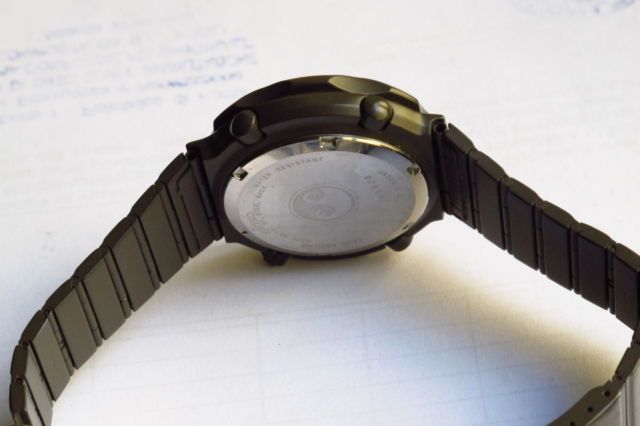 SEIKO SPORTS 7A38-6020 CHRONOGRAPH
COLORAZIONE VERDE MILITARE
RARISSIMO DA COLLEZIONE
IN OTTIMO STATO
IN OMAGGIO SCATOLA HAMILTON 
FUNZIONA PERFETTAMENTE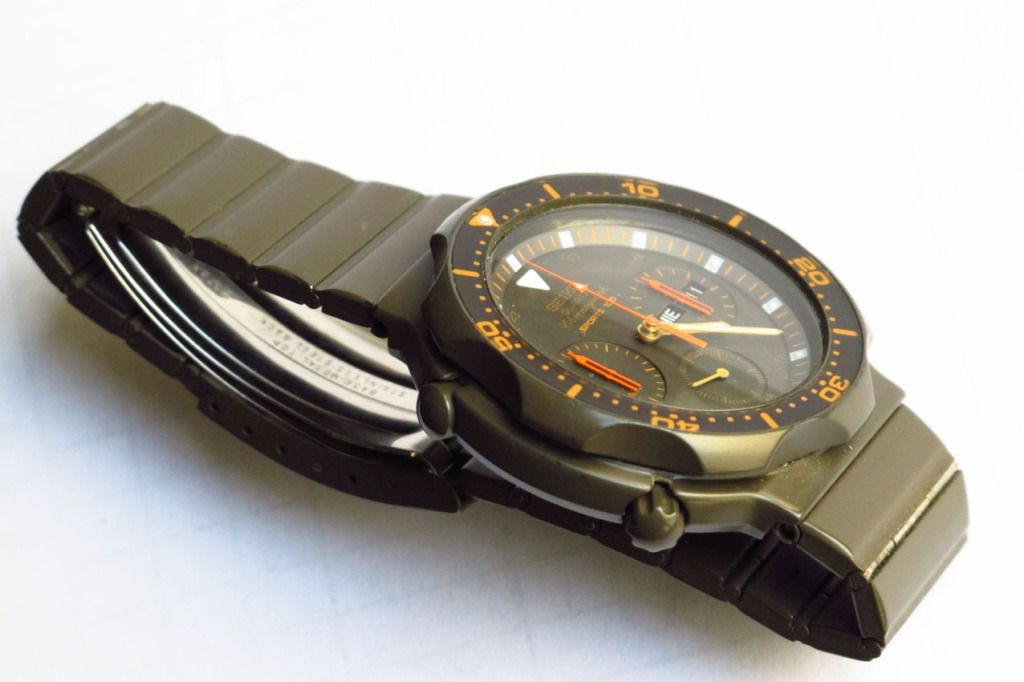 It sold for a very strong 449.00 Euros (approx. £387) as a 'Buy-it-Now'.