Stuart's eBay auction for his NOS brown coated 7A38-6020 is due to end in almost exactly 12 hours time - at 1:13am (BST) Sunday morning, UK time - just before the clocks go back an hour (to GMT). It's the first of his current batch (of 11) eBay auctions to end.
I'm not sure if I'll bother staying up to report the results live. Let's see. Bidding is currently @ $580 (approx. £360) and I have a suspicion it'll go higher still. What I have observed (and is already p!ssing me off no end) is the persistant bidding by 4***d (23).
This is the same Japanese bidder and would-be profiteering re-seller who won Stuart's previous eBay auctions for his NOS 7A28-710A and 7A38-7140 and as soon as he received  them, listed both on Yahoo Japan auctions at a considerable mark-up. Looks like he has designs on quite a few of the current batch too, besides this 7A38-6020.
But, in the meantime, and speaking of profiteering eBay / YJ Japanese re-sellers, he's not alone. Swotlab has been at it for years ! 
Indeed, although from memory, Swotlab also won a couple of Stuart's previous batch of 8 eBay auctions and has since listed them on Yahoo Japan (e.g. his 7A48-5010), this brown-coated 7A38-6020, which Swotlab listed on YJ today came from elsewhere on eBay.
http://page7.auctions.yahoo.co.jp/jp/auction/g145183173
激レア! セイコー 7A38 ビックベゼル クロノ/ジウジアーロ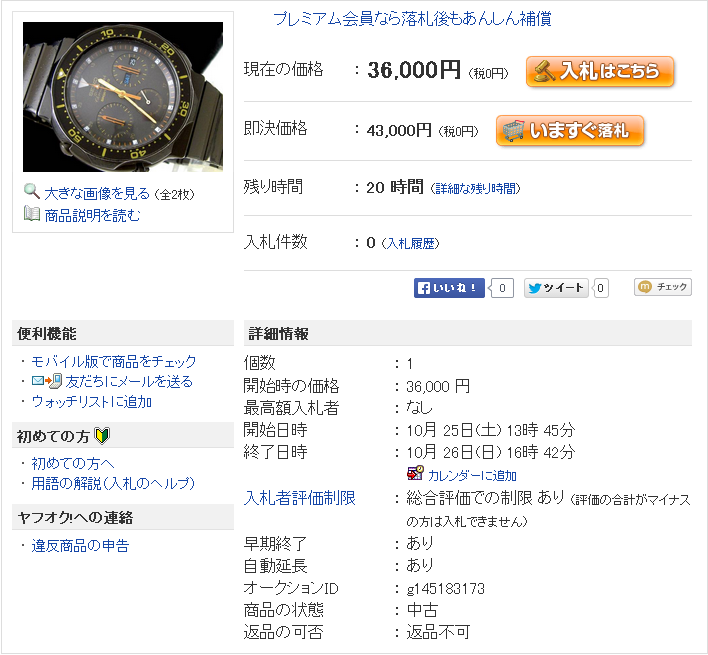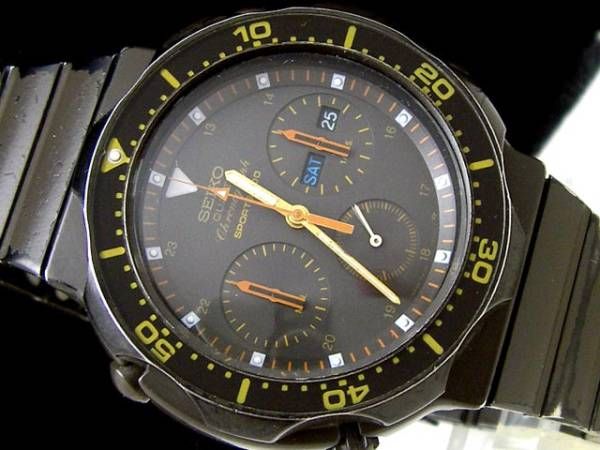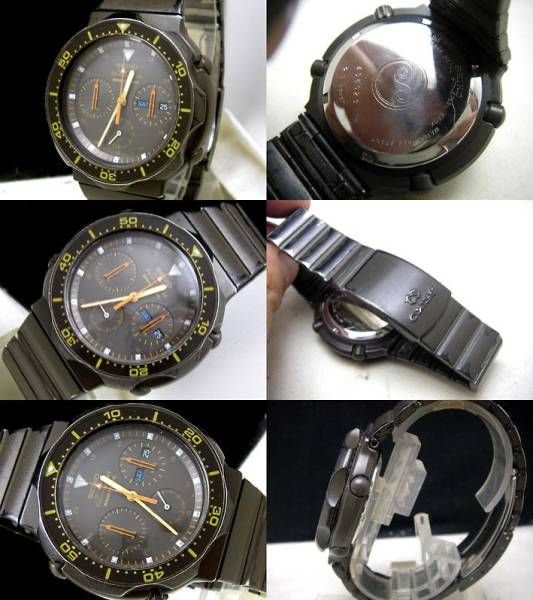 Google translates the Japanese description as follows:
It will be made ​​in 1984 Seiko chronograph overseas model "7A38-6020".
7A38 is the world's first multi-function analog quartz watch in 1983, which also became a base of Giugiaro model
They are the upper model of 7A28 which was launched as.
Chronograph (split measurement is also possible) as at the time such as the calendar is the watch of the highest performance.
In addition, this model is one that has been released only abroad, I was equipped with a rugged rotating bezel Among the
This model will be very difficult to obtain a rare model.
Subtracting one stage the crown I can fix the day of the week and day.
Day of the week display will be in English and Arabic.
Body size: Side 43x vertical 42mm, thickness 12mm
Band has original stainless band is attached.
There is a slight deterioration.
About arms around 21cm
The delivery method will be the only Sagawa Express prepayment.
Enclosed shipping possibility. Watch the postage be what piece successful bid will be uniform.
● ● Chubu Kansai Kanto ● ● ● Shin-Etsu Hokuriku: 750 yen
● China (Okayama, Hiroshima, Yamaguchi, Tottori, Shimane): 860 yen
● southern Tohoku (Miyagi, Yamagata and Fukushima): 860 yen
● Kyushu Shikoku ● ● Tohoku (Aomori, Akita, Iwate) North: 970 yen
● Hokkaido: 1250 yen
※ Okinawa and Honshu, Shikoku, Kyushu, even if you live in Hokkaido, please inquire the postage remote island in case.
Condition.
Appearance: I think good condition in spite of the old ones.
Operation: works but the remaining battery capacity can not be guaranteed.
● Note ●
Condition of appearance we have described in the range seen. Because I think that there is also overlooked that point
Please ask a question before a nervous one person certainly bid to state.
Since it is an old thing, claims thank you within three days after goods arrival of if you do not work at all.
Please note we can not accept any claim if more number of days has elapsed.
Please have a look, I have been in a self-introduction in relation to the day that can be shipped.
Please reply within contact for 36 hours from here If you are successful bid is in dealings Navi.
Saturday and Sunday, thank you within 48 hours you disconnect the holiday.
************************************************************************
Certainly please see because it exhibits other in a variety of products also.
14_10_25
This is of course the very same brown-coated 7A38-6020 sold by Filipino eBay seller time_essence on 13th October for $168:
http://www.ebay.co.uk/itm/301342384656


Not only does the (over-polished) case-back serial number 4O6023 match (if you squint hard at both sets of photos), but you can see Swotlab's eBay ID mcn260 (which shows as either c***2 or 2***m in abbreviated / encrypted form) as the winning bidder.