This poor example of what once was a brown-coated 7A38-6020, now with most of bezel stripped bare and fitted with a non-original replacement bracelet was listed yesterday evening by a German eBay seller as a 10-day auction, with an opening bid price of 1 Euro. This another case of Double Déjà Vu. The same 7A38-6020 has featured twice before on page 6 of this thread. See details below.
http://www.ebay.co.uk/itm/254240093377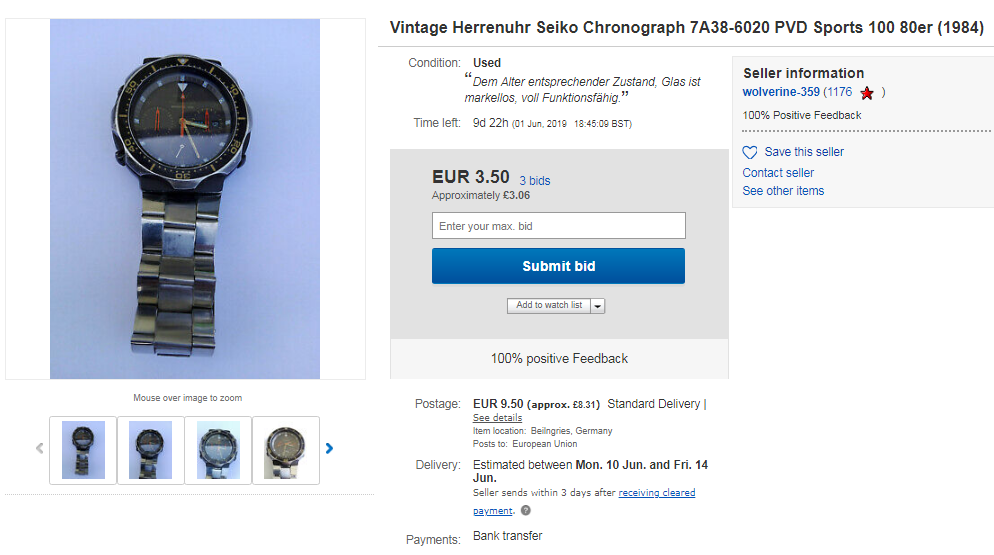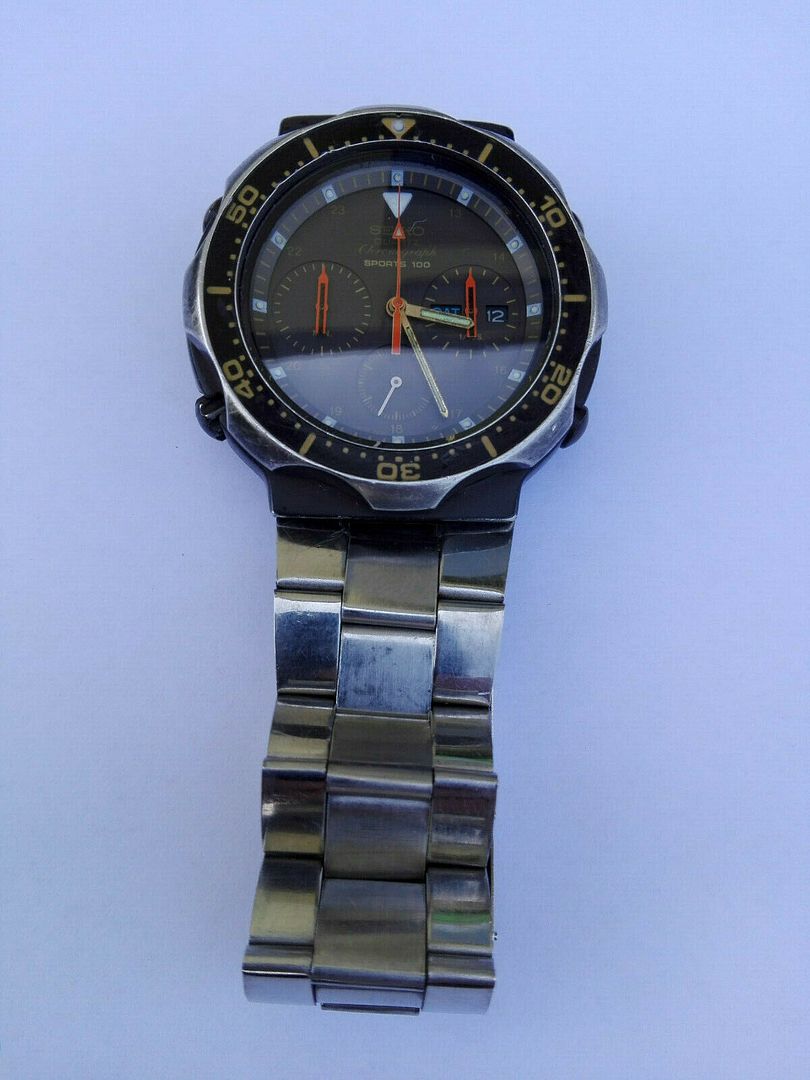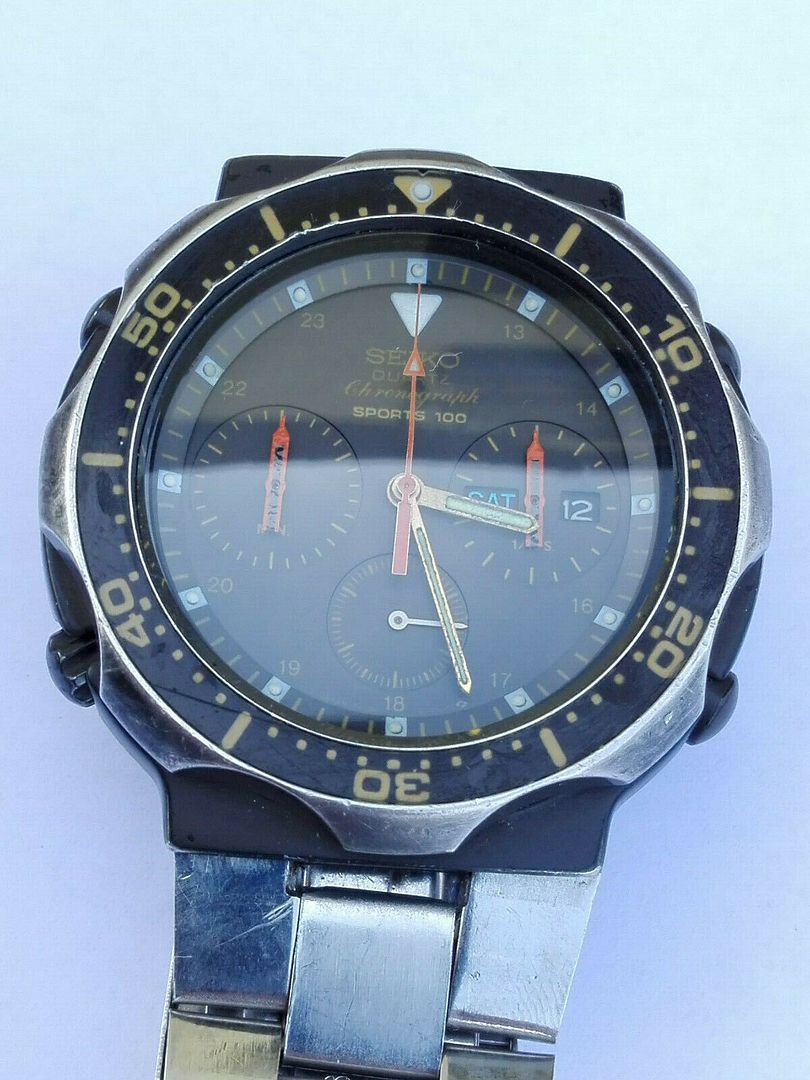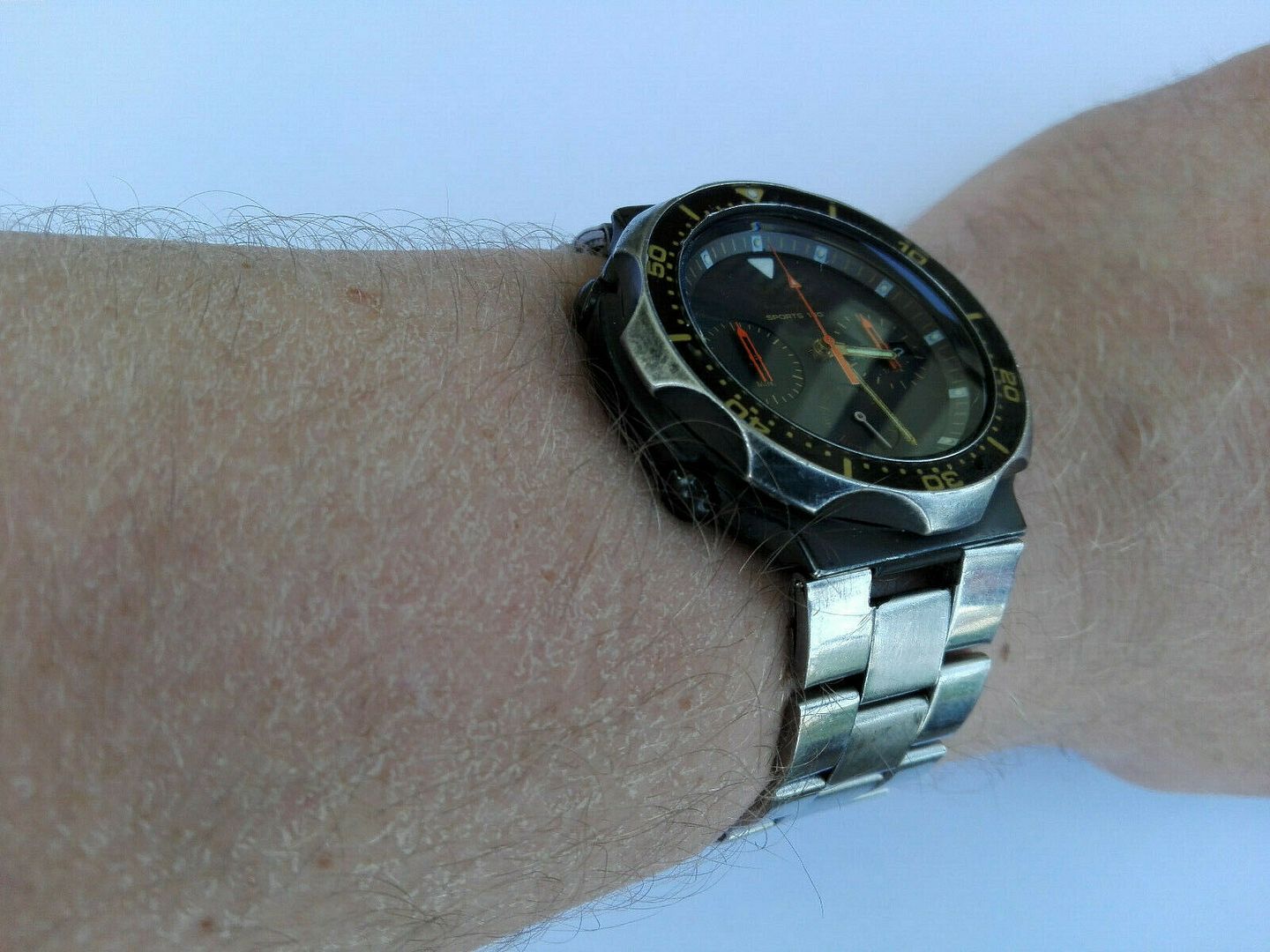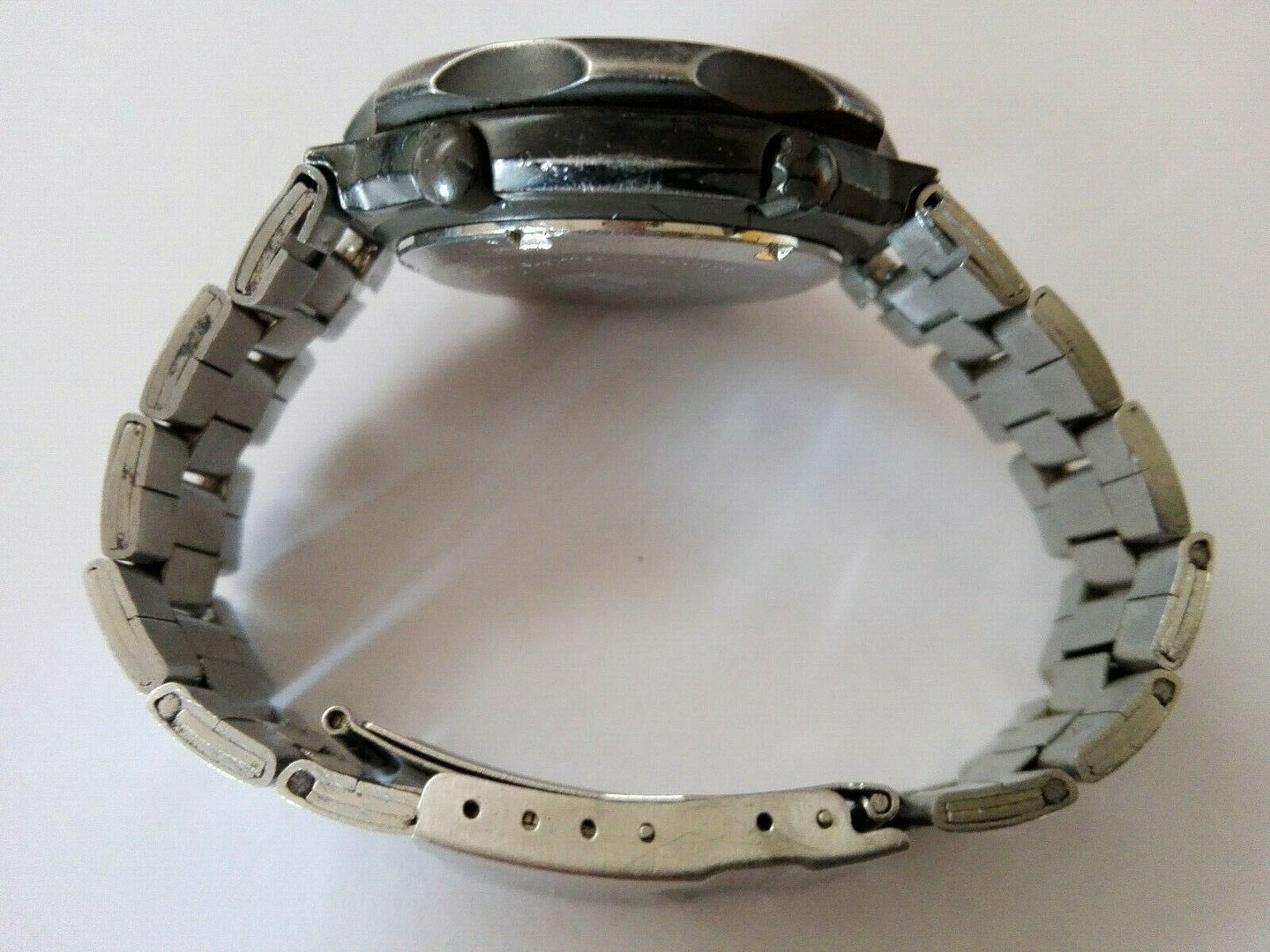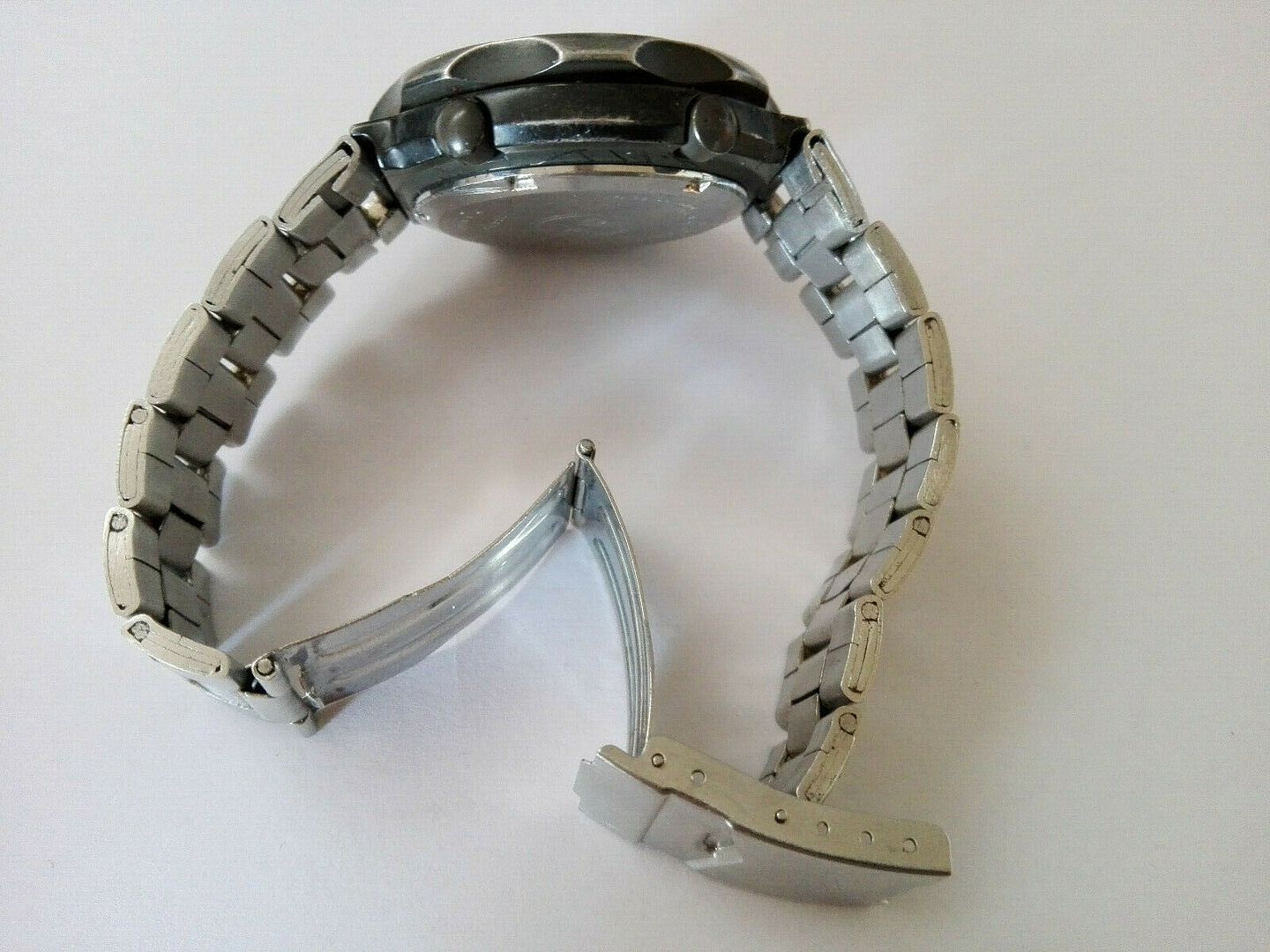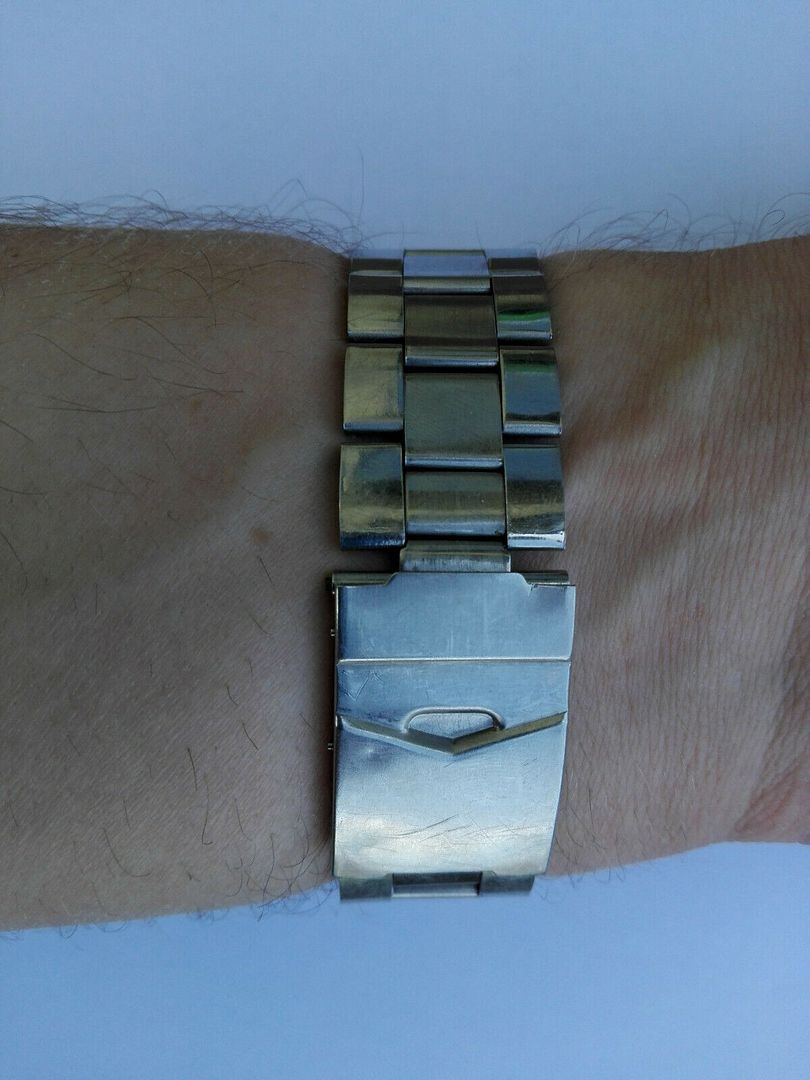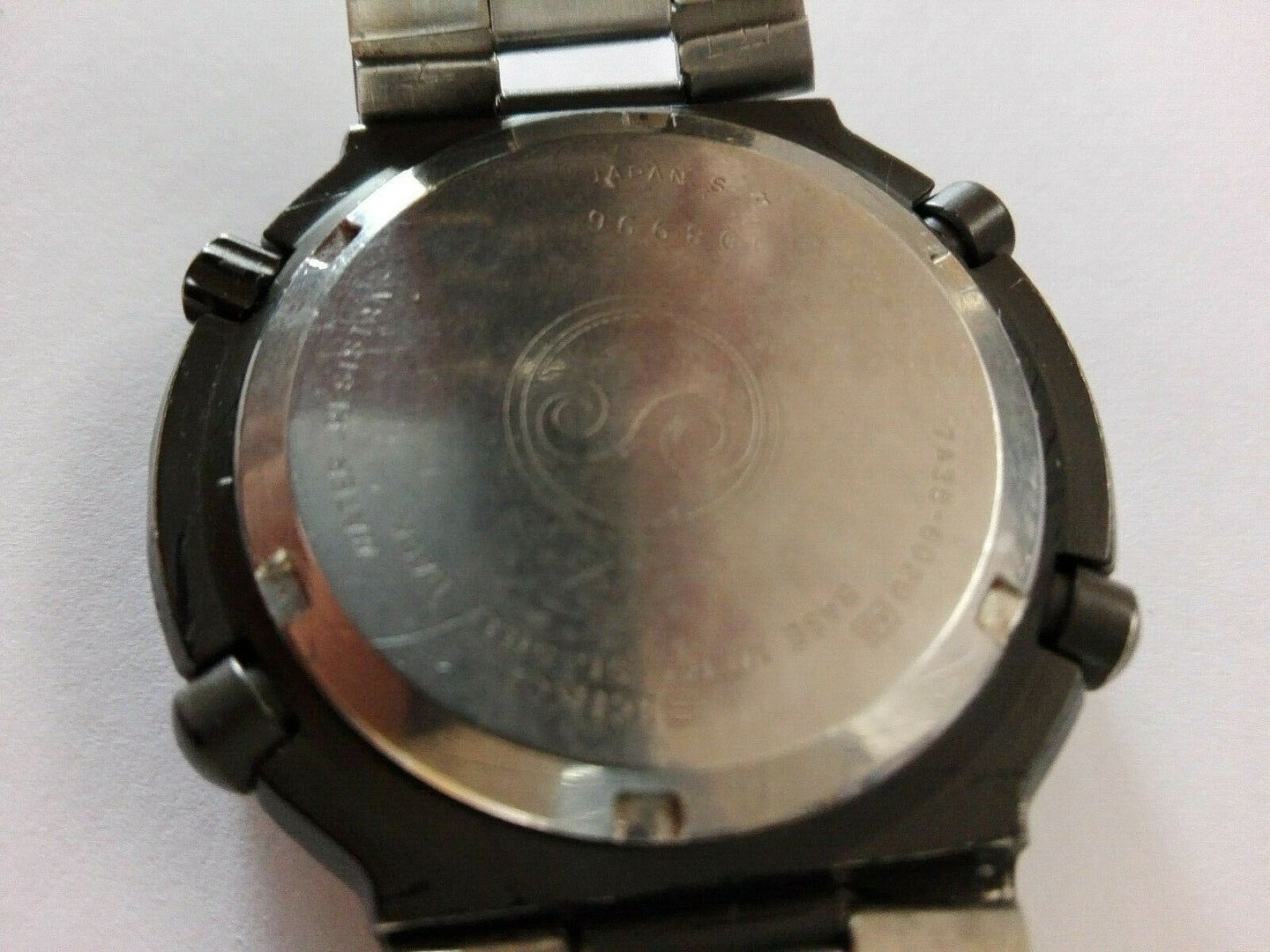 SEIKO Quarz Chronograph (7A38)
Bei dieser Uhr handelt es sich um einen der ersten Quarz Chronographen mit analoger Anzeige überhaupt. Das verbaute Kaliber, das 1983 herausgebrachte 7A38, ist im Gegensatz zu den meisten heutigen Werken noch sehr Robust und Wartungsfreundlich ausgelegt und die Totalisatoren werden von unabhängigen Schrittmotoren betrieben.
Das Ziffernblatt ist sehr aufgeräumt, die Totalisatoren zeigen die klassische Anordnung und die Tages- und Datumsanzeige sind in den rechten 1/10 Sekundenzähler integriert.
Die Uhr zeigt altersbedingte Gebrauchsspuren, die Flanken der Lünette ist stark abgewetzt, das Gehäuse ist in besseren Zustand und das Glas ist makellos. Alle Funktionen sind uneingeschränkt funktionsfähig. Das Armband ist für einen Handgelenkumfang von ca. 19 cm eingestellt, lässt sich aber auf bis zu 20 cm ausweiten. Es ist etwas verkratzt, und es fehlt der Bügel der Sicherheitsfaltschließe, trotzedem schlißt sie gut und läßt sich so tragen.
Modellnummer: 7A38-6020 [A0]; Seriennummer: 4D8996 (Dez. 1984)
Seiko Quarz-Chronographenwerk Kaliber: 7A38; Batterie: SR927W [E395/399]
Kleine Sekunde (6 Uhr)
Stoppfunktion - 1/10 Sek. (3 Uhr) - Zentrale Sekunde – 30 Min. (9 Uhr)
Numerische Wochentags- (Zweisprachig) und Datumsanzeige (3 Uhr)
Fluoreszierende Indizes sowie Stunden- und Minutenzeiger
Schwarzes Ziffernblatt mit drei grauen Hilfsziffernblättern und Tachymeter-Skala
Kratzfestes Hardlexglas
Drehbare Lünette mit Minuten-Skala
Edelstahlgehäuse mit verschraubtem Boden
Original Edelstahlarmband mit Faltschließe
Wasserdicht
Gehäusedurchmesser: 43,2mm; Höhe: 12,8mm, Stoßbreite: 10mm; Gewicht: 102g
Ich verkaufe die Uhr, weil ich meine Sammlung verkleinern muss. Die Uhren wurde stehts pfleglich behandelt, ich bin Nichtraucher und habe keine Haustiere.
Versandoptionen:
Ich versende die Wahre standardmäßig mit DHL. Bei dem Erwerb mehrere Artikel versende ich alles gemeinsam und es fallen keine zusätzlichen Gebühren für Sie an. Sollten Sie jedoch mehrere Artikel sammeln möchten, deren Auktionen nicht am gleichen Tage enden, so möchte ich Sie darum bitten mir dies nach dem ersten Kauf mitzuteilen. Damit ich mit den Versandvorbereitungen warten kann.
Das Kleingedruckte:
Der Artikel wird "so wie er ist" von privat verkauft. Mit der Abgabe eines Gebotes erklären Sie sich ausdrücklich damit einverstanden, auf eine Garantie oder Sachmängelhaftung zu verzichten.
It first appeared in March 2018, listed by Venezuelan eBay seller salesxioxs, as a 5-day auction, with a laughably optimistic opening bid price of $250. It really is worth flicking back to check that seller's photos - particularly the one of the rust ravaged movement. The seller re-listed it a few times, gradually reducing the opening bid price, until it finally sold in April 2018 for the reduced opening bid price of $159.
http://www.ebay.co.uk/itm/253565681677
It was purchased by the Italian eBay seller pichimmi, who appears to have made some attempt at polishing up the badly scratched ill-fitting bracelet and fitted a replacement crystal. In November 2018, he listed it as a 7-day auction with an opening bid price of 100 Euros. It sold for 151 Euros, evidently purchased by the current German eBay seller wolverine-359.
http://www.ebay.co.uk/itm/302951710306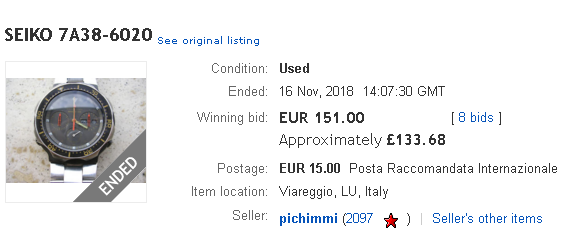 Probably one still best avoided - at any price, if you ask me.