This well-worn two-tone 7A38-6080, with stated chronograph faults, was listed at lunchtime today, by a German eBay seller, with a Buy-it-Now price of 79 Euros.
http://www.ebay.co.uk/itm/283331925906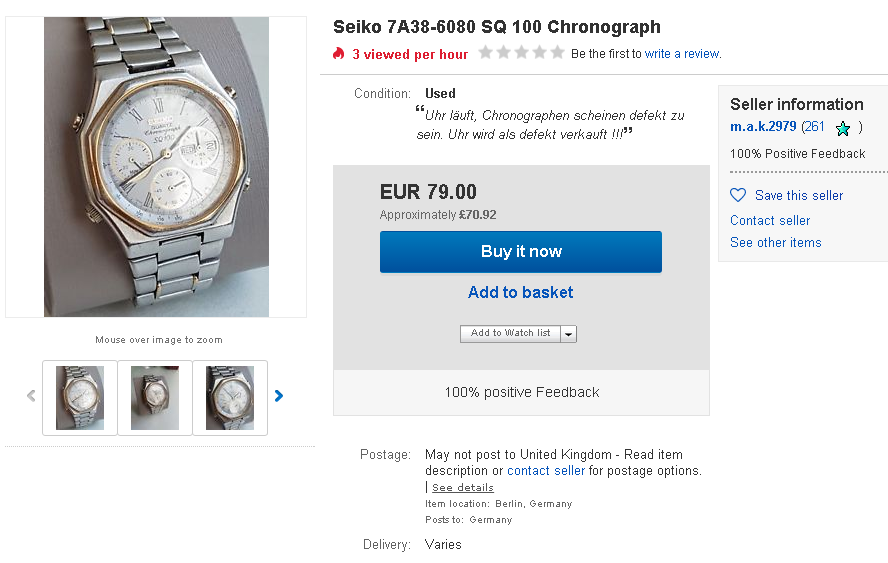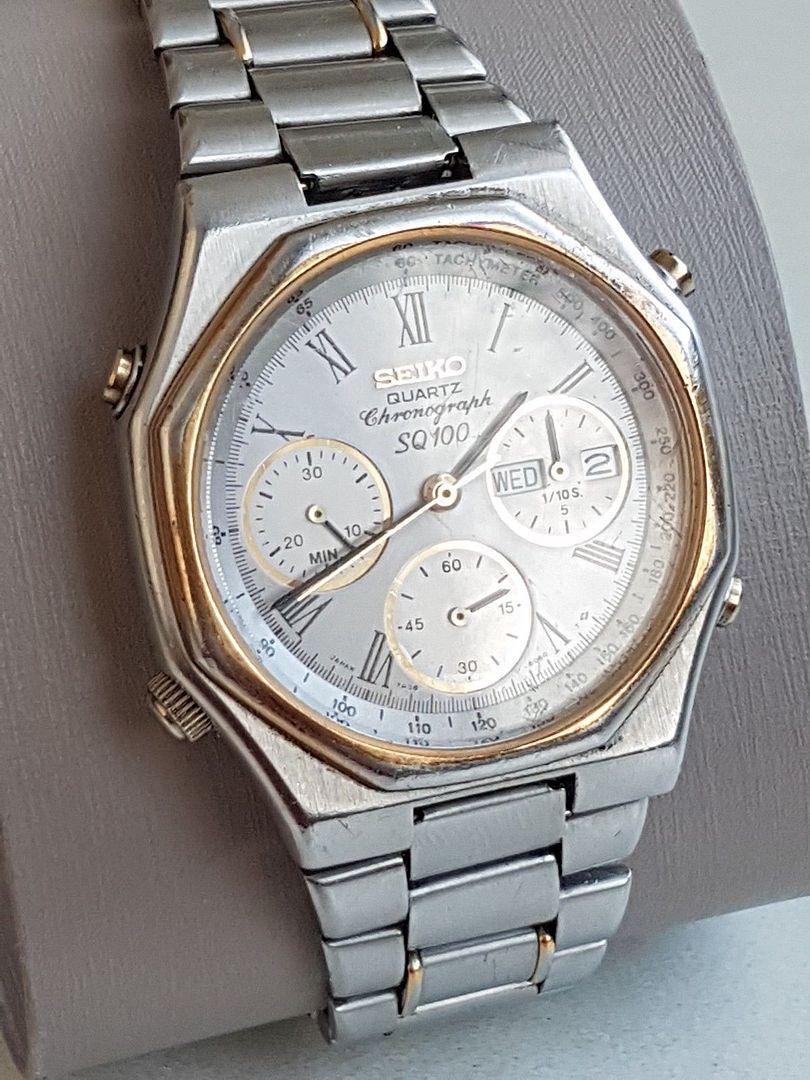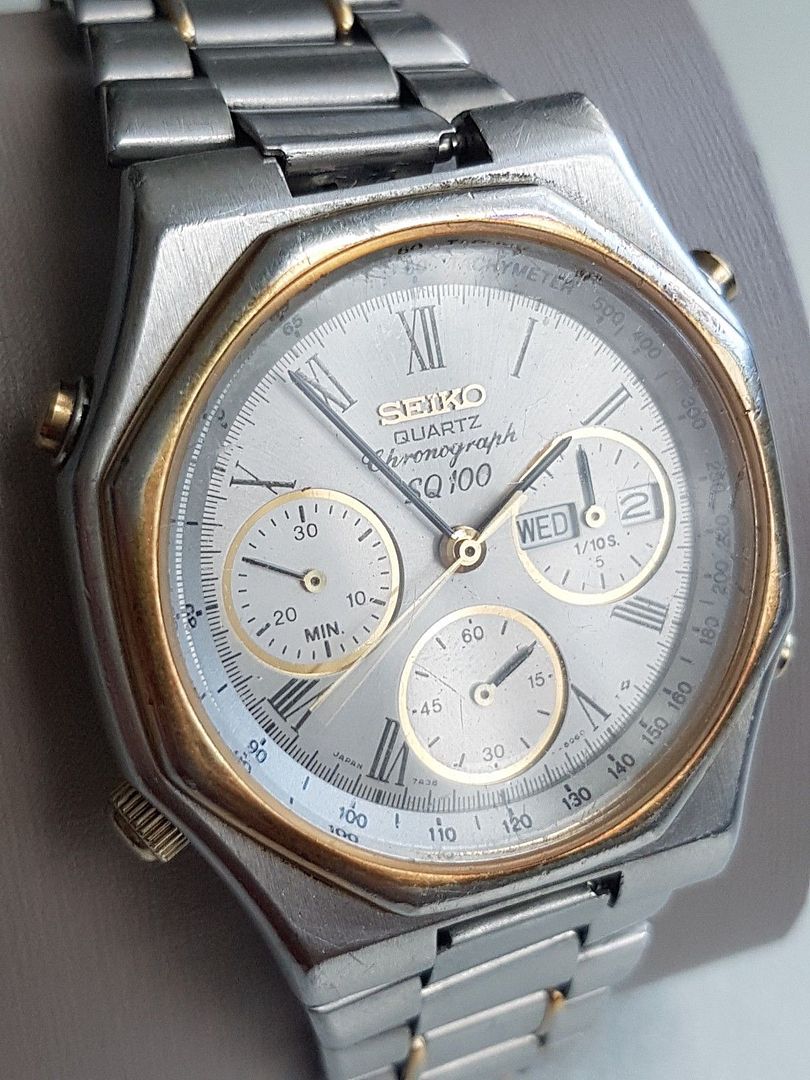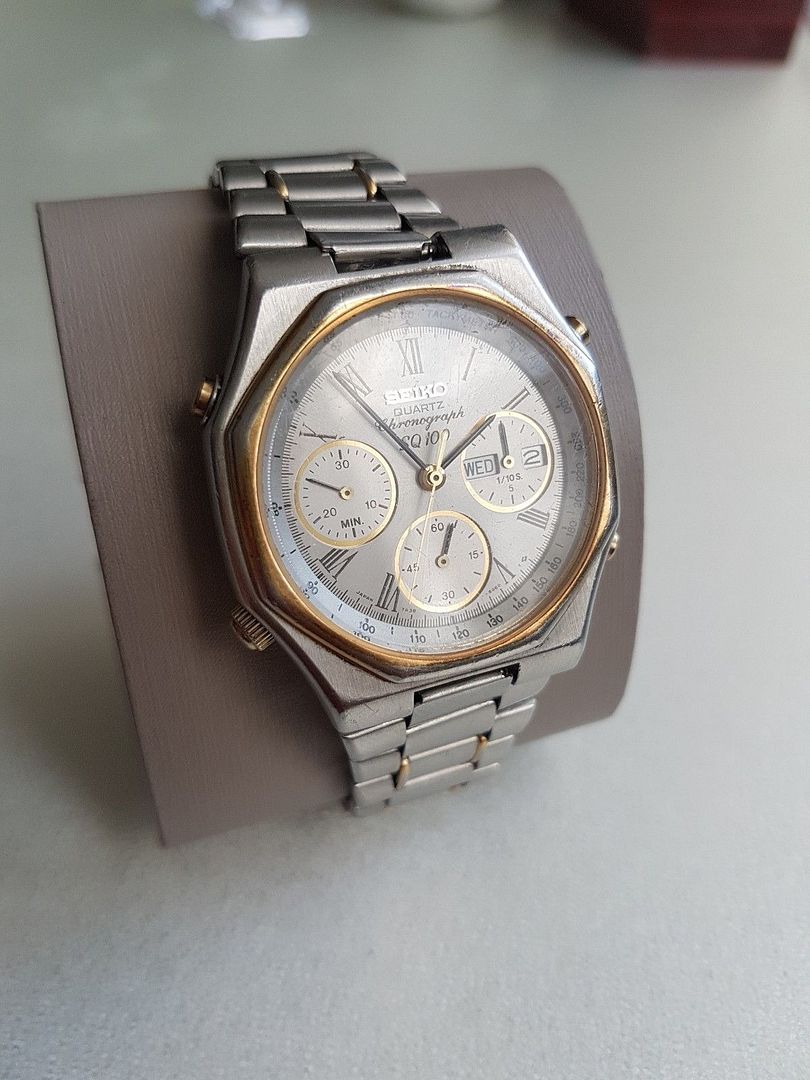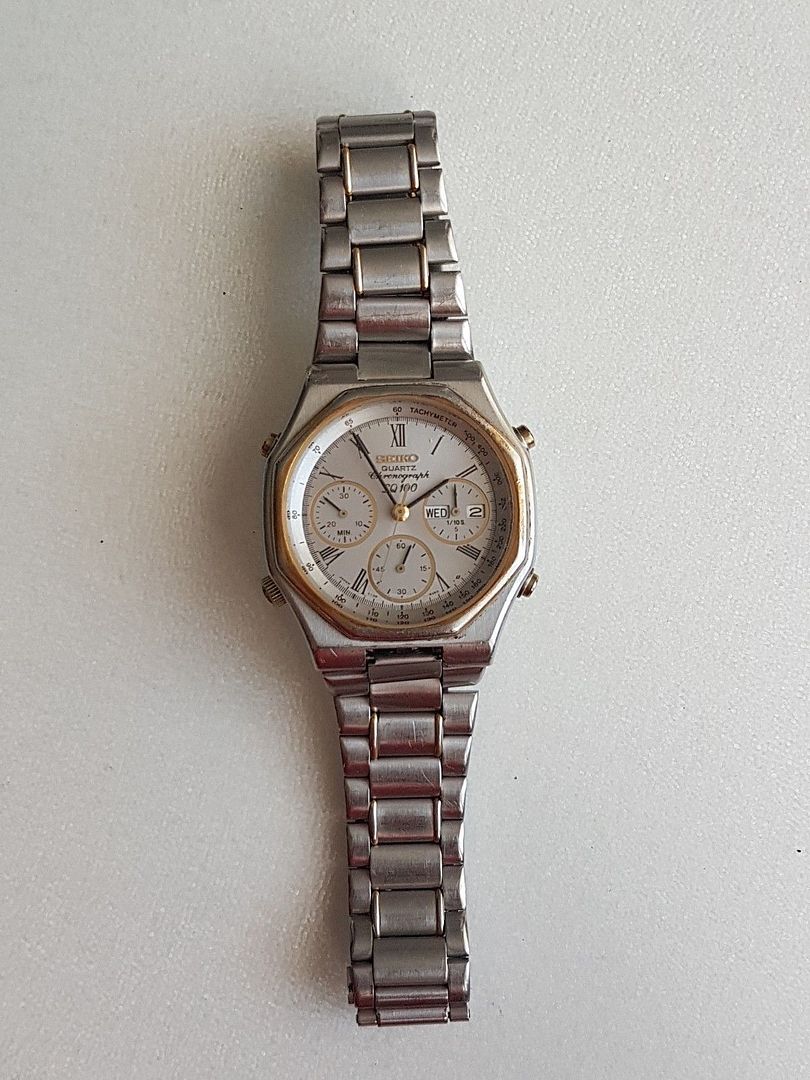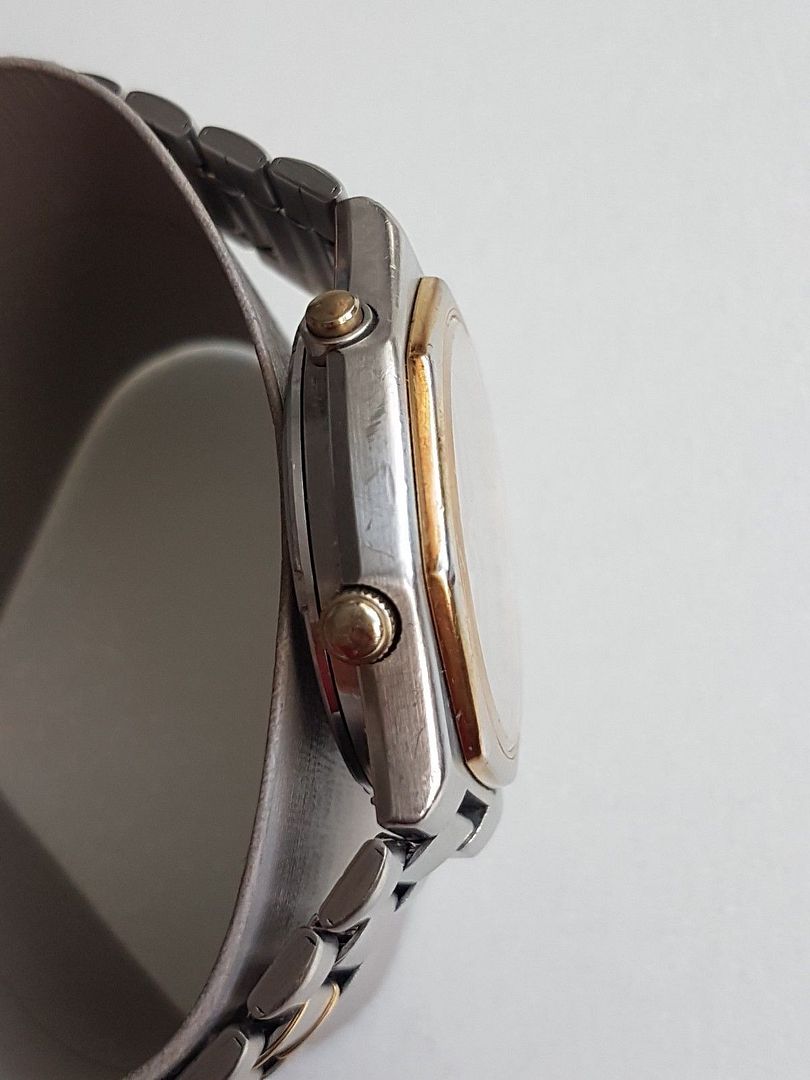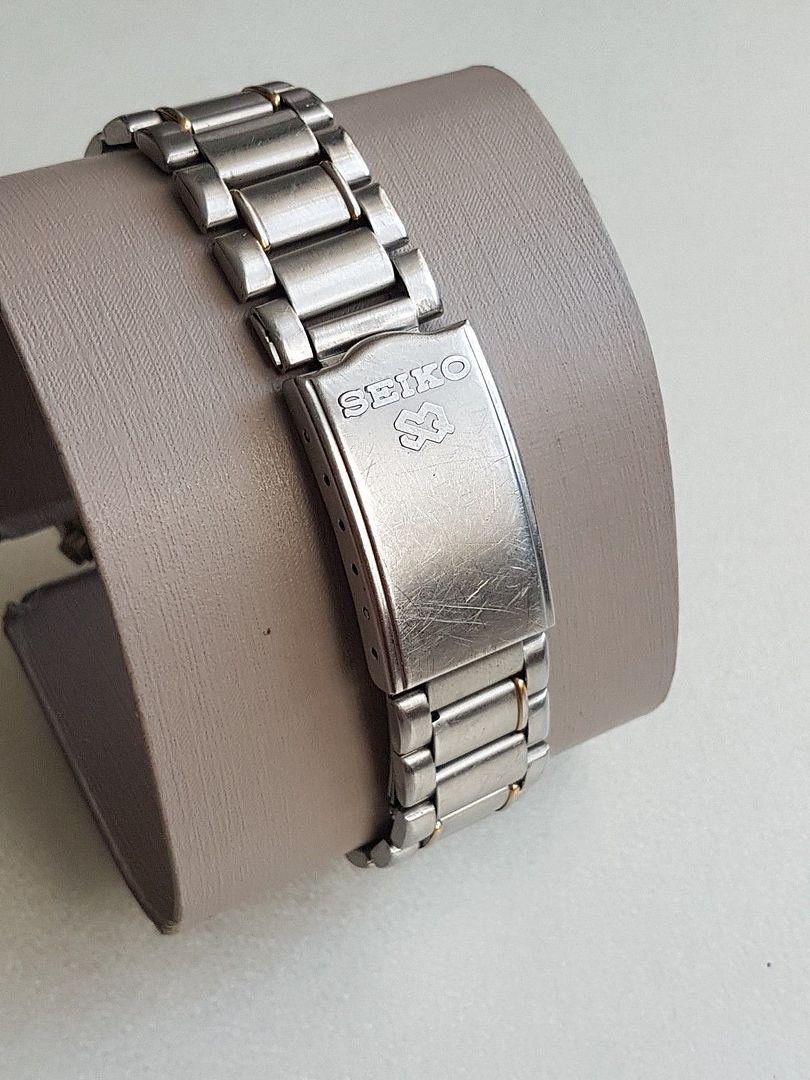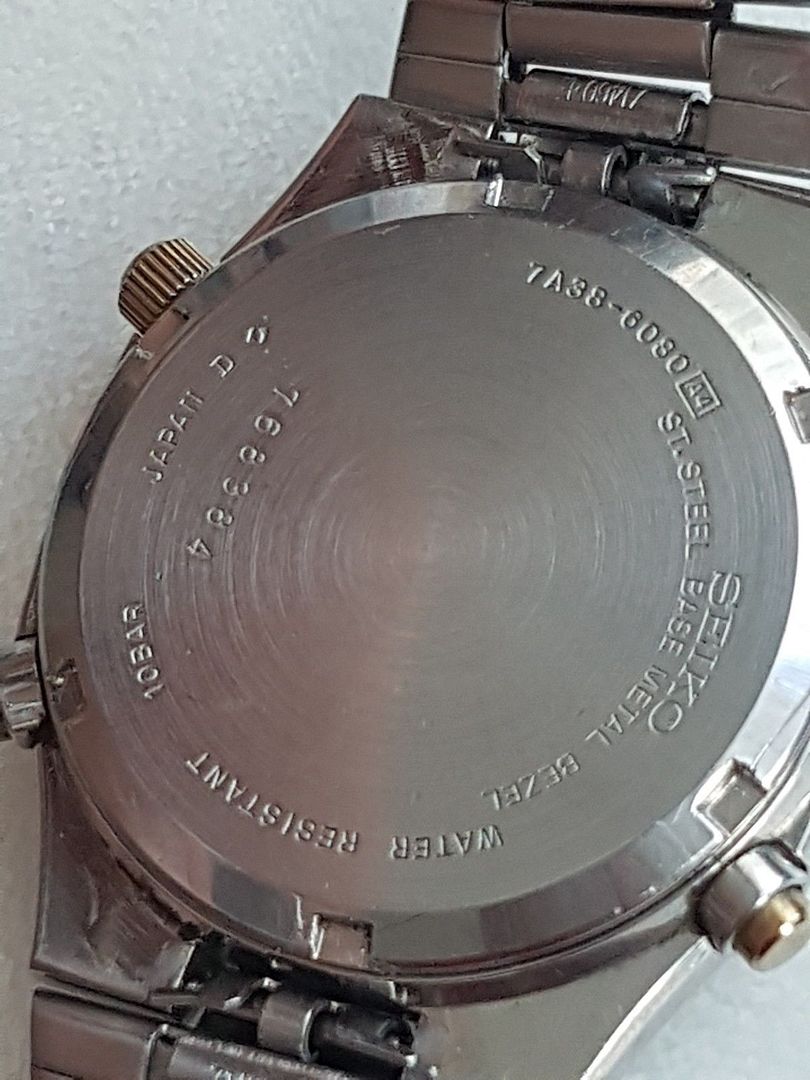 Eine Seiko 7A38-6080 SQ 100 Chronograph Herren Armbanduhr in gebrauchten Zustand siehe bitte Bilder.
Die Uhr läuft, Tag und Datum schalten korrekt.
Kleine Sekundenzeiger läuft auch.
Die Knöpfe sind schwergängig zu bedienen.
Die Anderen Chronographen Arten scheinen nicht zu funktionieren oder ich weiß es nicht wie man es bedient, dafür aber keine Garantie.
Deshalb wird die Uhr als defekt verkauft !!!
Mit Original Seiko Edelstahl Uhrenarmband.
Gebrauchsspuren sind vorhanden an der Gehäuse, Krone, Band und das Glas ist Zerkratzt.
Uhr äußerlich und Armband gereinigt und desinfiziert.
Bilder sind Bestandteil dieses Angebots !!
Weitere Zustand siehe bitte Bilder.
Versand erfolgt als Einschreiben innerhalb Deutschland mit Sendungsnummer zur Nachverfolgung !
Versand ins Ausland bitte vorher Fragen.
Bitte beachten !!
Das neue Gewährleistungsrecht seit Anfang 2002 zwingt mich dazu, folgende Angaben zu machen. Als Privatperson schließe ich sämtliche Garantie und Gewährleistung aus. Der von mir angebotenen Artikel ist so gut wie es geht, beschrieben. Der Artikel wird "so wie er abgebildet ist" von privat verkauft, dies bedeutet: mit der Abgabe eines Gebotes erklärt sich der Bieter ausdrücklich damit einverstanden, auf Gewährleistung, Garantie, Rückgaberecht und Umtausch zu verzichten. Sie verpflichten sich zur Abnahme des Artikels, erkennen dies als Vertrag an und haben diese Ausschreibung vollständig und aufmerksam durchgelesen. Für Transportschäden und Verlust der Ware beim Versand haftet der Käufer. Bitte, bieten sie nicht, wenn Sie mit dem oben genannten nicht einverstanden sind. Fragen zu einem Artikel beantworte ich gern.