The above well-worn 7A38-6109 which sold on eBay last month for $62.89 has just re-surfaced earlier today on Yahoo Japan auctions. It's been listed by profiteering re-seller swotlab, with a risibly over-optimistic opening bid price of 29,000 Yen, with the even more ludicrous option of a 'prompt decision' Buy-it-Now price of 34,000 Yen. It shouldn't have been a surprise. Had I previously bothered to check the bidding history on the eBay auction, I'd have recognized his eBay ID mcn260 (1149) that he uses for buying. Needless to say, their case-back serial numbers are the same - 7D0026.

http://page.auctions.yahoo.co.jp/jp/auction/n266858550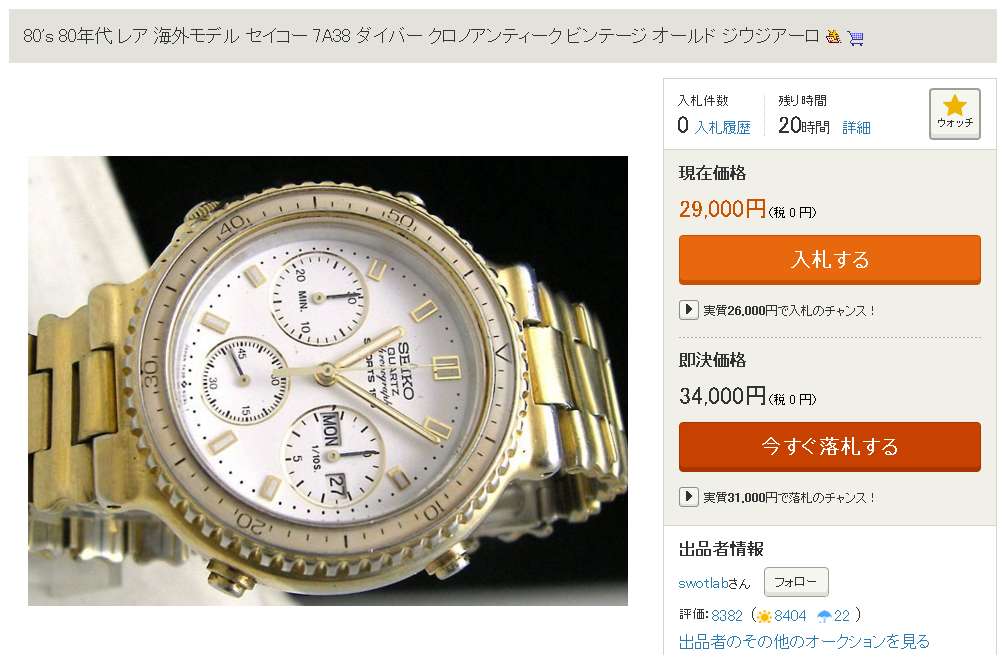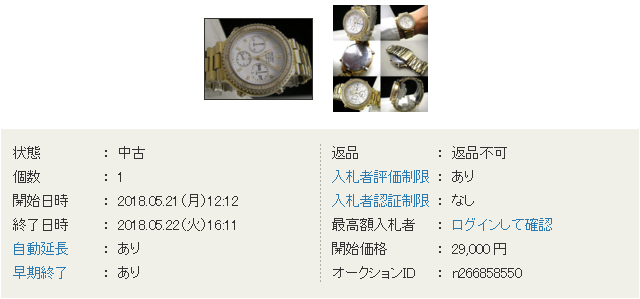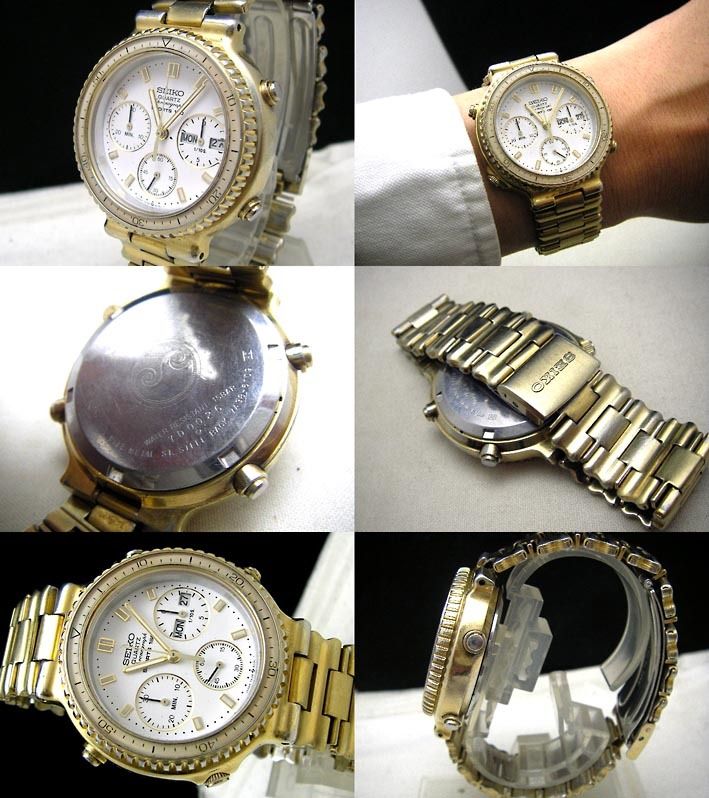 Google translates the Japanese description as follows:
Made in 1987 Seiko Chronograph Overseas Model "7A38-6109" becomes a diver bezel.
7A38 became the base of the Giugiaro model It became the top model of 7A28 which was released as the world's first multifunctional analog quartz watch in 1983.
Chronograph (Split measurement is also possible) Calendar etc. At that time it is the best performance watch.
You can modify the day of the week and day by subtracting one crown.
The day of the week display will be in English and Spanish.
Body size: Width 39x Vertical 42 mm, Thickness 12 mm
Band has original band installed. Arm around 19 cm
Shipping method is only Sagawa Express prepayment.
Enclosed dispatch is possible. Even if the watch is bid successfully, the shipping fee will be uniform.
● Central ● Kansai ● Kanto ● Shinetsu ● Hokuriku ●: 750 yen
● China (Okayama · Hiroshima · Yamaguchi · Tottori · Shimane): 860 yen
● South Tohoku (Miyagi · Yamagata · Fukushima): 860 yen
● Kyushu ● Shikoku ● North Tohoku Aomori · Akita · Iwate): 970 yen
● Hokkaido: 1250 yen
* If you live in Okinawa Prefecture and Honshu, Shikoku, Kyushu, Hokkaido, please contact us for shipping costs.
condition*************************************************************
Appearance: I think that it is a relatively good condition for old things.
Operation: Battery remaining capacity can not be guaranteed but it works.
Even if there is no issue at the time of sale, if a defect is found, I will indicate it in the additional notes so please read the text to the bottom of the explanatory note of the postscript .