Not only am I delinquent in completing / expanding on my posts at the top of the first page, I haven't updated this topic in 4 months. 
Apart from work-load, there's a good reason - there simply haven't been any stainless 7A38-7000's that were really worth writing about - not since the 'Mad Martina' martinachertok debacle in April, anyway. Yes, there have been a few listed on eBay and elsewhere, but all were fitted with incorrect bracelets or leather straps and less than ideal examples. This image from an eBay listing in May is typical: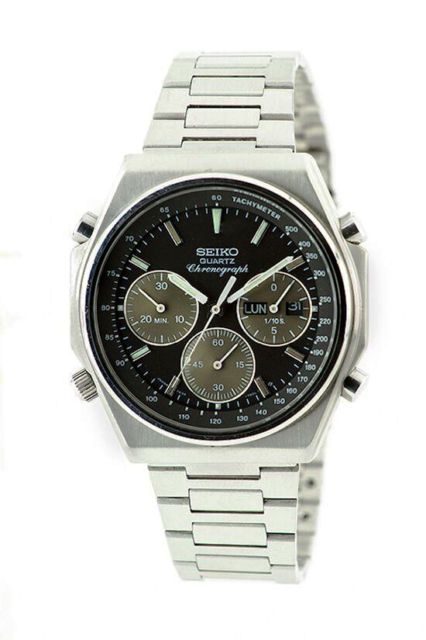 I spotted this one on a free Spanish classifieds website last month:
http://www.milanuncios.com/relojes/seiko-97643257.htm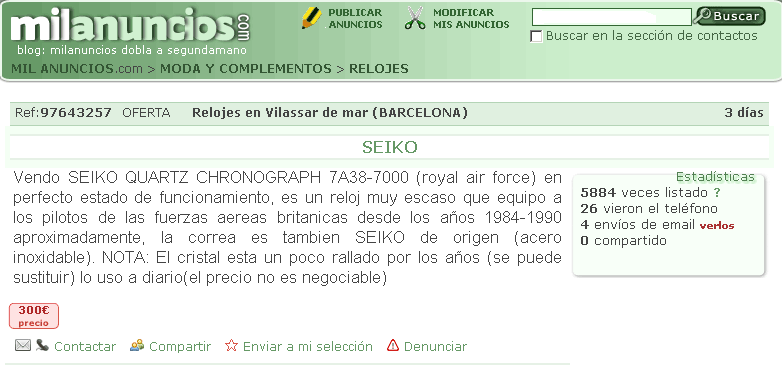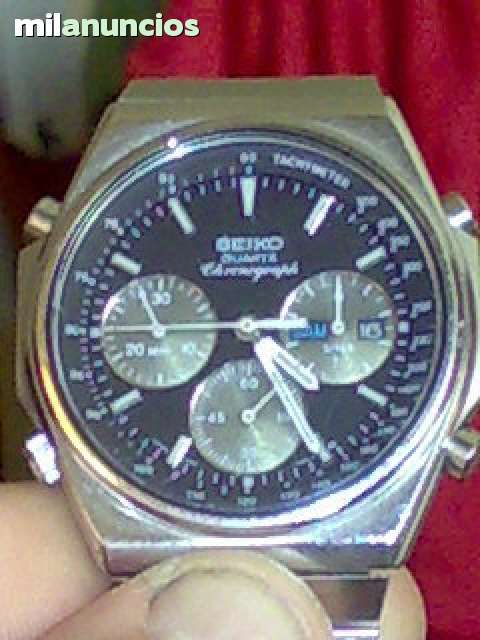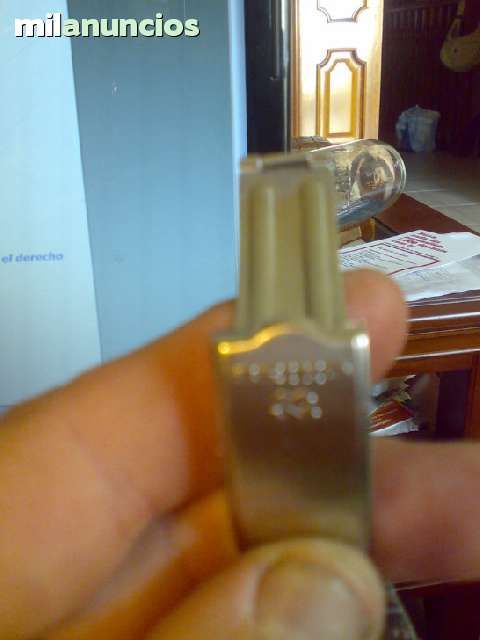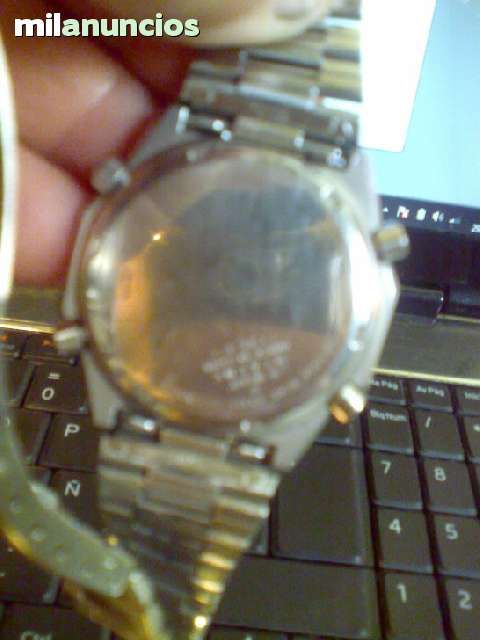 It may well be a decent example, but it's difficult to tell from the poor quality photos - typical of what you'll see on milanuncios.com.
Regardless, the asking price is way too high at 300 Euros. The seller has included some bnllsh!t about the RAF in his description.
Note the listing only shows as 3 days old in the header. From my recent searches on this site, I think I've managed to grasp how this works. As long as an item remains unsold, the seller is able to 'bump' it back to the first page (effectively re-listing it) after 10 days. As you can see the advert's title is simply 'SEIKO'. It's currently on page 11 (of 20 pages) in a search on Seiko Relojes. With the listing having had nearly 6000 views, I'd suspect that it's been 'bumped' a good few times already. That 3 dias should probably read 300. 
-------------------------------------------------------------------------------------------------------------------------------------------------------------------------
This FS advert for a 7A38-7000 on a leather strap, which also came with the original B1170S bracelet appeared on TZ-UK on Friday:
http://forum.tz-uk.com/showthread.php?275974

SOLD: all original Seiko 7A38-7000
NOW SOLD For sale or trade is my all original, decent condition 1980's Seiko 7A38-7000. It comes with the thick, good quality leather strap in the picture and the original steel/black bracelet. The bracelet is sized for an approx. 17.5 cm wrist.
First the bad:
- the bracelet, as said, is not too long,
- the original glass has scratches,
- the case and bracelet have scratches from 30 odd years of use, but not abuse,
- the 1/10 seconds hand doesn't move (but apart form that the chrono works and resets perfectly).
The good:
- it's all original,
- my watch guy has serviced the mechanical part of the movement only months ago,
- everything works very well, apart from the 1/10 seconds hand.
Based on the overall originality and condition of the watch, and taking into account the flaws I mentioned, I would like a firm NOW SOLD 90 GBP (PP prefered, net to me) which includes shipping from the Netherlands. Tradewise I prefer a trade up for a (vintage) diver. Happy to answer any questions by PM.
-------------------------------------------------------------------------------------------------------------------------------------------------------------------------

Here's a couple that were listed on eBay within the last week or so. Neither seller included the model number in their title or description:
http://www.ebay.co.uk/itm/161105609136

Très Belle Montre Homme Seiko Quartz Chronograph Jour/Date TBE!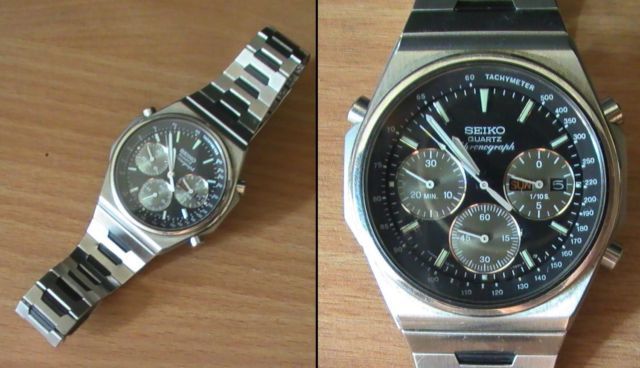 Voici à vendre une très jolie montre Seiko Quartz Chronograph, avec jour/date et chronomètre. Elle a été très bien gardée pendant son temps dans ma possession, et est en très bon état - la sele chose qu'il faut signaler est qu'il manque le remontoir... ce qui ne pose pas vraiment grand problème - quand on change la pile (pour laquelle il faut ouvrir l'arrière quand même) il suffit de changer l'heure manuellement avec les aiguilles avant de remettre le mouvement dans le boitier. A part ça, rien à signaler, tout marche parfaitement, elle tien à l'heure sans faute. En plus, j'ai mis une nouvelle pile récamment donc elle devra durer assez longtemps avant de devoir la changer
As best one could tell from the small photos, cosmetically a pretty decent looking example that was missing it's crown. My only concern might be what damage the seller may have done, popping the movement in and out, to set the time, possibly without withdrawing the crown stem. Note the Tachymeter ring is slighly mis-aligned in his photos. There is also an extra opportunity for moisture ingress.
It sold for 47.50 Euros (approx. £40) after 17 bids. The auction received 433 views over the 10-day listing period.

This one listed by a US eBay seller didn't look too clever in his first close-up photo, Apart from the scratched crystal, the lume on the hands and batons is badly discoloured, plus the chrome is peeling away from the sub-dial rims. Moisture, battery leakage or both ?
http://www.ebay.co.uk/itm/360740214325

Vintage Seiko Quartz Chronograph man wristwatch # 410975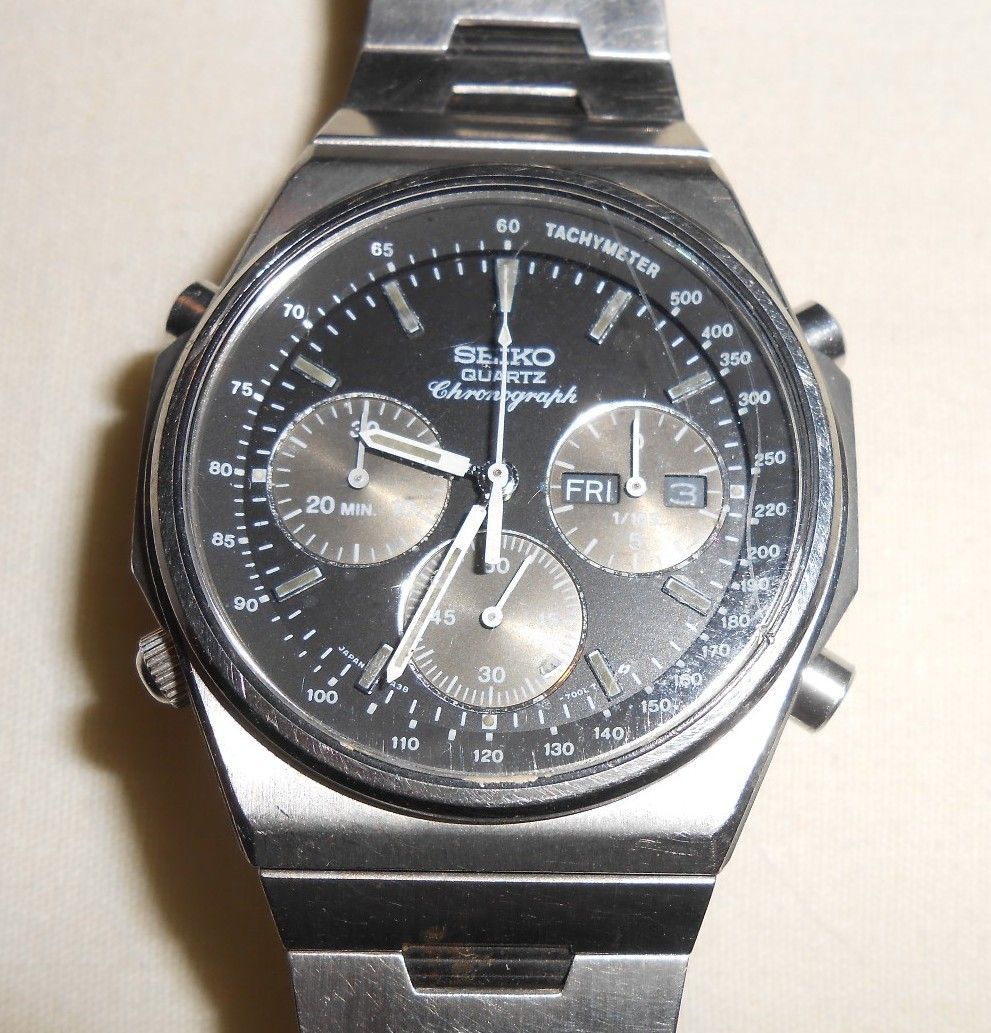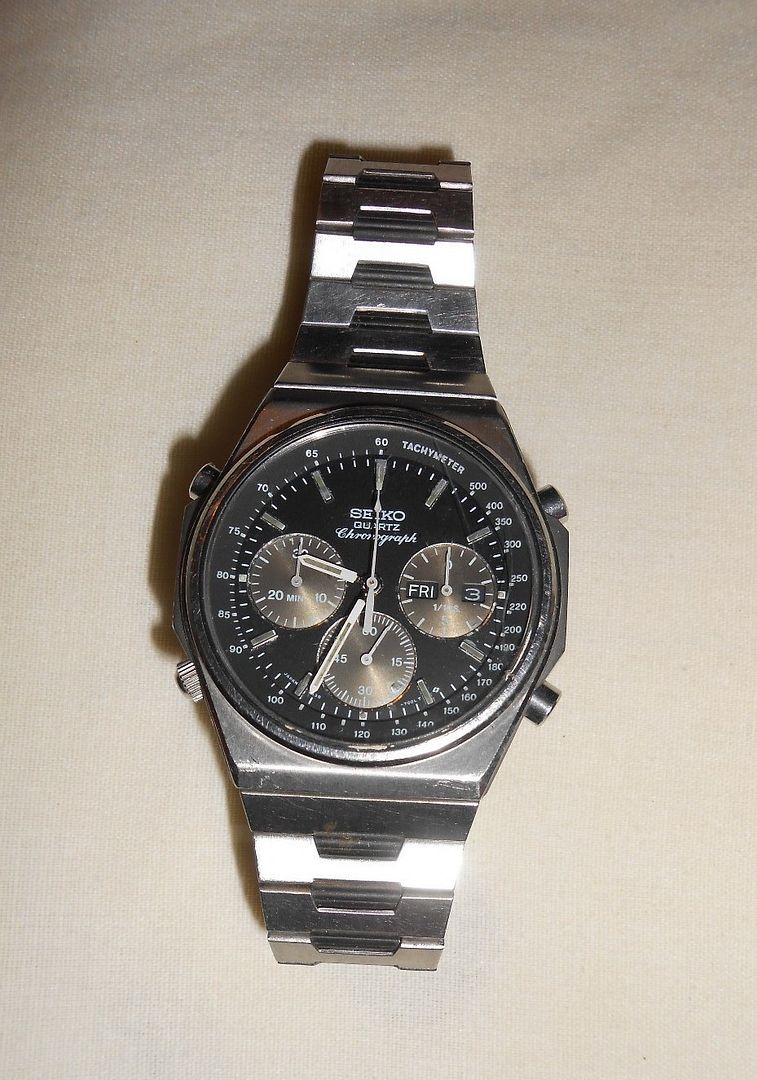 Nice old Seiko Quartz Chronograph mans wristwatch. This is in nice condition but needs a new battery. The back is numbered 410975.
I will gladly combine items to save postage fees. NO RESERVE ON THIS ITEM ....
The description went on and on, but the above is all that's relevant to the watch.
It sold for $102.51 (approx. £64) after 17 bids. The auction received 185 views over the 7-day listing period.