Yeah, I know what I said, but here's 3 more current eBay listings for James Bond 7A28-7020 SPR007J's. 
This first one, again fitted with a leather strap in place of the original bracelet, was listed on Tuesday by a UK eBay seller, as a 7-day auction with an opening bid price of  £200. The presumably uninformed seller makes no reference to the James Bond connection, despite having edited his description.
http://www.ebay.co.uk/itm/253879496627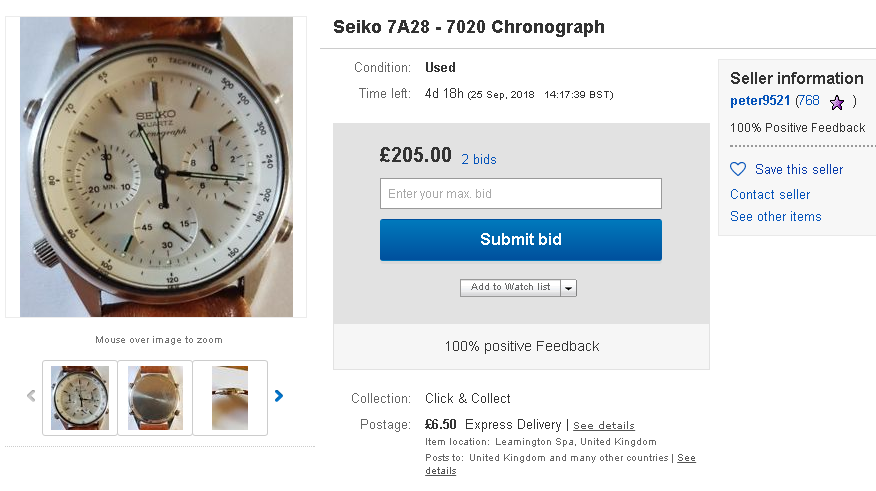 Good condition. All buttons functioning. Running well on new battery.
On 18-Sep-18 at 23:01:06 BST, seller added the following information:
For the sake of completeness, I should point out that there is some scratching, but NOT cracking to the crystal. This is very slight, which is why it doesn't show on the photos.
The second one was also listed on Tuesday, by a Bulgarian eBay seller, with a risibly over-optimistic Buy-it-Now price of $920. He also claims it's 'All Original". Well the non-original replacent Jubilee style bracelet certainly isn't original.
Going by the number of recent sightings, 'Rare' it certainly ain't either.
http://www.ebay.co.uk/itm/273468088473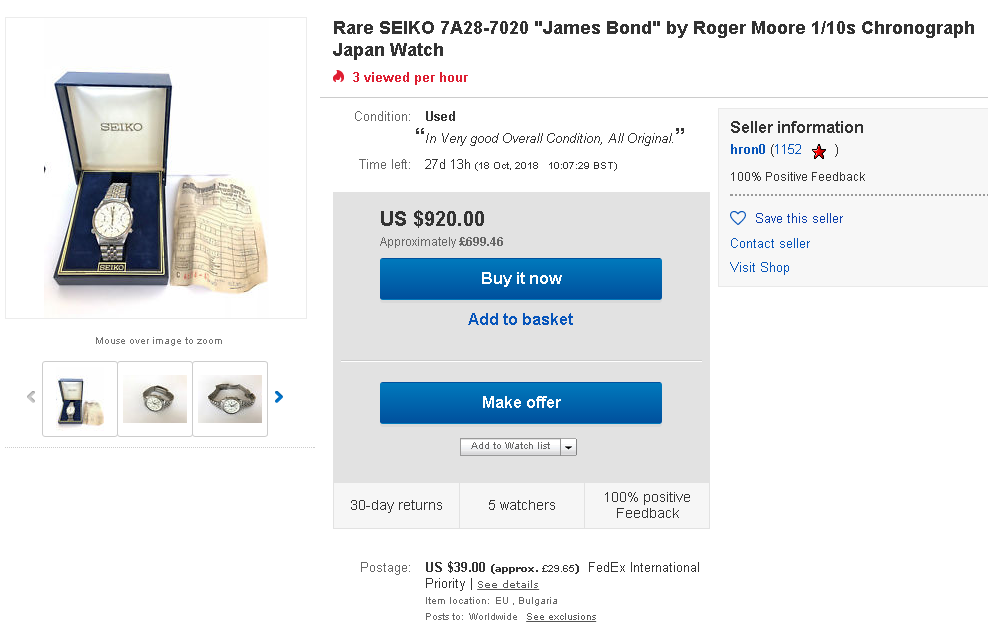 For all Fans and Collectors of very very rare Japan watches
We are pleased to present one excellent representative of very rare Seiko watch, in very good condition.
Rare SEIKO 7A28-7020 "James Bond" by Roger Moore
1/10s Chronograph Japan Watch
White color Dial
All Steel case size 37 mm
Vintage and rare Seiko chronograph 7A28-7020, model by James Bond in the film "A view to kill" (1985), this model of watch was worn by Roger Moore.
One for the collectors!.
In very good condition, comes with original bracelet.
Not as polished, are keeping the condition as a original condition.
For any questions please contact us!!!
In Very good overall Condition.
This is really a very rare piece for your collection!!!
Details:
Date of purchase: around 85's
Movement: Seiko Japan
Quartz, 1/10s. Chronograph
In excellent working condition.
Case: 37 mm without crown.
Lug to Lug -20mm
Case: All Stainless Steel,
Not as polished, are keeping the condition as a original condition.
Crown & Pushers: Original.
Crystal: Original crystal without scratches. Original Seiko crystal.
Dial: White colored in Excellent condition, 100% Original.
Bracelet: Seiko Stainless Steel Original bracelet.
The Watch is very good Overall condition.
Comes with Box and Papers
The box has a slight damage to the cover. Can be used but the cover has a break.
Look at the last photo from the description!
Feel free to ask me questions.
You buy what you see on the pictures.
Special Note on the description:
Please note that this is a Vintage watch since 1985 and its pressurization may have been impaired due to aging rubber seals or wear the crown!
Please look closely at the pictures for better understanding, we use high resolution camera which is even better to see and explain the small things even on a smaller object like watches. You will only receive what you see in pictures.
All the sizes taken are with the best of our ability and are approximate. Please keep in mind that any minor minor differences are possible. Please check the pictures in detail before bidding and if you have any questions please do not hesitate to contact us.
This is one very rare collectible timepieces, in very good condition.
In very good working condition, keeping good perfectly time
Very very rare & vintage item for your collection!
The third one was listed by a German eBay seller, yesterday evening, as a 10-day auction, with an opening bid price of 10 Euros.
http://www.ebay.co.uk/itm/362440078295
Schöner SEIKO Quartz Chronograph um 1980 Modell 7A28 - 7020, Seriennummer 321753
Mit neuer Batterie läuft exakt Stunden und Sekunden, jedoch Chronographen Funktion nicht geprüft.
Guter gepflegter Erhaltungszustand siehe Fotos. Durchmesser ohne Kronen 37 mm,
Original Seiko Armband Gesamtgewicht 77 gr. Schatulle kostenlose Beigabe.
Privatverkauf keine Gewährleistung oder Rücknahme,bei allen Anfragen auch zum internationalen Versand bitte Mailen. Danke.
Versandpreis Deutschland 7.- € versichert.
Even though the German eBay seller's auction is a 'private listing', which I'm always suspicious of, if I were in the market for one of these (which I'm not), I know which of the four current eBay listings my money would be on.