Seiko7A38 at March 8, 2012 at 11:34 AM

So, if and when you see another one of these on eBay, hopefully you'll recognize it for what it is (rather than a fake or franken).
The above is a rather pertinent partial quote

from the previous page.
Ever since I was outbid on that Korean-made gold-tone 7A38-7060, back in September 2009, I've been keeping my eyes open for another example. It's extremely unlikely that I'll find one in the same mint boxed condition. There were probably thousands of them made and likely a few could be found by browsing market stalls in the Far East. It's not just the geographic and rarity factors, to be considered, there's the issue of 30 years worth of wear to the gold plating. So you can imagine my surprise when what certainly appears to be one, rocked up on eBay in Canada in the early hours of this morning. Note 'appears to be one'. 

It was a 7-day auction with an opening bid price of $1 (US not Canadian) but that also appears to be something of a red herring. See my comments about the bidding at the bottom of this post. 
http://www.ebay.co.uk/itm/264070445580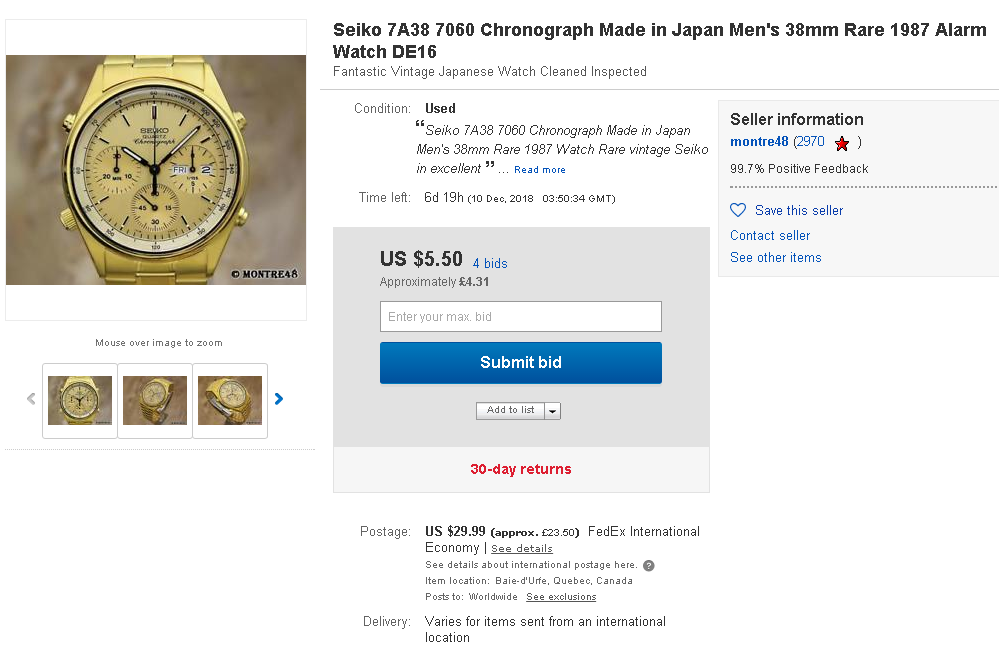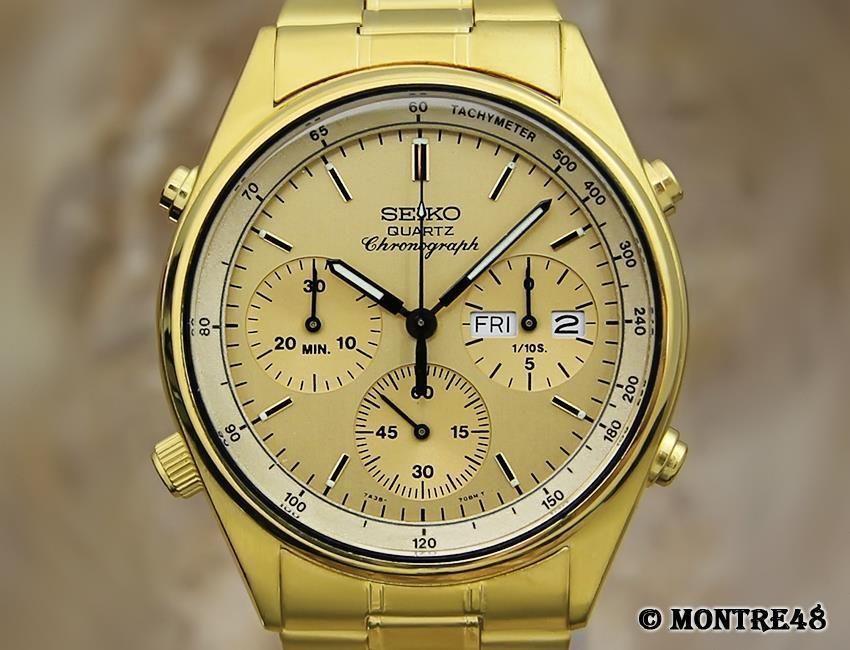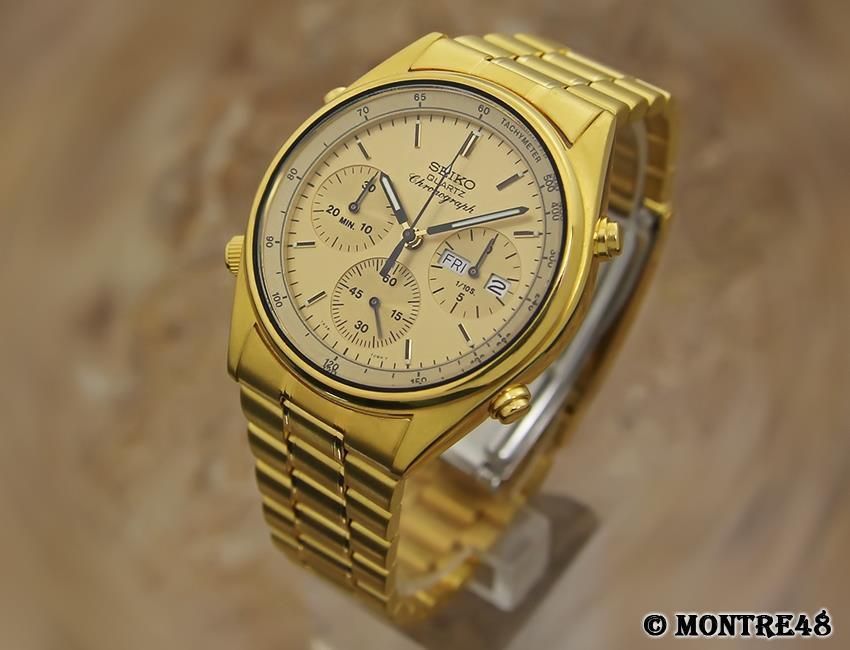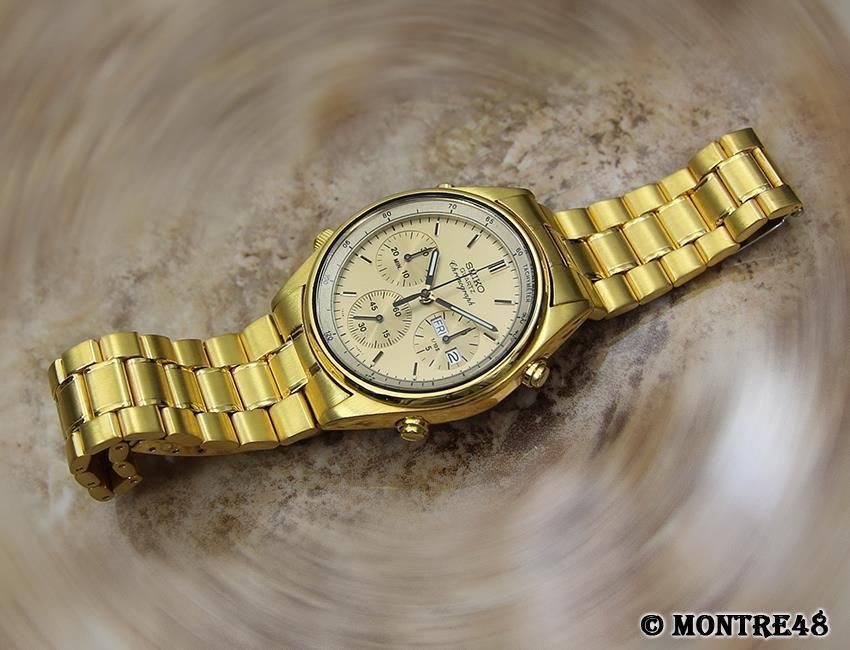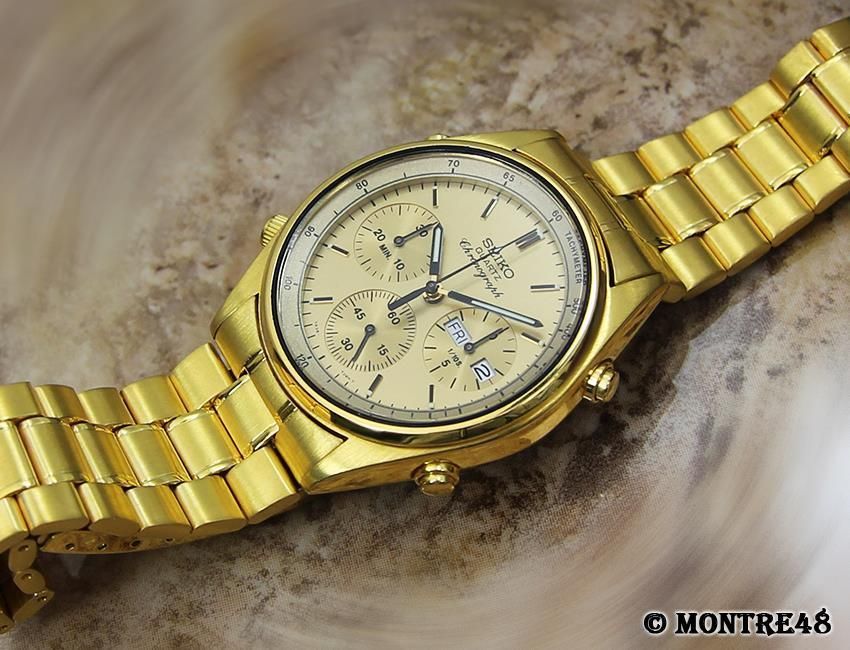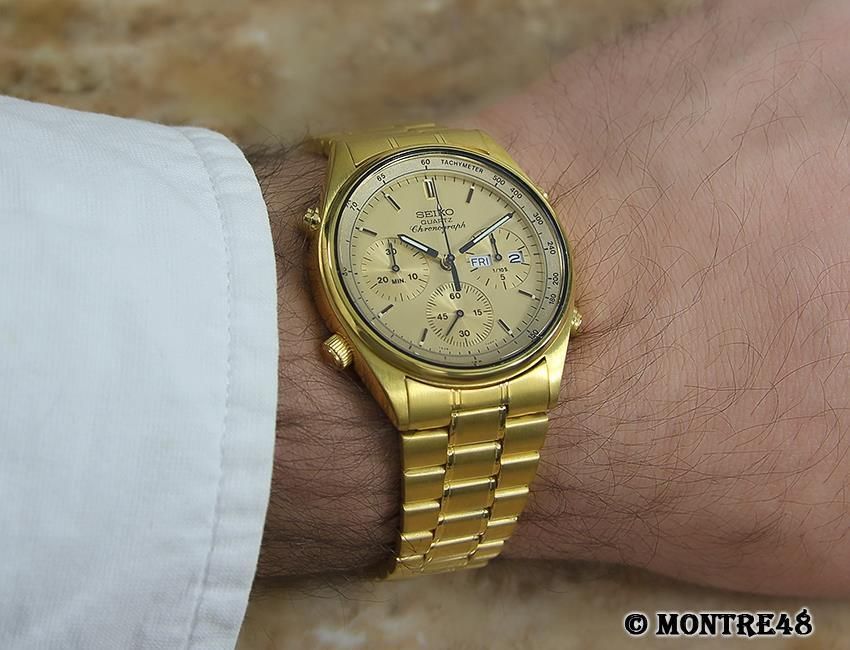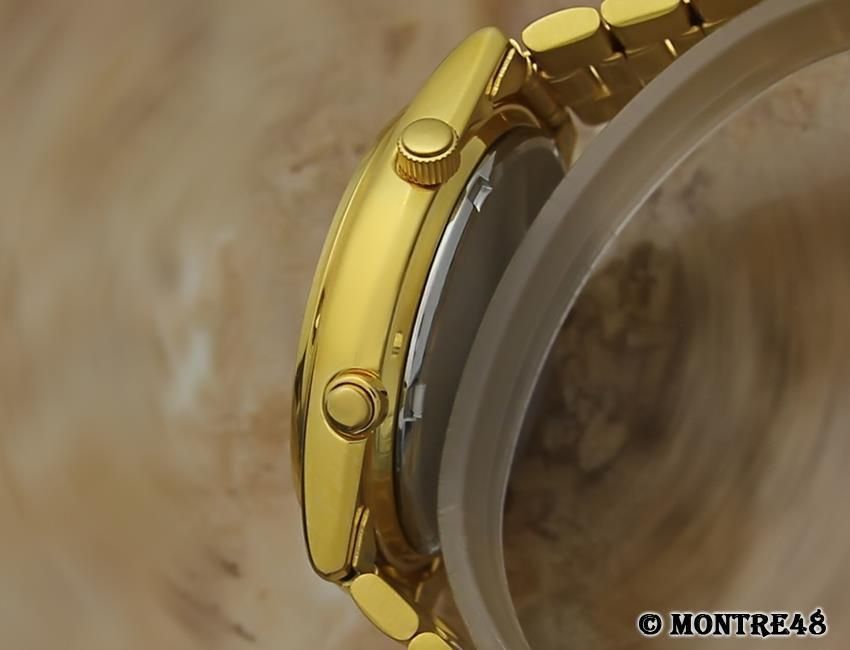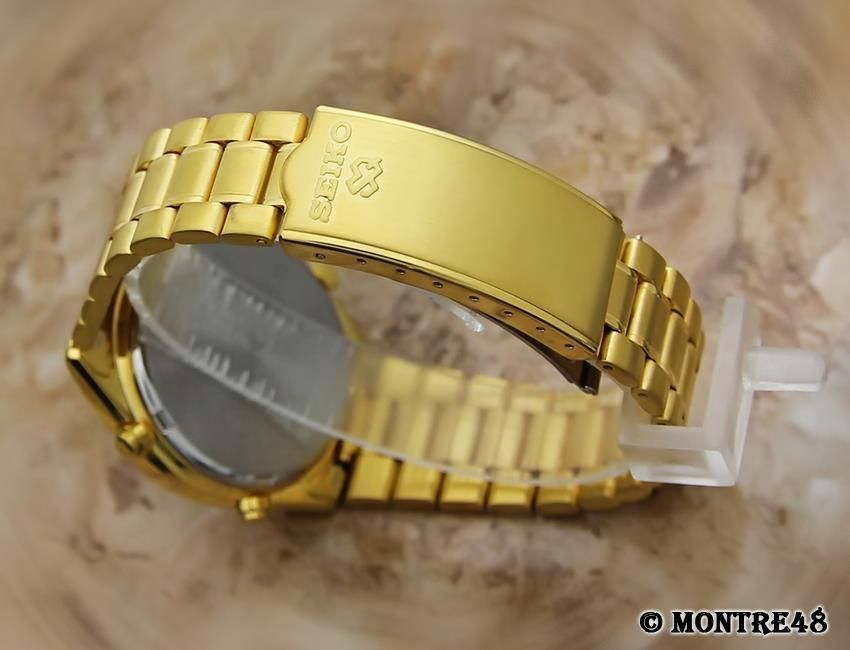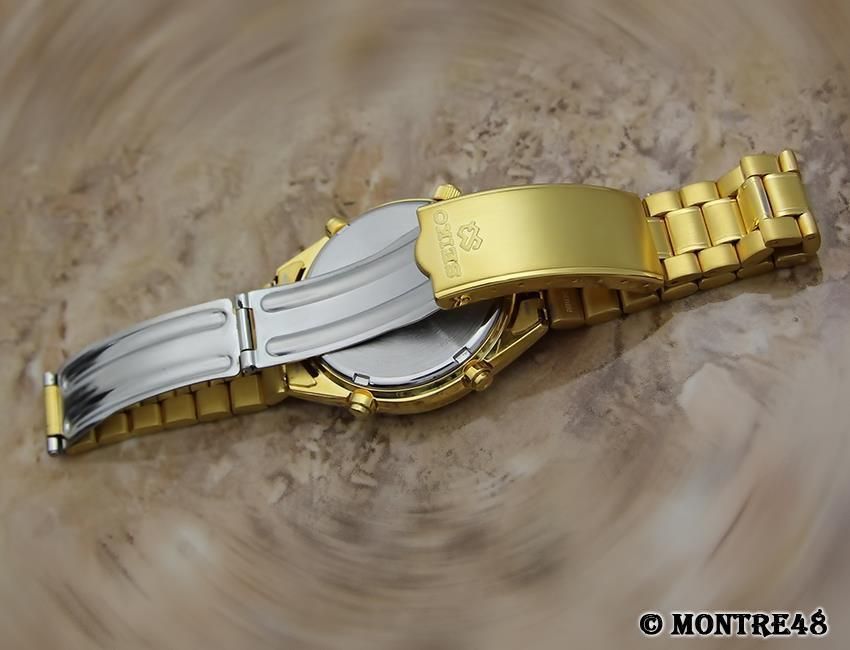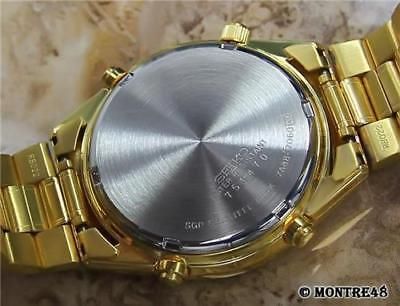 SEIKO CHRONOGRAPH
RARE VINTAGE WATCH
MEN'S 38MM MODEL
First 1/10th second quartz Chronograph watch
HOW DO WE DATE THIS WATCH?
We can date this to May 1987 from the serial number on the watch back.
CONDITION
​Launched in August 1983, The Seiko 7A38 is a masterpiece. Over engineered for sure, but the fifteen jewel movement built on the success of the worlds fist Quartz chronograph (7A28) by adding a day a date feature.
This watch is in great condition, and comes with a good sized original bracelet that isn't worn through the gold plate. The day wheel is in Japanese and English
​SIZE
38mm wide including the various pushers and crown, 10mm thick. Takes a 20mm strap. The bracelet will fit a maximum wrist size of 19.5cm
​Day in English and Japanese Kanji (adjusted with crown)
This watch is in excellent condition without any damage
the movement functions precisely
It is original and will become a perfect vintage collectible treasure
Please be advised that by Law Canadian buyers are subject to Tax according to the province of residence
Shipping by secure and fast FEDEX
Happy Bidding!
If you have questions do not hesitate to ask me I am standing by to assist you
Please keep in mind that my objective is your happiness and satisfaction
Please communicate before purchasing and after receiving your watch.
There is no mention in the seller's description that the watch is the Korean built version.* However it has almost all the hallmarks (pun intended) of being one. The dial printing is missing the word JAPAN and the Suwa symbol. If you zoom in, the dial part number is 708M. According to the seller's description it has an English / Kanji day wheel. The bracelet is stamped with the part number AB022 (or is it RB022 ?) instead of G1105. However, there appears to be something important missing.
The seller's photos mostly measure 850x650 pixels. That's much smaller than the maximum eBay allows nowadays (1600x1200). But strangely, their photo of the case-back measures only 400x306 pixels. I suspect this was deliberate - to hide the fact that they've either obliterated the KOREA SV case-back stamping (normally found directly under the serial number) - or photoshopped it out.
Indeed, at first glance all the seller's photos give the impression of being heavily photoshopped. The watch looks far too yellow. There's a good reason for that. Although the seller's description claims the watch is 'original', it appears to have been completely re-plated - in the wrong colour gold. They've probably used 18K. Not only that, they have literally completely re-plated it. If you compare this watch with photos of unmolested examples on the previous page, you'll see that the underside and edges of the bracelet should be bare stainless steel. Oops.
Then there's the bidding. This seller evidently regularly uses shill bidders to boost their auction results. There are two that stand out. One is the current high bidder, which is being used as a 'hare', that has 96% bidding activity with the seller.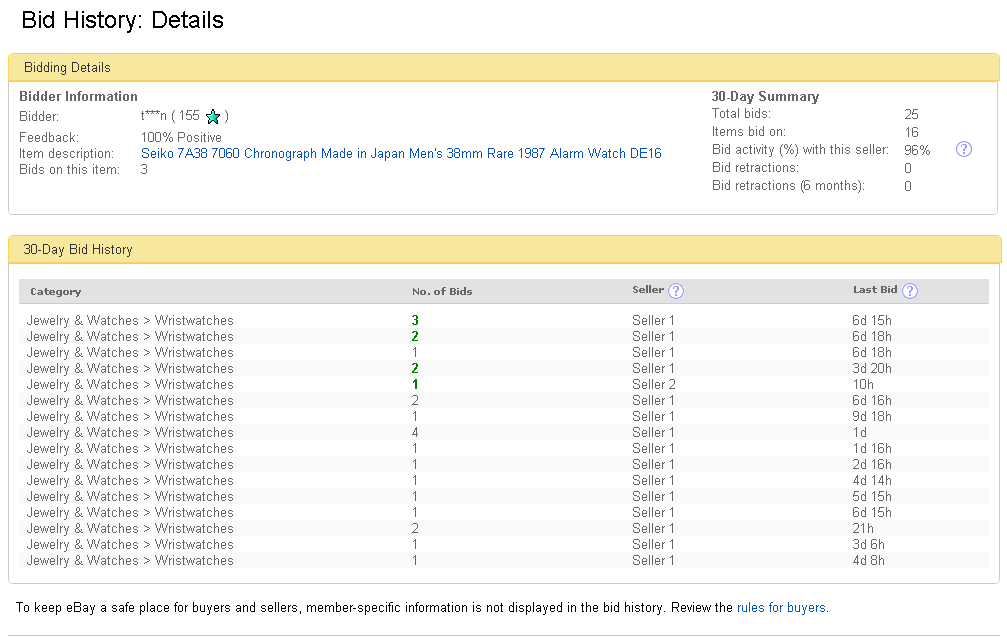 The other, which has 100% activity with this seller, was used in the early stages of bidding, to help it along, but I suspect we probably haven't seen the last of him.


*Edit: In fact, in both the listing title and the item specifics, the seller falsely states: 
Seiko 7A38 7060 Chronograph Made in Japan Men's 38mm Rare ....

"Seiko 7A38 7060 Chronograph Made in Japan Men's 38mm Rare 1987 Watch...."