Although I've never succumbed to actually buying one, I will admit to having the odd dalliance with Citizen's Cal. 35xx chronographs.
From memory, I first encountered them on Michael Rothe's old but well-researched website: http://www.sigma957.org/watches.html
Love this bit: These pages have been carelessly thrown together since 2002 by Michael Rothe

Michael posted this on the old Network54 SCWF: http://www.seiko-divers.info/scwf/index.php?mod=103&action=0&id=1092084884
My little group of elder citizens - Michael Rothe on Aug 09, 2004, 01:54 PM
The left one is from the same family, but lost her maiden name...
3 x cal.3510 12-jewel 12hour quartz chrono with alarm, timer and date, and a cal.3530 without date
Being far too absorbed collecting Seiko 7A38's, I didn't think a lot more about them until I stumbled across this FS advert on SCWF:
http://www.thewatchsite.com/8-seiko-citizen-trading-post/2815.html

FS: Rare 1985 Citizen 12-Jewel Aviator's Chronograph Timer - $119 Shipped
This 12-jewel quartz movement caliber 3530 was Citizen's competition for the Seiko 7A28/38. It has some unique features. When you pull the crown out to set the time, the second hand automatically advances to zero. The hand setting is electronic. They can be turned either direction in increments, or if you turn the crown quickly, they automatically turn until stopped. The second hand is used as both the chrono sec hand as well as the regular timekeeping sec hand. The left pusher cycles between chrono and time modes. The sec hand automatically advances to zero when you select chrono mode, and it returns to the current seconds when you change back to time mode. It also has a countdown timer with alarm.
Alarm, 12-hour 1/50 sec chrono, timer, tachymeter, electronic hand setting, flyback (upper left pusher will reset the chrono while running). All stainless steel with matte finish. Original full-length bracelet. Made in Japan.
Near mint/97%. Fully functional and keeps time. Alarm works nicely. Sometimes when using the chrono, the start pusher needs to be pressed more than once to start it.
$119 SHIPPED (US). Payment via PayPal. NOSPAMroverguy78@yahoo.com (remove "NOSPAM" from address).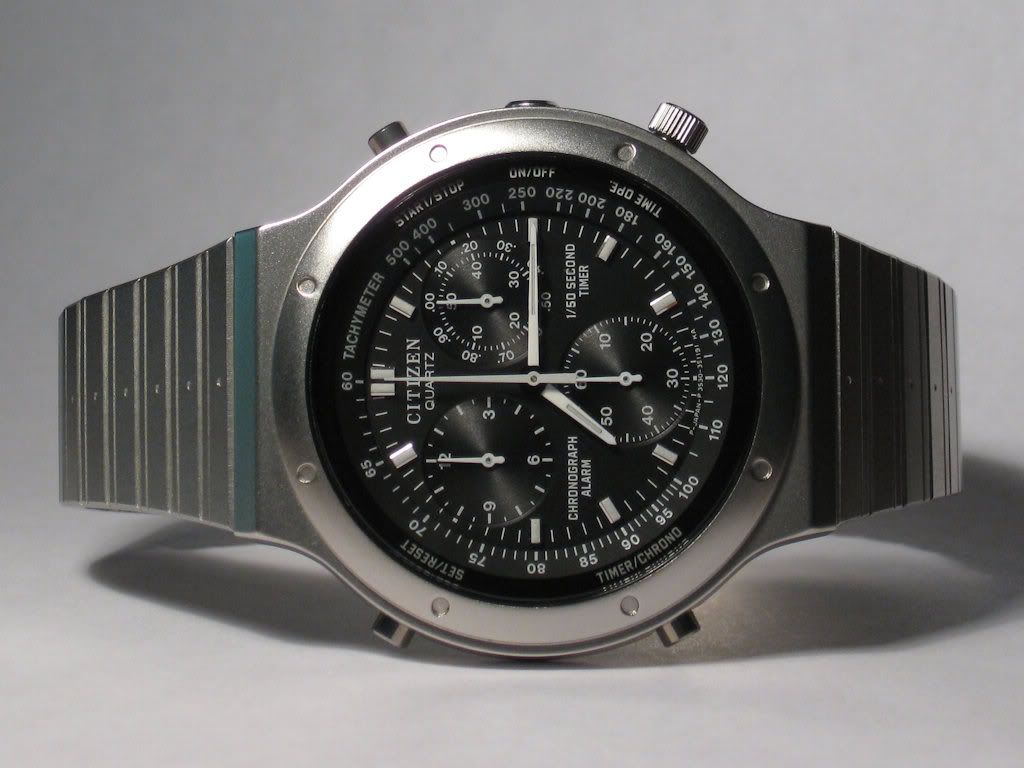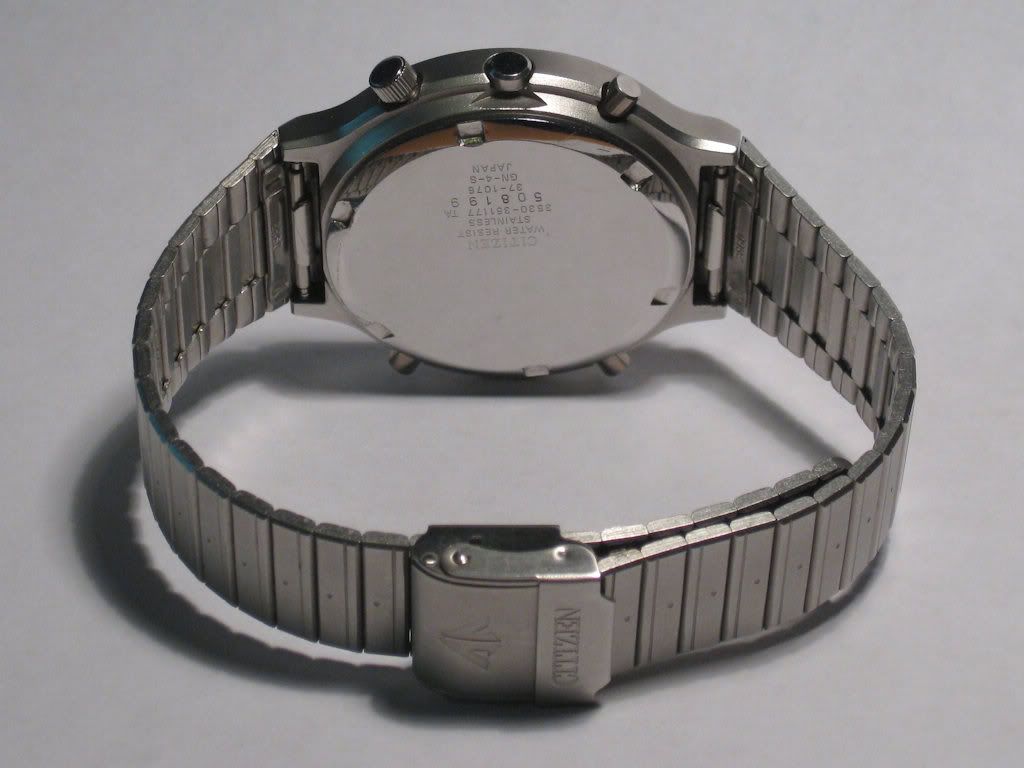 It was probably the seller's statement: This 12-jewel quartz movement caliber 3530 was Citizen's competition for the Seiko 7A28/38 ....
which first drew my interest, and intrigued me. I kept going back and looking longingly at the FS advert, but deliberated for too long ....
Derek (a.k.a. 'LuvWatch') bought it. 
Thing is, our Derek, bless him 
 is what I jokingly call a serial flipper - he has a suitable response up his sleeve. 
True to form, barely a month after he'd bought it, he listed it on eBay, in June 2010: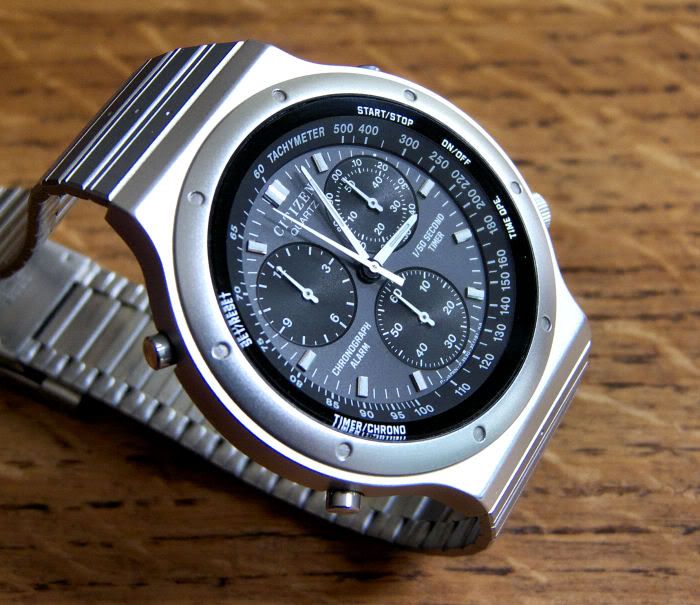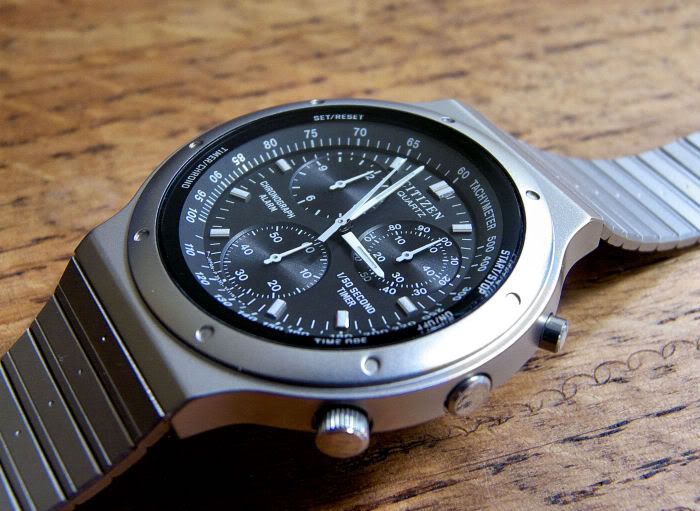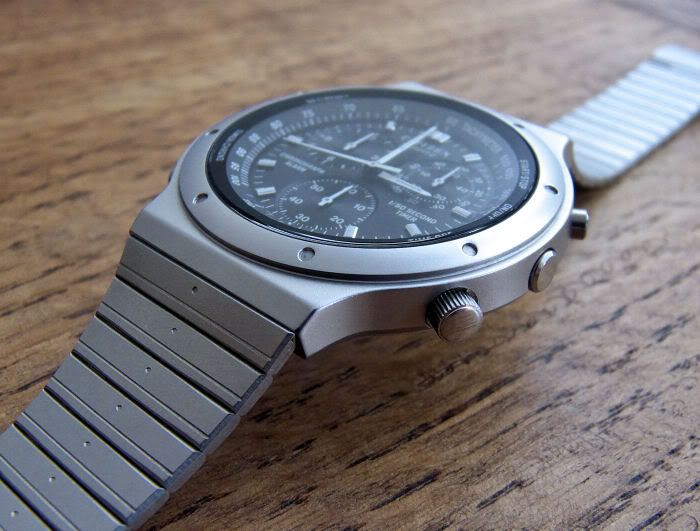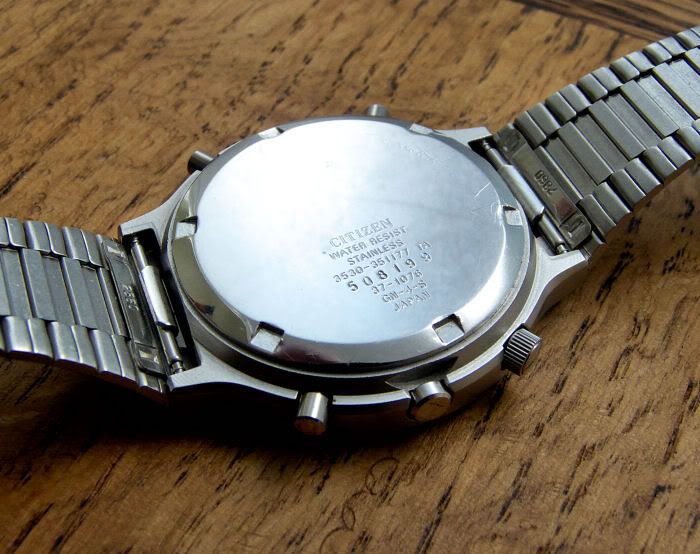 Although they were smaller, the watch appeared even more enticing in Derek's listing photos. Believe it or not, I actually won that eBay auction - but then reneged on the deal. I can't remember exactly why now. It may have been that another Seiko 7A38 had come up on eBay, and I was 'overspent' (on watches) that month, but Derek took it in good grace and sold it to the losing bidder. I do remember I'd convinced myself that I couldn't live without a date (or day/date), and despite lacking these, the watch's dial still looked far too busy. 
That watch was a Cal. 3530. Naturally, in response to Seiko's 7A28 / 7A38, Citizen did produce a date version - the Cal. 3510 / 3560.
I've been looking for one for a while. Not actively seeking, but just browsing occasionally. 
If you google images on Citizen 3510, there was certainly a vast choice of case styles available, comparable to Seiko's 7Axx range -
though many were two-tone and in dubious taste IMO. Most have a date window in the 6 o'clock subdial, but some have it at 4 o'clock.
Here's one such:
In contrast, one of the nicest I've seen was not actually a Citizen Cal. 3510, but a Dugena Cal. 3560, found by Axel Fessler ('Axel66'):
http://www.network54.com/Forum/642233/thread/1241896203/1241910430/Interesting+find+%28Dugena+with+Miyota+inside%29.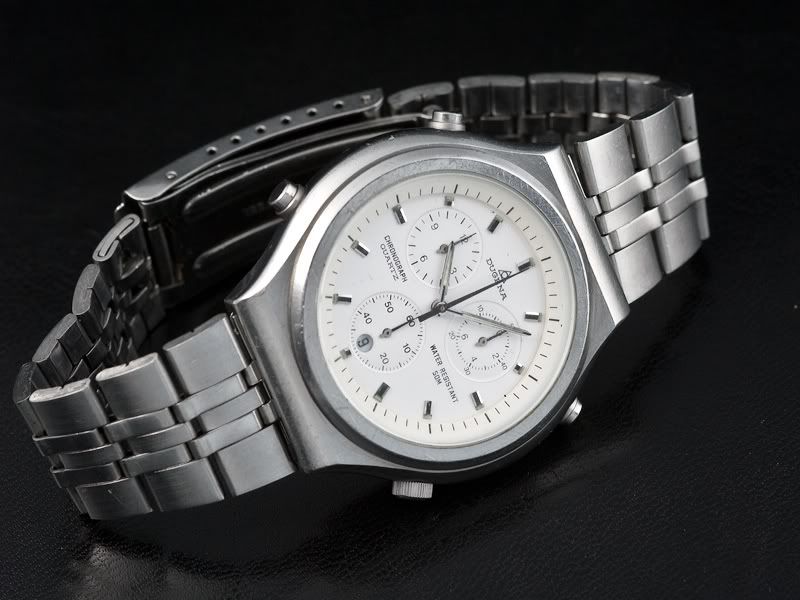 To quote Axel from that thread:
I went for it, because I saw similar dials on older (I guess they are from the early '90s) Citizen quartz chronos.
And yes, there is the 3560 inside: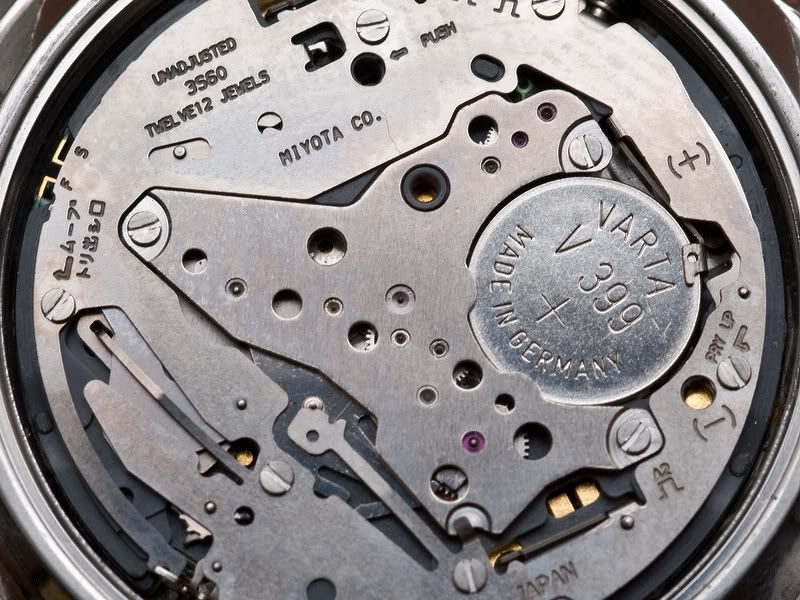 Again his words, not mine:
Not as nice as the Seiko 7Axx series, but not too bad for quartz chrono either.
I was first shocked as I thought it was not working. This little second over the "6" wouldn't move! But than I found out it is not a small second, it is the minute counter. The central second serves both functions, the normal second hand and the stop second, you can toggle between the modes with the pusher at "8" - cool isn't it.
But still more to discover! This funny subdial on the upper right. I could figure out that the inner ring measures the time in 2/100s. 
I didn't have a clue about the outer circle until I found an manual online:
http://www.citizenwatch-global.com/support/simple_pdf/3531.pdf
So other cool functions are second zero reset when setting the time.
A simple counter up to 50 and a timer (count down) function up to 50s ....
So, it would appear - as shown by Michael's and Axel's earlier discoveries - Columbus and Dugena ....
(as with Seiko's 7Axx) there are other brands, using the same Miyota movements, to consider besides Citizen's own Cal. 35xx offerings.