Following hot on the heels of the previous example, listed yesterday evening (see my last post at bottom of the previous page), a French eBay seller listed another Yema Spationaute III 38mm 'reduced' model # N80A696 this lunchtime, as a 10-day auction, with a wishful and highly improbable opening bid price of 459 Euros.
This example is in better cosmetic condition than the other one listed, but apart from being over-priced, it's suffering from a recalcitrant sweep second hand. It comes fitted with a non-original burgundy shark strap and an optional two-tone bracelet. As the latter is shown fitted with spring bars, it might point to the original Yema pin and tube fixings having been discarded. Incidentally, in case the padded geometric backgrounds of the photos look vaguely familiar, this is the same French eBay seller navycaptain56, who is also currently listing a full size 43mm Yema Spationaute III (the one with the missing pusher - see lower down the previous page).
http://www.ebay.co.uk/itm/223545965483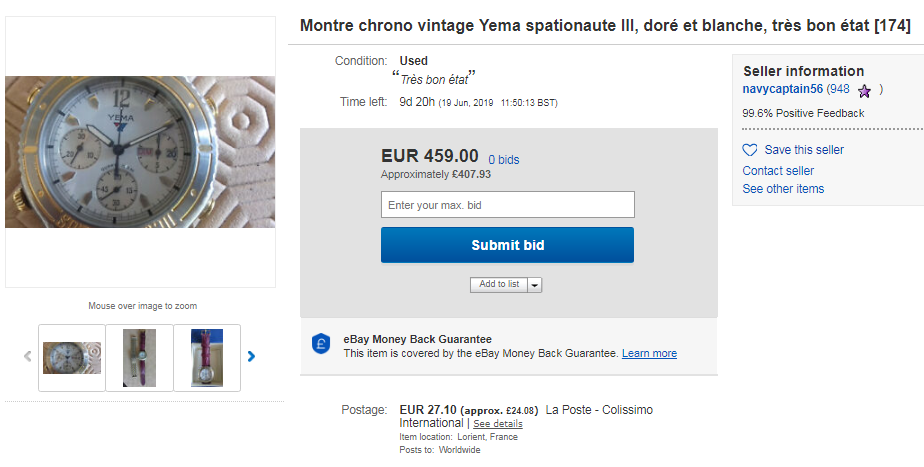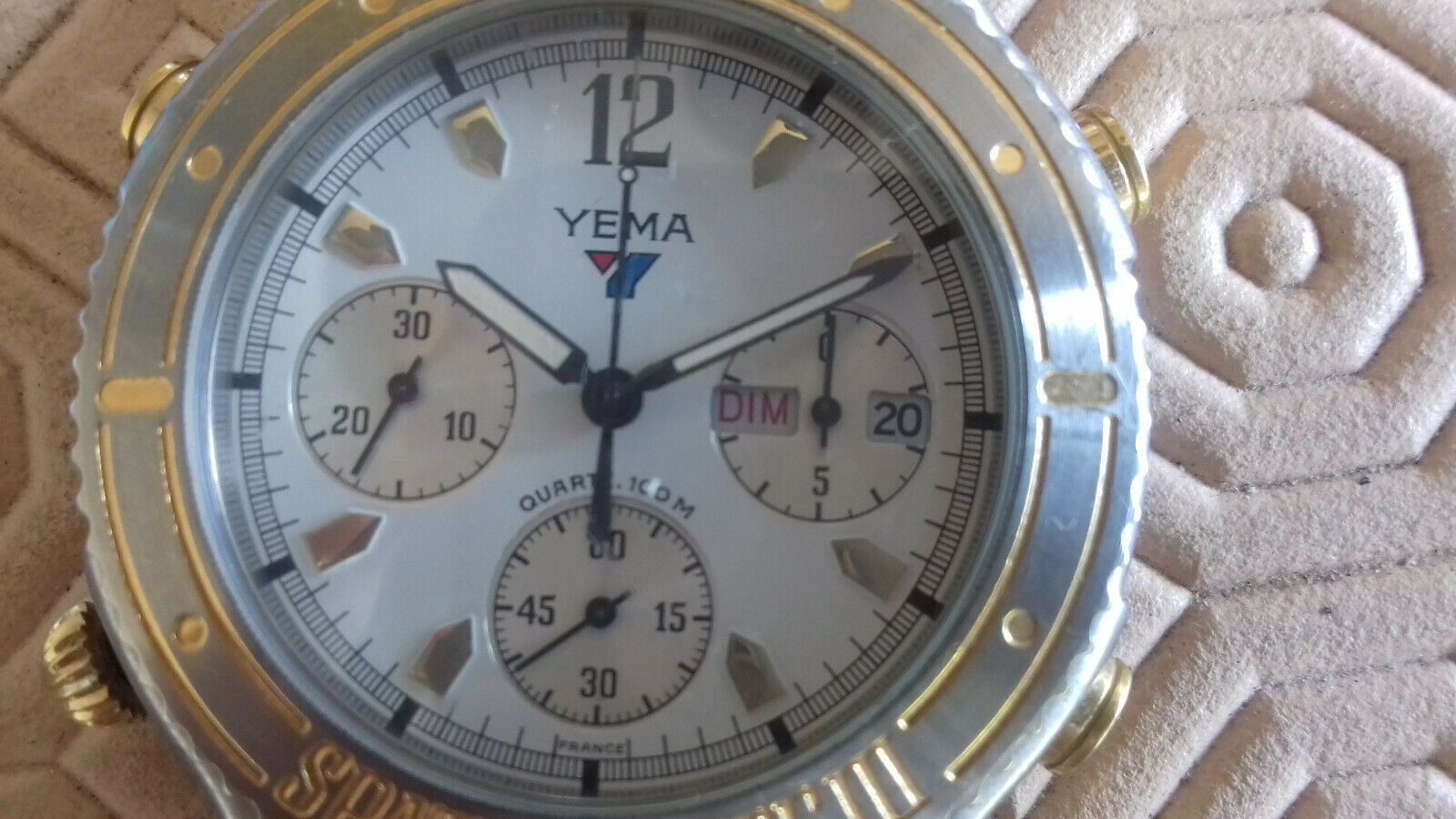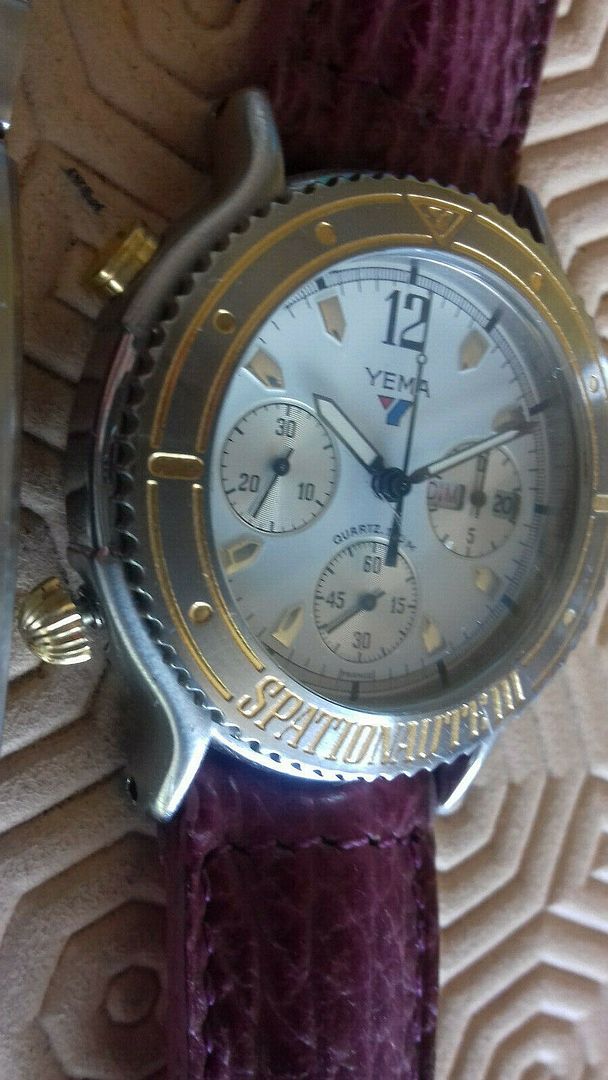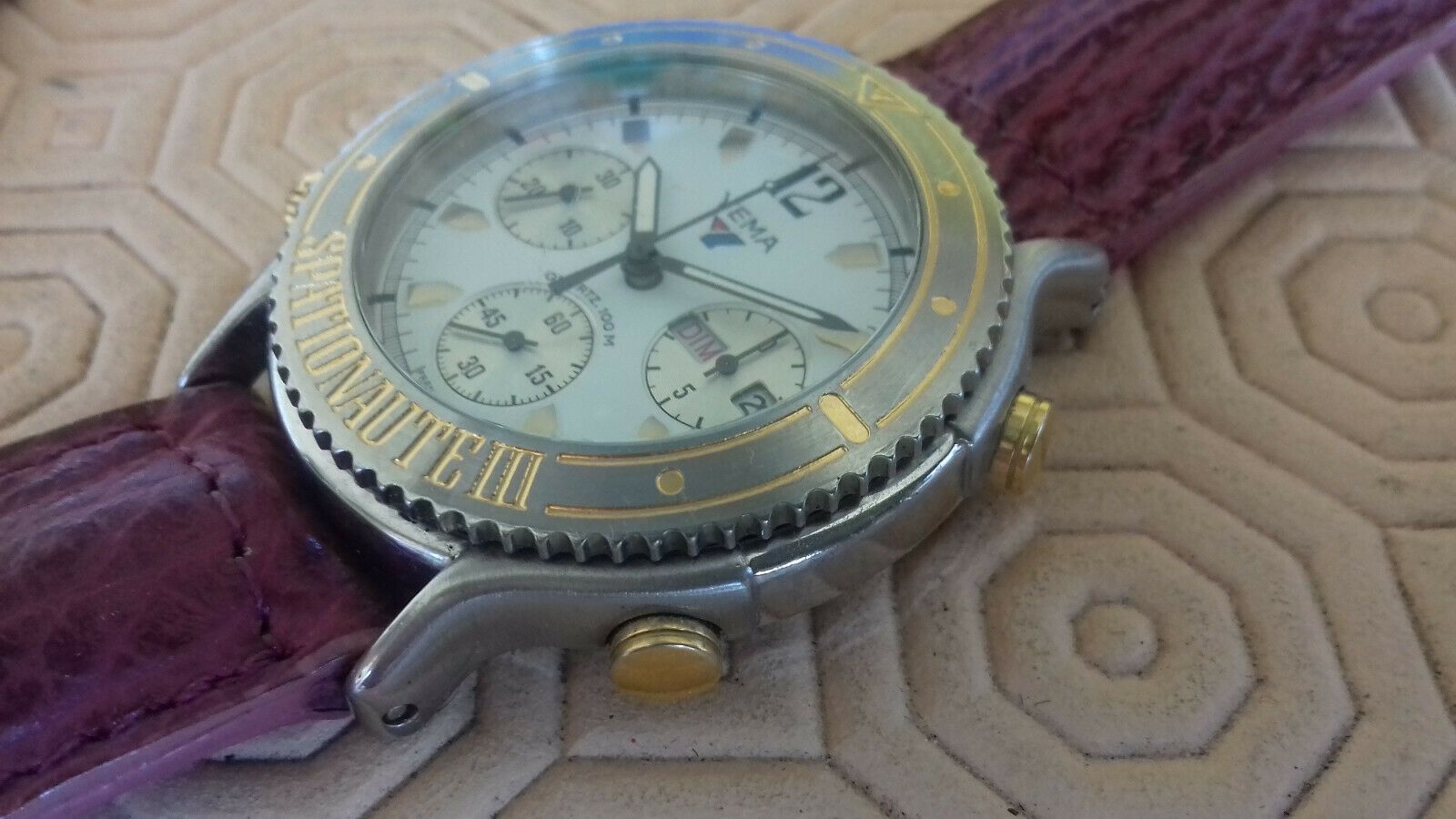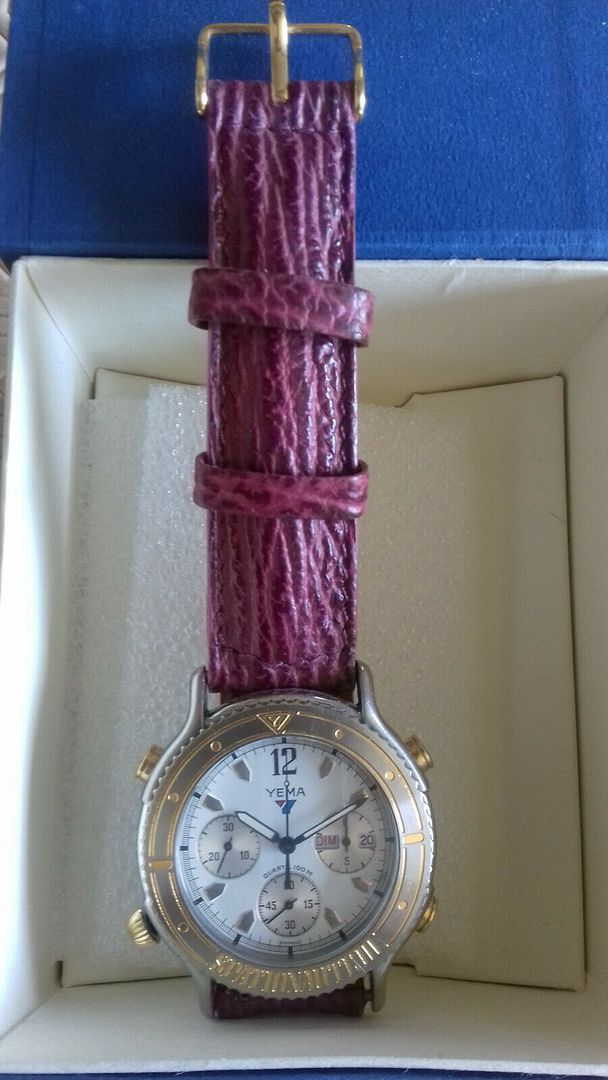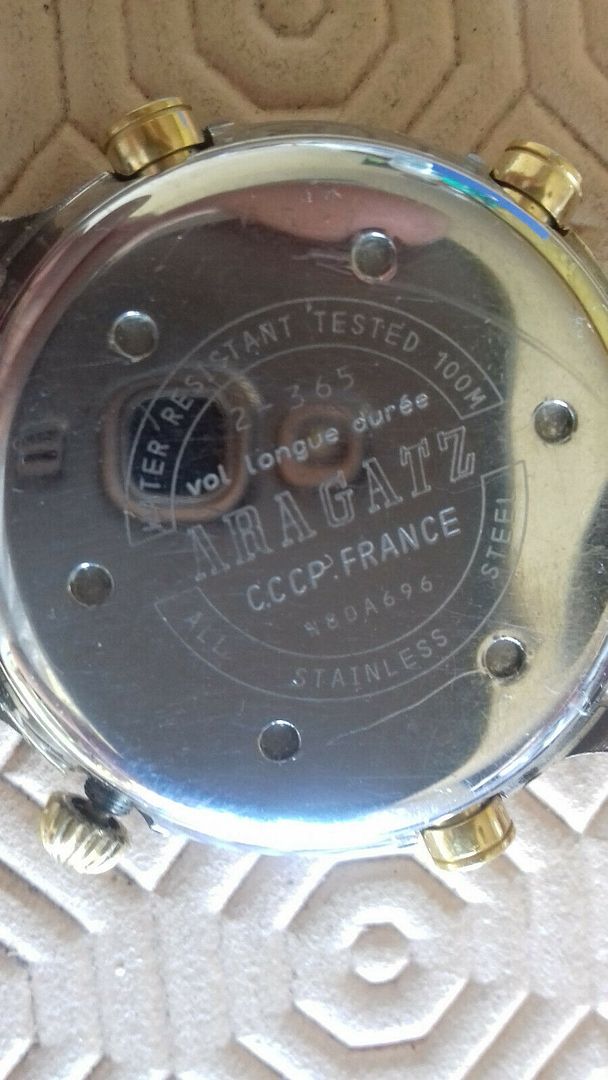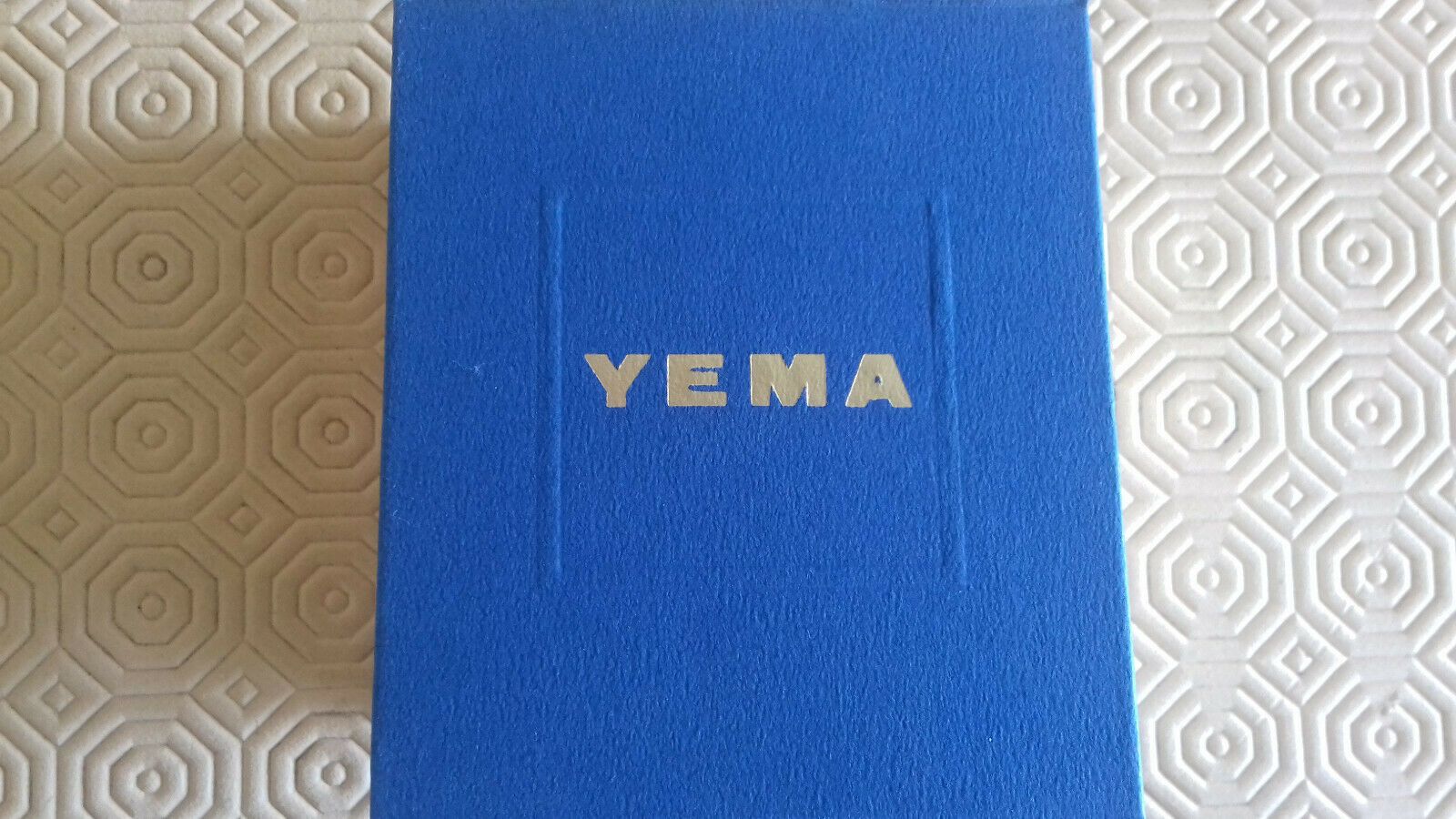 Je vends une montre chrono vintage Yema spationaute III, modèle blanc et doré, la plus petite des deux Spationaute III, en très bon état.
Attention bien que fonctionnant normalement pour l'heure et la fonction chrono, depuis le remplacement de la pile, la trotteuse centrale ne fonctionne plus, elle vibre légèrement sur place, comme si quelque chose la bloquait, probablement à réviser alors.
Les autres chronos fonctionnent normalement.
Elle est livrée montée sur un bracelet en cuir de requin bordeaux neuf, et un second en acier bicolore, dans une boite d'origine Yema.
Elle peut être envoyée en France métro pour 7,8€
I sell a vintage chrono watch Yema spationaute III, white and gold model, the smaller of the two Spationaute III, in very good condition.
Attention although working normally for time and chrono function, since the replacement of the battery, the central second hand no longer works, it vibrates slightly on the spot, as if something was blocking it, probably to revise then.
Other times work normally.
It is delivered mounted on a new burgundy shark leather strap, and a second two-tone steel one, in an original Yema box.
It can be sent worldwide for 27,1