Earlier this morning, French eBay seller navycaptain56 listed yet another Yema Spationaute III Aragatz, as a 10-day auction, with an opening bid of 272 Euros. Although the geometric pattern padded background used in his photos is the same as most of his previous listings, this appears to be a different watch to any included previously in earlier job lots. It's in decent used condition, but the replacement blue shark strap fitted is not an original Yema strap. I'm not sure why he's including the incongruous two-tone stainless bracelet or the Maui Jim box (only mentioned in the French part of the description). I haven't bothered uploading his photo of the latter.
http://www.ebay.co.uk/itm/223761633906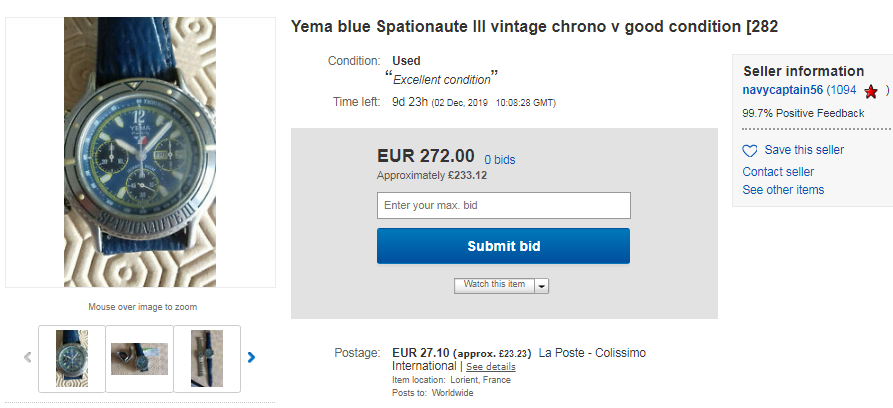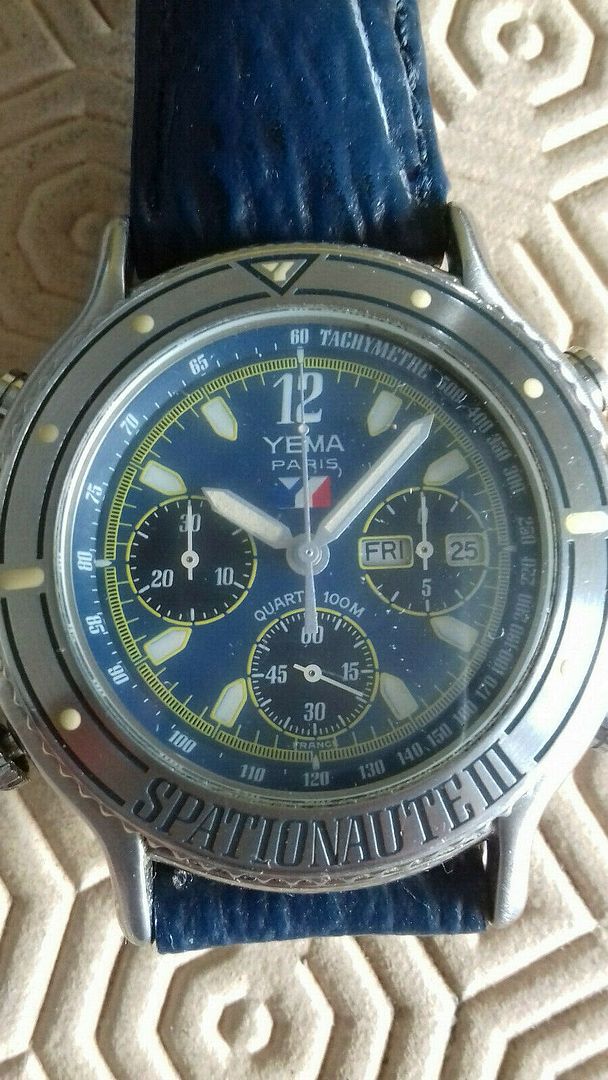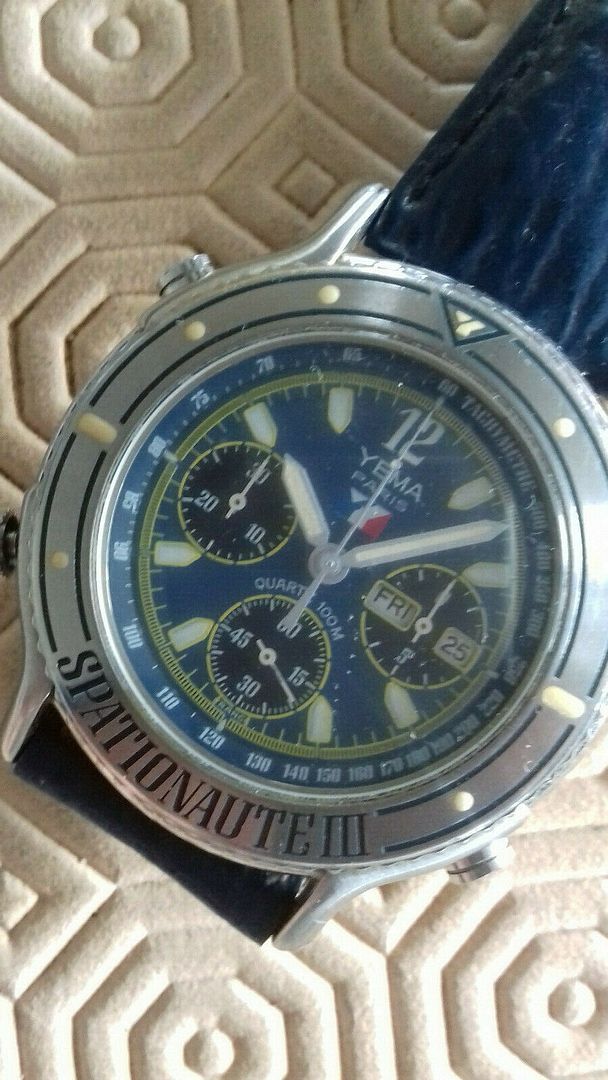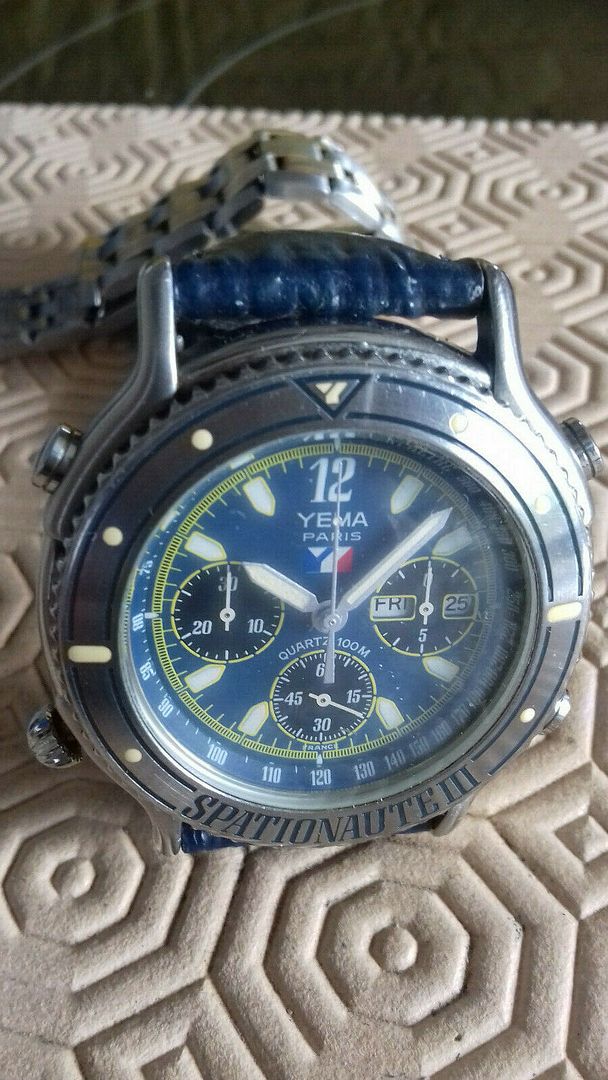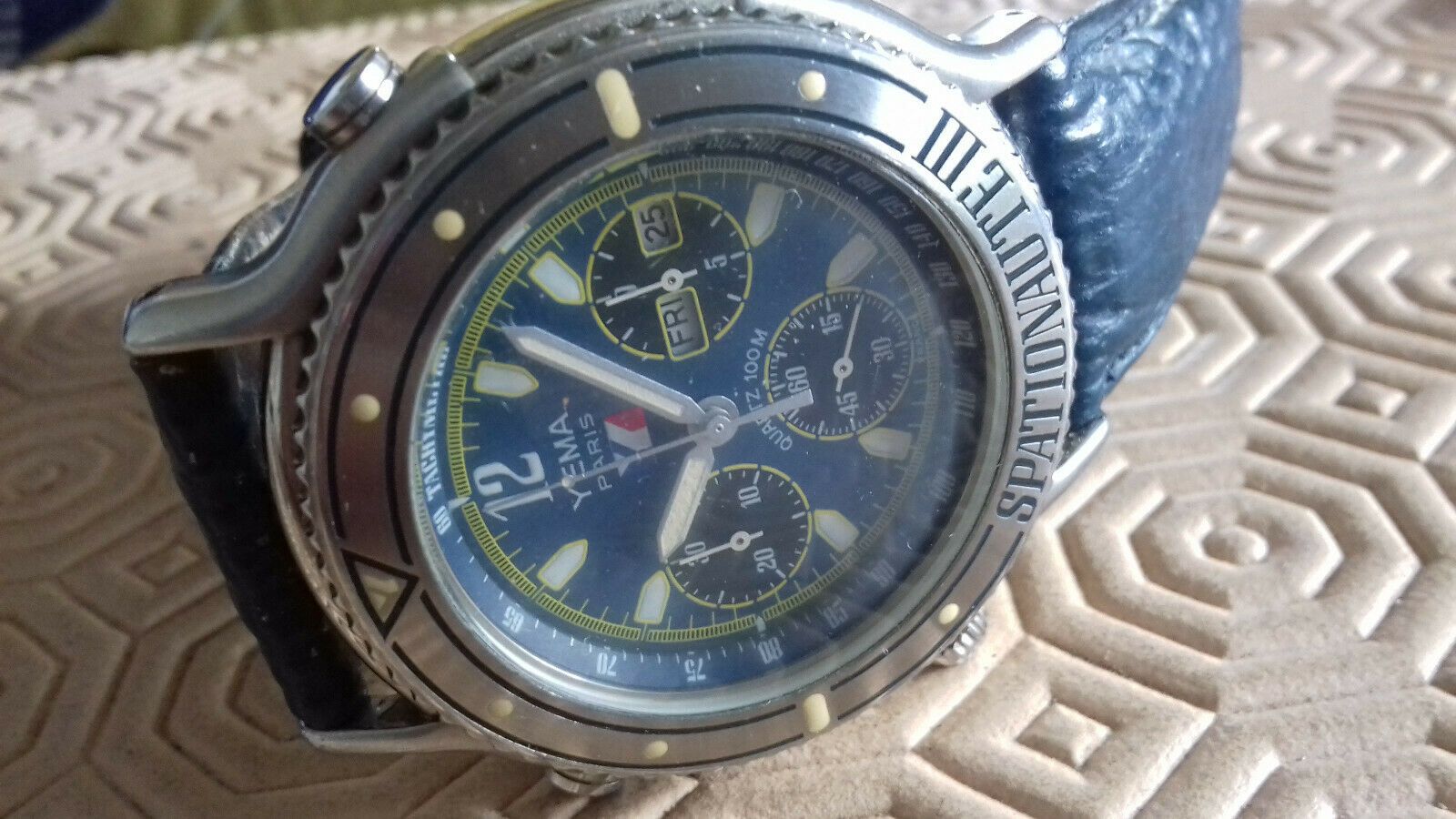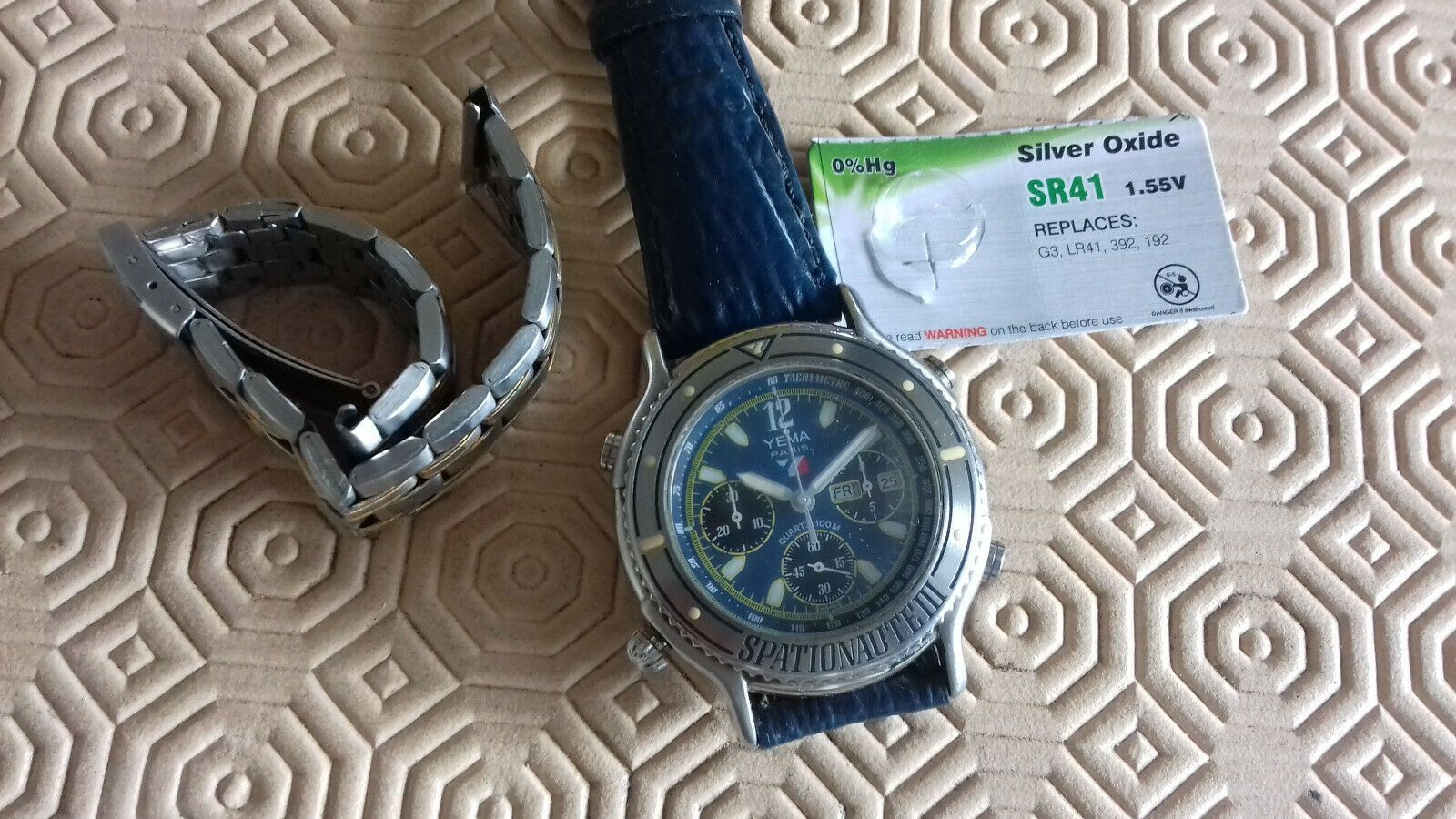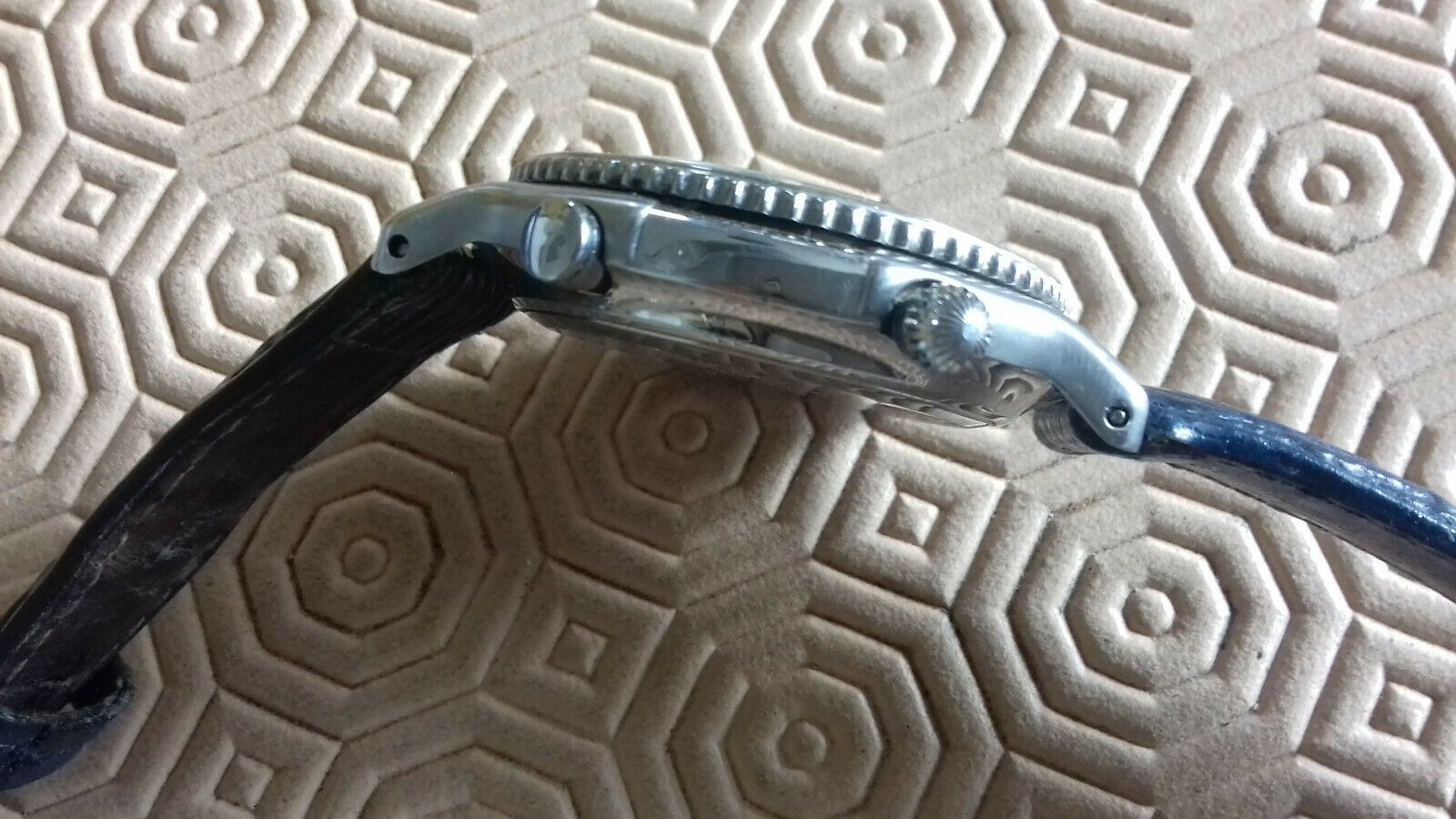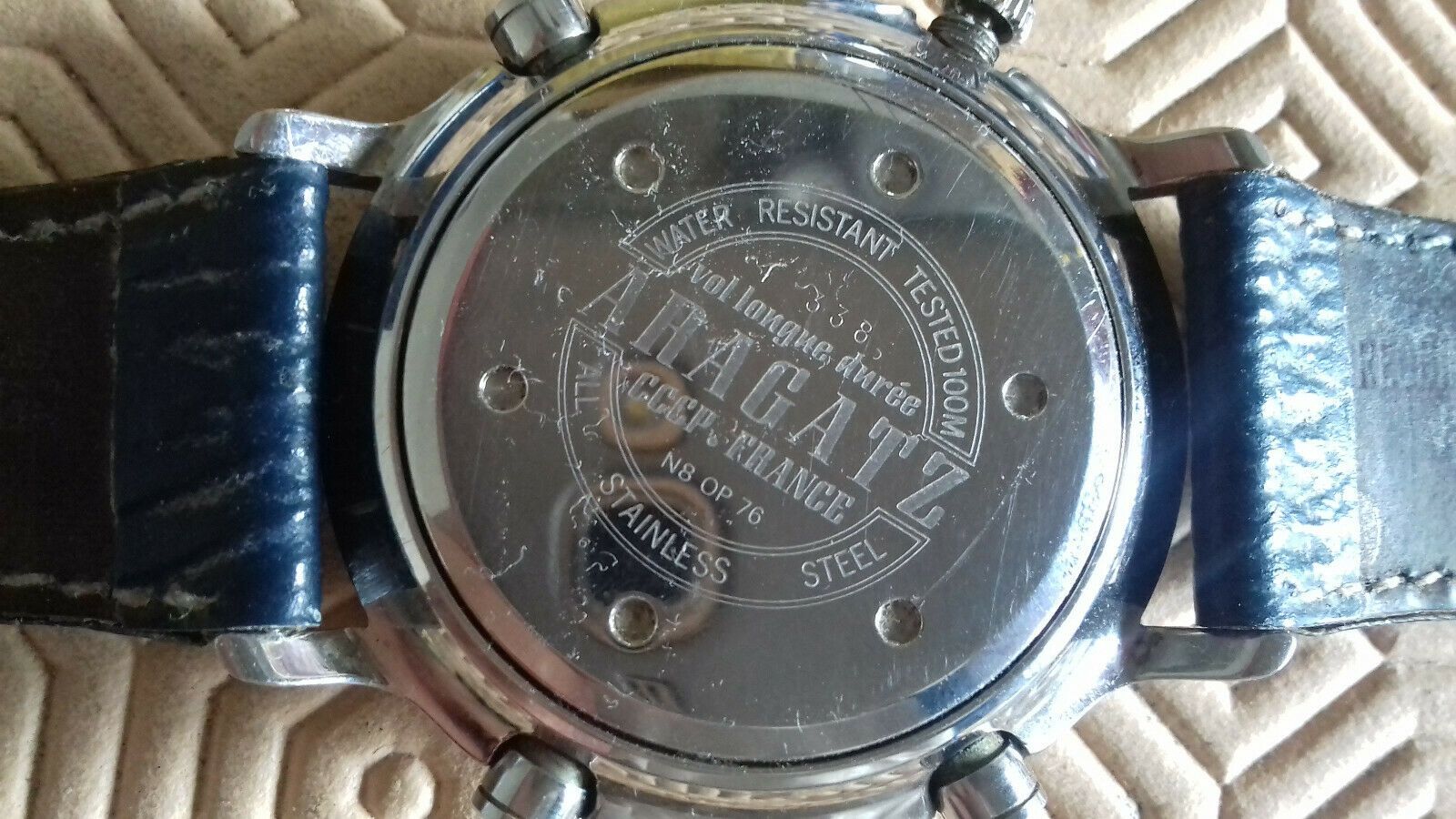 Je vends une montre chrono vintage Yema spationaute III, modèle bleu, mouvement Seiko 7A38 à quartz, pile neuve, en excellent état. 
Ce modèle est selon la publicité Yema de l'époque l'un de ceux qui aurait équipé le spationaute français Jean Louis Chrétien pour l'une de ses sorties extra-véhiculaires dans l'espace en 1988 lors d'une mission russe Aragatz et mieux encore, pourrait y avoir résisté, ce qui semble lui accorder une réelle solidité, cette performance étant gravée sur les fond des boites de ces modèles pour commémorer cet exploit jusque alors sans équivalent sur un modèle aussi accessible.
La Spationaute III bleue fût déclinée en plusieurs variantes, dès le retour de cette mission réussie, les boitiers et mécanismes étant les mêmes sur les différentes versions, seuls alors les cadrans présentaient quelques petites différences qui font aujourd'hui le bonheur (ou non!) des vrais collectionneurs de cette famille de modèles "spatiaux" à laquelle appartiennent les différentes Spationautes III. 
Cet exemplaire est livrée monté sur un bracelet en cuir bleu, et un second en acier bicolore à boucle déployante, dans une boite bleue Maui Jim.
Toutes les montres que je mets en vente sont des montres de collection, n'ayant pour la plupart, pas fait l'objet d'une révision récente, pouvant comporter quelques petites traces d'usage.
Testée sur un cycle de fonctionnement habituel, elle fonctionne normalement, toutefois, n'étant pas horloger, son fonctionnement ne saurait être garanti dans le temps. 
Elle peut être envoyée en France métro pour 7,8€. 
I sell a vintage chrono watch blue Yema spationaute III model, Seiko 7A38 quartz movement, new battery, in excellent condition. 
This model is, according to the Yema advertising of this time one of those that would have equipped the french astronaut Jean Louis Chrétien for one of his extra-vehicular space outings in 1988 during a russian Aragatz mission, and better yet, who could have resisted, which seems to give it a real solidity, this performance is engraved on the bottom of the boxes of these models to commemorate this feat until then without equivalent on a so accessible model.
From the return of this successful mission the blue Spationaute III was declined in several variants, the boxes and mechanisms being the same on the different versions, only then the dials had some small differences that make today happiness (or not!) of true collectors of this family of space models to which belong the different Spationautes III. 
All the watches I put on sold are collector ones, most of which haven't been recently revised, and that may have some small traces of use.
All the watches I put on sold are collector ones, most of which haven't been recently revised, and that may have some small traces of use. 
Tested on a normal working cycle, it works normally, however, not being watchmaker, its working can't be guaranteed in time.
It can be sent worldwide for €27,1