Seiko7A38 at November 6, 2018 at 3:12 PM

I've seen some ridiculous 'pie-in-the-sky' prices asked for Yema Spationaute III's over the years, but I think this is a new record for stupidity. Listed at lunchtime today by a French seller with a Buy-it-Now price of 1200 Euros !!




http://www.ebay.co.uk/itm/223219876917

Continuing the long-running saga of the ludicrously over-priced supposedly new Yema Spationaute III, listed by the deluded French eBay seller rosangui78 ....
If you've read the full version of my above partially quoted post and the equally lengthy update I wrote a week or so later, on the previous page, then you'll probably have gathered that I'd exchanged a number of messages with the French eBay seller. It started off quite pleasantly, with me trying to convince him that his asking price was completely unrealistic, particularly in view of the fact that he hadn't had the watch's original battery replaced in 25 years !  
After a while, I thought he might actually be coming around and although I really didn't need another Yema Spationaute III, I made him what might be considered a couple of 'lowball' offers (low that is compared to his ridiculous asking price). At one point, he actually made a counter-offer of 400 Euros, but before I had a chance to respond to it, he retracted it !!  
I all my years of dealing with eBay sellers, I have never had one do that before. So I left him to stew for a while, before resuming negotiations - after he'd reduced to his pie-in-the-sky Buy-it-Now price down to 'only' 850 Euros. I actually managed to get him to come down even further to 350 Euros ....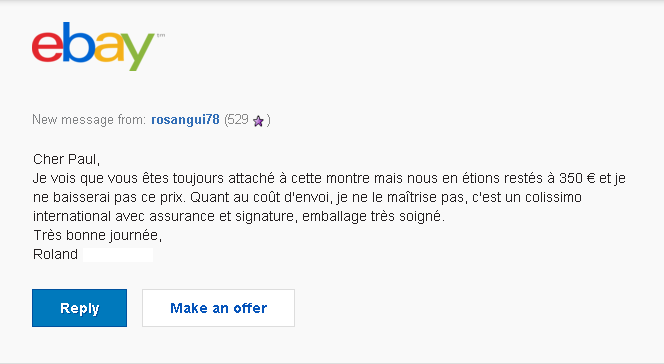 But his 'lowest price', which still didn't reflect the watch's non-running condition, was academic as far as I was concerned, because I'd already reached my maximum number of offers against that listing. He re-listed it in the first week of December, with the Buy-it-Now price further reduced to 'only' 800 Euros. I must admit I'd lost interest by that point (I was on the track of something else, rather more worth the effort of haggling). I didn't bother making him another offer, even though I had his written offer of 350 Euros 'in the bag'. The 30-day re-listing ended a few days ago. 

It reappeared on eBay again this afternoon, re-listed for another 30 days, but with a couple of differences: notably that he's increased his 'pie-in-the-sky' Buy-it-Now price back up to
999 Euros !!

Reading the latest edited version of his description, it transpires that earlier today, he finally had the watch's battery replaced and it actually runs.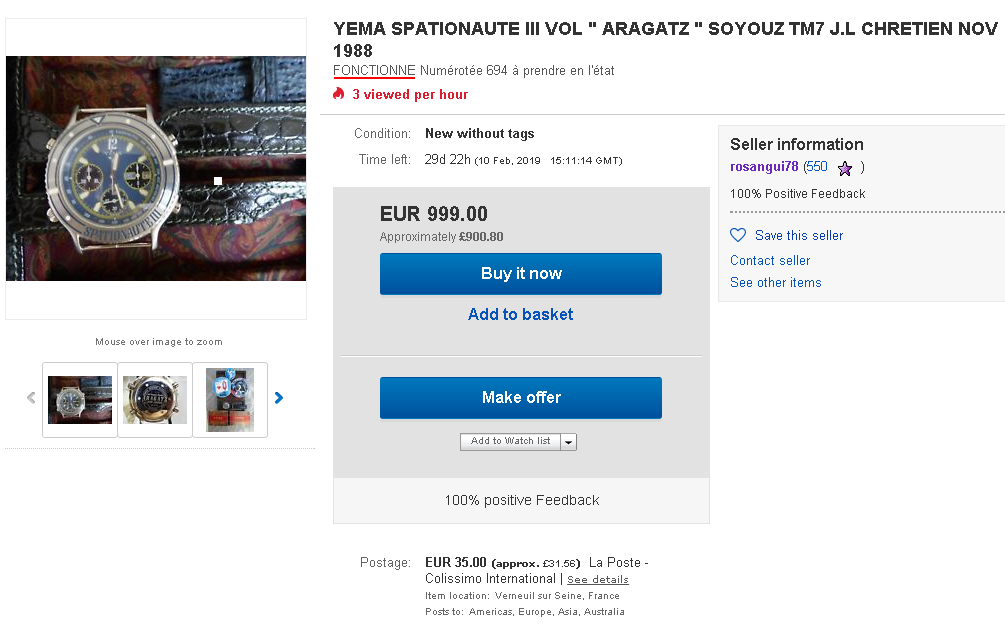 MONTRE YEMA SPATIONAUTE III
VOL ARAGATZ SOYOUZ TM7
NOV 1988 AVEC J L CHRETIEN
IL Y A un peu plus de 30 ans
A LIRE ATTENTIVEMENT AVANT L'ACHAT
CETTE MONTRE N'A JAMAIS ETEE PORTEE
MAIS CONSERVEE DANS UN ENVIRONNEMENT TRES SAIN PAS D'HUMIDITE
CONSERVEE DANS UN BOITIER ELLE N'A PAS RECUE DE CHOCS
A FONCTIONNE AVEC PILE D'ORIGINE JUSQU'A L' ARRET
PILE CHANGEE LE 11 01 2019
GARANTIE 2 ANS (CERTIFICAT INCLUS )
VERIFICATION DE L'ETAT INTERIEUR faite
CHANGEMENT PILE fait
MECANISMES MOUVEMENTS EN ORDRE
PAS DE COULURE NI D'OXYDATION
LE BOITIER N'A ETE OUVERT QUE POUR LE CHANGEMENT
AVEC OUTILLAGE SPECIAL
LES TEST D'ETANCHEITE N'ONT PAS ETE REALISEE
LE JOINT N'A PAS ETE CHANGE
A PRENDRE EN L'ETAT
NUMEROTEE 694
AVEC BOOKLET
LIVREE SANS BRACELET
22 mm à l'attache
All I can say, if anybody fancies picking up where I left off, is - Bon Chance !