Post reserved for additional photos and information (further images may be added later, as and when they become available). 
 I can send you pictures of the inside of the watch with all the markings if you wish.*
*This eBay seller is currently away until 03 May 2012. It goes without saying, when she returns, I shall be taking her up on her offer.

Which indeed I did, actually before 3rd May, and she (not he as I originally wrote), finally came through with, a few days after that. 
They're different, in that unlike the photos supplied by Mark of Jewelry-N-Loan, they show the 7A74A movement in the watch case.
Though apart  from 'SWISS' on the battery positive terminal plate, most of the other movement stampings are barely discernable:
Her first photo shows the stampings on the inside of the back cover, which include JEAN LASSALE and SWISS CASE, as expected.
Lower down, there is an unidentified atelier's stamping, which resembles a Christmas tree, with the letters APE ADB underneath it.
(Subsequently corrected. See close-up photos in other 7A74 thread: http://www.seiko7a38.com/apps/forums/topics/show/7947449 )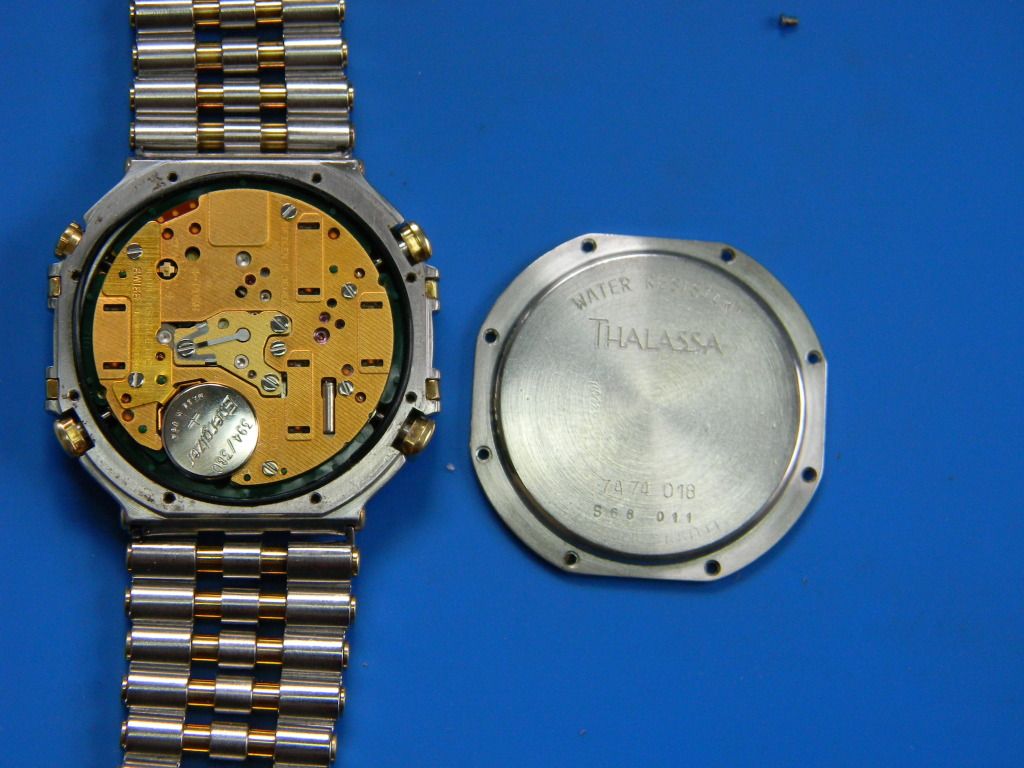 The case-back is stamped: WATER RESISTANT, THALASSA, 7A74 018 and with the serial number S68 011.
The bottom edge of the case-back also carries 18K GOLD - ST. STEEL, but is almost completely worn away on this example.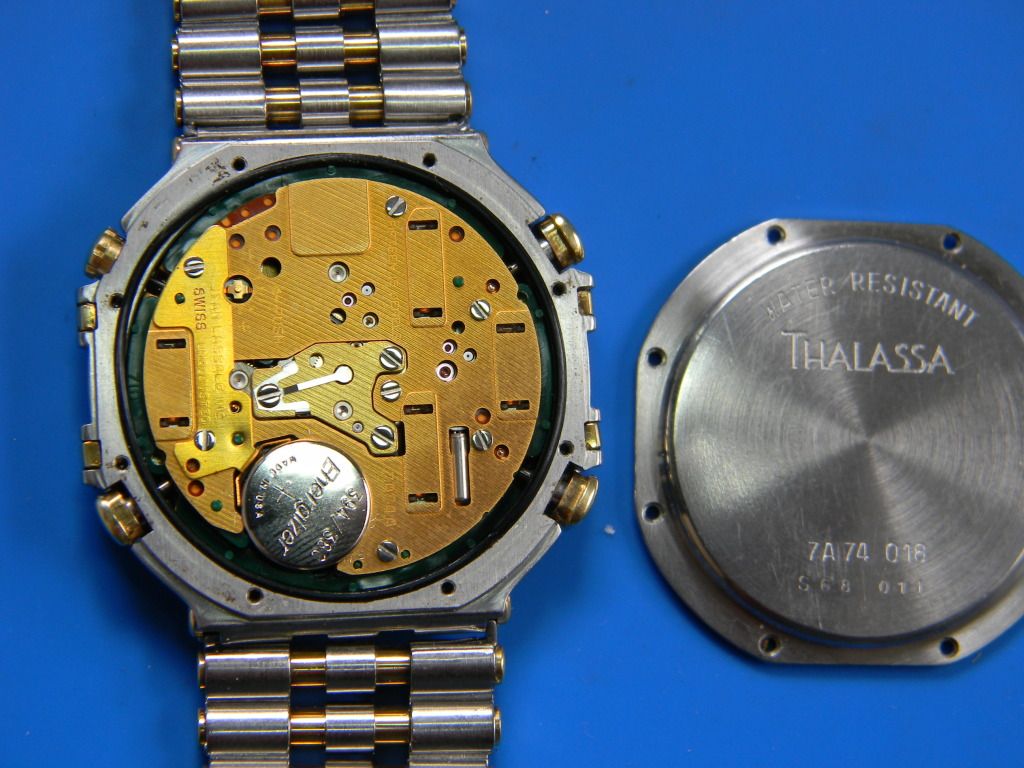 In the last photo, you can see the serial number S68 011 more clearly.
Funnily enough, in her eBay listing description the seller had typed it as 668 011, which partly contributed to my earlier confusion. 
.... and hence this post is also reserved for the odd erratum.

It's all too easy, when carrying out this type of online research to occasionally draw the wrong conclusions, particularly ....
in the absence of any feedback from the manufacturer, or when squinting at poor quality photographs, in an effort to glean data.
I'd earlier convinced myself that the 6-digit serial numbers on these Jean Lassale Thalassas followed the same format as Seiko's.
Last week, I'd made a couple of posts in Neil C's thread on TZ-UK, and included a link to this thread. In his last post, Neil replied:
http://www.tz-uk.com/forum/viewtopic.php?f=1&t=140421&p=2279694&hilit=lassale#p2279694
The question is, does the serial number number of the JL read as the Seiko's do? 
I am rather doubtful myself as everybody seems to use a different system but it does seem to make sense.
I'm grateful to Neil for having 'sowed the seeds of doubt', because despite having arrived at the conclusion I wanted, I was wrong.
Purely by luck, as it was included, by mistake, in an advert for another totally different Thalassa, by the same seller on Chrono24:
http://www.chrono24.com/en/jeanlassale/thalassa--id1917943.htm I found a different view of the case-back of the same 7A74-017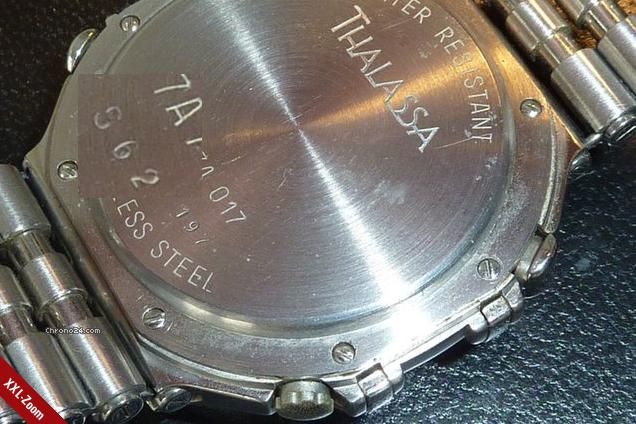 The first digit of the serial number which I'd previously incorrectly assumed to be 8 was actually an S !
This discovery prompted me to revisit the other photos and adverts where I'd gleaned serial numbers.
The two that I'd previously incorrectly identified as beginning with a 5 also were both actually Sxx xxx ....
Perhaps I need to get my eyesight tested again, or invest in a better monitor with higher resolution ! 
So the range of serial numbers for these that I've found, so far, in fact runs from S52 018 to S68 011, which actually works just as well.
If one now assumes that the second digit represents the year of manufacture (within a given decade); that the third digit is the month, then the last three digits would be the serial number of that unit produced in that month / year. So now, we've got unit # 018 produced in February 1985 through unit # 011 produced in August 1986. The S stands for Seiko, naturally, as the 7A74A movement supplier. 
Here's an old eBay auction dating back to October last year, which I later found, that clearly shows yet another S62 xxx serial number:
http://www.ebay.co.uk/itm/190582679351
18K SOLID GOLD Jean Lassale Thalassa Chronograph Mens Swiss Watch & S. S. S.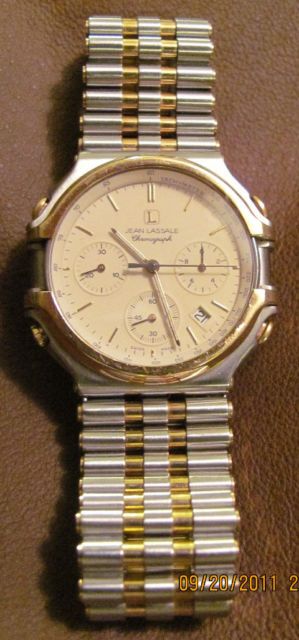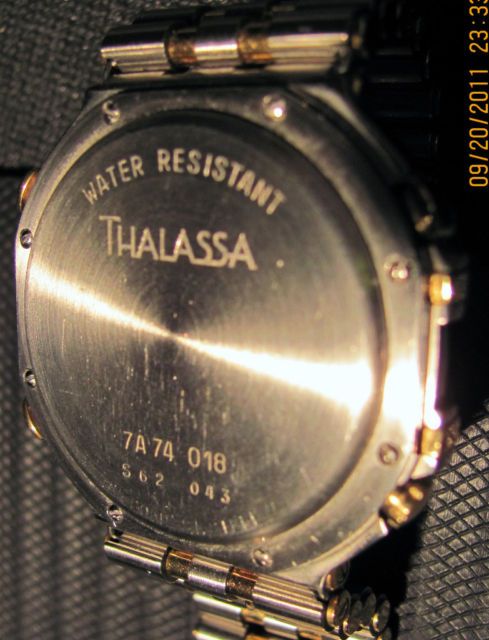 Incidentally, despite many revisions and price reductions, it remained unsold at the last opening bid price of $1179 (approx. £728).
It was subsequently re-listed and finally sold on 26th November: http://www.ebay.co.uk/itm/190606737956 for $900 (approx. £556). 
Here's three more additional photos I found posted on Orologio & Passioni: Jean Lassale Thalassa Crono chi lo conosce?
See: http://orologi.forumfree.it/?t=59234654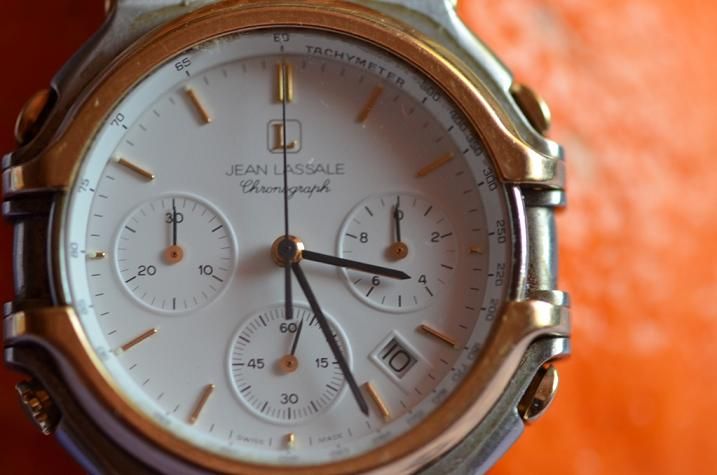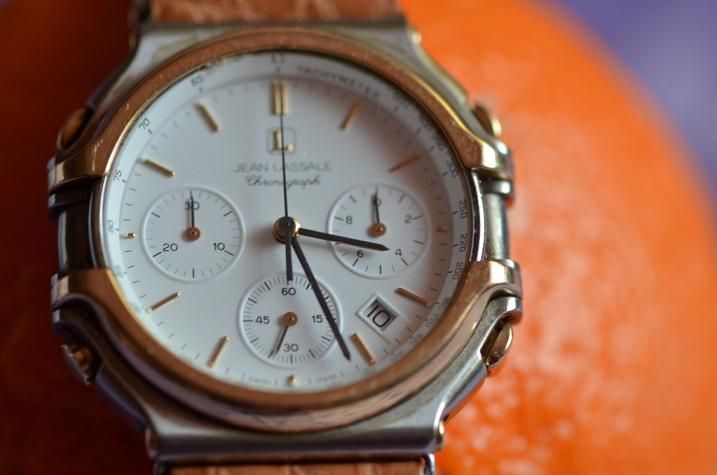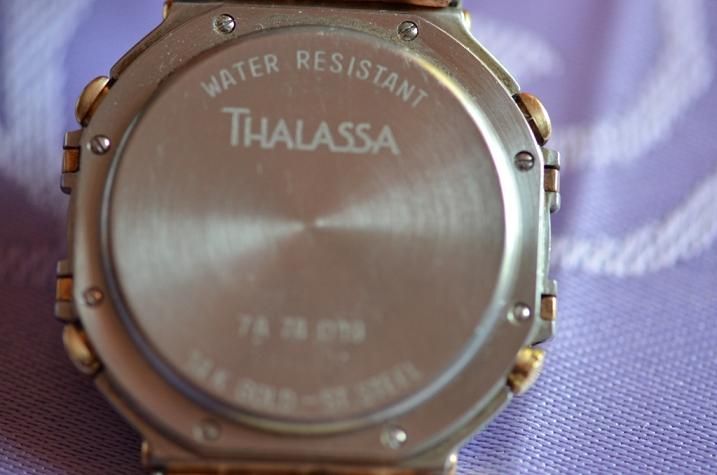 The OP was asking if anyone knew anything about the watch. 

Although the lower case-back stampings are out of focus, I think it's fairly safe to assume that it's another example of the 7A74-019.
Similar to that offered by Jewelry-N-Loan, except that this one is a 'SWISS MADE' (presumably the movement is stamped accordingly).
It also appears to be fitted with a tan leather strap (in 2nd photo), rather than the more desirable 'bamboo' stainless and 18K bracelet.
-------------------------------------------------------------------------------------------------------------------------------------------------------------------------
A couple of very belated additions to this post made on Sunday 27th May 2012:
Two more Jean Lassale Thalassa 7A74's were listed on eBay in the States in the latter part of May, which were both worthy of mention.
http://www.ebay.co.uk/itm/300714942293
Jean Lassale Men's Thalassa Quartz Chronograph Stainless case and bracelet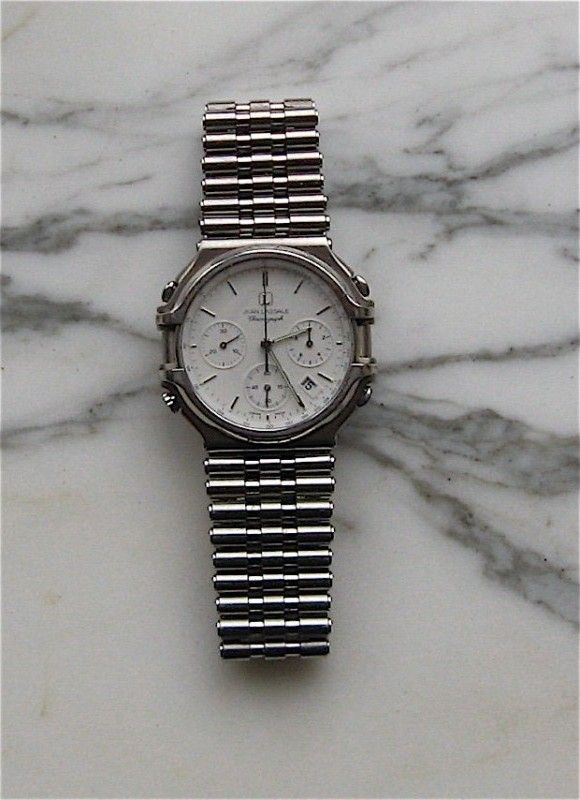 Model: Thalassa 7A74 017
Serial Number: S62123 on caseback
Style: Thalassa Stainless Steel White Face

This all stainless watch is for the man who prefers not to wear dual tones.
Originally purchased in 1991 the watch has had only one owner and has been worn infrequently.
Will be sent with original zipper case and watch holder, outer box, instruction manual in 5 languages (English, French, German, Italian, Spanish), brief instruction folder, and original certifications (filled in). Zipper case interior shows age. See picture.
Watch crystal and top of bezel have light scratches which are not apparent unless making a close examination.
Watch tested and is in working order. Inside is in like new condition, no staining, new battery.
Opening bid price is $950 (approx. £607.61)
This is another 7A74-017 in all stainless steel - offered at less than half the price of the similar black-dialed version on Chrono24.com.
It's also nice that this particular example comes with all its original boxes and papers. I contacted the seller through eBay, and asked a few questions of her, all of which she very helpfully replied to - and subsequently updated some of her listing information / description.
I did consider making an offer for a while. But then I found myself asking - What makes this all-stainless Jean Lassale 7A74 - without any 18K gold content (or a day window) worth up to 10 times the cost of the equivalent stainless white-faced Seiko 7A38-7280/9 ? 

In this instance, isn't it solely the cachet of being a (re-branded) 'Swiss Made' Seiko 7Axx - at a slightly more 'affordable' price ? 
http://www.ebay.co.uk/itm/160803191798
Jean Lassale Thalassa 18k Gold Black Chronograph Dial Black Leather Quartz Watch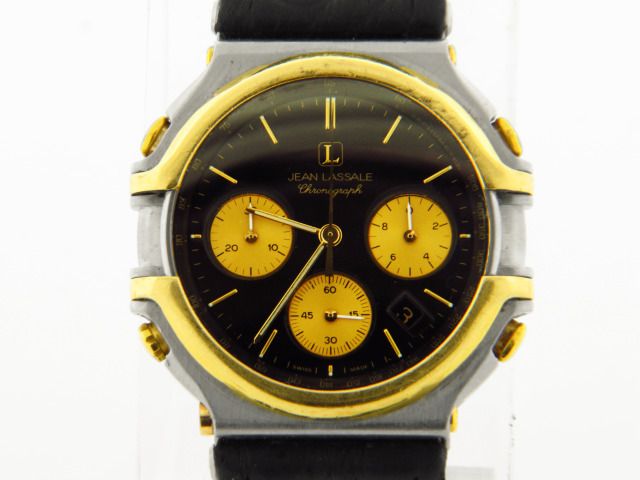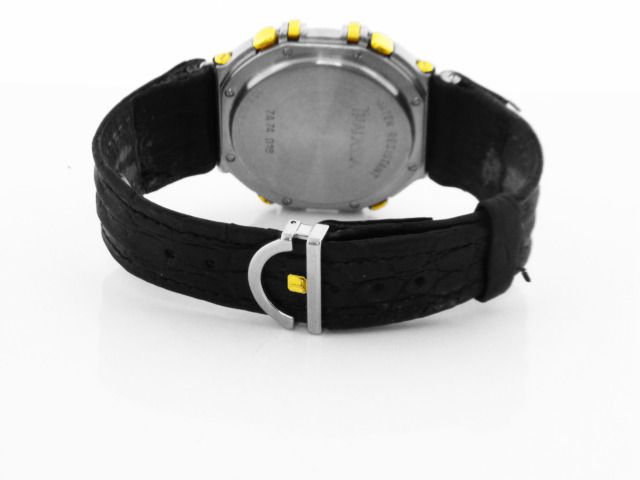 Jean Lassale Thalassa 18k Gold Black Chronograph Dial Black Leather Quartz Watch
Condition Rate: Watch is in good condition and works perfect.
Pre-Owned. Does not come with box or papers.
Buy-it-Now asking price is $1000 (approx. £639.59)
This one's a 7A74-018, the same model # as offered by eBay seller 'Kasiart' and also posted on the Rolex forum by 'ValenciaJewelers', except that this is on a leather strap. When I first saw the previous such example on a (tan) leather strap posted on Orologi & Passioni, I'll admit I had my doubts about its originality, suspecting that the strap had been retro-fitted to replace a broken or damaged bracelet.
It would seem that was not the case. The above eBay listing photos may not be the best, but they clearly show the black leather strap is fitted with what is obviously an OEM Jean Lassale 'L' deployant clasp. Also, if you carefully compare photos of the two watches on leather straps, with those fitted with the more familiar 'bamboo' bracelet, you can see 2 small machined indentations - cut-outs on the ends of their watch cases, possibly to allow the bracelet more movement, or maybe just a cosmetic alteration to match the bracelet.
Best seen in this photo posted by 'ValenciaJewelers':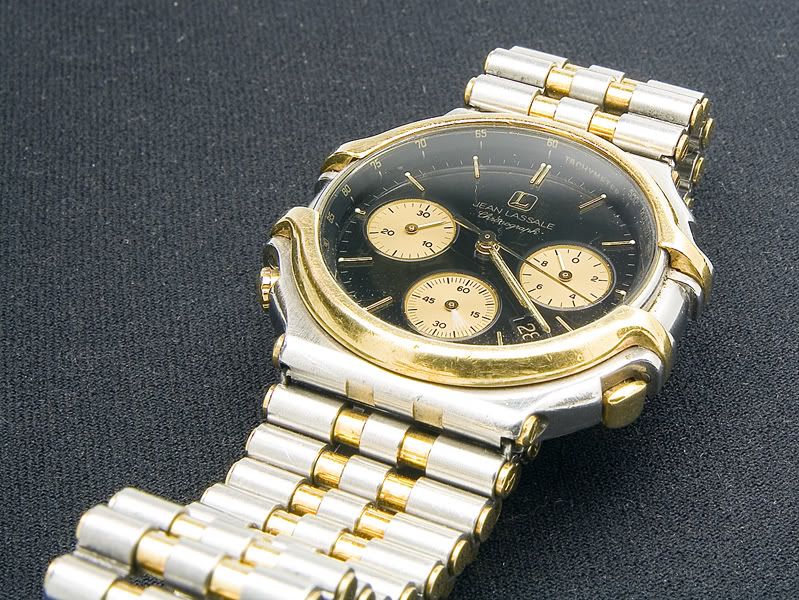 These are notably absent from both the leather strap version's watch cases, so obviously this was a factory option. Why Jean Lassale offered the 7A74 on a leather strap escapes me, particularly as in their earlier Thalassa adverts, the bracelet was a major selling point.