I briefly debated whether to start a new topic for this post, but by dint of being over-priced and incorrectly identified, it fits pretty well under the umbrella of this thread. Recently I've noticed an increasing number of eBay sellers offering supposedly substitute crystals for 7Axx's. Some are better than others, but most of what they're offering are obviously just cheap mineral glass crystals which you could have bought yourself from Cousins UK, for a fraction of their asking price. This one which came up in one of my eBay saved favourite searches earlier in the week, offered by a Dutch seller is a classic.
http://www.ebay.co.uk/itm/112016258462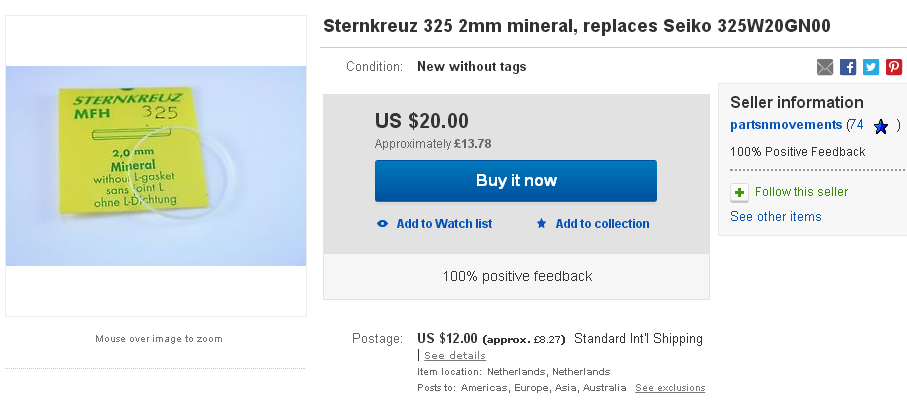 Sternkreuz 325 2mm mineral, 
Replaces Seiko's 325W20GN00 7A28 crystal but is a little thicker as the original 
Sold as is, no returns.
Now I don't do 7A28's, but I do know that Seiko p/n 325W20GN00 is the crystal used in both the stainless and gold-tone 7A38-7000.
It's 32.5mm diameter by approx 1.5mm thick, with a small polished bevel edge. The genuine Seiko crystal is still available from Filipino seller Tony Plaza (using his seikoparts14 eBay ID), though it has to be said, his asking prices are gradually creeping up.
http://www.ebay.co.uk/itm/291683932505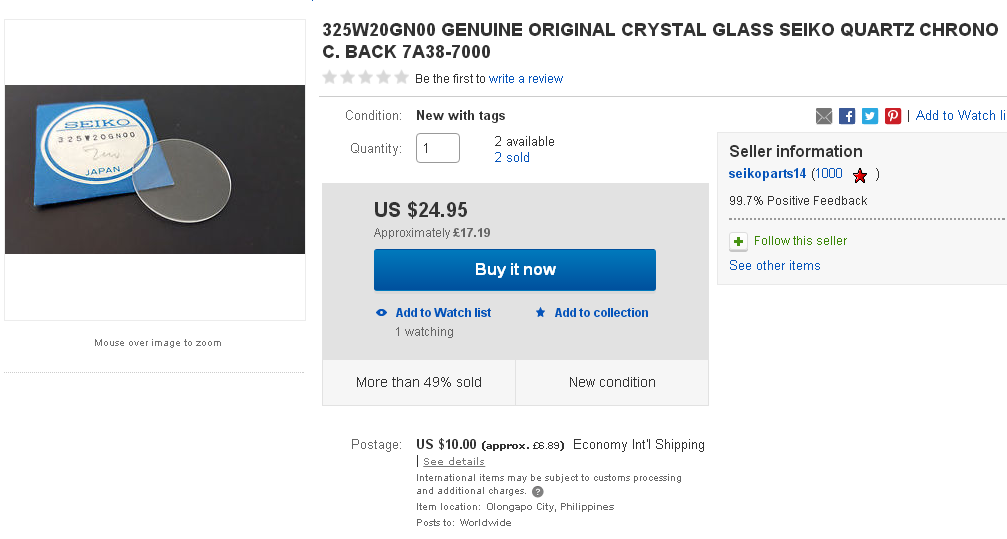 Myself, I've used to good effect (and would personally recommend as subsitutes) both Sternkreuz p/n MSM325 and their own brand 'cheapie' p/n F150CMH325, which cost £1.50 and £0.70 + VAT respectively, from Cousins UK. I prefer Sternkreuz MSM for their hardness (they can take a lot of 'welly' when pressing home), but the cheaper Cousins crystals have a small polished bevel edge, which, in this instance, makes them almost indistinguishable from the original Seiko crystal. So why would anybody in their right mind want to pay this Dutch seller $20 (+$12 postage) for the wrong crystal ? Which incidentally costs £1.60 + VAT from Cousins UK.