I wouldn't normally comment on an eBay listing (in the relevant 7A38-xxxx model specific thread) before the auction has ended.
But as incoming google searches are already bringing visitors to this thread, I thought I ought to write a cautionary word or two.
Listed earlier this morning by a would-be seller in Malta was this rather tired-looking 7A38-7050:
http://www.ebay.co.uk/itm/121022026350
VINTAGE SEIKO 7A38 - 7050 QUARTZ CHRONOGRAPH WRIST WATCH

The rather lengthy listing description (which I have condensed the spacing of) reads as follows:
VINTAGE SEIKO 7A38 - 7050 STAINLESS STEEL QUARTZ CHRONOGRAPH MANS WATCH 
HUGELY OVER-ENGINEERED, MASSIVE SPEC WITH 4 STEPPER MOTORS 
NO-ONE (INCLUDING SEIKO) BUILDS WATCHES TO THIS SPEC CURRENTLY 
MOST UNUSUAL DIAL / HAND FONT COLOUR COMBINATION .....PALE/SPEARMINT GREEN (which unfortunately my pictures don`t do justice) :-
The hour markers, the hour & minute hands, sweep second hand, the hands for the 1/10 sec and min sub-dials, the font on the chapter ring, the numbers on the rotating bezel and the `Chronograph` script on the dial are in a spearmint green colour 
I have owned and handled many of these but have never seen another like this 
I understand it to have been only for the Far East / Domestic (Japan) market 
Rotating bi-directional bezel 
Slate grey dial and chapter ring with black sub-dials for the chronograph functions 
White on black day/date display 
Totally original and `unmolested ` example ( I believe) in pretty good condition, however, has been regularly worn and as a result there are........ 
Some scratches and contact marks to case sides and edges 
Some scratches to crystal & bezel insert 
A few light toolmarks to caseback 
Stainless steel screw-down caseback stamped (outside):-
7A38 - 7050 AO 441895 JAPAN Q WATER RESISTANT SEIKO STAINLESS STEEL
All functions working correctly, day/date change smoothly and promptly, all chronograph functions re-set promptly and to zero
VERY UNUSUAL WATCH (FIND ANOTHER!!)
IN GOOD CONDITION
I have done my best to accurately and honestly describe this watch, however, my knowledge is NOT exhaustive and my opinions regarding condition are necessarily subjective. 
They are very popular watches and have an avid following of much more knowledgeable people than I . If I have missed the mark in any respect I am sure there will be someone along shortly who can correct me 
SEIKO 7A38A 15 jewel quartz movement 
LARGE 42 mm diameter case excl. crown/pushers 
Slate grey dial with applied lume hour markers andblack colour sub- dials for the chronograph functions 
Divided window day/date display at 3 o`clock. 
Hardlex crystal 
Screw-down caseback 
All chronograph functions re-set to zero as they should 
Fresh battery 
Very good condition, however, this watch has been worn and thus shows some very light scratches. 
Some toolmarks to caseback .
As soon as I started to read it, it looked all too familiar - I remember it well. It has been copied (verbatim) from this listing last year:
http://www.ebay.co.uk/itm/180700487167

Here are 3 of the 6 photos from the original listing (the other 3 are very similar):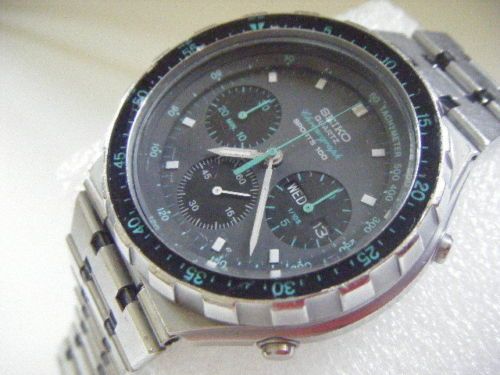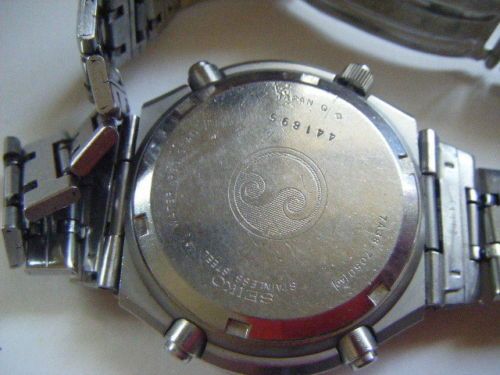 If you read this thread on the RLT watch forum: http://www.thewatchforum.co.uk/index.php?showtopic=67544 you'll see that it didn't actually sell first time around (nor second or third, IIRC). That same eBay listing description is also included in a later post of mine.
This 7A38-7050 is in much worse condition than the one discussed in that thread. It is very tired - just look at the hands and bracelet.
Maybe worth $99 (the opening bid) if you fancy a long-term restoration project, but certainly not the Buy-it-Now price of $339 !!! 
In case you hadn't noticed the seller's biggest mistake in copying the description verbatim from somebody else's listing ....
Compare the serial number in his photo: 441760 with the quoted 441895 from the original listing description and photo.