This listing for a 7A38-7050 in decent cosmetic condition, by Italian eBay seller welovevintagewatches, appeared yesterday evening - effectively as a 3-day auction with an opening bid price of 19.90 Euros. However, if you check the bidding history, it shows it was supposed to be a 5-day listing starting on Wednesday 10th. The first bid wasn't placed until 7:20pm yesterday, so presumably nobody else saw it any earlier either. Bidding is currently @ 71 Euros. As per their normal practice, this seller has only uploaded a single composite image.
http://www.ebay.co.uk/itm/173582257667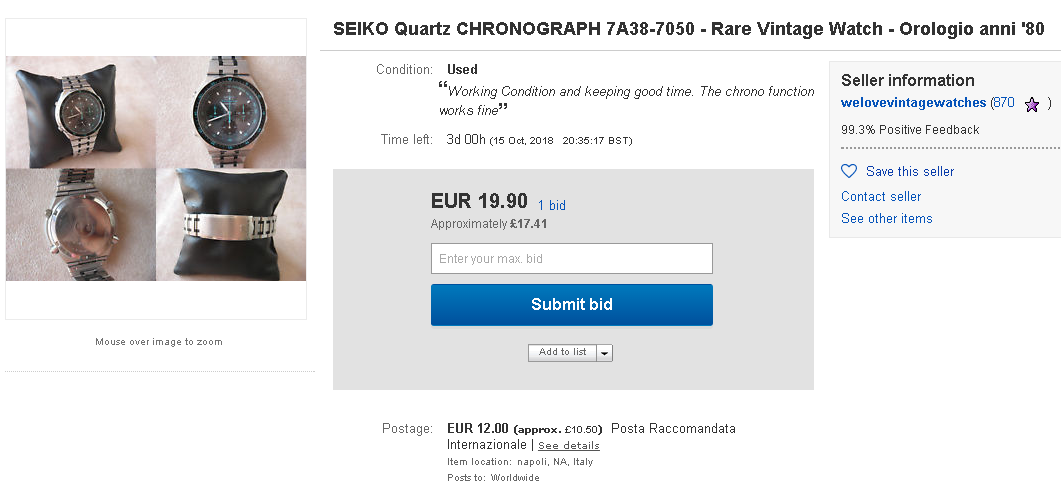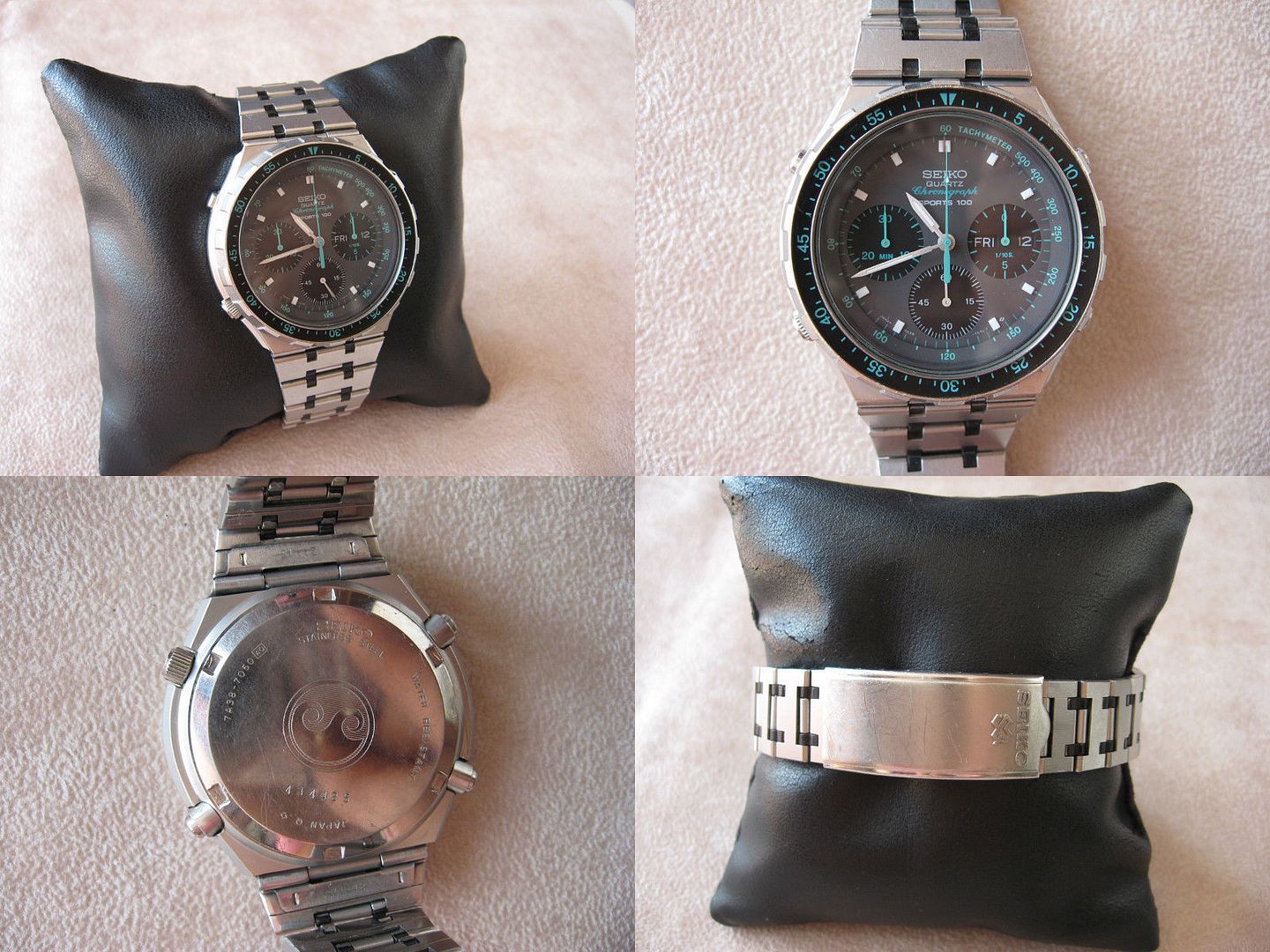 Descrizione (ITA)
SEIKO Quartz CHRONOGRAPH 7A38-7050 - Raro Orologio Vintage degli anni '80.
L'orologio è funzionante e tiene bene il tempo. Il chrono funziona bene.
Diametro della cassa esclusa corona: circa 40mm. Ghiera Girevole.
Cinturino Originale SEIKO in Acciaio in buone condizioni: è adatto per un polso di massimo 19/19,5cm.
Le condizioni di cassa, vetro, quadrante, sfere, pulsanti e corona sono molto buone.
Ci sono pochi piccoli graffi e segni su cassa e fondello.
NOI CERCHIAMO DI DESCRIVERE I NOSTRI OROLOGI CON MOLTA ATTENZIONE ATTRAVERSO LA DESCRIZIONE E LE FOTO,
MA NOI VENDIAMO OGGETTI USATI E NON NUOVI QUINDI E' POSSIBILE TROVARE DEI SEGNI O DEI GRAFFI
SUGLI OROLOGI DOVUTI AL NORMALE UTILIZZO CHE NON SONO VISIBILI NELLE FOTO.
VI RICORDIAMO CHE GLI OROLOGI USATI NON SONO GARANTITI PER UN USO IN ACQUA
VENDUTO COSÌ COM'È - PER FAVORE GUARDA BENE LE FOTO
SE COMPRI 1, 2 o 3 OROLOGI NELLO STESSO GIORNO PAGHI SOLO UNA SPEDIZIONE
SE COMPRI PIU' DI 3 OROLOGI NELLO STESSO GIORNO TU PAGHI 2 EURO IN PIU' SULLE SPESE DI SPEDIZIONE PER OGNI OROLOGIO AGGIUNTIVO
"WeLoveVintageWatches" vi augura una buona asta !!!
Description (ENG)
SEIKO Quartz CHRONOGRAPH 7A38-7050 - Rare Vintage Watch from the 1980s.
Working Condition and keeping good time. The chrono function works fine.
Case Diameter excluding crown: approximately 40mm. Rotating Bezel.
Original SEIKO Stainless Steel Bracelet in good conditions: it's suitable for a wrist of maximum 19/19,5cm.
The conditions of the case, glass, dial, hands, buttons and crown are very good.
There are few little scratches and marks on the case and case back.
WE TRY TO DESCRIBE OUR WATCHES VERY CAREFULLY THROUGH THE DESCRIPTION AND PHOTOS,
BUT WE SELL USED ITEMS AND NO NEW ITEMS SO YOU CAN FIND SOME MARKS OR SCRATCHES
ON THE WATCHES FROM GENERAL WEAR WHICH ARE NOT SEEN IN THE PHOTOS.
WE REMIND YOU THAT THE WATCHES USED ARE NOT GUARANTEED FOR THE USE IN WATER
SOLD AS IS - PLEASE SEE PICTURES
IF YOU BUY 1, 2 or 3 WATCHES IN THE SAME DAY YOU PAY ONLY ONE SHIPPING
IF YOU BUY MORE THAN 3 WATCHES IN THE SAME DAY YOU PAY 2 EURO MORE ON SHIPPING COSTS FOR EACH ADDITIONAL WATCH
"WeLoveVintageWatches" wishes you a good auction !!!