Following closely on the heels of those two almost mint examples ....
Another not quite so pristine 7A48-7050 Fishing Master, fitted with a non-original bracelet of dubious origin, was listed on Yahoo Japan yesterday by that irksome re-seller l_h_m_m. On this occasion he's changed tactics: deviating from his usual practice of buying on YJ and re-selling on eBay (and visa-versa). Presumably he purchased this Fishing Master off Yahoo Japan - I must have missed it.
http://page9.auctions.yahoo.co.jp/jp/auction/k214230084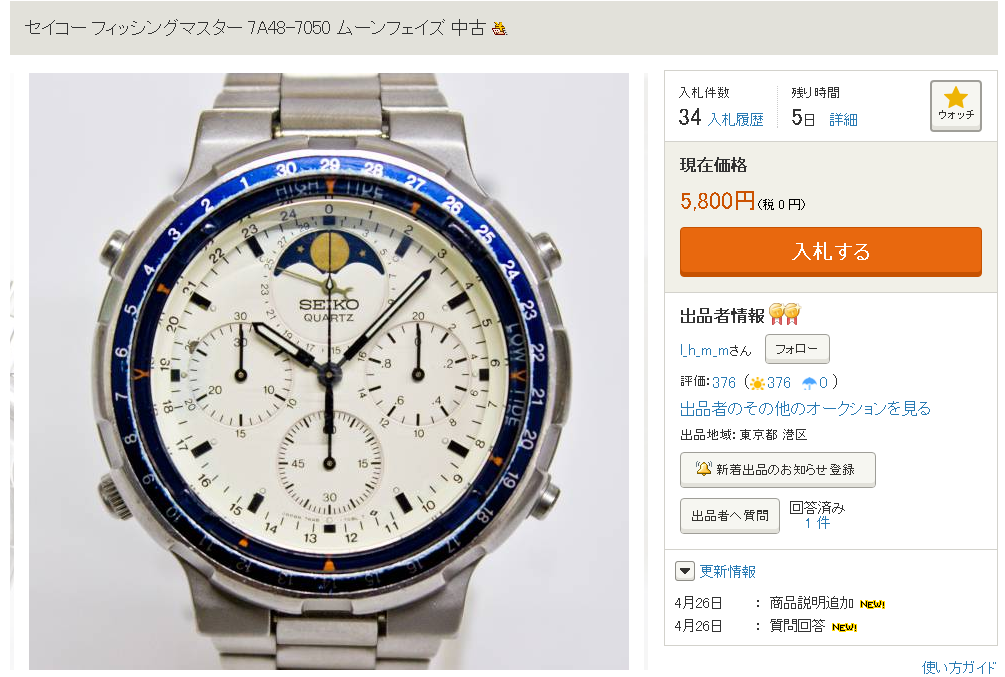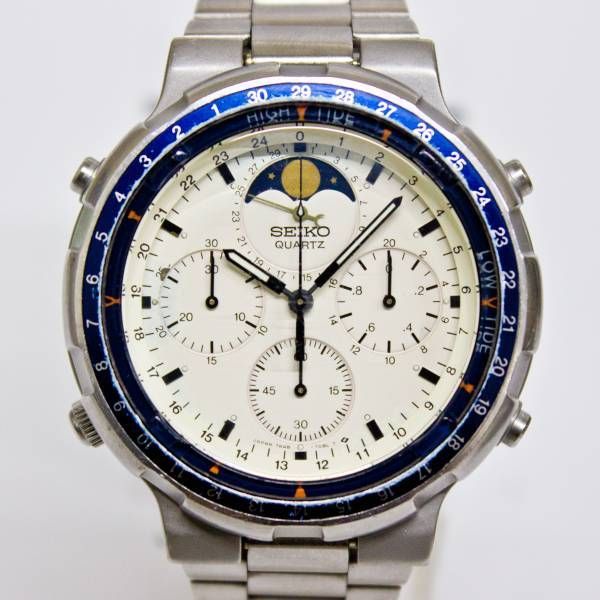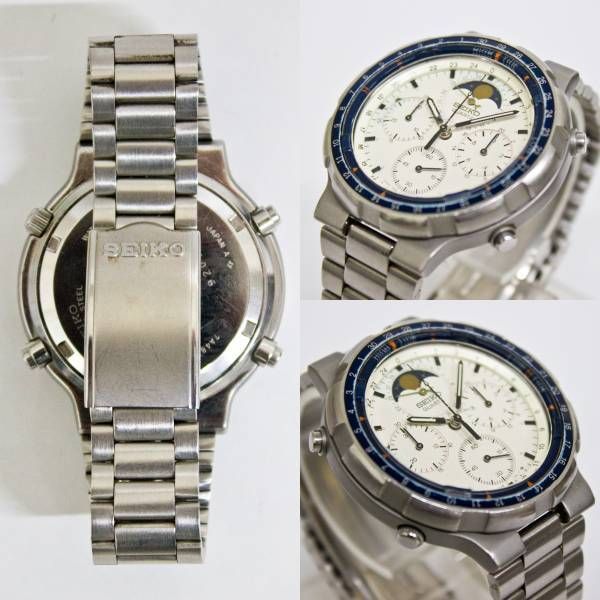 Google translates the lengthy Japanese description as follows:
★ Thank you very much for looking. 
Seiko 7A48-7050 Fishing Master moon phase used. 
It is the thing that has been a collection to buy used. 
[Model details]
● SEIKO 7A48-7050 / Cal.7A48 quartz digital
● Stainless steel case
● belt looks like this is not genuine. Seiko belt of similar design is attached.
● it is used goods. I will exhibit because I bought the other day another watch.
Clock function, we have a movable. Accuracy is working well deviation without condition.
Battery we exchange before about two months.
● There is no problem with the operation of the date and age.
● chronograph function, but it does not operate the start-stop button.
Other chronograph second hand, minute hand will operate in the demonstration state minus one stage the crown.
● The bezel there is a flaw in the model year corresponding, but I think that it is comparatively beautiful goods in about small attrition scratch in case the back cover.
Scratches inconspicuous windshield - Dial you have any.
● Size is W41.5mm × H46mm × D12.5mm.
[Commodity comments]
80 is a moon phase white dial Chronograph's. I think good design.
Traditional moon phase dial into the sporty appearance is I think that it is stylish design ★ 
【accessories】
There is none. 
[Delivery payment and other]
After the end of the auction and is appreciated your reply within two days. 
Delivery letter pack light Plus, boxes boon, Yamato, Yu various we will correspond.
It is dispatch from Tokyo. Prices You can check any variety of HP.
If you can contact us the delivery method of hope after a successful bid, fee also will contact you from here.
Shipping method, delivery time zone, please specify if you have other hope. 
※ Although we try to quick delivery arrangement after the payment is confirmed,
Steep work at weekends and GW core business might have there can not be the same day arrangements occur.
That point, please acknowledge.
During the day of the 5/2 · 5/6 ※ can be shipped work. 5 / 3.4.5.7.8 can not be sending out work. 
※ The payment is the transfer to the simple settlement Sumitomo Mitsui Banking Corporation.
I'm afraid indeed, please note that there is no postal savings bank account.
It is the payment due date, but if you can communicate the date, can be somewhat of a reserve. 
※ I hope in a basically no claim no return no cancellation.
However, I think that should not be made to each other unpleasant feelings.
After the commodity arriving, please contact us if you have any serious problem.
I want to respond sincerely as possible. 
※ like some unknown point, thank you from the question column If you have any questions.
Any question I would also like sincerely answer. Feel free please ★
You try so as to answer as quickly as possible,
Late at night, etc., you might get your time to answer. Please acknowledge. 
※ Seiko custom watch parts of SKX, we handle various.
Some things there is no treatment, but please do not hesitate to contact us if you have something.
We will Stock Now. 
※ regard to your evaluation
Those who do not need evaluation, purport whether you contact be sure of "evaluation unnecessary" at the time of dealings,
Like I do not even your evaluation here, thank you.
It is to your evaluation Whats the highest bidder is the reply of your evaluation. 
It has sent also to others. Please have a look ☆ 
(26 day 9 hour 40 minute addition 2016 April)
It had been forgotten to specify arms around. . . It comes out to about approximately 17.5cm.
One point of interest is the unusual serial number of this watch: 920009, which indicates a date of manufacture of February 1989.
If you scroll back through the thread, almost every other example has 51xxxx or 52xxxx (January / February 1985) serial numbers.