It probably goes without saying (and at the risk of repeating myself once again), but those two hapless deluded Yahoo Japan sellers continue to re-list their over-priced titanium 7A38-7030's ad nauseam. Amusingly, they've both re-listed them for the nth time within the last 24 hours, so they're both erroneusly tagged as allegedly being 'NEW'. 
 Earlier today, they were joined by another example, in average worn condition, listed as a 5-day auction, with an opening bid price of 1000 Yen.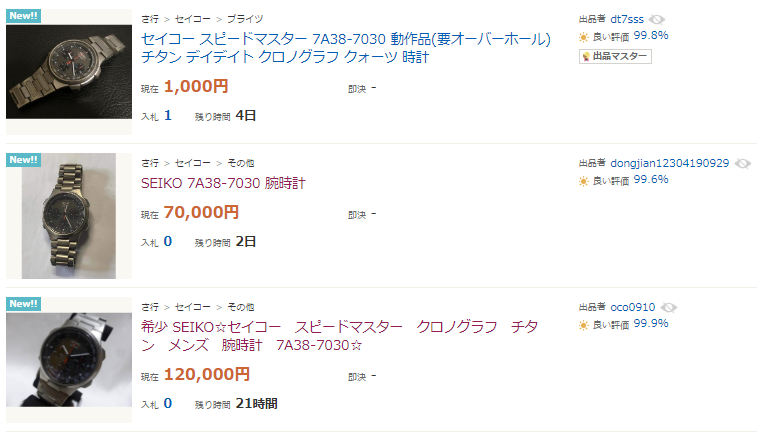 http://page.auctions.yahoo.co.jp/jp/auction/d410351841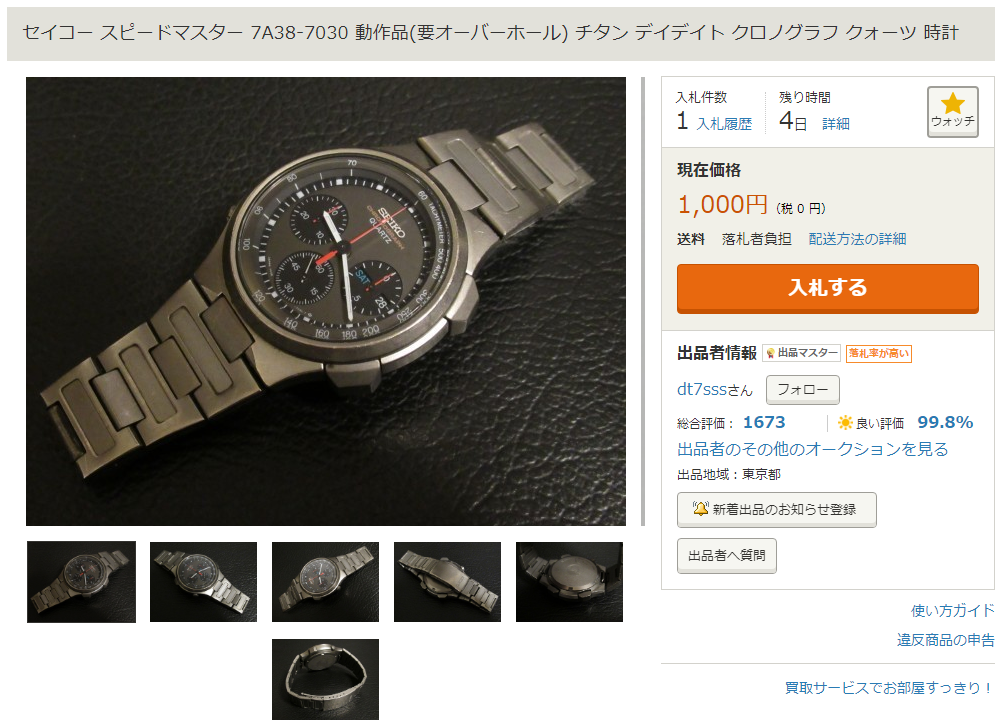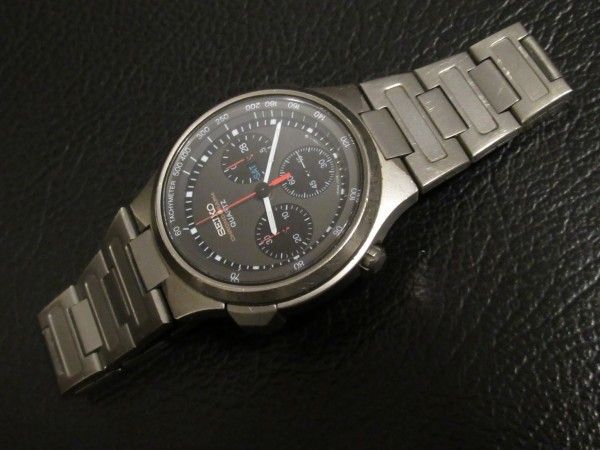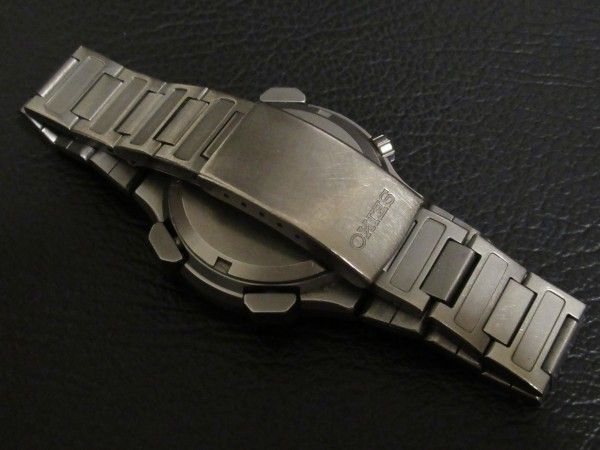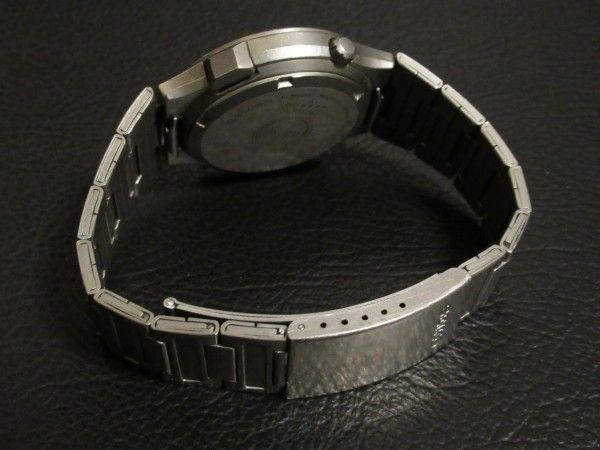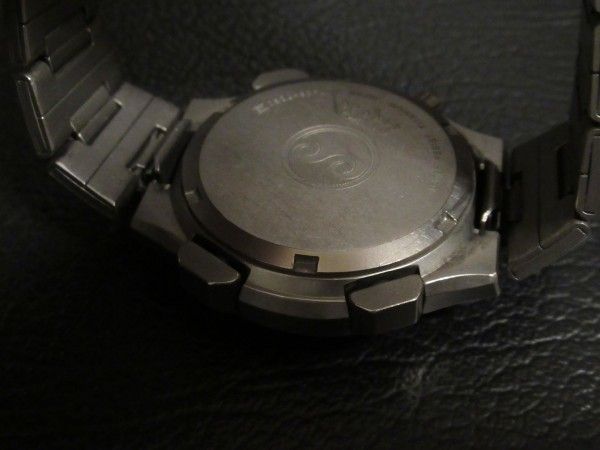 Google translates the Japanese seller's description as follows:
Seiko Speedmaster 7A38-7030 Operation product (overhaul required) Titanium Day Date Chronograph Quartz Watch
 Details are as follows.
■ Model number: 7A38-7030
■ Accessories: and body only 
■ Materials: and case Titanium
 ・Back cover: Titanium
 ・ Band: Titanium
 ・ Windshield: Glass
■ State 
Appearance is slightly scratched with the case, back cover and band. There are several scratches around the bezel and buckle surface, but there were no visible scratches on the windshield glass.
Since the operation was delayed by more than one minute a day, the accuracy was measured according to the time of the radio clock five days before the exhibition, and the average daily difference for the five days was about -1 minute 55 seconds, 9 I was about 34 minutes late.
Pulling the crown at the lower left, it is possible to adjust the day, date, hour hand, minute hand, and pressing the upper left, upper right, lower right buttons to confirm that the chronograph function can be used, but as quartz Considering that there is a large gap, the accuracy of the chronograph function is unknown, and that there may be other problems with the previous watch, you can consider a bid on the premise of overhaul I think so.
The arm circumference is about 19cm and measures it by putting a measure around the inside of the case and the band.
I would like you to bid after being convinced of the state, so please ask a question if there is a point that you are worried about after checking the photograph and product description (However, it may not be possible to answer questions just before the end of the auction. , Please understand beforehand.). 
■ Features: A chronograph function is equipped with a Seiko Speedmaster quartz watch.
If you enter a model number on Google and search, you will see information about the product.
■ Delivery method -Takkyubin Compact (Fee: 610 yen-830 yen) * 2.3.
 ・ Click post (fee: 188 yen nationwide (up to A4 size / thickness 3cm / weight 1kg)) * 1.2.
 * 1. Please note that there is no compensation for lost or damaged luggage and no refund will be given for lost or damaged luggage.
 * 2. Bundled shipping is possible if it is within the size, thickness, weight of the click post or the size of the special BOX of Takkyubin Compact, but if it is out of the range, it is Yupack (within 60 sizes: 810 yen (Tokyo) ~ 1,350 yen) (Okinawa)).
 * 3. The rates by region are as follows.
This item is a no claim no return for cheap exhibition of used goods, the payment deadline is within 7 days after a successful bid like the payment deadline of Yahoo! simple settlement.
If you can not pay by the payment deadline, in principle, we will assume that there is no intention of dealing and will perform the cancellation procedure due to the highest bidder convenience (in the case of cancellation due to the highest bidder convenience, the highest bidder side will automatically Please note that the evaluation of "bad" is attached.).
For multiple successful bids and "collective transactions", if you make multiple successful bids and cancel after accepting "collective transactions", it will not be possible to delete the highest bidder, and it will take time and effort to respond, If multiple successful bids and "collective transaction" are canceled, please let me use "mischievous bidding trouble report system" depending on the content of the transaction after rating "very bad" and registering as a blacklist Let's eat.
Please note that there is a possibility of stopping the use of "Yahoo! JAPAN ID" of the successful bidder and deleting the registration by "mischievous bid trouble report system".
Moreover, please understand beforehand that the bid of those who have a remarkably large number of negative evaluations and those who are new may be canceled.
In addition, about what is not described in the product description, I will answer with the question.
Thank you.