I hate to admit it, but I've allowed myself to fall victim to a dishonest eBay seller, in my pursuit of a 'better' example of a 7A38. 
And a case-back butchering one at that ! 

I already had a couple of fairly decent examples of the two-tone grey-dialed 7A38-7020 (they're pretty common on eBay Germany) - one of them (which I've posted in the WRUW thread a couple of times) is almost mint. I should have been satisfied with that. But No. 
Two weeks ago I spotted what looked a potentially slightly better example listed on eBay Germany:
http://www.ebay.co.uk/itm/201167668460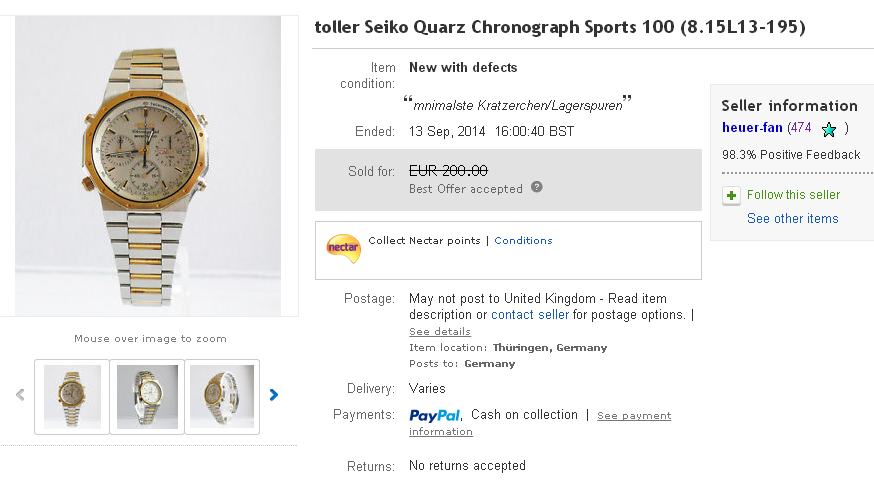 Optisch und technisch supertoller Seiko Quarzchronograph
Aus Uhrensammlung im Originalzustand
Gehäuse: Edelstahl, 12-eckiger vergoldeter Glasring, verschraubter Boden,
Mineralglas gehärtet, water resist, Stahlband bicolor integriert
Durchmesser ohne Krone und Gehäusefüße: ca. 38,4mm
- ungetragen mit kleinsten Spuren -
Uhrwerk: Quarzwerk Japan, Chronographenstopfunktion auf 1/10 sec,
30-min. Zähler, Day-Date, funktioniert tadellos, Batterie ganz neu
Verkauf gegen Vorkasse - Versand im versicherten Postpaket zu 7 EUR in D
bzw. 13,70 EUR in Europa. Versand nach Übersee auf Anfrage.
Bitte sehen Sie auch meine anderen Angebote !
Bitte stellen Sie Ihre Fragen vor Auktionsende. Begutachtung der Uhr oder
Abholung ist nach Terminvereinbarung möglich.
Viel Spaß bei der Auktion !
The relevant parts of the seller's German "Seller Notes" and description translate as follows:
"minimal scratches / storage marks"
 in its original condition - Unworn with the smallest traces -
This is the seller's photo of the case-back:
Here are a few rather more revealing close-up shots that I took after I'd received it: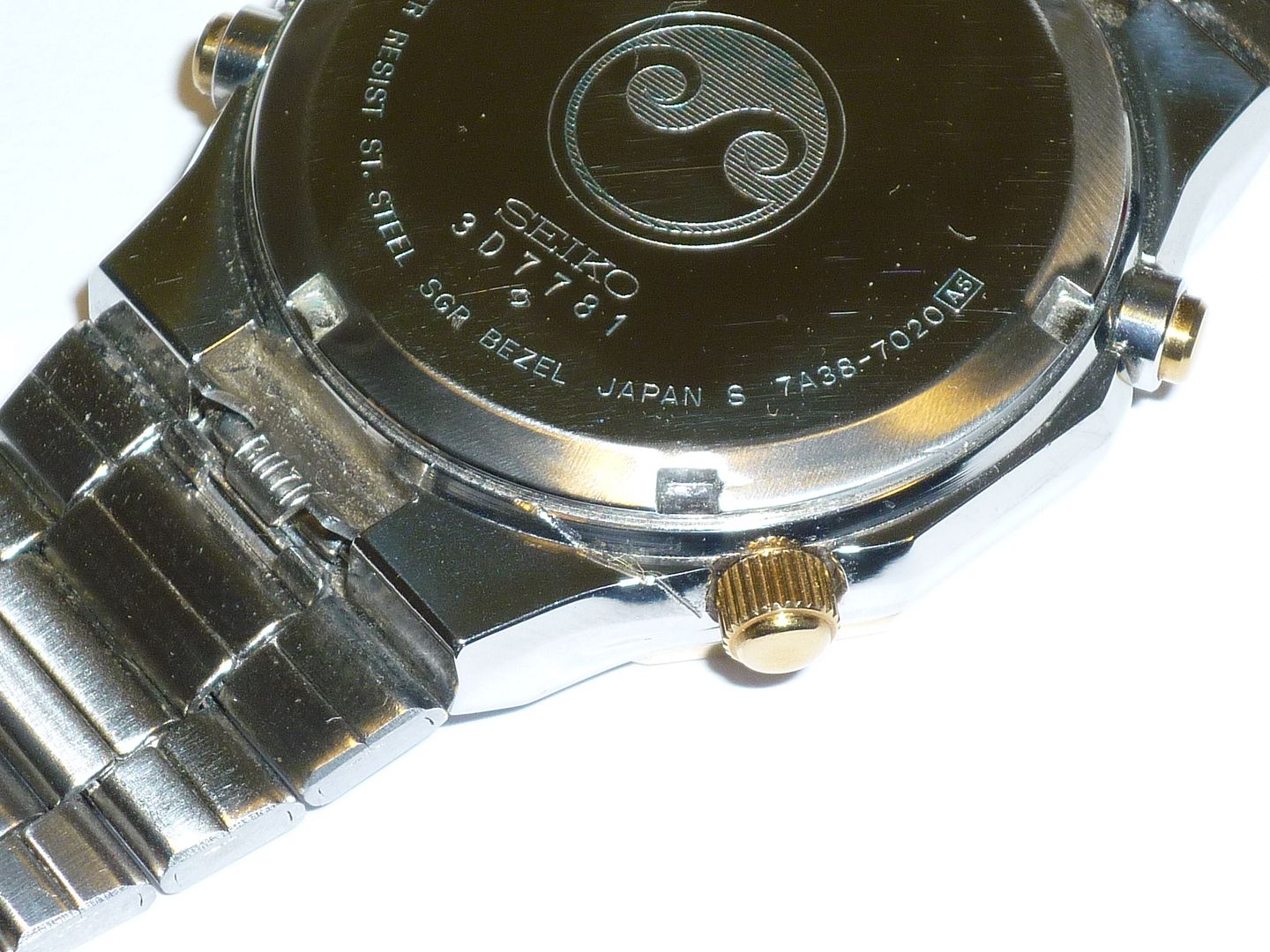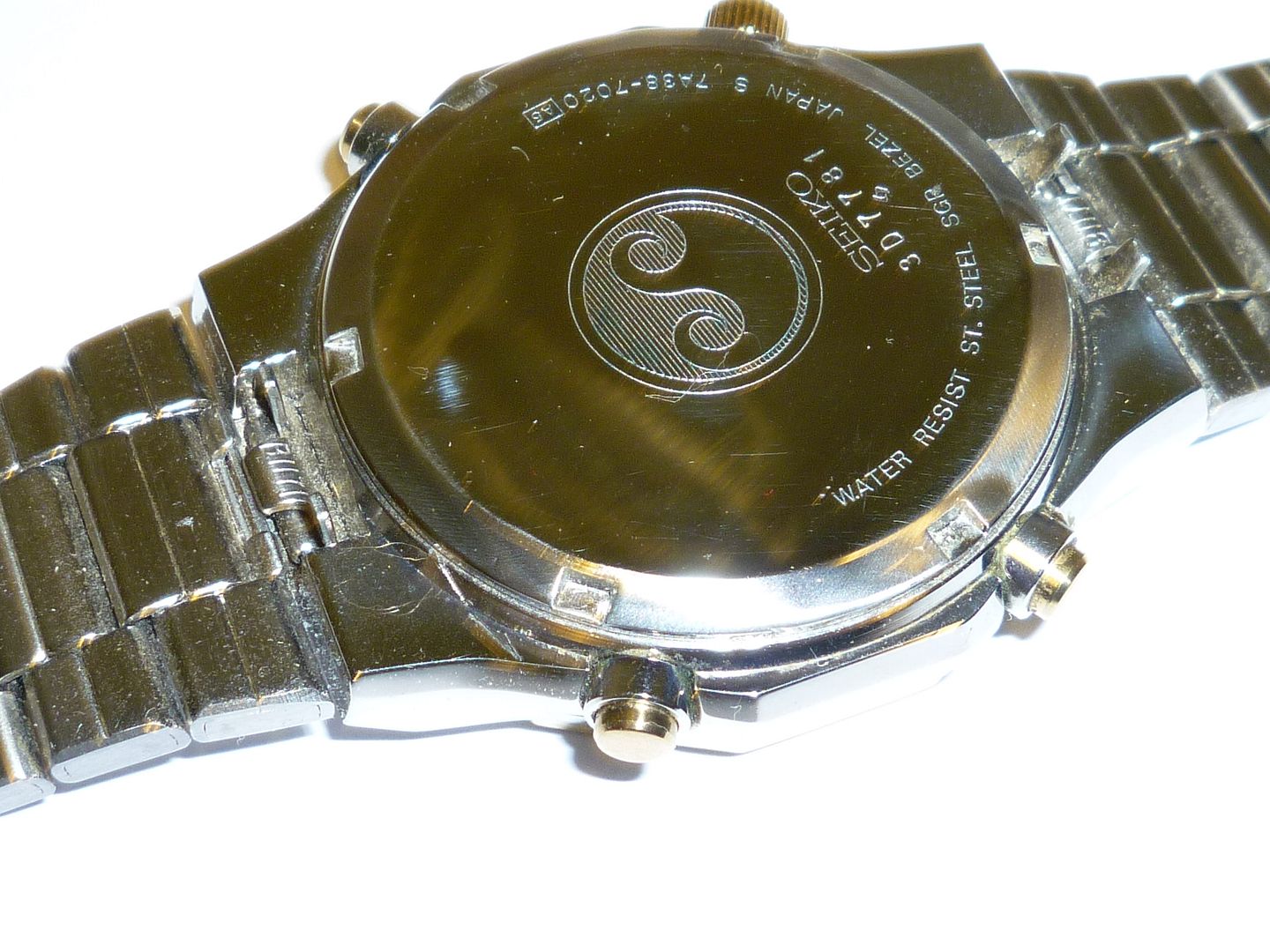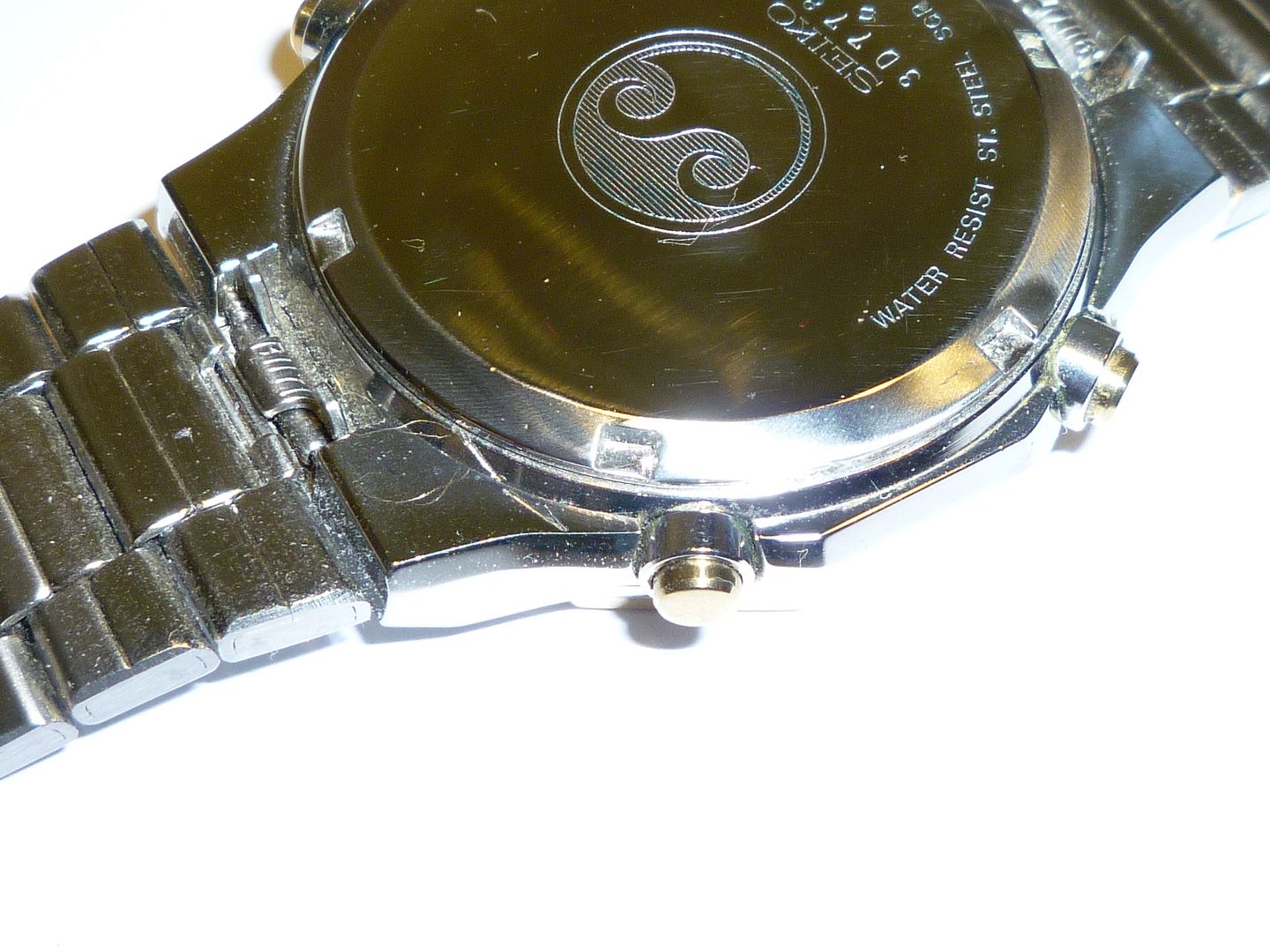 Having agreed a somewhat reduced offer price, when the seller sent me the PayPal invoice, he tried jacking up the stated postage (13.70 Euros) to partially make up his loss. I should have smelled a rat there and then. Instead, I asked him for a revised invoice. 
The watch duly arrived 4 days later and initially I was quite pleased. Topside, it was in better condition than my previous best example.
However from the plentiful evidence of the previous owner's DNA, it was clearly anything but 'unworn'.
What really pissed me off was when I flipped it over, to find that the case-back had not only been butchered (presumably with one of those 2-prong adjustable tools), but someone had skimmed the perimeter of it in a lathe, in an attempt to hide the slipped tool marks.
Unfortunately there wasn't much they could do about the gouge marks that extended onto the watch case. 
The eBay seller just sent me a message asking why I'd left him a negative feedback. I wonder why ?