So let's start off with a little history - the saga of my three current examples of the 7A38-6090 (and other owners) in reverse order ....
The first references I found, when I started looking for information about the 7A38-6090, back in August 2009 ....
and at that time, if I remember correctly, these were the only two references to be found anywhere on the internet, were:
This post on the old Network54 SCWF in June 2005: http://www.network54.com/Forum/78440/message/1118652841/seiko+7a38

Note Hermann-Josef's statement: Although searching the internet for many times, I couldn't find anything about this watch.
and this posted 16 months later on WatchUSeek, in October 2006: http://forums.watchuseek.com/f21/seiko-7a38-6090-info-31991.html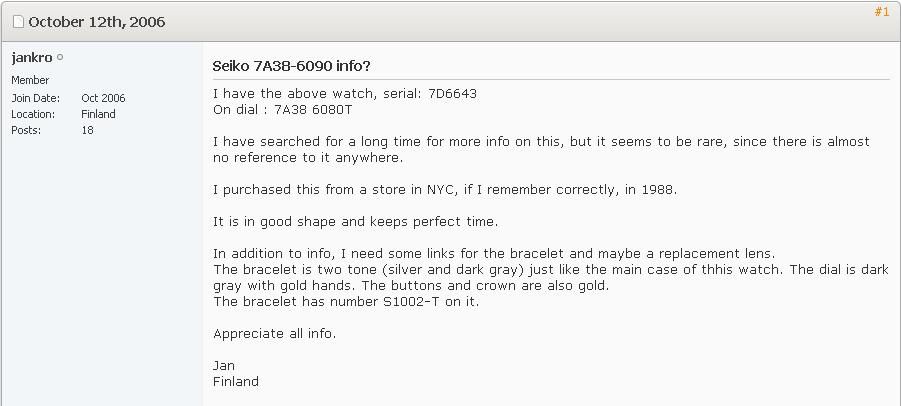 Not having seen a 7A38-6090 myself at that stage, I tracked down and emailed both Hermann-Josef and Jan ....
asking them both if they'd be kind enough to take a photo of their watches for me. Hermann-Josef replied with this super photo of his: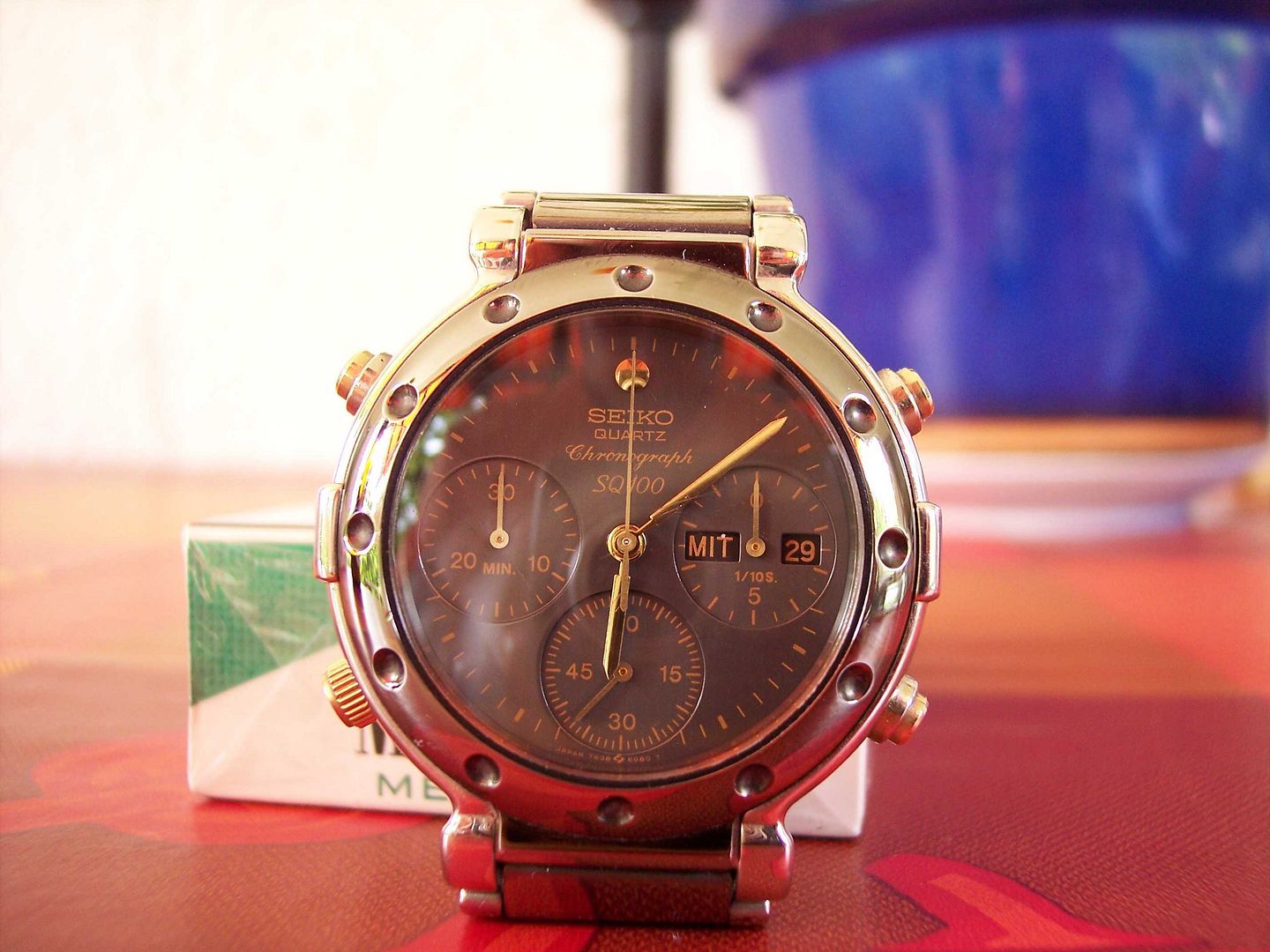 Jan sent me these three. The first two are a little dark, but the third one shows some details of the caseback and the unusual clasp: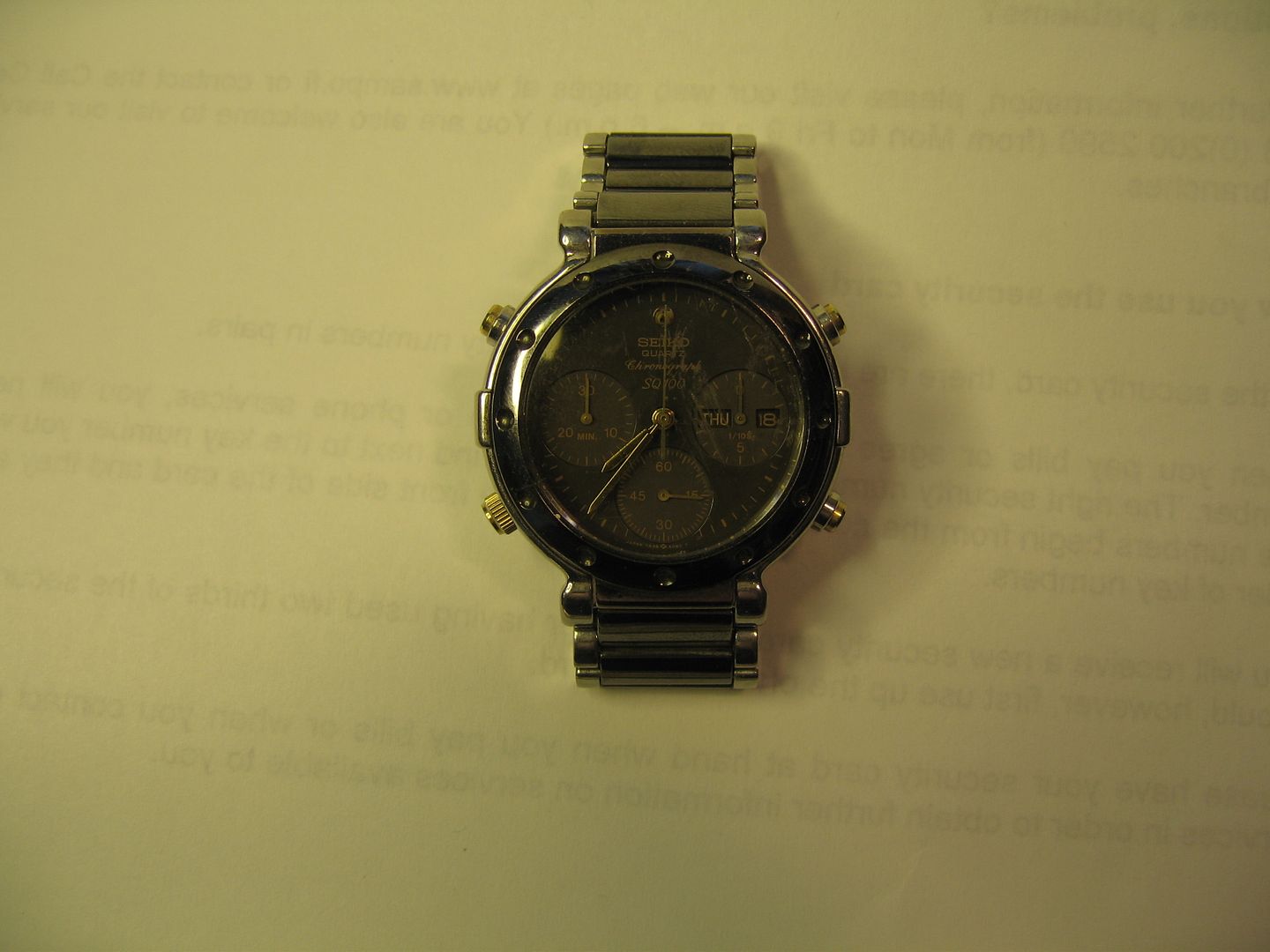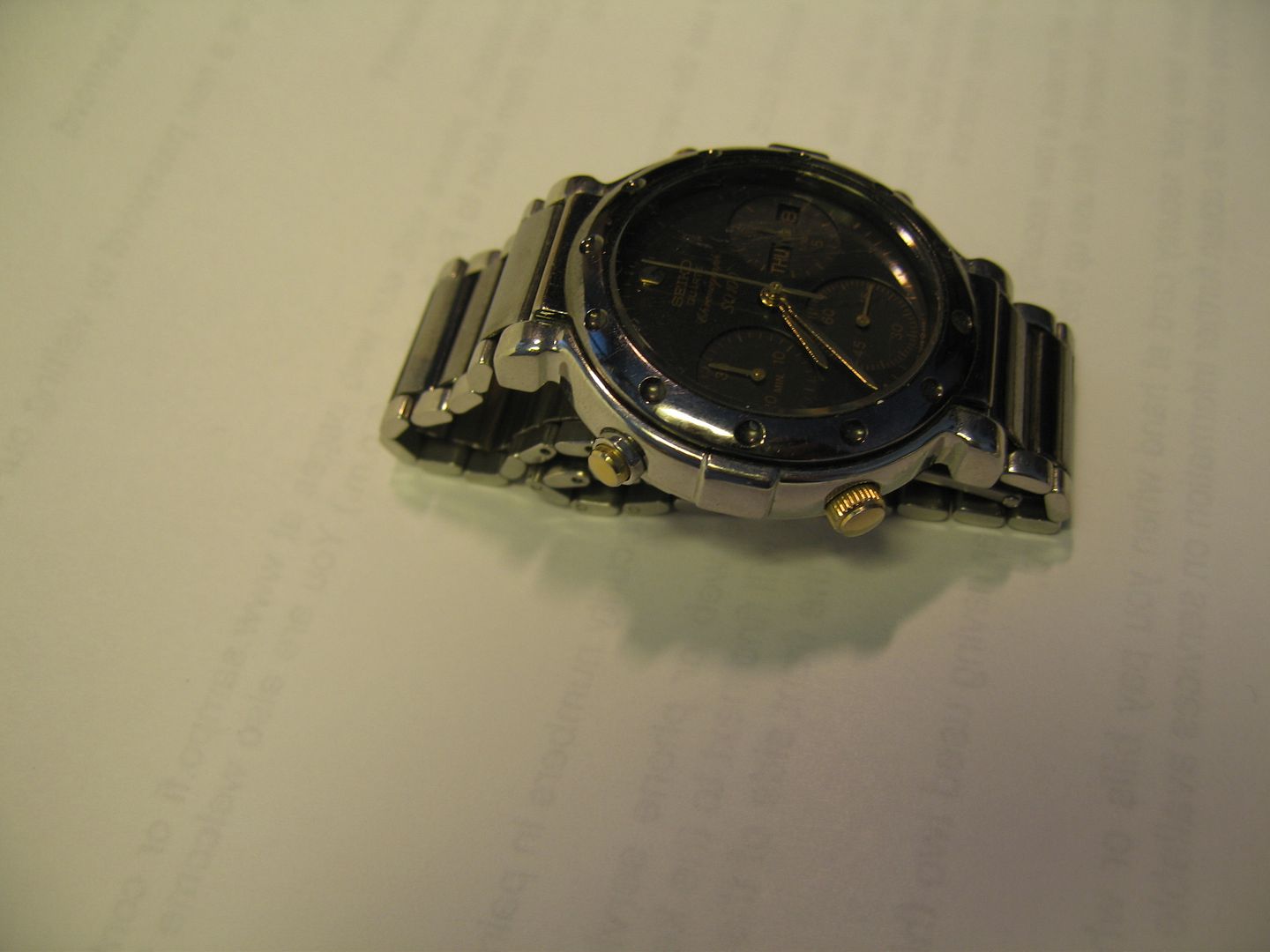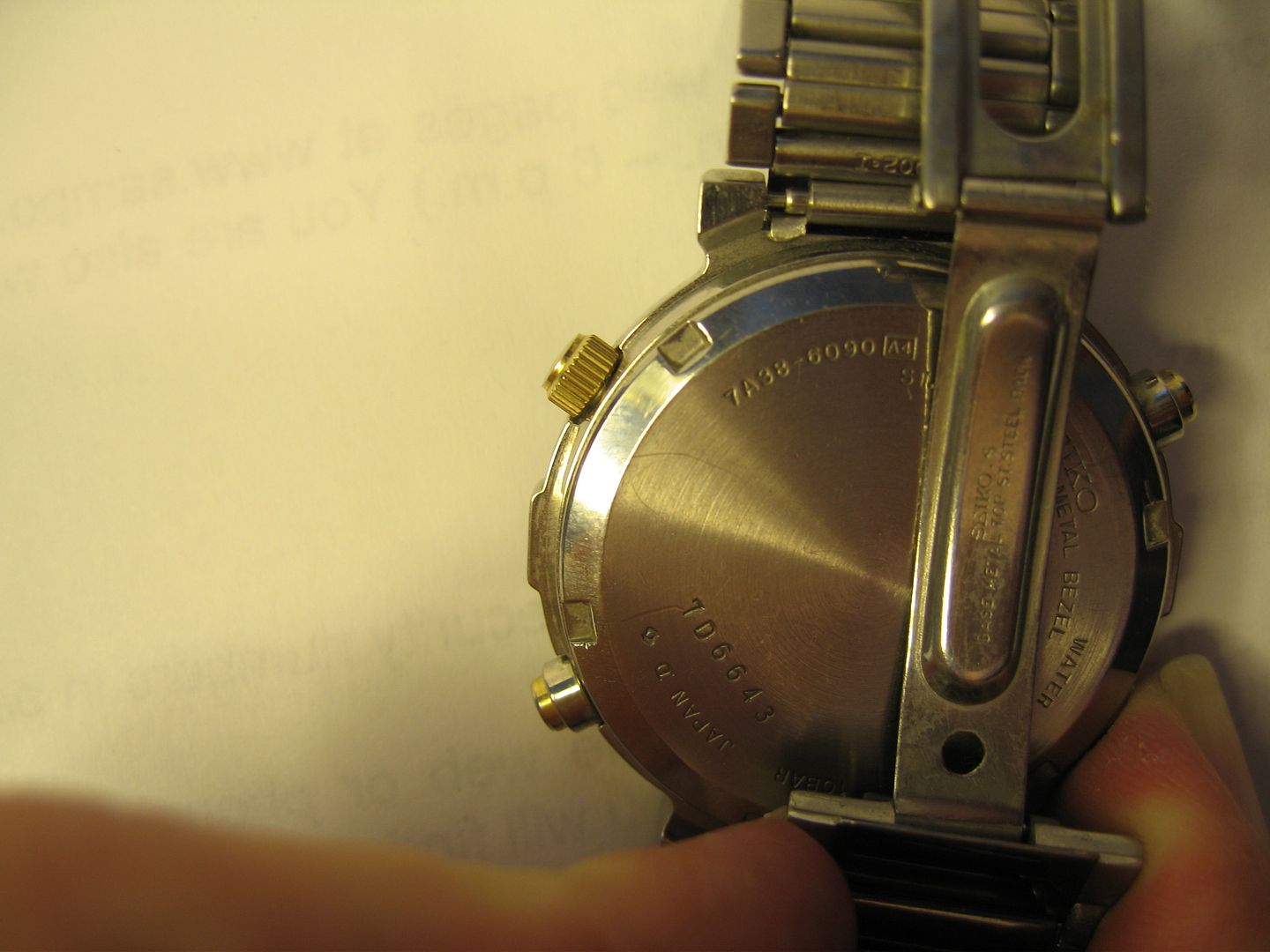 I bought my very first 7A38-6090 - a stainless / gunmetal two-tone version, from a US eBay seller, a few months later in October 2009.
It wasn't the best example, not by a long way - but it was the first that I'd seen on eBay, so thinking they were 'rare' - I pounced on it.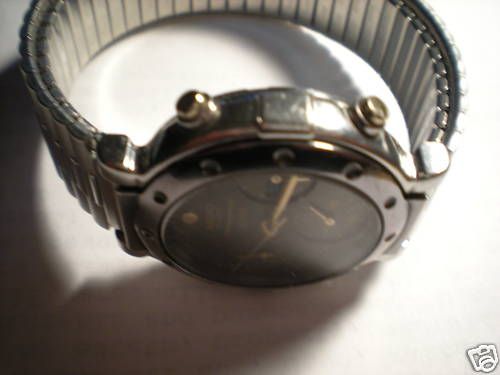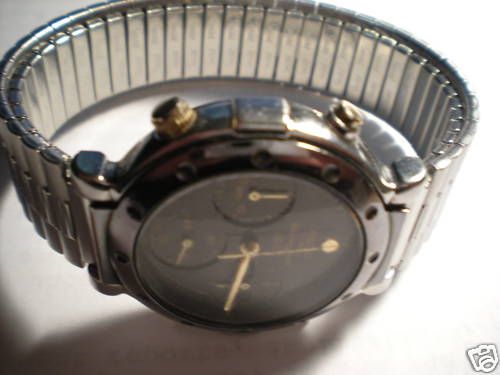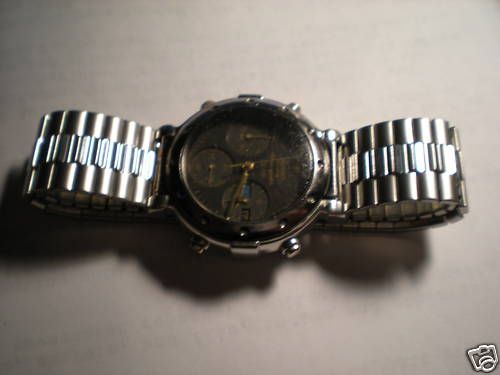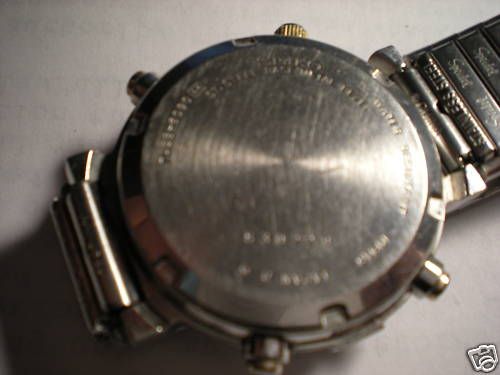 Apart from having a badly scratched crystal, it was missing its original bracelet, fitted with a Spiedel Twist-O-Flex band, that had been trimmed down (badly) at the ends, to fit the 14mm lug width. Still I'd only paid $22 - and when I complained to the seller about how the bracelet had been fitted, he kindly sent me another F.O.C. !!
I cleaned up and re-finished the watch case and fitted a new crystal. Next on the agenda was a replacement bracelet. I'd started searching on eBay Germany by that time, but although I didn't see any more 7A38-6090's for a while, I did come across the very similar looking 5P32-6A40. Here's a couple of photos I saved from three different eBay listings for them in 2009 and 2010: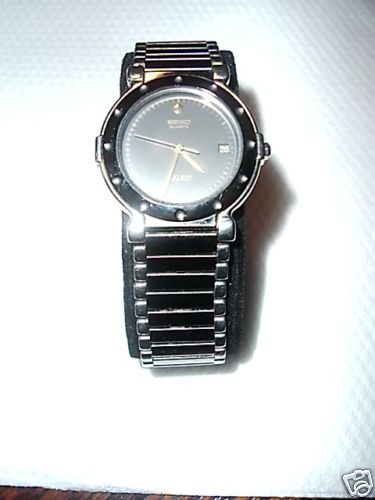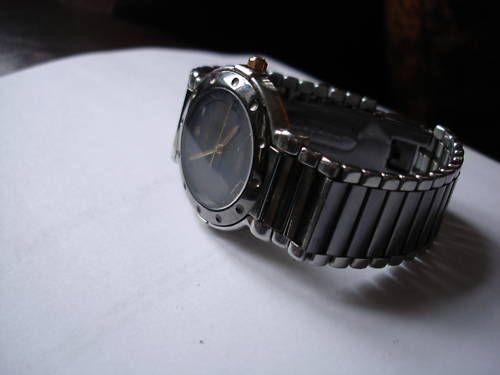 .... and a photo of a period German Seiko catalogue cover showing one:
For a while, I'll admit I did actually contemplate buying a 5P32-6A40, to rob it of its p/n G1237H bracelet. Apart from a slightly different Z-fold clasp used, its overall design is almost identical to the 7A38-6090's p/n S1002H bracelet - and it's also a 14mm lug width fitting.
As things turned out, I never did. Like they always do, a better example of the same 7A38-6090 turned up on eBay Germany. My first one got broken up for parts - mostly for the movement with its unique gold on black lettered day / date wheels, which are only used on this particular model 7A38-6090 SAA117J. Odd when you think about it because there are quite a few 7A38's with black / gold dials.
Besides, by mid 2010, I was beginning to see other much better examples, so I knew they were out there, waiting to be found.
This photo of his pristine-looking example was sent me by the erstwhile prominent US Seiko 7A38 collector, Pete Pantelidis: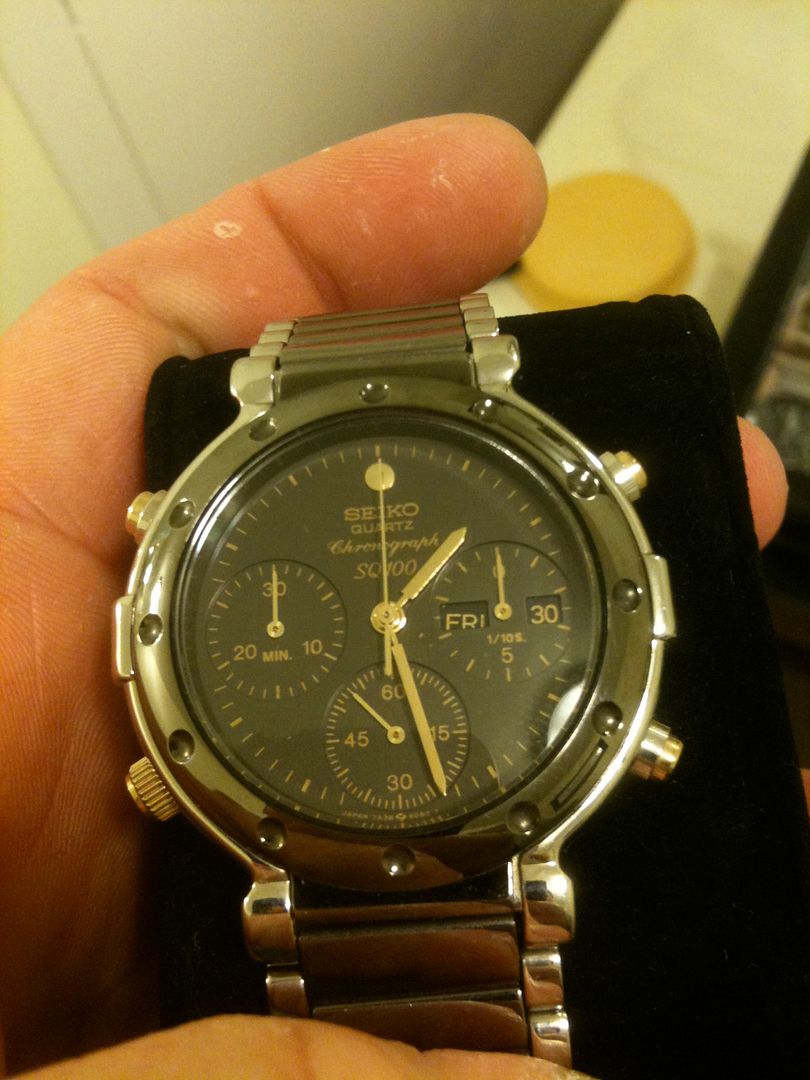 Here's a wrist shot of his 7A38-6090, posted here on UhrForum.de in September 2010 by Homan:
Unless I'm mistaken, I believe the same 7A38-6090 was purchased by 'Paul66' (a.k.a 'BlackCab' on this forum), in October 2010,
when he emailed me these first three photos of it: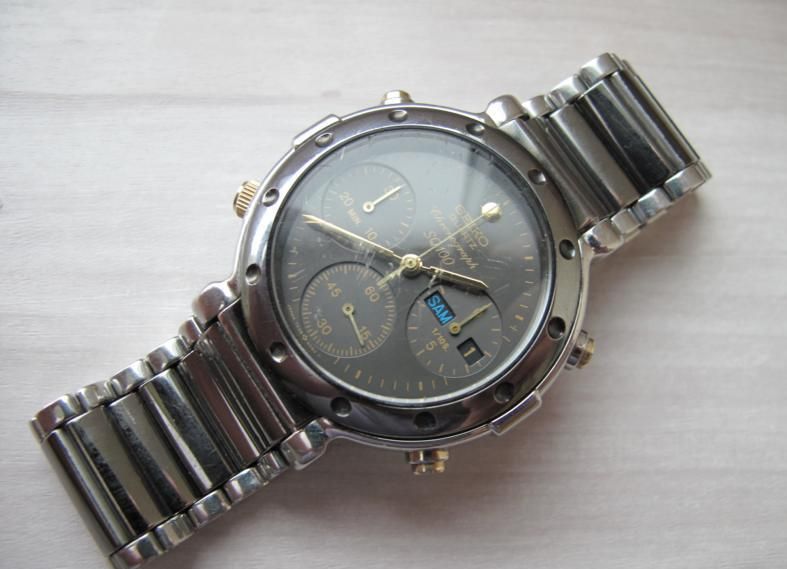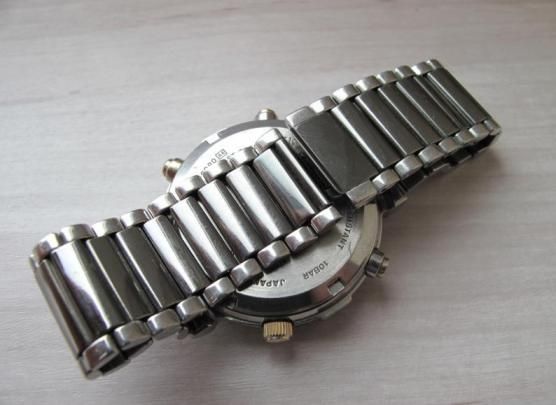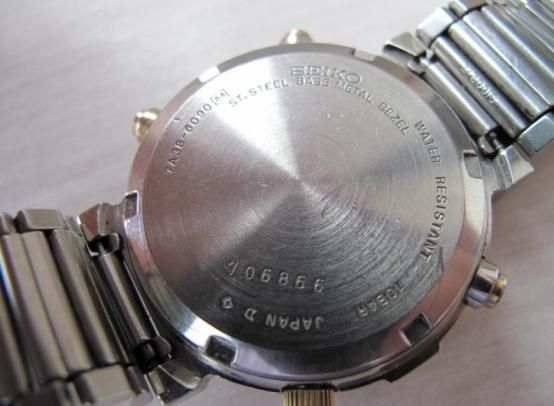 Because very soon after, he started this thread on RLT: http://www.thewatchforum.co.uk/index.php?showtopic=59404
7A38 New Arrival Anyone (NOT PAUL) know what it is?????????????
This arrived a couple of days ago and after fitting a new glass is ready to go away with my other 7A38's. Paul (SEIKO7A38Fan) has already seen the pictures and knew right away what model 7A38 it was, he has his own!
 I've not seen this one before and didn't have a clue what it was!! 
Anyone seen one or know which model number it is?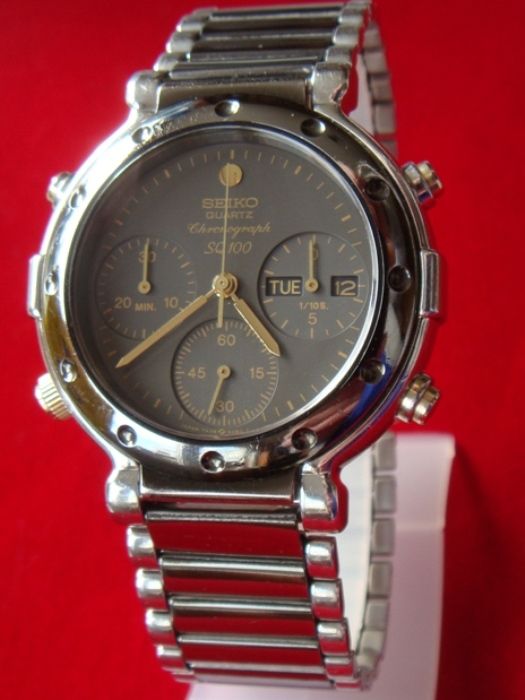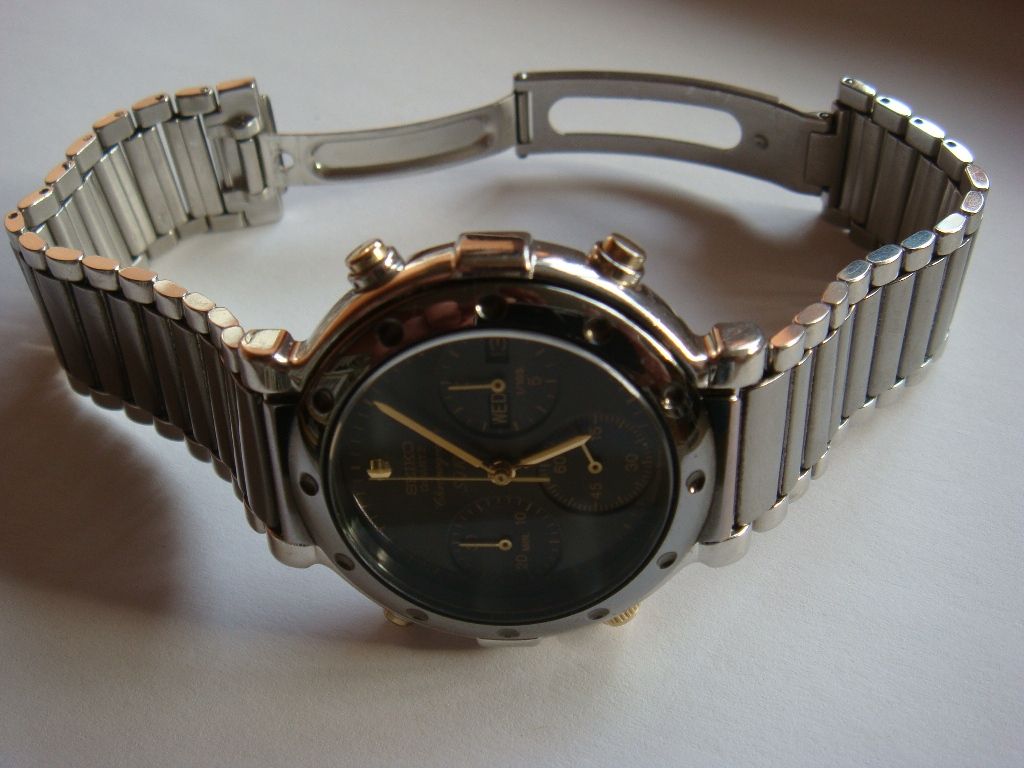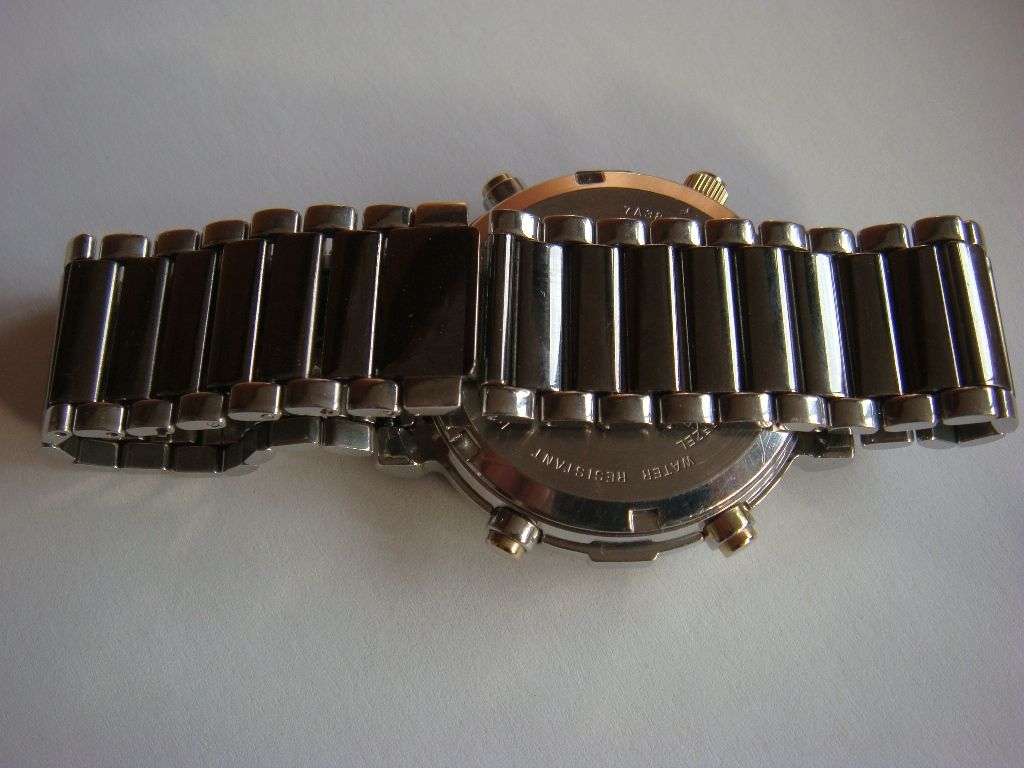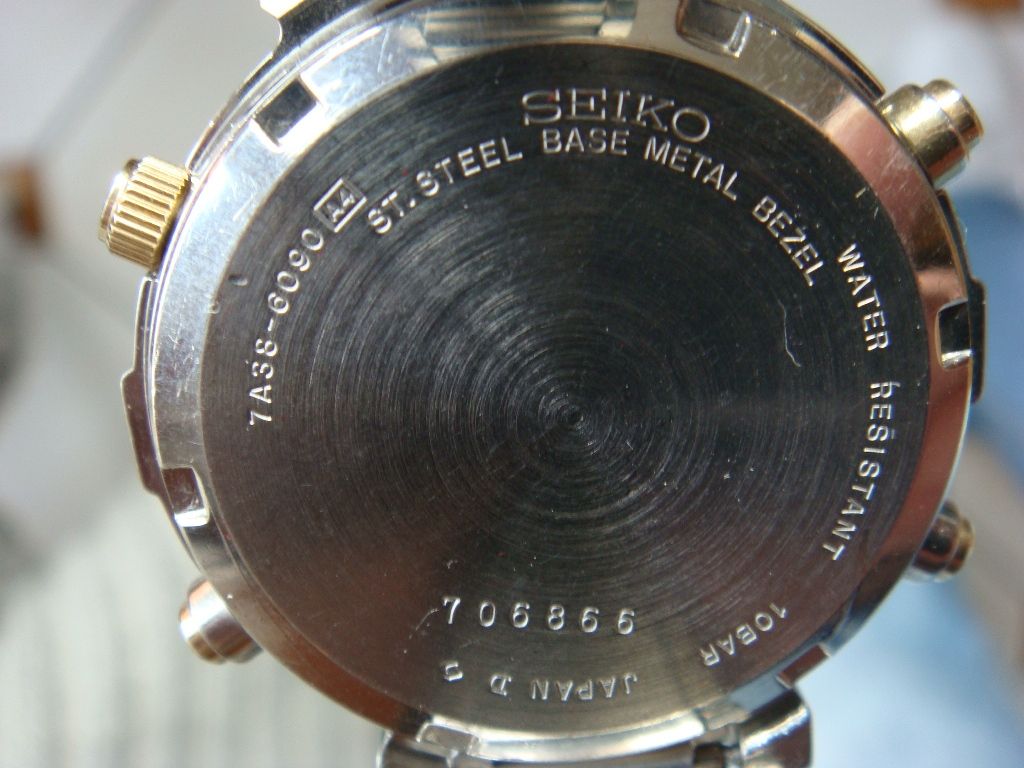 Never having been that happy with my own previous example, I bought another on eBay Germany in August 2011.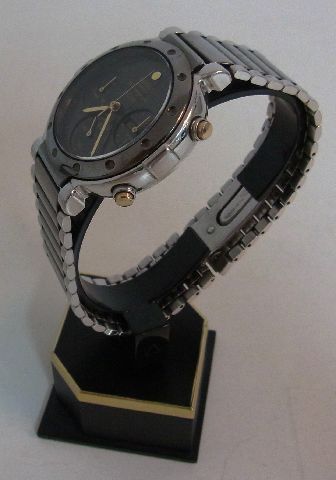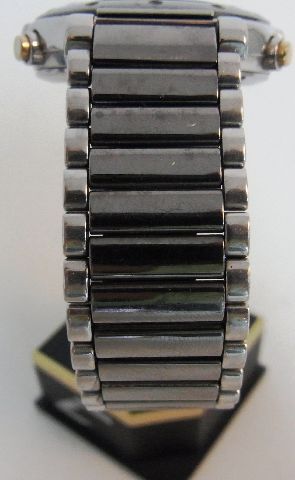 Slightly more expensive than my previous $22 beater, this one cost me 30.50 Euros. Like most 7A38-6090's usually seem to, it needed a new crystal and the bracelet's split pins replacing. It cleaned up quite well. Not the best of photos, but another different wrist shot: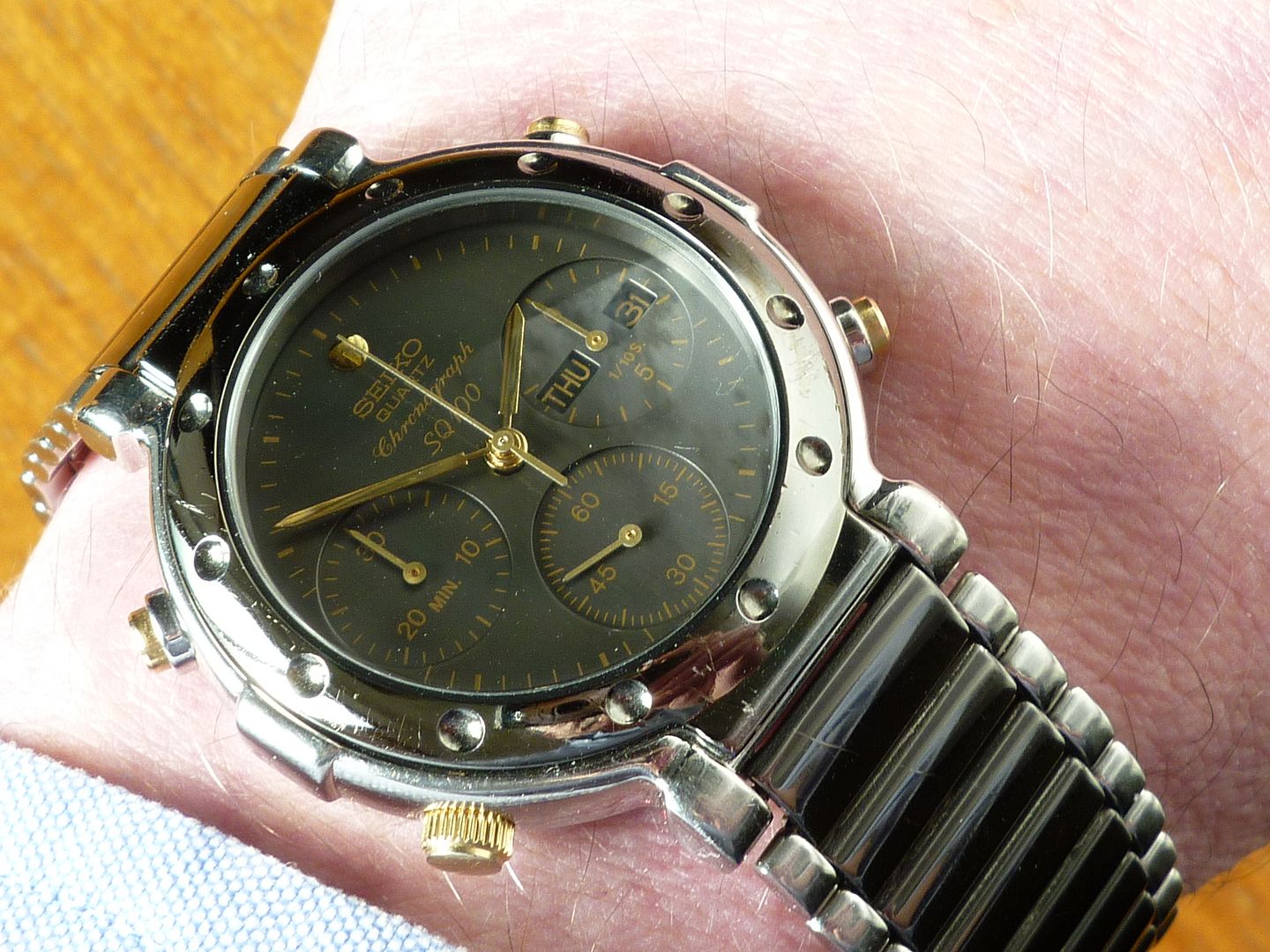 Lastly, for now, for this particular variant of 7A38-6090, here's the only small photo I saved from a German eBay listing in April 2012: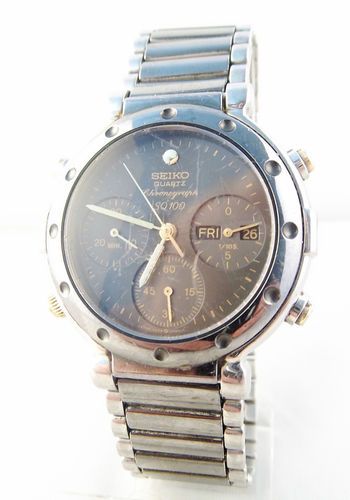 -------------------------------------------------------------------------------------------------------------------------------------------------------------------------
With the two-tone stainless / gold plated version, I did my usual daft trick - buying the first one I ever saw. Actually worse than that, I deliberately bought the first two I saw (within a week of each other) in March 2011. However, this time it was completely intentional. 
The first one, which had a working movement but was fitted with a non-original replacement bracelet was on eBay in the States: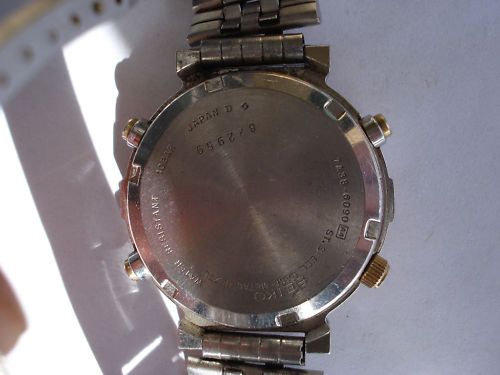 The second which had a faulty movement, but in nicer cosmetic order with original bracelet fitted, was in a job lot on eBay Germany: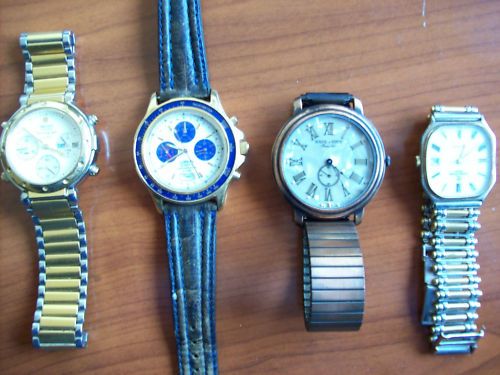 It didn't take very long to build a half-decent-looking, working watch out of the two of them. Here's a few photos I took of it back then: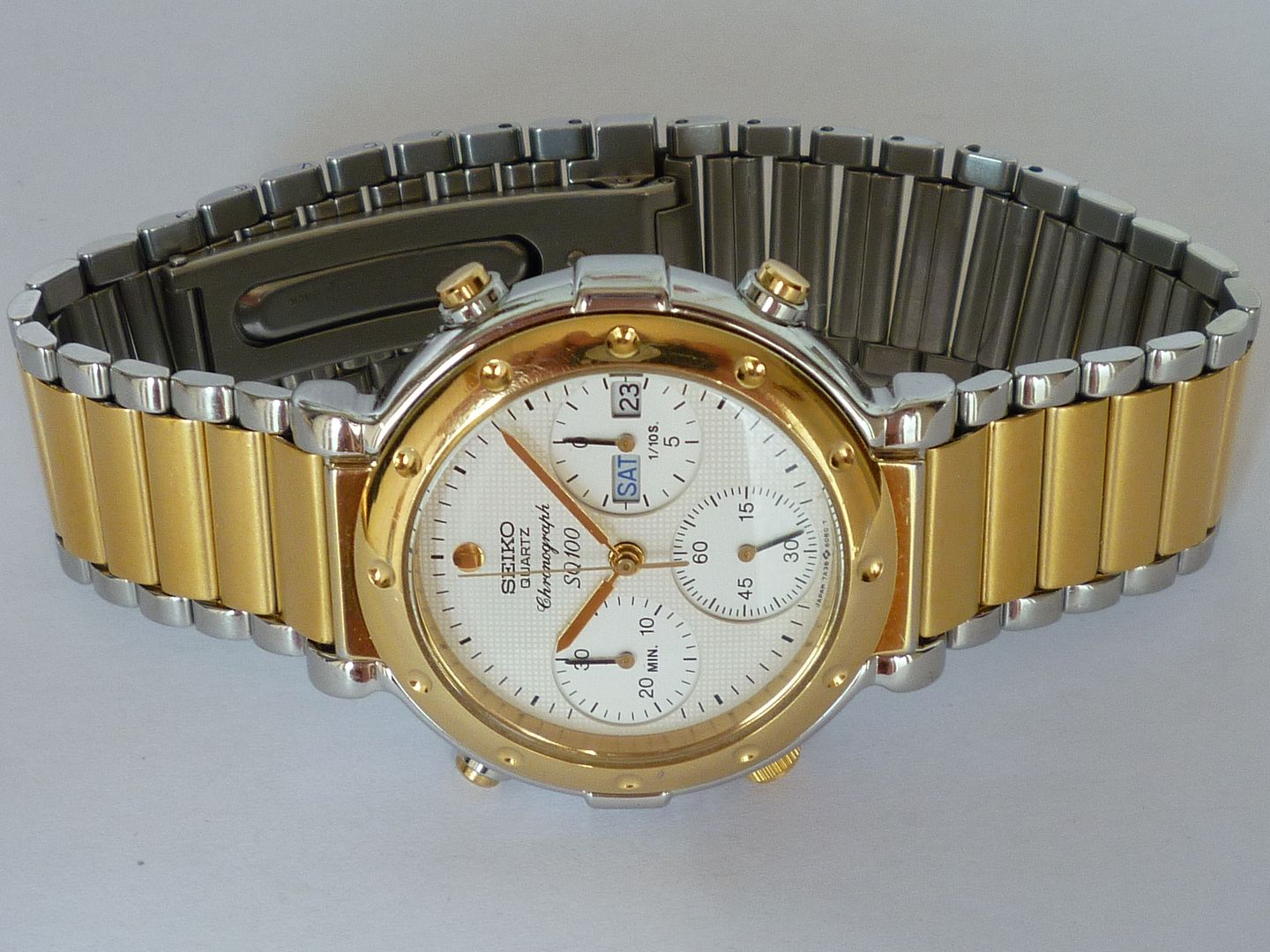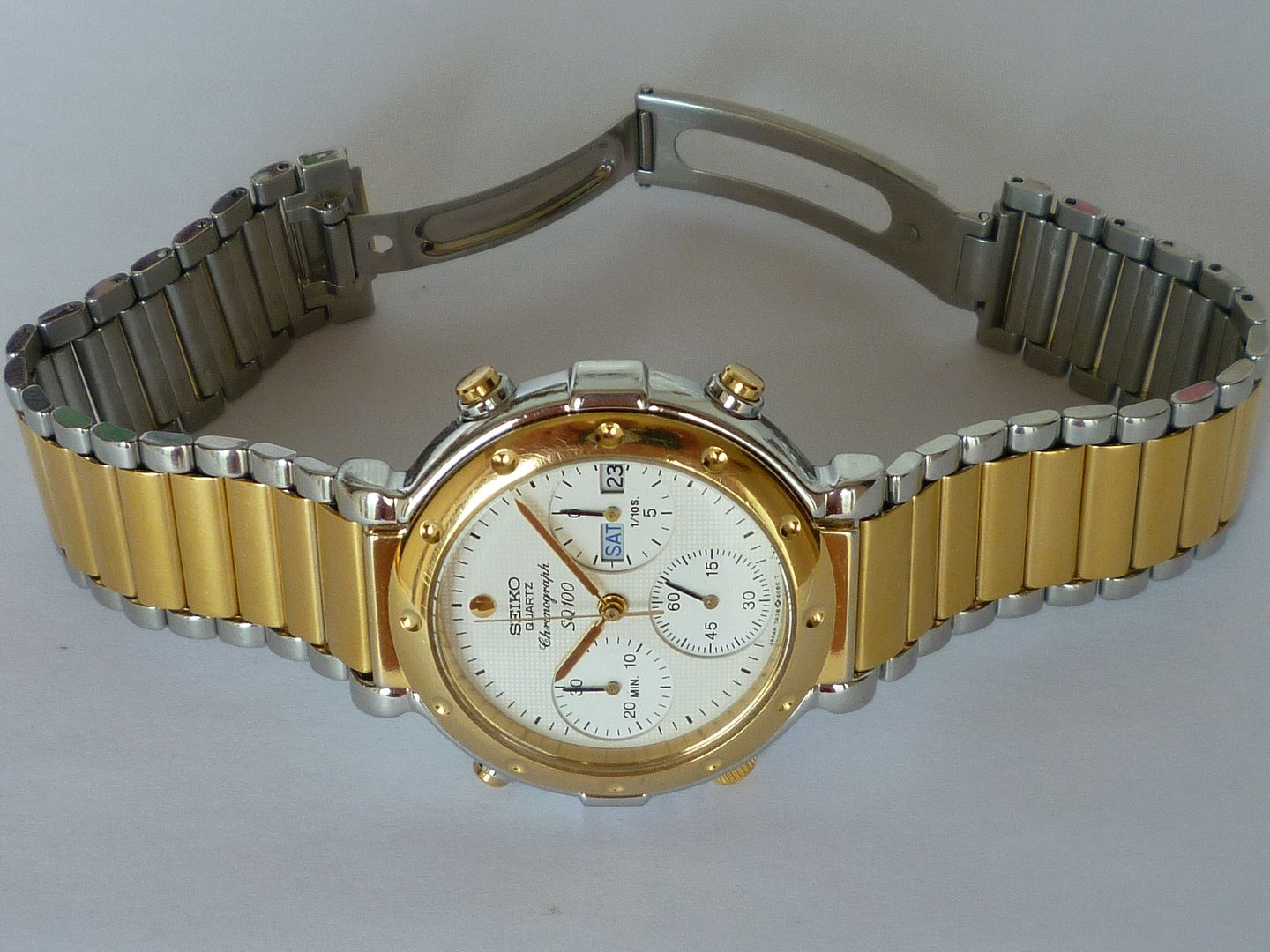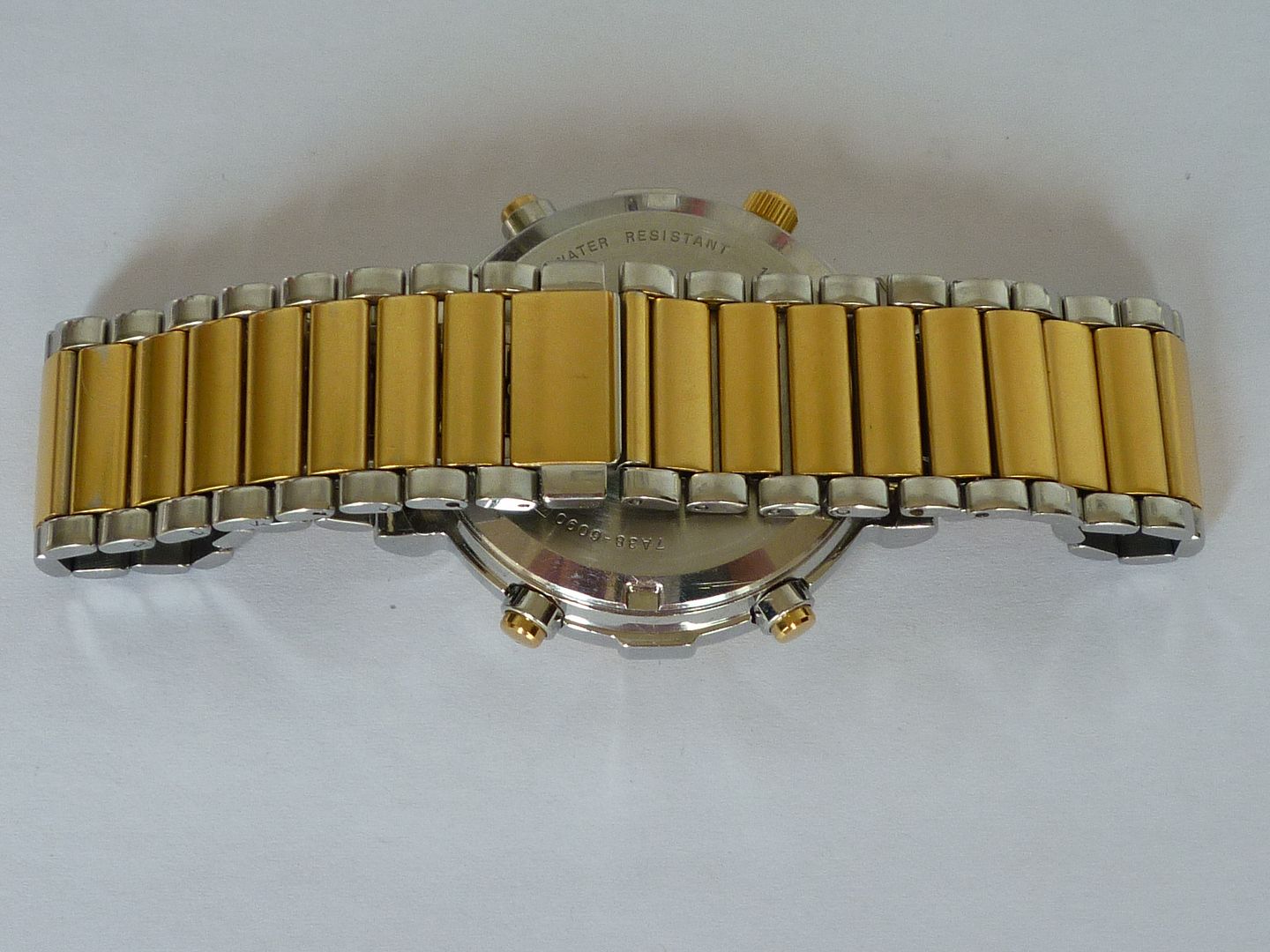 According to my records, the one from the States cost $59 and that from Germany 30 Euros, including shipping, total approx. £77. 
There was another stainless / gold plated two-tone listed on eBay in the UK in June 2011. Oddly enough the listing is still in history:
http://www.ebay.co.uk/itm/390323439531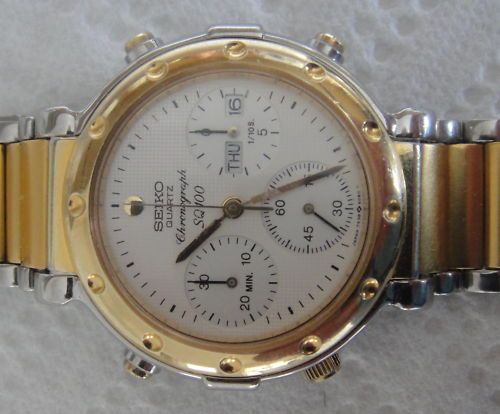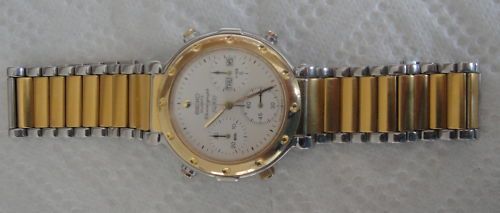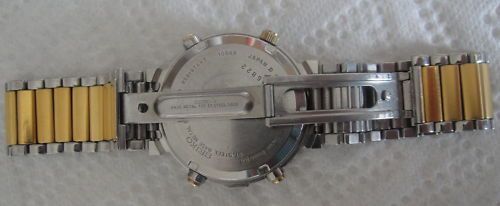 That one was purchased by 'Paul66' on RLT (a.k.a 'BlackCab' on this forum).
The stainless / gold-plated two-tone 7A38-6090 is less common than the stainless / gunmetal two tone, so don't crop up on eBay very often. It wasn't until January 2012 before I saw another. I didn't keep any details of the listing, nor the price it sold for. Just this photo.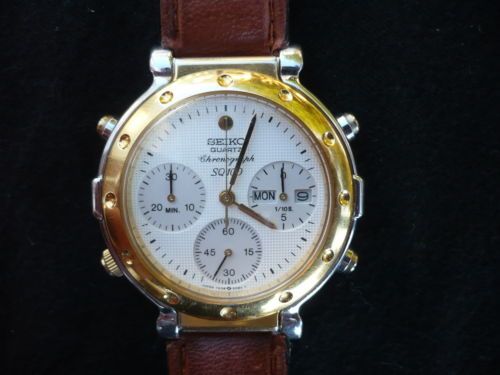 The watch head looks in nice cosmetic condition, but it was missing it's original bracelet, fitted with a leather strap, notched to fit.
End of June 2012, this well-worn 'head only' was listed on Okazii.ro and also: http://ceasuridemana.ro/seiko-7a38-6090_a124916.html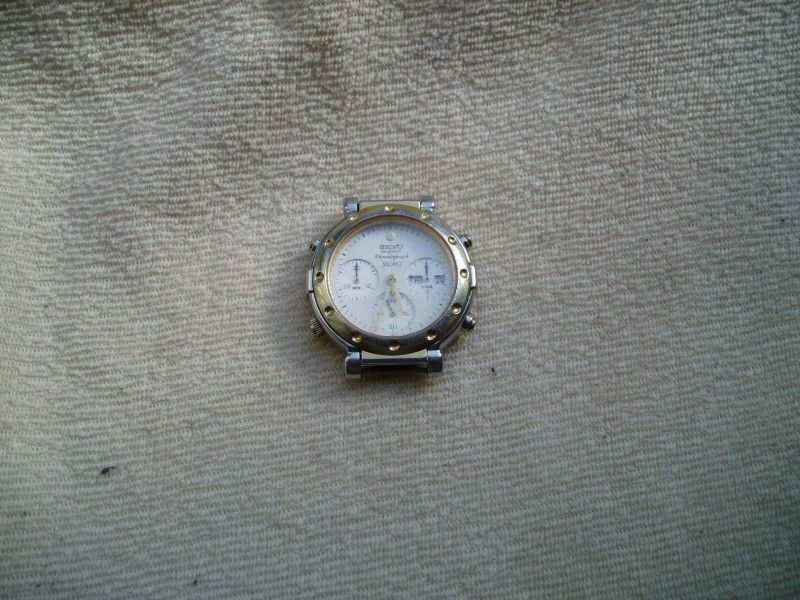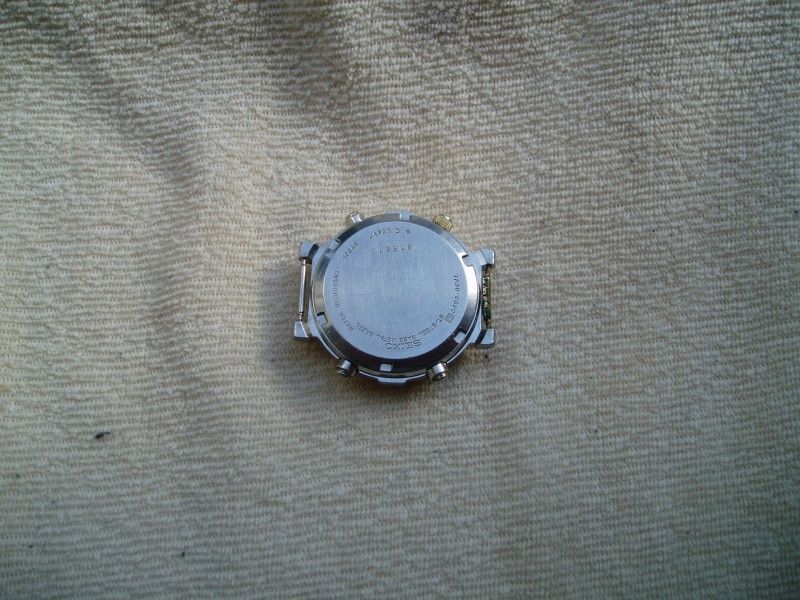 Presumably it's the same 7A38-6090 which was posted here, more recently on Ceasornica.ro by 'Bonheur'.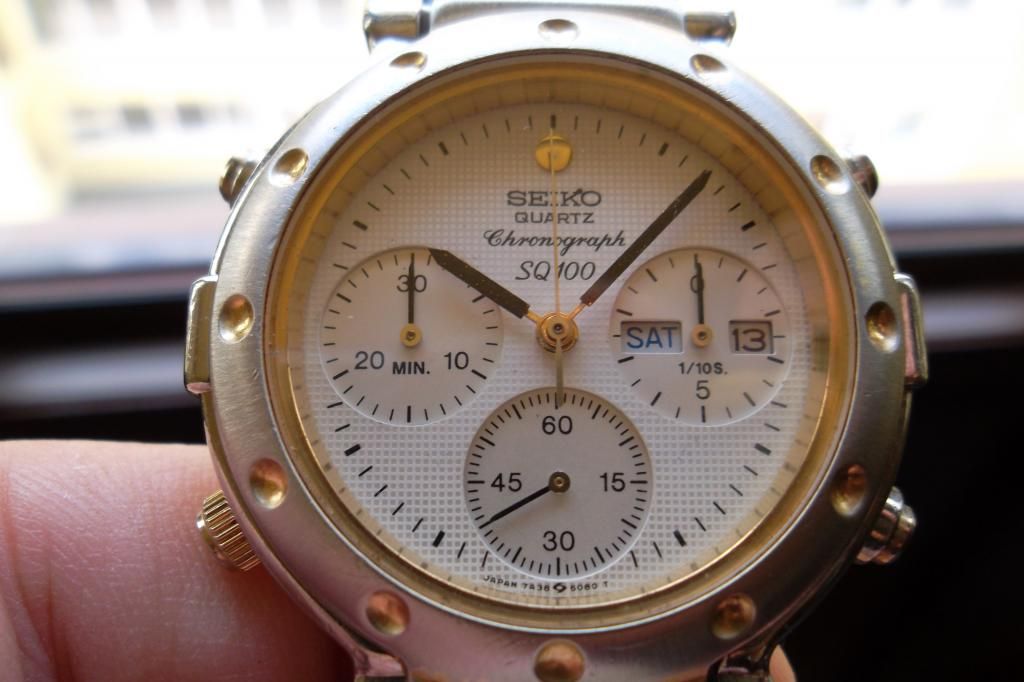 Again, if one wanted to source 'alternative' similar appearing bracelets from other Seiko models, apart from the equivalent stainless gold-plated two-tone 5P32-6A40, there's also the 8E22-0010, which on the face of it, is actually a ladies watch, but may possibly fit.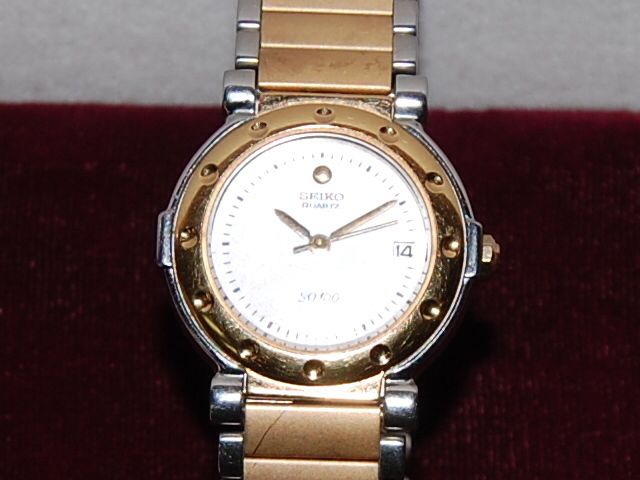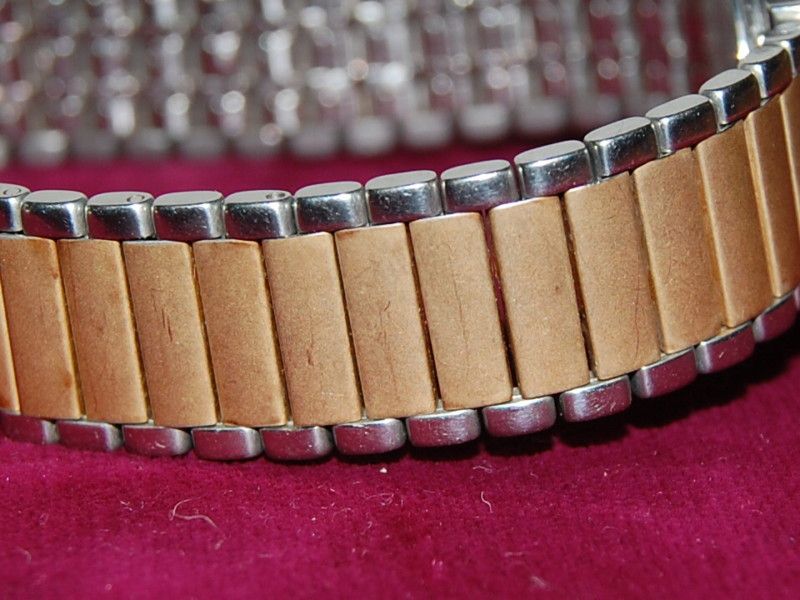 -------------------------------------------------------------------------------------------------------------------------------------------------------------------------
And so to the stainless white-faced 7A38-6090, which as Manuel implied - of these three variants is the least commonly found version.
The first example I saw again belonged (and still does, AFAIK) to the erstwhile prominent US Seiko 7A38 collector Pete Pantelidis.
He emailed me these two photos of his example in May 2010. It's obviously fitted with a non-original replacement bracelet: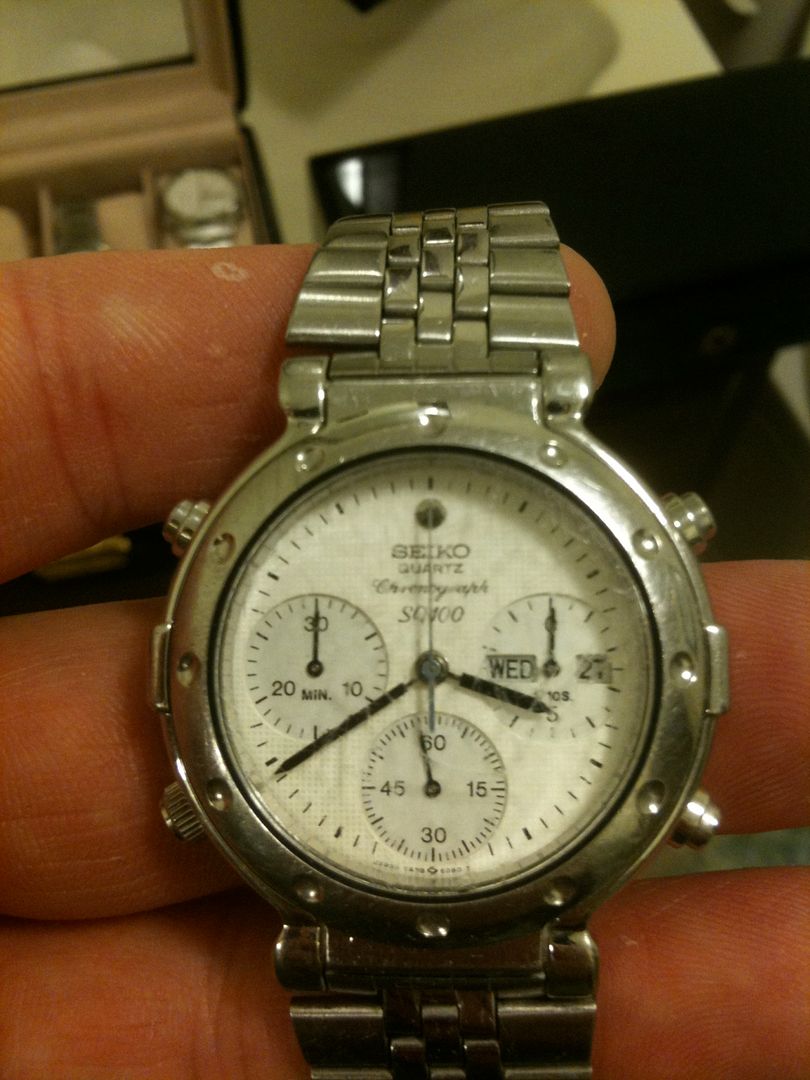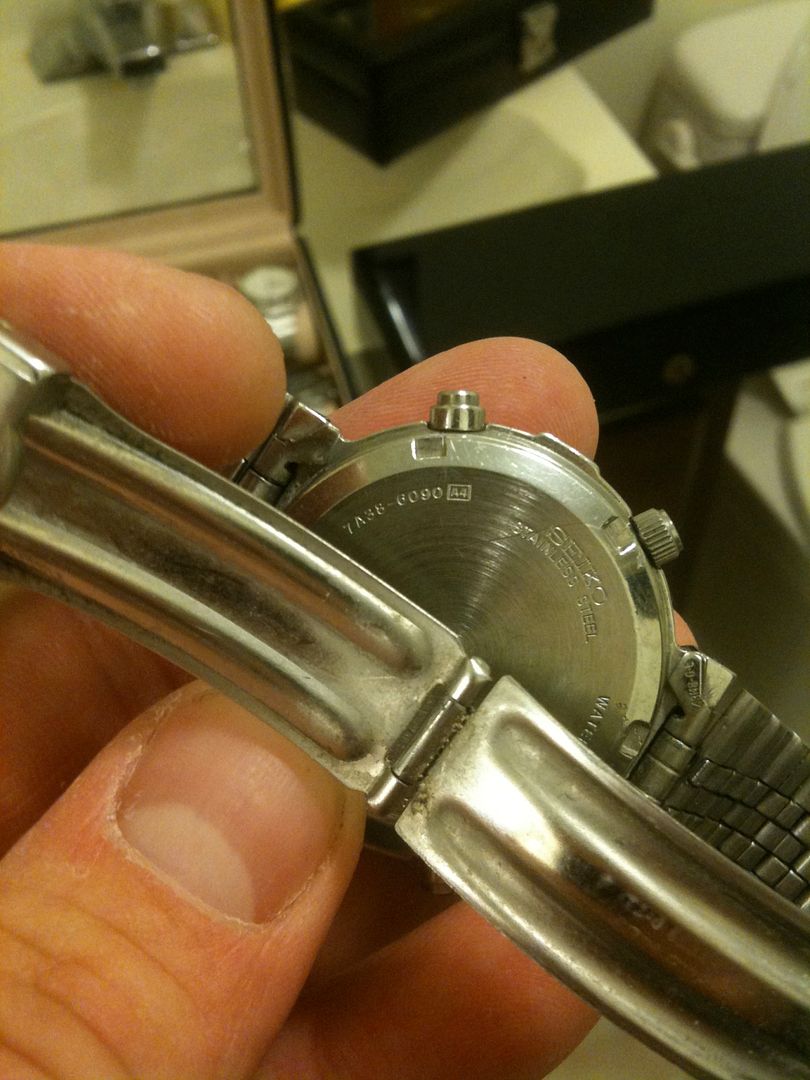 It wasn't until October 2011 that I saw one listed on eBay by a Belgian seller. Again, surprisingly the listing still survives in eBay history:
http://www.ebay.co.uk/itm/190590515641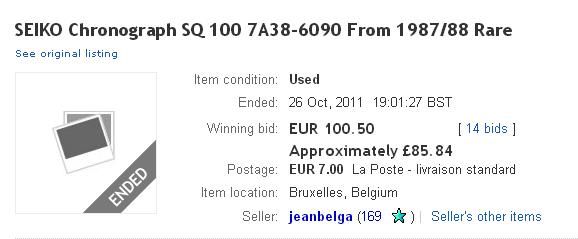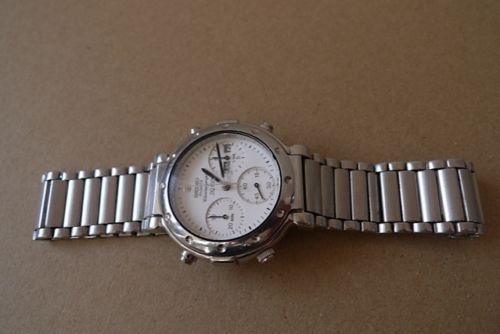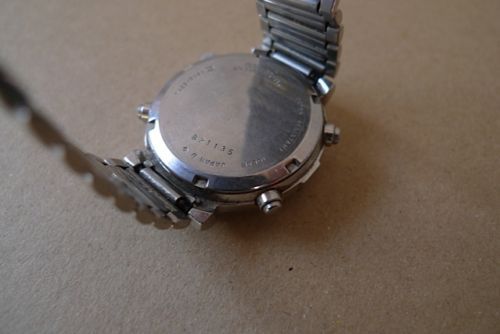 Great watch, rare piece. In working order.
Bracelet needs fixing; little vis missing to retain the bracelet clip.
Le 22-oct.-11 à 18:12:25 CEST, le vendeur a ajouté les informations suivantes :
13 links and 4 removable adjustment links on one side and 16 links and 8 removable adjustment links on the other.
That's mine. It also goes without saying it also needed a replacement crystal.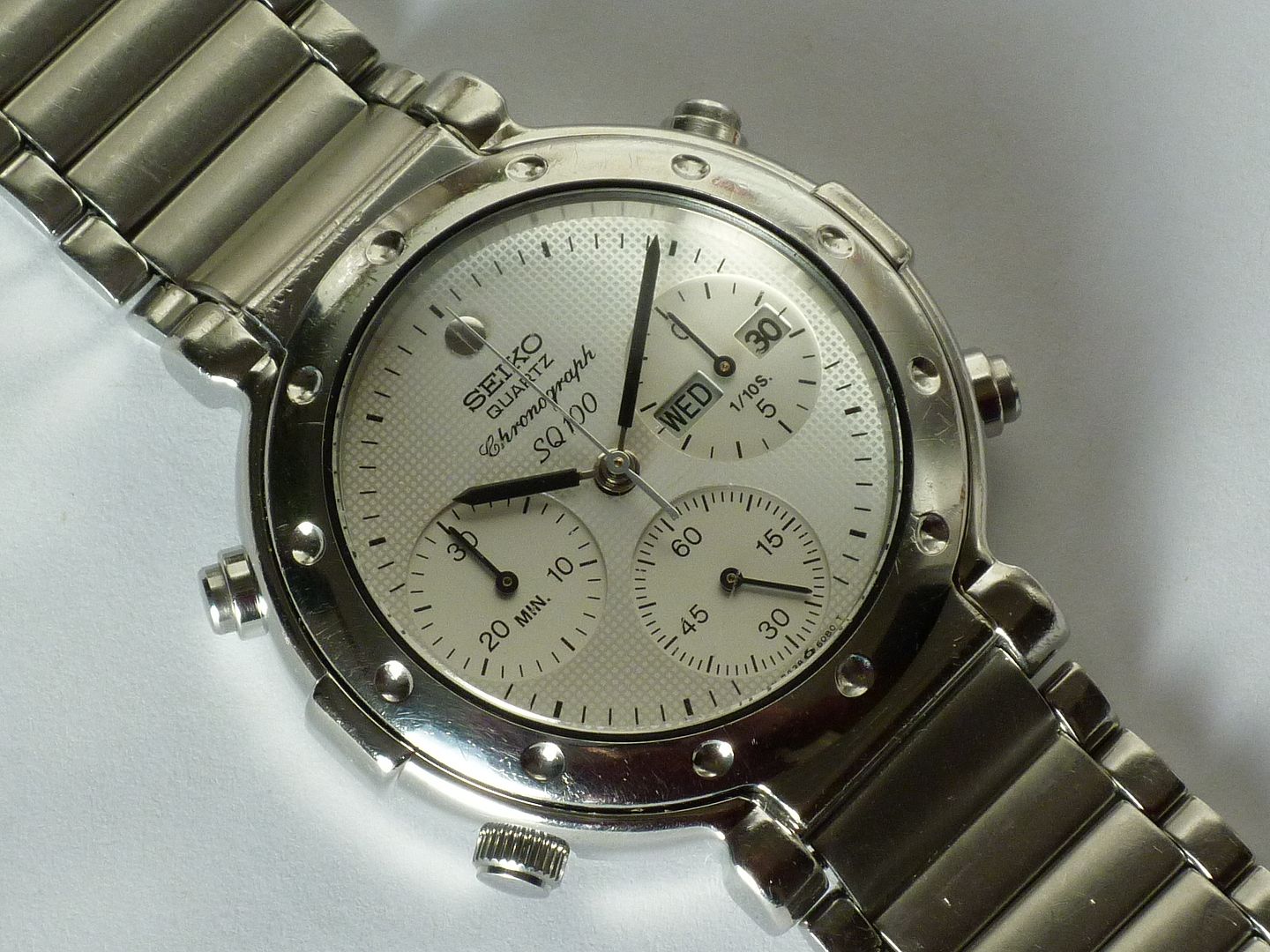 Which brings us back up-to-date and Manuel's latest acquisition. 
He posted this photo of a stainless 7A38-6090 here on O&P a couple of weeks ago: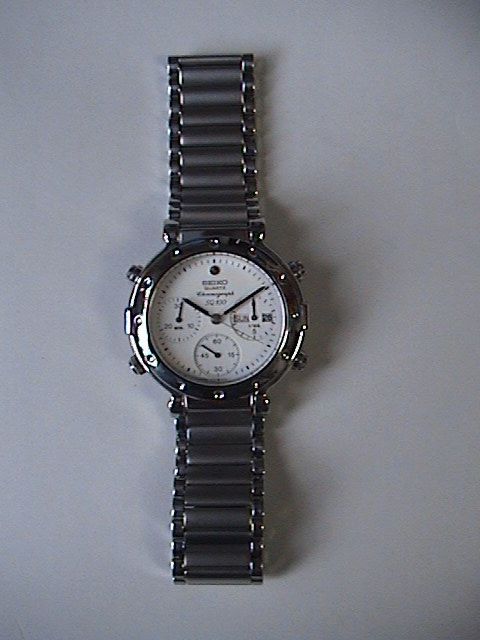 Tempo fa mi è arrivato questo (dichiarato non funzionante). Con la scatola originale. Ottime condizioni generali.
Pagato veramente poco.
Ritirato ora dall'orologiaio. Perfetto.
E' un seiko 7a38 6090, SQ100.
Piuttosto raro, pochissime le info in rete.
Molto particolare il bracciale.
Appena posso faccio foto reali.
That 'borrowed' image of a 7A38-6090 originates from a Japanese blog site: http://www.geocities.jp/tetsuyan65/zidaiya/quartz.html
Manuel's sentence: 'Piuttosto raro, pochissime le info in rete'. translates as: Rather rare, very little info on the Net.
Hopefully between us, we've now rectified that.